20 Best Australian Ice Creams of All Time Ranked
When I was little we called them "ice blocks". Some call them "icy poles". Here we've gone for the generic "ice cream," but call them what you want, the humble Australian ice cream is a vital part of every summer – and heck, every Australian winter too, right?
We all have our favourites, as well as those frosty treats which we just can't abide. But when it comes to ice cream brands, Australia has two dominant players, Peters and Streets. Here at Man Of Many, we have arranged the very best of Australia's beloved icy delights into a scientifically-determined order that you can rely on. This is our definitive, irrefutable, list of the best Australian ice creams of all time, ranked.
RELATED: These are the best places to get ice creams in Sydney.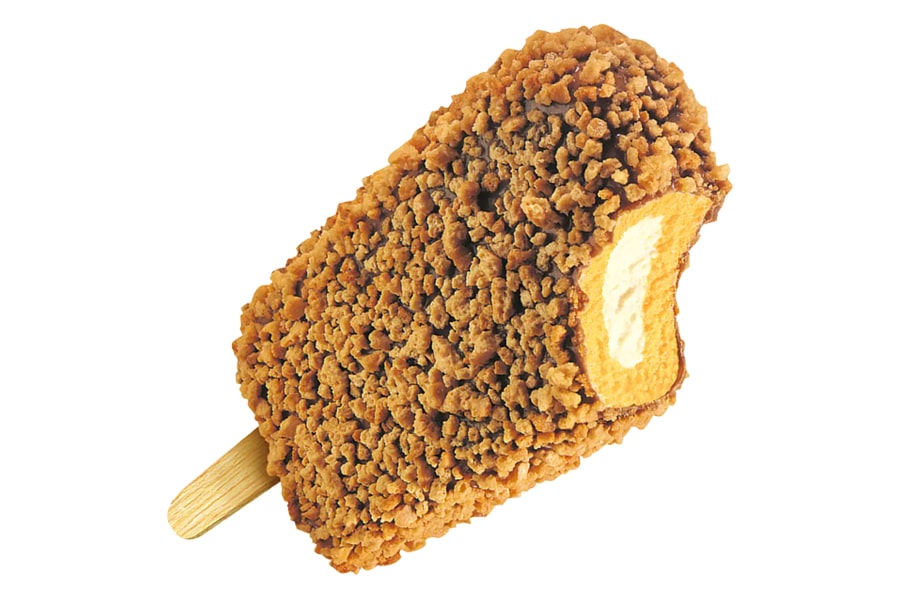 1. Golden Gaytime
One of the most iconic Australian ice creams ever. No civilisation in history has found a better use for a small wooden stick than putting a Gaytime on it. The Streets website describes the Golden Gaytime as "a combination of toffee and vanilla flavoured ice cream, dipped in scrumptious choc coating and covered in delicious biscuit pieces"; but that only touches the surface of the experience of gobbling down a Gaytime.
The perfect balance of flavours. The exquisite attention to detail in the varied and complex textures. The ineffable feeling that, in eating a Gaytime, you are communing with a higher spirit. Nobody who has eaten a Gaytime can claim to be ignorant of what joy is. The most apt thing to say about the Golden Gaytime is that, now you have read the words "Golden Gaytime", you are most certainly desperately craving one, and until you get one you will be inconsolable.
Brand: Streets
Flavour: toffee and vanilla ice cream with a choc coating covered in biscuit pieces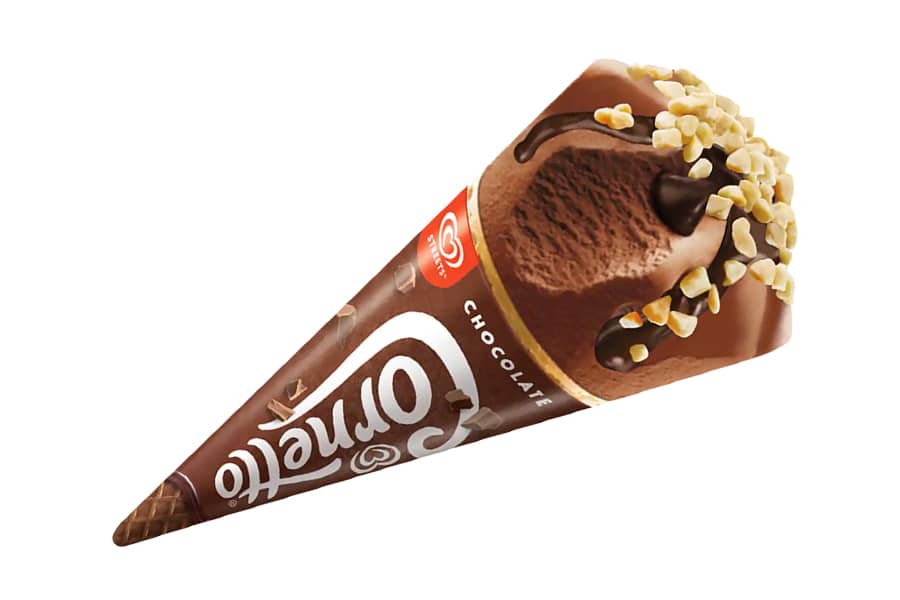 2. Cornetto
The ice cream of choice for anyone with discernment, taste and a love of creamy confection. You cannot fault any part of a Cornetto, from its toothsome waffle cone to the rich slug of chocolate hiding at the bottom of that cone, to the nuts, the sauce or the preternaturally smooth and elegantly sculpted ice cream itself. Cornettos come in myriad flavours, and you can't go wrong with any of them. There's not much more to say about the Cornetto: everyone knows how good they are, and no sane person will ever say no to one. With it's handy built-in cone, the cornetto is possibly the most practical Australian ice cream on the market.
Brand: Streets
Flavour: chocolate or vanilla
---
Featured Video from Man of Many
---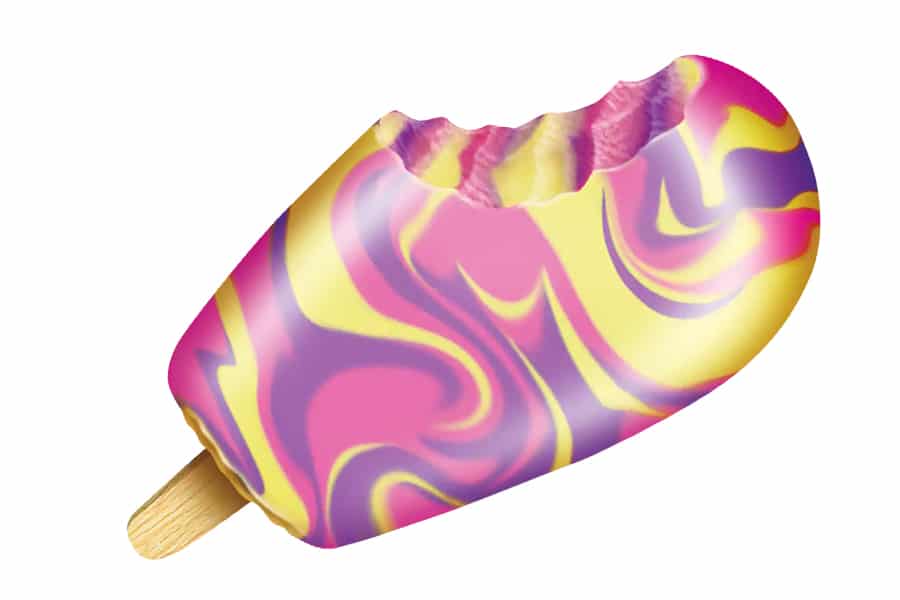 3. Rainbow Paddle Pop
Putting the rainbow variety at number three is not to suggest that the chocolate or banana varieties are not worthy of a spot on the list. They are. But not wanting to clutter up the list with variations on the Paddle Pop, we plumped for rainbow, as the noblest and most beauteous option. The Paddle Pop is smooth and sweet and cold and shiveringly delicious. They often come in packs of eight, and though this provides an excellent option for sharing amongst family and friends, it's also a great way to eat eight rainbow Paddle Pops by yourself in one sitting.
They're just that good.
Like some others on the list, part of the secret of the Paddle Pop is its simplicity. They don't over-complicate anything, they just pack outrageous flavour into a perfectly-textured package. And when we think of ice blocks, we think of Paddle Pops. They hold well-deserved icon status and nobody even minds that their corporate mascot is so stupid.
Brand: Streets
Flavour: Rainbow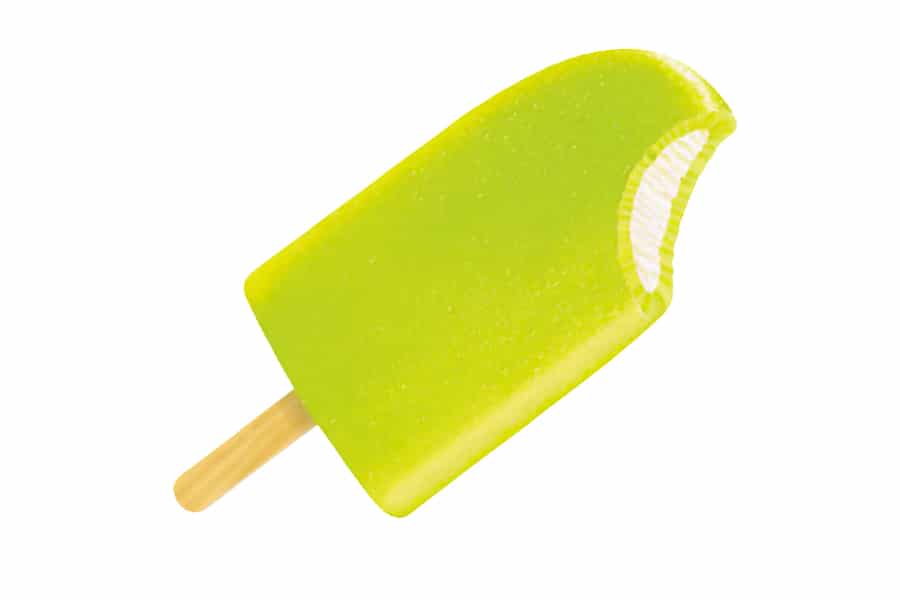 4. Splice
The Splice is bliss. We're not sure exactly when the Splice was invented, but on that day there were surely news bulletins that began, "Scientists today excitedly revealed that they had unlocked the secret of…" It's a venerable ice block, dating back to the times of our fathers, and played a major part in getting the country back on its feet after World War II.
On the outside, there is an icy fruit shell. On the inside is scrumptious vanilla ice cream. It could've been a disaster. Instead, it is a triumph. Many a person has bitten into a Splice for the first time and immediately started weeping, never having known life could bring such happiness. The Splice is the simplest Australian ice cream out there but will leave you yearning for more.
Brand: Streets
Flavour: pineapple and lime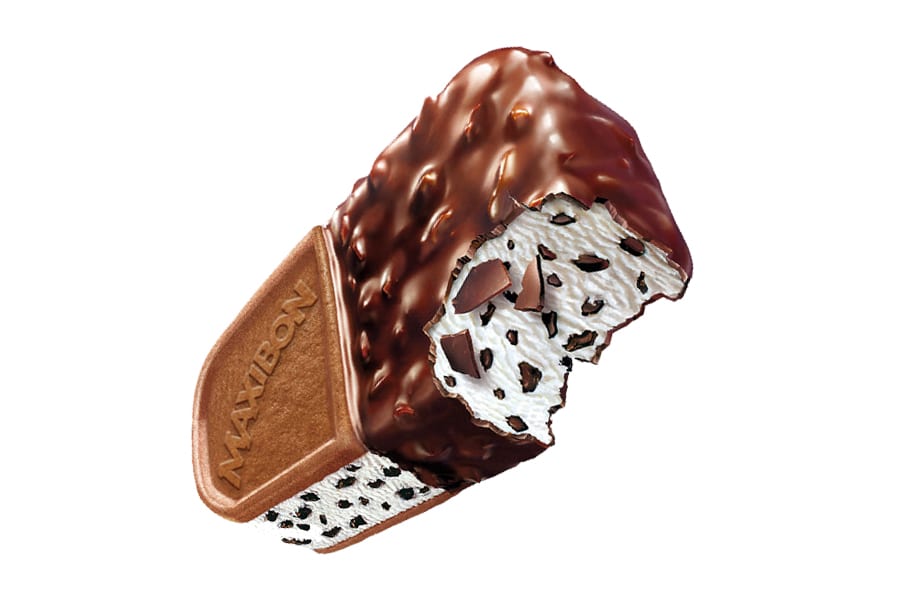 5. Maxibon
The Magnum of the future, Maxibon is the kind of ice cream that dazzles the senses beyond all reason. There's chocolate, there's ice cream, there are cookie crumbs, there are biscuits. There are even nuts. Every sector of your ice block appreciation cortex is pleasured by the Maxibon, and the overall experience is liable to put you in a coma.
The block looks like a Frankenstein's monster of a dessert, with two halves looking quite different, but managing to work together long enough to provide complete culinary satisfaction. For an ice cream to blow your nervous system with pure hedonism, you can't go past a Maxibon.
Brand: Peters
Flavour: Caramel Rough Nut, Honeycomb, Vanilla, Monster Cookie, Choc a Block, Double Handle Caramel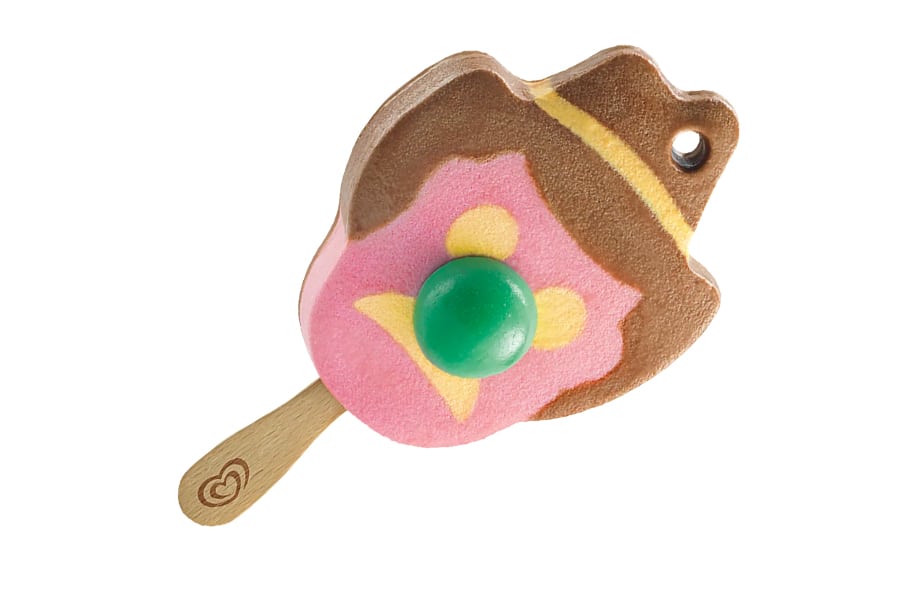 6. Bubble-O-Bill
One of the few ice creams that could look you in the eye, the Bubble-O-Bill has always been a true treat: not the kind of ice cream you buy in bulk or purchase on a whim; Bill always commanded respect and sober contemplation before making the momentous decision to buy one. Eating a Bubble-O-Bill was like a birthday party: it didn't come along that often and you wanted to make it last as long as possible, because once it was finished the world would seem a little greyer.
The big bubble-gum ball that formed the creamy cowboy's nose was the centrepiece, of course: but even without the "Bubble", the "O'Bill" part of the treat was worth the price of admission. A delicious ice block that could make a kid feel they were living the high life for a little while. The Bubble-O-Bill might be the most iconic Australian ice cream ever created.
Brand: Streets
Flavour: strawberry, chocolate and caramel ice confection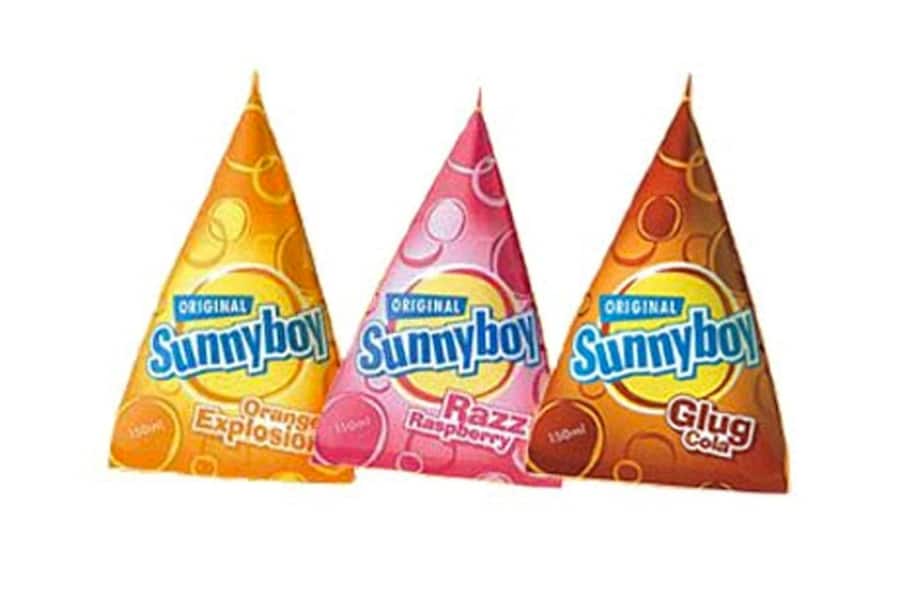 7. Sunnyboy
The Sunnyboy doesn't get its place on this list for its taste, or its refreshingness, or its user-friendliness: indeed, it was a positively awkward affair to consume, being pyramid-shaped, stickless and with no obvious bite-point. But the Sunnyboy, more than perhaps any other entry on this list, deserves its place simply because it lives in the heart of every Australian over the age of about twenty.
These days they're hard to find, and to get one you might have to buy a showbag at the Royal Show, but most of us can remember a time when every kid on the playground was sucking on a Sunnyboy. They could give you brain-freeze like nobody's business, and were appealing for economic reasons as much as culinary ones, but the Sunnyboy is inseparable with the experience of growing up in Australia in the late 20th and early 21st centuries. There'll be books written about it someday.
Brand: Sunnyboy
Flavour: Orange Explosion, Razz Raspberry, Zap Lime, or Glug Cola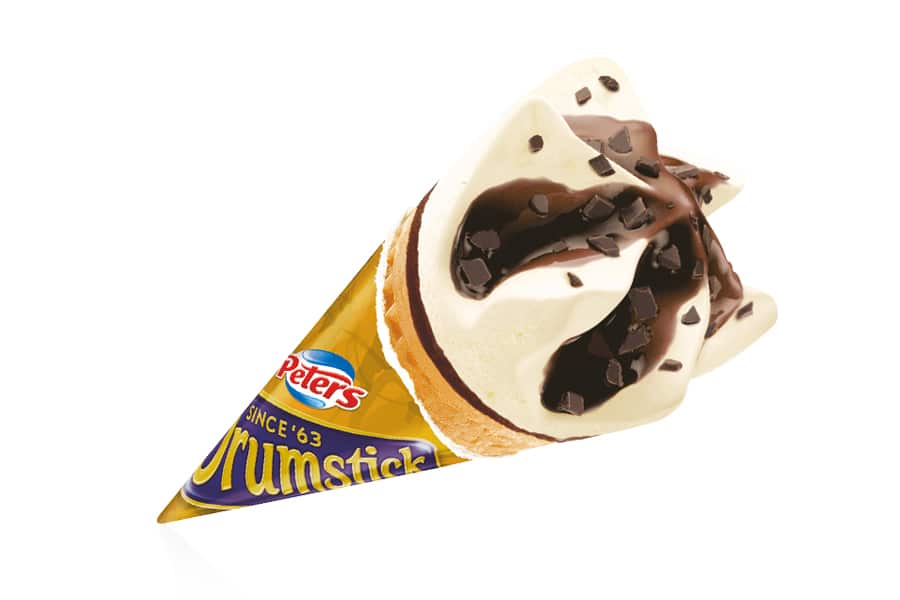 8. Drumstick
A Drumstick is not quite a Cornetto, but it's not too far off. Not as refined as its cone-bound cousin, the Drumstick suffers in the PR stakes from being named after a segment of a chicken, but there is nothing greasy or meaty about this ice cream. It thoroughly deserves its place in the ice cream pantheon, and even if you were expecting a Cornetto, a Drumstick will never let you down. The Drumstick is a classic Australian ice cream.
Brand: Peters
Flavour: affogato, vanilla, super choc, choc mint, boysenberry, caramel, and many more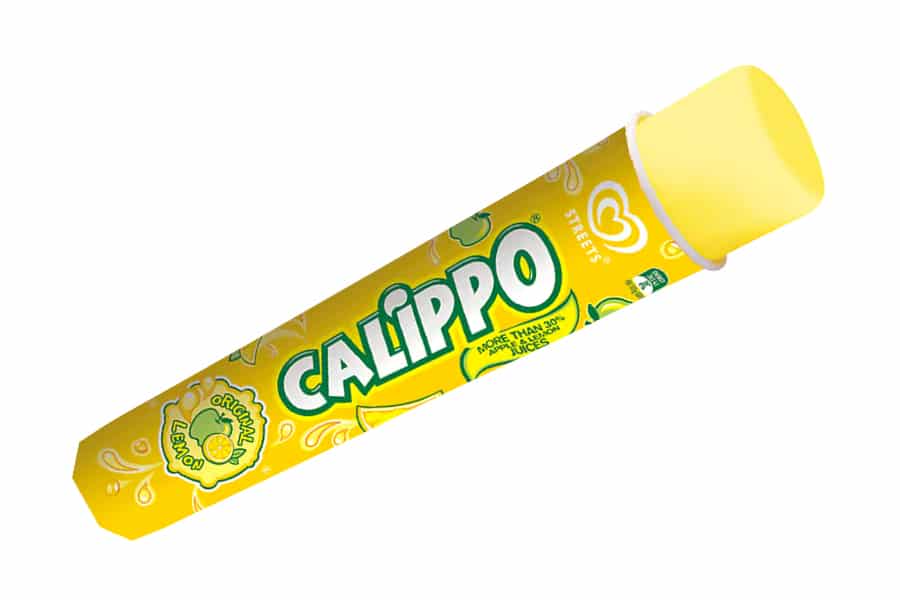 9. Calippo
You have to love a Calippo, because they come in tubes that you squeeze and the ice block pops out the top, just like a…well, let's not go into detail about what it's just like. When I think of a Calippo, I think of Taronga Zoo, on a blazing hot day, and how the Calippo vendor knows just where to place himself to take advantage of your sweaty exhaustion as you trudge uphill past the giraffe enclosure.
A Calippo, which at its optimum is bone-chillingly cold and carries the freshness of a hundred summer orchards, is not an icy pole to sit at home in front of the TV with. It is specifically designed to bring relief to weary travellers and labourers struggling under the baking Australian sun. For a few minutes, the Calippo-sucker can transport themselves to a tropical beach and relax in the shade of the palm trees.
Brand: Streets
Flavour: raspberry pineapple or lemon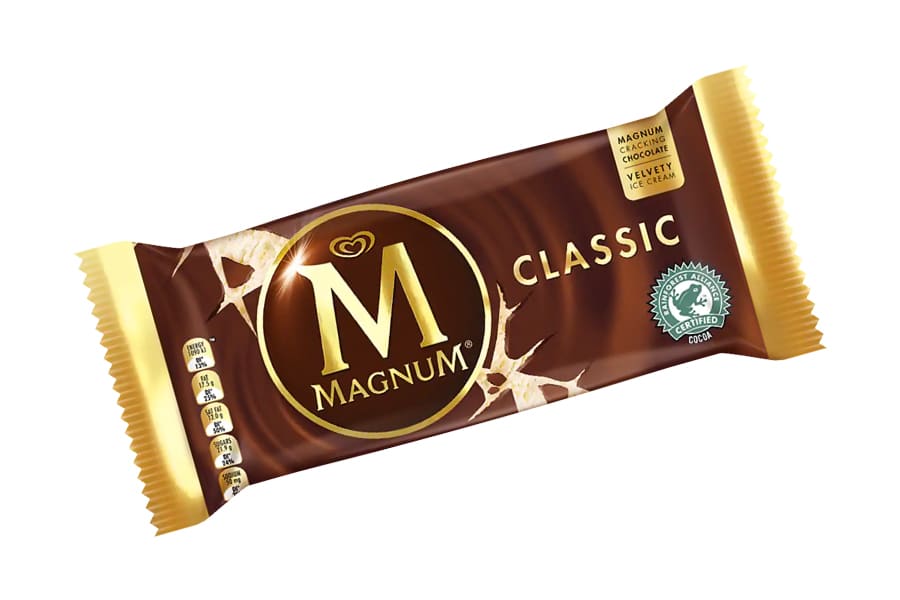 10. Magnum
Decadence. The Magnum is the kind of ice cream that people are talking about when they refer to "guilty pleasures". But there's no need to feel guilty about eating a Magnum: you are partaking in a work of art. The chocolate is rich. The ice cream is smooth. The whole thing has an air of luxury about it: it's the sort of dessert that one might expect to be fed to you by nubile handmaidens. It's only a few dollars for a Magnum, but you'll feel like a millionaire when you're eating one – it's the ice cream designed to cause diners to disregard the world around them. The Magnum is the most decadent Australian ice cream on the market.
Brand: Magnum
Flavour: almond, caramel, chocolate, hazelnut, honeycomb, mint, raspberry, or vanilla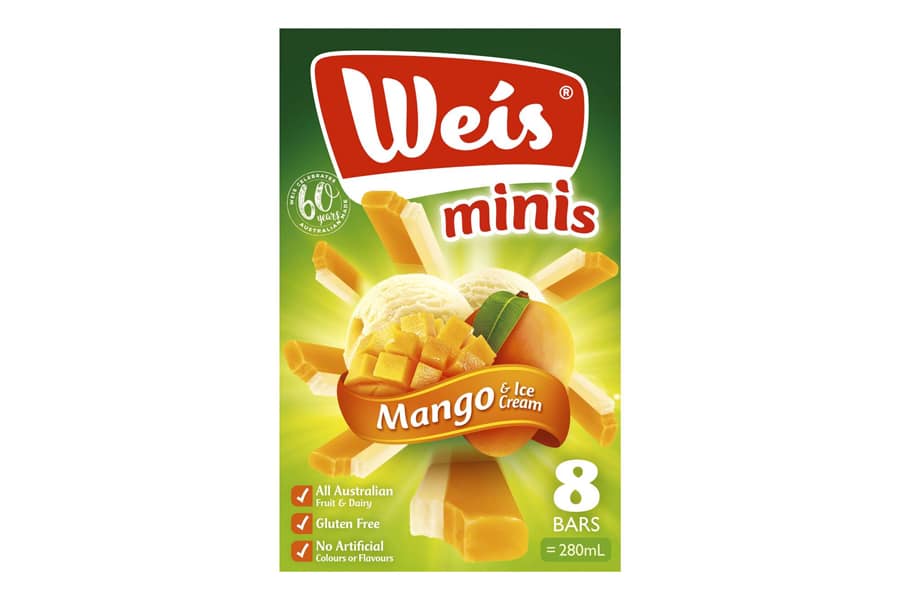 11. Weis Mango
The Weis Mango and Ice Cream Bar is a slightly left-field concoction, bringing a purer fruit flavour than many of its contemporaries, who often pay lip service to their purported fruit category but hide the flavour behind heavy sugar. Creamy and mango-ey at the same time, it's like cool jazz to the average icy pole's pub rock: not for everyone, but harbouring enormous rewards for those willing to give its peculiarities a chance.
Brand: Weis
Flavour: mango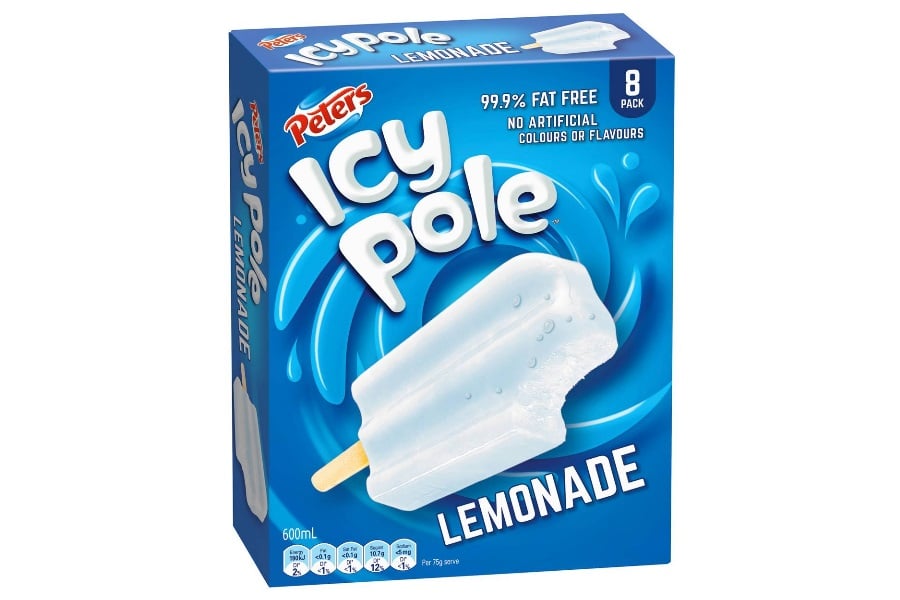 12. Icy Pole
Some call every ice block an icy pole, but this is the original: one of the most influential ice treats ever devised. No complexity here, just a lovely solid block of irresistibly flavoured ice. Whether it be lemonade, raspberry or the current promotional Avengers branded icy pole, this is an ice block that doesn't muck around: it gets in and straight to the job of pleasing your taste buds and easing your heat exhaustion. Icy Pole is a vintage Australian ice cream.
Brand: Peters
Flavour: lemonade or raspberry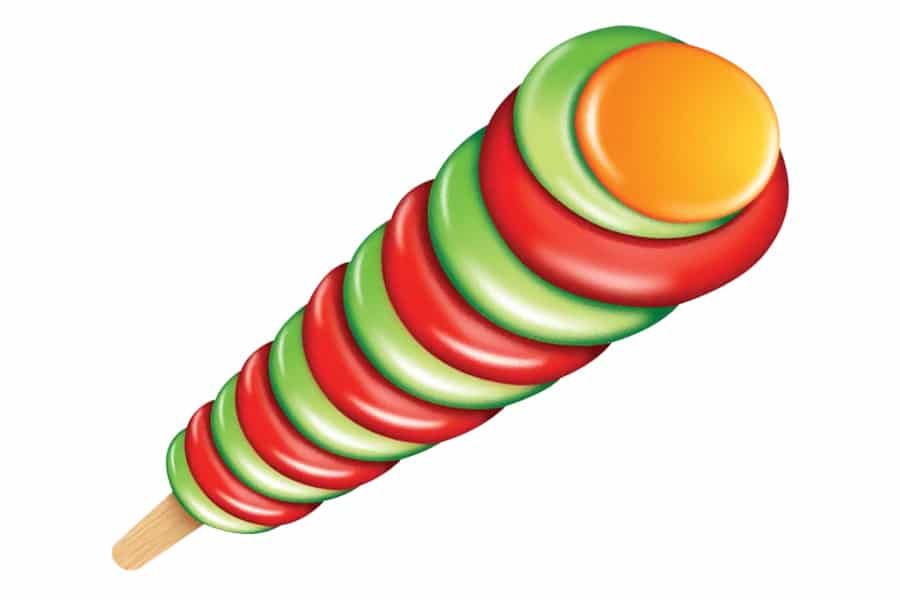 13. Cyclone
The Cyclone is a Lifesaver with style. Made with "real fruit juice" – a phrase that ice blocks like to use without specifying exactly what that means – it's one of the more refreshing swirly poles around. Like a winning dish on Masterchef, the key to the Cyclone's excellence lies in the presentation, and the harmonious coming together of flavours.
Brand: Streets
Flavour: three delicious fruit flavours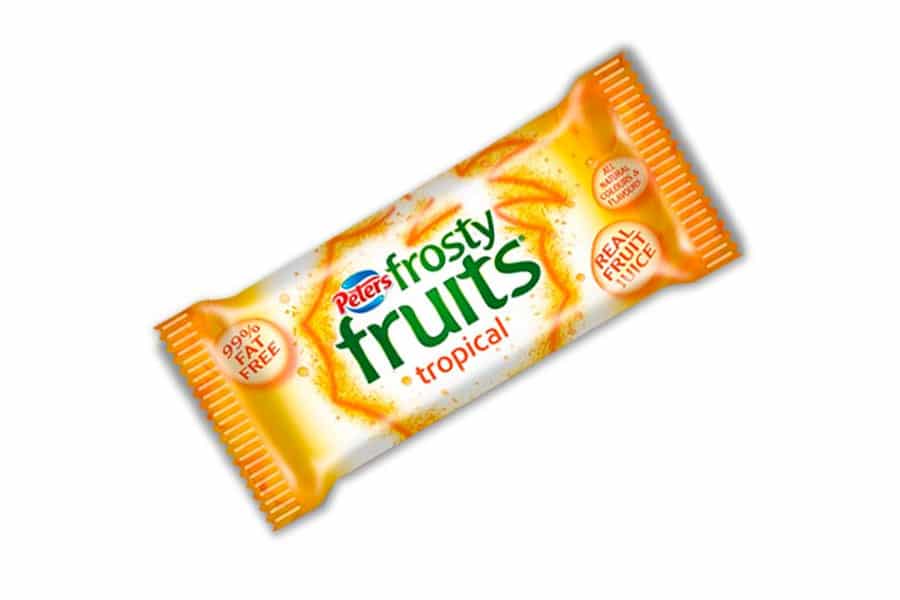 14. Frosty Fruits
In our household, there was strict delineation between "milky" ice blocks and "watery" ice blocks. The Frosty Fruit was to watery ice blocks as the Billabong was to the milky ones: a solid treat that refreshed and revitalised without showiness. The Frosty Fruit was never a superstar, but by God it was reliable. You can still hear the jingle: "We're the fruit/and I'm the frosty…Frosty FRUITS, Frosty FRUITS, you should taste us, we're DELICIOUS!"
That tropical tang, the wonderful sugary chill that took all the heat out of the day…the unavoidable stickiness of your fingers after the FF melted and dripped down your hand. Eating a Frosty Fruit today is like looking at the past through a golden haze.
Brand: Peters
Flavour: tropical, watermelon slice, or summer sunset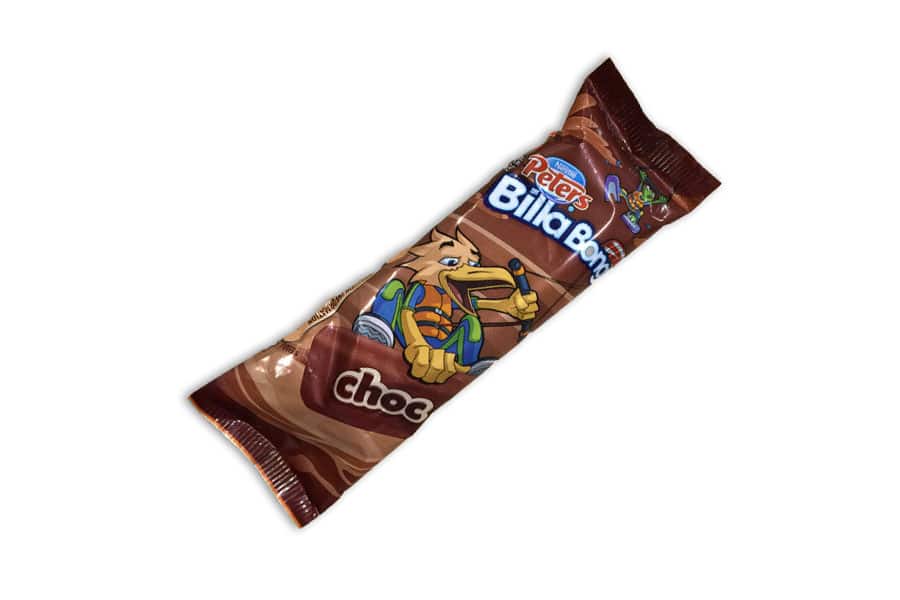 15. Billabong
Once a jolly swagman camped by a Billabong. It wasn't the chocolatey ice cream type of Billabong, but if only it had been, he might not have killed himself. The Billabong is an unassuming ice cream, without the flash and glamour of its cousin the Paddle Pop, but by gum it got the job done when your tongue was hanging out for a nice slice of creamy fresh delight. Boxy like a Volvo, and just as reliable, the Billabong always felt slightly virtuous – it carried less guilt than many of its peers.
Maybe it was the kookaburra on the wrapper: there was a subliminal sense that you were supporting native wildlife.
Brand: Peters
Flavour: Chocolate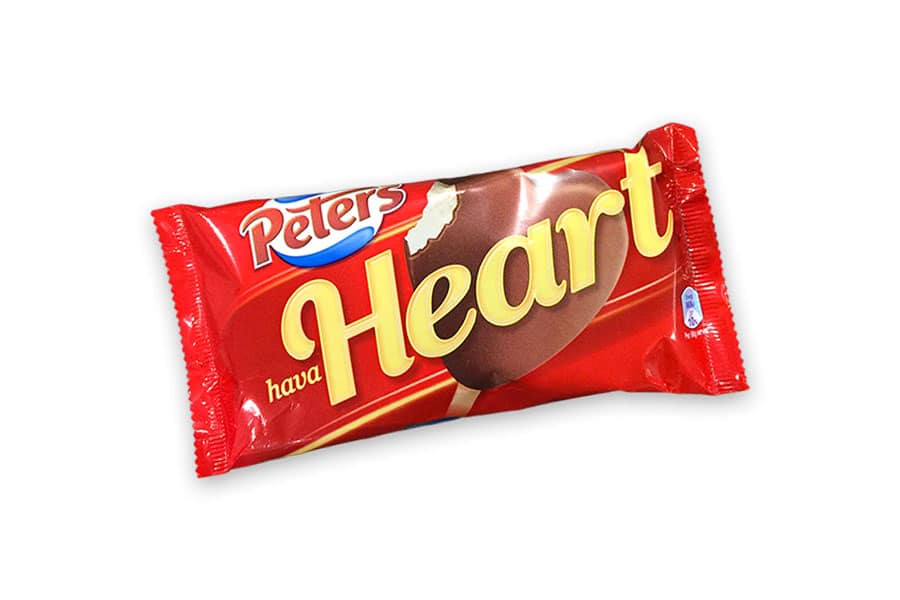 16. Heart
The Heart was elegant in its simplicity. Ice cream, covered in chocolate, in the shape of a heart. So graceful, so classy. Not quite the sophistication of a Magnum, but you definitely felt you were living the high life while you were chowing down on a heart. And of course, there was a hint of romance in the air as well…ah yes.
Brand: Peters
Flavour: chocolate coating, vanilla ice cream centre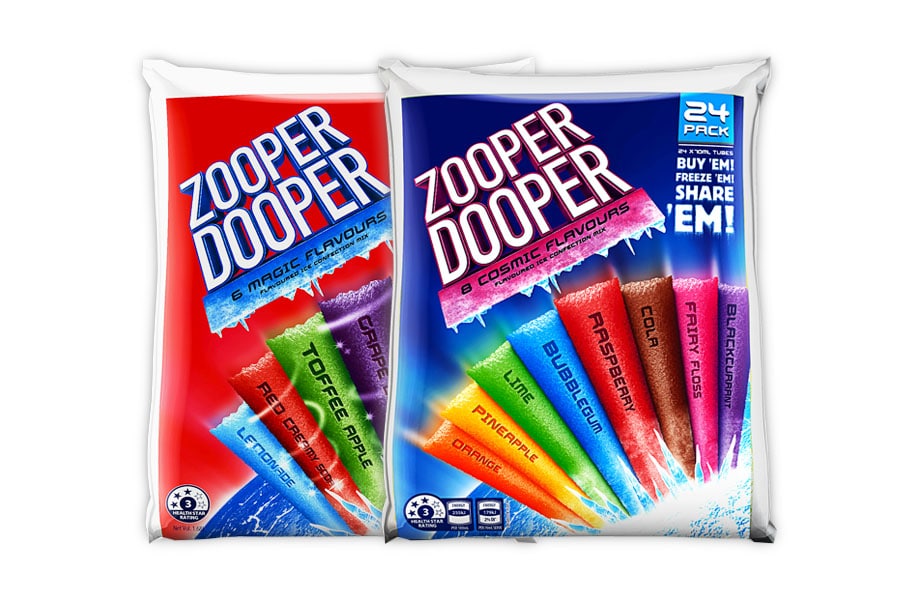 17. Zooper Dooper
The Zooper Dooper earns its place for its down-to-earth, DIY ethos. Coming in a range of flavours, the classic ZD is an unpretentious icy pole, boasting no fancy shapes or bells and whistles. What it does so brilliantly is involve the icy pole lover in its very construction: the Zooper Dooper is sold as a liquid and frozen at home in the consumer's own freezer. It's that experience, of having a big pack of Zoopers freezing at home to refresh you after a hard day at school, that made this ice block such a ubiquitous part of Aussie childhoods.
Brand: Zooper Dooper
Flavour: 8 Magic Flavours (lemonade, red creamy soda, banana candy, toffee apple, grape bubblegum, orange sherbet, strawberries & cream, jaffa) or 8 Cosmic Flavours (orange, pineapple, lime, bubblegum, raspberry, cola, fairy floss, blackcurrant)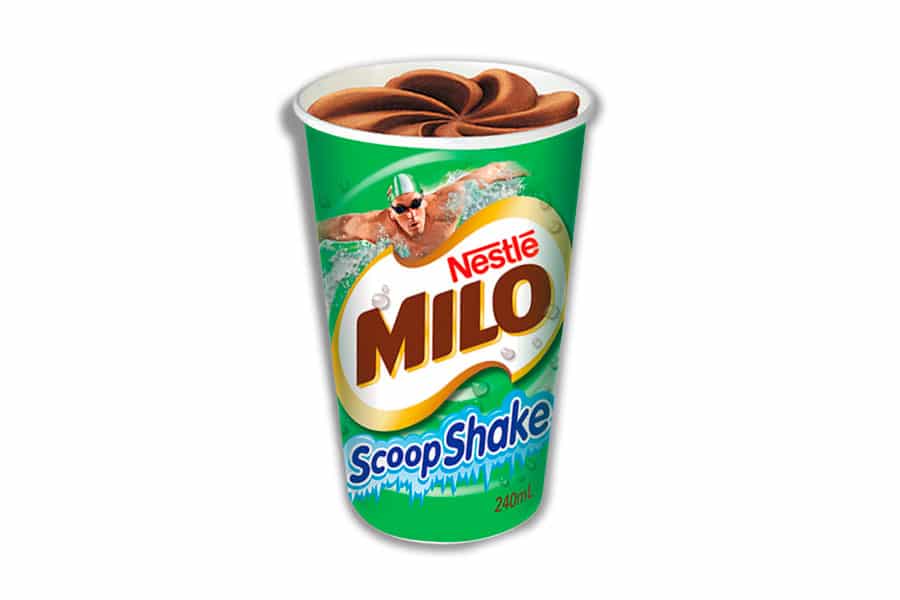 18. Milo Scoop Shake
The Milo Scoop Shake is similar to the Dixie Cup, except with Milo in. This adds a certain deliciousness, and a quintessential Aussieness to it. Certainly one of the most patriotic of desserts, it's still handicapped by that tub-and-spoon configuration with which an ice cream may be very good, but not quite great.
Brand: Peters
Flavour: vanilla ice confection, choc pieces, real MILO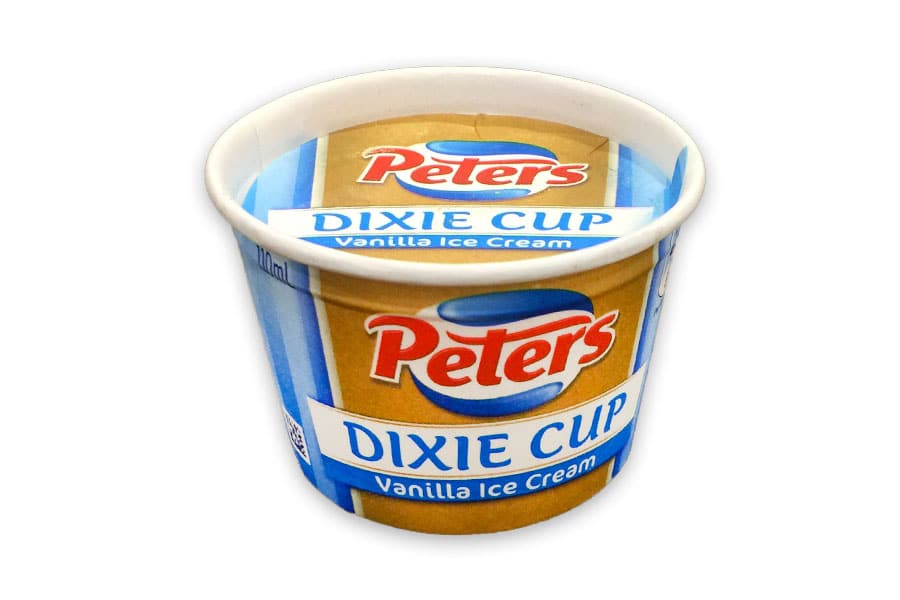 19. Dixie Cups
Now, a Dixie Cup is, no doubt, delicious. It's sweet, it's creamy and can make your day. But it's never likely to reach the upper echelons of this list, because the fact is that not only is it a little too simple to attain true icon status, but it's also ice cream in a tub that you eat with a little spoon. That is, it's not on a stick, and there's a limit to how evocative to the Australian imagination any ice cream not on a stick can truly be.
Brand: Peters
Flavour: vanilla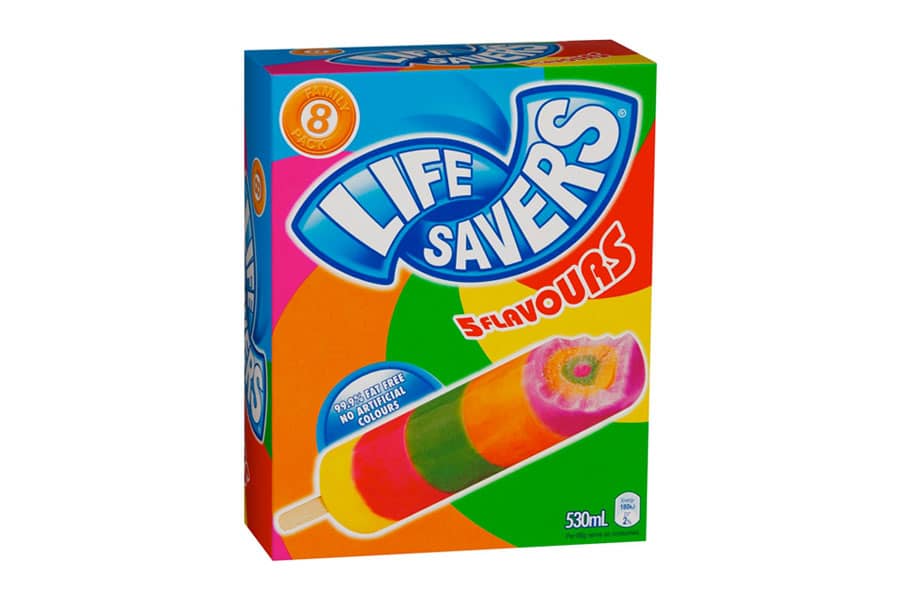 20. Lifesavers
It was a bold move to turn the popular long-lasting suckable lolly into a multi-coloured icy pole. The result was not earth-shattering, but perfectly pleasant: sweet and mightily refreshing on a hot day, if a little too solid to get through quickly. A bit like the lollies, really.
Brand: Peters
Flavour: 5 fruit flavours
General FAQ
What is the best Australian ice cream?
While the Paddle Pop comes close, the best Australian ice cream is undoubtedly the Golden Gaytime.
What are the major ice cream brands in Australia?
The two biggest ice cream brands in Australia are Streets and Peters, which produce the majority of the major products on the market.
Who ons Cornetto?
In Australia, the Cornetto ice cream is produced by Streets.
You'll also like:
---
Featured Video from Man of Many