The Hot Tub Hammock might sound like pure fantasy, but it's actually a real thing. Combining the best of two worlds, this jacuzzi hammock hybrid first launched on Kickstarter under the name Hydro Hammock back in 2015. As if there was any doubt, it went well over its initial funding goal and is now an actual thing you can buy. Not only that, but this portable invention might very well change your camping experience forever.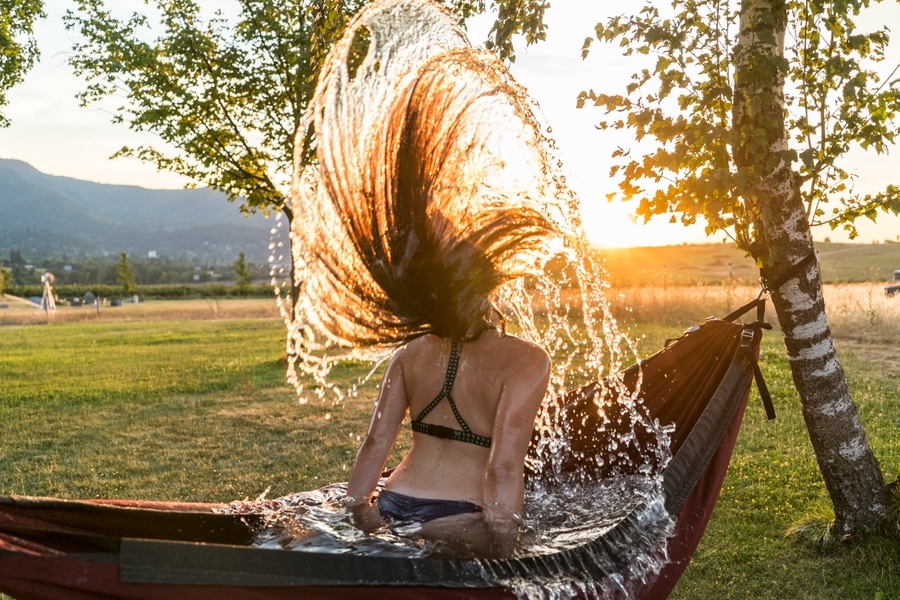 Put simply, the Hot Tub Hammock represents the best of life's little pleasures. Use it as a hammock, hammock hot tub, portable hot tub liner for sand or snow, hammock waterbed, swinging pool, or whatever else you can come up with. The water heater system pressures water added by a garden hose and can continuously draw water from a stream or lake, or recirculate the water in the hammock, heating it to your desire. The system also works as an outdoor shower with a basin and strainer/filter, allowing one to take a 2-hour shower with less than 3 gallons of water.
Most folks see a clever Kickstarter campaign and expect an inferior product to follow, but that doesn't seem to be the case with the Hot Tub Hammock. As long as you don't mind a hefty price tag of about US$500, the hammock actually delivers on its promise of warm liquid bliss.
Call it a spa hammock. Call it a portable jacuzzi. Call it a camping hot tub hydro hammock. No matter what you call it, the pleasure will feel the same in the end, as waves of piping hot water envelope your tired flesh and bones. We're getting more relaxed just thinking about it. That'll do, Hot Tub Hammock. That'll do.