Zac Efron's 'Dad Bod' Has Twitter in a Meltdown
Zac Efron has undergone a bit of transformation in his more than a decade on the silver screen. From weedy basketball jock in High School Musical, to shredded athlete in Baywatch, the actor's impressive body has garnered more accolades than his impressive body of work. But his latest transformation shows a maturity that has fans losing their minds on Twitter.
You'll also like:
Zac Efron's 'Baywatch' Diet and Workout Plan
The Rock's Diet and Workout Plan
Down to Earth is the new Netflix docu-series that sees the star joined by wellness expert Darin Olien for a globe-trotting health and sustainable living adventure. The trailer sees Efron hitting a wellness retreat in the Amazon, diving into a lagoon in Iceland and eating an assortment of outrageous and culturally diverse foods. In all fairness, the show looks pretty good, but that's not what has viewers talking. As usual, it's Zac Efron's body that is copping all the attention.
Twitter users are blowing up over his new 'Dad-bod'. Long gone are the ultra-shredded, sub-5 per cent body fat Efron days, all hail the beefy new ex-Baywatch star.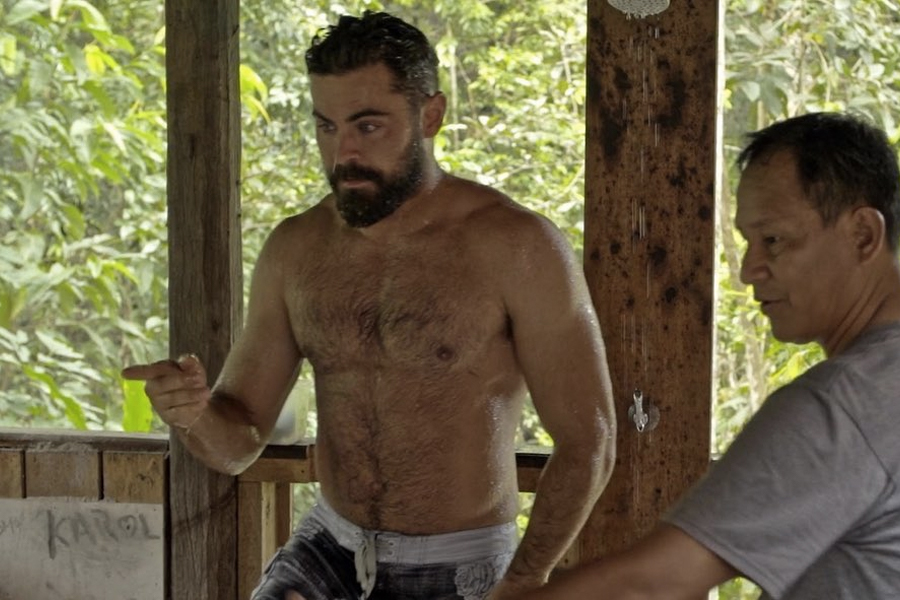 Look, the reality is that Zac Efron's 'Dad-bod' is far from the overblown, chunky physique we generally equate to the phrase. The man is obviously still extremely fit and with a few extra pounds on his frame, we'll bet the former High School Musical star is stronger than ever. In fact, it's no surprise Efron has added some bulk to the chassis. He previously noted that his transformation for Baywatch was incredibly difficult, mentally taxing and something he 'never wanted to do again' in his life. What is a surprise, however, is the lumberjack beard he's added.
A harsh fade and thick, full growth has never looked so good, according to Twitter. Turns out Efron's new look is more 'Daddy' than 'Dad-bod'. Check out these thirsty tweets from fans.
Zac Efron is the true definition of daddy 😍💦 pic.twitter.com/S8PBhMVlxZ

— Danielle luzak (@LuzakDanielle) July 12, 2020
I'd like Zac Efron's parents' phone number so I can just leave a 3 minute voicemail of me applauding pic.twitter.com/FX7rE70niC

— Julia (@theradiohag) July 12, 2020
Sexual awakening when I was a teenager: Zac Efron
Sexual awakening as a 29 year old adult: Zac Efron pic.twitter.com/qSU5xhf1he

— brandon (@brando_swift) July 13, 2020
Hello Daddy Zac Efron.

I think I understand sexual attraction now? Or is this just beard attraction… pic.twitter.com/35bWQwMVvN

— Ghoul 💀🧪 (@RadiationGhoul) July 13, 2020
Absolutely nothing to do with politics, but when did Zac Efron get so fucking hot? pic.twitter.com/dBxpX8obTX

— Amy Lynn🧦❤️ (@AmyAThatcher) July 12, 2020
You'll also like:
Zac Efron's 'Baywatch' Diet and Workout Plan
The Rock's Diet and Workout Plan