The Rock's Diet and Workout Plan
For Dwayne Johnson aka The Rock, workouts and a diligent diet are quite simply a way of life. Accordingly, the California-born college athlete turned WWE sensation turned A-list movie star cuts a truly impressive figure, as anyone with working eyeballs and access to a screen can attest. And while some of that mean muscle came naturally, the bulk of it results from next level dedication in every conceivable department. That said, he still makes room for the occasional cheat day. Something tells us he earned it.
Meanwhile, Johnson is always happy to share the secrets of his ongoing success. As such, you'll always find him posting fitness videos to YouTube or selling The Rock workout gear or gracing Instagram with pictures of his hearty meals. He even launched two short-lived reality shows called "Hero" and "Wake Up Call," where he personally motivated others toward physical and mental transformation. Like we said, spreading the love is a massive part of his game plan.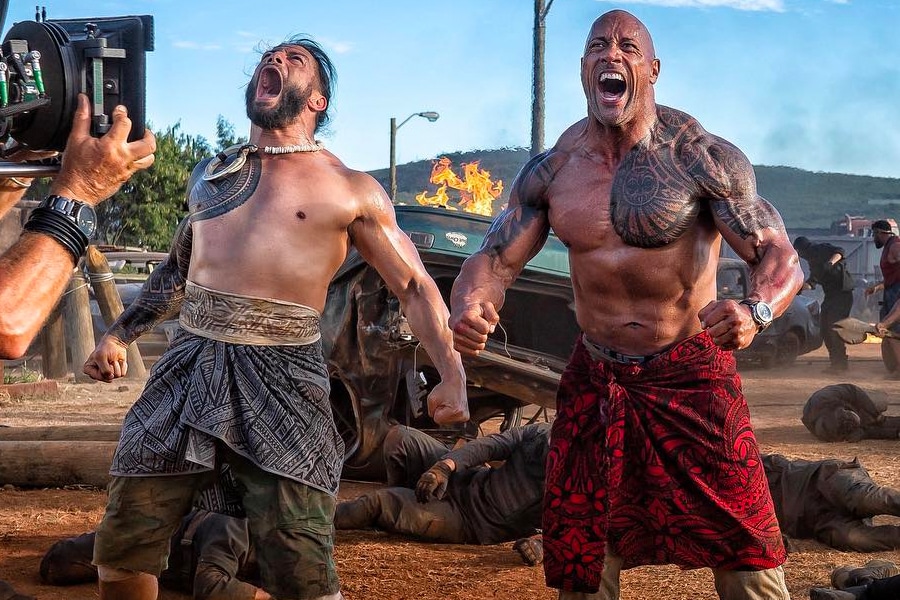 It's then no surprise that adopting The Rock diet and workout plan isn't a matter of access as much as it is a matter of conviction. Well, that and a decent budget, since you'll be spending a lot on food. Should you take on this training regimen, however, you might one day flaunt a body like the one he did in "Hercules" or "Fast 5" or any other movie he's been in because he's pretty much always fit. But are you up to the task, young go-getter? Let's find out.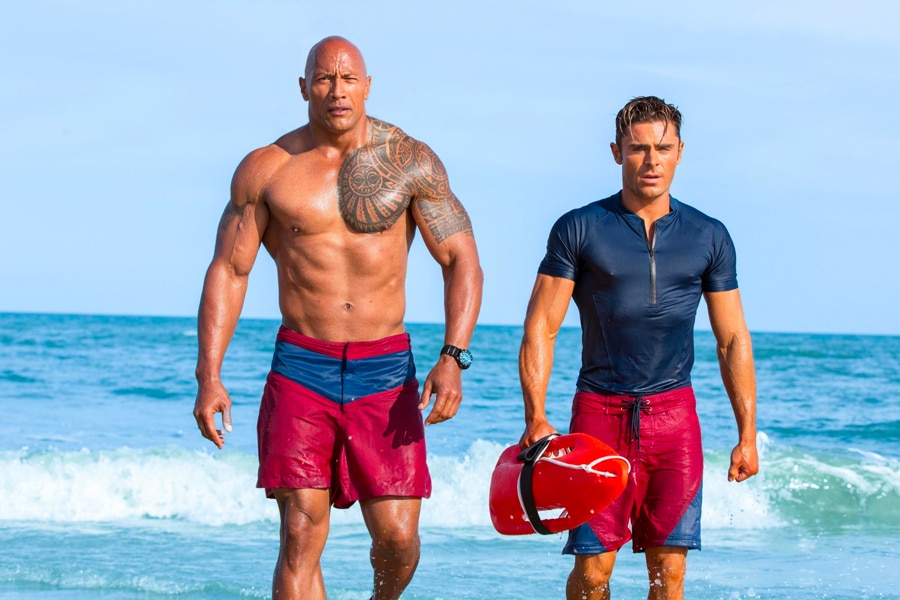 The Rock Diet Plan
The Rock takes a "go big or go home" attitude toward just about everything he does, including his diet. What we're trying to say here is that he eats like a grizzly bear, albeit a (mostly) healthy one.
Sometimes The Rock's diet can go to crazy extremes. For example, when prepping for the role of Hercules, it was reported that he ate up to seven protein-rich meals a day. That amounted to a whopping total of 4,131 calories, which is basically twice the recommended average for men. When not in training, he normally eats about five meals a day, and we're talking meals.
As you can probably guess, Johnson loves himself a juicy steak along with other tasty proteins. And if you've ever visited The Rock's insanely popular Instagram feed, then you know his cheat meals are downright epic. Of course, everything this dude does is epic, so why would his cheat meals be any exception?
Think steak, fish, whole grains, eggs, green veggies, protein, protein, and more protein, and you're getting a pretty good idea of what The Rock is cookin'. It's all planned out in advance and devoured with relish.
Five-Meal Diet Plan
When he's not building mass for a role, The Rock eats the following (as an example):
Meal #1
10 oz steak
2 cups oatmeal
3 egg whites
1 whole egg
1 glass watermelon juice
Meal #2
2 servings chicken
2 bell peppers
3 cups mushrooms
3 cups broccoli
1 protein shake
Meal #3
8 oz salmon
8 asparagus tips
2 whole eggs
2 cups rice medley
3 cups broccoli
Meal #4
10 oz steak
3 baked potatoes
8 asparagus tips
1 glass orange juice
Meal #5
20 grams casein protein
10 egg whites
Seven-Meal Diet Plan
As we mentioned above, when The Rock was training for 2014's "Hercules," he consumed calories like it was nobody's business. For all the extremists (or completists) out there, here's one of his seven-meal diet plans:
Meal #1
10 oz cod
2 whole eggs
2 cups of oatmeal
Meal #2
8 oz cod
12 oz sweet potato
1 cup veggies
Meal #3
8 oz chicken
2 cups white rice
1 cup veggies
Meal #4
8 oz cod
2 cups rice
1 cup veggies
1 tbsp fish oil—122
Meal #5
8 oz steak
12 oz baked potato
spinach salad
Meal #6
10 oz cod
2 cups rice
salad
Meal #7
30 grams casein protein
10 egg-white omelet
1 cup veggies (onions, peppers, mushrooms)
1 tbsp omega-3 fish oil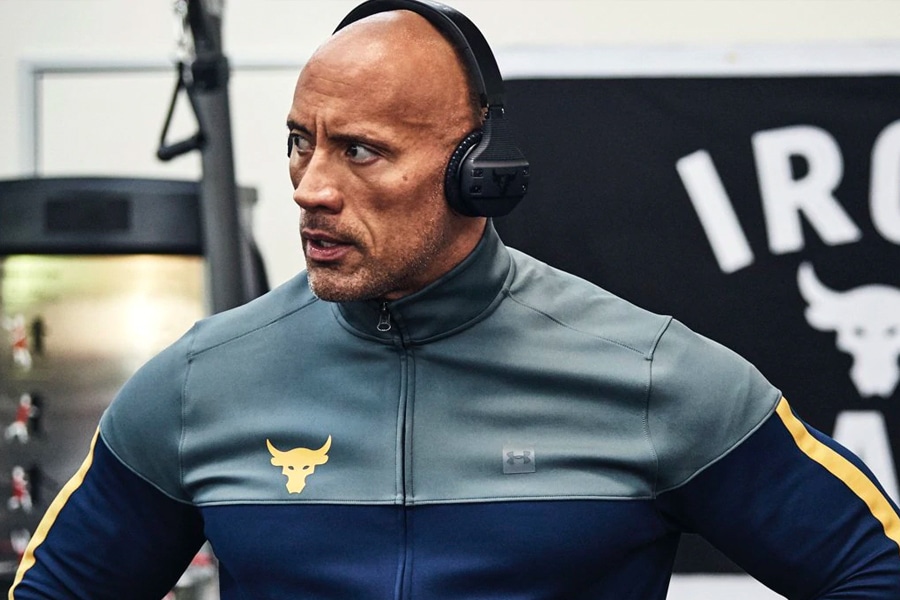 The Rock Workout Gear
Your training regimen isn't ready to go unless you've got the proper clothes and accessories. Enter The Rock's own line of workout gear, Project Rock, which was created in partnership with athletic brand Under Armour. Consider it your one-stop shop for gym-tested shirts, sneakers, headphones, earbuds, hats, bags, pants, socks, and anything else you might need to optimise your fitness routine. Here are some highlights: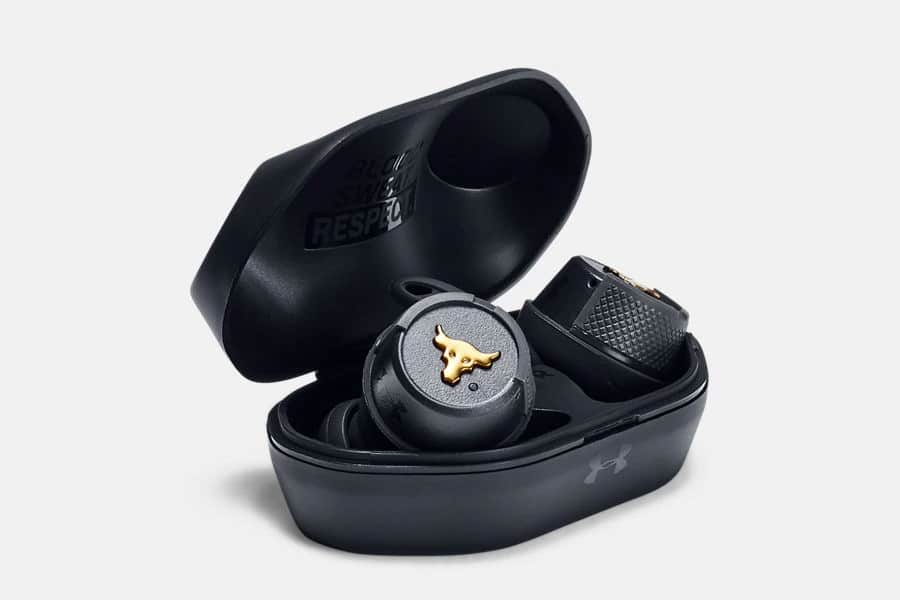 UA True Wireless Flash Project Rock Edition – Bolstered by Bluetooth technology, a host of innovative touches, JBL sound, and an ergonomic design, these classic buds deliver the wireless experience you've been waiting for. Cue up The Rock ultimate workout music playlist and get pumped.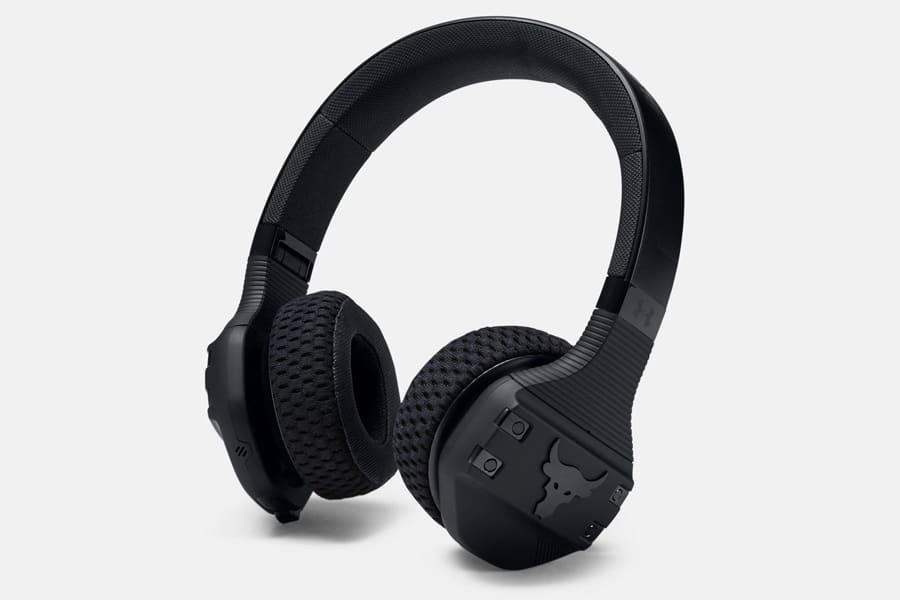 UA Sport Wireless Train – Project Rock Edition – Beats by Dre? Never heard of it. Consider these wireless headphones instead, which are built to handle The Rock's workouts. In other words, they're built to handle any workout.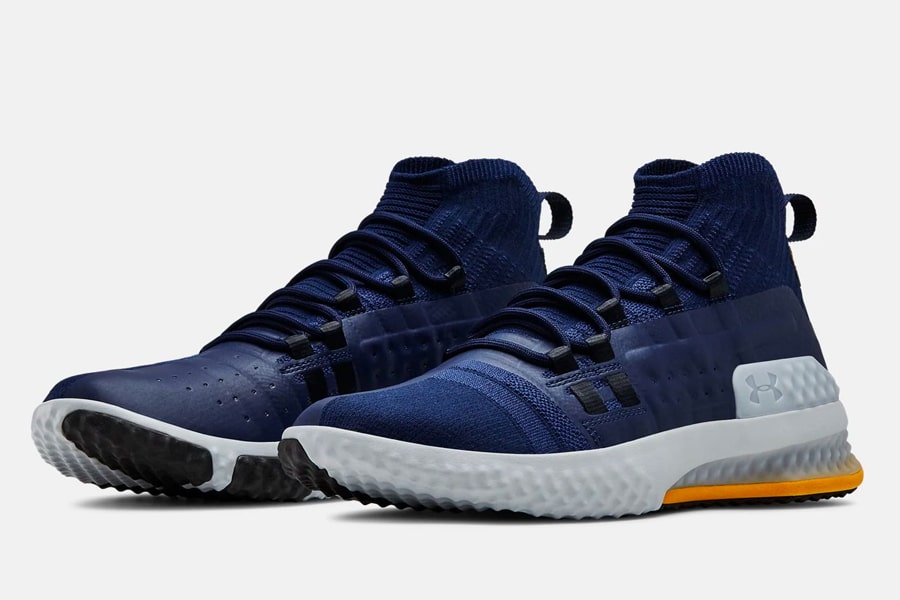 UA Project Rock 1 – Featuring fully knit uppers and synthetic overlays, these sporty kicks are as breathable as they are tough. An adjustable lacing system allows for a truly comfortable and customised fit.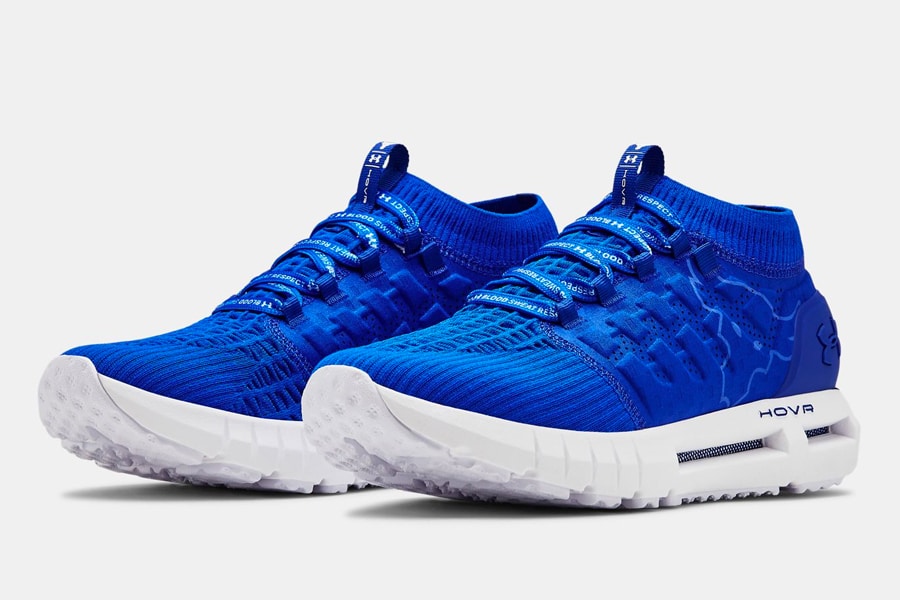 UA HOVR™ Phantom Project Rock – You're damn right you'll need to run every week if you want to look like The Rock. Thankfully, he helped design a shoe just for the occasion. Not only will the UA HOVR technology make your feet feel like they're floating in zero gravity, but built-in sensors are tracking your every step. Smart.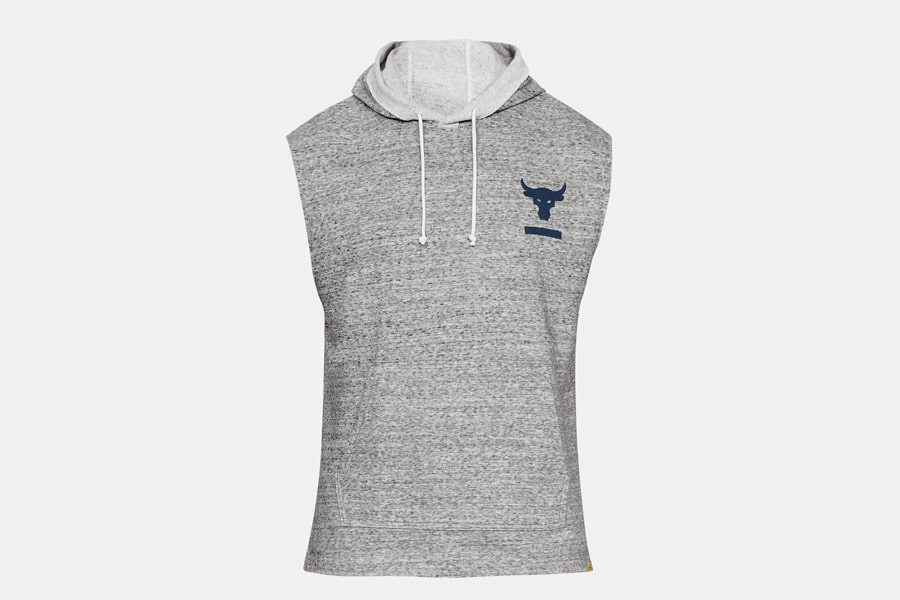 Project Rock Terry –  Odds are you've seen The Rock working out in a short-sleeved hoodie by now. With this Project Rock Terry at your disposal, you can do the very same thing.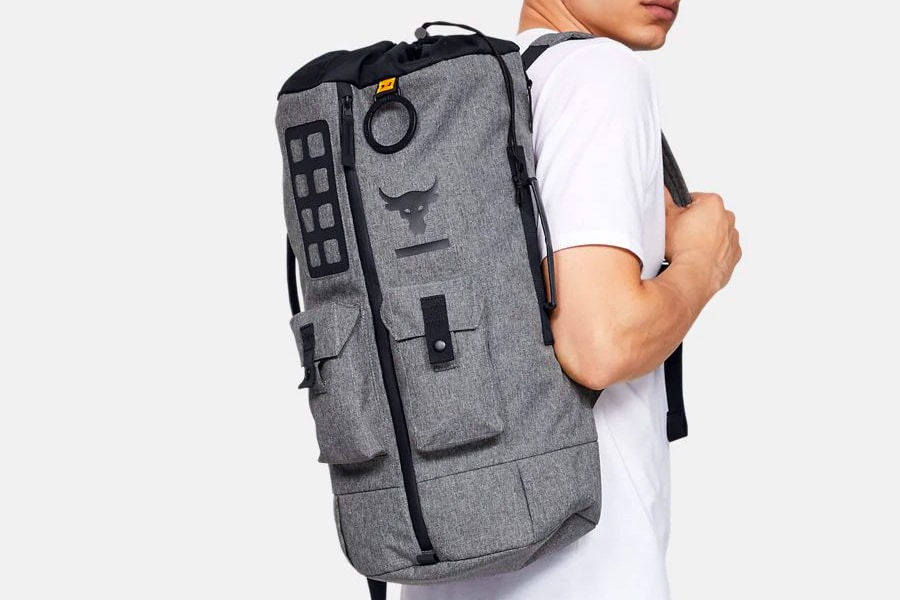 Project Rock 90 Bag – Durable, adjustable, intelligent, and pleasing to the eye, the Project Rock 90 Bag will have you rolling up to the gym in sporty style. Your modern workout arsenal isn't complete without it.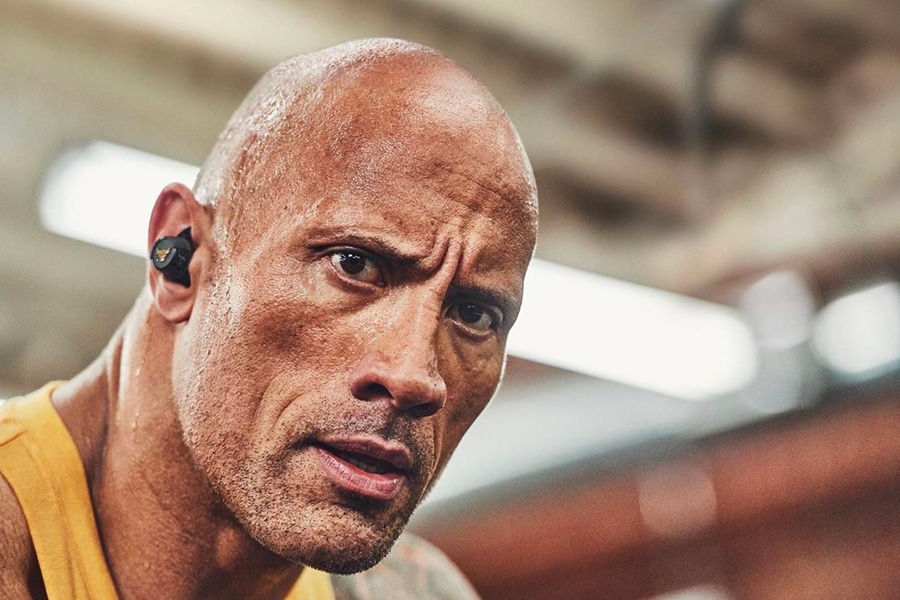 The Rock Workout Plan
Are you ready to bring out your inner Hercules? The Rock workout plan will certainly get you there, but don't think for a second that the journey will be easy. On the contrary, The Rock workout routine is pretty much as demanding as modern fitness can get. Of course, should you properly execute this brutal training regimen, you'll be walking tall like a one-man gun show (who out there got the reference?).
Depending on the type of role he's training for, The Rock employs varying levels of intensity. That said, his workout routine is always pretty intense. It kicks off with 30-50 minutes of cardio on the elliptical cross trainer first thing in the morning. After that, he eats a hearty, protein-packed breakfast.
Then it's off to the gym, where the real workout begins. In The Rock's own words, he gets "busy with a nice session of clangin' and bangin'—epic pain, epic results." That means lifting heavy weights on a regular basis, working out six days a week, and focusing on a different muscle group each day. All the while, The Rock is cranking his ultimate music playlist, presumably on his namesake headphones or earbuds. On the seventh day, he rests…and eats gobs of ice cream (if his legendary Instagram feed is anything to go by).
Before we dive into the basics, a simple reminder: Dwayne "The Rock" Johnson is 6 foot 5 and built like a truck. We only mention this because we would never want you to bite off more than you can chew by eating everything he eats and lifting everything he lifts. In other words, apply a little common sense when adopting The Rock's workout routine, so that we don't end up with a lawsuit on our hands. Intensity is good. Overdoing it, bad.
Now that we've gotten our little disclaimer out of the way, we present one of The Rock's ultimate workout plans. Prepare to get busy with the kettlebells, barbells, and dumbbells. Your chest will be sore, your legs will be sore, your triceps will be sore, your everything will be sore, but it will be worth it in the long run. Epic pain, epic results, as the man himself likes to say. Without further delay, here is The Rock's workout plan:
Day 1: Legs
Run on Treadmill – 30-50 minutes
Eat Breakfast
Barbell Walking Lunge – 4 sets, 25 reps
Leg Press – 4 sets, 25 reps
Leg Extensions – 3 sets, 20 reps
Barbell Squat – 4 sets, 12 reps
Hack Squat – 4 sets, 12 reps
Single Leg Hack Squat – 4 sets, 12 reps
Romanian Deadlift – 4 sets, 10 reps
Seated Leg Curl – 3 sets, 20 reps
Thigh Abductor – 4 sets, 12 reps
Day 2: Back
Run on Treadmill – 30-50 minutes
Eat Breakfast
Wide-Grip Lat Pulldown – 4 sets, 12 reps
Bent Over Barbell Row – 4 sets, 12 reps
One-Arm Dumbbell Row – 4 sets, 12 reps
Barbell Deadlift – 3 sets, 10 reps
Pull-ups – 3 sets, to failure
Dumbbell Shrug – 4 sets, 12 reps
Inverted Row – 3 sets, to failure
Hyperextensions (Back) – 4 sets, 12 reps
Day 3: Shoulders
Run on Treadmill – 30-50 minutes
Eat Breakfast
Dumbbell Shoulder Press – 4 sets, 12 reps
Standing Military Press – 4 sets, 12 reps
Front Dumbbell Raise – 4 sets, 12 reps
Side Lateral Raise – 4 sets, 12 reps
Reverse Machine Flyes – 4 sets, 15 reps
Seated Bent-Over Rear Delt Raise – 4 sets, 12 reps
Day 4: Arms/Abs
Run on Treadmill – 30-50 minutes
Eat Breakfast
Dumbbell Bicep Curl – 4 sets, 15 reps
Hammer Curls – 4 sets, 15 reps
Spider Curl – 4 sets, to failure
Triceps Pushdown – 4 sets, 15 reps
Overhead Triceps – 3 sets, 15 reps
Hanging Leg Raise – 4 sets, 20 reps
Rope Crunch – 4 sets, 20 reps
Russian Twist – 4 sets, 20 reps
Day 5: Legs
Run on Treadmill – 30-50 minutes
Eat Breakfast
Barbell Walking Lunge – 4 sets, 25 reps
Leg Press – 4 sets, 25 reps
Leg Extensions – 3 sets, 20 reps
Barbell Squat – 4 sets, 12 reps
Hack Squat – 4 sets, 12 reps
Single Leg Hack Squat – 4 sets, 12 reps
Romanian Deadlift – 4 sets, 10 reps
Seated Leg Curl – 3 sets, 20 reps
Thigh Abductor – 4 sets, 12 reps
Day 6: Chest
Run on Treadmill – 30-50 minutes
Barbell Bench Press – Medium Grip – 4 sets, 12 reps
Incline Dumbbell Press – 4 sets, 12 reps
Dumbbell Bench Press – 4 sets, 12 reps
Flat Bench Cable Flyes – 4 sets, to failure
Incline Hammer Curls – 4 sets, 12 reps
Dips – Chest Version – 4 sets, to failure
Day 7: Rest
You'll also like:
Arnold Schwarzenegger's Diet and Workout Plan
Zac Efron's 'Baywatch' Diet and Workout Plan
Chris Hemsworth's Thor Diet & Workout Plan