2023 Ford Ranger Raptor Review
When you see the word 'Raptor' plastered across the side of a Ford Ranger you know it's something special. The flared wheel arches, aggressive stance, and large offroad tires give it a tough look unmatched by anything else in its class. You also expect it to pack an equally large punch… and while the previous generation Ford Ranger Raptor was a great offroad tourer, it left a lot to be desired in the power department.
After driving the previous-gen Raptor last year, I longed for more power. The 10-speed auto and torquey bi-turbo diesel motor were solid, but I couldn't help but think how good the Ranger Raptor would be with more power.
Thankfully, the next-gen Ford Raptor answered all of my prayers with a 400HP twin-turbo V6 and in this review, I'll be testing the (AUD$86,790 plus on-road costs) Ranger Raptor on the streets of Sydney and the sand dunes of Newcastle to prove the duality of this halo product from Ford Australia.
RELATED: Ford Mustang Mach-E Price and Specs for Australia.
What Powers the 2023 Ford Ranger Raptor?
The new Ranger Raptor is powered by a 3.0-litre twin-turbo V6 petrol engine that produces class-leading power figures of 292kW (392hp) at 5650rpm and 583Nm torque at 3500rpm. While this pales in comparison to the F-150 Raptor R overseas, the V6 has plenty of up-and-go compared to other dual-cab utes on the market.
It sends power to all four wheels through a 10-speed automatic gearbox with permanent four-wheel-drive and propels the Ranger Raptor from 0-100km/h in 5.8 seconds (as tested by Performance Drive). Interestingly, the gears feature a boost-by-gear function where each is programmed with its own boost profile.
All of this power comes at a cost, however, as the Ford Ranger Raptor drinks fuel at a furious rate. In my testing, I averaged around 30 litres per 100km on the sand and around 16 litres of fuel per 100km on the tarmac. It's powerful, shaped like a box, and weighs as much as a one-bedroom townhouse in Newtown. None of which helps with fuel economy.
What About That Fancy Active Exhaust?
This engine has never been known for great sound, but the Raptor features a mode-based exhaust system that you can control from the steering wheel, they include:
Quiet: Designed to prioritise low volume over performance. Great for keeping the peace with neighbours.
Normal: Intended for everyday use, and applied by default to Normal, Slippery, Mud/Ruts, and Rock Crawl modes.
Sport: Offers a louder and more aggressive note.
Baja: The most aggressive of the exhaust profiles in both volume and note and is "intended for off-road use only."
Most of the time I found myself driving around in normal mode as the exhaust sounds particularly brash in Sport and Baja. It's not a great sound but the fact it has any sound at all is a positive amongst today's crop of dual-cabs, and when you're pinning it up a few sand dunes it sounds alright as you can hear in the video below.
Rounding out the engine specs is the anti-lag system that keeps the turbochargers spinning for up to three seconds after you back off the throttle. It allows for faster acceleration out of corners or between gears which was particularly noticeable when blasting along the sand.
RELATED: 2023 Ford Everest Platinum Review.
How Does the 2023 Ford Ranger Drive?
While the standard next-gen Ranger is great in its own right, the Raptor adds more than a few inches of track width to its suspension.
For the first time in a Ranger, we find a permanent four-wheel-drive system with an electronically controlled on-demand two-speed transfer case and front and rear difflocks. Traction is further helped by factory-fitted 32-inch BF Goodrich All-Terrain KO2 tyres wrapped around a choice of two 17-inch wheels (one bead locked).
Under the skin, there's a strong combination of lightweight aluminium upper and lower control arms, long-travel suspension, and refined Watt's link coil springs in the rear. Reinforcements to the C-pillar, load box, and spare wheel stiffen up the body and help the Raptor better cope with bumps, while unique frames were added for the jounce bumper, shock tower and rear shock bracket.
Twice-thick bash plates line the underbody to protect components including the engine, transfer case, radiator, steering system, front cross member, engine sump and front differential. These are always a great insurance policy offroad, especially for hooligan journalists who like to properly test these vehicles.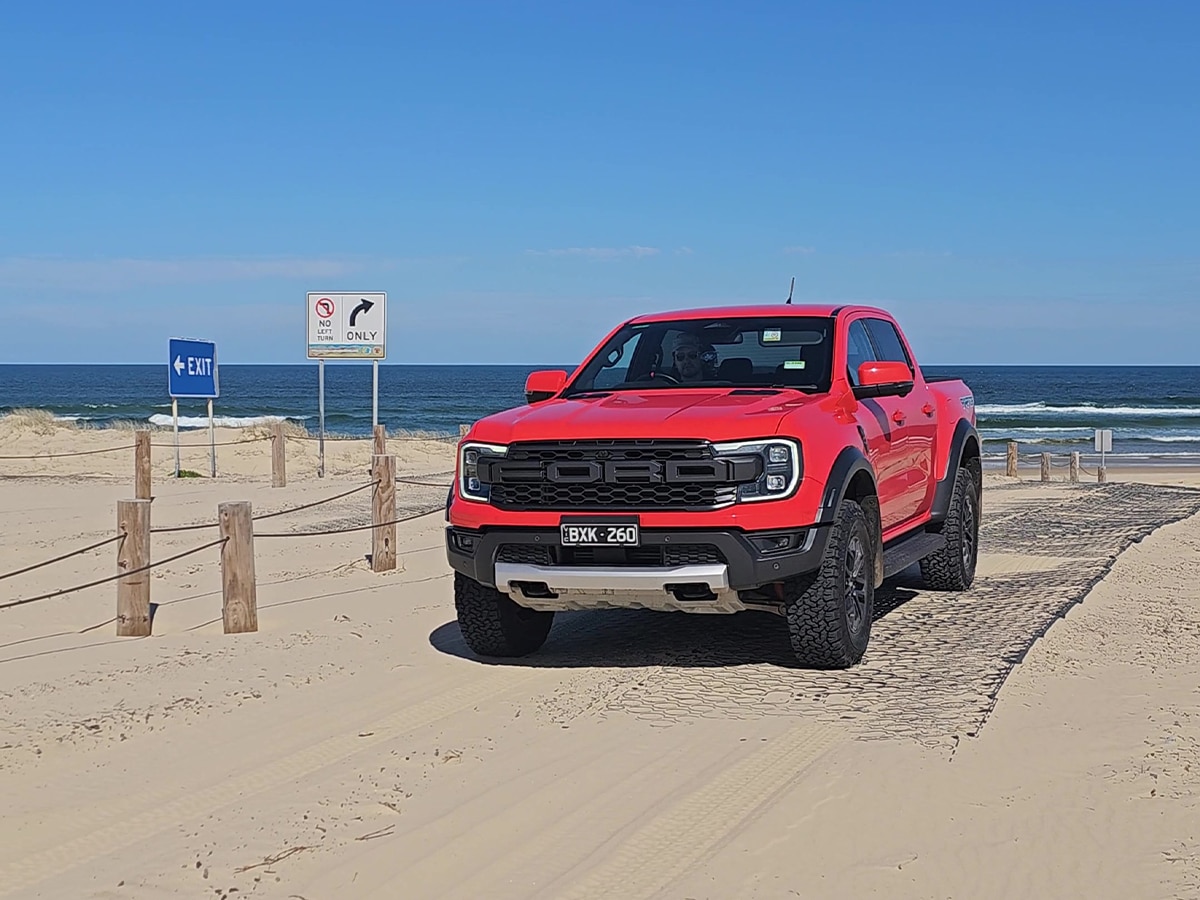 The breadth of capability is gob-smacking. Washouts, jumps, and sand dunes are nothing but a walk in the park for the new Raptor.
Thanks to the Fox Racing Shocks (with Live Valve Internal Bypass) you can comfortably sit at highway speeds while cruising on the sand or dirt. Even on the road, these dampers do wonders to the ride comfort and the Raptor is as comfortable as European SUVs around the same price range. It struggles through the corners with plenty of body roll and a slow steering rack, but in a straight line and around town it's delightful.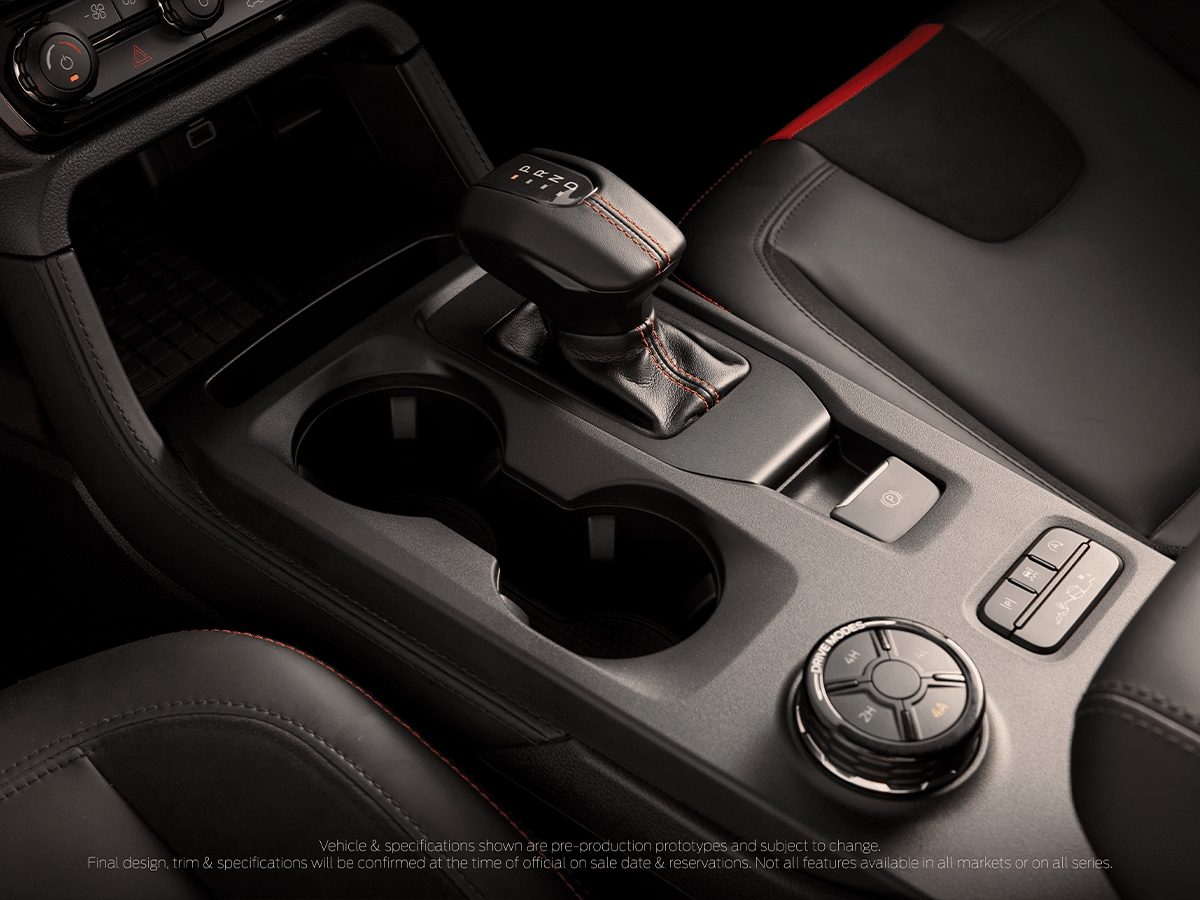 What Driving Modes Does it Have?
If I had to describe the experience of driving a Ranger Raptor offroad in one word – 'simplicity'. Anyone could reasonably get behind the wheel and do Baja things. Choose from one of the seven drive modes below and 'send it' in true ute-owner fashion.
On-road Drive Modes
Normal: Comfort, fuel efficiency and drivability.
Sport: Responsive for spirited on-road driving.
Slippery: Confident driving on slippery or uneven surfaces.
Off-Road Drive Modes
Rock Crawl: Optimal traction and momentum on loose surfaces.
Sand: Soft sand and deep snow conditions, optimising power delivery and transmission shifts.
Mud/Ruts: Maximum grip off-road during launch and maintaining vehicle momentum.
There's nothing like the Raptor in its class, even the recently announced Hilux GR Sport can't compete as it's so far down in the power department.
The closest comparison I could make is to the RAM 1500 TRX where the Raptor drives like a miniature version of the TRX with half the power (and costs half the price). Which, on paper, is exactly what the Raptor is.
Steering could be sharper and the seats could be more supportive when you're pushing the car offroad. However, all these things leave headroom for a Ranger Raptor R in the future.
RELATED: New E-Transit Starts Ford Australia's Path to Electrification.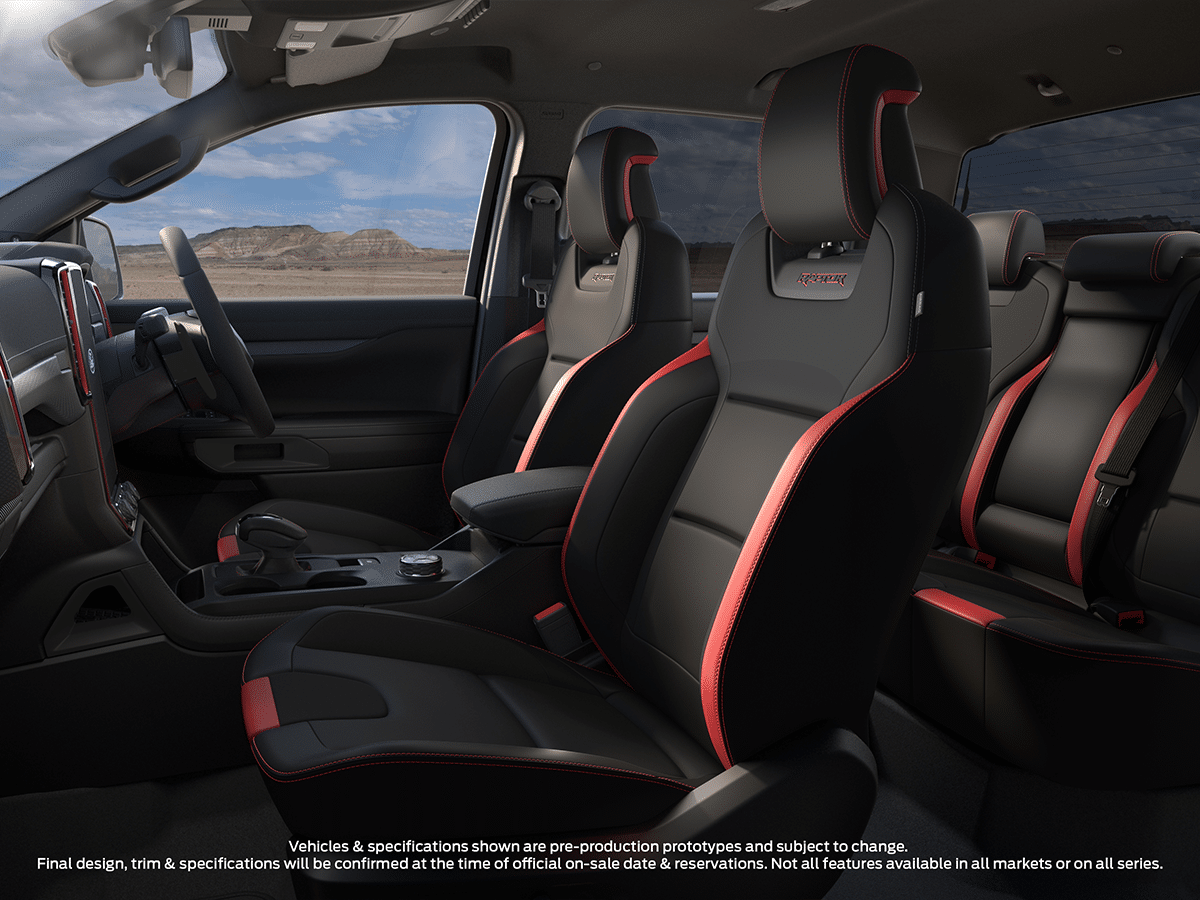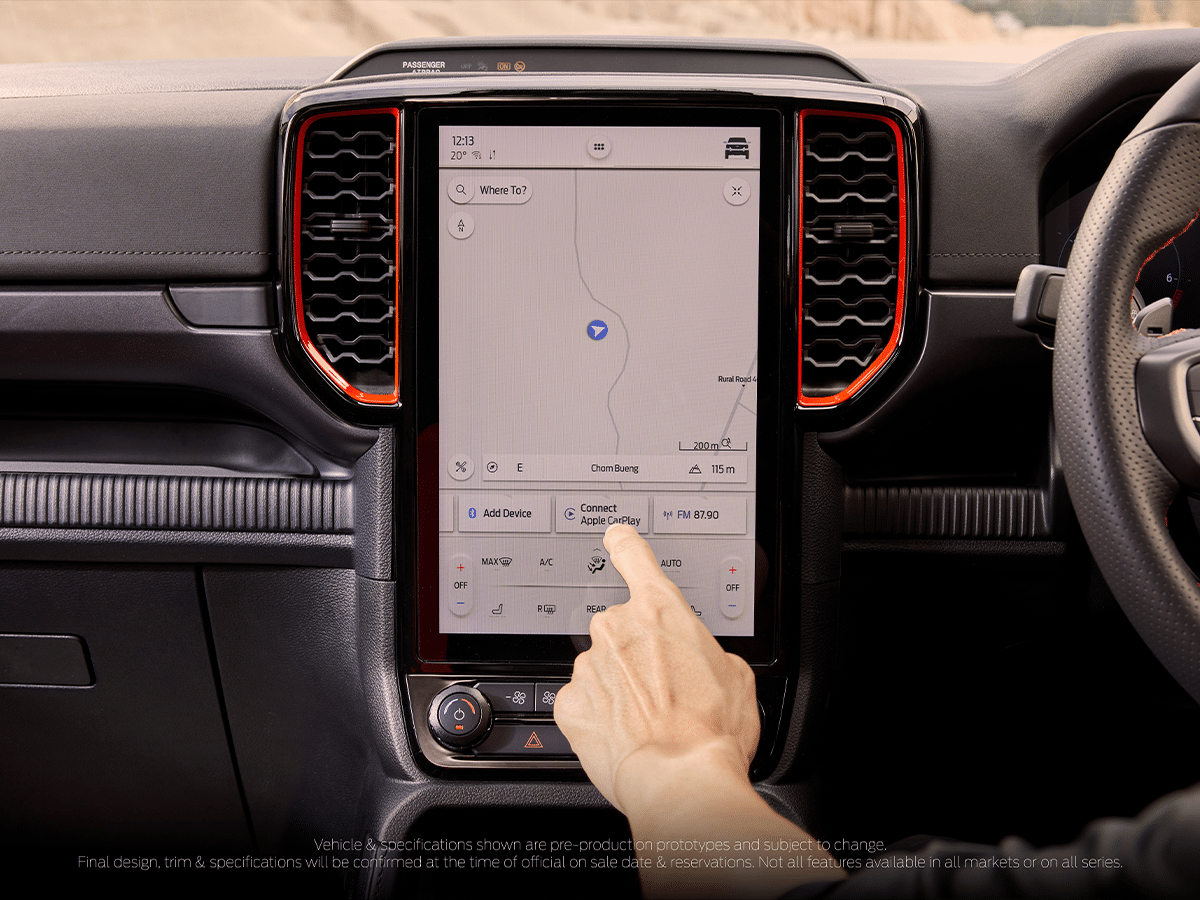 What's the Ford Ranger Raptor Interior Like?
On the inside the Raptor stands out from the rest of the Ranger line-up with plenty of the hero 'Code Orange' highlights around the vents and stitching. However, it's more than just cosmetics with functional magnesium paddles behind the bespoke steering wheel (with Raptor logo) and seats that blend comfort and support when you're hitting the jumps offroad.
Like the 2023 Ford Ranger Wildtrak I tested last year, the Raptor comes as standard with the larger 12-inch Sync 4 infotainment system with wireless Apple CarPlay and Android Auto. It's bright, sharp, and generally quick to respond.
The same goes for the row of auxiliary switches factory mounted on the overhead console, mini glove box on the passenger side, pop-out cupholders, and wireless charger that fits the latest iPhone 14 Pro Max.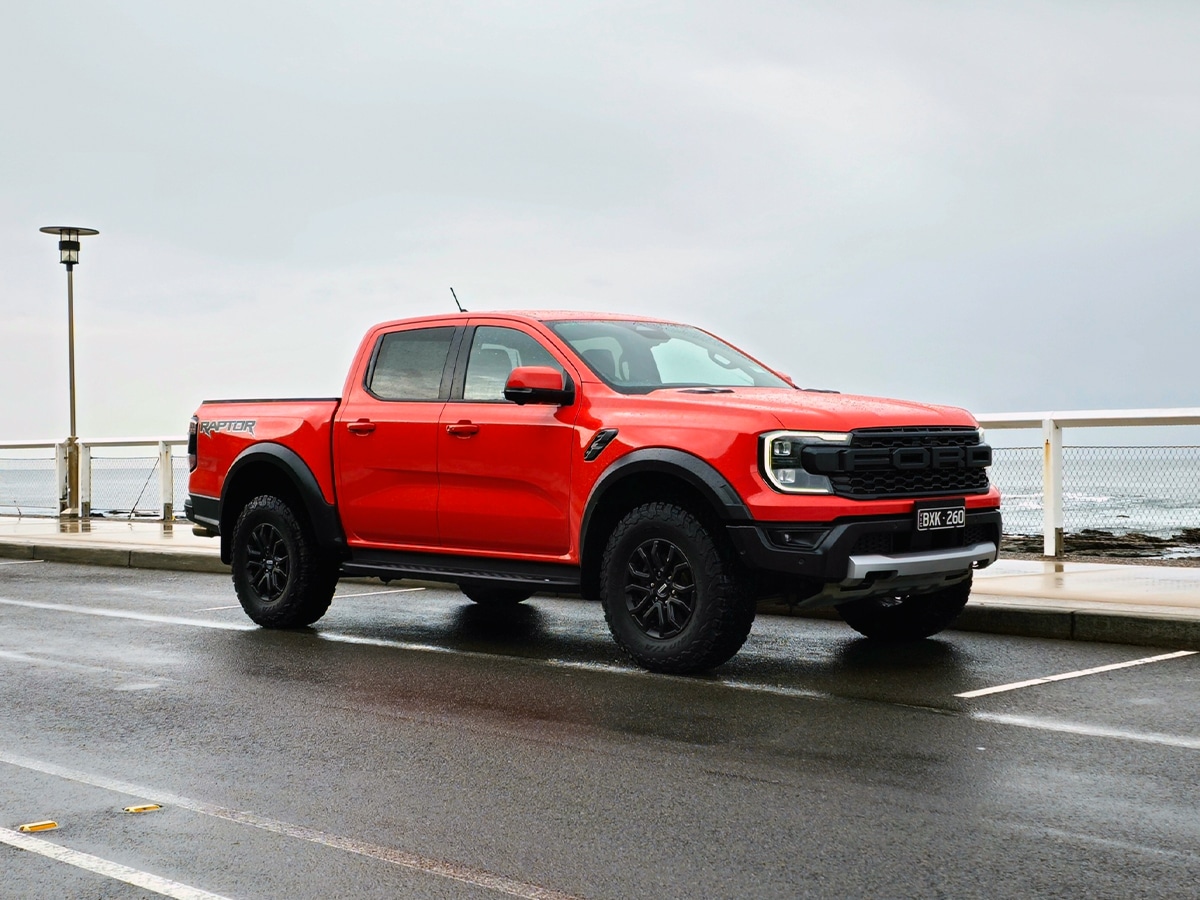 What Does the Ford Ranger Raptor Cost?
The Ford Ranger Raptor underwent a price increase for 2023.5 model year cars built from March onwards. They're now priced from $86,790 (up from $85,490) plus on-road costs which place driveaway prices around the $92,000 mark.
There's only four options available on the Ranger Raptor from the factory:
17-inch Beadlock capable alloy wheels with matching spare – $2000
Power roller shutter (with plastic bedliner) – $3500
Prestige paint – $700
Raptor decals – $500
To order and spec a Ford Ranger Raptor for yourself, follow the link to ford.com.au below.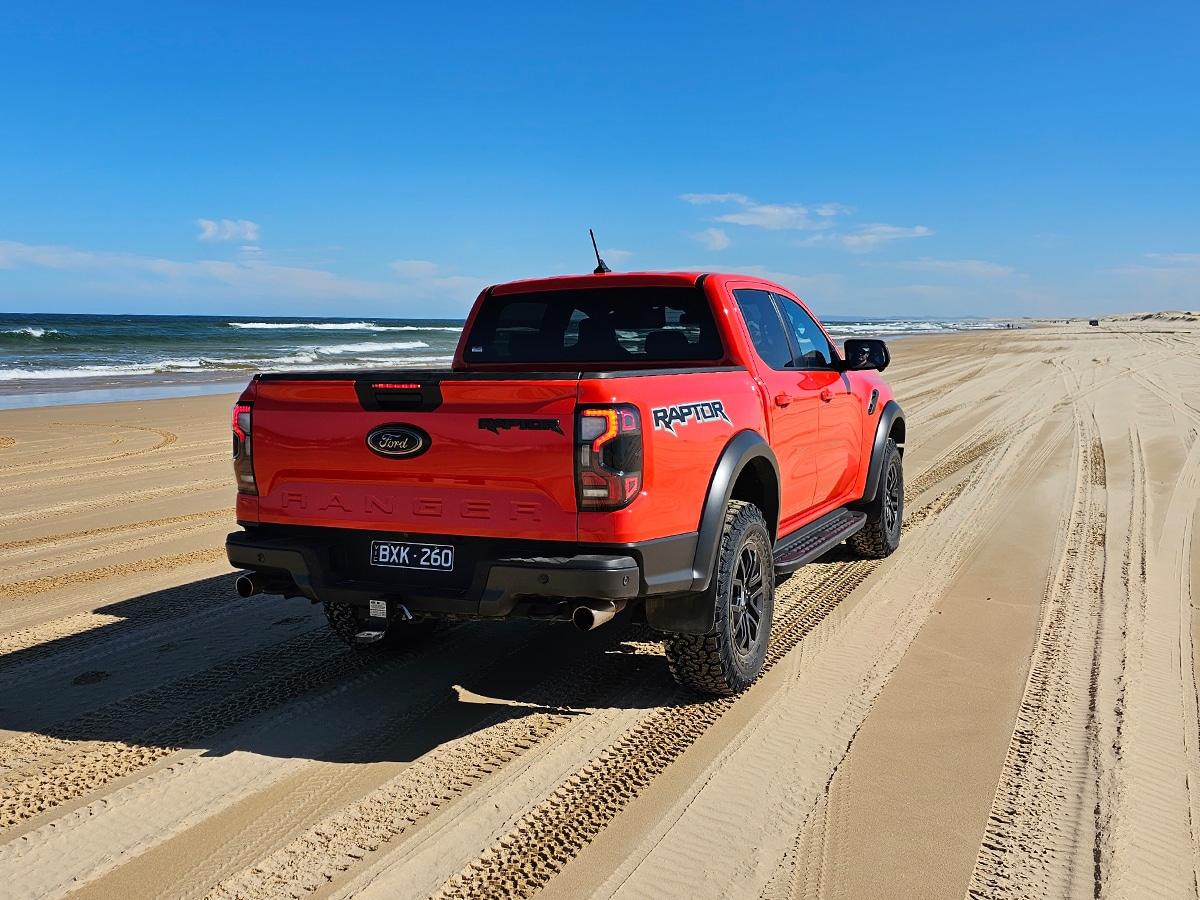 You'll also like: