11 Tops & Jackets to Stay Warm this Sydney Winter
This article is written in partnership with Lyst. 
We were warned over and over again that winter was coming and now it's finally here. Thankfully the nightwalkers are nowhere to be seen and the dead haven't risen…yet…but in the meantime there's been plenty of rain and wind to keep Sydney nice and dreary. However, we refuse to let the winds of winter get in our way when it comes to going outdoors and having a good time. In an effort to spread the love and ensure no one goes stir crazy, we partnered with menswear portal Lyst to find some of the best tops and jackets on the market. Check them out, fend off the cold, and hit the streets in comfort and style. After all, who knows how long this winter will last?
ASOS Wool Mix Peacoat with Faux Shearling Collar in Black
If you're someone who wants a stunning, dependable coat at an unbeatable price, consider the ASOS Wool Mix Peacoat. Flaunting a warm, natural aura of comfort and sophistication, the ASOS Peacoat is so nice looking that if you chose to tell people how much you paid for it they might not believe you.
Abercrombie & Fitch Baseball Jacket in Bonded Fabric
Abercrombie's baseball jacket won't necessarily insulate you during times of harsh rain and bitter wind, but it will guarantee you're cozy and looking good during the milder winter days. With a baseball collar and fabric blend of cotton and polyester, the baseball jacket is the perfect daytime accessory to keep you light on your feet and ready for anything.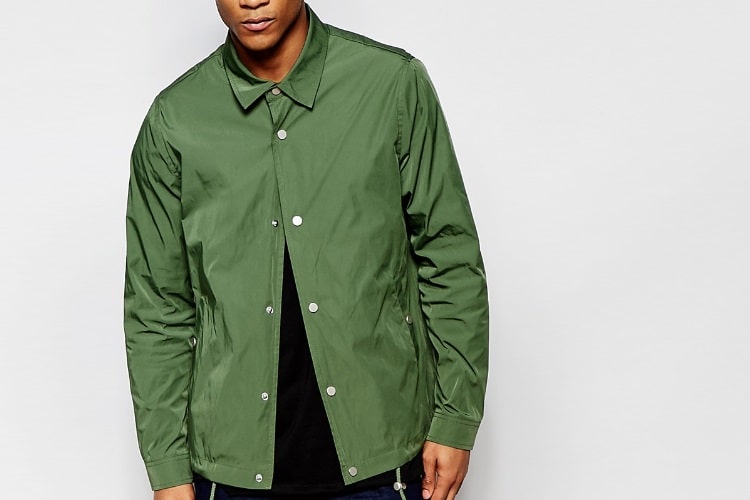 ASOS Coach Jacket with Contrast Lining in Khaki
The ASOS Coach Jacket maintains street style flair while fending off that brutal Australian downpour. The waterproof polyester and contrast lining keep things tight and durable inside and out. Snap those buttons together and go.
ASOS Bomber with Snaps in Grey Marl
Part crisp sweatshirt, part stylish jacket, the ASOS Bomber is another choice that's perfect for milder climate conditions and even indoor events when the heat isn't cranked. The clean grey marl profile keeps you looking sharp and the press stud placket (aka button snaps) give the bomber true fashionable flexibility.
Fioroni Layered Cardigan Jacket
Made in Italy, the Fiorini Layered Cardigan Jacket is a double-edged sword of top shelf utility and cutting edge style. The cardigan layer exudes handsome refinement and ample warmth using the finest virgin wool blend. The removable jacket with drawstring waist employs quality nylon for durable, weather-resistant protection. This is one classy beast!
Givenchy Classic Biker Jacket
Designer Riccardo Tisci has breathed new life into Givenchi, and the limited edition Classic Biker Jacket is another profound exploration of eye-catching boldness from the fashion brand. The jacket has plenty of cool features but nothing speaks louder than the premium black 100% calf leather outer composition, duly maintaining Tisci's knack for high end, pure dark aesthetic statements.
John Varvatos Cotton and Linen-Blend Bomber Jacket
The John Varvatos Bomber is the perfect jacket for someone confident and self-assured who likes his outerwear tight and sleek. The jacket is a slim fit and uses a premium blend of cotton and linen to supply body warmth and exude unmistakable appeal.
Scotch & Soda
A no-frills parka with a somewhat cheeky name, the Scotch & Soda is virtually guaranteed to be your all-inclusive jacket of choice for the cruel winter months ahead. Made with 100% Polyester and featuring a solid, minimalist profile, this is a jacket that almost obliges you to go out and use it no matter how crappy the weather is.
River Island Dark Red Long Sleeve T-Shirt
After braving the winds and rain to arrive at your destination, you'll naturally want to take off that new coat without losing your step in style. If you're someone who prefers to make a straightforward, clean impression we suggest scoping this crew neck long sleeve shirt with chest pocket. It's as simple and affordable as looking good can get.
ADPT High Neck Long Sleeved Top
Another solid shade entry for someone who maintains a clean, fetterless appearance, The ADPT Turtleneck utilizes a lightweight knit of viscose and nylon to achieve an essence of handsome, comfortable coziness.
ASOS Grey Shirt with Neps and Grandad Collar
The ASOS Grey Shirt employs a neppy finish to inject an extra helping of smooth texture. The half-button placket and grandad collar reinforce the shirt's effortless approachability. Get it before your friend does because it could make the difference as to who gets lucky by the end of the night.
We just want to remind you that the above selections were made in collaboration with Lyst, an essential hub for the best in men's fashion. If like us you're often overwhelmed by the magnitude of choice presented through the Internet, we highly recommend you check them out because navigation, customization and customer service is the heart and soul of their operation. You can view their jacket department here and their men's t-shirt department here, or you can go to Lyst.com and start from scratch. You won't be disappointed.