Apple Reveals macOS 14 'Sonoma' Features: Interactive Widgets, Updated Video Conferencing, Game Mode and More
Apple took the stage at the recent WWDC 2023 event to introduce its latest desktop operating system, macOS 14. The new OS, slated to arrive in the fall of this year, carries on Apple's tradition of naming their operating systems after Californian towns. Besides a shiny new title, macOS Sonoma brings a whole host of exciting additions and features, including desktop widgets support, game mode, improved screen sharing and more to elevate the overall computing experience for users.
You'll also love: $5,000 Apple Vision Pro Could Put an End to Conversation as We Know It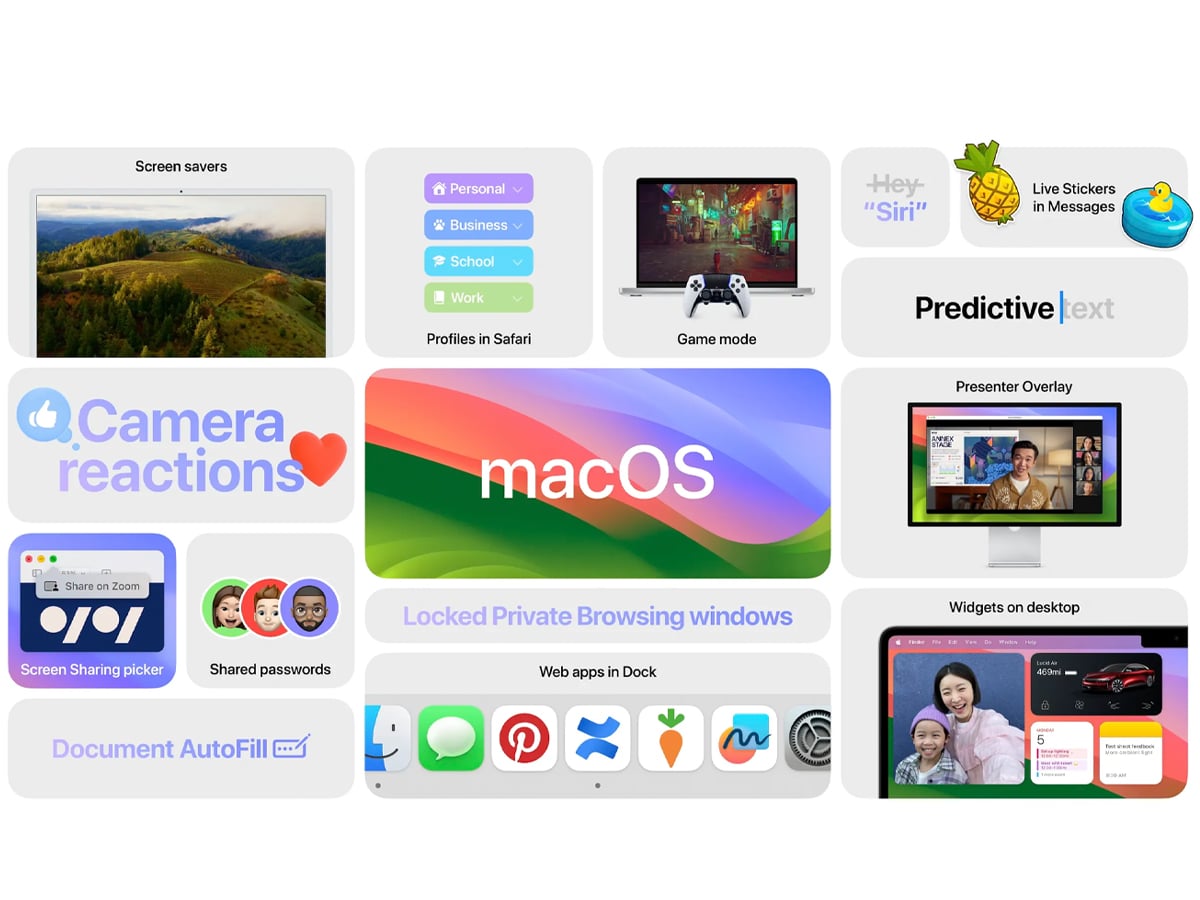 macOS Sonoma Features
All of the macOS Sonoma features and upgrades can be navigated by the following headings, take your pick.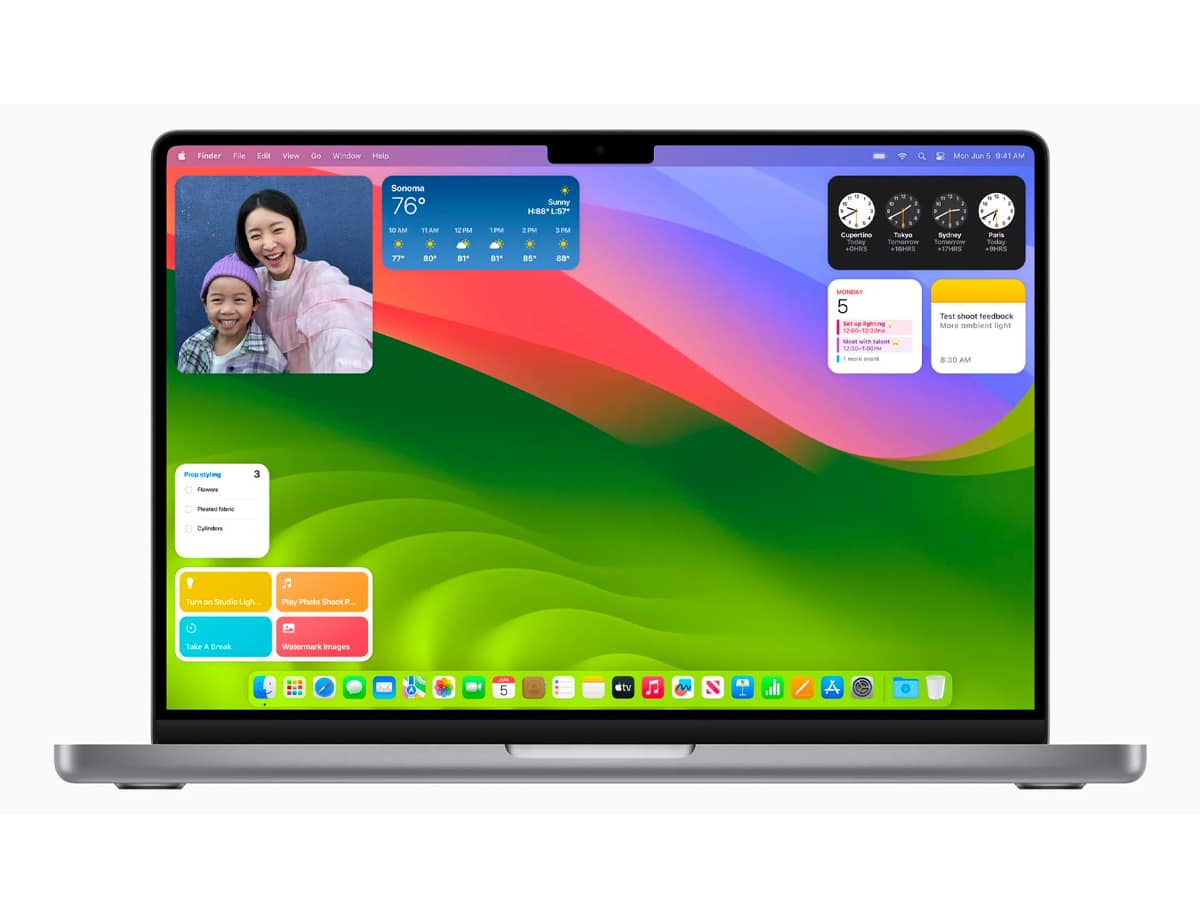 Desktop Widgets
One of the most prominent features coming with Sonoma is desktop widgets which Apple has brought over from the mobile side of things. The new widgets are designed to dynamically adjust to your usage, ensuring they don't overwhelm your screen while you work on other tasks. Furthermore, these widgets will be interactive, allowing you to easily play or pause media, control smart home devices, take notes, manage reminders, and stay organized with calendar appointments, all from your desktop or laptop. Additionally, if you own an iPhone, you will have the added benefit of being able to bring your iOS widgets to your desktop when your smartphone is connected to the same Wi-Fi network or in close proximity.
Video Conferencing
Sonoma even introduces an array of improved video conferencing features, to enable users to present and share their work more effectively. Screen sharing undergoes a significant revamp, streamlining the process of sharing or presenting your screen during meetings. Initiating screen share is now as simple as clicking a dedicated button located in the top-left corner of any app you're using (compatible with various video conferencing apps, as per Apple).
The new OS enhances screen sharing with a user-friendly feature called Presenter Overlay, which displays the screen you wish to share alongside your own video. Moreover, Sonoma introduces Reactions to video calls, mirroring the functionality found in the Messages app. You can use hand gestures to trigger delightful visual effects like balloons, hearts, or confetti to appear during your call. However, these features will be exclusively available on Macs equipped with Apple's own Silicons, rather than Intel chipsets.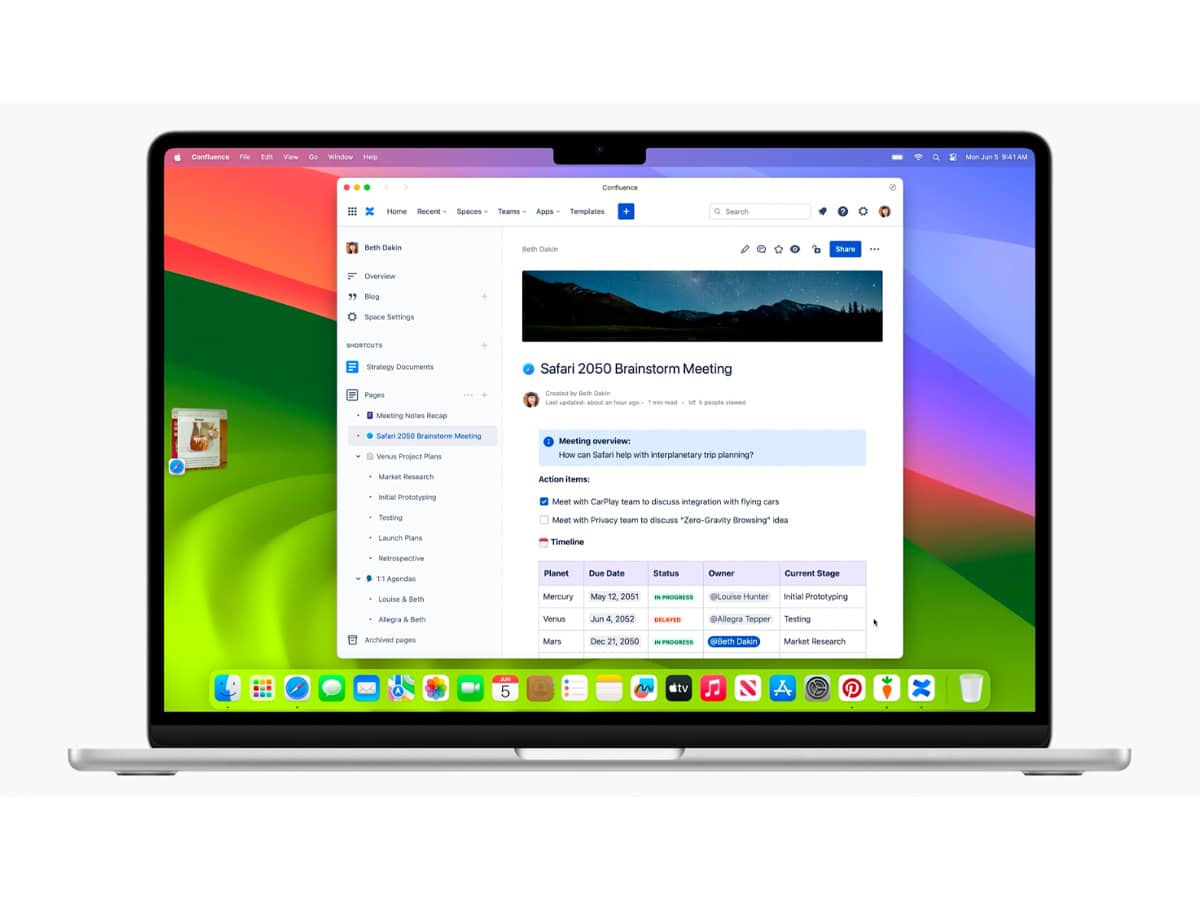 Privacy and Safety
Apple is doubling down on the privacy and safety features of its Safari browser and has introduced several nifty new features to ensure a safer browsing experience. The private browsing functionality gets a major revamp and comes loaded with settings to enhance your privacy and safety. When in private browsing, instead of closing your tabs when you take a break, you now have the option to lock your private browsing windows whenever you step away from your screen. Additionally, Safari introduces the capability to create Netflix-like separate browser profiles, enabling you to have different profiles for work and personal use.
This separation ensures that your browsing history, extensions, cookies, Tab Groups, Favorites, and other settings are kept separate for each profile. Switching between profiles is seamless and hassle-free, allowing you to effortlessly transition between work and personal browsing experiences. Another exciting addition in Sonoma is the ability to create web apps, transforming your preferred websites into app-like experiences that can be easily accessed from the dock. These web apps function as standalone macOS applications when launched and provide a seamless and immersive user experience, complete with the ability to receive notifications.
---
Featured Video from Man of Many
---
Password Sharing
Apple has also made it effortless to share passwords with your close friends, family, and colleagues who have shared accounts. By creating a group, everyone in the group can easily add, edit, and share passwords through iCloud Keychain, ensuring end-to-end encryption for enhanced security.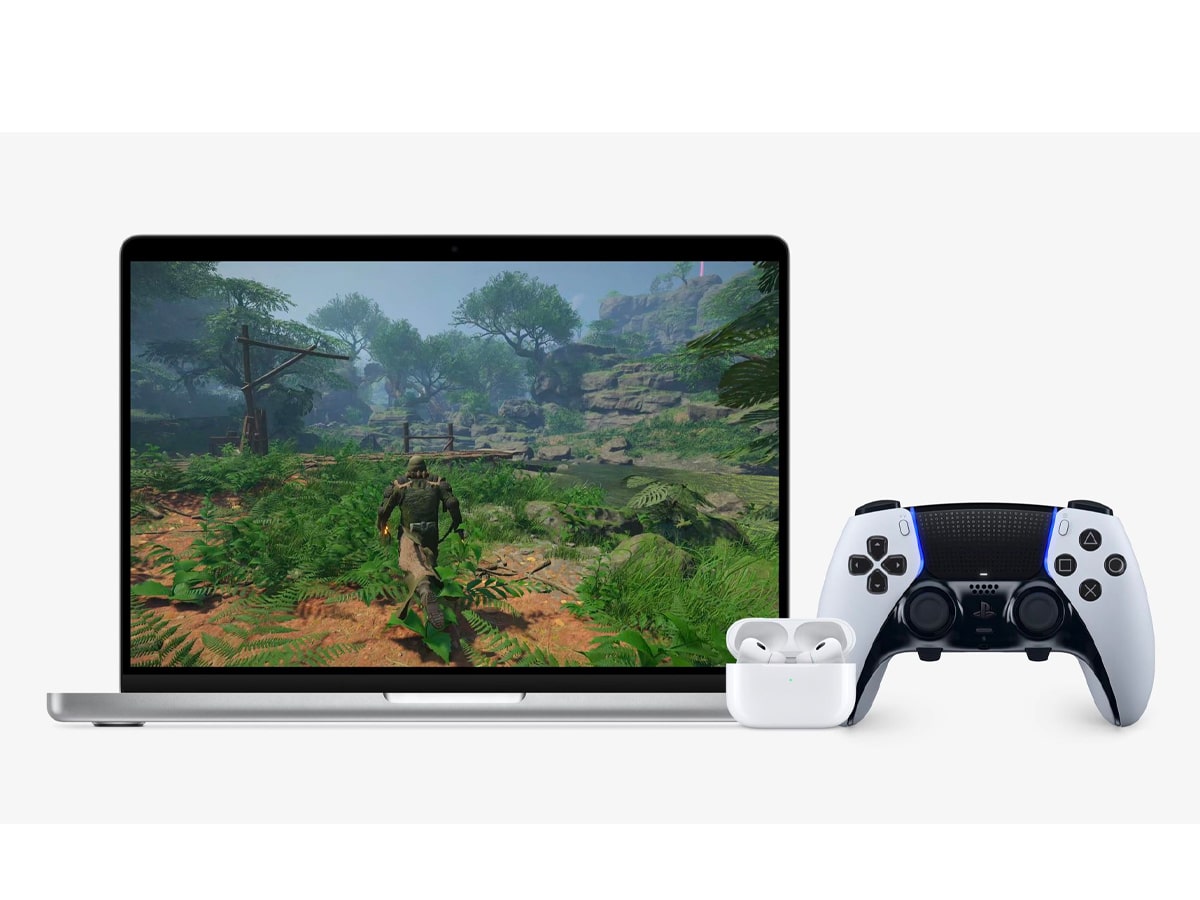 Game Mode
If you enjoy gaming on your Mac, you'll appreciate the new Game Mode. The feature is designed specifically for graphically demanding titles and optimizes performance by giving top priority to the CPU and GPU, delivering a smoother gaming experience with consistent frame rates. It also reduces audio latency when using AirPods and minimizes input latency for supported PlayStation and Xbox controllers, allowing for a more immersive gaming experience.
Login Prompts
Sonoma also brings a convenient little change to the login prompt, which has been shifted to the bottom of the screen. This adjustment enhances the overall visual aesthetics and allows you to fully appreciate the imagery without any interruptions. The new OS takes accessibility to new heights by introducing an extensive range of features designed to enhance the experience of users with diverse accessibility needs.
Voice Control and Live Speech
One notable addition is the introduction of phonetic suggestions that appear when dictating and editing text using Voice Control. This feature assists users in accurately transcribing their voice input. Furthermore, animated images, including GIFs, can now be paused directly within Safari or Messages, allowing users to have better control over their browsing experience. Sonoma also introduces Live Speech, which enables users to type messages that are then spoken aloud during FaceTime and phone calls. This feature enhances communication accessibility for individuals with speech impairments or those who prefer text-based communication. There's also the option to customize text size within Mac apps, providing flexibility and improved readability.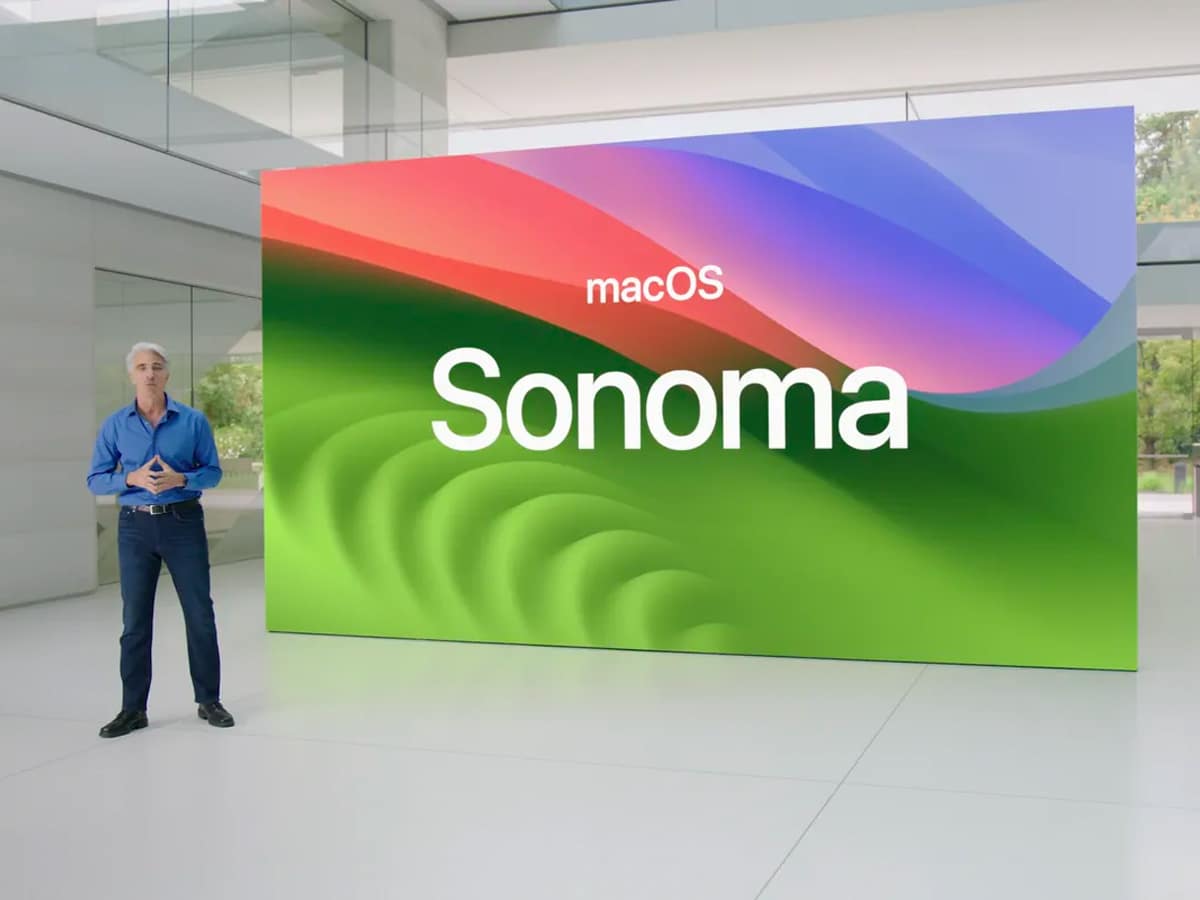 During the reveal, Craig Federighi, Apple's senior vice president of Software Engineering said, "macOS is the heart of the Mac, and with Sonoma, we're making it even more delightful and productive to use. We think users are going to love macOS Sonoma and the new ways it enables them to personalise with widgets and stunning new screen savers, see new levels of gaming performance, and gain powerful productivity for video conferencing and browsing with Safari."
The new update will follow Apple's historical release pattern and is expected to soon become available in the developer beta version, allowing developers to access and test the new features. Subsequently, a public beta version is likely to be made available in the coming weeks, allowing enthusiastic users to experience and provide feedback on the update. The final, stable version of macOS 14 is officially set to arrive sometime in the fall of this year, ensuring widespread availability to all users.
In addition to the major changes, the new macOS introduces numerous other minor updates and changes. To check out all the new things coming with macOS Sonoma, you can click here or simply tap the button below.
You'll also love: 'Most Powerful Macs We've Ever Made': Apple Unveils Revamped Mac Pro with M2 Ultra Chipset
---
Featured Video from Man of Many