Sennheiser AMBEO Soundbar Mini Review
| | | |
| --- | --- | --- |
| Pros | Cons | Verdict |
| Small, compact, and with a strong mid-range the AMBEO Mini delivers most of the sound quality we've come to expect from Sennheiser in a compact size. | Noticeably lacks any low-end punch, lack of up-firing drivers isn't made up for with trick Dolby Atmos and AMBEO technology. | Even with a good mid-range and clarity, the AMBEO Mini is best suited to those who struggle for space because the competition is strong at this price. |
Overview
It's been a while since I've plugged in a Sennheiser AMBEO soundbar and it seems that I've now tested both extreme ends of the spectrum. It's been more than two years since the original 126.5cm long AMBEO behemoth dominated my TV cabinet, but these days I get more excited about big things that come in small packages. According to the brand, this is something the AMBEO Mini (AUD$1,299.95) knows all about, claiming to be "the world's most immersive sound from one compact device." Let's test that theory out.
For one, it's an extremely compact soundbar, measuring 70 x 10 x 6.5 cm in size, it closely compares to the Sonos Beam Gen 2 in size (65 x 10 x 6.9 cm) but provides sound quality that's a closer match to the Sonos Arc which is a considerably larger device (114.3 x 11.7 x 8.6 cm) albeit similarly priced.
Sound-wise it utilises four high-end full-range drivers and dual four-inch subwoofers powered by 250 Watts of ultra-clean class D amplification. Software is important on such a small device the AMBEO Mini can scan the room with one-touch calibration for surround sound virtualisation with support for Dolby Atmos, DTS:X, MPEG-H codecs, and 360 Reality Audio formats.
You can plug your AMBEO Soundbar Mini into the TV with HDMI eARC for the highest quality audio or stream with Apple AirPlay, Bluetooth, and streaming services such as Spotify, TIDAL, Amazon, and Apple Music. Finally, the price sits right between the aforementioned Sonos soundbars at AUD$1,299.95. You can add up to four Sennheiser AMBEO Subs (AU$1,120) for more low-end.
RELATED: Experience Ultimate Entertainment With Sennheiser's AMBEO Soundbar Plus.
Price
The Sennheiser AMBEO Soundbar Mini is priced from AUD$1,299.95 which makes it the cheapest soundbar in the brand's line-up. Here's where it sits in comparison:
Looking at the competition, the only real competitor is the more expensive Sonos Arc that's priced from AU$1,499 or the cheaper Sonos Beam Gen 2 that's priced from AU$799. The Sonos Arc is the only soundbar I'd recommend as an alternative to the Sennheiser AMBEO Mini, it's more expensive, larger, and provides better overall sound quality. The upcoming Bose Smart Ultra Soundbar could be another alternative and I will update this review once I've had a chance to test the device.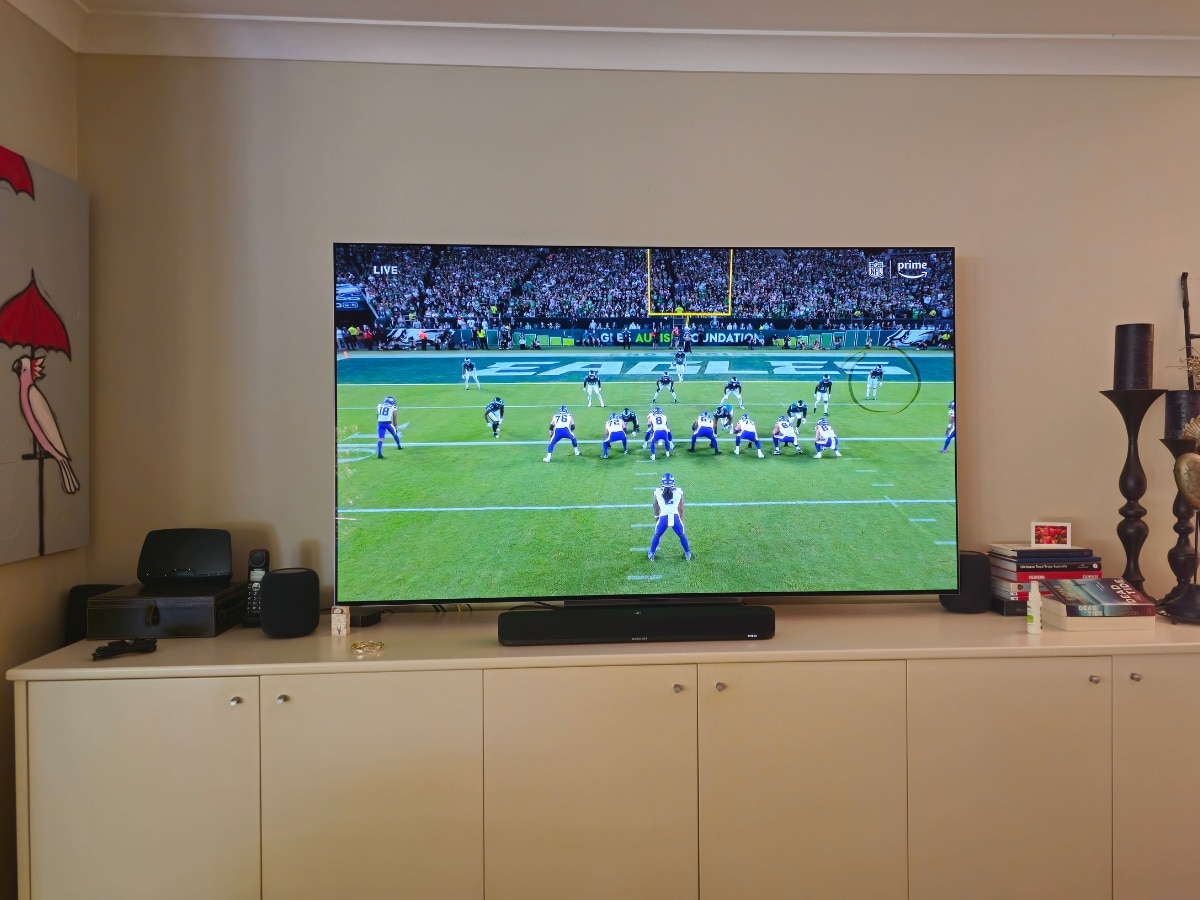 Sound Quality
The sound quality of the Sennheiser AMBEO Mini is good, but not great. It would be really impressive if a soundbar this size was able to compete with the similarly priced Sonos Arc, but unfortunately, it's let down with a narrow soundstage that isn't helped much by Dolby Atmos. Strong areas include the midrange and overall clarity that doesn't get distorted when you turn the volume up.
In movies, voices are clear, but any drama is noticeably absent with little low-end punch. The same can be said for pop and rock music where the distinction between vocals and percussion instruments is admirable. However, once again, switching genres to funk, R&B, soul, or hip-hop and the bass guitar is barely visible.
Adding the AMBEO Sub does address a lot of my issues with the lack of low-end, but it comes at a considerable cost (AUD$1,119.95).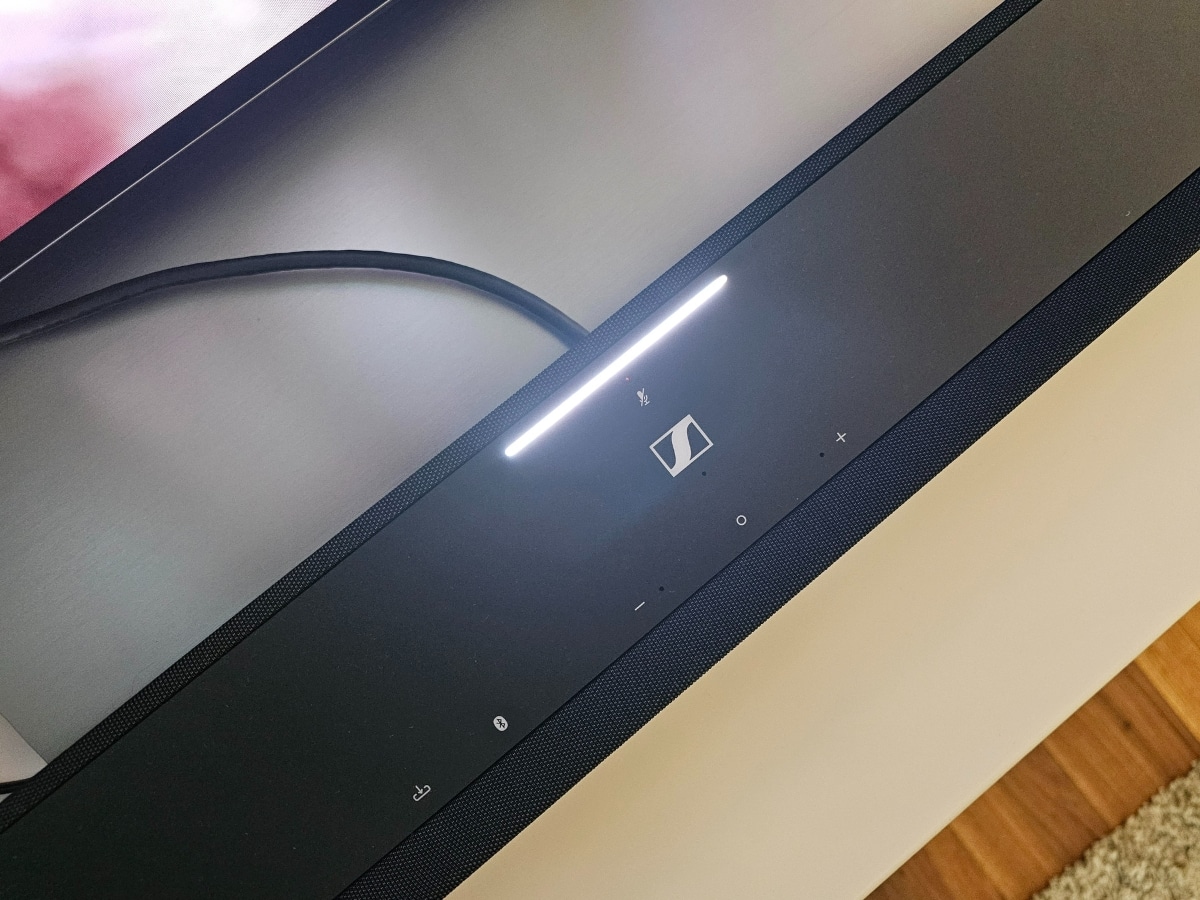 Features and Connectivity
The Sennheiser Control App is the best way to control the AMBEO Soundbar Mini. Here you can automatically calibrate the size of your room to create a surround sound virtualisation that places the sound all around you with true Dolby Atmos (Dolby True HD format) even without the aforementioned up-firing speakers. The soundbar also supports DTS:X, MPEG-H and Sony 360 Reality Audio immersive audio codecs.
I found the app particularly useful when you want to switch between included sound modes, including adaptive, music, movie, sports and news. There's also support for night mode so you don't annoy your neighbours, voice enhancement mode, and an on/off switch for the AMBEO sound setting – think of this as an enhanced version of Dolby Atmos, similar to Apple's Spatial Audio.
Streaming is taken care of over Wi-Fi with support for casting across services such as Spotify, TIDAL, Amazon, and Apple Music. You'll also find a Bluetooth connection and Apple AirPlay 2. If all else fails, jump back into the Sennheiser app and control all your audio from one central location.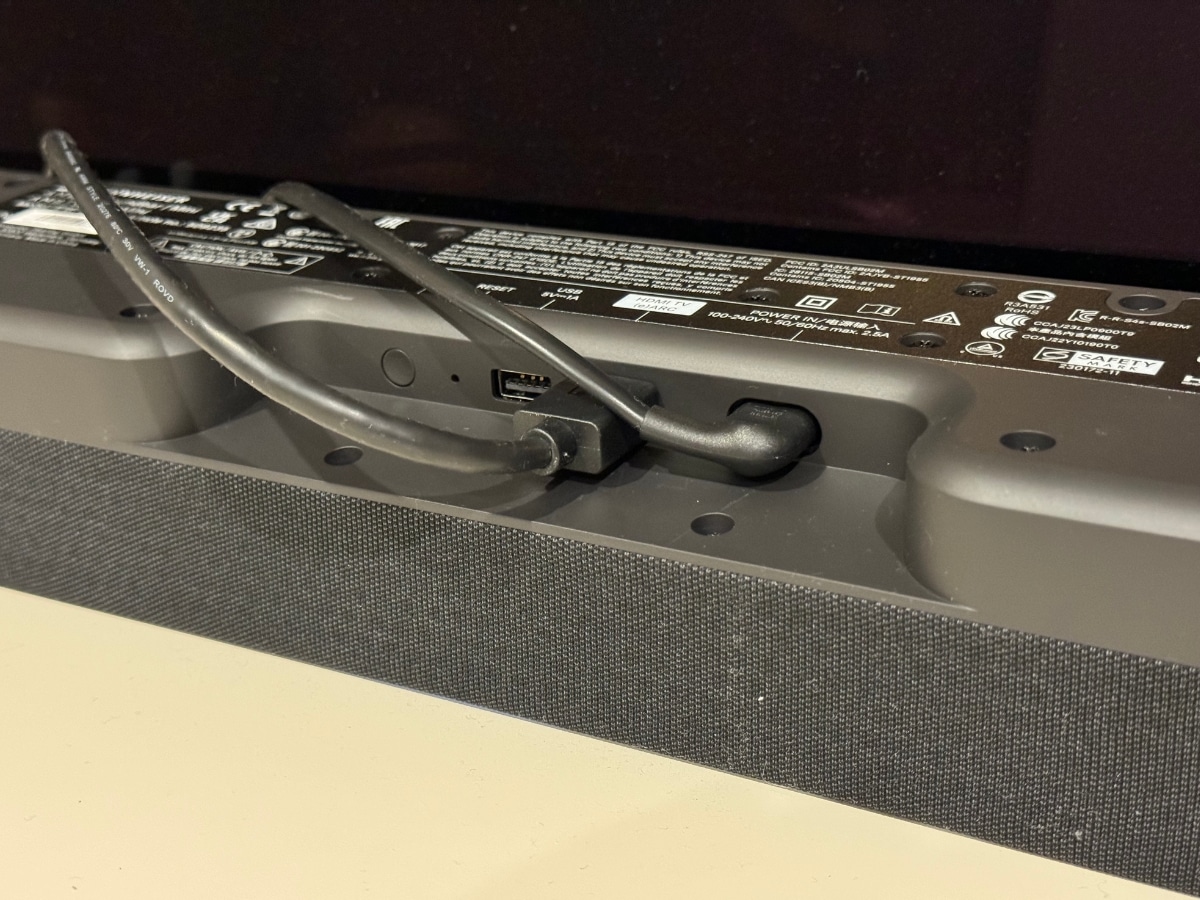 Build Quality and Ports
The build quality of the Sennheiser AMBEO Soundbar Mini is above and beyond the more expensive options from Sonos. There's attention to detail and thoughtful packaging packed into this high-quality Dolby Atmos soundbar that measures just 70 x 10 x 6.5 cm in size. I particularly like the skinny LED indicator light bar and touch buttons for volume, source input, and muting the four microphones.
Spin the soundbar around and you'll find the following ports:
1x HDMI eARC
1x USB-A port
1x power input
Like the competition from Sonos, there's no HDMI pass-through connection to speak of which means you'll lose an HDMI eARC connection on your TV. Still, the overall design, size, and application of physical buttons make this a favourite of mine in terms of design.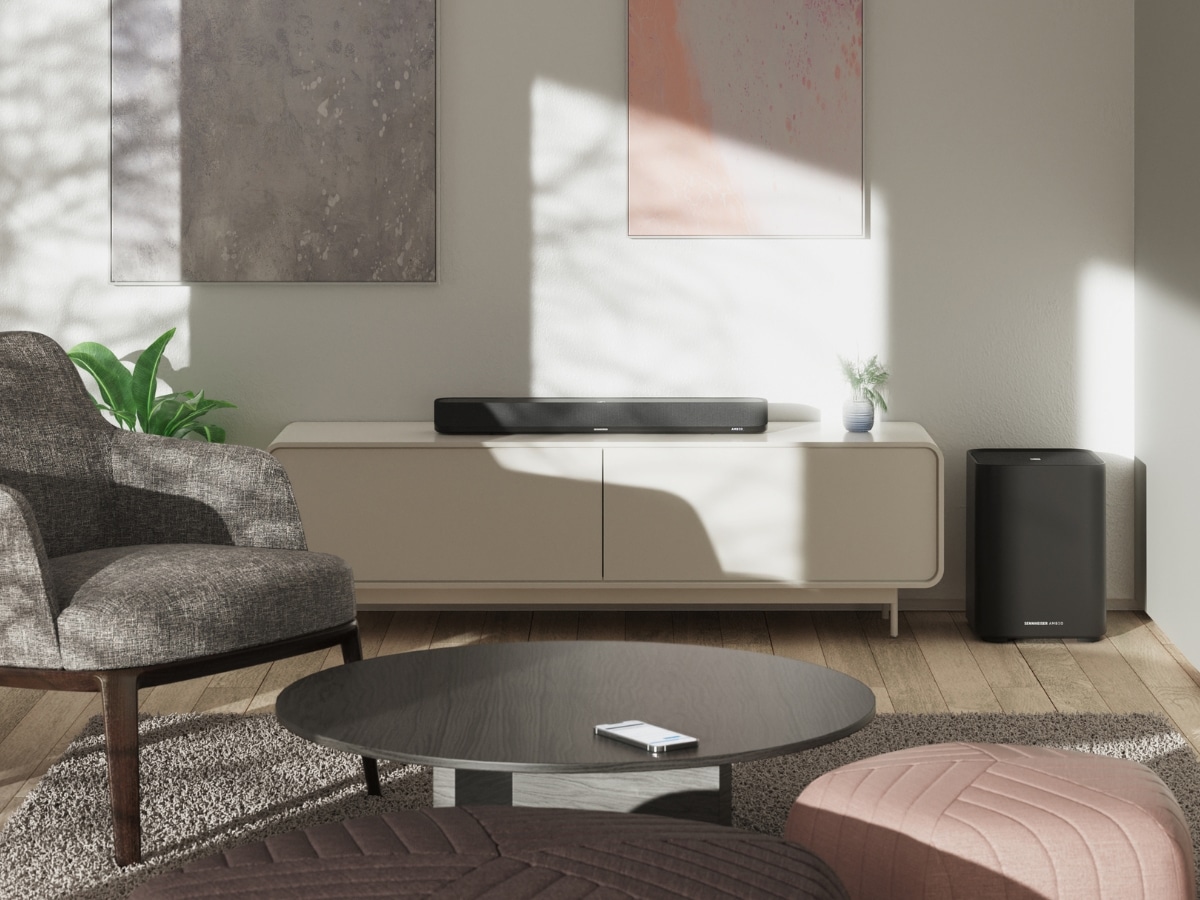 Verdict on the Sennheiser AMBEO Soundbar Mini
With good sound quality, build, and an accompanying app that works to help you get the most out of the soundbar, Sennheiser has ticked all the boxes with the AMBEO Mini. However, it's hard to look past the competition from Sonos and Bose. For a few hundred dollars more you can get your hands on the Sonos Arc, an award-winning soundbar that competes with units almost twice the price. That being said, it's a much larger unit and if you're looking for something compact the Sennheiser AMBEO Soundbar Mini is my top pick.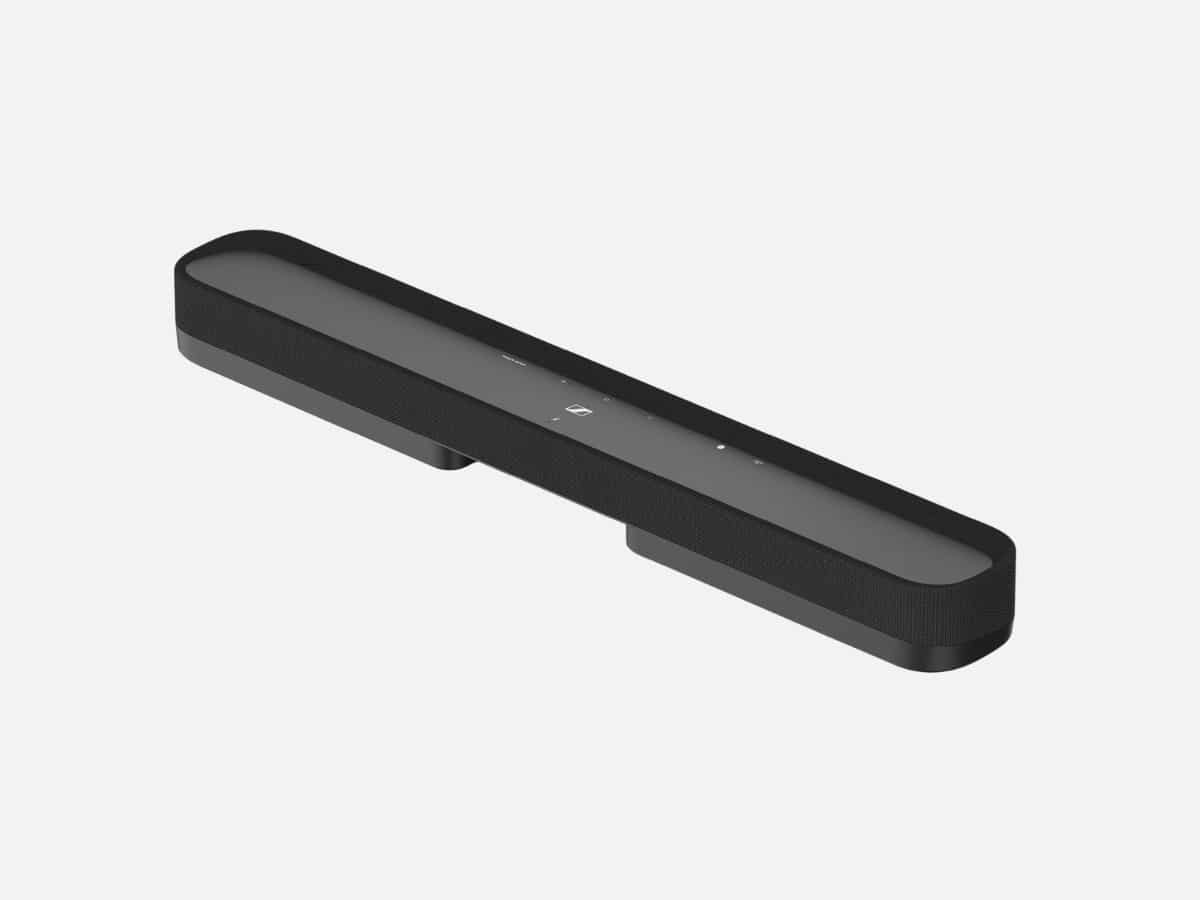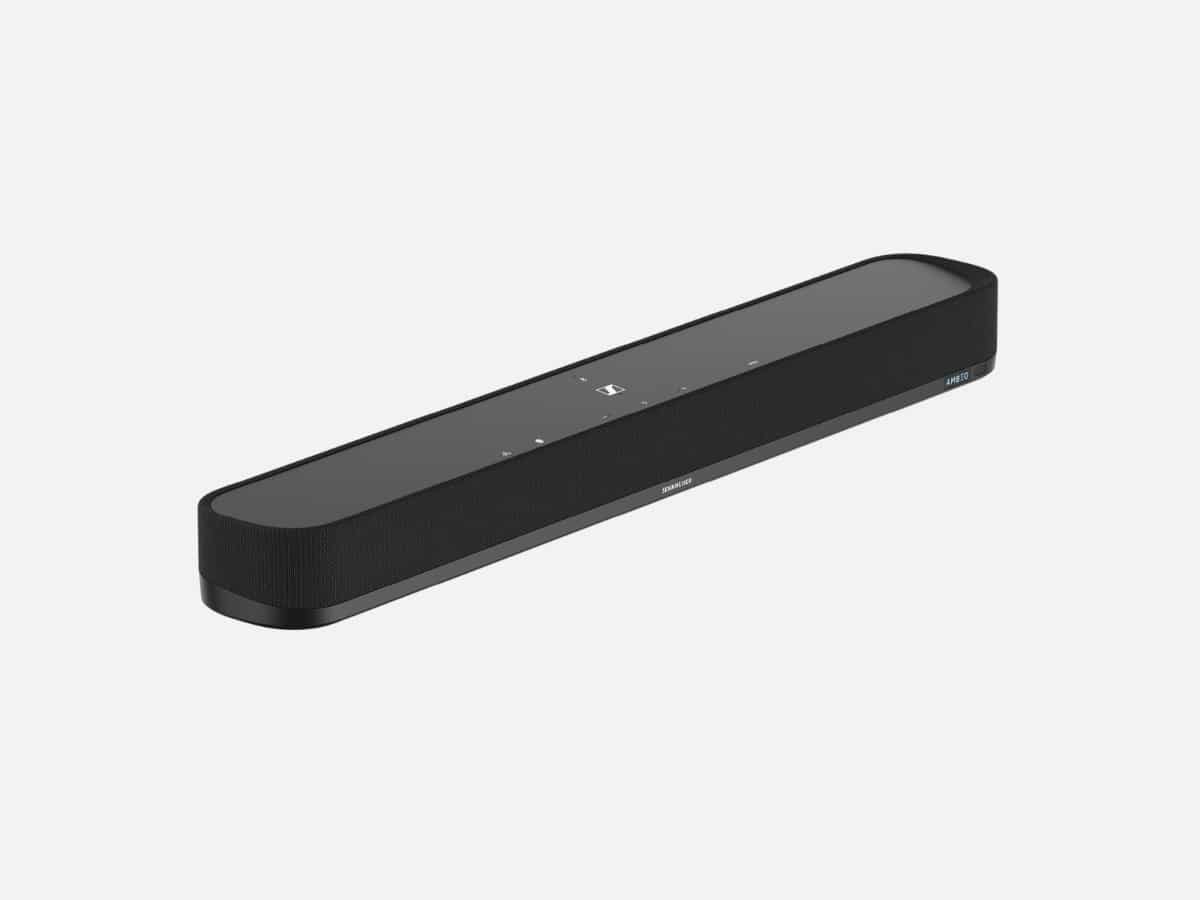 You'll also like: