15 Best Soundbars for Entertainment Junkies
If you've just picked up one of those fancy new 8K televisions, you might be a little disappointed by the sound it produces. After all, most wafer-thin TVs are bound by the wafer-thin speaker that resides beneath. To truly enjoy a full sensory experience, one that stimulates the eyes and ears, you're going to need to pick up the best soundbar you can find.
Sure, you could make do with a basic sound system or audio set-up, but for the true cinephiles amongst us, there is no comparison. The best soundbar can elevate your viewing experience to a whole new level. No longer will you have to suffer through ear-piercing explosions followed by whisper-quiet dialogue; you can view the latest Scorsese or Nolan masterpiece the way it was meant to be viewed. So, how do you find the best soundbar Australia has to offer? Forget scrolling through soundbar reviews trying to pick the Dolby from the duds, we've done the hard work for you. Let's get into it.
You'll also like:
14 Best Smartwatches for a Connected Life
18 Best Record Players and Turntables for Vinyl Lovers
25 Best Thrillers on Netflix Right Now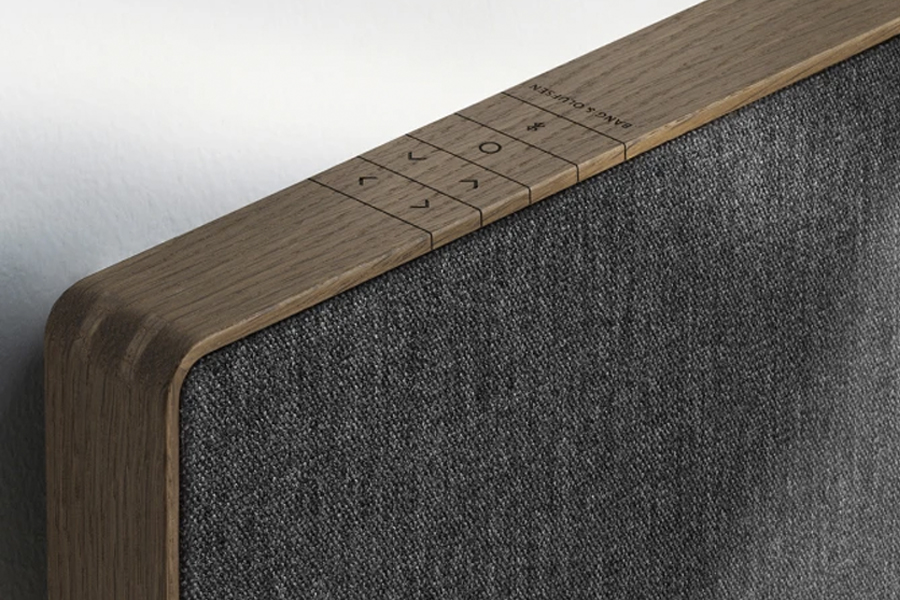 What is a Soundbar?
Whether it's a Dolby Atmos soundbar or a run-of-the-mill audio system, it pays to know what you're looking at. From a basic perspective, a soundbar is a box that contains several speakers designed to sit just below your television screen. The purpose of a soundbar is to replicate the cinema experience at home by utilising multi-speaker set-ups and 3D audio synchronisation. While it's unlikely you'll be able to match the performance of a full-scale theatre production, the addition of the best soundbar you can find, regardless of the budget, will unquestionably improve your viewing experience.
Most true entertainment systems consist of five speakers and one subwoofer (5.1), or seven speakers and one sub (7.1), however, adding a soundbar can replicate a similar experience for half the price and space. The technologies used in soundbars either bounce sound around your room (called beamforming) or use signals to trick us into thinking the sound is coming from a specific position (called HRTF). Put simply, a soundbar may not quite provide cinema-quality sound at home, but it will come pretty close.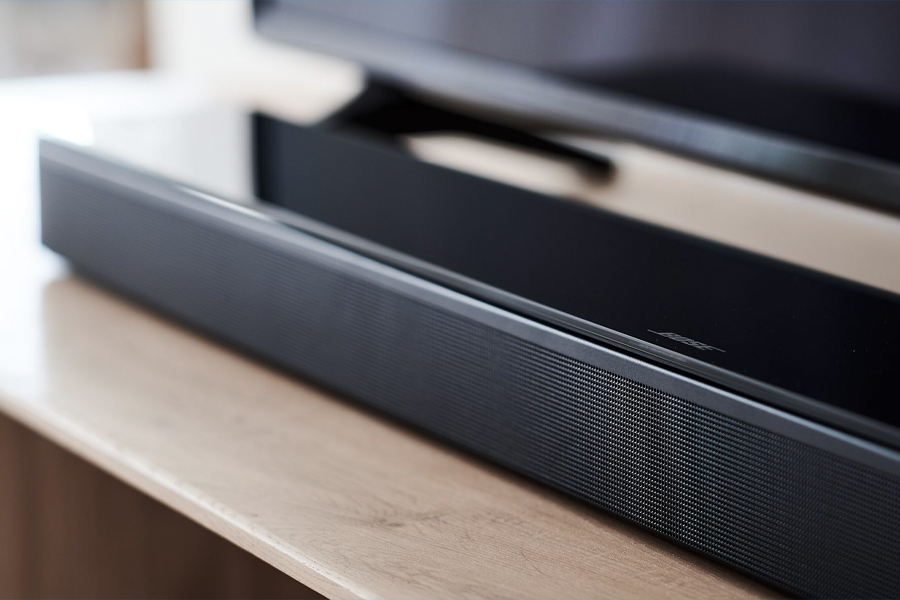 What to Consider When Buying a Soundar
If you are looking to take your viewing experience to the next level, adding one of the best soundbars Australia has seen is a great way to get the ball rolling. But before you dive into your local Hi-Fi store, it's worth looking at a few of the key considerations. Here is what you need to consider when buying a soundbar;
Price
Let's face it, the biggest factor that will come into your soundbar purchase is price. Some soundbars will set you back a few thousand dollars, but you can certainly score a quality audio system for less. Certain brands such as Sony and LG offer budget-friend soundbars under AUD$1,000. Obviously, there are certain compromises that you will need to make with a budget piece, however, if you think about the intended purpose and preferences, you'll be better suited to selecting the best soundbar for you.
Compatibility
How you choose to connect your television to your soundbar is another major decision you need to consider. For the most part, soundbars will utilise Bluetooth technology or HMDI for connectivity, however, it's always best to check what your current television runs with before purchasing.
Size
Soundbars are long, there's no escaping it. While sleek and sexy, the audio accessory will need a flat surface to sit on and around a metre of space to play with. Consider the length of your intended soundbar before you purchase, after all, the last thing you want is a soundbar that overhangs your TV unit.
Sound
Over the years we've seen the emergence of 'virtual surround' sound, but be warned, this can be a confusing topic. Virtual surround sound is generally a term given to a soundbar or audio system that offers wider stereo, or technology that mimics the structures involved in surround sound. While a lamen might not know the difference, the true audiophiles may be disappointed by the result. As a general rule, Dolby Atmos sound is the preferred option, and for good reason. The deep and rich sound field offers warm tones and true-to-life sound.
Intended Use
Think about what you plan to use your soundbar for. Are you a big fan of action movies? Perhaps live concert performances are your go-to? Think about your plans for the future and make sure you pick the best soundbar for the job.
Best Soundbar You Can Buy
Now that you're across the elements that make a good soundbar, you should be ready to reel in a catch. If you are after the best soundbar Australia has seen, or just a quality piece of audio equipment at a bargain price, we've got you covered.
Here is a list of the 15 best soundbars for entertainment lovers.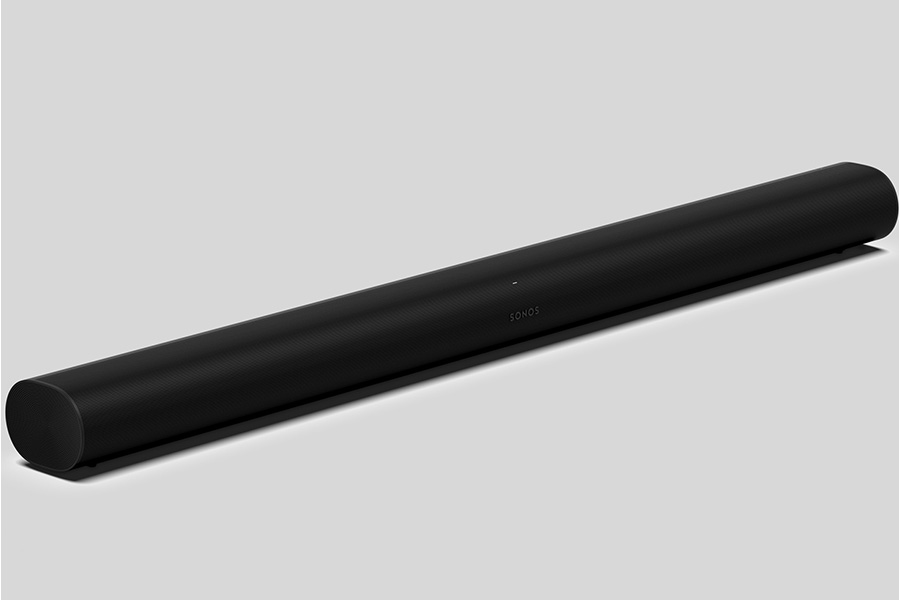 1. Sonos Arc
Released earlier this year, the Sonos Arc turned a major corner for the audio icon. Sonos' first Dolby Atmos soundbar, the Arc offers an incredible range of sound and smart features. It's a little bigger than other soundbars on this list, but it makes sense, as the Arc is designed to pair with larger TVs. The super-sleek design looks great, however, where the Arc really shines is in the overall sound production. In our Bose Frames Review: Why Audio Sunglasses Make Absolute Sense, we noted that the sound field is generated by 11 Class D digital amplifiers that power 11 custom drivers. Eight of those drivers are elliptical woofers evolved from those seen in the previous incarnation, the Beam (four along the front, two on top and one in each end), while the other three are silk-domed tweeters that are all built into the front but with two firing diagonally into the room. That speaker positioning allows you to bounce sound off your walls and ceiling to create a 3D audio effect. If you are looking for the best soundbar on the market, The Sonos Arc is just about as close as you can get.
Sound formats: Dolby Atmos, Dolby True HD, Dolby Digital+, Dolby Digital
Connectivity: 1 x HDMI ARC, 1 x optical digital, Wi-Fi, Ethernet
Voice control: Amazon Alexa, Google Assistant
Dimensions: 8.7 x 114 x 12cm (HxWxD)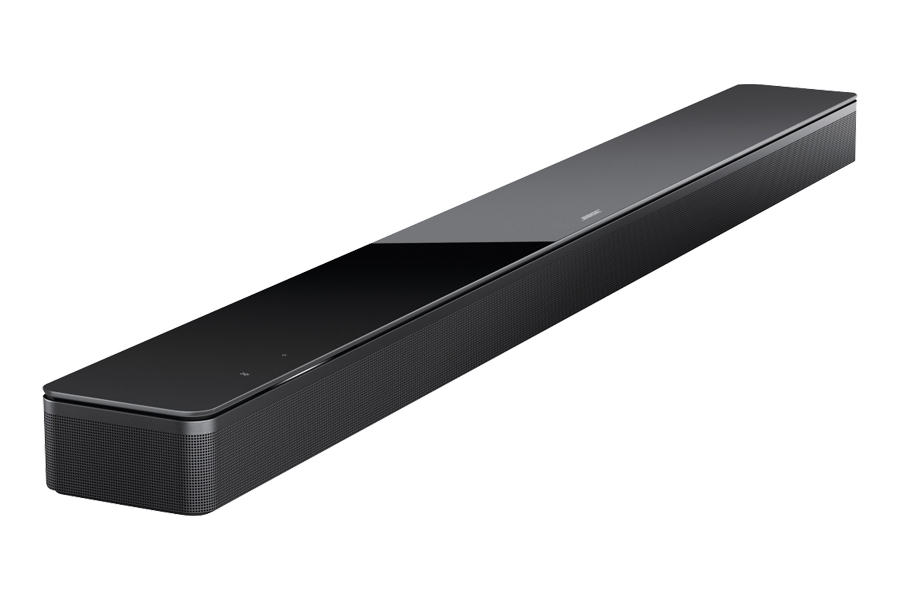 2. Bose Sound Bar 700
It's no secret that Bose makes some out-of-this-world audio gear, and the Sound 700 soundbar is no exception. One of the coolest additions is the integration of Amazon Alexa built-in, meaning you can simply tell the technology what to do and it will do it. Additionally, eight custom microphones in array with echo cancellation and near field detection is a welcomed addition.
Connectivity: Wi-Fi and Bluetooth
Dimensions: 31.5" x  1.75" x 4"
Weight: 7 lbs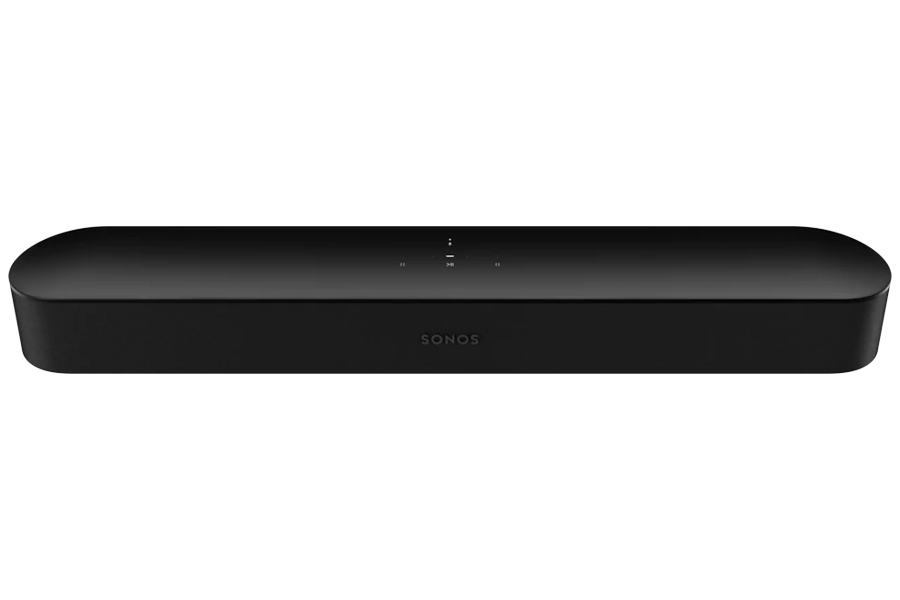 3. Sonos Beam
What can we say, Sonos knows how to make the best soundbars on the market. The Beam is an ultra-versatile soundbar that offers pristine clarity, style and dynamic range, all packed into a compact package. With Wi-Fi connectivity as standard, Beam users can play music from streaming services directly through the Sonos app. Unfortunately, the Beam doesn't cop Dolby Atmos capabilities, however, it can be paired and configured with additional speakers to create a 5.1 system. If you are looking for a quality soundbar with all the connectivity to run your full Hi-Fi system, the Sonos Beam has you covered.
Sound formats: Dolby Digital 5.1
Connectivity: 1 x HDMI ARC, 1 x optical digital, Wi-Fi, Ethernet
Voice control: Amazon Alexa
Dimensions: 7 x 65 x 10cm (HxWxD)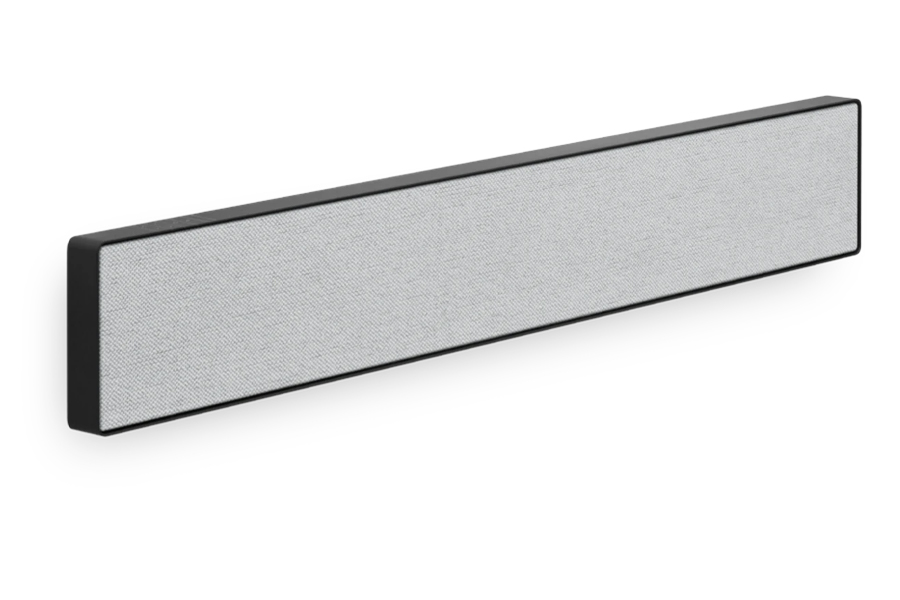 4. Bang & Olufsen Beosound Stage
The Danish audio giant has hit it out of the park again with this soundbar. While the Beosound Stage has all the impressive aesthetic hallmarks we've come to expect from Bang & Olufsen, it also cops a killer sound. It features 11 drivers hidden behind the stylish Kvadrat cloth finish, complimented by a range of tweeters and woofers that add width and depth. Like the Sonos Arc, the Beosound Stage also has Dolby Atmos capabilities, ensuring that if you have the correct set-up, you can enjoy the very best in home entertainment. Not just one of the best soundbars you can buy, it's also one of the best-looking.
Sound format: Dolby Atmos enabled
Connectivity: Bluetooth, Wi-Fi, HDMI, Ethernet
Feature: Wireless, Surround Sound
Dimensions: 110 w x 17 h x 7.7 d cm
Weight: 8kg
5. LG SN11RG
Over the past few years, LG has been producing some impressive audio and home entertainment accessories, with the SN11RG a premiere release. With four speaker boxes that connect wirelessly to create a 'dome' of sound, LG's best soundbar is worth the price of admission. Additionally, the SN11RG has Dolby Atmos sound, with the soundbar handling centre, front left and front duties, with two upfiring height drivers to create a 3D audio experience. While LG might not have the same audio pedigree that others on this list do, the SN11RG is easily one of the best soundbars we've come across.
Sound format: Dolby Atmos enabled
Connectivity: Bluetooth, Wi-Fi, HDMI, Ethernet
Feature: Wireless, Surround Sound, Google Assist, Chromecast
Dimensions: 1443mm x 63mm x 146mm
Weight: 7.2kg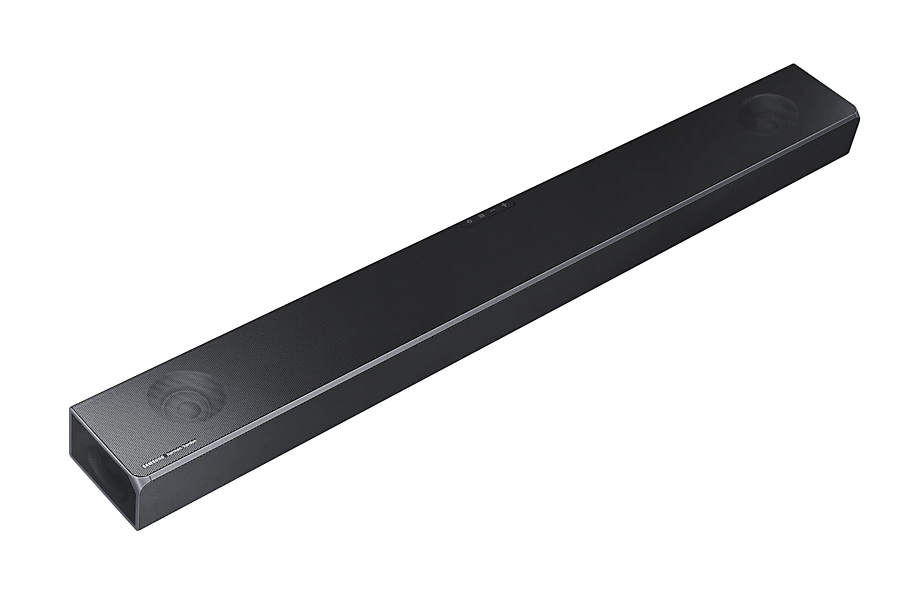 6. Samsung HW-Q90R
The Samsung HW-Q90R offers more than just one large soundbar, it's a whole Hi-Fi experience. With a subwoofer and two wireless rear speaker units working in unison, this collective ensemble has all the power and features to get your home theatre cranking. Like the LG, Samsung's top soundbar also offers rear speakers with upfiring drivers for Dolby Atmos height channels. If you already have a Samsung TV, this could be the perfect addition.
Sound format: Dolby Atmos enabled
Connectivity: Bluetooth, Wi-Fi, HDMI, Ethernet
Feature: Wireless, Surround Sound
Dimensions: 1226 x 83 x 136 mm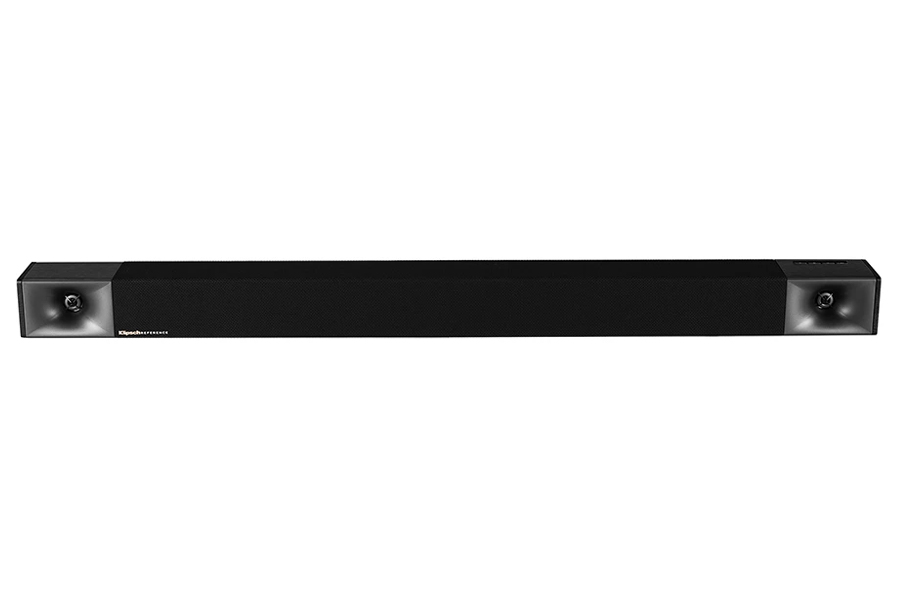 7. Klipsch BAR 48 3.1 Soundbar
With two iconic Klipsch horn-loaded, Tractrix tweeters visible in the open, you can definitely see what the BAR 48 is packing, and it's a lot. A 3.1 system, this soundbar comes with left and right channels, a wireless subwoofer and a centre speaker dedicated to making sure screen dialogue is clear, front and centre. These three front channels handle all mid-range and higher frequencies with apparent ease, making the Klipsch BAR 48 one of the best soundbars on the market.
Connectivity: Bluetooth
Max power: 400w
Dimensions: 47.69″ x 2.88″ x 3.38″ (W x H x D)
Weight: 32.6 lbs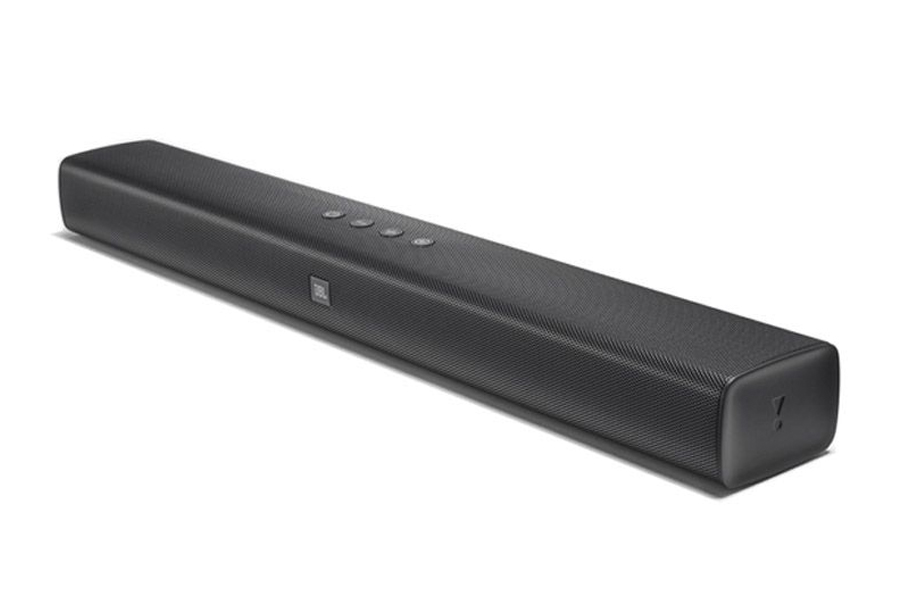 8. JBL Bar Studio
If there is one thing to learned from the JBL Bar Studio soundbar, its that quality soundbars don't have to be expensive. On the smaller side, this soundbar offers a punchy production that replicates the wrap-around audio of a 5.1 system. While it's not the best soundbar ever created, it's a fantastic addition to any home entertainment studio, particularly for the price.
Sound format: JBL Surround Sound
Streaming: Bluetooth v4.2
Max power: 30W
Connectivity: 1 x HDMI ARC
Dimensions: 6 x 61 x 9cm (HxWxD)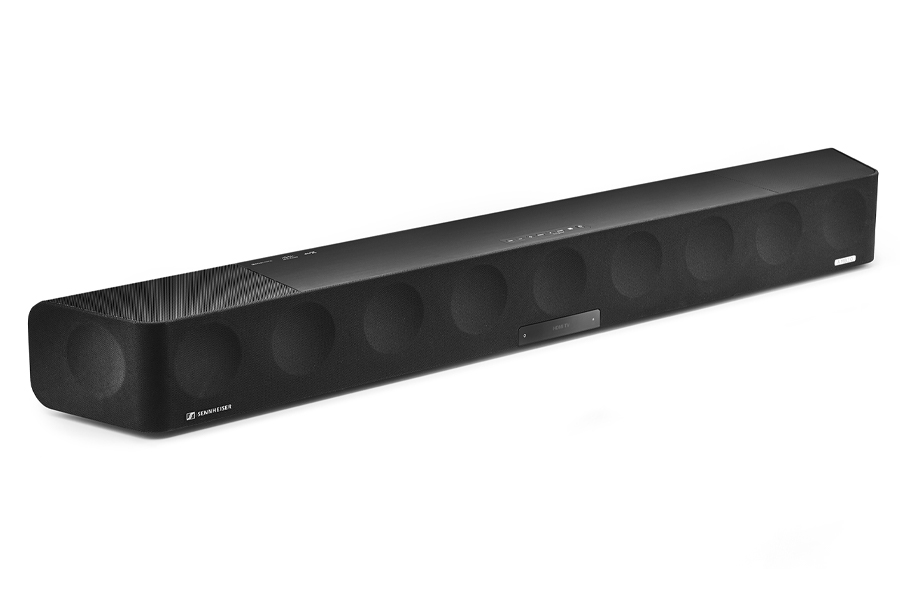 9. Sennheiser Ambeo Soundbar
The team here at Man of Many are big fans of Sennheiser and the Ambeo soundbar is a good example of why. The audio system's 3D sound is backed by Dolby Atmos, creating a more immersive result that will have you literally dodging bullets and cars as they fly by. The AMBEO 3D also comes with 13 independent drivers working in unison to put you in the centre of a true 3D soundscape. What's left is a deep, long-throw 30Hz bass – eliminating the need for an extra subwoofer, but make no mistake, this one is a heavy unit.
Sound formats: Dolby Atmos & DTS:X surround sound
Connectivity: 4 x HDMI, optical digital, RCA line in
Streaming: Bluetooth
Subwoofer: No
Dimensions: 14 x 127 x 17cm (HxWxD)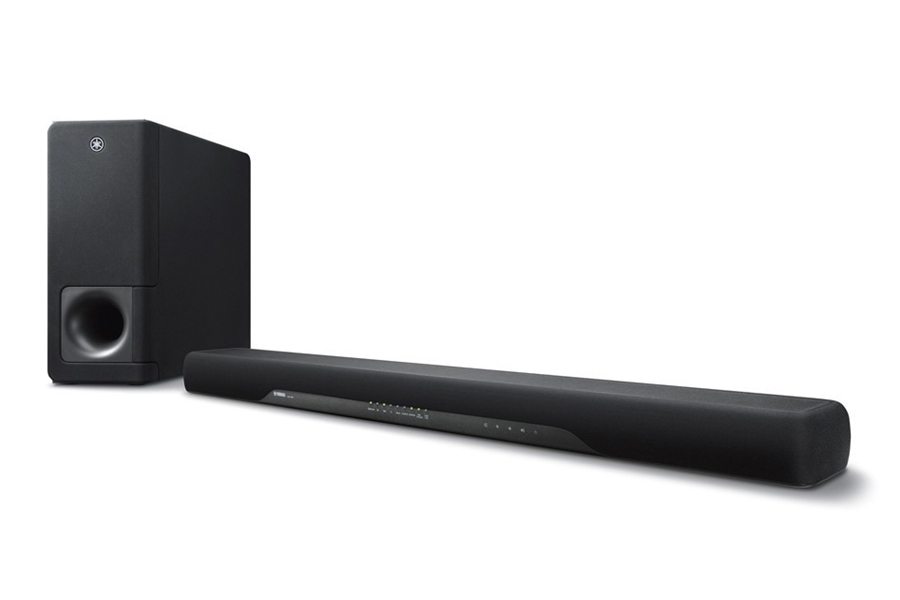 10. Yamaha YAS-207
Probably the best soundbar for the price, the YAS-207 from Yamaha has been satisfying audiophiles for close to three years. Sure, there are newer versions on the market, but for a budget price, you can't go past the dual-tweeter and quad-driver backed accessory. Even if it is a little dated, Yamaha's YAS-207 still cops Alexa voice control, Bluetooth, Wi-Fi streaming and multiple EQ modes.
Sound formats: Dolby & DTS surround sound
Connectivity: 1 x HDMI
Streaming: Bluetooth
Subwoofer: Yes
Dimensions: soundbar 6 x 93 x 10.8cm, subwoofer 44 x 14 x 40cm (HxWxD)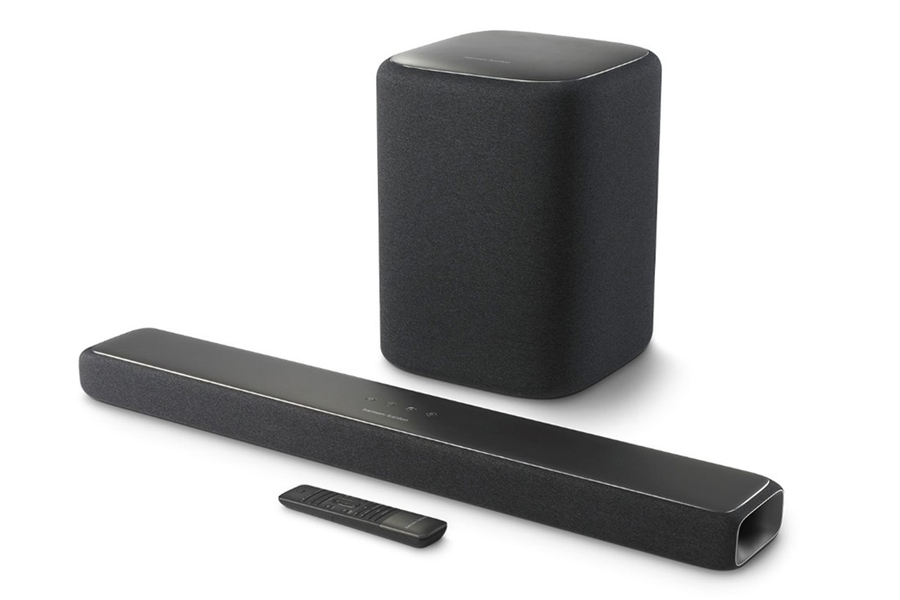 11. Harman Kardon Enchant 1300
When you're looking for the best soundbar Australia has to offer, it's hard to go past the Harman Kardon Enchant 1300. Supporting 13 different audio channels, Google Chromecast, side-firing tweeters and a bass port design, this audio system has it all. By far the biggest benefit of this accessory is the addition of Harman's MultiBeam sound processor. Designed to simulate true surround sound by bouncing audio off the walls, the Harman Kardon Enchant 1300 produces an immersive 3D audio experience that is hard to ignore.
Connectivity: Wi-Fi and Bluetooth
Dimensions: 44″ x 2.6″ x 4.9″ (W x H x D)
Weight: 12.5 lbs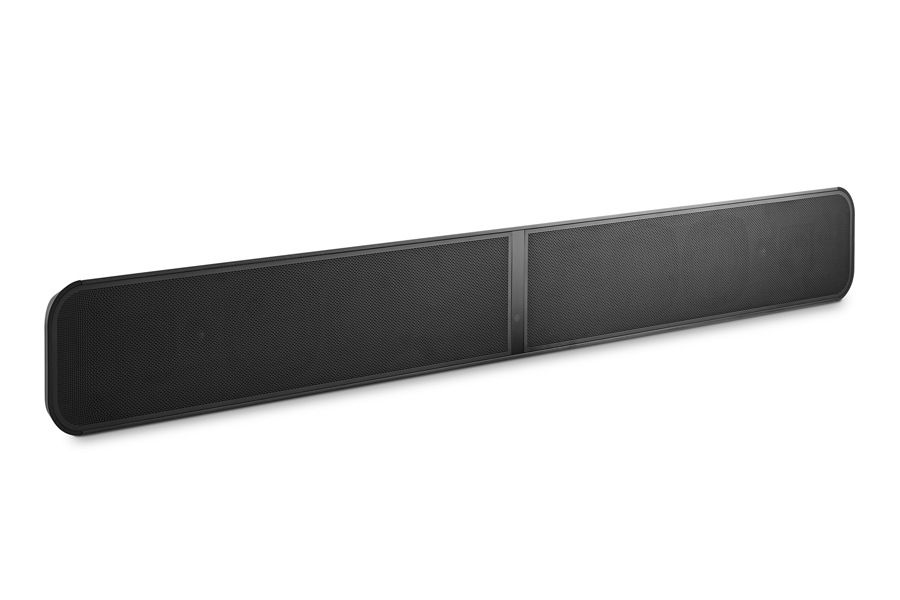 12. Bluesound Pulse Soundbar 2i
A monster of Hi-Resolution audio, the Bluesound Pulse is one of the best soundbars Australia has seen in recent years, and one of the heaviest. The Pulse offers support for hi-res playback and MQA files (Master Quality Authenticated), making it an innovative addition to the mix. Pair that with 120 watts of power and two pairs of 3-way speaker arrays – soft-dome tweeter, cone mid-range, and cone woofer, and you've got a sound system Moby would be jealous of.  According to Bluesound, each driver in the 2i is driven by its own dedicated amplified channel where the low and high frequencies are seamlessly blended using DSP-powered crossover filters. 
Connectivity: Wi-Fi and Bluetooth
Dimensions: 42.25″ x 5.5″ x  2.75″ (W x H x D
Weight: 15 lbs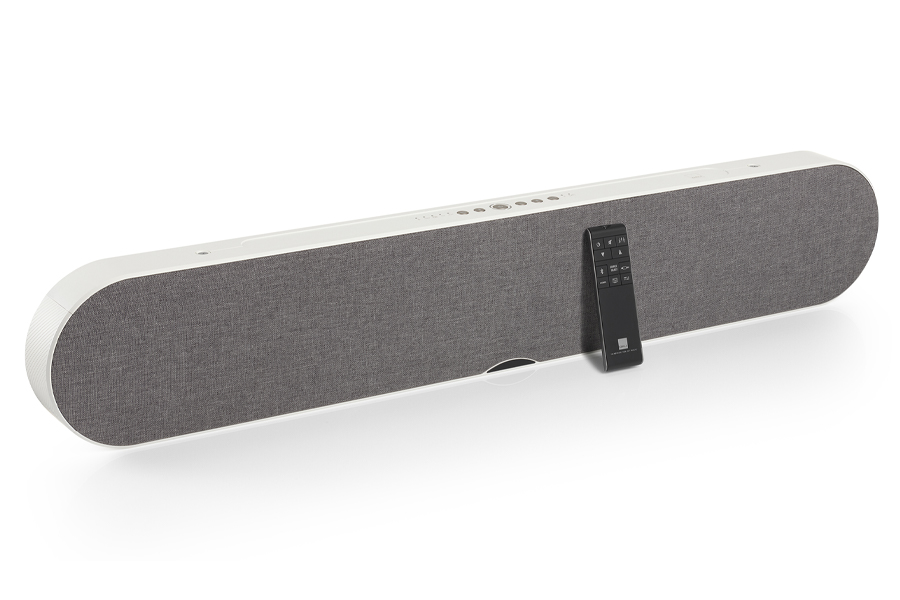 13. Dali Katch One
If you haven't heard of Dali, you're in for a treat. The Katch One soundbar cops five different audio inputs, along with three different ways to mount it and 10 drivers all working together. The end result is an immersive sound that is strong, solid and more than capable in the film and music arenas. The Danish company has also incorporated four mid/bass drivers, four passive radiators and two tweeters to provide great dynamic performance with a broad, clear soundstage.
Sound formats: Dolby Digital 5.1
Connectivity: HDMI (ARC), optical x 2, 3.5mm
Streaming: Bluetooth (aptX)
Subwoofer: No
Dimensions: 16.4 x 86 x 7cm (HxWxD)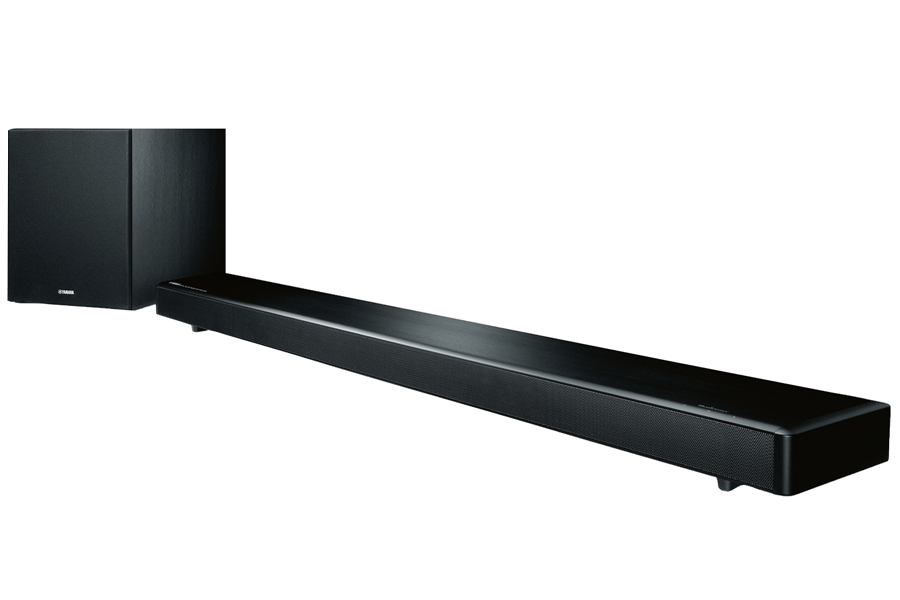 14. Yamaha YSP-2700
Yamaha's second addition to the best soundbars list, the YSP-2700 another great audio accessory for entertainment aficionados. The brand claims this soundbar will bounce sound against walls to simulate a 7.1 channel effect, complemented by a cube-shaped, front-firing subwoofer. There is also Bluetooth, Wi-Fi and Apple Airplay streaming to help get all your devices connected and firing at once.
Sound formats: Dolby TrueHD, DTS-HD Master Audio
Subwoofer: Yes, wireless
Connectivity: 3 x HDMI in, 1 x HDMI out, digital optical, digital coaxial in
Streaming: Bluetooth, AirPlay, Wi-Fi
Dimensions: Soundbar 5.1 x 94 x 15cm, subwoofer 30 x 30 x 30cm (HxWcD)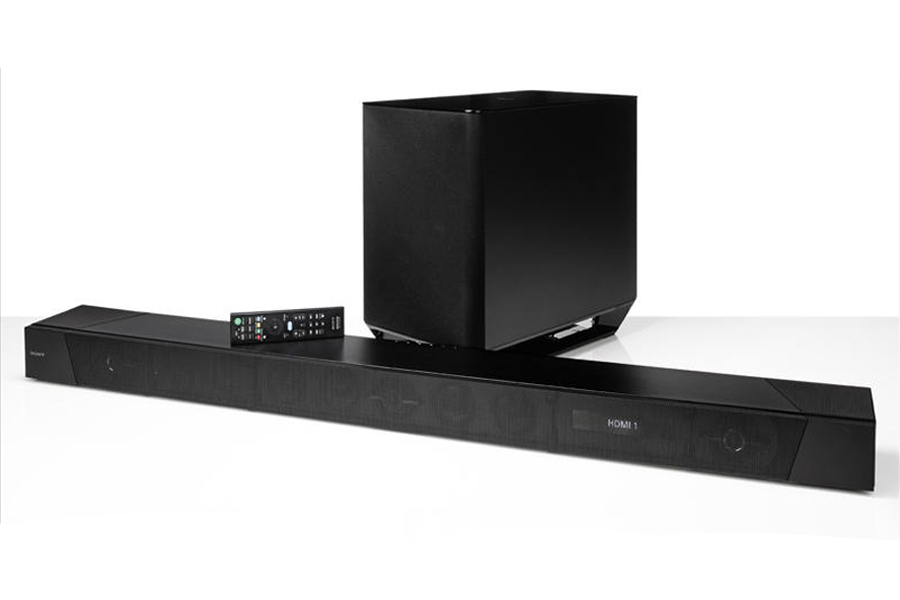 15. Sony HT-ST5000
One of the pricier soundbars on the list, the Sony HT-ST5000 is one for the premium audiophiles. Like many others we've already noted, the HT-ST5000 cops Dolby Atmos, doubling the surround sound experience, but moreover, this piece of tech has a few extra additions. The 47-inch wide soundbar has enough room to house nine drivers, three pairs of tweeters and woofers, pumping out high dynamic range and high-resolution audio that is truly sublime.
Sound format: Dolby Digtial, Dolby Atmos
Connectivity: 3 x HDMI in, 1 x HDMI out
Streaming: Bluetooth
Hi-res audio: 96k/24-bit PCM
Subwoofer: Yes
Dimensions: soundbar 8 x 118 x 14.5cm (HxWxD), subwoofer 40 x 25 x 43cm
You'll also like:
14 Best Smartwatches for a Connected Life
18 Best Record Players and Turntables for Vinyl Lovers
25 Best Thrillers on Netflix Right Now
General FAQs
Are soundbars worth the investment?
While soundbars are often viewed as 'nice-to-have' rather than an entertainment essential, they are well worth the price. For avid movie fans, adding a soundbar can provide a wealth of rich high-fidelity sound that is otherwise missed in traditional speaker output.
Do I need a subwoofer with a soundbar?
No, you do not need a subwoofer to make a soundbar work. Subwoofers produce low frequencies such as bass and sub-bass. A soundbar, however, includes speakers uses speakers in an enclosed box to replicate surround sound or a stereo effect.
How do I choose a soundbar?
The main considerations to take into account when buying a soundbar are price, size, compatibility and features. Nowadays, soundbars are able to accurate pair with sibling products, with many offering Dolby Atmos sound as standard. Be sure you think about what you're planning to use the soundbar for.