Two of the Fastest SUVs in the World Through the Lens of the FUJIFILM X-T5
It's not every day you get the chance to shoot two of the fastest SUVs on the planet, but when you have a camera in your hand like the FUJIFILM X-T5 these cars seem to miraculously appear out of nowhere.
Now before I get started, if you're specifically interested in the car side of the equation you can check out my feature article on the Porsche Cayenne Turbo GT here and more information about the Aston Martin DBX707 can be found in my specs and features article, now let's take a look at the FUJIFILM X-T5.
Related: Just last year I checked out FUJIFILM's bang-for-buck mirrorless camera, the XE-4.
FUJIFILM X-T5 at a Glance
Man of Many's review of the FUJIFILM X-T5 goes like this.
Now, let's check out the full review featuring two of the fastest SUVs on the planet.
How Much Does the FUJIFILM X-T5 Cost?
Priced in between the FUJIFILM X-T4 (from $2,200 AUD) and the H2-S hybrid that's one of my favourites for video tasks (from $3,199 AUD on sale), the FUJIFILM X-T5 has an RRP of $3,199 AUD, although it can be had with an XF18-55mm F2.8-4 R LM OIS kit for $3,949 AUD or XF16-80mm F4 R OIS WR kit for $4,099 AUD.
Its position in the lineup is clever, sharing the most important feature with the H2-S in the 40.2MP sensor, but missing out on some of the important video-taking capabilities, namely 8K capture. Truth be told, its 6.2K footage is also taken from a 1.22x cropped region of the sensor and not the full width like the X-H2. The same goes for the 4K footage. Ultimately, we're not assessing the video-taking capabilities here.
If it's video and utmost hybridity you're looking for, we suggest the H2-S as the better option.
Check out FUJIFILM X-T5 Buy it here (Ted's Cameras) Buy it here (JB HI-FI)
FUJIFILM X-T5 Specs and Features
Here's how the FUJIFILM X-T5 lines up on the stat sheet.
FUJIFILM X-T5 Specs and Features
Lens mount
FUJIFILM X mount
Image sensor
23.5mm x 15.7mm (APS-C) X-Trans CMOS 5 HR with a primary colour filter
Number of effective pixels
40.2 million pixels
Image processing engine
X-Processor 5
Movie recording
As MOV (HEVC/H.265, Linear PCM (Stereo sound 24bit / 48KHz sampling)
As MPEG-4 AVC/H.264, Linear PCM (Stereo sound 24bit / 48KHz sampling).
As MP4 (MPEG-4 AVC/H.264, AAC).
File format of still images
RAW (14bit RAW (RAF original format).
HEIF (4:2:2 10bit).
JPEG (Exif Ver.2.32).
Movie recording file size and frame rate
6.2K in 16:9 @ 6240 x 3510 and 30fps.
4K in 16:9 @ 3840 x 2160 and 60fps
Full HD High speed in 16:9 @ 1920 x 1080 and 240fps.
Image stabilisation
Image sensor shift mechanism with 5-axis compensation, digital stabilisation (movie mode), and IS boost (movie mode).
Touch screen mode
Shooting, AF, Focus Area, OFF, Double Tap Setting (ON/OFF), Touch Function Setting (ON/OFF), Touch Zoom (ON/OFF), EVF Touch Screen Area Setting.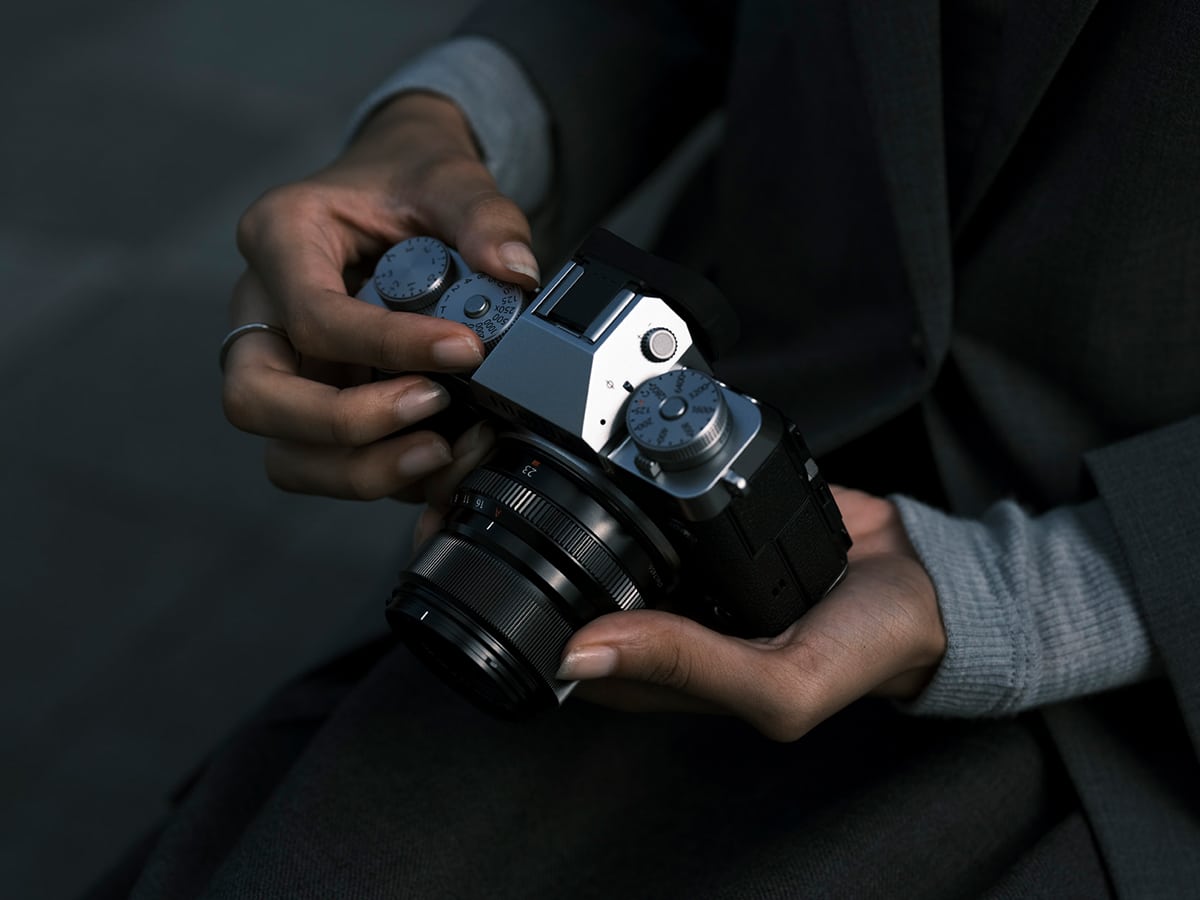 FUJIFILM X-T5 Feel in Hand | Image: FUJIFILM
How Does the FUJIFILM X-T5 Feel in Hand?
First and foremost, the FUJIFILM X-T5 has the upper hand in the weight department over the more expensive H2-S (557g vs. 660g). And yes, 100g doesn't sound like much, but when you have a smartphone camera in your pocket that weighs less than half that, there's more chance you're going to opt to pick the camera up when it weighs less.
The same goes for boot-up times, and we measured the X-T5 at around half a second. Very impressive, further enforcing the quick access nature of a lighter-bodied camera.
Beyond those features, it's a comfortable camera to hold in your hand. I love how FUJIFILM has fully committed to adjustment dials for ISO, shutter speed, and exposure compensation on the top of the camera (similar to those found in their X100 and X Pro cameras) where you can use your thumb and index finger to adjust them easily when looking down the viewfinder. The handgrips are comfortable, albeit a little smaller than we like for those with larger hands. You'll also find a USB-C port, two SD card slots, and a CFExpress slot around the body.
What's the LCD Screen and Viewfinder Like?
Here's where the fun starts with the X-T5 and car photography because as anyone who's attempted to shoot a car before knows, it's all about angles. And not just any angles either, you have to get low to the ground, top-down angles, and 16:9 shots down the side of the vehicle.
In the case of the X-T5, the LCD screen is a 1.89-million dot 3.0-inch tilting LCD display, while the viewfinder is a 0.5-inch, 3.69-million dot OLED unit with a comfortable rubber edge. It conveys the images well enough, but if you're shooting for commercial purposes, we recommend taking advantage of a larger screen due to the somewhat frustrating autofocus system.
Is the Image Quality on the FUJIFILM X-T5 Good?
The overall image quality of the FUJIFILM X-T5 (APS-C) is great. Unfortunately, I didn't have a lens filter to fit the FUJIFILM XF 56mm f/1.2 R WR lens when I went to shoot these two cars so you're going to have to bare with the lens flare and shadow issues.
In any case, I was able to keep the Arctic Grey on the Porsche Cayenne Turbo GT fairly flat and noise-free even in direct sunlight. On the other hand, the Aston Martin DBX707 arrived in a Plasma Blue colour which is very easy to bring out in direct sunlight.
Autofocus was great on still objects and is available in a variety of layouts. I typically opted for the 'All' layout when shooting these shots where the display offers a number of focus points across the screen before the camera tells you which it's choosing from. It had no real trouble bringing the car into focus and blurring out the surrounding bushes and shrubs when required utilising the AI-based white balance and Subject Detection AF designed for cars.
The 56mm lens is well-suited to car photography but has an easier time when shooting closer up on specific body panels and parts (see the rear three-quarter shot of the Porsche below). It has no trouble balancing colour in overcast conditions, however, shadows in direct sunlight were more of an issue where colours would disappear on both cars. Ultimately, a lens filter is mandatory for these shots so it's hard to knock the camera under tough conditions.
The fast sensor from the X-H2S is absent here and we didn't get a chance to shoot moving objects this time around. Sports photographers should look at the H2-S if shooting fast-moving objects.
Man of Many's Verdict on the FUJIFILM X-T5
It goes back to what I was saying about weight and usability. You want to give your camera every excuse to be used over your smartphone, but more often than not when you're shooting with a large camera like the FUJIFILM GFX100S it very rarely fits into that category. "Oh, it takes infinitely better pictures than your iPhone" is not enough of a reason, and when you think about charging the thing up and exporting the pictures off the card and onto your phone it often goes in the 'too hard' basket.
The weight, tilting LCD screen, and large sensor for cropping are three reasons why I love the FUJIFILM X-T5. To put it in one word, it's 'flexible'. Add to that the overall size of the camera, the ability to get a remarkable amount of colour out in tough conditions and a quietness that's suited to street photography and you have a camera that you'll reach for every time.
Check out FUJIFILM X-T5 Buy it here (Ted's Cameras) Buy it here (JB HI-FI)
You'll also like:
Hands-On With the Flagship Challenging FUJIFILM GFX100S
Leica's New D-Lux 7 007 Edition Camera Gives You the License to Shoot
'Breakthrough' DJI RS 3 Mini Brings Pro-Quality Stabilisation to a Compact Body