Espresso Display V2 Review: World's Thinnest Portable Monitor
Anyone who spends time in an office environment knows the simple pleasures of working with multiple displays. And yet, it's not until you're forced to work from home or on the road that it becomes apparent just how beneficial the second screen really is. Even the best laptops can't compete with a complete desktop setup, but we can't all transform dining tables into long-term workstations. That's where Espresso comes in. The Australian tech start-up that shares its name with delicious beverages has launched a second-generation portable monitor with touch capabilities to give laptops a second screen and help boost productivity from wherever you get work done. Espresso Display V2 is just one of the increasing number of portable displays on the market, but it's arguably the best thanks to its industry-leading form factor and many quality functions. Starting at AUD$669, the price of this portable beauty will dissuade some, but it's a great option for expanding single screen PCs and Macs, vastly improving productivity.
You'll also love:
What is Atari VCS, and Would You Pay $800 for One?
Are You a Boring Person? What Your Hobbies and Interests Say About You
nooe CONFIG 01 SET Turns Your Desk into an 'Artist's Dream'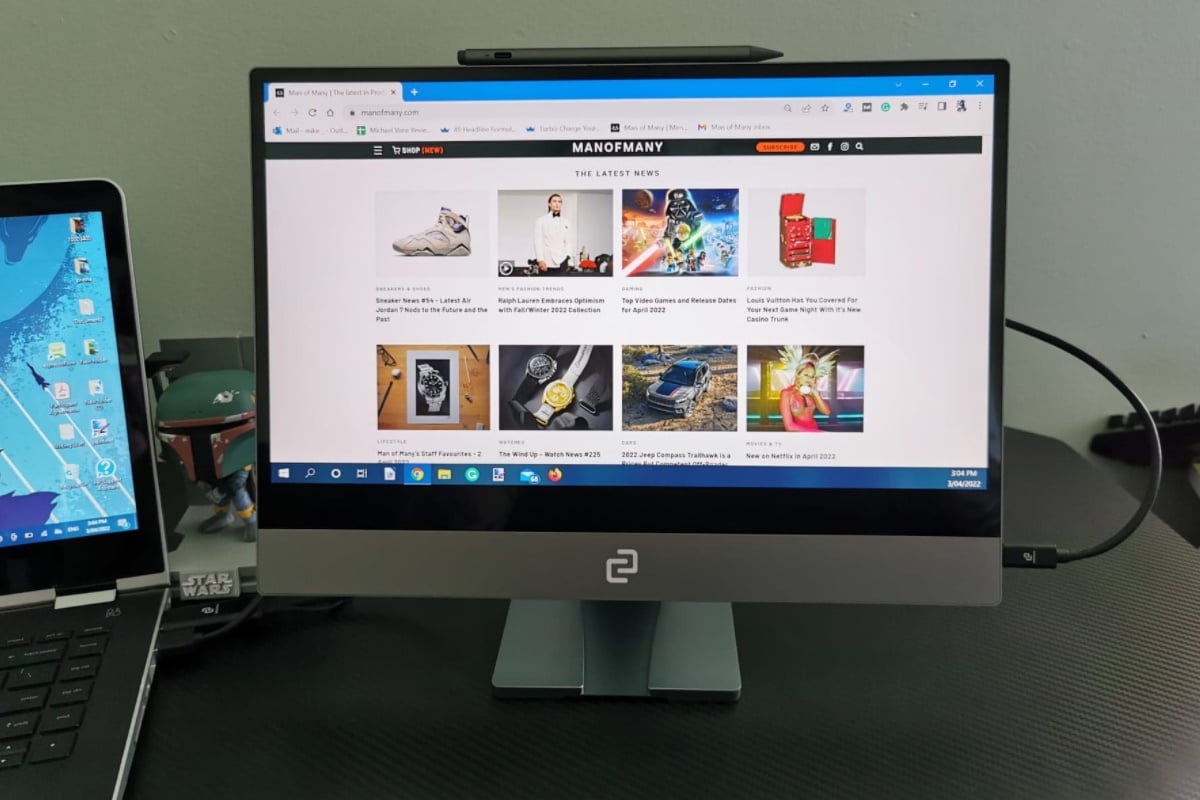 | What We Love | What We'd Change |
| --- | --- |
| Ultra-sleek design | Expensive price |
| Touch capabilities | No 4K support |
| No additional power source required | Screen is not as bright as some |
Design and Features
Espresso Display V2 expands on the first generation display with a thinner build and streamlined connections. V2 is described by the brand as the 'world's thinnest portable monitor' measuring in at just 5.3mm from front to back. It's available in your choice of 15.6-inch and 13.3-inch sizes, and regardless of preference, you get the same ultra-sleek brushed aluminium and glass construction. The 15.6 inch is the heavier of the two. 13 Touch weighs 650g while 15 Touch is 865g. Two USB-C ports are found on the right-hand side towards the bottom, and V2 does away with the additional HDMI port of the first generation. Both USB-C ports provide power and picture, and you score a cable in the box.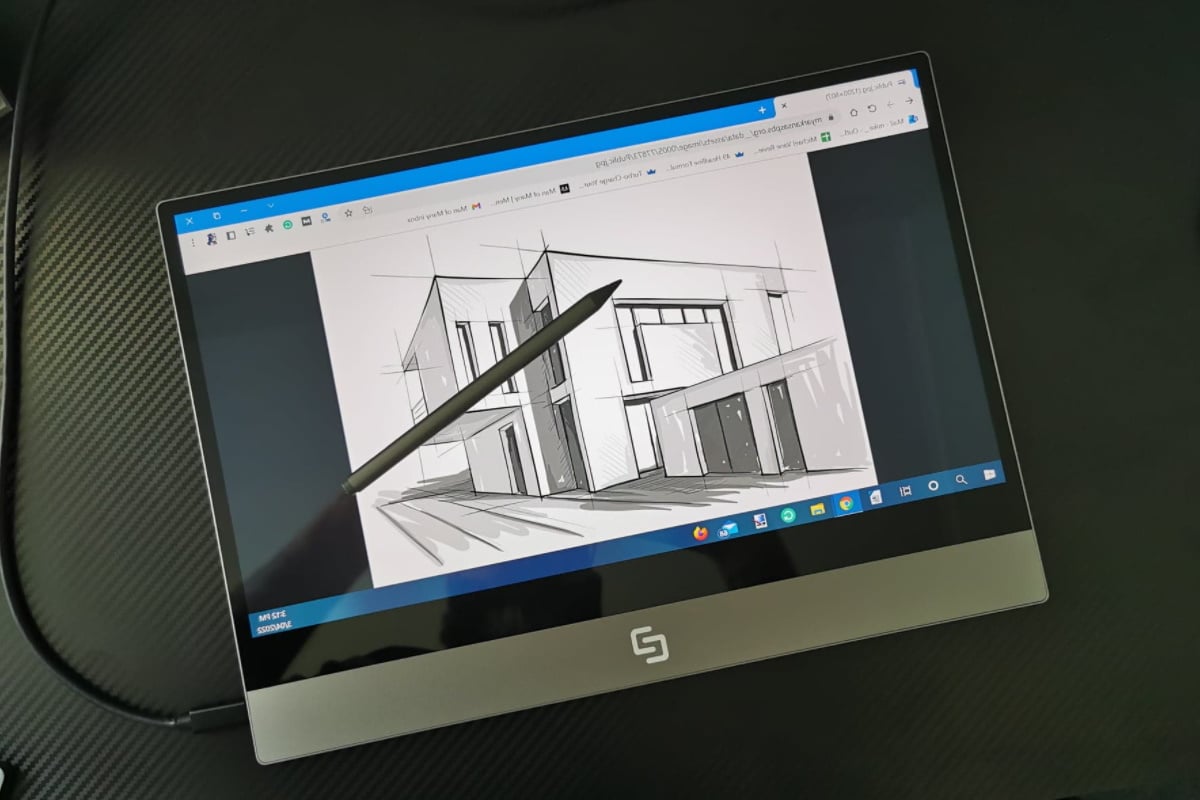 Older laptops and those supporting additional connection types will require an HDMI to USB-C cable sold separately. There are also incredibly discreet speakers in the base, but we'd recommend sticking to the laptop speakers or headphones for superior sound. Espresso's new display does possess a sneakily small bezel around the top and sides with a hefty one at the base. Most TVs and monitors are reducing bezels as much as possible, so I assume Espresso Display is forced to retain a larger one at the bottom due to its incredible thinness. There's no power brick, and so all those components need to go somewhere.
When it comes to positioning the portable monitor, you will want to purchase some of its accessories. A mount, stand and posable case all present suitable options for various working conditions if scrolling handheld is not your preference. I sampled the adjustable Stand and posable Case. The Stand is magnetic and simply connects with V2's aluminium backplate. It holds firmly and can attach anywhere on the back for the ideal positioning. However, the stand is quite rigid and the portable monitor will need to be removed when adjusting the viewing angle. The Espresso Case also uses magnets to clip on the top edge. Position it on the back and it can fold into a stand. Clip it on the front and you have a thick cover to protect the gorgeous screen when transporting it in a bag or brief. Each of these accessories is sold separately.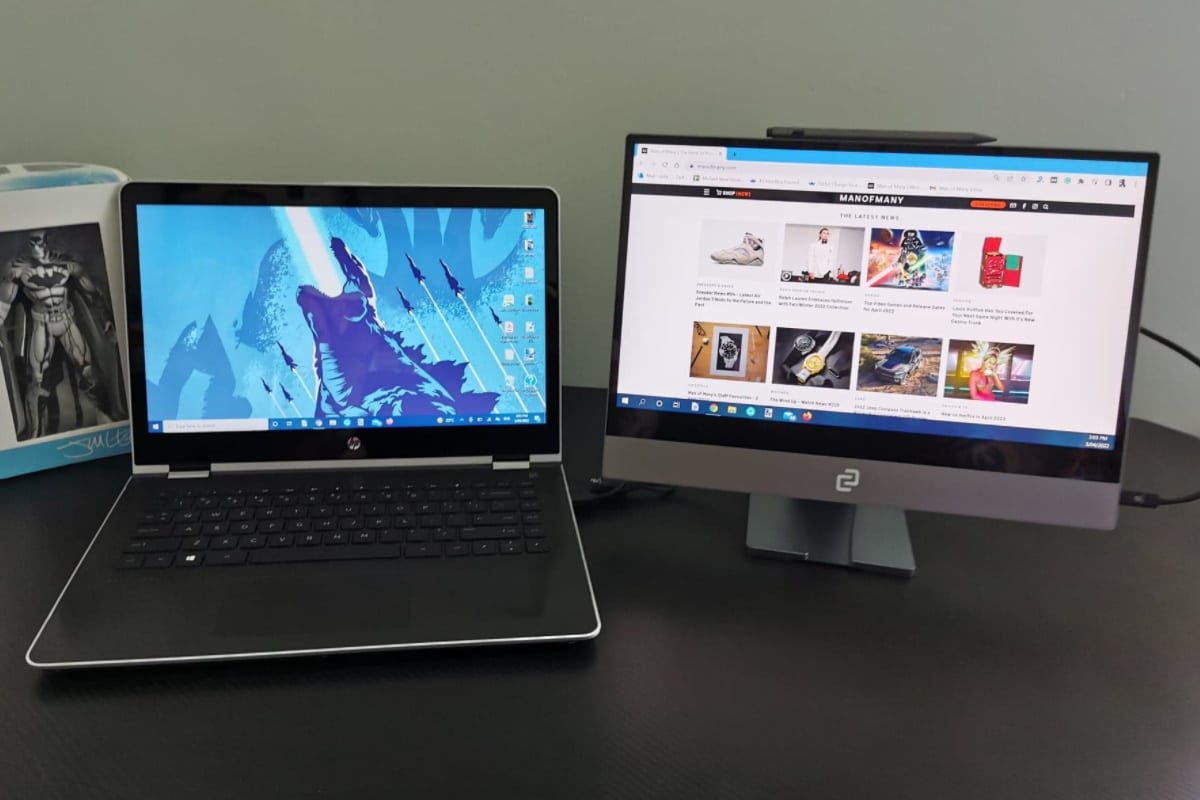 Espresso V2 Performance
The LCD screen presents crisp content in full HD with a 60Hz refresh rate and 1080p resolution. The aspect ratio is a standard 16:9, with a 16.2 million colours range. The portable monitor offers 300 nits brightness.
This isn't as bright as you might desire, so consider working environments accordingly. There's no support for 4K either. This isn't a deal-breaker for a second screen, but it does limit the potential if you're using the monitor for TV, films or gaming.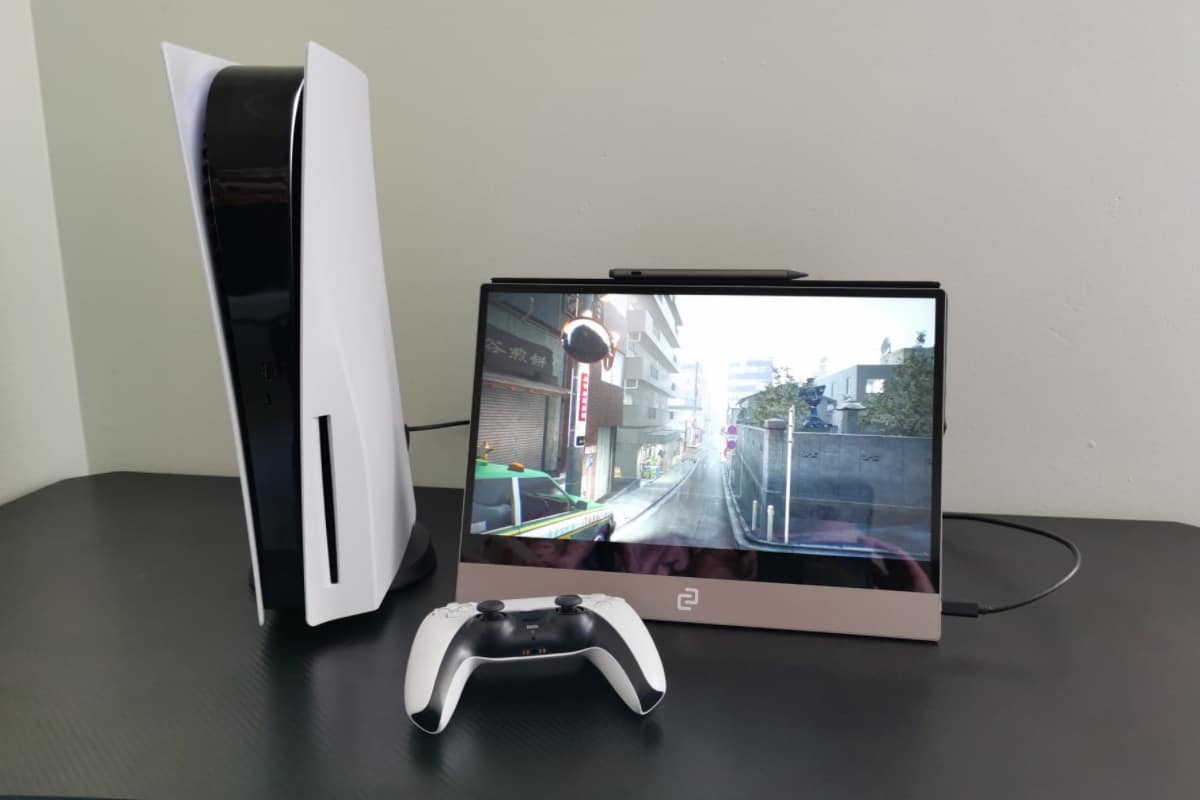 Espresso Display V2 is plug and play with many devices, and there's software to download from the website if you encounter any issues. I found V2 worked with my HP laptop only for touch controls until I downloaded the espresso. Flow software, and then I received full functionality. I should mention that my laptop is about five years old and lacks a suitable port. (I could really use an upgrade). I sampled V2 with my PlayStation 5 and Nintendo Switch, with both working immediately with the HDMI to USB-C cable sold separately.
The team at Espresso seems fully aware of the difficulty in designing technology that works universally across all devices, especially when certain brands are less than willing to support third-party accessories. We're looking at you, specifically Apple! There's software available to support Mac Intel and M1 Chip plus Windows devices. Upon checkout, Espresso has options for additional cables to suit your preferences, which ultimately will depend on the device in use.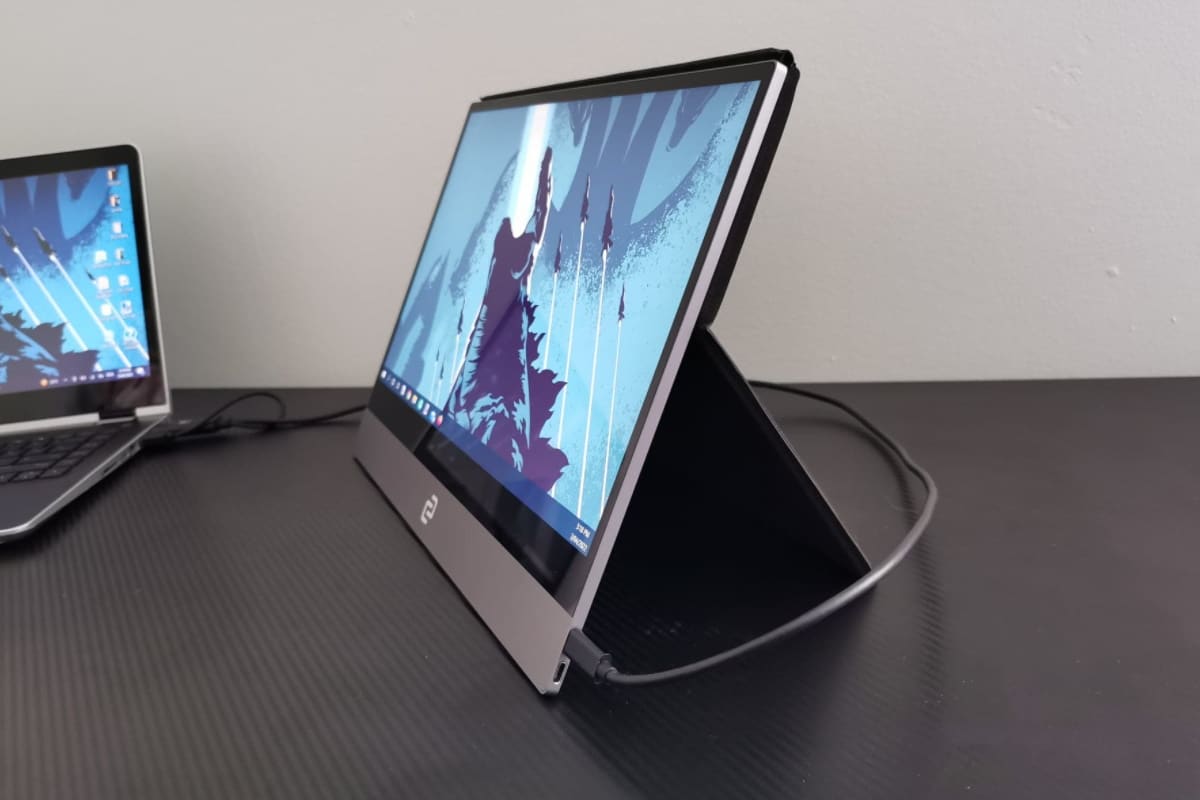 Espresso Pen is a sweet stylus sold separately. I scored one for testing purposes, and I can admit that the potential for this pen is wasted on my limited talents. Still, I spent some time sketching and editing in Adobe Suite, and it functions well. The pen is also magnetic and sticks to the edge of the portable monitor. The internal battery is rechargeable via USB-C. I tested my HP laptop's stylus, and it functions well too, so you should be able to use existing gear without forking out an additional $119 for the official Espresso Pen.
Espresso Display Price
The Espresso Display V2 is a premium portable monitor, and so it's priced accordingly. The 13.6-inch model is available for $669, while the larger, more desirable 15.6-inch version comes in at $749. Add in a $99 stand and $69 carry case, and you're spending upwards of AU $1000. Plus extra for a stylus and the cables required for specific connections. That's a significant figure for a second screen. There are other cheaper displays available, but they lack the quality of Espresso displays. So, if money is no option, it's unlikely that you'll find a better option. For everyone else, the cost of admission could be too high.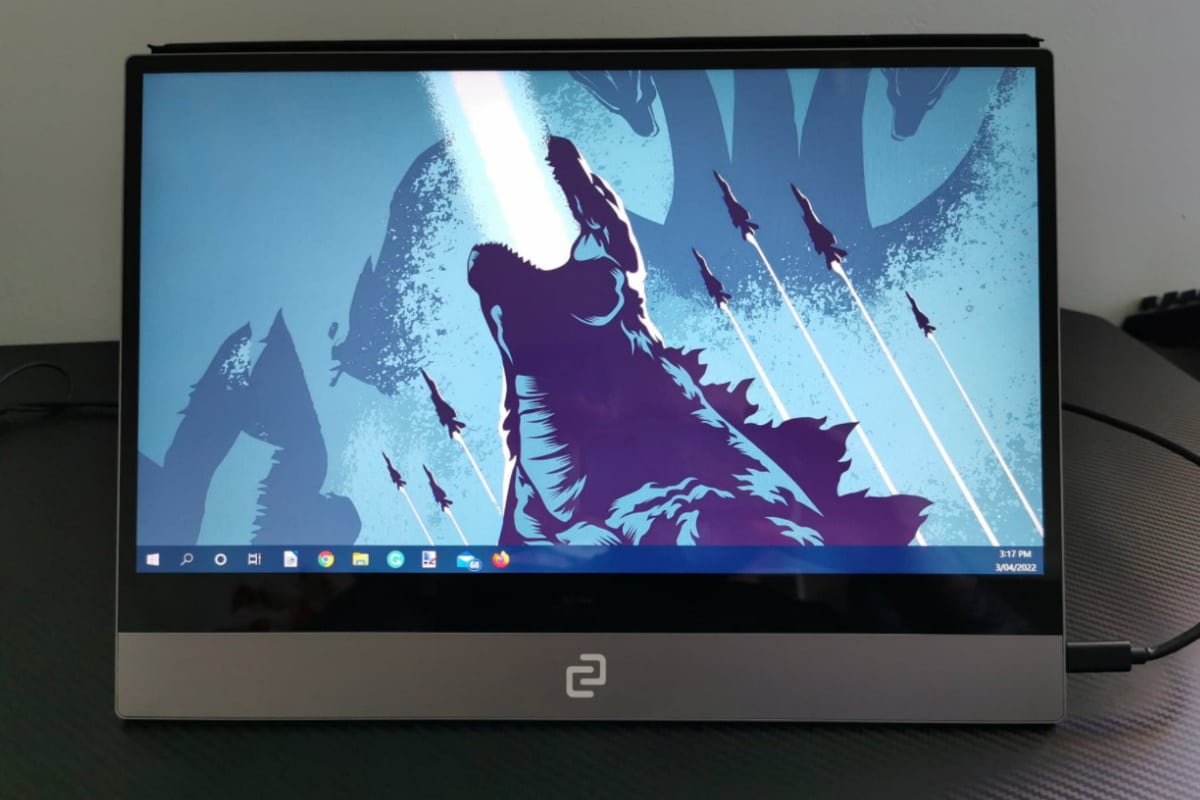 The Verdict
Once you've worked on multiple displays, it's hard to transition back to one. With the growing trend of work from home and hybrid arrangements, Espresso Display V2 is an ideal option for boosting productivity and expanding the features of everyday laptops. Its high price point will dissuade some, but anyone chasing a high-performance portable monitor should be satisfied with this ultra-sleek, functional Australian-made display.
The first generation Espresso Display earned a Good Design Award, Red Dot Design Award and ranked in Time's Best Inventions of 2021. We're confident that V2 is destined for even greater things. Espresso Display V2 and the accessories are available now from the brand's official website with free postage worldwide.
The writer received an Espresso Display V2 for review courtesy of the brand
You'll also love:
What is Atari VCS, and Would You Pay $800 for One?
Are You a Boring Person? What Your Hobbies and Interests Say About You
nooe CONFIG 01 SET Turns Your Desk into an 'Artist's Dream'