Caviar's $16,000 iPhone 15 Pro Takes Ultra Gold to the Extreme
With the highly anticipated launch of Apple's latest iPhone 15 models, Caviar has wasted no time in joining the fray. The Russian brand has introduced its super fancy and lavish range of custom iPhone 15 Pro and Pro Max, alongside an over-the-top "Ultra model," dubbed 'Rich Colors'. These exclusive smartphones are adorned with titanium and exquisite gold chassis, which continues its tradition of redefining luxury in the tech industry for those who appreciate the finer things in life.
The company's new custom Apple iPhone 15 Pro and Pro Max collection offers a wide array of colour options and five different chassis selections. According to its press release, Caviar says it drew "inspiration from the Apple "Wonderlust" Event that destroyed constantly appearing insights such as iPhone 15 Pro in dark red and gold colour, iPhone 15 Ultra with titanium chassis" and brings "to life all fans' expectations as a token of love for Apple."
RELATED: Caviar's Gold iPhone is Inspired by Pablo Escobar's Favourite Pistol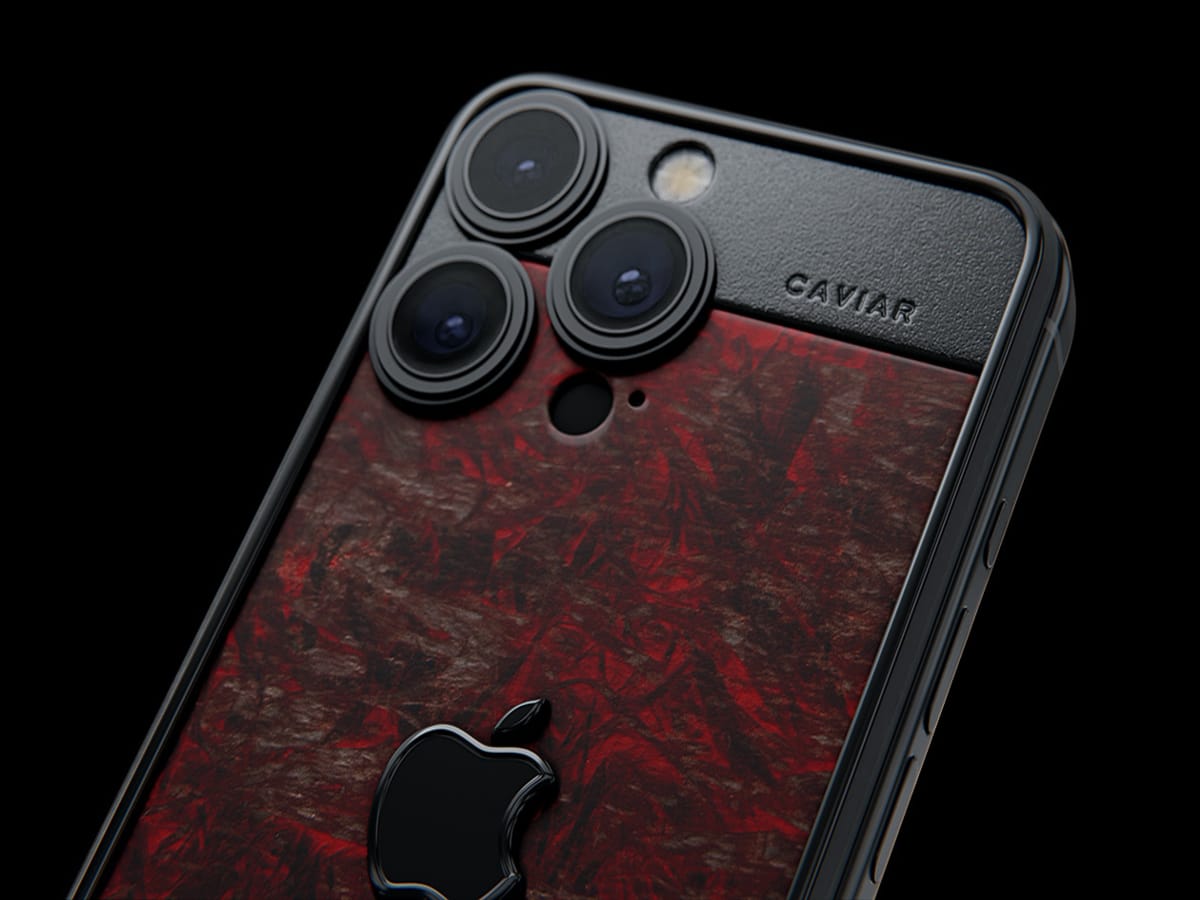 The iPhone 15 Pro and Pro Max models have gotten a special treatment with a custom deep red chassis made from forged carbon and are inspired by the "Lamborghini sports car production." As for the Apple logo, it's uniformly presented in black nacre across all models in this collection. A unique addition to the lineup is the dark violet version, made from a composite of forged carbon fibre. The violet fibres create a distant pattern that evokes the essence of Van Gogh's iconic masterpiece, "The Starry Night."
While Apple hasn't introduced an iPhone Ultra version this year, Caviar decided to name two of the iPhone 15 models after it, to emphasize " the degree of their elegance and prestige." Among the offerings in the collection, the iPhone 15 Ultra Gold takes the cake for being the priciest and most extravagant option. These custom iPhone 15 Pro and Pro Max models boast chassis encased in sumptuous 18K gold, treated with a satin finish. If that wasn't enough, the central Apple logo is made of solid gold 24K.
The second Ultra model is the Ultra Black variant, sporting a sleek black Aviation grade titanium chassis "with black PVD coating as in the best Swiss watch." Much like its gold counterpart, it also features the Apple logo made from 24K fine gold.
If you're curious about the prices, then the Dark Red and Starry Night iPhone 15 Pro models begin at USD$7,560 or AUD $ 11,760 with the top-tier 1 TB option priced at USD$8,340 or AUD$12,970. In contrast, the Black Pro variant starts at USD$7,410 or AUD$11,524, while the 1 TB storage option costs USD$8,410 or AUD$13,079. The flagship of the collection, the iPhone 15 Ultra Gold, is available at USD$10,390 or AUD$16,158, while the iPhone 15 Ultra Black comes in at USD$8,060 or AUD$12,534.