Facebook's New Kids Messenger App Launches
Aren't kids great? Well, as many parents-turned-home school teachers are finding out, not really. The challenges of social distancing have closed schools across the globe, and while the restrictions haven't had quite the same dramatic impact here in Australia, in the US pressure is mounting. Distance learning is proving to be one of the most difficult aspects of the COVID-19 reality, with parents struggling to keep their kids locked-in while locked-down. But despite the growing concerns, tech giant Facebook may have just released a solution; Messenger Kids.
Starting its global roll-out on April 22, the Facebook Messenger Kids app is designed to help children deal with the challenges of distance learning and isolation. The app was introduced to 70 new countries around the world including Australia, having already been in use in the US for several years. But how does it work?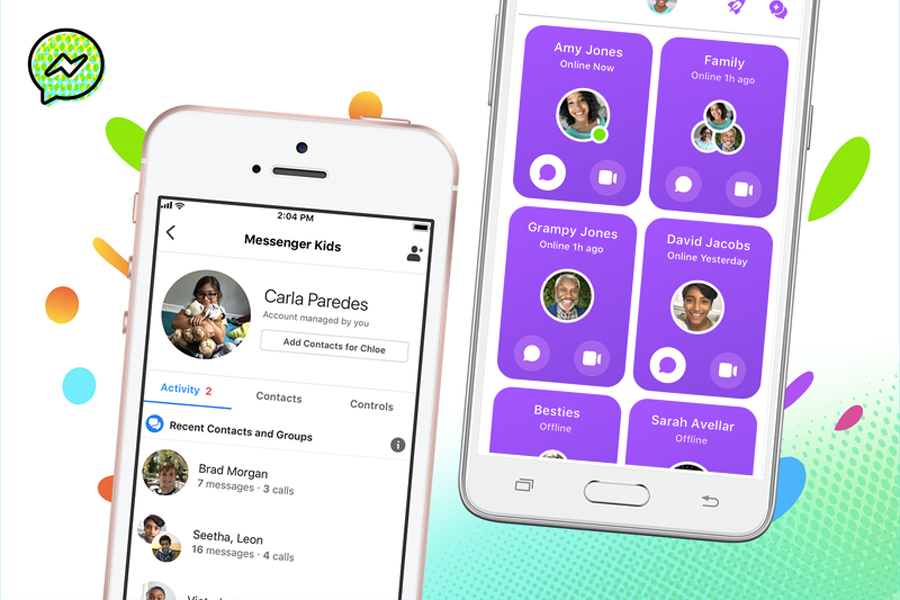 What is Facebook Messenger Kids?
At a very basic level, Facebook Messenger Kids is a messaging app that is designed to allow kids to chat using text, images, videos and live video calling. Targeted at children under the age of 13, the free app has the capabilities to improve communication, all under the parents' watchful eye. Parents oversee the contact list, as well as review and manage controls using a parent dashboard, ensuring that their kids aren't getting up to mischief while chatting.
The app was originally constructed for fun communication, adding kid-friendly filters, reactions and sound effects to make video chat more enjoyable. Kids can also add things like stickers, GIFs, emojis and even their own drawings to the chat, with the platform offering no in-app purchases. Where Facebook Messenger Kids has garnered the most praise has been in its ability to connect kids and parents through existing Messenger profiles, with no additional app downloads needed.
How Does Messenger Kids Work?
The Messenger Kids app works on the same basis that regular Facebook Messenger does. On a smartphone or tablet device, you download the app. From there, you create a profile for your child and add the necessary friends. Only parents are able to access this feature, through the Messenger Kids parent dashboard. This supervised friending ensures that children are protected from outside influences.
Should someone appear on your child's friend list that you are worried about, you can block and report them. This can be done by either child or parent. You can then monitor your child's online activity through the dashboard.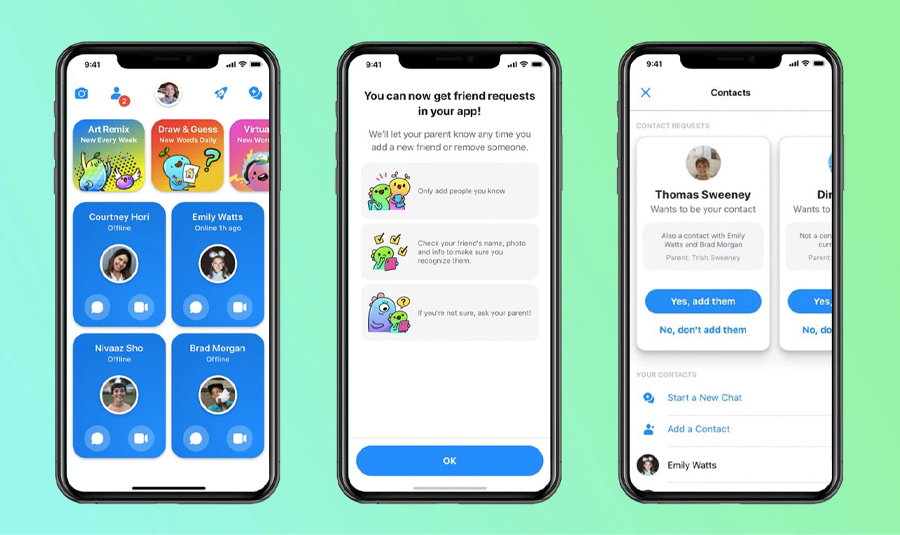 Facebook Messenger Kids and COVID-19
The global roll-out comes at an interesting time for the world. With many schools closed and parents opting for distance education, the ability to connect seamlessly with other students, parents and potentially teachers is a massive advantage. In fact, it's the primary reason Messenger Kids was rolled out globally, according to Antigone Davis, global head of safety at Facebook.
"With schools closed and people physically distancing, parents are turning to technology more than ever to help their kids connect with friends and family," she said. "Kids often build community through their classes at school, participating in a team sport or other extracurricular activities. Just as parents allow a teacher or coach to help their child navigate classroom or team friendships, this new feature gives parents the choice to approve a similar adult to help connect their child with other kids through a group in Messenger Kids. These approved adults can only connect kids whose parents have also granted this adult the same approval.  This feature will be available starting today in the US, and will gradually roll out to the rest of the world."
Essentially, this means the process of distance learning can be made far easier, something that Kathleen Lucchesi, Khan Academy Teacher Ambassador and math department chair at McCaffrey Middle School in Galt, Calif has been calling for. "Successful distance learning depends not only on educational content, but social emotional support as well," she said  "As a teacher, I know my students are missing their friends and daily classroom interactions. I'm excited to use this new feature to help my kids have fun, stay connected and build camaraderie virtually."
Messenger Kids was launched in the US back in 2017, later expanding to Canada and a handful of other countries. The app has faced criticism, however, with some parents questioning the privacy.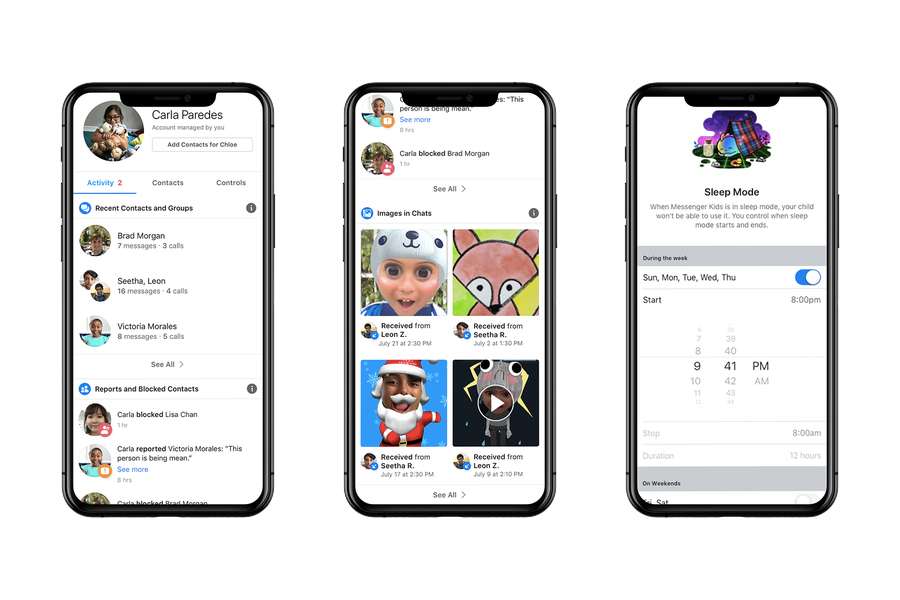 Is Facebook Messenger Kids Safe?
Where the biggest concerns and confusion surround Facebook Messenger Kids lies is in the privacy and security settings. Facebook has come under fire in recent years for its data collection, so the anxiety from parents isn't without merit. According to Davis, the Messenger Kids team has worked closely with Facebook's Youth Advisors, a team of experts in online safety, child development and media to help ensure safety on the app remains paramount.
"Parental control is at the heart of Messenger Kids. Parents manage who their kids interact with and can monitor their child's activity in the app through the Parent Dashboard, where they can also download their child's information at any time. We know privacy and security are particularly important when it comes to kids online, and we take the responsibility to protect kids' information seriously," she said.
Davis revealed that the company had consulted with Dr Lewis Bernstein, a member of Facebook's Youth Advisors and former executive vice president of education and research at Sesame Workshop, to develop the language used to educate kids on this new feature.
"This is a powerful opportunity and teachable moment for parents to have a conversation with their kids about the life-long skill of choosing one's friends, both face to face and online," Dr Bernstein said. "In addition to allowing parents more ways to manage their child's messaging experience, Supervised Friending develops kids' autonomy to decide who they do or don't want to connect with, while parents can observe, provide guidance and step in as necessary."
While it appears Facebook has taken extensive measures to boost security on-site, it bears reminding that no online presence is completely safe. Other platforms such as Zoom have faced backlash for data collection and privacy concerns. So, if parents are at all worried about their children's safety, the decision to sign up for Facebook Messenger Kids is in their hands.
The new global roll-out of Facebook Messenger Kids is big news for the tech company, particularly in light of recent world events. The corporation is currently locked in a battle with the Australian government over whether they have to pay media organisations for content reuse. Whether an education-boosting initiative could help Facebook's case, remains to be seen.
Still have questions? We've got you covered.
General FAQ
Is Facebook Messenger Kids safe?
According to Facebook, the company has worked with a number of consultants to ensure the app is safe. However, no online portal is 100 per cent immune to cyber attack.
Can you see what your kids are doing on Messenger Kids?
Yes. Through the parent dashboard, you will be able to monitor your child's online use.
Can anyone go on Messenger Kids?
While anyone can go on Messenger Kids, it is not possible for them to communicate with your child unless you first accept them.
You'll also like:
ASUS ROG Phone 3 Sets New Standards in Mobile Gaming
8 Reasons Samsung is Worth the Switch
Motorola Razr Australian Price, Release Date Revealed