7 Bite-Sized PlayStation 5 Game Reviews
It's pretty fair to say, the PlayStation 5 has had one the best launch lineups of any console to date. It's more than the sheer quantity of games but also the quality. Of the 18 or so titles available so far, we've found time to sample seven, and the quality control is high, as we'd recommend checking out every one of them. But you may have played a few already if you were lucky enough to score a launch day PS5.
From Spider-Man to Sackboy and Black Ops to Bugsnax, the below list comprises a half dozen or so bite-sized reviews for some of the season's finest games. And don't stress too much if you didn't secure a PS5 just yet, as five of the seven games are readily available on PS4. And Cyberpunk 2077 will be too come December 10.
You'll also like:
Amazon Finds November 2020 – NextGen Gaming
2020 Christmas Gift Guide – The Gamer
21 Best Gaming Headsets for the Next-Gen Experience
Presenting seven bite-sized reviews for the PS5 games we've played so far:

1. Marvel's Spider-Man: Miles Morales
More spin-off than a sequel, Spider-Man: Miles Morales carries on the story from 2018's Spider-Man game but puts you behind the mask of the titular Miles, rather than Peter Parker. With Christmas fast approaching, Peter travels overseas with Mary Jane leaving Miles to protect to New York. When a war breaks out between a tech corporation and a rebel army, Miles quickly discovers that with great power comes great responsibility.
Anyone who played 2018's Spider-Man will feel right at home here, but then the experience is elevated with killer graphics and ray tracing lighting effects, an inspiring soundtrack and a plethora of new web-slinging abilities. Spider-Man now has a string of electric attacks referred to as Venom (no association with the villain Venom) and a cloaking ability for stealth combat. The abilities add more diversity to the gameplay and help set it apart from the previous Spider-Man game, even if it does borrow a lot of assets.
Coming in at around 10 hours long, this new title is a lot shorter than its predecessor, but is much more focused and overall, a slight step up when compared to the previous open world outing.
Pros and Cons
+ Looks incredible
+ Being Spider-Man feels better than ever
+ No load times
– Some side content feels like filler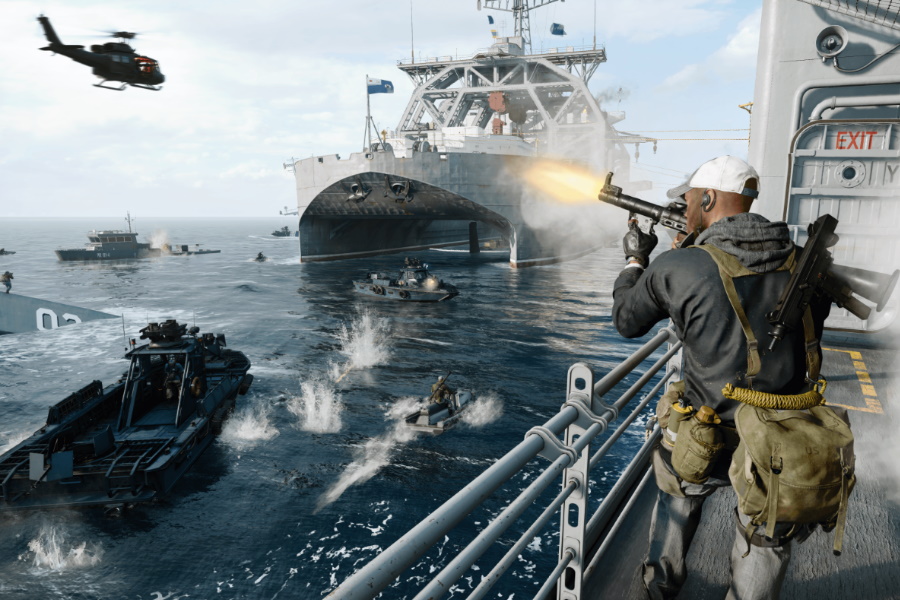 2. Call of Duty: Black Ops Cold War
Call of Duty makes the leap to PlayStation 5 and surprise, surprise, the game is really good. Forget Black Ops 2, 3 and 4, because Black Ops Cold War is a new sequel to the original Black Ops from 2010. In the campaign, Mason, Woods and Hudson all return with new voice actors and enter the early 1980s in pursuit of Perseus, a Soviet spy, working to hurt the United States and tilt the balance of power. Black Ops Cold War has one of the best Call of Duty campaigns in years with a solid story supported by impeccable presentation, plus the addition of short side missions and multiple endings.
Multiplayer shines, like always. There are no new gimmicks like wall running or character classes. Just personalise your loadout and jump on in. The classic modes are present, plus large scale ones like Fireteam and you can also access the Warzone battle royale from the main menu. My only gripe is that a few of the multiplayer maps are dull. After 15 odd years of Call of Duty, we'd be happy for the developers to just recycle the best ones from previous games.
Moving on to Zombies, the one and only map Die Maschine is a rework of the original zombies map Nacht Der Untoten introduced back in 2008. It's expanded of course, with a larger map, much faster gunplay and level progression. But, it's just the one map. Overall, Black Ops Cold War will do a lot more than just satisfy the demands of gamers. But seriously, when do the new maps start to arrive?
Pros and Cons
+ More polished than the old man's sports car
+ Gunplay is as good as ever
+ One of the best campaigns to date
– Not all multiplayer maps are created equal
– No split-screen for Zombies mode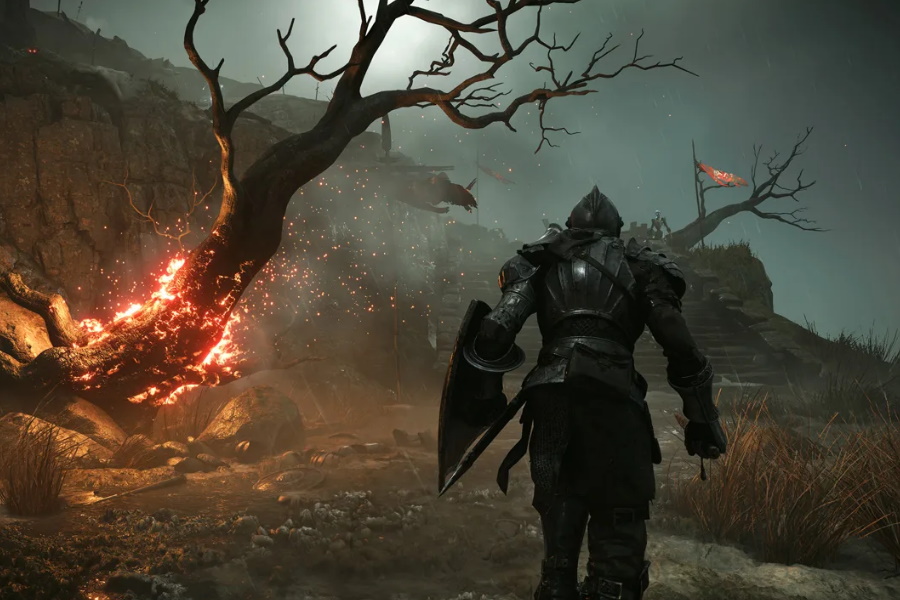 3. Demon Souls
Before Dark Souls punished a generation of gamers, there was Demon Souls. The former PS3 exclusive has been remade from the ground up for PlayStation 5 and it's just as challenging as you'd expect.
From the three-odd hours we've sunk in, we died many times. Personally, we're not ones to punish ourselves with a game like this, but we can appreciate that others enjoy the satisfaction that comes from risk vs reward and mastering a game's systems. By the way, Demon Souls is probably the best looking game on PS5, and that's no small feat.
We're not sure if we'll sink more time into Demon Souls, not when we have six other games to play. But from our brief time with the game and the many positive reviews online, we believe Dark Souls fans and fans of the original will find a lot to like here.
Pros and Cons
+ Possibly the best looking game so far
+ Intriguing world
– Really, really difficult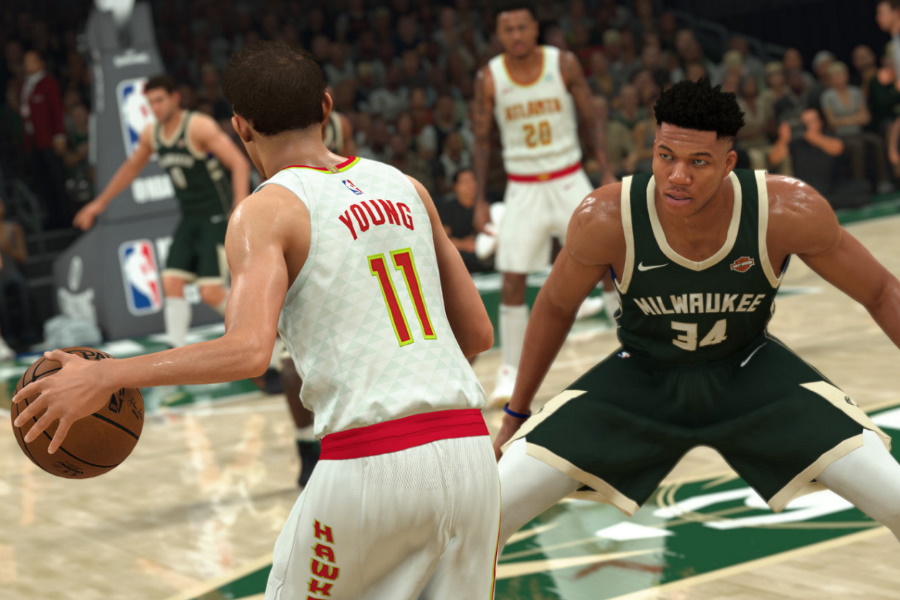 4. NBA 2K21
The next-gen version of NBA 2K21 goes beyond gorgeous graphics. Having been updated from its original release back in September, this new version includes a new commentary team and a WNBA career mode. It's called The W, and it just so happens to be the first ever single player basketball career mode focused on the WNBA. It's not as fleshed out as the male option but is still a worthwhile addition. Although, it may have something to do with the whopping 150GB install size for the game. This, and the massive new area in MyPlayer mode called The City.
Player movement feels more intuitive which is ideal for complementing the lifelike players. Long term fans of the series have expressed frustration at the new pick-and-roll and also the AI teammates. We haven't experienced any of these issues yet, but being a casual fans of b-ball, we don't have much NBA 2K experience for comparison.
So far, we're really enjoying the PS5 version of NBA 2K21, although it's hard to find enough reasons to upgrade if you already purchased the game three months ago. Your save file can't carry over from PS4 to 5, so you would be back at the start. It's just something to consider.
Pros and Cons
+ Players look intensely real
+ WNBA receiving due credit
+ We're obsessed with creating Air Jordans
– Whopping 150GB install required
– No save file transfer between PS4 and PS5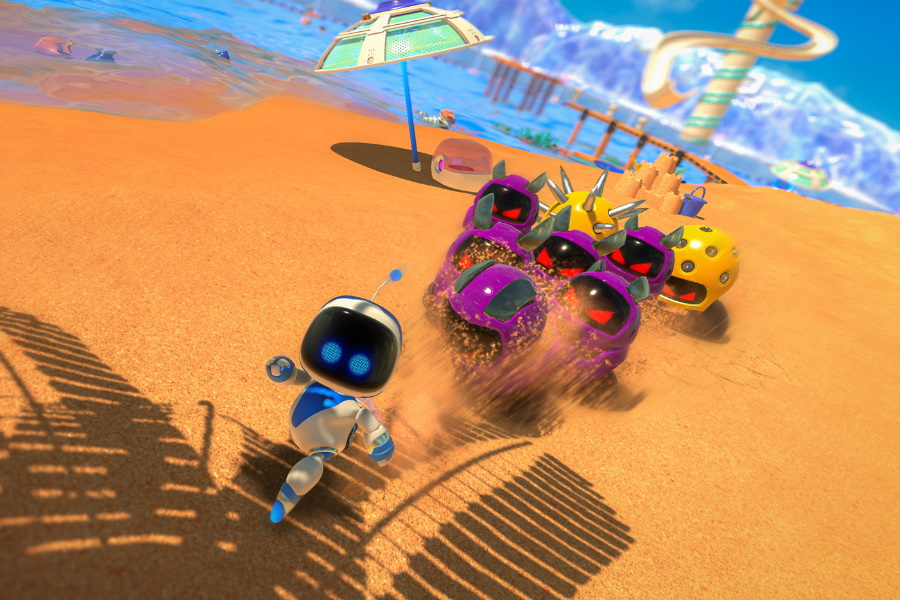 5. Astro's Playroom
Pre-installed on every new PlayStation 5 is a great little free game called Astro's Playroom. Don't confuse this with The Playroom on PS4. Astro's Playroom is a full-fledged 3D platformer included to show off the capabilities of the PS5 and the new DualSense controller.
Astro last appeared in the PSVR exclusive Astro Bot Rescue Mission and his new adventure is similar, except it doesn't require a VR headset. Astro jumps, punches, climbs, rolls and rockets his way through 16-plus short levels each feeling like it's specifically designed to make use of the different DualSense abilities. We're talking haptic feedback, adaptive triggers, motion controls and the touchpad.
Not all levels stick the landing, but each is also filled with easter eggs referencing classic PlayStation hardware and games, and it's an absolute nostalgic blast trying to identify them all. Astro's Playroom is a great entry point for the new hardware and a love letter to PlayStation as a whole. When you're finished with Astro, you can simply delete the game and download again whenever you like via your digital library or the PS Store.
Pros and Cons
+ Looks incredible
+ Great showcase for DualSense controller
+ Love letter to PlayStation
– Too short
– Some levels feel gimmicky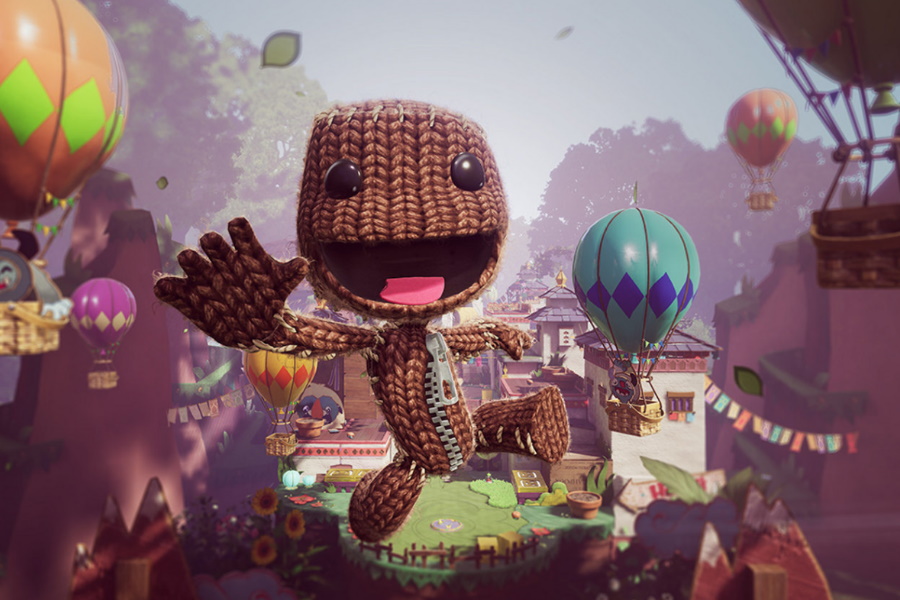 6. Sackboy's Big Adventure
Sackboy from the Little Big Planet series scores his own 3D platformer in the vein of Super Mario. This new title doesn't quite live up to the standards set by the popular plumber but Sackboy's Big Adventure is still one of the best PlayStation 5 launch titles. There's a story here, but we don't know what it's about. We skipped the cutscenes because we only intended to dabble, but it wasn't long before we became invested.
There are dozens and dozens of bite-sized levels to explore and each one throws new ideas your way, so the game never gets boring. The music levels where enemies and moving platforms move in time with the music are clear favourites. It's good music too. We're talking levels that move in time with Foster the People, Pharrell Williams and David Bowie to name a few.
Sackboy is incredibly charming overall, and can be played with up to three others. If you scored a PS5 and have a couple of kids, picking up this 3D platformer is a no-brainer. It's just a shame that additional controllers are $110 each. Thankfully, Sackboy is also available on PS4.
Pros and Cons
+ Challenging platforming
+ Fun music levels
– The fixed camera can be frustrating
– Some levels are multiplayer only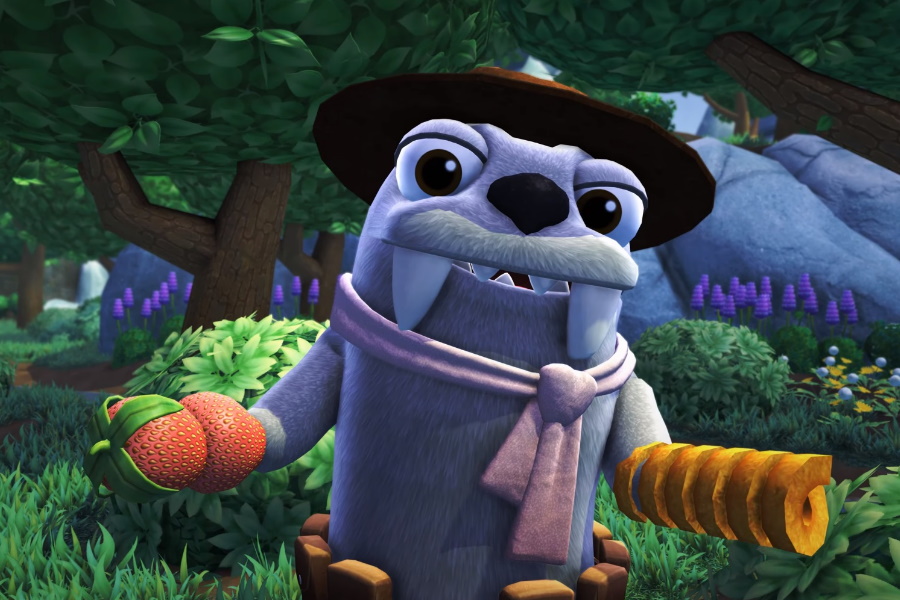 7. Bugsnax
The first PS Plus game for PlayStation 5 is Bugsnax, and it's not an easy game to describe. First person adventure game packed full of charming characters and genuine laughs is the best we can do. There are also lots of edible insects, hence the title Bugsnax. Taking cues from the Pokémon rulebook, there are over 100 Bugsnax species to catch, with some puzzle solving required to do so. This, exploring the island and conversing with the colourful characters takes up most of the playtime. It's an enjoyable romp, but does wear a bit thin after half a few hours.
The story is centered around an engaging mystery featuring loads of chuckle-worthy moments that might just persuade you to stick it out till the end. You play as reporter invited to cover Snaktooth Island's unique wildlife which is shaped and named after food. The locals love Bugsnax because they taste great. But they also have an adverse effect that transforms body parts into food. It's a lot of nonsense, and also the right amount of silliness that it appeals to me. The characters and comedy remind me of the animated series Adventure Time.
PS5 owners with a PS Plus account need to add this game to their library. It's available at no extras cost. PS4 owners can add it to their library to play later via the PS Store on their device of choice.
Pros and Cons
+ Charming characters and engaging story
+ Weird in all the right ways
– Gameplay gets repetitive
– Looks more like a PS4 game
You'll also like:
Amazon Finds November 2020 – NextGen Gaming
2020 Christmas Gift Guide – The Gamer
21 Best Gaming Headsets for the Next-Gen Experience