INTERVIEW: Crayator's Top 5 Video Games of 2020
With a second stint in isolation fast becoming a reality for many Aussies, the time has come to ready your entertainment arsenal. Let's face it, do you want to spend another six weeks playing the same five games you've played all year? Unlikely. You want to delve deep into a new open-world map, pwn some noobs and double-jump your way out of trouble; anything you can to keep the boredom out. It's something YouTube legend Crayator knows all about.
You'll also like:
The Nintendo Entertainment System Returns in LEGO Form
Far Cry 6 Gets Insane Cinematic Trailer and Official Release Date
Iron Man Blasts onto PS4, so Dust Off that VR Headset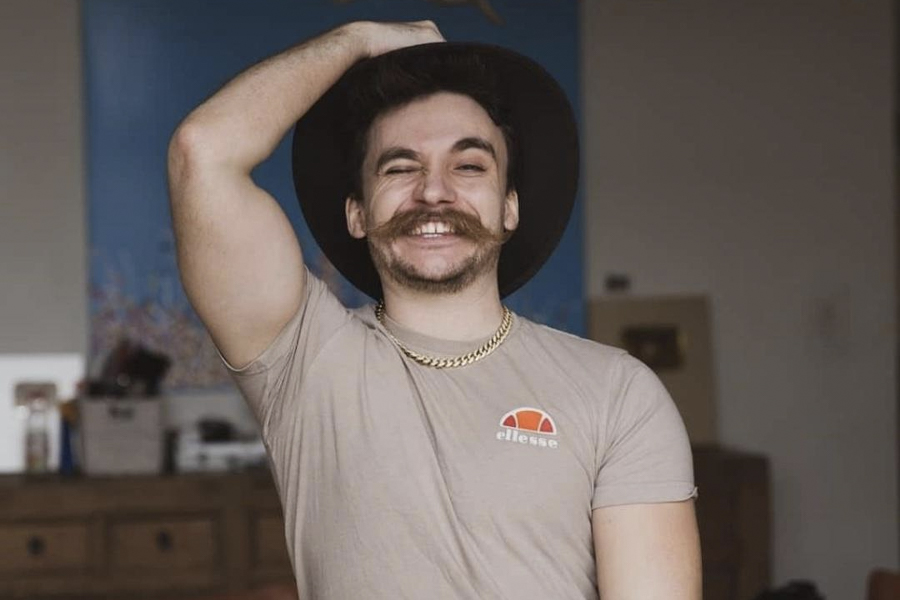 Since the isolation lockdown kicked off, the Twitch content creator has been smashing through games and TV series at record pace. "So, 2020, what a hectic and unpredictable year for everyone. I half imagine aliens are going to come spewing out of the sky any day now honestly," he tells Man of Many. "But at the same time, I think the year has been a period of growth for a lot of people, because when you're stuck at home you can really think about where you want to go and who you want to be. You think about your career and loved ones, and how you can do better as a person."
It's not a bad sentiment. Like Crayator, we've definitely found ourselves calling the family more frequently and taking a few good hard looks in the mirror. It's all part and parcel of the strange times we find ourselves in. The Twitch and YouTube streamer says has been keeping himself busy in much the same way as everyone else has, hitting up Netflix, settling in with a few cheeky beverages and trying to make the most of the situation.
"I've been working with The Kraken Black Spiced Rum too, which has been awesome, celebrating the launch of their new Kraken Premix," he explains. "That's my 2020 so far, but also a lot of video games and a hell of a lot more Netflix series. I'm almost certain I won't have anything to watch when 2021 rolls around." Netflix issues aside, we wanted to pick Crayator's brain over the games we need to check out this year. And with a second lockdown imminent, it couldn't come at a better time.
Crayator's Top 5 Video Games of 2020
Like we said, the time to update your gaming collection is nigh and to help make sure you've got hours of endless entertainment up your sleeve, we asked Crayator for his top 5 games for 2020. But be warned; this list is a little eclectic. "I think I have a varied taste in games," Crayator says. "This really strange thing happens where when you play video games for a living, you need to mix it up a bit so you can still enjoy it as a hobby too."
If you haven't had a chance to check out his streams lately, here are Crayator's top 5 games of 2020.
1. Warzone
It's not a huge surprise that Warzone gets a mention. The free-to-play battle-royale game dropped earlier this year and it has been a major hit with fans, particularly through isolation. Offering new game modes and a chance to battle it out against 150 of your closest friends, this one is an absolute must-play for anyone who wants to bump up their social time whilst in lockdown.
More recently, Season 4 was released, meaning players can now score new weapons and compete in exciting new Warzone game modes. You can battle through to unlock free Operator Skins, Blueprints, Watches, and XP tokens, along with a reloaded battle pass that introduces Captain Price to the mix.
Initial release date: 10 March 2020
Publisher: Activision
Series: Call of Duty
Developers: Infinity Ward, Raven Software
Platforms: PlayStation 4, Xbox One, Microsoft Windows
Genres: Battle royale game, First-person shooter
2. Doom Eternal
New Doom games are always met with a little trepidation, but this one comfortably makes the list. In our review, we noted that the game perfectly captures and capitalises on its predecessor's "push-forward" combat, encouraging players to aggressively engage enemies in order to acquire health, ammo, and armour. It's a big reason Crayator put Doom Eternal high on his list of best games for 2020.
"Doom Eternal surprised me by staying true to the original gameplay mechanics but also adding so much more life to the game," he says. "The introduction of new methods to kill and maim and just the general madness of the game really took the cake for me."
Initial release date: 2020
Director(s): Hugo Martin
Composer: Mick Gordon
Engine: id Tech 7
Platforms: PlayStation 4, Xbox One, Nintendo Switch, Google Stadia, Microsoft Windows
Developers: id Software, Panic Button Games
3. Animal Crossing: New Horzions
Remember when we said this list was eclectic? From the demons of Doom Eternal to cute and cuddly creatures of Animal Crossing, Crayator does not discriminate when it comes to games. "Animal Crossing also really took me by surprise, I didn't expect to enjoy a game from that genre so much so I was quite shocked," he says. "I'm not really into "Lifestyle" games, ones where you cook, fish or build a house, but I fell into it so quickly and easily and I think a lot of other people came under its spell too."
According to the pro gamer, the appeal of Animal Crossing is simple; the repetitive motions allow you to feel as though you've achieved something. "Games like Animal Crossing I spend a lot of time with, just gathering and building my own little world," Crayator says. "Same with Minecraft dungeons where you can explore with friends in little quests and adventures, something social that drives me when I'm not playing for work. That's what I enjoy the most."
But despite Animal Crossing being one of his best games of 2020, Crayator also acknowledges it isn't for everyone. "I dislike the grind of Animal crossing though, I tend to get sick of repetition pretty easily. It's a weird dichotomy where that's what I enjoy but also dislike at the very same time…I wonder if other people feel the same?"
Initial release date: 20 March 2020
Composer(s): Yasuaki Iwata; Yumi Takahashi; Shinobu Nagata; Sayako Doi; Masato Ohashi
Writer(s): Makoto Wada
Genre: Education Simulation
Platform: Nintendo Switch
Developers: Nintendo, Nintendo Entertainment Planning & Development
4. Minecraft Dungeons
Similar to Animal Crossing, Minecraft Dungeons has become one of those games that encourages growth and building. While simple in nature, the dungeon crawler video game offers players the chance to explore procedurally generated and handcrafted dungeons filled with randomly-generated monsters and also deal with traps, puzzles, bosses and finding treasure. Even better, there's no class system so you can use any weapon or armour you want. That being said, this is another one that can drag on. According to Crayator, it's best to keep this one as a fun option you can always return to.
Initial release date: 26 May 2020
Composer(s): Peter Hont Samuel Åberg Johan Johnson
Director(s): Måns Olsen
Platforms: PlayStation 4, Nintendo Switch, Microsoft Windows, Xbox One
Developers: Mojang Studios, Double Eleven
Genres: Action-adventure game, Dungeon crawl, Action role-playing game
5. Gears Tactics
One of the most anticipated games of the year made it's debut back in April and Gears Tactics didn't disappoint. Taking things in a completely new direction for the Gears franchise, Tactics sees players issue commands to their squad of human soldiers with the aim of eliminating hostiles. Set 12 years before the events of Gears of War, Tactics takes a closer look at how the war between humans and the brutish subterranean race of Locusts actually kicked off. It follows Coalition of Ordered Governments (COG) Army member Gabriel Diaz and company, giving fans new insight into the historic franchise. There are a bunch of missions to complete, complemented by secondary objectives, making this a game you can easily spend hours stuck into.
Initial release date: 28 April 2020
Engine: Unreal Engine 4
Genre: Turn-based tactics
Series: Gears of War
Platform: Microsoft Windows
Developers: Splash Damage, The Coalition
Crayator's Most Anticipated Games
But while 2020 has produced some solid releases, the future is also looking bright, thanks to some interesting new additions. "I think bigger worlds, better AI, and even more people coming to gaming space is what we can expect," Crayator says. "Gone are the days of gaming being that uncool thing that only nerds do. Now, you're almost uncool if you don't play video games, or at least you won't have much to talk about over dinner. I like to think the future of gaming is bright and has a lot going for it."
According to the Twitch streamer, the entire industry may be moving in a new direction. "I think maybe a movement away from Battle Royales and more games like The Last of Us 2 is on the cards. More of that story-driven experience, you know? Rather than just mindless dropping in and eliminating players in an arena-style game," he explains. "I'm most looking forward to CyberPunk, its huge world and story building are what get me excited more than anything. It's made by CD Project Redd who created my favourite game The Witcher 3, so I'm a big believer in their ability to deliver a game with countless ways to play and enjoy. I'm interested in the moral choices and dilemmas you can get into with those RPG worlds."
What's Next for Crayator?
So, with gaming as a focus, what's next for Crayator? We asked the Sydney-based gamer what his plans for the second half of 2020 look like, and if there is light at the end of this year's dark tunnel. "I think focusing more on YouTube video making rather than just streams is what's coming up for me!" he says. "Although I really do feel like 2020 is the year we want to forget, I mean not being able to leave the house or see friends has made me realise just how much I love that aspect of life."
The Aussie YouTube star is encouraging people to stay connected in this time of need, asking them to call their friends, have some Zoom drinks and make sure people are keeping well.
"Playing video games all day can be bad for your back let alone being indoors for so long, that can be terrible for your mental health. The lessons I've learnt is to see people, be active, travel, try new things," he says. "I'm also really looking forward to continuing my content creation with Kraken. As a Lair Lord, it's been really fun to work with like-minded creatives and make sure my audience knows that you can stay social and connected whilst being at home. Bars may have been shut but we recreated the atmosphere and of course Kaken & Dry and Kraken & Cola played a huge role in that."
You can keep up to date with Crayator via the link below.
You'll also like:
The Nintendo Entertainment System Returns in LEGO Form
Far Cry 6 Gets Insane Cinematic Trailer and Official Release Date
Iron Man Blasts onto PS4, so Dust Off that VR Headset