Strap yourself fam, it's about to get spooky. The silly season is drawing ever closer and the mistletoe is already starting to bloom, but let's not get ahead of ourselves. To prepare for the horrorshow that is Christmas with your creepy cousin and over-sharing aunt, we're giving you a crash course in all things ghoulish. Want to get through the holidays unscathed? Better start training now and what more appropriate way than with a deep dive into the dark recess of theatre?
Welcome to the Binge List, our culinary, cocktail-heavy expedition through the wide world of cinema. Curated by yours truly, this horror edition of the Binge List puts a sword to the most horrifying food and beverage moments in cinema, providing some serious nightmare fuel for your viewing pleasure. Watching Kevin drop his massive bowl of 'Famous' chilli in The Office, what could be worse? Maybe the mysteriously meaty wafers from Soylent Green? Or perhaps sliding your fork deep in the chocolate pie from The Help is more your style? Awkward fecal fantasies aside, film is full of terrifying and ghastly food moments and we're diving into a tasty one. Fire up the grill, slap on a streaming service and settle in – the menu has been set.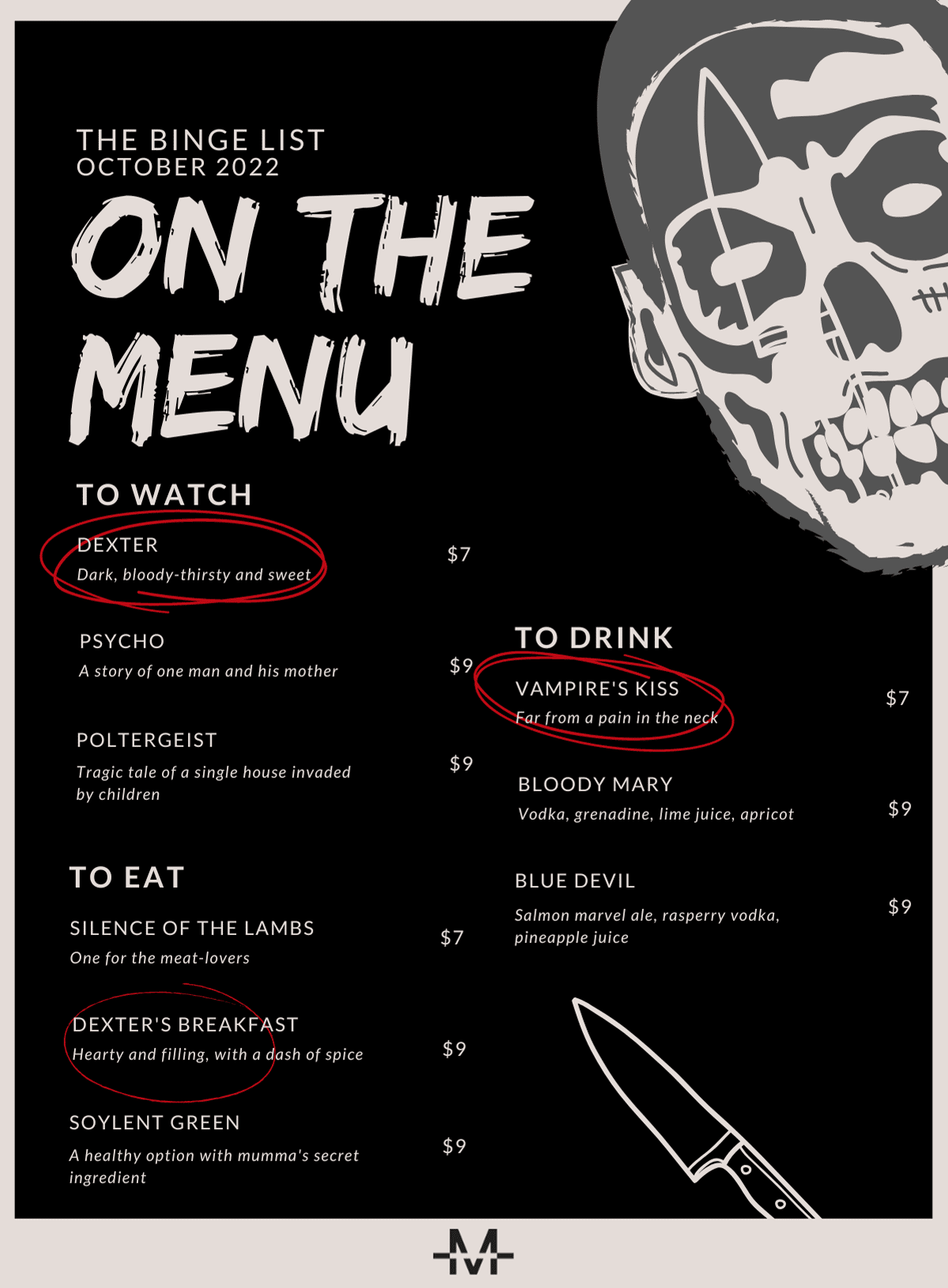 To Watch – Dexter
In the grand scheme of things, Showtime's mid-2000s murder-mystery drama Dexter didn't exactly live up to its potential, but that's not to say it wasn't a certified bop at the beginning. The cinematography was stunning, the acting was flawlessly stunted by design and the premise was downright juicy. A serial killer who only kills serial killers? Who also happens to be a forensic investigator? And is perpetually hunted by a ruthless lawmaker with a penchant for cracking cases? Damn, I'm starting to wonder why we ever stopped watching. Oh yeah, the last three seasons.
Whatever your opinion of the series finale, you can't help but acknowledge Dexter's influence on modern television. The show was able to effectively craft an anti-hero story that spoke to the vigilante notion in ways other films and series had attempted but fell short. For eight seasons, we followed Miami Metro Police Department forensic expert, Dexter Morgan, as he worked his way around the beleaguered city to identify the culprits behind some seriously grizzly murders, but his end game wasn't quite so noble.
On a crusade to dish out his own form of justice, Dexter didn't just apprehend the perpetrators, he dismembered them. The psychopath vigilante serial killer's background in forensics made him nigh-on impossible to catch and fed his brooding quest for vengeance with apparent ease. It was the perfect crime, at least it was until Sergeant James Doakes came sniffing around.
A vicious cat-and-mouse battle between the police officers ensued and slowly, Dexter's true identity unravelled before our very eyes. Utterly captivating and entirely engrossing, Dexter wasn't just a serious that focused on murder, it also spoke to the resilience of family. Between juggling his job, his murderous past-time and his family struggle with sister Debra and partner Rita, this serial killer had a lot on his plate.
As mentioned, the final season wasn't an ideal way to finish an iconic series, so if you get started, we highly recommend finishing it at the end of season seven. Or, if you feel like getting really deep in the bloody mayhem, sign up for the spin-off Dexter: New Blood which premiered last year.
---
Featured Video from Man of Many
---
IMDb Rating: 8.7
Adapted from: Darkly Dreaming Dexter
First episode date: 1 October 2006
Executive producers: Michael C. Hall, Clyde Phillips
Final episode date: 22 September 2013
Spin-off: Dexter: New Blood
To Eat – Dexter's Breakfast
One of the most iconic opening scenes in television history, Dexter's introductory credits played out like a short film all of its own. From the outside, it details Dexter's seemingly mundane morning routine, from brushing his teeth to shaving and cooking breakfast, but there's something decidedly off about the activities. The macro-intense shots, slightly off-centre give a sense of unease, but within that there lies a common thread – blood.
From the moment he arises, awoken by a mosquito bite, he is greeted by the sight of claret. From there, we see him cut himself shaving, a knife carve eloquently into a slice of ham, ripping flesh and an egg sliced up like the eye on Salvador Dali's 1929 short film Pies andaluzyjski.

You could argue the credits scene is designed to show the duality of Dexter's character. His mundane activities appear violent in nature, exposing the awful undertones hidden beneath his entirely unremarkable exterior. Not only does this opening scene brilliantly set the tone for the entire Dexter series, it also reminds us how good fried ham and eggs are for breakfast.
Dissecting the entire Dexter opening credits cooking scene right down to the ingredients, we've got the breakfast menu sorted. Best of all, you don't need a forensics licence to make it. Many of the ingredients we needed were already in our pantry, but for everything else, we turned to Uber Eats. The platform to go anywhere and get anything just bumped up its grocery and alcohol offering, dishing out $0 delivery on orders of $20 for Uber One members, and with foodie favourites Woolworths and IGA on-platform, you can make sure your pantry is stocked.
Dexter's Breakfast Ingredients
50g Thick Sliced Deli Turkey
1 Whole Large Egg
1/2 Blood Orange, Wedged
Hot Sauce
Salt & Pepper to Taste
Dexter's Breakfast Recipe
Heat oil in the small skillet pan over. medium heat
Place the turkey steak into the skillet and cook for 2 minutes on each side
While the turkey is frying, move it to one side to create space
Crack one whole egg in the free area of the skillet and cook for 2 minutes until the yolk is slightly browned
Transfer the turkey and the egg to your plate and garnish with the edges of blood orange.
Dash with some hot sauce
To Drink – Vampire's Kiss
It doesn't get much more spooky than this. The Vampire's Kiss is a sweet cocktail that captures horror in a glass. With a red veneer and healthy does of raspberry liqueur and vodka, sourced from the local bottle-o with a just few clicks on the Uber Eats app, this cocktail has it all.
Looks like hell, tastes like heaven, you better pop this one on the drinks list. While there are a bunch of different concoctions on the web that all boast a similar name, we've gone for an amalgamation of two recipes – one from BBC Good Food and the other from food bloggers A Couple Cooks. Double, double toil and trouble, baby!
Vampire's Kiss Ingredients
20ml raspberry liqueur
25ml vodka
Ice
Frozen raspberries
Red sugar to garnish
Champagne, to taste
Vampire's Kiss Recipe
Chill a martini or cocktail glass.
Pour the raspberry liqueur and vodka into a cocktail shaker.
Add a handful of ice and the raspberries.
Shake until the outside of the shaker feels ice cold.
Dip the rim of your chilled glass into cold water, then into the sugar.
Strain the cocktail into your prepared glass.
Top with the champagne.
There you have it, turns out crafting a horror-themed monster movie menu isn't as difficult as you may have thought. All it takes is a little blood, sweat, and tears – emphasis on the blood.
---
Featured Video from Man of Many