"A Bloody Silly Idea" – Richard Hammond on The Grand Tour's Second Season
There's a moment in the inaugural season of The Grand Tour, Amazon's breakthrough car show hosted by motoring stalwarts Richard Hammond, Jeremy Clarkson and James May, that asks more questions than it answers. It's about halfway through a game of battleship between Hammond and May, played on a 5 x 10 grid the size of an Olympic swimming pool. The hosts have employed four long shipping containers, stacked two-high, two-across, as their barrier. They've also replaced the "battleships" that give the game its eponymous moniker with cars of varying lengths, to represent the different sizes of battle-craft.
Two giant cranes are used to drop several G-Wiz (Google tells me that, like sheep, the plural of G-Wiz is G-Wiz) one at a time on the waiting camper vans, limousines and small cars. For those of you lucky enough to have never heard of a G-Wiz, Wikipedia can do a far kinder job of explaining than I ever could.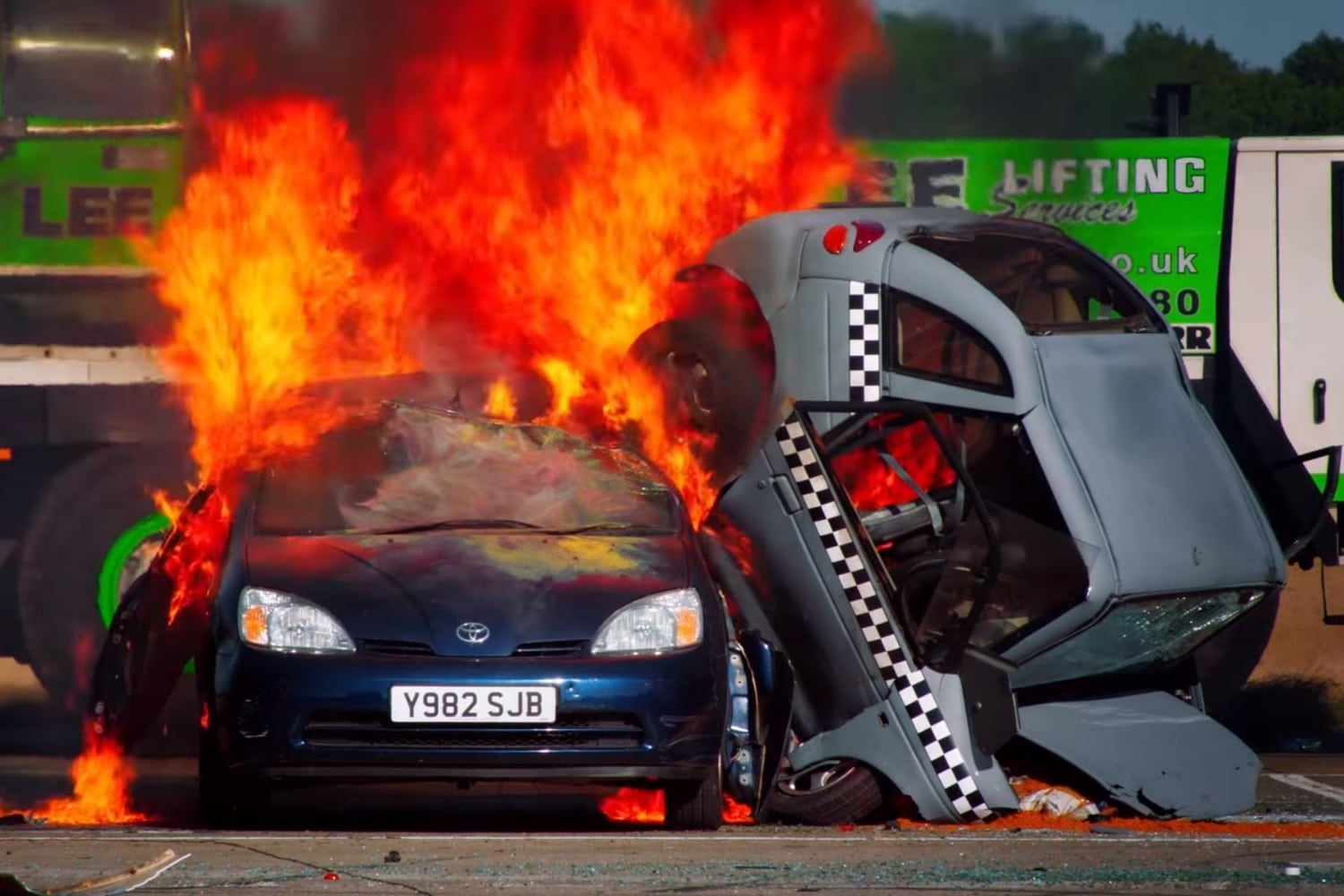 "I really enjoyed that day."
I'm talking to Richard Hammond over a crackly phone line at midnight, Sydney time. He's called me from his UK office where they've just wrapped up filming of season two of The Grand Tour.
"We do have these moments. Let's say, we were having an informal chat about show ideas and, let's say, it was in the pub. One of the joys of our job over the many, many years we've all worked together is that we have occasions when we can come up with a really stupid idea like that. And then the next thing you know, you're actually out there somewhere dropping G-Wizzes as missiles on cars the other side of a giant wall. So it was just, "I wonder if we could? Can we?" "Oh, yeah. We can. Let's do it." So we did."
I tell Richard that, probably to our credit, we don't have the G-Wiz in Australia.
"Well, there's quite a few less here now as well."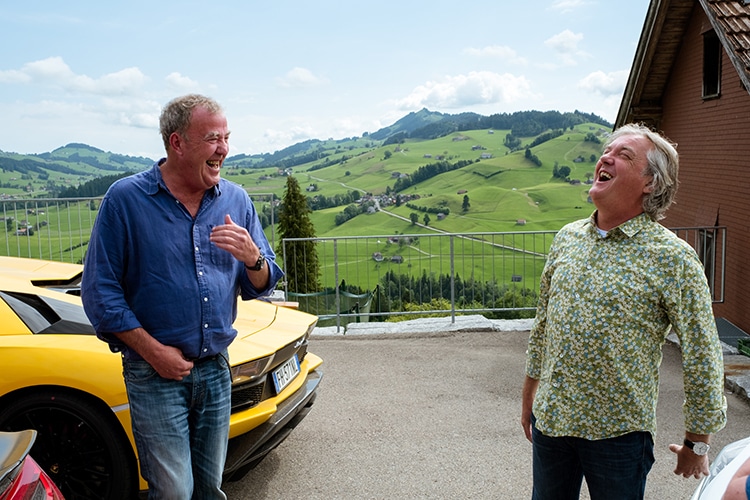 "That's a real privilege to get to do it, and people enjoy watching the results."
That last sentence is somewhat of an understatement. The trio's new show rose straight to the top of Amazon Prime's ratings system as their top-streamed show almost instantly, though this was hardly a surprise for Amazon. The US retail and now media juggernaut signed Hammond and co. for 36 episodes, scheduled over three years, upon their sensational departure from the BBC, where they all initially found fame.
Tempting though it may be to prod Hammond on his colleague's disdain for cold cuts, I'm far more interested to hear if there's a secret to the success that they found together over a decade ago. You can easily credit Top Gear for making them household names, but that sentence works the other way around too. The program had been around since the '70s; a daggy, half-hour motoring show that was more about new car reviews than it was humour, action, adventure and tomfoolery. It wasn't until 2002, when Clarkson and long-time producer Andy Wilman pitched a new format for the show, and invited two new hosts to join him, that people started to really pay attention.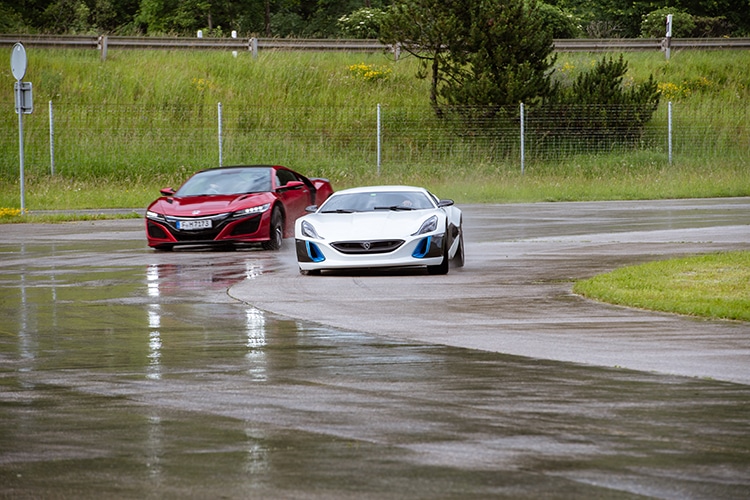 James May and Jeremy Clarkson had both been presenters in the old Top Gear, but Richard Hammond was a fresh face for the show. Together, the three completely revamped motoring journalism as people knew it, and created a loyal fanbase that has followed them around the world and, now, to a new platform. I suggest that there might be a reason for this, or that maybe it's just dumb luck.
"It's probably dumb luck. It was a bit of a perfect storm, and it's not just the three of us because there's Andy Wilman behind us the whole time as the editor, the boss. And I think it needs each of our individual sensibilities, sensitivities, skills set, and pure idiocy to come together in the right way. And we're just lucky in that that's how it works. That was the net result.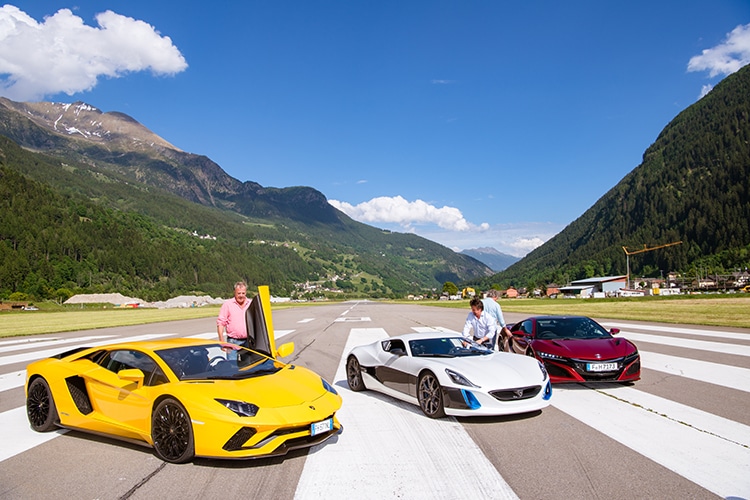 "We never set out expecting to do big things. We just set out to make the best car show we could. That's what we still do – to make the most entertaining show that best reflects our take on what is our favourite subject. We've all variously been doing this job for a long time, working different angles. I was doing different television shows on cars on different channels, they both did a bit of Top Gear, they were both writers, I was in radio. Our particular skills come together very well to build something that's… Well it's ridiculous, but people seem to like it.
"Dumb luck is how we got on. So there you go."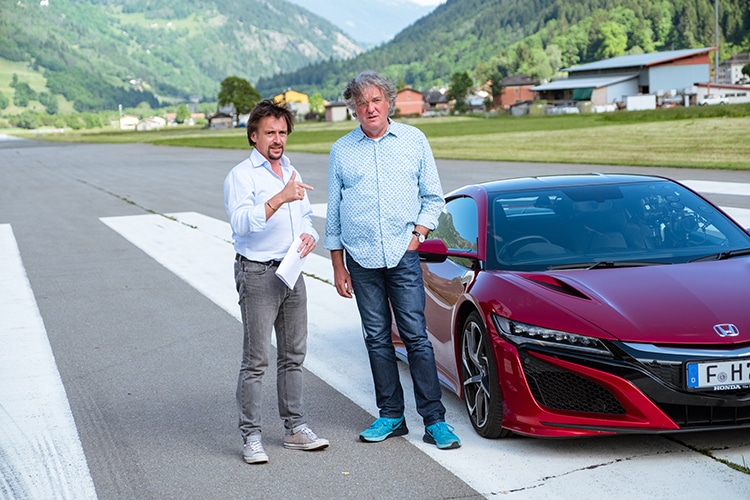 While the move to Amazon was a huge change for the trio business-wise (with Wilman, they started their own production company, W. Chump & Sons, effectively making themselves their own bosses), the similar themes from their television-format show carried through, and large parts of The Grand Tour's first season saw the three of them in a foreign land with ridiculous vehicles, mucking about and having a lot of heavily-scripted fun in the process. These ideas, however, were never an obvious success from the get-go, and developed over the years into what is now a very effective formula for producing great storylines and engaging television.
"It happened gradually, and dare I use a buzz word? Yeah, I will. Organically.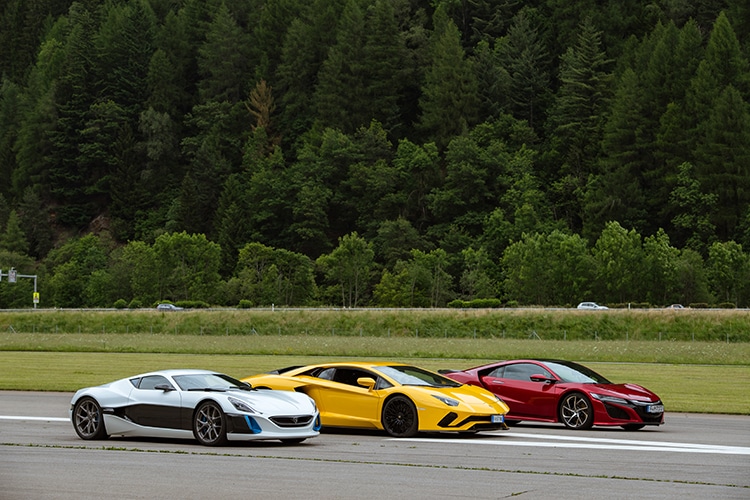 "I think it's the stuff that people enjoy watching, but it's also the stuff that we enjoy making the most. That's why we are The Grand Tour, because we go up around the world to make those films, the three of us, having adventures, tripping each other up, making it worse for one another, taking the piss ruthlessly, often finding ourselves in the wrong vehicle, in the wrong place, at the wrong time, trying to do the wrong thing.
"It's that interplay between three childish idiots bickering about the best way to do something… It is kind of fun to do, and I think people enjoy watching the results because that means it's natural. We're not having to act. One of us will think, "This is the best way to do it," the other two will think, "You're being an idiot." Then we'll do it and play it as we see it."
While the cameras are constantly rolling, and some of The Grand Tour's finest moments candidly break down the fourth wall, there is an absurd amount of structuring and scripting that goes into making just one episode, and an enormous crew that keep the cogs effectively turning for the show to go on.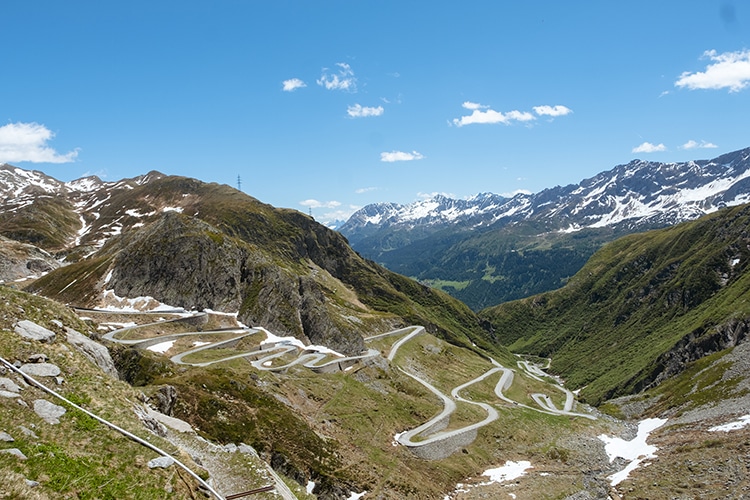 "There's a lot of planning, logistically of course. I mean, we're a big team. And it's our own team now, so we enjoy pushing them until they cry and come into work looking tired. And, yeah. In terms of scripting or otherwise, we have to structure everything. Of course we do. We have to have a lot of stuff ready, but a lot of stuff happens on the way. And we're lucky. We've worked with crews now for many, many, many years and we know that they will deliver. Let's not forget, if we're sleeping in tents full of beetles in a jungle, so are they, and they've got to get up early in the morning and get the kit ready and film it.
"They've got the real work to do, and we know we can rely on them. To not only do that, but also to act, and act fast when something happens. Because, yes, the best bits of all of the films that we make are the bits that happen spontaneously; unexpectedly. It's the serendipity that makes it. And we're pretty good at knowing, "Okay, well if we try and do that, something pretty cool is bound to happen.
"And it does. Usually me having an accident."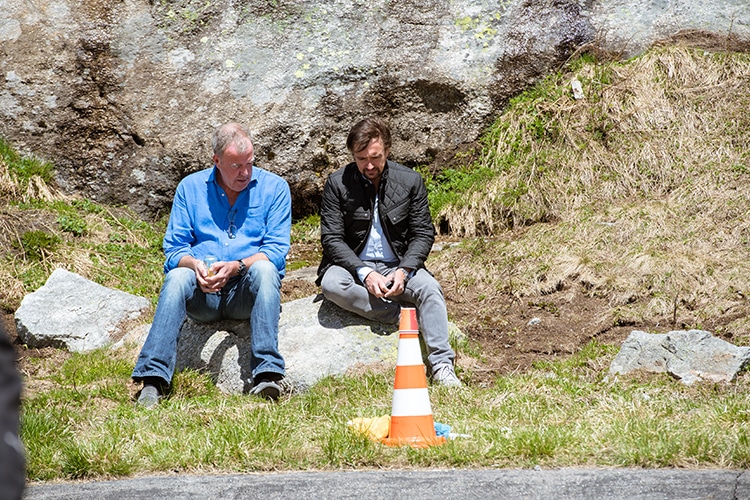 Hammond is hinting at the few serious crashes that have injured him, threatened his life and stalled production over the years of filming in fast cars. While making season two, he had what he's promised his beloved wife Mindy is his last, when he totalled a Rimac Concept One during a hillclimb, and narrowly escaped the deadly fireball by mere seconds.
Perhaps it's partly these close-shaves with high-speed, high-tech vehicles that drives his love of vintage cars when he's off-camera.
"I have a rather beautiful 1962 series 1 E-type. And motorcycle-wise, a rather magnificent Vincent Black Shadow with aligning engine. I like old stuff, actually. Which is, that's sort of escape from work. And there's lots of other crap mucking about in the garage, as well as my wife, who moans when she sees it."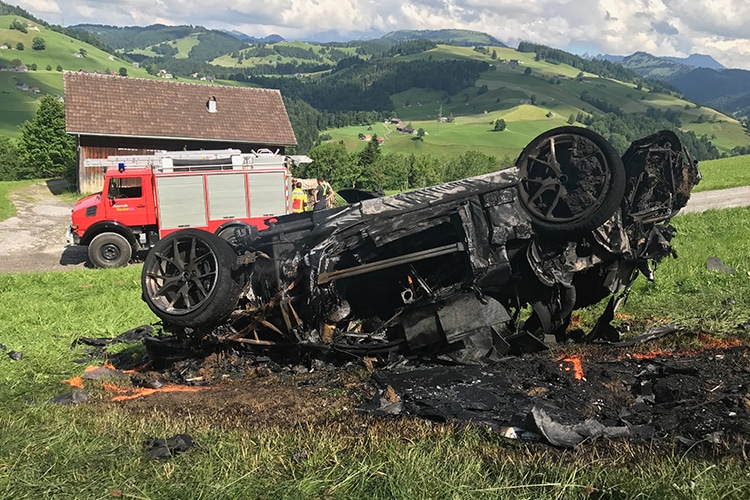 The Grand Tour's first season didn't seem to have any boundaries. From a makeshift weighbridge that would have made a vegan cry to a flying fox that gave viewers vertigo, nothing seemed off-limits and no budget seemed too outrageous. While there's no questioning that the three would have done very well for themselves here (Amazon CEO Jeff Bezos was quoted as saying the deal was "very, very, very expensive" when he agreed to buy the show), it's the amount of cash that's been spent on bringing genuinely original ideas to life that is astonishing.
"Amazon is fantastic at just leaving us to get on with it. They're very, very good for that. I mean, it's a great deal of trust on their part and we're grateful to them for it.
"It's a bloody silly idea. They're mad. We're thankful they do that. I mean, there's an instinct developed between them and us; amongst the whole team, as to what broadly is possible. We haven't quite broken space yet. That's a big one. But other than that, no. I can't say an idea has ever been rejected.
"The whole team knows in their gut when you suggest something: "Okay, that sounds a bit big and impossible, but let's break it down. Let's work out a way of making that possible. Of making that happen." So we've been pretty lucky like that.
"We were trying a lot of new stuff in season one. It's really been exciting for us to reinvigorate and do new stuff. So we'll learn from that and apply it to season two. It's been great fun to reinvent ourselves and we'll carry on doing that. But above all, we're still continuing to roll around the world in a series of often inappropriate vehicles, trying to do stupid things."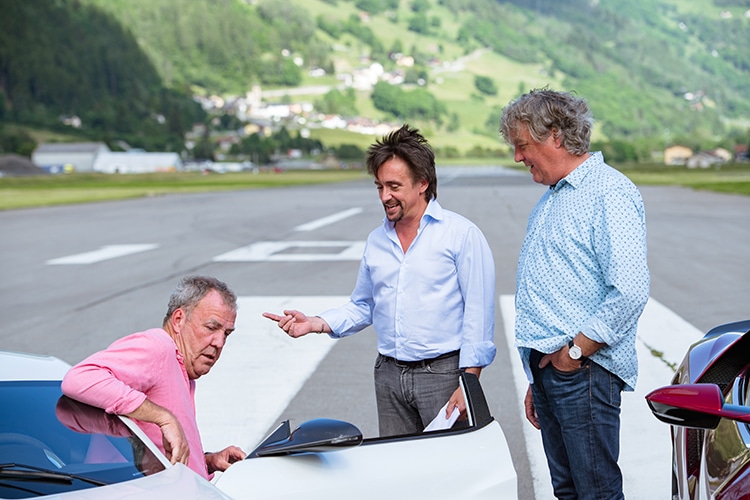 I finish our conversation by asking about the future – not just for The Grand Tour, or for his colleagues, but for motoring on the whole. Electric cars and driverless vehicles are no longer sci-fi, and the petrol head may soon be a rare species, I suggest. That, sad though it may be, there may never be another Clarkson, Hammond, May incarnation. He's quick to rebuke my observations, and I'm happy to hear it.
"I don't think it's an endangered species because it's not an endangered concept. It's something primal, and central to us as creatures. The ability to move fast is about our potency; our effectiveness. It's something central to humans and I don't think we'll ever get rid of it.
"Yes, the world will change in the simple business of commuting to work. You'll be able to do it while sitting it the back of your own car reading the paper. Great. But I think the visceral thrill to be got at a human species level, from the ability to fire up and move yourself organically from one place to another usually, in our case, in an organic style of vehicle?
"I don't think that'll ever disappear. It'll always seam to our very souls."
The Grand Tour Season 2 is available on Amazon Prime Video at midnight GMT on December 8. Customers who are not already Amazon Prime Video members can sign up for a free 7-day trial at PrimeVideo.com