Remembering Chadwick Boseman's 6 Most Influential Roles
The world has lost another hero. After a four-year-long battle with colon cancer, Black Panther star Chadwick Boseman passed at his home in the Los Angeles area on Saturday with his wife and family by his side. According to reports, the 43-year-old actor succumbed to complications relating to colon cancer.
"It is with immeasurable grief that we confirm the passing of Chadwick Boseman," his family in a statement. "Chadwick was diagnosed with Stage III colon cancer in 2016 and battled with it these last four years as it progressed to stage IV. A true fighter, Chadwick persevered through it all and brought you many of the films you have come to love so much. From Marshall to Da 5 Bloods, August Wilson's Ma Rainey's Black Bottom and several more, all were filmed during and between countless surgeries and chemotherapy. It was the honour of his career to bring T'Challa to life in Black Panther."
You'll also like:
How to Watch the Marvel Movies in Order
INTERVIEW: Super Troopers Star & Director Jay Chandrasekhar on Getting High & Writing Jokes
25 Highest-Grossing Movies of All Time
When news of Black Panther star's death emerged, fans across the world, both big and small went into shock. "Thank you Chadwick Boseman for all you gave us. We needed it and will always cherish it. A talented and giving artist and brother who will be sorely missed," Samuel L. Jackson wrote. Indeed, the 43-year old actor was a screen legend, headlining some of the biggest action blockbusters of all time, but more than simply being an entertainment icon, Boseman was an avid fighter for racial equality. In a time when tensions are at fever pitch, strong, black role models like Boseman are needed more than ever. His unrelenting quest for greater representation was unparalleled in modern cinema and it stretched beyond mere advocacy.
Chadwick Boseman was an actor who took roles he believed in. From the title character in Black Panther to his iconic portrayal of Jackie Robinson, Boseman never stopped championing the cause for racial equality and representation. His legacy is one littered with awards and praise, but perhaps his biggest accomplishment has yet to be seen. He inspired countless young black actors and children to take on the world's stage and represent their culture, many of whom who have yet to reach the limelight.
"I'm still a kid, you know, there's a kid in each one of us and so I just know what it's going to mean to you when you see it that it can give you a certain type of confidence when you walk through the world," he told GMA regarding Black Panther in 2018. "It also makes people that look like you see you in a different light and not judge you in a particular way. There is a sense of pride that I've seen from most people when they come out of the theatre that is a very unique experience across the board, whether they're African-American or African, or white, or Asian."
Chadwick Boseman's Most Influential Roles
While it will still take some time to fully process the passing of Chadwick Boseman, his work remains relevant, perhaps now, more than ever. His tireless crusade for cultural acceptance lives on through his inspiring catalogue of performances. Here, we look back at six of the most influential roles in Chadwick Boseman's career.
1. T'Challa / Black Panther – Black Panther (2018)
As the king of the fictional nation of Wakanda, Chadwick Boseman's role of T'Challa was groundbreaking, not only for Marvel, but film in general. While on the surface, Black Panther appears to be a simple superhero flick, there is far more at play in this 2018 release. The film's themes challenge institutional bias, while its characters take unsubtle digs at oppressors. Through a narrative that includes previously unexplored perspectives on black life and tradition, Black Panther conceptualised the 500-year journey towards freedom for African-descended people living in Western nations.
For his Wakandan accent, Boseman reportedly worked with the same dialect coach he had for Message from the King (2016), while also visiting South Africa twice. The actor examined Shaka Zulu, Patrice Lumumba, speeches from Nelson Mandela, and Fela Kuti songs; talked to a Yoruba Babalawo; trained in Dambe, Capoeira Angola, and Zulu stick fighting; and took a DNA test to better understand his African ancestry.
The themes of liberation, equality and belonging resonated with audiences; Black Panther became the ninth highest-grossing film of all-time upon release.
Initial release: 29 January 2018 (Hollywood)
Director: Ryan Coogler
Box office: 1.344 billion USD (As of May 22, 2018)
Budget: 200 million USD (2016)
2. Jackie Robinson – 42 (2013)
One of the major breaks in Boseman's career came in 2013, when he portrayed the real-life story of baseball icon Jackie Robinson. Telling the inspiring journey of  the first African-American to play in Major League Baseball in the modern era, 42 is a story of racial vilification, perseverance and strength. In a time when segregation was the norm and baseball was a purely white-man's game, Robinson fought to earn his spot in the league, becoming one of the greatest to ever play the game in the process.
Rachel Robinson, Jackie's widow worked alongside Boseman on the film, applauding the actor's portrayal. "It was important to me because I wanted it to be an authentic piece," she told FOX Sports. "I wanted to get it right. I didn't want them to make him an angry black man or some stereotype, so it was important for me to be in there. … I love the movie. I'm pleased with it. It's authentic and it's also very powerful."
Release date: 2 May 2013 (Australia)
Director: Brian Helgeland
Box office: 97.5 million USD
Budget: 40 million USD
3. Thurgood Marshall – Marshall (2017)
In another historical role, Boseman suited up to play Thurgood Marshall in a 2017 adaptation of the pioneering lawyer's life. As the first African-American Supreme Court Justice, Marshall was an outstanding individual who overcame racial discrimination and vilification to rise the very top of his chosen profession, breaking new cultural ground. In the film, we see Chadwick Boseman as a young Marshall, grappling with a case that takes him to his limits.
The true story of Marshall's 1940 defence of Joseph Spell, a black chauffeur wrongly accused of rape by his white employer is harrowing and eye-opening. Even as an NAACP lawyer, Marshall faces the same racist treatment as the accused, with the courtroom barring him from speaking as counsel. Boseman's portrayal of Marshall is heart-breaking, powerful and utterly necessary.
Initial release: 13 October 2017 (Canada)
Director: Reginald Hudlin
Featured song: Stand Up for Something
Box office: 10.1 million USD
4. James Brown – Get On Up (2014)
There are few historical figures that have the cultural significance that soul singer James Brown did. The man who shouted 'I'm black and I'm proud' helped to start a wave of cultural pride movements across the globe, and in 2014 Chadwick Boseman was tasked with bringing his story to life on-screen. In Get On Up, Boseman takes viewers inside the mind of Brown, through a series of non-linear storytelling conventions. We learn about Brown's childhood, musical heritage and incredible performance art, but in true-to-life fashion, Boseman also reveals the darker side of the music legend's life. Drug-addiction, domestic violence and family issues are laid bare in his explosive portrayal of the soul icon, which will leave you moved.
As one of the biggest and most influential figures in the black equality movement, James Brown's story is nothing short of incredible and is matched only by Boseman's expertly crafted performance.
Release date: 30 October 2014 (Australia)
Director: Tate Taylor
Producers: Tate Taylor, Mick Jagger, Victoria Pearman, Brian Grazer, Erica Huggins
Screenplay: John-Henry Butterworth, Jez Butterworth
5. Stormin' Norman – Da 5 Bloods (2020)
Earlier this year, Chadwick Boseman took one of the lead roles in Spike Lee's Vietnam War epic, Da 5 Bloods. As 'Stormin Norman', the leader of a squad of black soldiers, Boseman finds himself tussling with the oppression of black people back home. Even as he lays his life on the line, leading troops against the Viet Cong, Norman acts as a guiding figure for his squad members, educating them on life, love and politics.
Like so many Spike Lee films, Da 5 Bloods provides a unique perspective on historical events, told through the eyes of the often under-represented black veteran. Fighting a losing battle for a government they didn't vote for, against an enemy who doesn't know why they are there, Boseman's squad is indicative of the African-American war experience.
Initial release: 12 June 2020
Director: Spike Lee
Budget: $35–45 million
Cinematography: Newton Thomas Sigel
Screenplay: Spike Lee, Kevin Willmott, Paul De Meo, Danny Bilson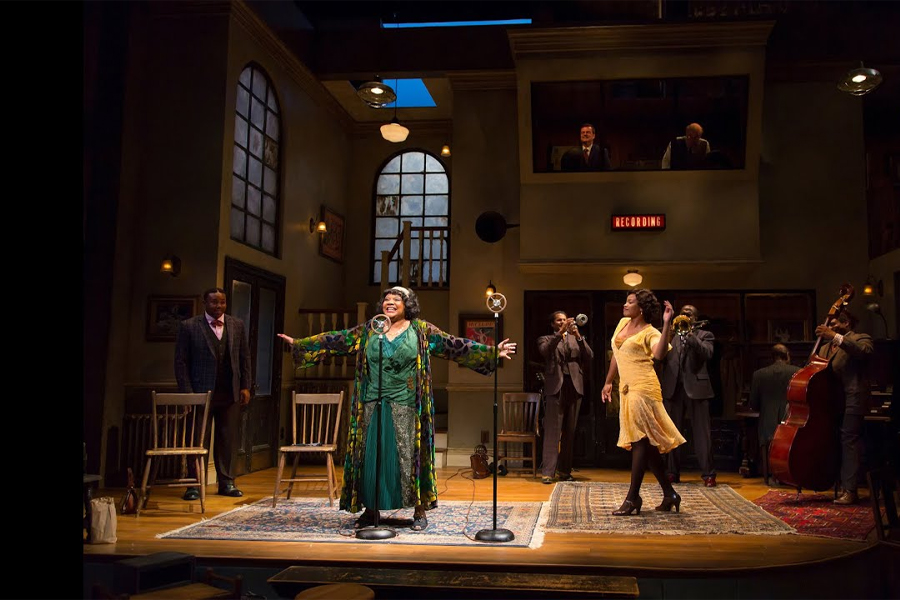 6. Levee – Ma Rainey's Black Bottom (2020)
As yet unreleased, Ma Rainey's Black Bottom promises to be a painful reminder of a talent taken too soon. A film adaptation of August Wilson's 1982 stageplay of the same name, Ma Rainey's Black Bottom details the issues of race, art, religion and the historic exploitation of black recording artists by white producers. Set in the 1920s, the upcoming film sees Chadwick Boseman play Levee, a young hot-headed trumpeter who dreams of having his own band. Veteran band-members Cutler and Toledo clash with Levee over his ambitious goals, cautiously reminding him to stay in his lane.
While it has yet to hit cinemas, the Denzel Washington-produced film will no-doubt be a tense and heart-breaking journey, particularly if the stageplay is anything to go by. Levee's story is one that takes many twists and turns, revealing the sad reality for black musicians in inner city Chicago at the time.
Director: George C. Wolfe
Screenplay: Ruben Santiago-Hudson
Editor: Andrew Mondshein
Music composed by: Branford Marsalis
Producers: Denzel Washington, Todd Black
Chadwick Boseman's Legacy
Indeed, the passing of Chadwick Boseman is a tough one to compute. The young actor was just entering his prime, and with a slate of Black Panther sequels on the cards, fans will be left wondering what could have been. However, if there is one positive to take away from the events that have unfolded, it's that Chadwick Boseman's legacy will endure. The African-American actor was influential to championing the future of racial equality in film, helping to raise the profile of black actors in Hollywood. His voice will not go unheard and his work will remain as important as ever.
You'll also like:
How to Watch the Marvel Movies in Order
'Succession' Season 3 Release Date Confirmed for October
25 Highest-Grossing Movies of All Time
General FAQs
Where was Chadwick Boseman born?
Chadwick Boseman was born and raised in Anderson, South Carolina, with the actor confirming his ancestors were Krio people from Sierra Leone, Yoruba people from Nigeria and Limba people from Sierra Leone.
How did Chadwick Boseman die?
On August 29, 2020 it was confirmed that Black Panther star Chadwick Boseman had passed away due to complications stemming from Stage 4 colon cancer. According to a statement from his family, Boseman had been suffering with the illness since 2016.
Was Chadwick Boseman married?
Chadwick Boseman kept his relationship status secret for much of his career, however, the actor was reportedly married to singer, Taylor Simone Ledward.