All 7 Teenage Mutant Ninja Turtles Movies Ranked: Best to Worst
What's the best Teenage Mutant Ninja Turtles movie of all time? There have been numerous cinematic incarnations of everyone's favourite pizza-loving turtle bros over the years, with varying degrees of success. Where one might remain somewhat faithful to the darkly satirical tone of the original comic books, another would completely reimagine Leonardo, Michelangelo, Donatello, and Raphael and their colourful collection of friends and enemies. Happily, it seems the Heroes in a Half-Shell's latest outing, Teenage Mutant Ninja Turtles: Mutant Mayhem, might be their best movie yet. So, we've decided to rank all seven cinematic outings of the Green Machine. Now, without further ado, go ninja, go ninja, go!
1. Teenage Mutant Ninja Turtles: Mutant Mayhem (2023)
The new kid on the block really focuses on the teenage element of our favourite foursome, which is often overlooked in other incarnations. For example, the 2014 and 2017 outings saw the Turtles behaving more like toxic 30-something gym bros with a steroid problem. Here, the Turtles are voiced by actual teenagers for the first time and it really shows. There's a natural chemistry and authenticity that comes across in their interactions – reportedly the actors were encouraged to go off script and just riff like teenagers do. The animation is also outstanding and was intended to look like the kind of thing a teenager would sketch in the margins of their school textbook.
With an incredible cast largely made up of producer Seth Rogen's A-list mates, this is a warm-hearted and surprisingly believable (in terms of the family dynamic) incarnation of Leo, Mikey, Don, and Raph that we hope to see more of. And with a spin-off TV series reportedly in the works, it looks like there'll be plenty coming our way. The cinematic franchise appears to be in good hands for the first time in a long time.
Director: Jeff Rowe
Starring: Micah Abbey, Shamon Brown Jr., Nicolas Cantu, Brady Noon, Ayo Edebiri, Jackie Chan
IMDb Rating: 7.5/10
Run Time: 1 hour 39 minutes
2. Teenage Mutant Ninja Turtles (1990)
The original and—until Mutant Mayhem landed—the best by a considerable margin, 1990's live action Teenage Mutant Ninja Turtles was actually the highest grossing independent film of all time when it launched. Arriving after the Saturday morning cartoon show had turned the Ninja Turtles into a global phenomenon, this film accomplishes a pretty impressive feat; taking elements of that show and what made it popular, while actually telling a story that was lifted pretty directly from the far darker and more adult-oriented comic book series.
The result is a film that holds up remarkably well more than 30 years later. Sure, that might be the nostalgia talking, but we think there's more to it than that. This flick has a surprising level of depth, thanks in large part to Jim Henson's incredible puppet work, which makes the Turtles and their master Splinter wonderfully effective emoters – watch the "I am here, my son" scene between Raph and Splinter and tell us we're wrong. Plus, this film has the coolest, scariest, most kick-ass version of Shredder we've ever seen on the big screen. A genuine classic that doesn't get the love it deserves.
Director: Steve Barron
Starring: Judith Hoag, Elias Koteas, Corey Feldman, Kevin Clash
IMDb Rating: 6.8/10
Run Time: 1 hour 33 minutes
Related: 14 Best Batman Movies Ranked: Best to Worst
3. TMNT (2007)
After a 14-year hiatus from the big screen, the Turtles returned in this CGI-animated adventure that for our money is the most middle-of-the-road outing for the reptilian warriors. It's not good enough for a full-throated endorsement, but not bad enough to be laughed at or downright despised. It's just okay.
While the animation was decent for the time, the turtle designs look a little odd to our eyes, and the villains are just a boring, generic collection of monsters and stone warriors – a stark contrast to the incredibly inventive, bright and vibrant rogues found within Mutant Mayhem. We'll concede that the movie deserves props for trying to push the Turtles' narrative forward rather than recycling another Shredder story, but with the incredible bench of characters from Ninja Turtles lore waiting to get in the game, they really dropped the ball in terms of the antagonists here.
Director: Kevin Munroe
Starring: Patrick Stewart, Chris Evans, Sarah Michelle Gellar, Laurence Fishburne
IMDb Rating: 6.2/10
Run Time: 1 hour 27 minutes
4. Teenage Mutant Ninja Turtles II: The Secret of the Ooze (1991)
After the success of the franchise's first film, this sequel was fast-tracked with notes from the studio to tone it down because parents had complained the first was too dark and too violent. The result was this more sanitised take on the Turtles, in which not only was any of the original's wonderful grit removed, but they couldn't even use their weapons, so everything felt far closer in tone to the Saturday morning cartoon. We'd argue that forcing children to watch the finale in which Vanilla Ice performs live would be far more detrimental to their mental health than the ninja action of the first. After all, how else do you explain Fred Durst?
As for the plot, Shredder's back despite being crushed in the back of a garbage truck in the first one—seriously, Casey Jones straight up murders that guy—and he's managed to get his hands on a canister of the ooze that made the Turtles, planning to use it to create an army of evil mutants. For some reason the filmmakers didn't take this opportunity to introduce the Turtles' iconic nemeses, Bebop and Rocksteady, instead creating two new characters, Tokka and Rahzar. It's just another of many baffling decisions that was made in the making of this lame if not entirely unwatchable sequel.
Director: Michael Pressman
Starring: Paige Turco, David Warner, Kevin Clash, Ernie Reyes Jr.
IMDb Rating: 6.0/10
Run Time: 1 hour 28 minutes
5. Teenage Mutant Ninja Turtles: Out of the Shadows (2016)
This less bad of the two Michael Bay-produced outings has some redeeming qualities, but, well… it's still pretty bad. But first let's talk about the not-so-rough stuff. This film gets points for being the first to have the stones to introduce Krang and the whole idea of Dimension X and the Technodrome – all major elements from the original cartoon that had never been adapted to the big screen. Krang actually looks just like Krang, as do the incarnations of Bebop and Rocksteady (making their cinematic debut), and the Turtles' iconic party van. Shredder's been recast and is kind of cool, except his outfit at the climax is another Shredder-as-Iron-Man debacle that completely undermines the idea of him being a highly skilled ninja. 
This applies equally to the Turtles in this incarnation, who are all massive hulking beasts, standing well over six feet tall and packing bulletproof shells. With that being the case, they never seem in any danger, nor do they have any incentive to use their ninja skills. Each is essentially a bulletproof freight train, meaning there's no need for teamwork or intelligent problem solving. He may not have been directing but Michael Bay's puerile sense of characterisation is all over this and that's not a good thing.
Director: Dave Green
Starring: Megan Fox, Will Arnett, Tyler Perry, Laura Linney, Stephen Amell, Alan Ritchson
IMDb Rating: 5.9/10
Run Time: 1 hour 52 minutes
6. Teenage Mutant Ninja Turtles (2014)
The first film to give the Ninja Turtles Michael Bay's signature 'Bayhem' treatment was and remains an uncomfortable watch. From the weird faces on the CGI Turtles to the fact that they all look like they genuinely smell like a sewer, it's not a good time. Perhaps worst of all is Michelangelo's constant lecherous ogling of Megan Fox's April O'Neil. Seriously, you're a turtle and she's a human, what are you gonna do, mate? To her credit, Fox makes the most of what she has to work with here and in the sequel above.
This was the film that first turned the Turtles into monsters of Hulk-like proportions, completely undermining any of the peril they might find themselves in; Raph takes out a military Humvee by ramming it with his shell. Where do you go from there? Plus, you can tell that the script was being rewritten as filming went. William Fichtner's Eric Sacks was so obviously meant to be Shredder when they first started shooting and the ultimate workaround is so clumsy that they probably should have just gone with the original plan and white washed an iconic Japanese villain. Absolute sh*te.
Director: Jonathan Liebesman
Starring: Megan Fox, Will Arnett, William Fichtner, Johnny Knoxville, Alan Ritchson
IMDb Rating: 5.8/10
Run Time: 1 hour 41 minutes
7. Teenage Mutant Ninja Turtles III (1993)
While this movie definitely sucks and deserves its place at the bottom of the list—it killed the franchise for a decade and a half, after all—it's not as acutely hateable as the 2014 outing. This sequel to 1991's Secret of the Ooze finds the Turtles transported back in time to 17th century Japan where they must rescue April O'Neil from Lord Norinaga and his smarmy western advisor Walker. 
The Turtles' third cinematic outing really ups the slapstick factor and you can see where a lack of budget hurt the production – TMNT popularity had reached its peak and started to drop by this period, which would explain why this was made on the cheap. Jim Henson's team did not return, so the Turtles' expressions are far less nuanced and believable and the whole thing is just very silly. Sadly, Teenage Mutant Ninja Turtles III is best avoided.
Director: Stuart Gillard
Starring: Paige Turco, Elias Koteas, Stuart Wilson, Sab Shimono, Vivian Wu
IMDb Rating: 4.8/10
Run Time: 1 hour 36 minutes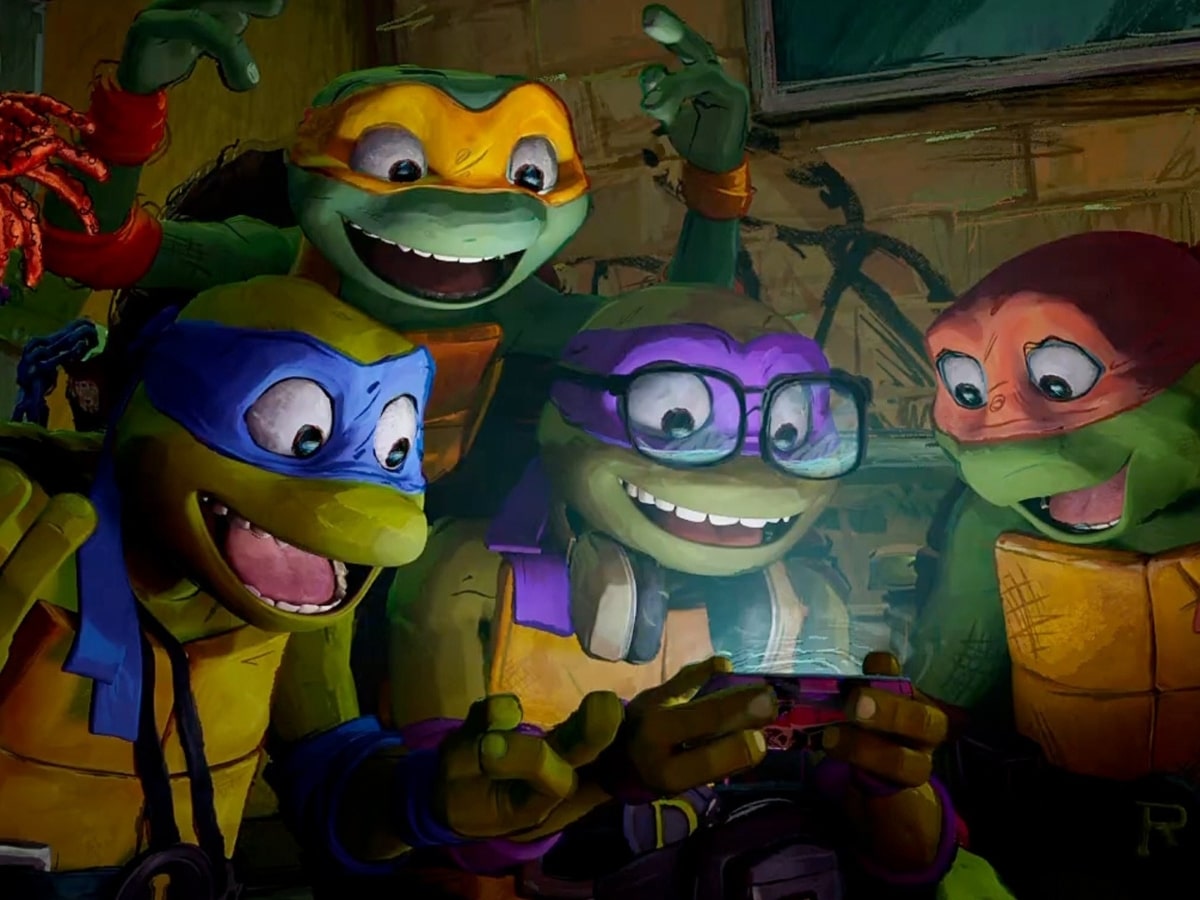 How Our TMNT Movie Rankings Work
At first we were unsure whether to rank the Ninja Turtles films by following the IMDb ratings or by following our hearts' unique mix of nostalgia, admiration, bafflement, and distaste for individual instalments in the franchise. Then we realised that IMDb actually had the movies ranked in exactly the same order we'd have put them in. Sure, we haven't had the time to let Mutant Mayhem completely settle in yet, but we still think it was "awesome", "righteous", and "bossa nova". If you know, you know. Cowabunga!
You'll also love:
30 Best Christmas Movies of All Time
Quentin Tarantino Reveals Best Character He's Ever Written
How to Watch the Star Wars Movies in Order