Where some see an obstacle, Andy Thomson sees opportunity. Parked behind a lump of wood, covered in sawdust and with fingers frayed, the Southern Highlander is completely at peace. There may be no bright lights or pounding energy, but this stage is set for a headline act and the performance, quite literally, teeters on a knife's edge. 
"At every stage of the build, from start to finish, you have the ability to ruin it," he reveals. "The tiniest slip in concentration can mean it won't make the grade – won't live up to our standard. There is a constant pressure overhanging every move, if my heart wasn't totally in it, I'd have given up years ago."
The Honesty of Handmade
It's a frank assessment, but the Bowral-based luthier and head of T•Guitars isn't one to mince his words. Thomson's dedication to quality has seen his collection of stunningly crafted and eco-conscious instruments garner worldwide acclaim, and he's got the calluses to prove it. Whether it be carving the body or sanding the headstock, Andy's weathered hands carefully preside over every element with meticulous precision. It's a time drain that leaves a lasting mental toll, but that matters little to Andy.
"I love the honesty of it – the challenge. And so for me, I've always been into hands-on, tactile, tangible things and being able to build from scratch, by hand brings such fulfilment," he says. "I love the thought that our guitars literally start off as chunks of bare timber and end up an instrument that serves a real purpose."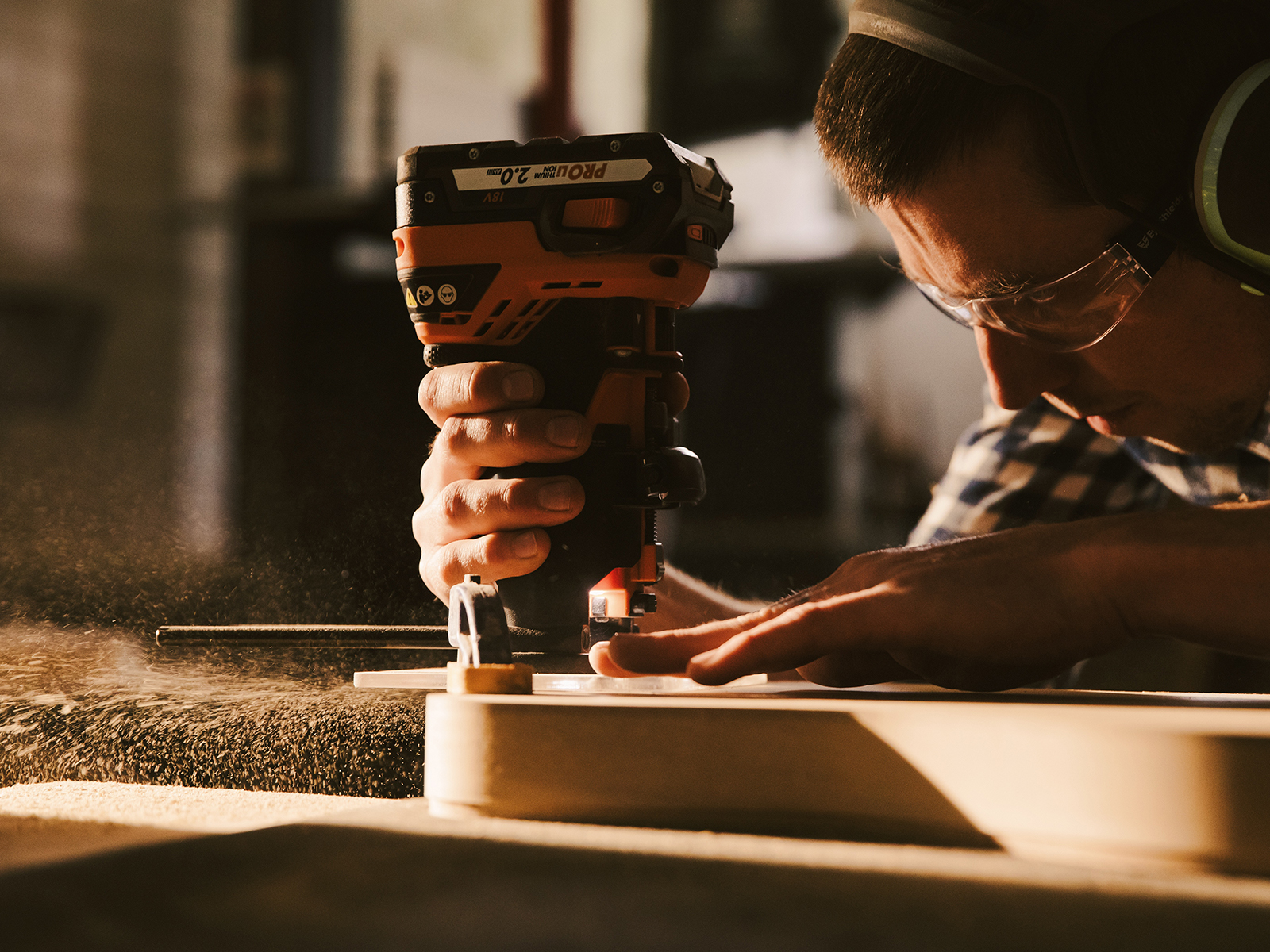 As Thomson explains, there's a certain majesty in crafting by hand. That connection between person and product flows through, with the guitar-maker able to weave a rich tapestry into the frets, grain and finish of each guitar that leaves his workshop. But to truly appreciate the T•Guitars journey to this point, you have to start much earlier. Before the workshop, before the apprenticeship, even before he was born. For Andy, making is in his blood. 
Legacy 
On a little burgh town on the Moray Firth Coast named Buckie, the Thomson family arc begins. For over 100 years, George Thomson & Sons Shipyard supplied Scottish fishermen with purpose-built vessels designed to withstand the harsh North Sea. Vigilantly crafted by Andy's grandfather, the boats' intricate designs and expert construction echoed a family trait that now lives on in T•Guitars. Considering it's where he first learned the craft, it's not hard to see where Andy sharpened his eye.
"In my grandad's little garage workshop, he used his lathe and turn wood to make tables and chairs, and that's where I was first exposed to woodworking," he says. "I would sweep up the sawdust and annoy him with too many questions."
Like his first exposure to music, those trips to the workshop, while trivial at the time, set him a course for creation. In a sense, Andy and his grandfather are forever linked by the work they complete – kindred spirits that share an obsession with perfection, in more ways than one. 
"Craftsmanship is a lifelong dedication to the pursuit of perfection, knowing full well it's unattainable and might not even exist. I wish my grandad was still around to see all this, he was a huge influence on me, and my love of whisky. Every time I have a dram I think of him."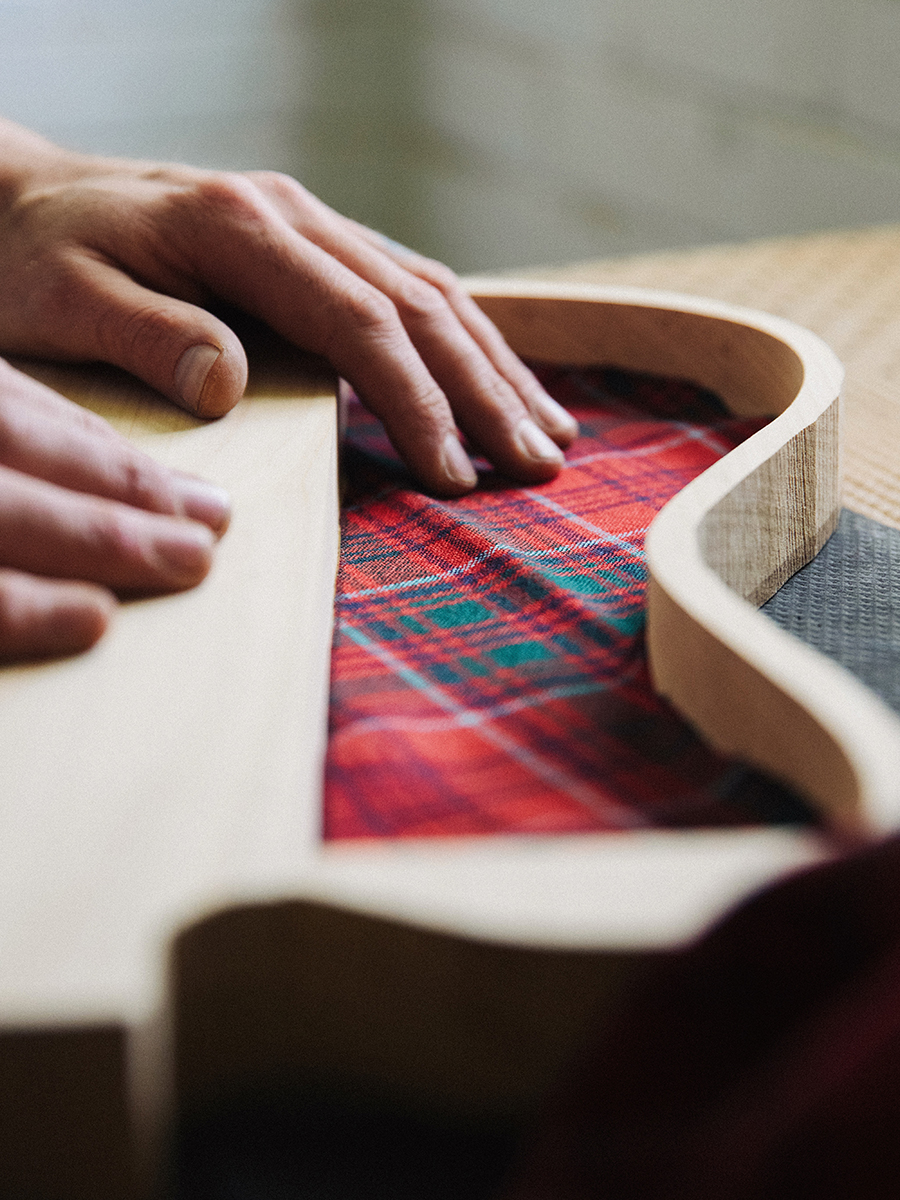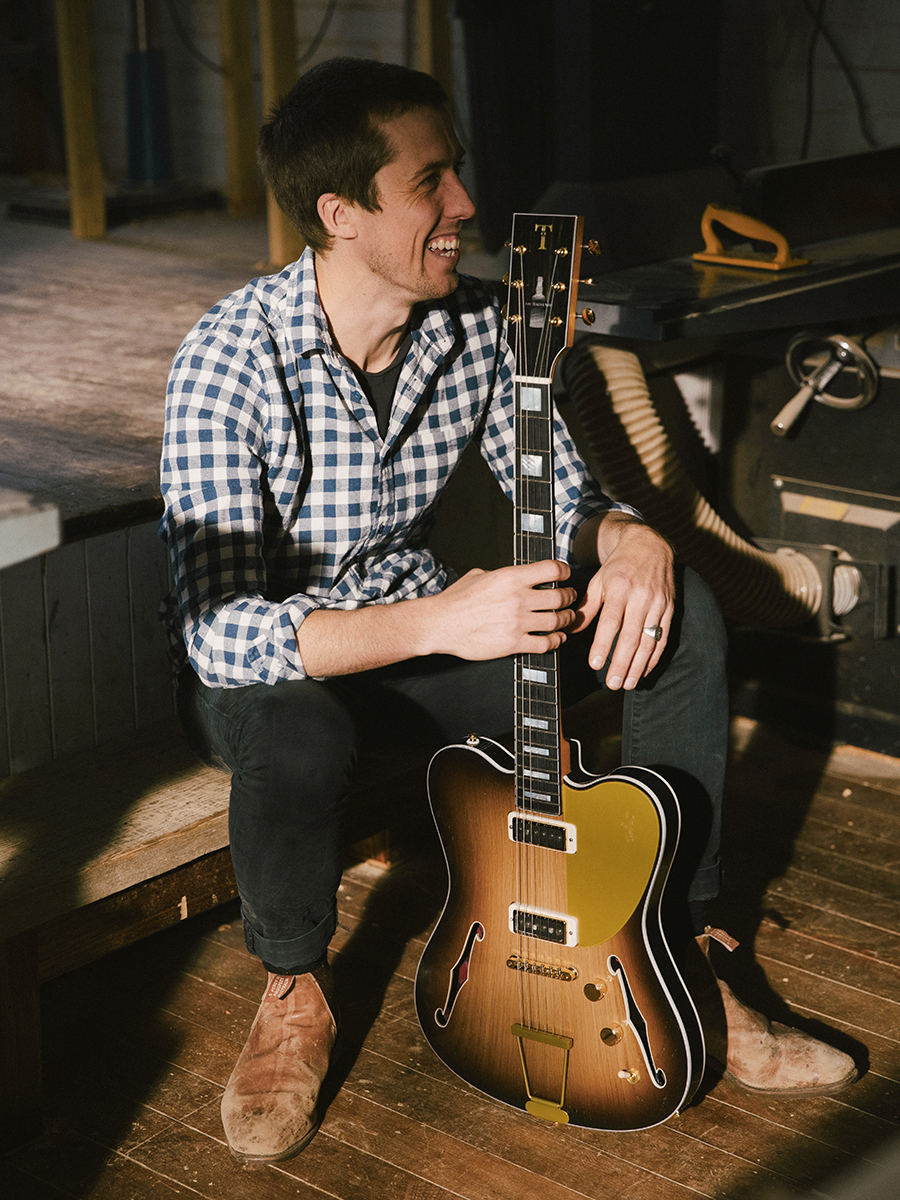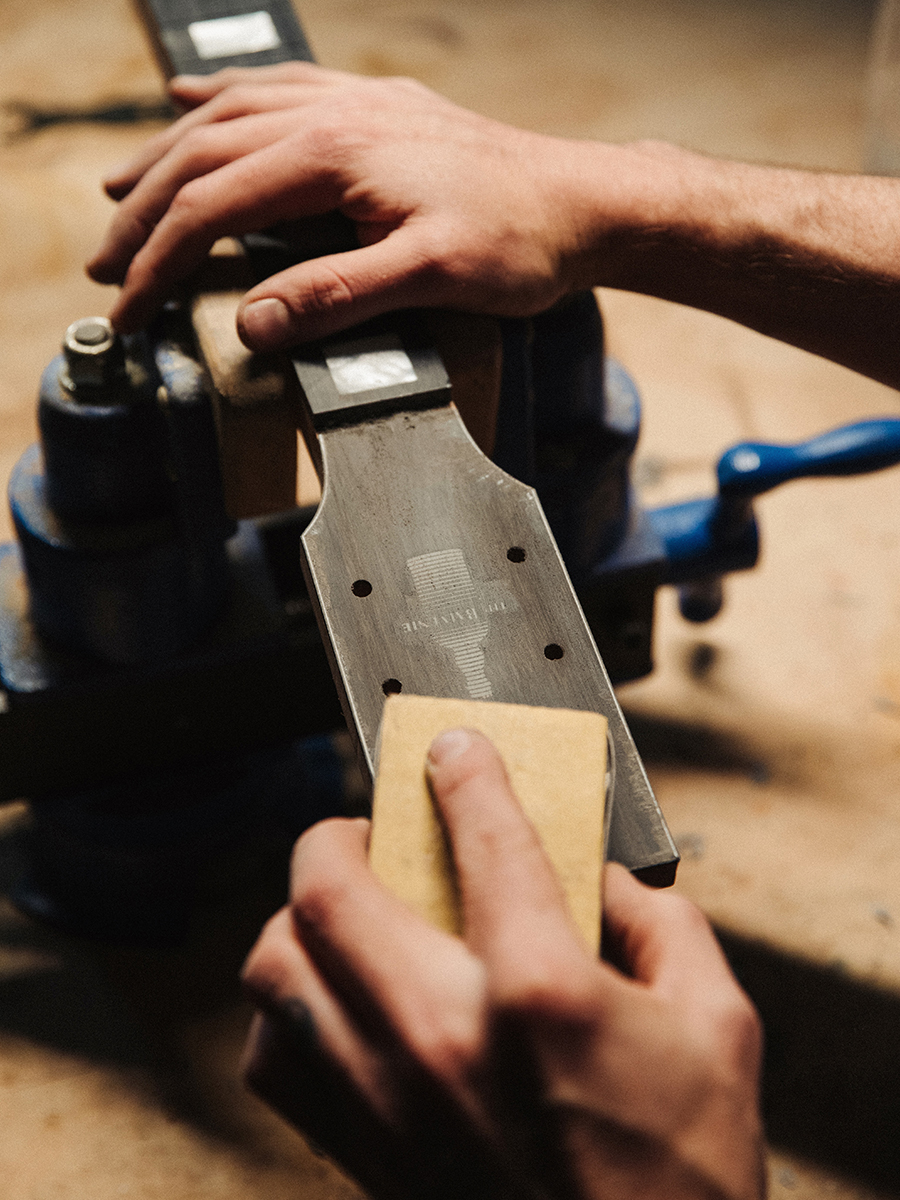 The Scottish Connection
As a Scottish family with a heritage headlined by hard work, the whisky gene was naturally passed down through the generations. However, for Scotch-lover Andy, it wasn't until a chance trip back to the motherland with his father in 2015 that he truly uncorked a sense of home. 
"Along the way we met who we call the "Whisky Angel", a drunk Irish bloke in a whisky bar on the Royal Mile in Edinburgh. We were happy to spend hours talking about whisky and how to appreciate it and he told us we have to get to The Balvenie Distillery."
Until that point, the Speyside icon had alluded him, but on a whim and a recommendation he picked up a bottle of 12-Year-Old DoubleWood. The rest, as they say, is history. 
"From that point, it's been my go-to," Andy laughs. "We had a few bottles floating around at our wedding in 2016, and when I got the keys to our workshop in Bowral, my best mate brought a bottle of 12-Year-Old DoubleWood to celebrate opening a shop in the highlands. Since then, T•Guitars workshop has not been without a bottle of The Balvenie."
Either by sheer luck or divine intervention, Andy was introduced to The Balvenie Scotch Whisky ambassador Ross Blainey, courtesy of seminal Australia band Gang of Youths. More than five years on, the friendship has only served to heighten Andy's enthusiasm for the brand. And the feeling is mutual. 
"Andy is a real craftsman. He's taken that handmade heritage and used it to create something personal and incredibly unique," Blainey says. "The instruments that he builds might be his work, but it's the music that they are destined to play that is his real legacy. That's what will live on."  
Such is The Balvenie connection that when Andy returned to Scotland a few years back, Ross set him up with a distillery stay. Sleeping on the hallowed grounds of the Speyside icon is one thing, but opening your window to a view that overlooks the ruins of Balvenie castle? To the Southern Highlander, it was an experience long-cherished and never forgotten, something that came in handy when tragedy struck. Like many, Andy lost the family home in the 2019/20 bushfires, and along with all his possessions, the whisky collection perished, much to his dismay.
"I lost it all. The massive black scorch mark up the wall where they sat will attest to that."
But after the dust settled, Andy's father-in-law, Geoff reignited the passion, gifting him a bottle of 17-Year-Old DoubleWood, "to start over", prompting a change of mindset.
"Now I have a saying about my whisky, 'it ain't for looking at'".
The Balvenie x T•Guitars
Now, Andy is putting the passion into practice. Taking inspiration from his Scottish 'making' heritage and personal connection to the whisky, the luthier has created a new model that embodies the spirit of The Balvenie – authenticity, quality, class, heart and soul included. The Balvenie Model No.3 Thinline Deluxe is a rehashed version of the brand's first-ever release and in a fitting twist of fate, it also marks the 100th guitar made under the T•Guitars banner.
"I wanted to do things we hadn't tried before for the Balvenie T. Nothing groundbreaking, just subtle build features that pushed my abilities and increased the difficulty," he explains. "It's by far the guitar I'm most proud of. As for the quality, I humbly believe it's my best build yet. I can't fault it."
Much more than just a brand collaboration, T•Guitars has managed to perfectly encapsulate the very essence of The Balvenie DoubleWood in physical, playable form. In reference to the whisky casks used to mature the spirit, the Balvenie Model No.3 Thinline Deluxe is crafted from American Oak in the top and back cap of the body, while the scratchplate bears an engraved nod to the ruins of Balvenie Castle. Even more impressively, Thomson has introduced a unique new colour called the "Balvenie Burst", a finish that transitions from Natural Oak in the centre to a rich blackened outer. 
"Transitioning from natural oak at the top through a Walnut colour to black at the bottom became the foundation for all of the other design choices," Andy says. "The Balvenie Burst speaks to the change in colour of the whisky as it ages and the many tones and characters each bottle contains."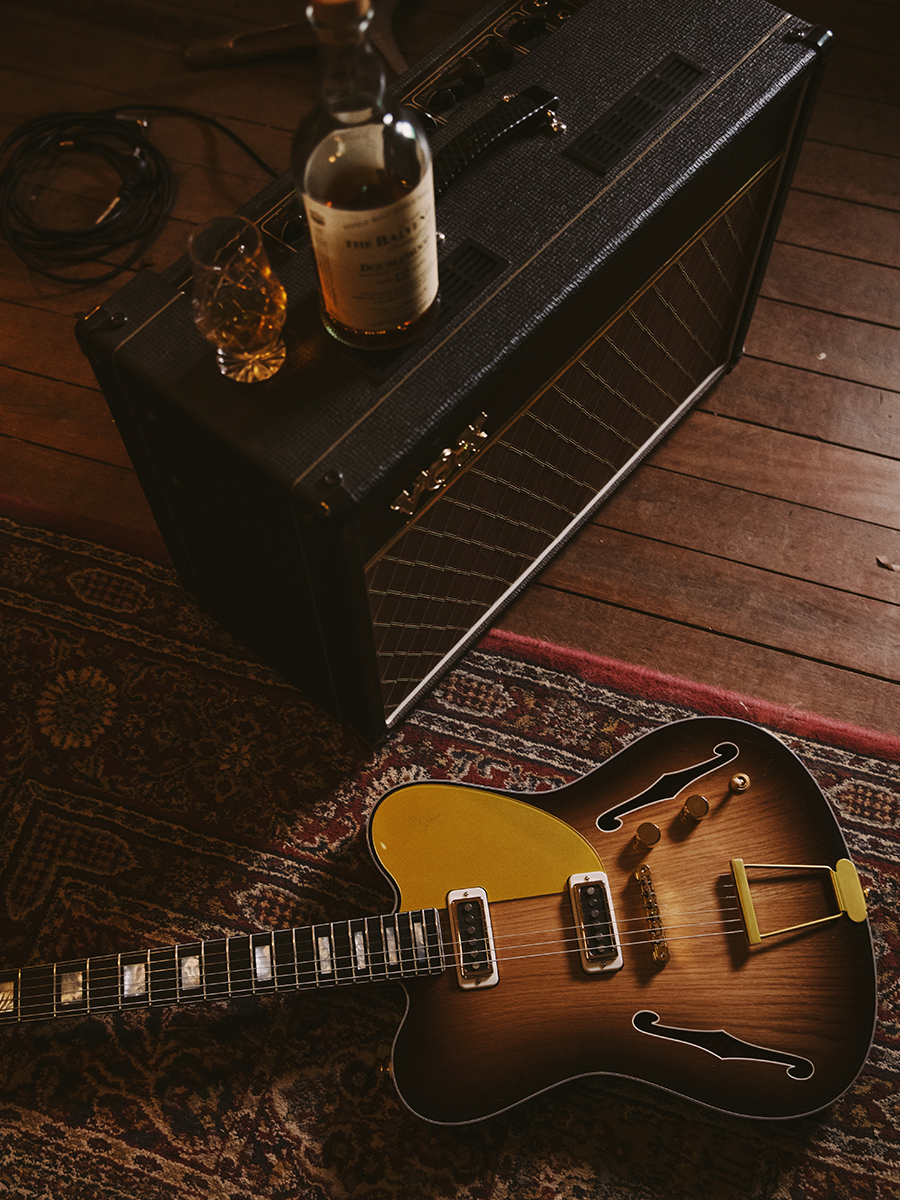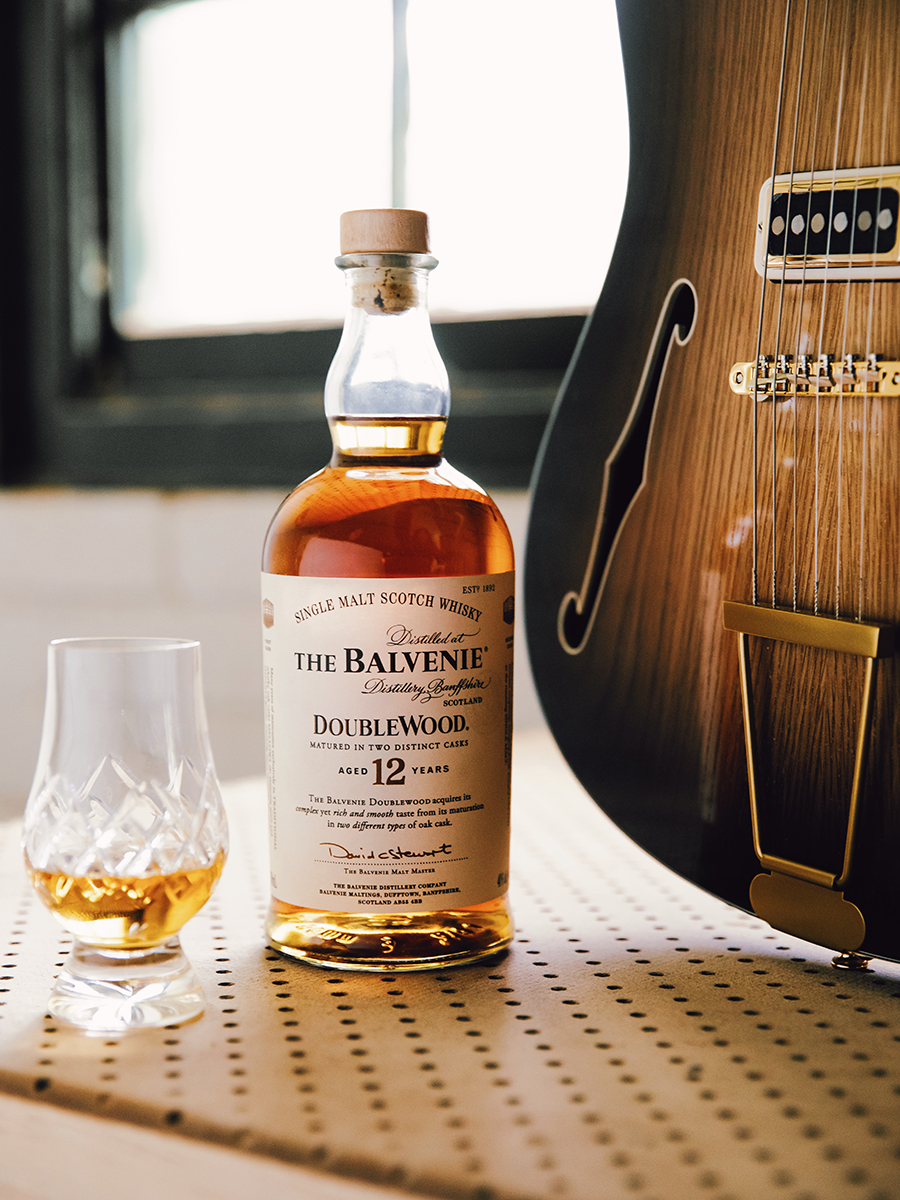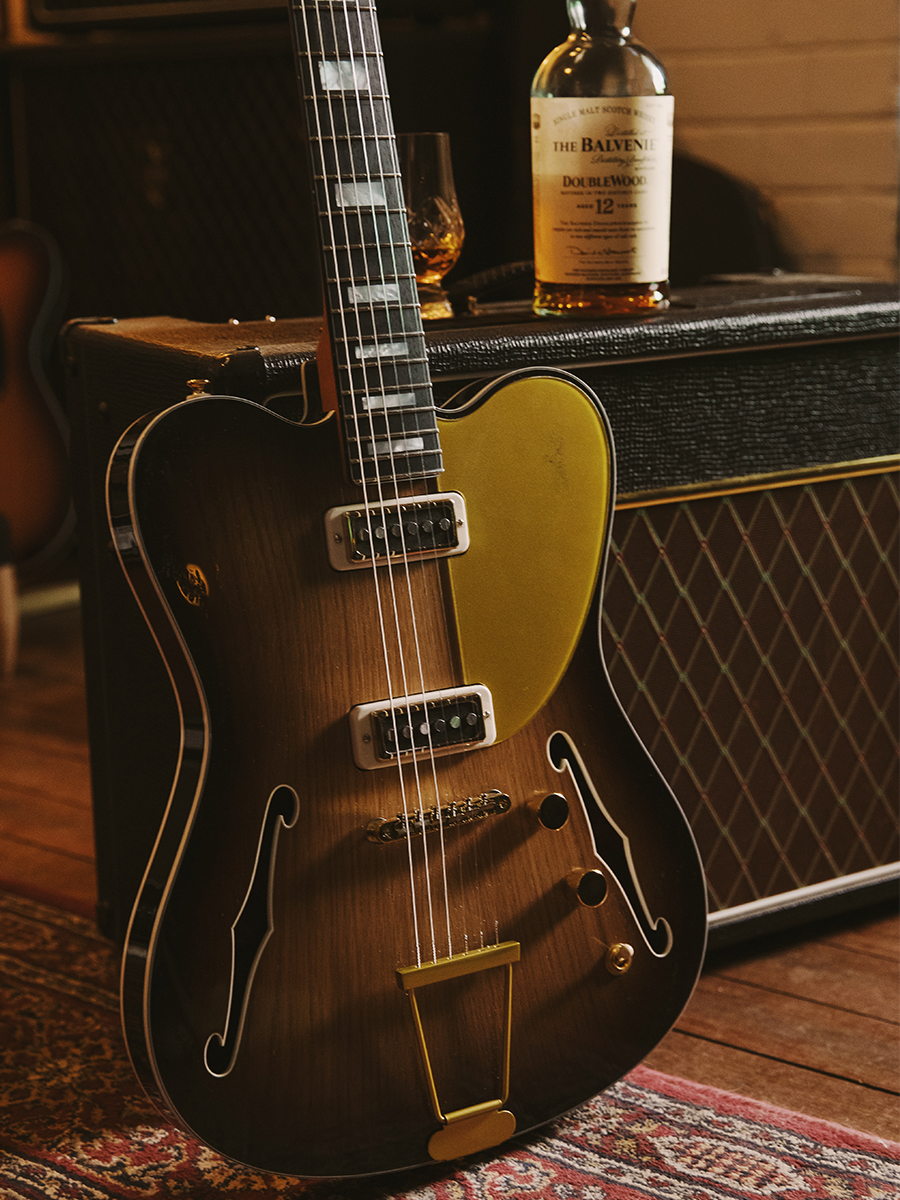 Visually, no detail was spared. With The Balvenie Burst moving from natural American Oak colouring to Charcoal Black, even the DoubleWood's charred whisky barrel story is played out in visible retrospect. Inside, the story is the same. The new release even features the original Grant family tartan, in reference to The Balvenie founder William Grant.
"For our Thinline T's, which The Balvenie No.3 is, we usually line the chambers with our family's Thomson Blue Tartan. This is super special to me," the guitar maker explains. "It's almost like a seal of approval, so to be able to use the Grant family tartan to line The Balvenie No.3 is an honour."
A striking result, the Balvenie Model No.3 Thinline Deluxe features a pinstripe binding around the fretboard and headstock never before attempted by T•Guitars. The subtle highlight mirrors the White/Black/White binding around the body, another first for the Syndey guitar-maker. As Andy explains, this visual element requires an immense amount of precision.
"Our precision when binding and more so when scraping back the paint to expose the black stripe in the middle has to be 100 per cent, " he says. "I've always wanted to try this W/B/W binding but have been hesitant as it would really take my best effort to pull it off. But thankfully I managed to do it for the Balvenie No.3 and really nailed the paint."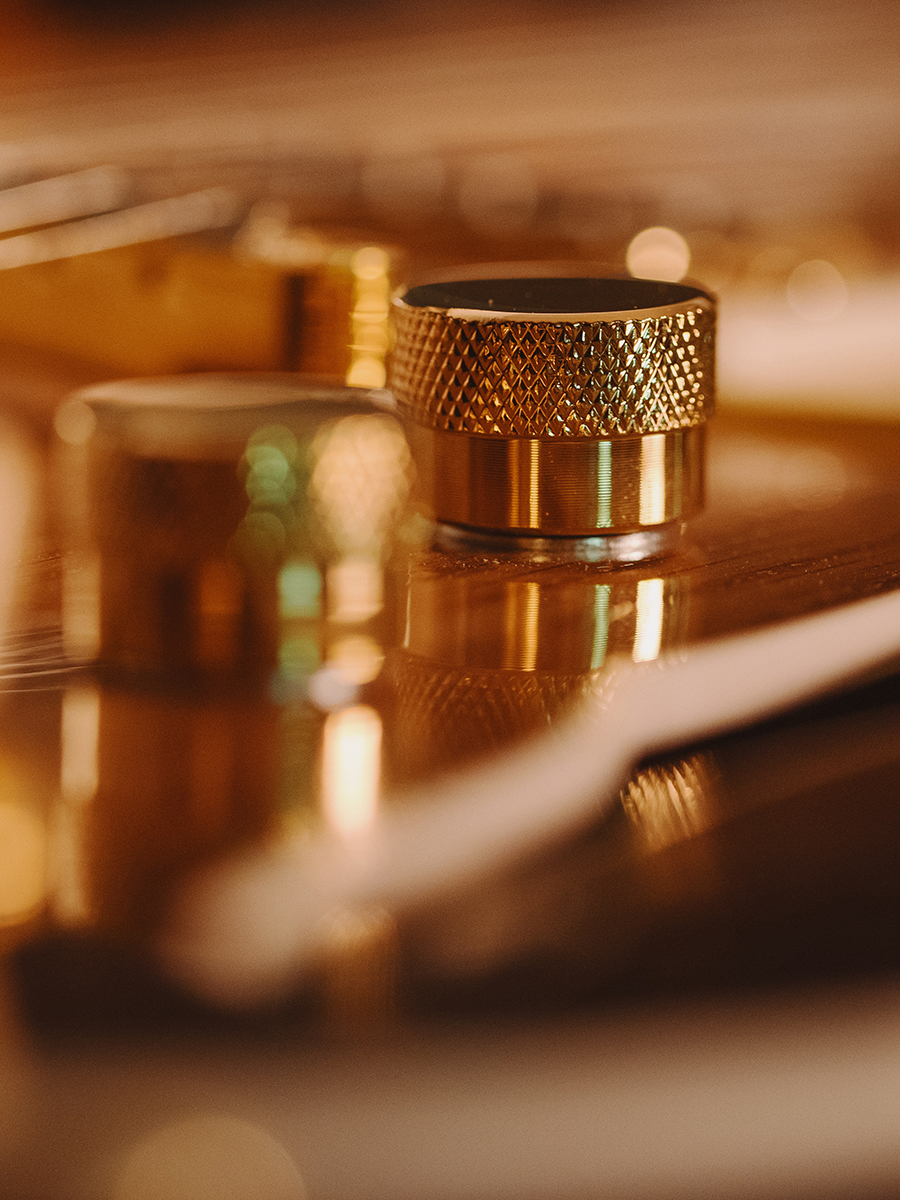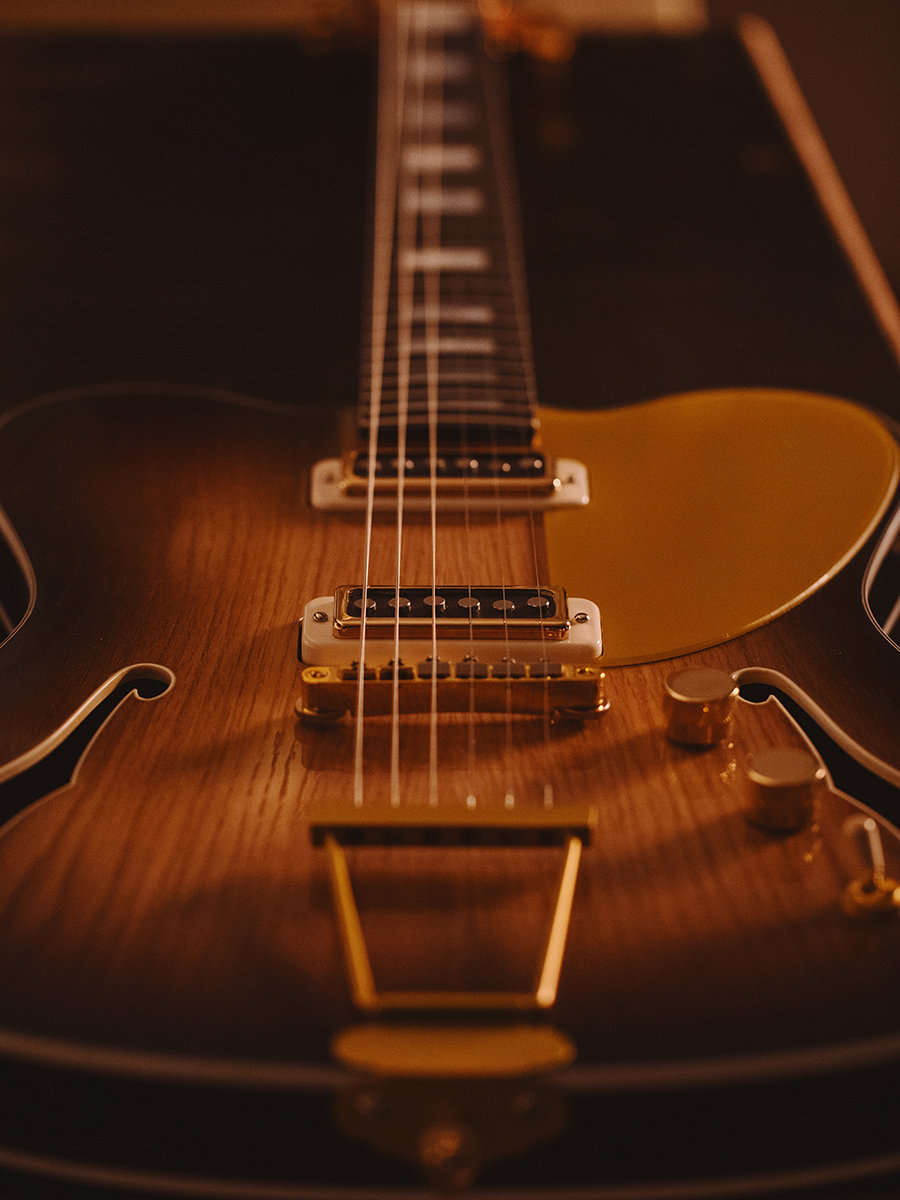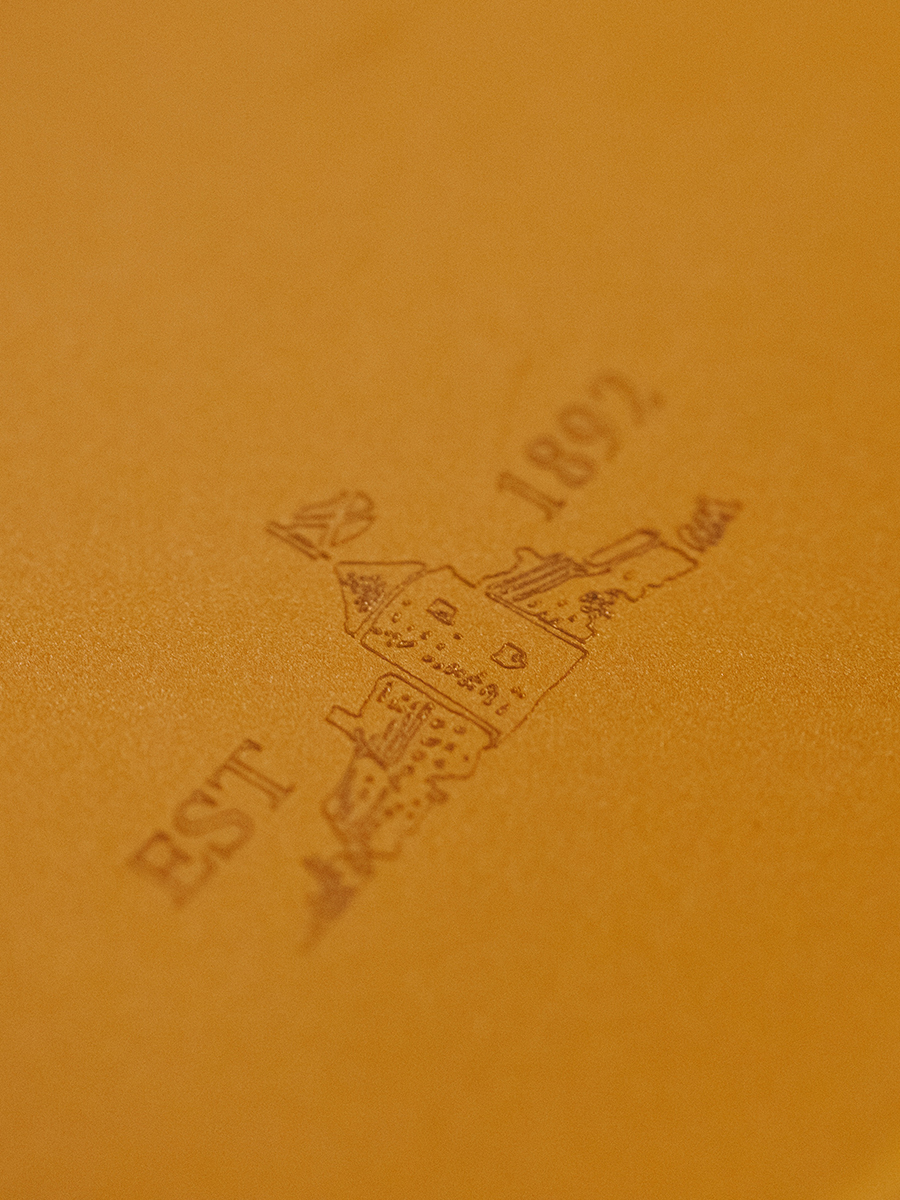 But to borrow a phrase from the man himself, the T•Guitars x Balvenie custom release ain't just for looking at. For the sound-hounds, the single-coil pickups, specifically chosen to match the single malt nature of The Balvenie, were hand-wound by Andy and his team. Warm yet balanced, they make for a fitting acknowledgement to the fine dram and, like all good drops should, the instrument comes packaged in a stunning case. 
The Balvenie No.3 guitars are presented in cases made by Los Angeles company G&G Quality Case Co. Covered in vanilla and chocolate brown Tolex to marry the two whisky tasting notes, the cases will be lined with Black "Poodle" Material and embroidered with the Balvenie Bottle logo. Most importantly, there will be two Balvenie Cut Crystal Glencairn glasses and a Balvenie Copper Dog press-fitted into the case, with an engraved plated numbered to match the guitar.
Peer beneath the surface and you'll even notice the nod to the George Thomson & Sons Shipyard history. After WWll a "Yard Number" was introduced and with the family boatmaker releasing the YN150, its final boat in 1986, Andy made his first numbered guitar BN151. The Balvenie T, being its 100th guitar, is numbered BN250. It's a subtle touch, but then again, subtlety is the palette with which Thomson paints.
"Our objective from the start of this build was always to incorporate elements of the two brands with a subtle class and style. We wanted these elements to show themselves up close, when you were holding and feeling the instrument, not scream it from a distance. We didn't want it to give away all its secrets straight away," he says. "We worked hard to avoid this guitar coming off as a simple advertising tool. This collaboration to us is so much more than that and like a good whisky, just when you think you've got it figured out, there's more to discover. "
Looking at Thomson's creation in person, the craftsmanship is impossible to ignore. Everywhere you look, there's a nod to heritage, an ode to tradition and a homage to legacy. It's a blend of new and old that celebrates music's indelible ability to connect. Like a glass of fine whisky, the imperfect crackle of a warped vinyl has the power to warm the soul and feed the brain. And if, as French composer, Claude Debussy once quipped, music really is 'the space between the notes', then Andy Thomson is responsible for putting them there.
Limited to only 10, The Balvenie Model No.3 Thinline Deluxe is available to order now.