INTERVIEW: Valtteri Bottas on Formula 1, Watches and Racing His Wife
There's always been something about Finland and racing drivers. From rallying to Formula 1, you won't find many times where there hasn't been a Finn at the pointy end of the standings. Is it the 350,000 kilometres of unsealed roads? Is it the fact that man starts driving after they graduate from their booster seat? Or is it 'Sisu', a Finnish term describing a gritty form of courage in situations where you're against all odds.  In the case of Valtteri Bottas it may have been all the above.
Currently in his third season with Mercedes-AMG Petronas Motorsport, and his 7th year in Formula 1, Bottas has become a popular character in F1. At 29 years old, Bottas is his own harshest critic and knows that 2018 didn't quite go to plan. This year, he's focusing on getting some more wins under his belt, and as we caught up with the Flying Finn at in Geneva, Switzerland during his trip to SIHH 2019 as an IWC ambassador,  he seems more determined than ever.
---
You'll also like:
Lewis Hamilton Chats to Man of Many About Life On and Off Track
IWC Showcases New Pilot's Watches Including the New "TOP GUN"
Highlights From SIHH 2019
---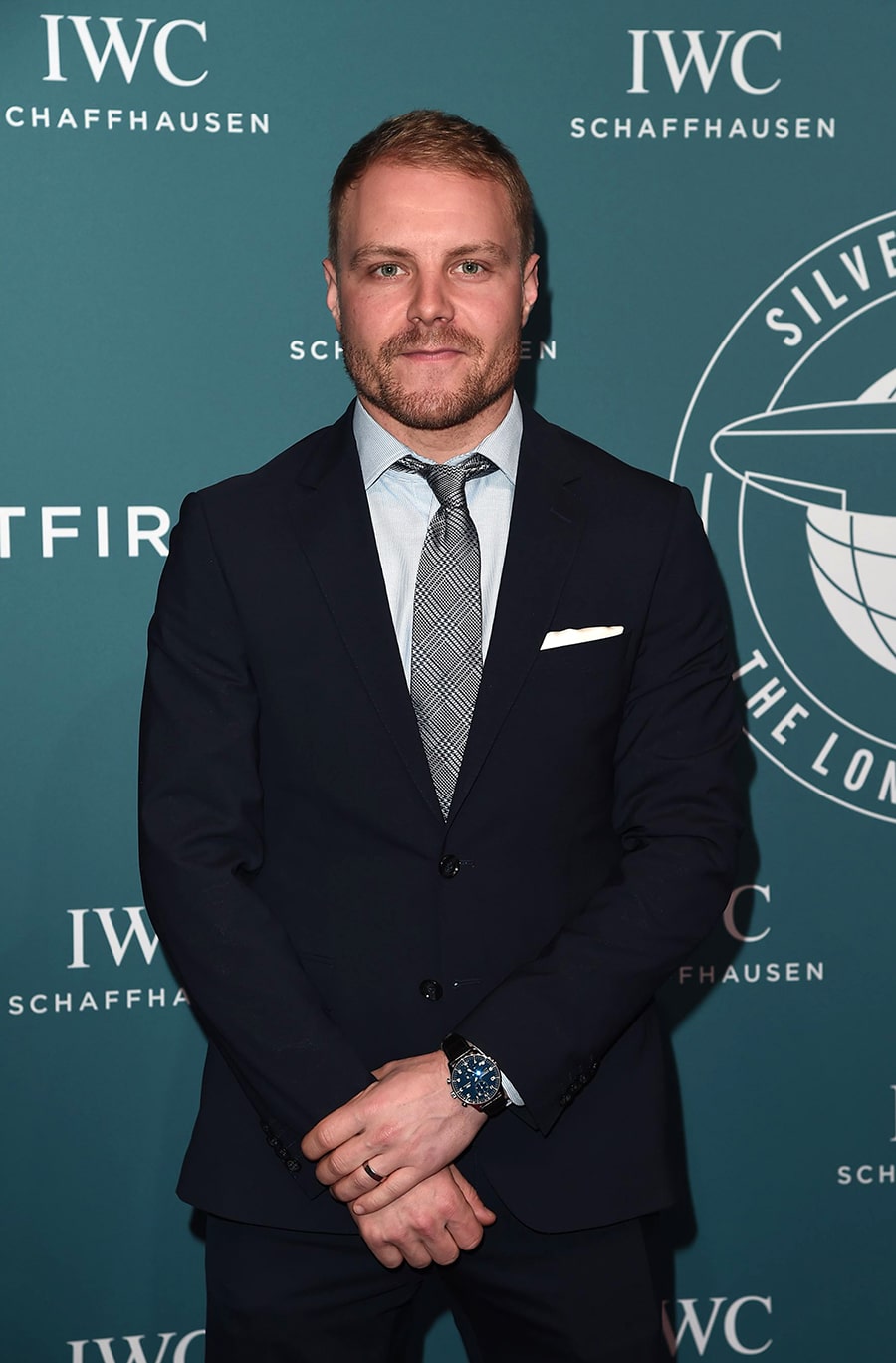 First of all, thank you for your time to speak to us. We really appreciate it.
Thanks for flying over.
Keke Rosberg started the Finnish Formula 1 revolution. As a kid, was there any particular Finnish driver that you looked up to?
Yeah, Keke was the first Finnish world champion, but actually not the first driver. It was Leo Kinnunen back in the day. Not many people ever heard about him, but he did a couple of races or something. For me, it was Mika Häkkinen. He won two titles in 98/99. That was just a couple of years before I started my go-karting career. So, Häkkinen was like a big hero for me. He really motivated me with racing,  seeing his results and championships. So, I wanted to be like him. That really made me want to work harder and try harder to be where I am now.
For a country with less than 6 million people, you've produced a lot of talented drivers in Finland. Why do you think this is?
It's weird. I don't know. Well, the only reasons I can say is there's a big motorsport culture. It's very popular. It's very followed like rallying, motocross, Formula 1, everything with an engine is very popular for some reason. The level, when I was a kid in go-karting, was really good. Even though, compared with the rest of Europe, we could only drive in the summer, because we have a proper winter in Finland. I couldn't drive in the winter for four or five months at all. So, that's a disadvantage, but still we produce drivers. I don't know, maybe the mentality is quite good for the sport. We are a bit like lone wolves. You know, in the end you're in the car alone, so we don't mind.
Sir Frank Williams is one of the only guys that remains from Formula 1's romantic era. What was it like working with Frank?
Frank was the first guy to give me the opportunity in Formula 1. He signed me as a test driver over in 2010, so I could do a bit of testing and then I was reserve driver in 2012. I got to drive in the free practice sessions and Frank really all the time believed in my ability. He gave me the opportunity to be a race driver for 2013 and then we had a great year in 2014 with multiple podiums with Williams. So it was a very motivating experience working with him and he's a true racer himself, you know. The only thing he cares is how the team was performing and, you know, he's 24/7 at the factory. Most nights he was sleeping at the factory and then early morning he's at his desk looking at the drawings and everything about the coming car.
Do you think that kind of work ethic has rubbed off on you as well?
Definitely. I learned a lot from Frank about his attitude, about his mentality and the way he was motivating the whole team a lot as well.
Your wife holds Finnish swimming records, so you both have a competitive nature. Do you think you guys are competitive with each other as well?
Yes, extremely. That's why for many years now we haven't competed in anything. If we compete, we need to be in the same team somehow. Otherwise it doesn't work. We went ice go-karting once and it ended up being two days of complete silence after that. So, no competing any more. Only on the same team.
With the Kymi Ring circuit under construction, do you think we can see Finland's first ever Formula 1?
So, from my understanding it's not yet the plan. For now they're building it. It's not qualified to host Formula 1 races. It's qualified for Moto GP. I think they are going to be there in the coming years, it can be kind of upgraded to F1 spec.  I really would hope so, because I could guarantee that the grandstands would be completely packed and sold out very quickly. Everyone is loving motorsport in Finland. So, I hope so. One day.
What are your thoughts on the Australian Grand Prix?
Melbourne is one of the best cities I've ever been to in my life. There's always a great atmosphere. When we're there, there's this food and wine festival on. The whole city is quite nice and lively. We can't really enjoy the wine too much before the race, but it looks nice. It looks fun. But, you know, the weather is usually very nice at that time of the year, not too hot. There's always this special atmosphere because it's the first race of the year and everyone's excited about the new season. There's many unknowns always for the new season, who's got the best car and so on.
As a track it's nice. It's not a common racetrack. It's kind of a street circuit, so quite technical, quite bumpy which gives a bit of character. It's not been one of my best races ever for some reason, but I'm working on that. Looking forward to going back again.
For me, only Melbourne and Sydney are the places I've been. Again, this year I'm going nine days before the Grand Prix to Melbourne just to be there because it's a good place to be.
You're here in Geneva as a friend of the brand of IWC. Have you always been into watches?
I've been into watches since I was 14, 15. I started collecting step-by-step some watches and now it's growing the collection and, yeah, I've been introduced to some other brands as well before I joined Mercedes. Through the partnership with IWC, and Mercedes and I've got to know the brand really well. I'm very lucky to be the brand ambassador for IWC. They're great watches and they have such a wide selection of different styles.
Your whole career revolves around time, has this added to your love of watches?
Indeed. Time is everything for me. I'm judged by time. People see how good we are depending on the time, the lap time and how quickly we can get to the chequered flag. But also for our team, time is everything. To be efficient with time. Another common factor in motorsport and watch-making is precision and all the technology nowadays that goes into all the fine details. Hundreds of components seem to work, you know, perfectly together. So, it's fascinating also with the watches.
What have you got on at the moment?
It's the Pilot's Watch Chronograph Top Gun. One of my favourites. In general, I love all the Pilot's watches there are. Especially the new ones coming.
So you've seen the pieces from the new IWC collection. Are there any favourites?
Yeah. Immediately one watch which I'm trying to get is the Pilot's Watch Timezoner Spitfire Edition "The Longest Flight". Especially with all the travelling. A simple rotation of the bezel sets the watch to a different time zone, it's easy, you can just click and change. No more scrolling.
Finally, What are your plans for 2019?
I'm looking forward in terms of my racing career I don't count last year as one of my best ones. Actually one of the difficult ones. So I'm happy it's a new year. We start from zero again. I have a good feeling in myself that I go to a new season again and giving everything I have and see how it goes. But good, positive vibes and going to give it all and work hard as a team.
With the rest, in terms of life, I don't know. We'll see what happens, but I don't have big plans or anything. Just take it day by day.
---
You'll also like:
Lewis Hamilton Chats to Man of Many About Life On and Off Track
IWC Showcases New Pilot's Watches Including the New "TOP GUN"
Highlights From SIHH 2019