Lewis Hamilton Chats About Life On and Off Track
Since winning his first world championship ten years ago, F1 driver Lewis Hamilton has quickly shot to hero-status, and deservedly so. Now regarded as one of the greatest drivers in the history of the sport, he has four world championships to his name, and is the current title holder. With 62 race victories in total, he's the most successful Brit to ever lay rubber to asphalt, and at the ripe age of 33, doesn't show signs of slowing down any time soon.
Off the track, the sartorially composed Hamilton is just as well known for his iconic style and love for men's fashion, having featured on multiple covers for GQ and Esquire, among many others.
As Melbourne gears up for the first Grand Prix of what is set to be a very interesting season of Formula One, both the teams and their supporting sponsors have hit the town, hosting lavish A-list parties, while the drivers mentally prepare for some of the most grueling corners and high speeds the human body can handle over the coming months.
Man of Many was lucky enough to sit down with the ever cool, calm, and collected Lewis at his hotel, before he attended as the guest of honour at the official launch of the new IWC flagship in Melbourne, to talk about life on and off the track, and his two great loves: Roscoe and Coco.
You'll also like…
How to Avoid Getting Duped with a Counterfeit Watch
Interview: Antony De Haas of A. Lange and Söhne on the Bittersweet Nature of Anniversaries
Discussing 150 Years of IWC With Head of R&D Stefan Inhen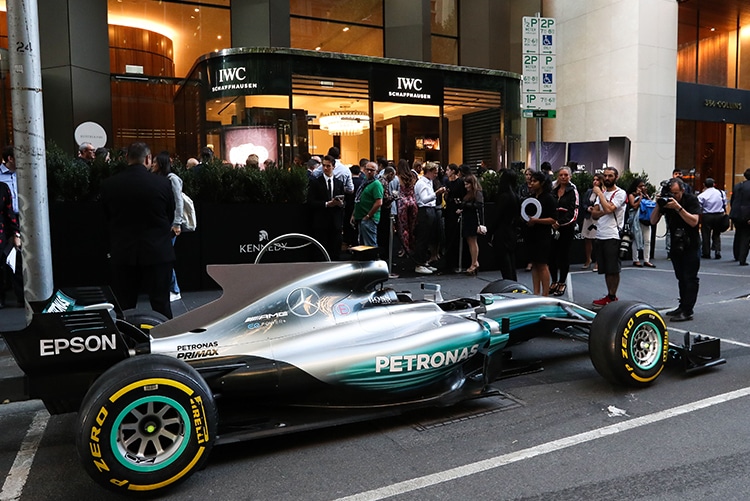 You're in a sport that requires you to stay cool under pressure. Recently, in Barcelona, before testing in preparation you just had a casual hit of tennis with your father. Can you talk us through how you prepare mentally for qualifying for a race? What do you do to get yourself in the zone?
What do I do? For qualifying, I generally listen to music and I study my data. I guess it's probably different for every driver but it's really … You've done your practice sessions and, with qualifying, it's on a Saturday so you know, hopefully, you've got your setup right, but you have to make setup changes before qualifying. It is an intense half an hour or so before qualifying where you need to be making your setup change. Sometimes I still don't make my setup change until five minutes before qualifying starts, which has us running late.
Then otherwise, I go back to my room and I put my headphones on, go through my notes while I'm listening to music and just stay chill. I mean I've been racing forever so, it's not like I need to hype myself up or anything like that, it's just about being centred and channelling the positive energy towards the single goal. It's blocking out all noise. I don't have a phone with me apart from just for music. That's it, really.
Any particular songs you're listening to at the moment?
Right now? Post Malone, Kendrick, Migos, but I listen to such a wide range. I listen to hip hop most of the time, but some weekends I'll listen to RnB, sometimes I'll listen to early, early music, like Aretha or something like that. It really just depends on the vibe.
Back to the competition, being such a fierce competitor on the track, does that kind of competitive edge translate to off the track as well?
Yeah, I'm competitive at everything. That's always been the case, through school I was in pretty much all the sporting . I was on the football team, I was on the basketball team, I was on the athletics team. I did javelin, I did discuss, I did 800 metres, I did the 1400 metres, I did cross country. Just super, super competitive at everything I do.
In your time being a competitor, is there anything that you've learnt from your sport that's translated into personal life?
I mean probably there are a million lessons I've learnt over time, but I think just travelling around the world, I think focusing, not getting distracted. If you look around the world today, everyone's just sat on their phone, walking around on their phone, quite often forgetting to look to really see what's around them, you know? I think when I was younger I think I was also stuck on my phone. I came back here, for example, to Melbourne, and I realised I hadn't even seen any of the city. In the car drive for example, just now, making sure I'm looking around. I'm seeing bits of the city that I've never even seen before, you know?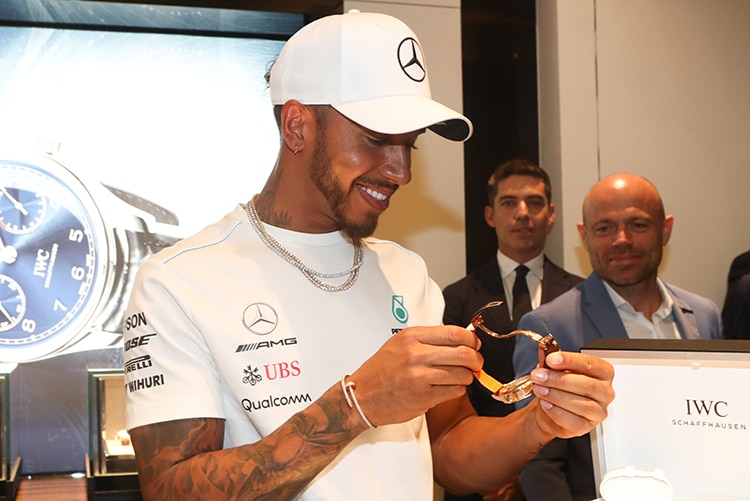 The physical aspect of F1 driving… Can you talk us through some of the stresses that your body endures?
When I tell people that I lose up to four kilos in the race, they're like, "Why?" I'm like, "Because it fricking … it whoops your ass, the car!" It is so physical. The car is basically on train tracks almost, and it goes around the grid, these corners, at the most ridiculous speeds. You've got your slow-speed corners, which are probably like 50 to 80 miles an hour, and then you've got the medium, and then you've got the high-speed corners, which can be … Like here I think there's one corner we do, must be like 170 miles an hour. Probably, 170, 180–just ridiculous speeds. When you're doing those speeds and you go through the corner, whichever direction you're going, your body wants to go in the opposite direction.
Also, for example, braking. If there are 15, 20 corners, you're braking for 12 or 15 of them, basically, the amount of pressure you have to put through your–it's really difficult to explain it. The main one is the g-force, so it's a multiple of your body weight. When you're braking, when you're cornering and pulling five, six gs, even though it's only for a split second, that's six times your body weight. On your neck can be up, for me for example, it can be up to, I think normally it's 50 kilos I think it is, on my neck through the braking zone and through the corners, per a corner, per a lap, for 67 laps or whatever it is.
Plus, then you're in a thermal outfit underneath your suit, then your suit. There's no air conditioning, heat coming from the radiators, from the engine, from the battery pack that's right behind your backside, it's hot inside. So it's like a workout in a sauna.
How much training do you have to do physically off the track to get you prepared for the race?
I would say it's similar to any athlete really, training for the season. Then there are specifics, like for example my neck. If that fatigues, the rest of your body starts to fatigue, because you start to compensate for it. That's really kind of the main one, but core stability is everything. I do a lot of running. I run between an hour and an hour and a half most days. Then gym, you can't be heavy, you have to meet a specific weight limit, weight the team requests you to get to. My target's 68 kilos, and that's not my healthy weight. My healthy weight's probably 70 kilos, which I'm at right now.
As I get through the weekend I'll probably be able to trim down to probably to 69.5 or something like that. Over the course of a few races, my weight will continue to come down.
Being the driver and being the focus of the race, you have quite a large team behind you. Two really important members of the team are Roscoe and Coco. Can you tell us who they are and how they contribute to your success?
Yeah, well I grew up with Labradors as a kid, and I always dreamed of having my own dog one day. When I finally moved out my family and everyone around me was like, "There's no way you can have a dog." My brother's ex-girlfriend would be like, "The dog's going to die if you have a dog." That's real confidence in me. I understood what she meant though. I bought Roscoe, he's a bulldog, and then away with all the travelling and everything I'd realise he was kind of a bit on his own because I couldn't always play with him, so I rescued Coco.
She got lots of different issues from birth with her hip and with certain joints, arthritis and all these different things, so the lady was going to have her put to sleep because she wouldn't be able to afford to have covered all of her surgeries that she had to have, so she's had like four, five surgeries since I've had her. So I took her, I rescued her, and yeah, those are the team mascots.
They're currently living the life in LA right now. That's where they're happiest because a friend of mine that looks after them right now in LA and she looks after a tonne of dogs, so they're always at the beach with dogs, they're living their Hollywood life.
Yeah, nice!
And Roscoe is modelling now, so…
Haha great. You've mentioned before how you have such a busy schedule, you work in such a fast-paced career. Do you get a chance to switch off, and what do you like to do in your downtime?
I mean normal stuff. I mean I can't really sit still for too long, so I like being active and I like packing my schedule. For example, if I get a few days off I generally like to pack it with something keeping me busy. Hobbies that I have, for example, I mean I do obviously lots of other sports. Music is something I focus quite heavily on. Otherwise, I'm studying, trying to learn about arts, trying to study a bit about wine, working on a lot of business things because naturally, you can't race for the rest of your life, so at some stage understanding, different crafts is quite important.
Yeah, otherwise I mean I'm travelling all the time, so I'm at a lot of different events, I'm at the fashion … I spend a lot of time in the fashion world, so between events, races, I fly out to New York for the Met Gala, and then I'm at New York Fashion Week, then I'm at Paris Fashion Week, and the Milan Fashion Week, and then I'm off to another race. Gelling a couple of different professions at once.
Onto that fashion point, a lot of us consider you as quite a fashion icon.
Thank you.
What are your thoughts about self-expression through your own personal style?
Well I think creativity is such an important part of youngsters growing up, and another way of being creative is being able to express yourself I think in clothes and fashion. The great thing when you go into the fashion world, you go to these shows, there's people from all different walks of life wearing completely different looks, who are not afraid to express themselves in how they dress. Then I'll be travelling the world and I meet lots of people who wear just all black for example, or quite within their shell, don't look particularly like they're comfortable in what they're wearing, or being aware of what they think they should be having to wear. Particularly when you're at fashion shows, you get to see people really express themselves in really unique ways. You get to see that on social media as well. So yeah, it's an extension really of your character, isn't it?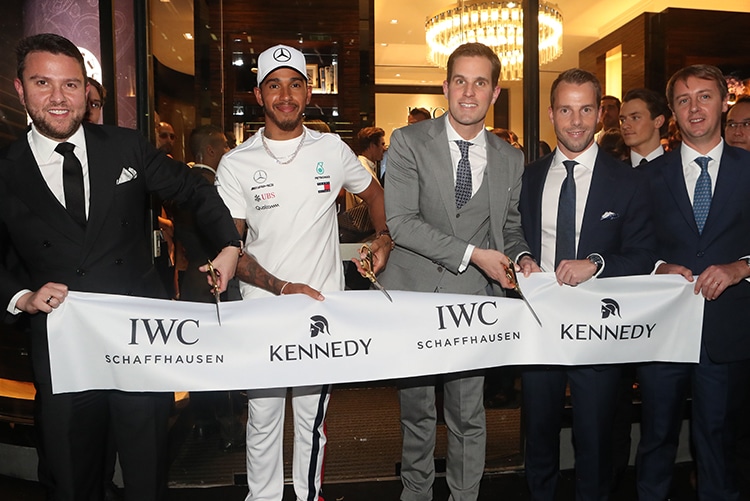 Being an ambassador for IWC, have you always been into watches?
There's a store called Argos. I remember my first watch was a Mickey Mouse watch when I was really, really young. Then I think I got, I found in the lost and stolen, or was it lost and stolen at school? There was this electronic watch with a calculator on it, and I wore that for years. Then I finally for Christmas got this watch that was a … It was probably the same colour as this (holds up his limited edition gold IWC Big Pilot Perpetual Calendar), but it was not IWC, it was from Argos, I think it was maybe £20 maybe, maybe £19, 19.99 or something like that. It had a brown leather strap, and I think it was gold or something like that. It looked quite sophisticated.
I didn't get my first real watch until I was, it was 1998, which was a gift from Ron for winning the … I think they had won a world championship, so it was kind of a world championship watch that they had done, limited special edition that they had given me. I was always into it, just couldn't afford it. I wore whatever I could at the time. Then I got that watch, my first watch, and I never wore it because I didn't want it to get scratched or anything like that.
Then obviously once I got to Formula 1 and I was able to indulge, and it really is an accessory, a way of accessorising your look, so, for example, you're wearing a grey suit, the watch, whether it's rose gold or whatever, always tops it off. I'm wearing all white today, but I love wearing rose gold, it goes with my skin tone. That's generally my colour. I steer away mostly from silver in general.
I do like jewellery and it's the ultimate piece.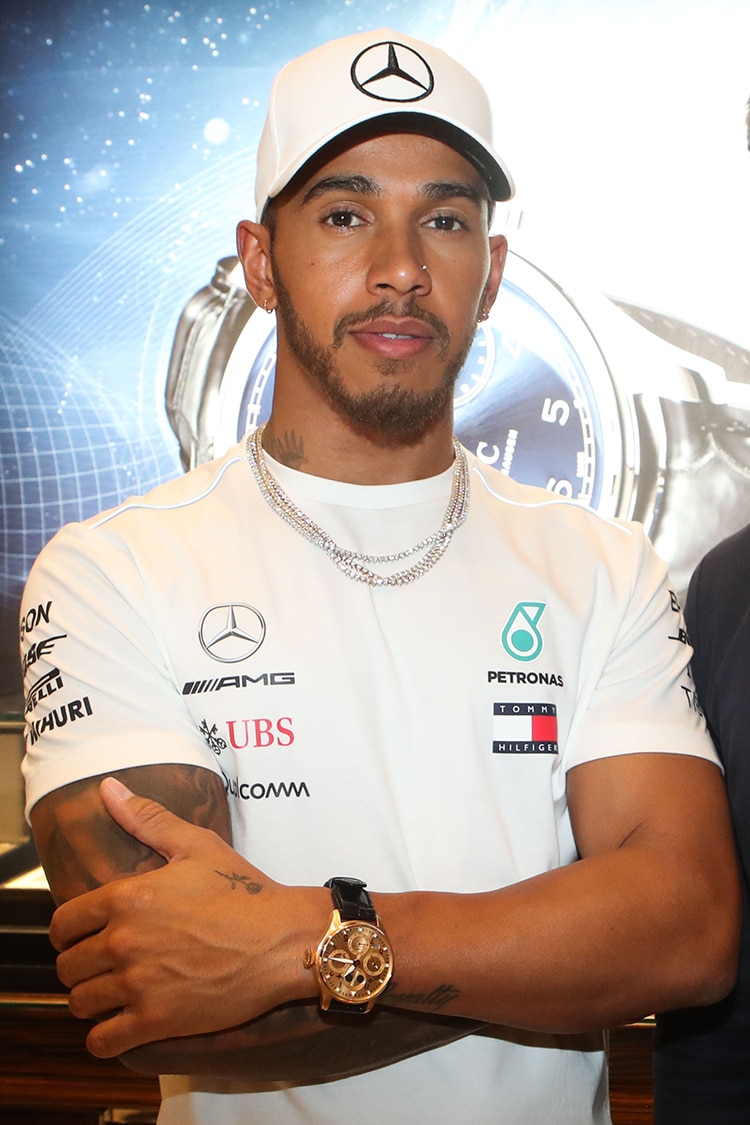 What's the appeal of IWC to you?
When I joined the team I remember I used to see images and I used to go to all these watch stores. Particularly when I'm going through an airport, I'd be looking at all the different watches. I never, ever bought any. Mainly obviously because I was with another brand in my earlier Formula 1 days. When I came to this team and I saw that they had IWC I was like, "This is awesome." Because it's such a prestigious brand, they've got such a great range. Ultimately it's great to be able to wear brands that you're into. I don't have to wear the watch if I don't want to, but as I said, it goes perfectly with the other jewellery that I have. It's very sporty, but it's also very classic.
I personally also like quite heavy timepieces, so I mean this is quite a heavy timepiece. This is the Big Pilot. We've been working on the relationship now six years. I really like the detail that they go into. Obviously, I've been to Schaffhausen and seen the work that they do there in putting 500 pieces in the back of a watch. You're always learning something new about the creations. Ultimately my goal one day is to be able to do my own watch. Not a watch they just put my name on, a watch that I actually help design, and sit with a designer, and create it. But the lead time is so long.
Maybe if I get this fifth world championship–maybe they'll let me do that.
Back to your passion for music, can you describe what your musical journey has been so far?
It's been pretty neat. I've got to meet lots of different people along the way with the racing world. Obviously, I've got to meet people like Paul McCartney, Prince, I got to hang with Prince at one of the races. I started playing the guitar when I was 13, my dad was in a band when he was younger and he played the drums, and he was always playing music, he had this one Technics 1210 that I guess he had saved all his money to buy this 1210, and he had some really dope speakers. He used to always play Marvin Gaye, and a lot of reggae because my family's from the Caribbean, so I grew up around it and always wanted to do something with it.
Got the guitar, started to play. At the time I was heavily influenced by hip hop. I couldn't play a single song from hip hop, I couldn't play any Tupac, I couldn't play any Biggie, so I was like, "Shit, what am I going to do?" Then I realised I had to open my spectrum of what the stuff that I could play. Then I started to read about the Beatles, and Rolling Stones, and Jimi Hendrix, and Prince, and so I get the guitar tablature books because the school lessons were on Friday and I was always racing on Friday. Then just studied at home on my own. I'm not the greatest guitarist but I can play a little bit of the piano, and just I played the guitar.
Then otherwise, I started getting into production when I was about 16. I was always at parties with my friends, we were always … They'd be playing some music and we'd turn it off, and then we would then be MCing, we'd be DJing. It's always been something that I was into, and I was always writing poetry and songs as a kid or trying to explore the creative side of that. When I was kind of 22, then I started to really start to write with real producers and start to write actual real songs and put them together, and I've been doing it ever since.
I've got two quick questions for you to finish off with, still on the topic of music–if you could resurrect one artist from the grave to perform for you in a one night only performance, who would you chose?
Shoot. That's a really good one. One artist. It'd have to be Michael probably, but Prince for me is … The only reason I don't say it's Prince, because I got to see him perform. Michael, I never got to meet, so yeah. It'd be him or Marvin Gaye.
Another weird hypothetical for you, if you had to be transported into the body of another athlete in any other sport and play their sport for an entire season, who would you choose?
Wow. Hmm. At any period of time in sport?
Any period of time.
Michael Jordan.
Good choice.
That would've been cool.
You'll also like…
The Wind Up – Watch News #96
The Wind Up – Watch News #48
Discussing 150 Years of IWC With Head of R&D Stefan Inhen