Don't Call Marnus Labuschagne the Future of Australian Cricket
Heavy is the head that wears the crown. For years, we've touted Marnus Labuschagne as Australian cricket's next big thing, but living in the shadows of Smith and co is no mean feat. The notorious upstarts and setbacks that have littered Labuschagne's career have been well documented. From his stunning short-leg catch that marked a triumphant arrival on the big stage to a long struggle for selection security, Labuschagne has seen a lot in a short period. But on the fifth day of August test match in 2019, the hard-nosed batsman won the hearts of Australians around the globe. A gutsy 59 run performance, the best of all Aussie batsmen on the day salvaged a draw for his team, not bad considering he wasn't originally destined for the crease.
In the 12 months that have passed, Marnus Labuschagne has become more than just a replacement, a ring-in for a depleted test side. After years of the living on the outskirts of the national team, the right-hander is now officially Australia's best batsmen, a title forged in the fires of battle. Not that you'd know it.
You'll also like:
Louis Vuitton Drops a Dime with $5,650 'Ball in Basket' Bag
ALDI's Highly Sought After Snow Gear Special Buy is Back for Winter
INTERVIEW: Damian Lillard talks NBA, Music and What Keeps Him Honest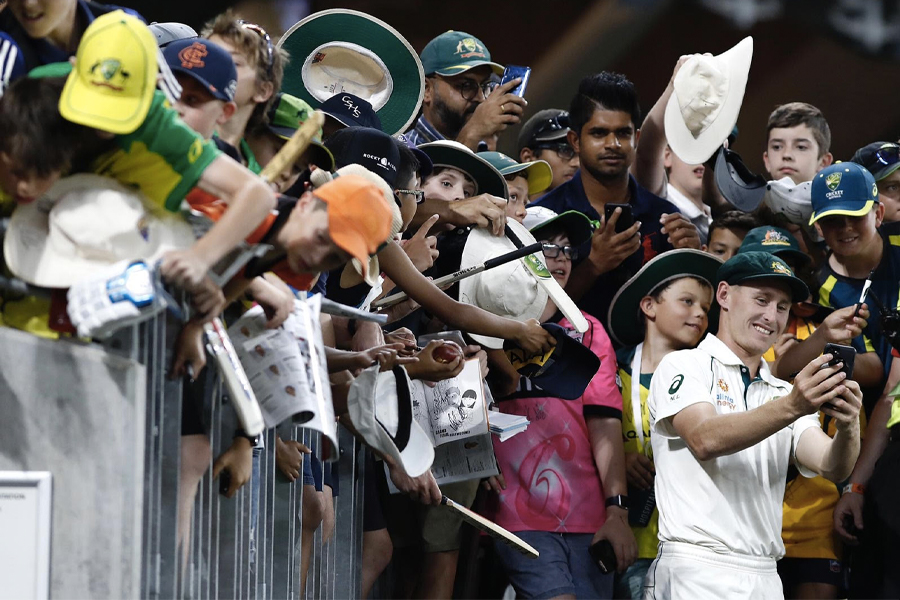 On Isolation
The reserved Queenslander is taking success in his stride, working hard to maintain a normal 26-year-old's life. Despite getting married in 2017, the test star still shares a house with two close mates, a set-up that Labuschagne says has helped him stay humble and at peace, despite the recent global uncertainty.
"It's been a challenge in some parts, but we're lucky in Queensland and I'm lucky I've got a nice full household," Labuschagne tells Man of Many. "They've been awesome. It's been so much fun having people around. I think that's one thing that would have been really tough for me over this time, would be not being able to see people. So to have them around and in the house has been a real privilege."
While it's no surprise to hear the household has been playing a fair amount of backyard cricket, Labuschagne admits these games are a little different than the ones most Aussies would be used to. In fact, playing a friendly game with Australia's best test player can be anything but. "We actually have an iPad set up for DRS cameras, with fielders bags as catchers," he jokes. "Yeah, and they get competitive. Talk about blow-ups, there have been some huge garage cricket dust-ups. Poor umpiring decisions. They really test the friendships, that's for sure."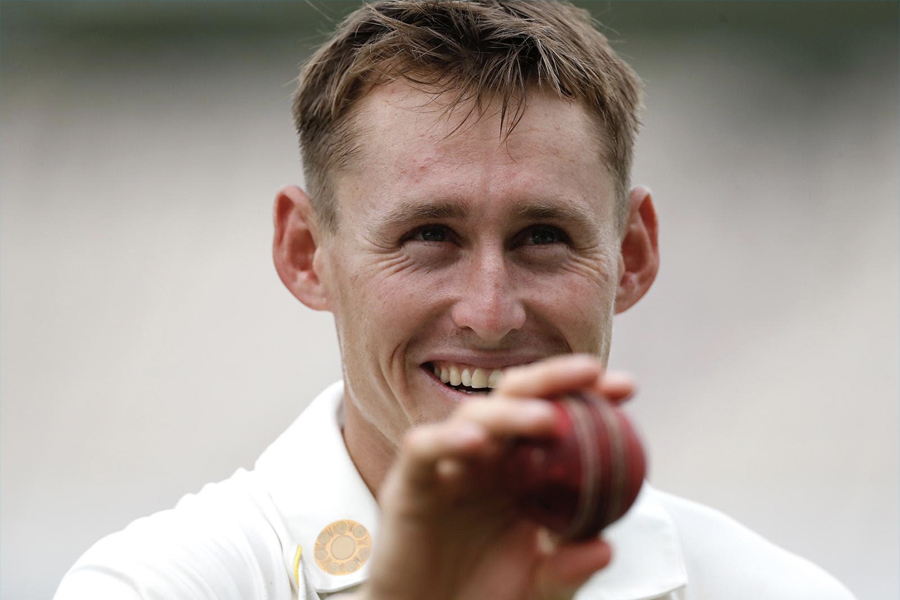 But with the easing of restrictions comes slightly more freedom, albeit without a chance to travel. Being a Queenslander, Labuschagne was unable to join his interstate teammates for training, meaning he spent much of his post-isolation period with the local side, which he acknowledges has been a welcomed change of scenery. "With our state, training didn't get affected too much. We're in a position where we have been able to be out on turf wickets, out in the centre training and playing. Obviously, it's not so lucky for the guys in Victoria and New South Wales that have been under more restrictions, but that's at least where we sit." It's a big change from the hours of backyard cricket and home sessions the Aussie number 3 has been engaging in. "You get your home gym stuff set up so you can go and train out of your house and stuff like that. So that's sort of the things I did at the start just to make sure that no matter what happened, I was ready to go and making sure I'm ticking over," he says.
The Aussie star admits that the return to normality was swift, however. Just weeks after hitting to the training track, Labuschagne and the rest of the international squad entered a team-imposed bubble, which saw them quarantine for two weeks before heading over to the UK for the upcoming series.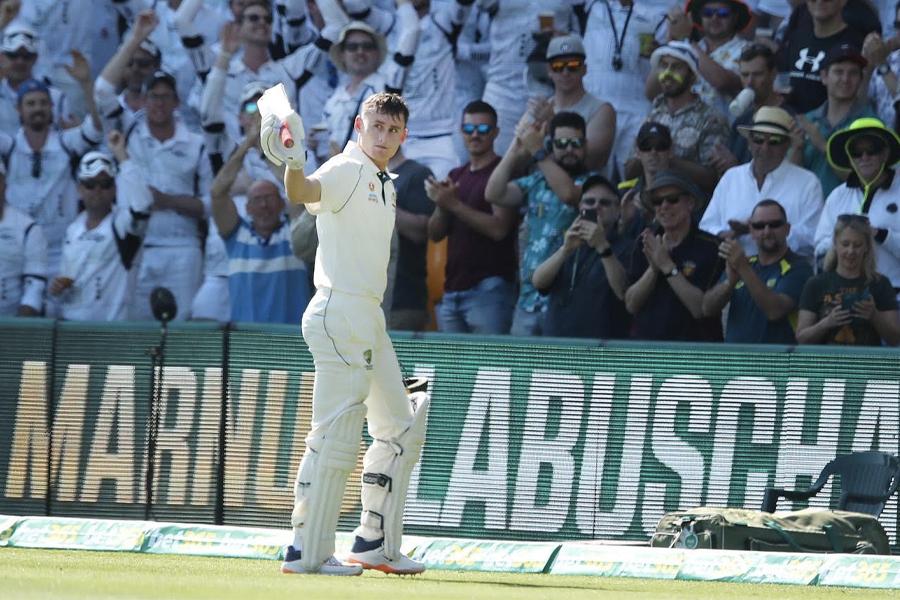 On Being the Future of Aussie Cricket
It's been a long time coming, for Australia and Labuschagne. His tenure as the "future of Aussie cricket" is one he begrudgingly accepts. "I think I'm just lucky I fell in love with the game at such a young age and that I was very set on what I wanted to do since I was two or three," he says. "I don't know if that's normal. I'm by no means normal, but I think it is a very satisfying thing to know what your passion and what you want to do with your life."
But having natural talent is only part of the equation. In the years that have passed Labuschagne has been lauded for his work ethic, which stems more from a love of the game than anything else. "I think always as a kid I dreamed of playing test cricket and I dreamed of scoring my test hundred, you always dream of those moments. But within that, there's been a lot of hard work," he admits. "It's been a five, six, 10-year process to get to where I am today, and I think it would be remiss of me to sit here and go, "No, it wasn't expected." It was expected. I backed myself and my ability and how I play, but the journey is a lot different than how you dream about it as a kid or how you think about it."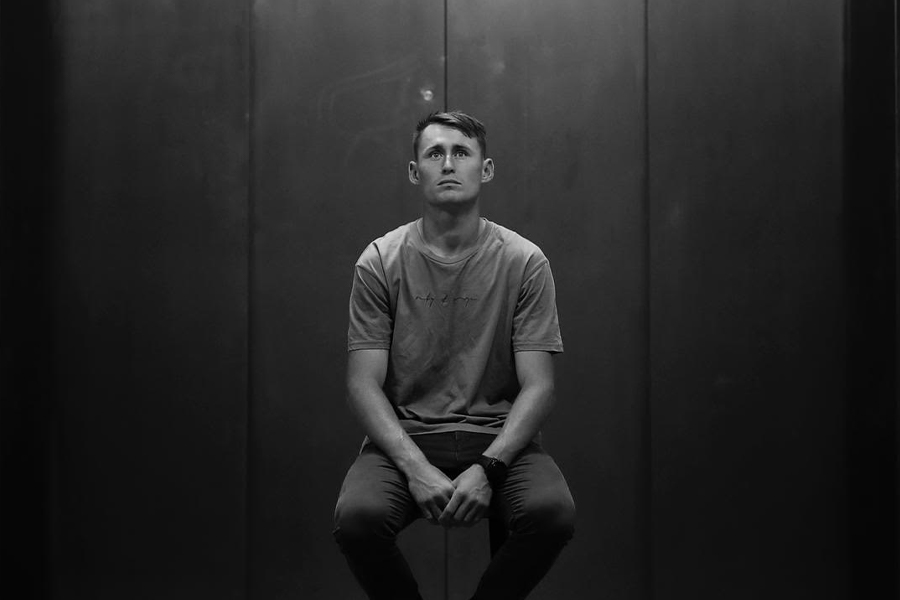 On Surviving the Darkest Period in Aussie Cricket
While it's never healthy to dwell on the past, it bears reminding that Labuschagne's career may almost always be inherently linked to Australian sport's darkest moment. The suspension of three key pillars devastated the test side, but as the old adage goes, when one door closes, another one opens. With a rare opportunity to cement his spot in the team back on the table, the Queenslander grabbed it with both hands. But taking the unusual approach is nothing new for Labuschagne. In fact, it's proven to be somewhat of a trademark.
"It's definitely been unique. The 12th man for Australia, the short leg catch, sort of getting my first opportunity to play for Australia off the back of an injury to someone else, I've had so many unique instances," he says. "Getting selected in the Australian side to go to India and to the UAE. I was next cab off the rank, and I didn't really take my opportunity and had to come back home. There's been so many tops and turns, it's been a really incredible journey. And it's one that you'd never change. I think your own journey's always special to you and it is nice to have a path that is iconic and unique to you."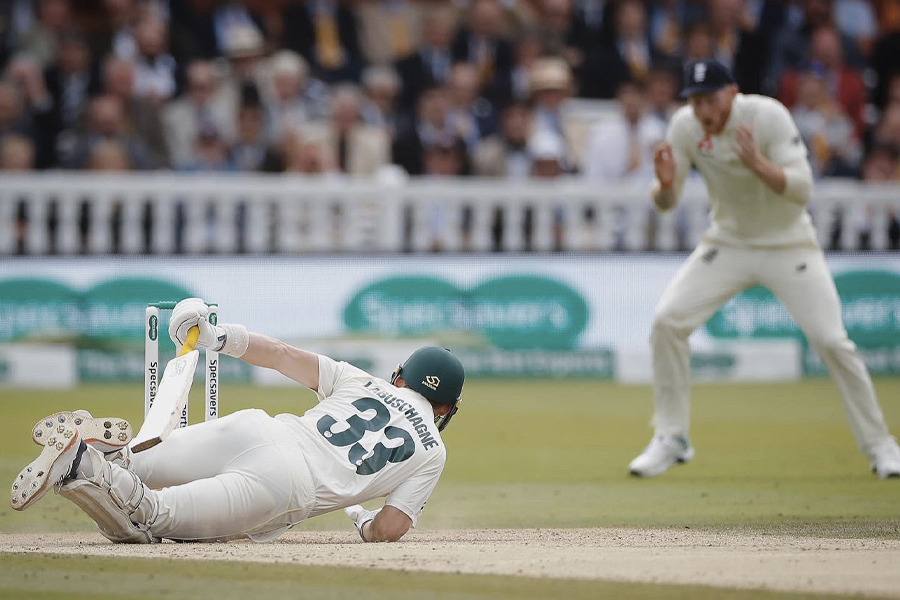 It's testament to the Queenslander's impressive attitude and work ethic that he's managed to not only hold his spot in the side upon the return of Smith, Warner and Bancroft, but excel far beyond what was expected of him. While you could argue the dark days were in some way fortuitous for Labuschagne, the simple fact remains that opportunities are handed to those who put the work in, a fact the reserved Queenslander is almost reluctant to admit. "That was lucky," he says, before quickly catching his tongue. "Not lucky, but I mean, that's something that you work for and it was nice that it did pay off when you actually did get that opportunity.
Pay off, it has. In February, Labuschagne was named Australian Test Player of the Year, and while peering back at the past 12 months is nice, the future is looking infinitely brighter.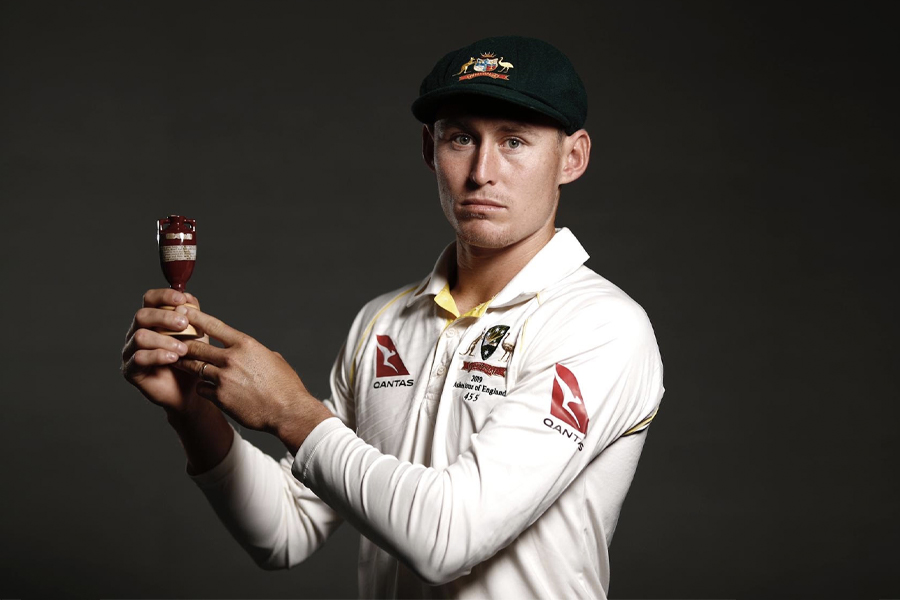 On the Future
With the big names returning and a solid core now established, the Aussie side is looking strong. In fact, Labuschagne says the past challenges have helped to strengthen the team connection. "Obviously after something significant happens there's always sort of a little pushback and everything's a little bit more intense, and then after there's that level of trust that's built up. And with new players coming in, and now we have that trust in the team and it's really nice," he says.
It's something that will be put to the test in the coming days. The upcoming series is set to reveal just how good this team really is, putting the pressure back on the Aussies. But if there is one thing we learned from the gutsy batsman's career, it's that a little pressure might be all the motivation you need. Perhaps at the end of this tour, we can finally put an end to the question 'Is Marnus Labuschagne the future of Australian cricket?'.
Four centuries and an average of 60, it's safe to say the future is already here.
You'll also like:
Coca-Cola Pays $3 Billion for Olympic Games Sponsorship
Watch Charles Oliveira Choke Out Dustin Poirier to Retain Title at UFC 269
INTERVIEW: Damian Lillard talks NBA, Music and What Keeps Him Honest