Style Guide: How to Dress Like Jonah Hill
From Julia Roberts' Vivian in Pretty Woman to Anne Hathaway's Andy in The Devil Wears Prada (or Hathaway's Mia in The Princess Diaries for that matter), Hollywood loves a makeover. It's no different off the screen, with the transformation of an underdog never failing to garner attention. Enter Jonah Hill: fashion icon.
Though arguably as good an actor as his contemporaries, he's long been relegated to the role of sidekick; playing second fiddle to the likes of George Clooney, Leonardo DiCaprio, and Channing Tatum. Whilst the leading men receive widespread acclaim for their sharp jawlines and flawlessly tailored red carpet style, it's Jonah Hill who has silently become a style icon, symbolising a cultural shift from the skin-tight skinny jeans era into a more relaxed, experimental way of dressing.
Jonah Hill's fashion statements are entirely his own; the Superbad star is one of the few celebrities who doesn't have a stylist. Jonah Hill's style draws heavily from street style culture, featuring graphic tees, athleisure pieces, and hyped-up brands. However, Hill has an uncanny knack of knowing when to pare it back, allowing his style to simultaneously toe the lines of aspirational and relatable.
Hill's infamous style has attracted a strong following, with fashion podcast Failing Upwards idolising Hill to the point of creating a dedicated 'Jonah Hill Day', as well as an Instagram @jonahfits which documents the actor's best looks.
Here are the elements you need to steal Jonah Hill's style.
---
You'll also like:
Style Guide: How to Dress Like John Mayer
Style Guide: How to Dress Like Michael B Jordan
A Complete Guide to Selvedge Denim
---
Nail the Iconic Jonah Hill Pink Hair
Jonah Hill's short-lived flamboyant pink dye job is one of his most recognisable grooming moves to date. Starting off almost fuchsia, Hill allowed his hair to fade to candy-floss pink, before wearing it platinum blonde. The vibrant hue emphasizes Hill's refusal to conform to traditional menswear rules, whilst allowing his facial hair to retain its natural brown prevents the look from being too jarring and difficult to style.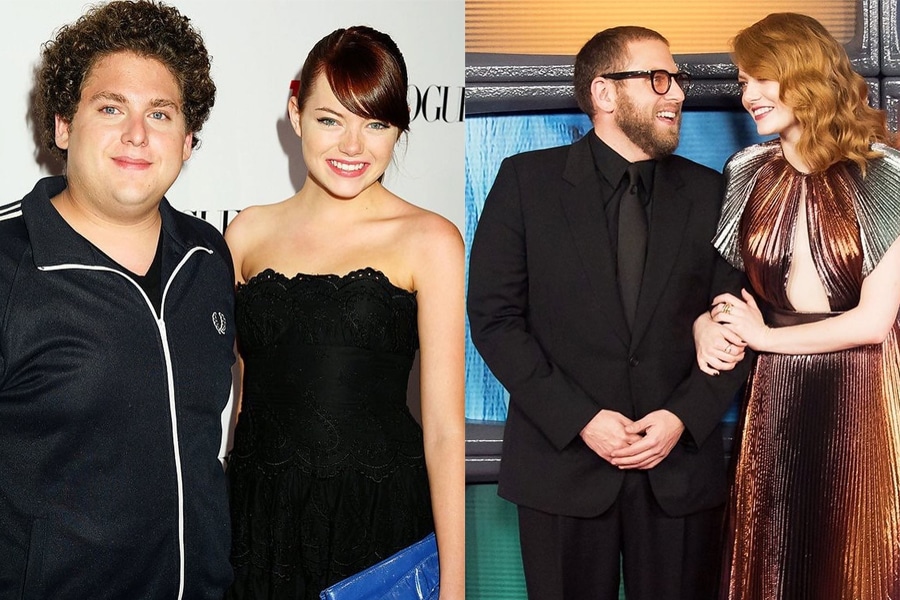 Jonah Hill Weight Loss
A key element in his journey from underdog to style god, Hill's weight loss along with a wardrobe change cemented his transformation into one to watch in the sartorial department. In an appearance on The Ellen DeGeneres Show, he told DeGeneres "I spent most of my young adult life listening to people say I was fat, gross, and unattractive," crediting his recent writing and directorial stint with helping him tap into that emotion, "It's only in the last four years writing and directing my movie, Mid90s, that I've started to understand how much that hurt and got into my head."
So how did Jonah Hill lose weight? Hill told ABC News that he lost the excess weight by improving his diet with the help of a nutritionist. Cutting down on beer was a major help, as was incorporating Japanese food like salmon and tuna sushi into his diet.
His weight has fluctuated over the years, with Hill having to gain weight in 2015 for his role in War Dogs, alongside Channing Tatum. He credits his co-star for helping him lose the weight afterwards, saying "I wanted to get in better shape, so I called Channing Tatum, and said, 'Hey, if I eat less and go to a trainer, will I get in better shape?'
"And he said, 'Yes, you dumb motherfucker, of course you will, it's the simplest thing in the entire world."
Jonah Hill Tattoos
Jonah Hill sports a continually growing collection of colourful arm tattoos, including a dagger, skeleton cowboy with a red bandana, and a dragon. In March 2018, Hill acquired a particularly personal tattoo, getting 'HELLO BEANIE' inked on his arm to celebrate his sister Beanie Feldstein's success in the critically acclaimed film Lady Bird.
Incorporate High-End Pieces
Find a high-low symbiosis by pairing luxury pieces with high-street ones. Jonah Hill teamed a navy Prada corduroy jacket with a green and white striped button-down shirt, straight legged cigarette cut burgundy chinos, black Chelsea boots, and finished the look off with a pair of aviators.
Invest in Statement Outerwear
A vibrant coat or jacket has the ability to elevate an otherwise simple outfit. Hill's outsized mauve coat lends a sense of edge to his black trousers and checked shirt, as do his contrasting orange suede sneakers.
…And More Statement Outerwear
Not for the sartorially faint-hearted, Jonah Hill adds interest to his otherwise plain navy trousers and shirt look with a puffer jacket that can only be described as experimental. The jacket features a checkerboard style pattern in shades of maroon, pale blue, black, and white. Finish the look off with this season's breakout celebrity accessory – AirPods.
Graphic Tees
Tie-dye often has connotations to the hippie counterculture of the 1960s, however, it has made a resurgence in streetwear and skater culture of late. Jonah Hill teamed a graphic tie-dye t-shirt with black and white adidas shorts and black adidas sneakers. The comparatively plain accoutrements ensure the 21 Jump Street star's look isn't too garish. Bonus points for the reusable aluminium drink bottle and pink hair.
Sometimes Classic is Best
In a world of lurid streetwear, the humble suit may seem a tad dull. However true style aficionados recognize the timeless appeal of classic suiting, with Hill opting for a slim fitting tailored charcoal suit and tie to accept WSJ. Magazine's Innovator in Film award.
---
You'll also like:
Style Guide: How to Dress Like John Mayer
Style Guide: How to Dress Like Michael B Jordan
A Complete Guide to Selvedge Denim
---
Have you subscribed to Man of Many? You can also follow us on Facebook, Twitter, and Instagram.