Style Guide: How to Dress Like John Mayer
2018 marked the emergence of the unlikely style icon, with John Mayer taking the lead with his unique clothing style. Whilst not timeless, John Mayer's fashion is a sartorial representation of the zeitgeist of our time, with the singer/songwriter serving look after look of multi-layered maximalist, ironically worn trends.
The man who once infamously compared his genitalia to a white supremacist and referred to Jessica Simpson as "sexual napalm" seems to have undergone an image rebrand over the past few years, repositioning himself as a reformed womaniser and generally more thoughtful human being. Perhaps John Mayer's clothing style reflects his reinvented image, or maybe it's purely aesthetic. Regardless, he manages to don an amalgam of several hard-to-pull-off trends at once and somehow makes it work; which is the genesis of his stylistic appeal.
John Mayer's fashion style can be described as experimental in nature, with his repertoire including tie-dye, dad sneakers, jorts, and bum bags. However, the pièce de résistance in John Mayer's wardrobe is inarguably his collection of robes; a garment which he described to GQ as "a security blanket of sorts".
Here's how to emulate John Mayer's style.
---
You'll also like:
Style Guide: How to Dress Like Michael B Jordan
A Complete Guide to Selvedge Denim
INTERVIEW: Dalton Graham on His Transition from AFL to Fashion, Instagram and Beyond
---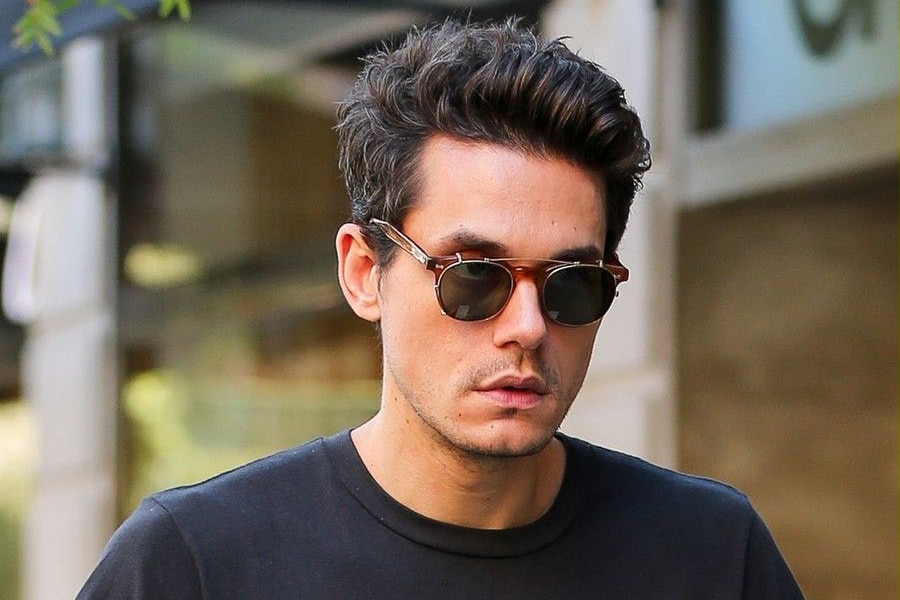 Get the Signature John Mayer Curly Hair
John Mayer's hair is naturally curly, which simplifies styling for him. Over the years he's worn his locks both long and short, however both types of styles have generally been low maintenance. The hairstyle he's most frequently been seen sporting of late is achieved by leaving the front and top of his hair long, and cutting the back and sides shorter.
His top hair is razor cut, which leaves the ends of the hair angled and provides more texture and bounce; however, razor cutting hair requires technique and precision, so ensure you find a hairstylist you trust. Mayer also uses a small amount of product to get that gravity-defying hair whilst maintaining the naturally messy look; either a matte clay or mouse will do the trick.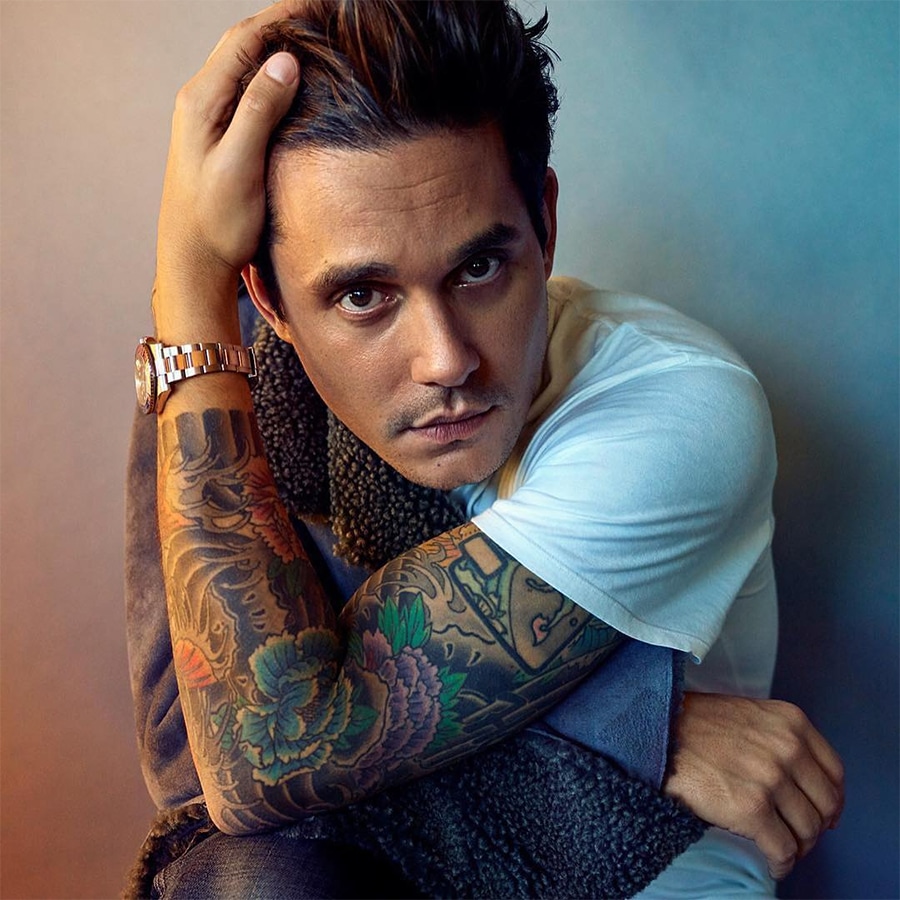 John Mayer Tattoos
Tattoos are a key component in Mayer's overall style, with the singer/songwriter having been inked several times. John Mayer's tattoos range from a crudely drawn koi fish he got inked in Japan at age 18, to the number '77' on his chest, representing the year of his birth; 1977.
Mayer has 'home' inked on the back of his left bicep and 'life' on the back of his right, as well as a tribute to Stevie Ray Vaughan – the man who inspired him to learn the guitar – in the form of the initials SRV on his upper left arm.
However, his most prominent tattoo is his left sleeve which is covered in a Japanese design inked by artist Horimitsu. As a traditional Japanese tattoo, this style was tapped onto the skin, with Mayer having to visit Horimitsu's shop several times to prove he was worthy of getting inked.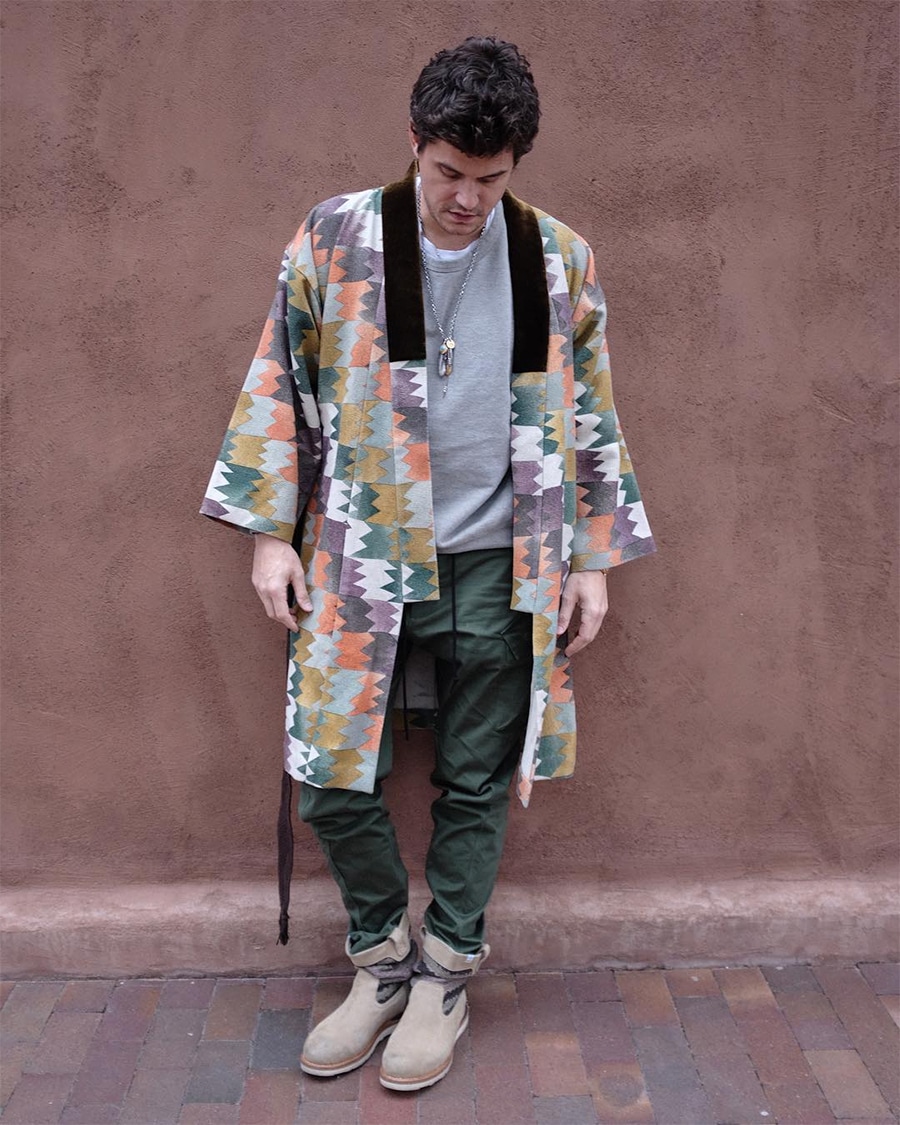 Find a Formula You Love and Stick to it
John Mayer has been vocal about his love of robes, wearing this printed one by Japanese streetstyle label Visvim. A strong supporter of Visvim, Mayer has developed a friendship with its founder, Hiroki Nakamura, also sporting the label's Wabanaki boots. Letting the graphic print do the talking, the singer-songwriter has teamed his robe with a relatively neutral colour palette of camo green, beige, white, and grey, with a chunky necklace to maintain that #hipster appeal.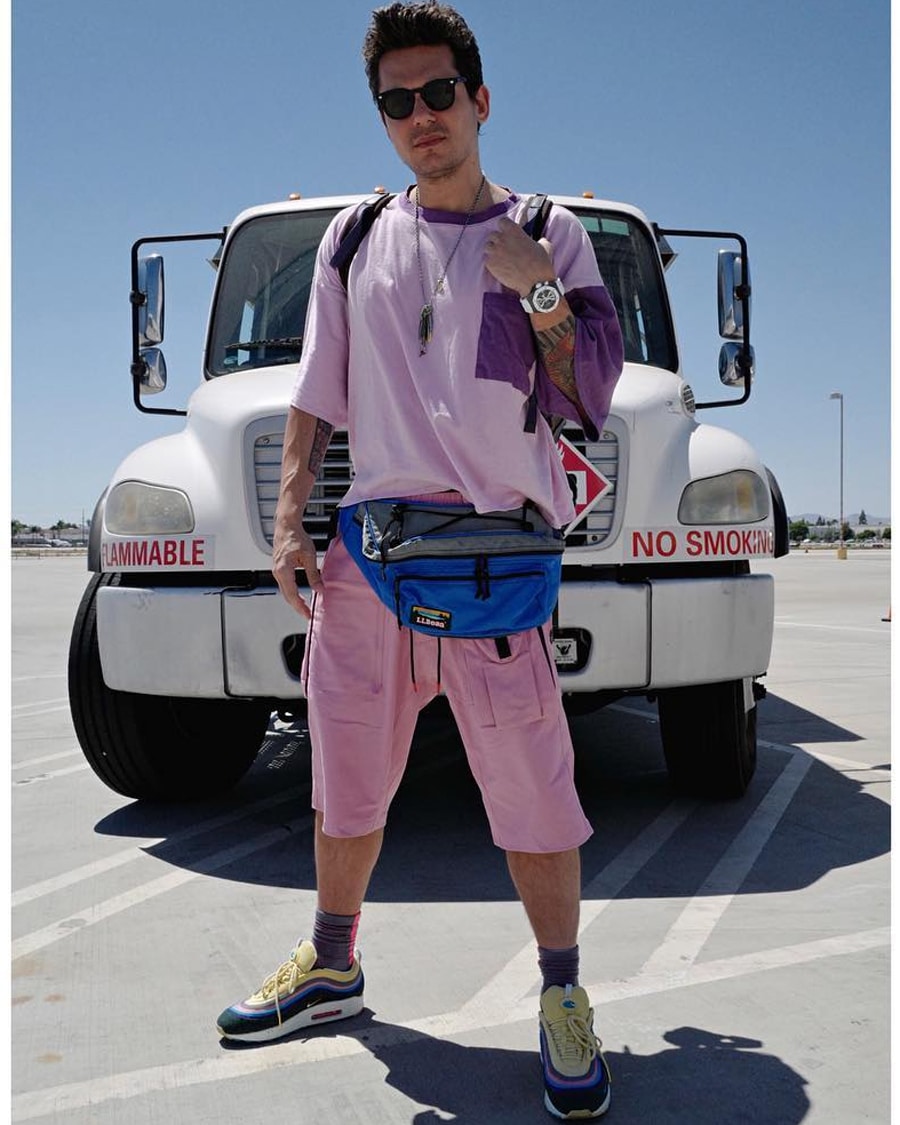 Wear Multiple Trends at Once
John Mayer is one of few celebrities who can throw on several hyped-up pieces at once and turn it into a look, concurrently being on trend whilst looking like he has no idea what he's doing.
His fit of an oversized two-toned purple t-shirt atop millennial pink shorts, paired with colourful sneakers, accessorised with black sunnies and a silver timepiece (a self-confessed horologist, Mayer told the NY Times his collection was valued "in the tens of millions"), and finished off with a large blue bum bag is peak Mayer; toeing the line of mocking our trend-obsessed culture whilst having fun doing it.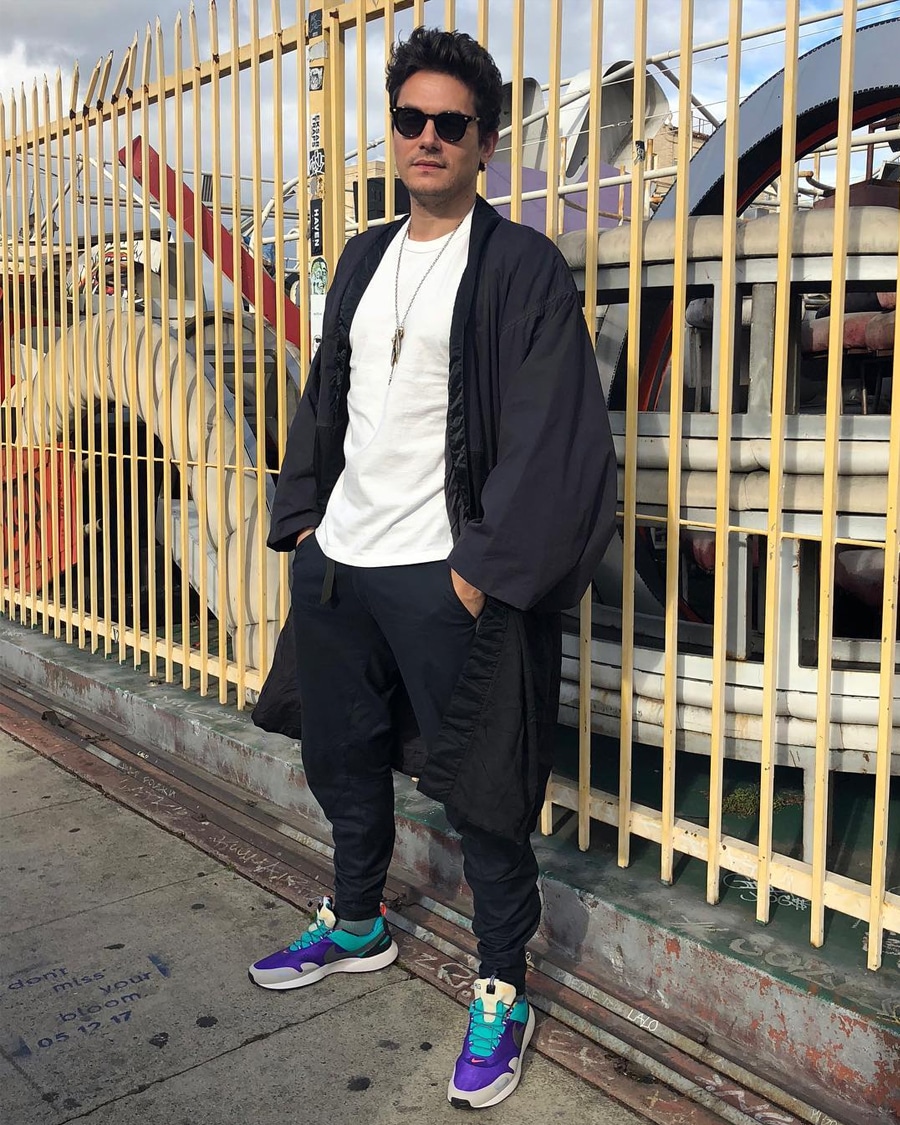 Pick a Statement Piece
Whilst many of John Mayer's fashionable looks subscribe to the 'too much is never enough' philosophy, the singer/songwriter also knows when to scale it back and focus on one standout piece. Case in point; this comparatively pared-back outfit of black trousers, a white t-shirt, black sunnies, one of Mayer's signature robes in black, and a pair of three-toned grey, purple, and turquoise Nikes.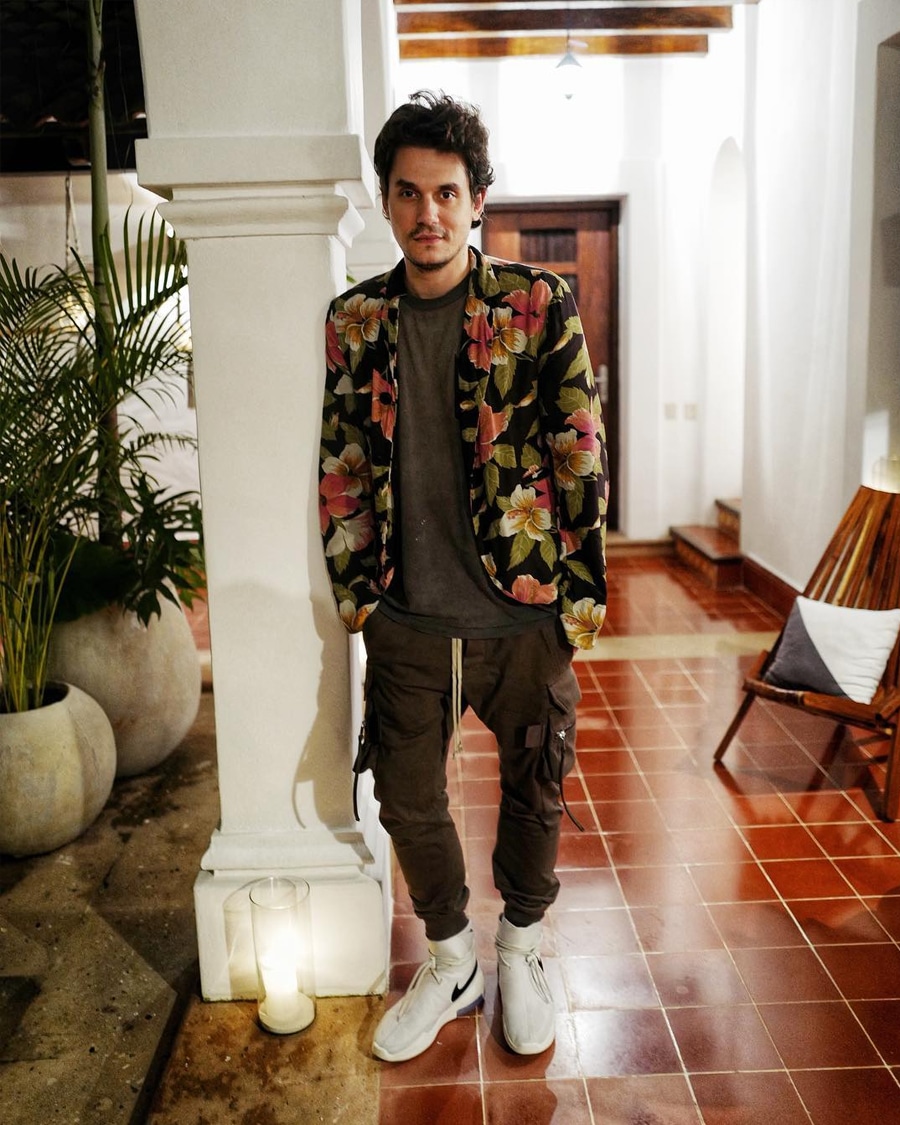 Florals are the New Black
Men's fashion is getting increasingly more open-minded and experimental, with many male celebrities hopping on the floral bandwagon (cc. Harry Styles, Lewis Hamilton, Pharrell Williams, Zayn Malik, and Tyson Beckford). John Mayer styled a lightweight black floral jacket with a grey t-shirt, grey trousers with oversized pockets, and white Nikes for a look that's somewhere between athleisure and modern smart casual.
---
You'll also like:
Style Guide: How to Dress Like Michael B Jordan
A Complete Guide to Selvedge Denim
INTERVIEW: Dalton Graham on His Transition from AFL to Fashion, Instagram and Beyond
---