Style Guide: How to Dress Like Michael B. Jordan
An initial alone isn't enough to differentiate oneself from one of the world's greatest basketballers, but Michael B. Jordan has carved out a name for himself over the past few years; his roles in Creed, Creed II, and Black Panther have cemented Jordan as one to watch, with the latter becoming US's highest- grossing film in 2018. And when he's not on the silver screen, he's become a sartorial icon for his personal brand of steeze, leaving many wondering how to get some of that signature Michael B. Jordan style for themselves.
Jordan rarely makes a sartorial error, largely due to his ability to identify trends which work for him, and steer clear of ones which don't. Michael B. Jordan's clothing primarily consists of tailored suits in both black-tie appropriate and inventive shades and patterns, and classic pieces like oxford shirts, slim fit trousers, monochrome knitwear, and polo shirts. Whilst he dons statement pieces like streetwear inspired sweaters or varsity-style jackets, Jordan tends to pair them with timeless articles like dark wash jeans, loafers, or brogues.
Here are the components you need to steal Michael B. Jordan's style.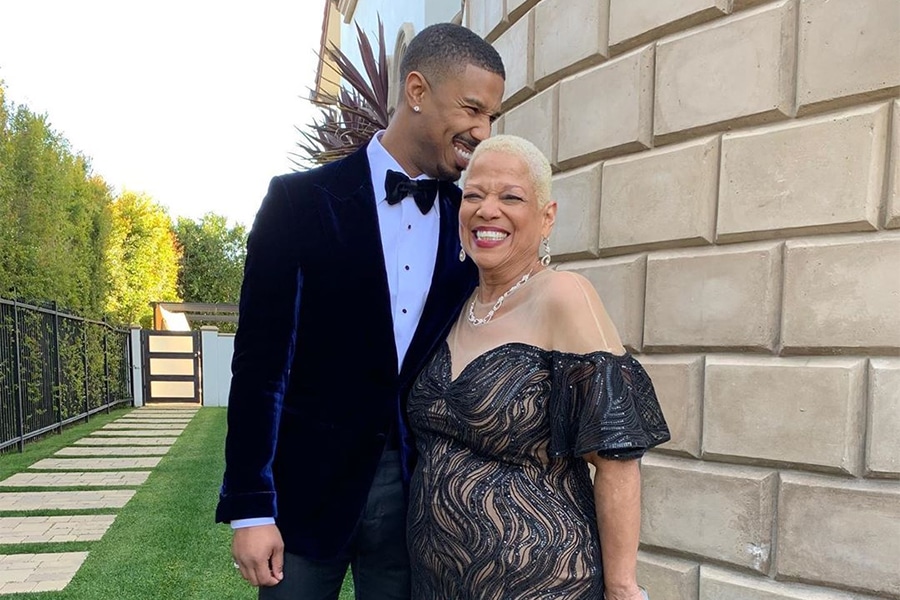 Nail the Michael B. Jordan hairstyle
Before we even get to Michael B. Jordan's clothing, it's necessary to master the basics; hair. His Black Panther alias Erik Killmonger sports shaved sides with short styled locs on top, a difficult look for just any man to pull off. Fortunately, the Michael B. Jordan hairstyle is a versatile, easy to emulate one. Jordan opts for a mid-fade haircut; fades offer options for a variety of length, with Jordan tending to keep his locks close cropped with a #1 or #2 length. The mid fade hairstyle is low maintenance, however requires a certain degree of panache from your barber to achieve the perfect gradual faded gradient, as well as to select an edge-up shape which works for your face.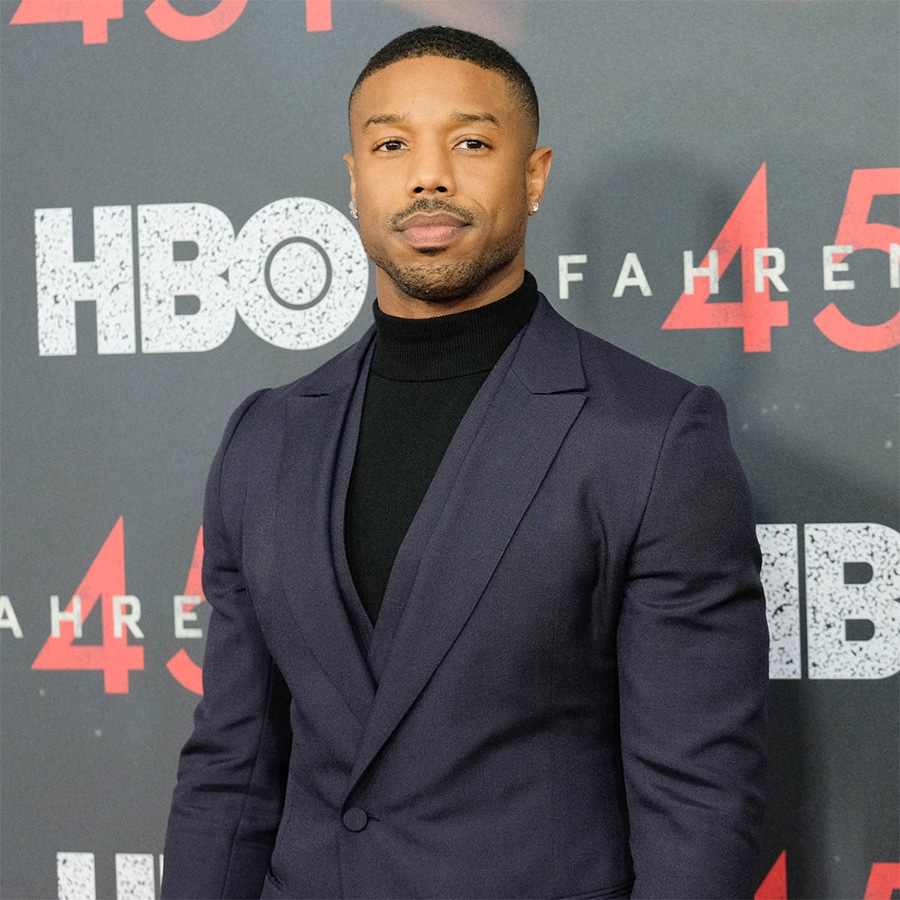 Mock Neck Shirt > Dress Shirt
Once relegated to the go-to wardrobes of tech entrepreneurs, Jordan regularly utilises the mock neck shirt to put his own spin on classic suiting. Opting for a mock neck shirt in lieu of a dress shirt lends a fresh approach to the sartorial stalwart.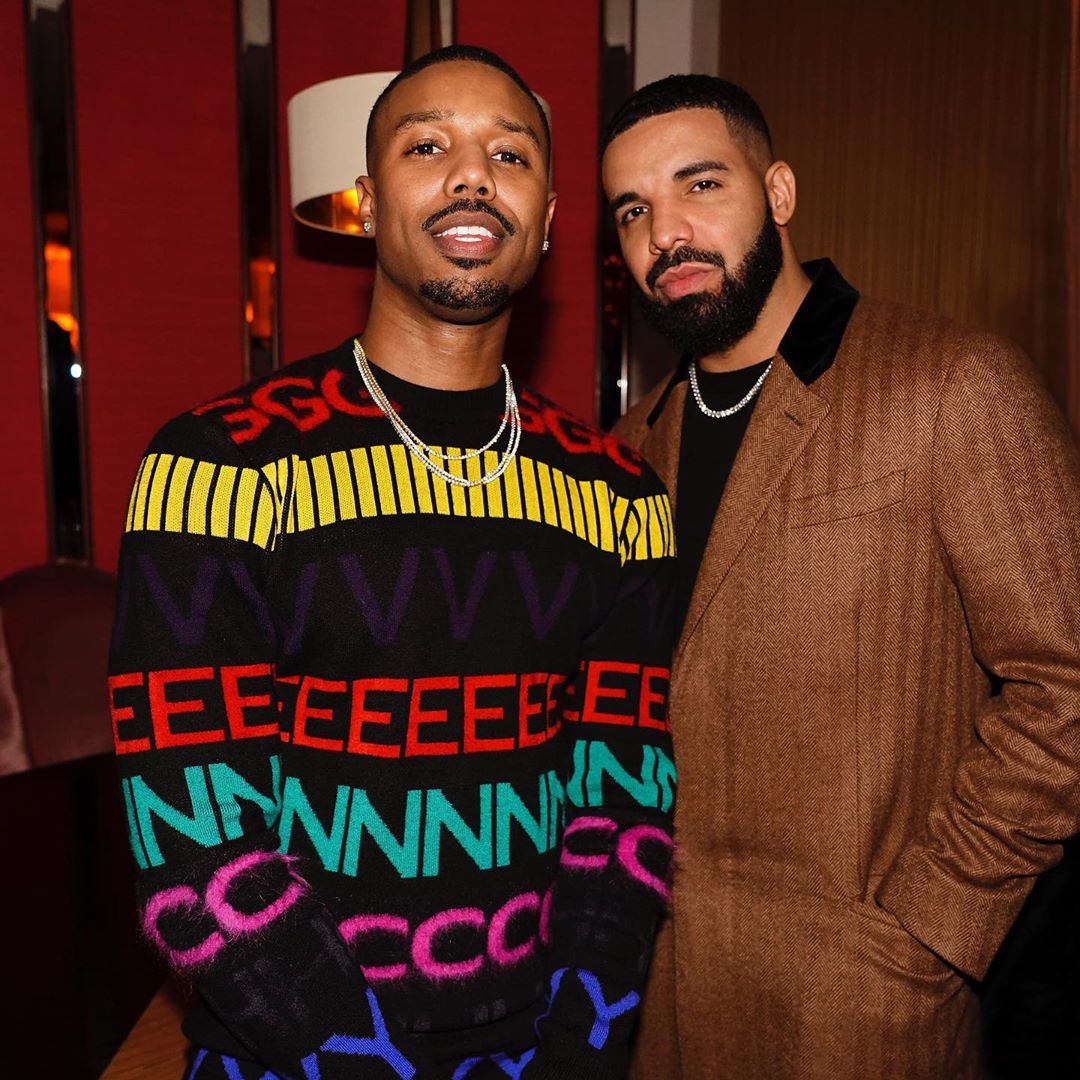 Graphic Sweater
Michael B. Jordan's clothing shows he isn't afraid to take stylistic risks, with Jordan sporting a retro take on the humble sweater to celebrate his 32nd birthday. Not a look everyone can pull off, the graphic Givenchy fit provided the Creed star with elevated youthful appeal.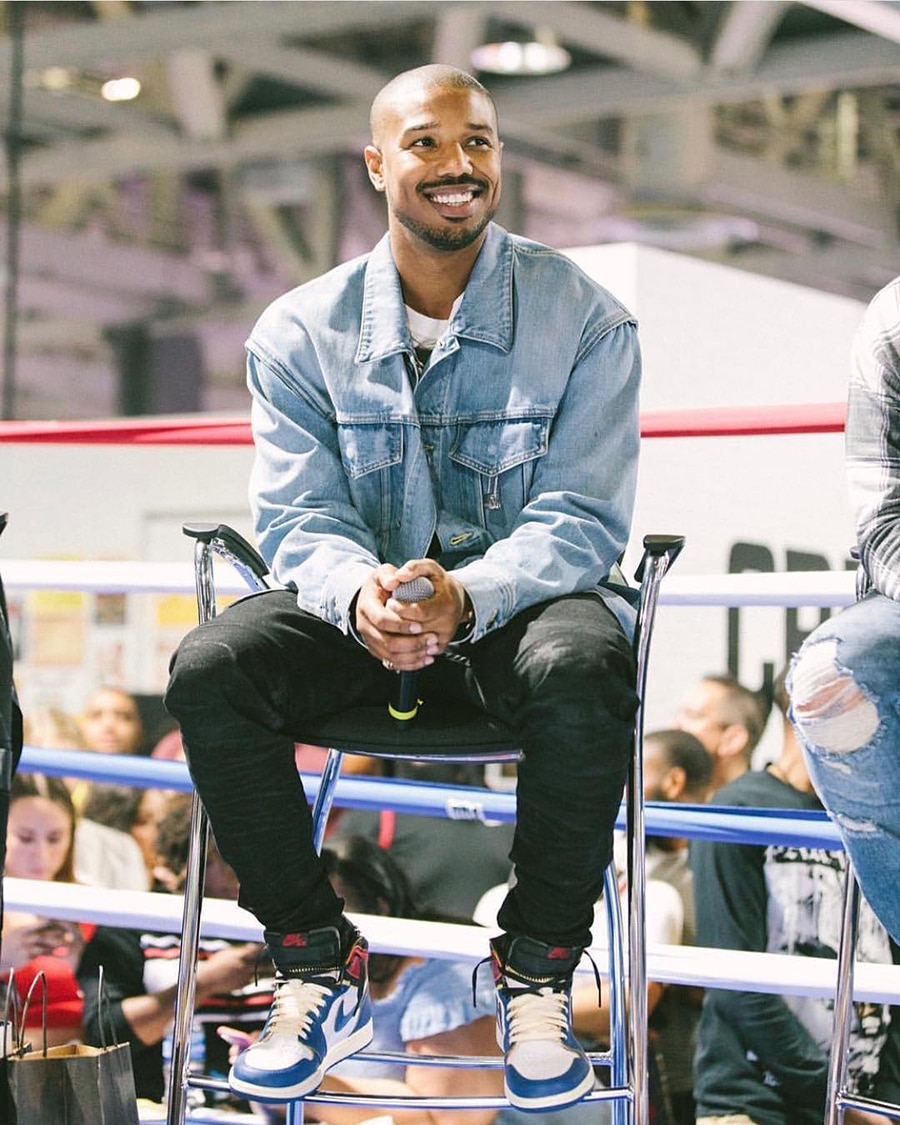 Denim Trucker Jacket
Whilst trends like dyed denim and logomania have flitted in and out of the menswear scene, the trucker jacket has remained a mainstay since its inception in the 60s. Michael B. Jordan's fashion reflects this, with Jordan abiding by the classic rule of double denim; lighter on the top and darker on the bottom, by pairing his mid-wash denim trucker jacket with black denim, whilst putting his own spin on the look with the addition of two-toned sneakers.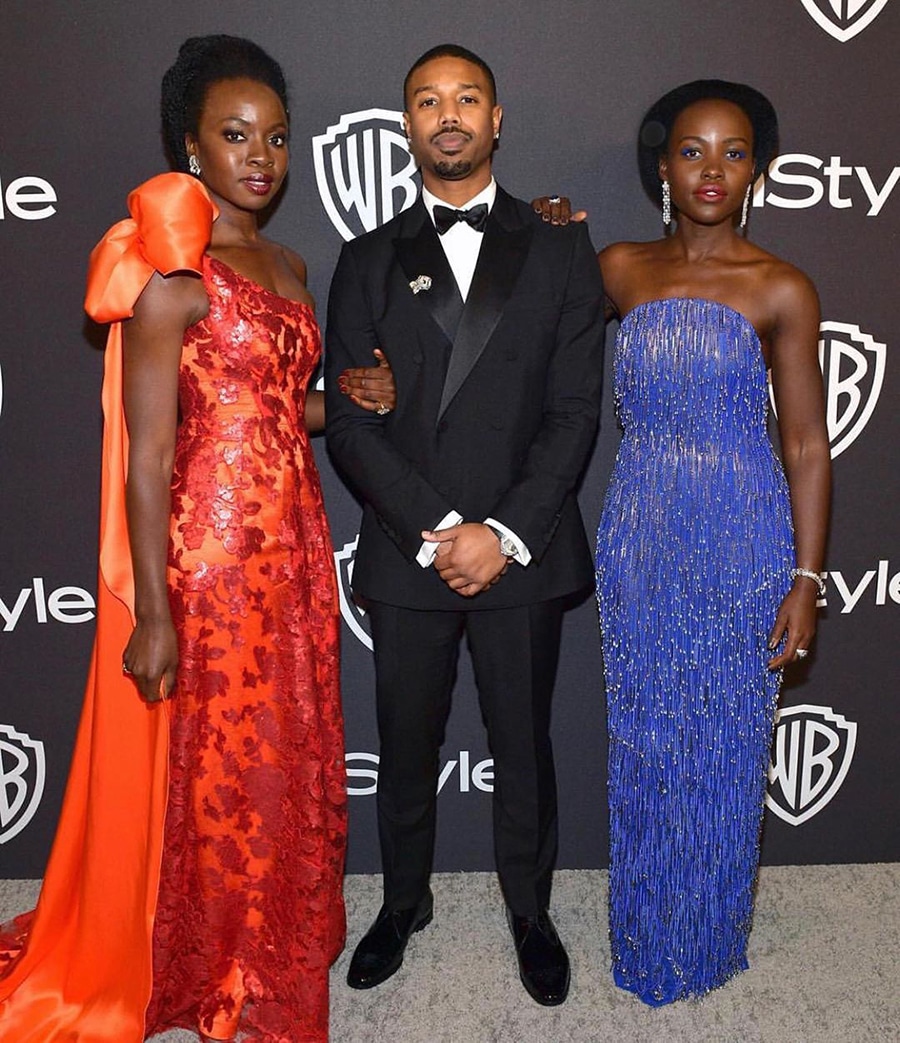 Michael B. Jordan's Suit and Impeccable Tailoring
A key weapon in Michael B. Jordan's style arsenal, each of the actor's red-carpet pieces employ similar slim-fit tailoring. Jordan often experiments with suits in unconventional shades like jade green, marsala, and plaid. However, when he selects a simple black tux, it's the attention to detail which counts; with pieces like a classic watch and patent leather brogues coming into play.
---
Featured Video from Man of Many
---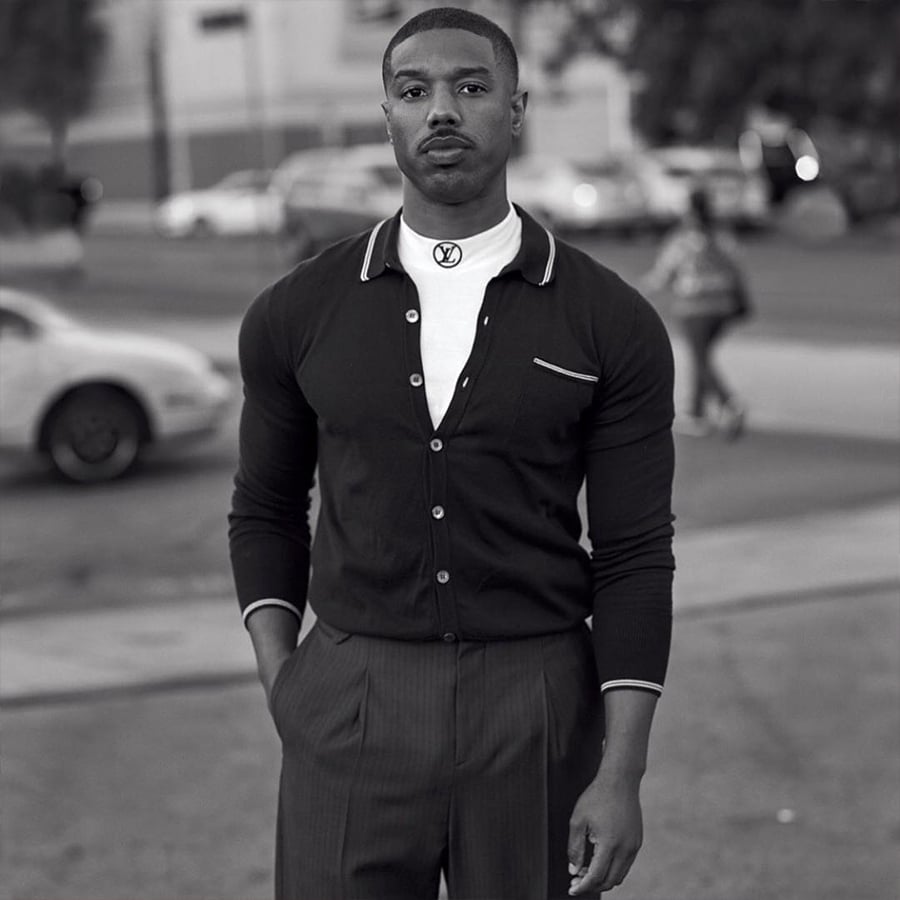 Selective Trend-hopping
Jordan's style has a certain timeless appeal as he tends to avoid indiscriminately jumping on trends. He knows what works for him and experiments within that framework. Case in point; this crisp white mock neck Louis Vuitton shirt, fitted cardigan, and faded pinstripe trousers number, evoking 1950s vibes.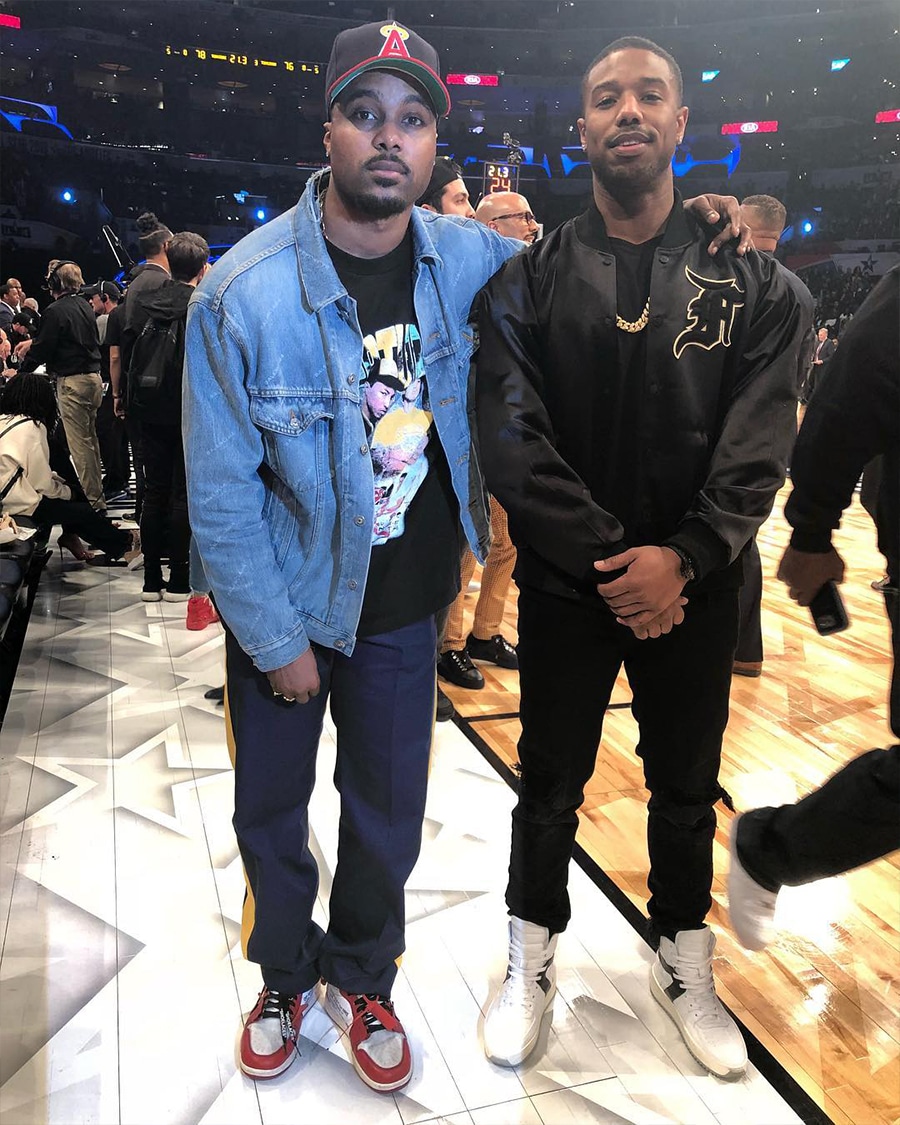 Michael B. Jordan's Streetwear
Suiting is Jordan's forte; however, his streetwear game is pretty decent too. Jordan keeps it simple here, rounding off an all-black look with fresh white hi-tops. The leather varsity jacket provides a touch of interest to the casual jeans and tee combo.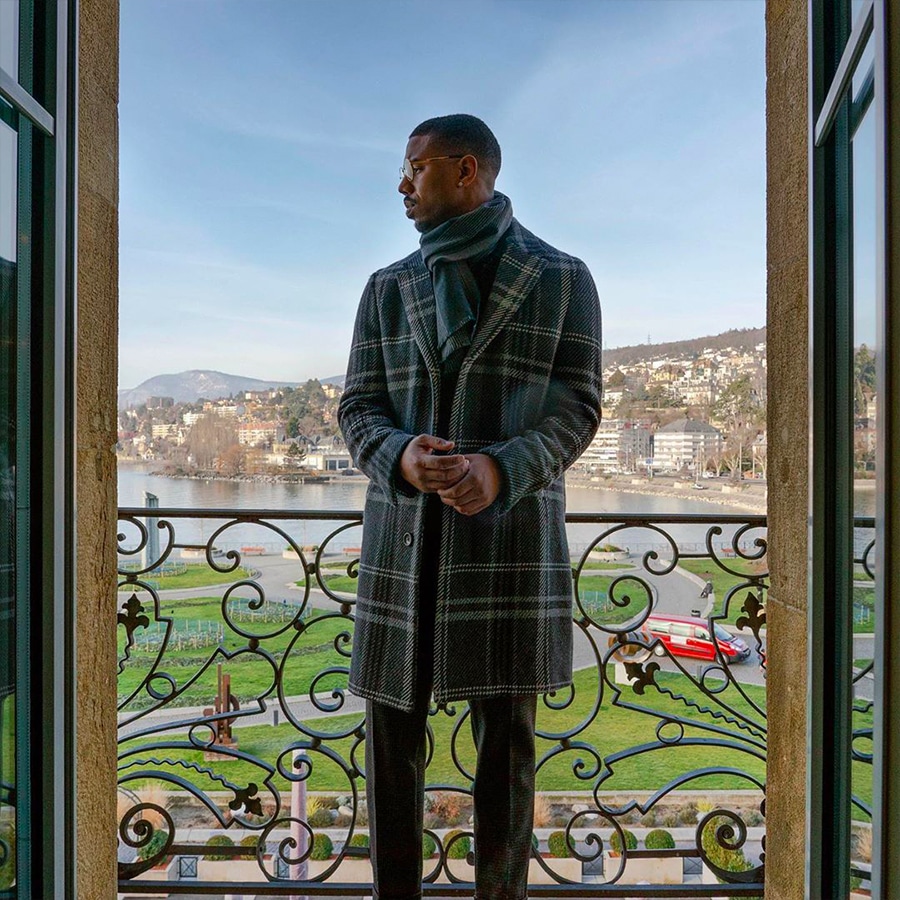 Statement Outerwear
Jordan cuts a clean figure in a perfectly tailored plaid coat and scarf, proving that dressing for colder weather doesn't necessarily mean resigning yourself to looking like a walking snowman. The slim cut military fit of Jordan's coat coupled with the angular lapel makes for a flattering silhouette.
You'll also like:
Nike Confirms 50 Off-White Dunk Lows for Upcoming Collection
12 Best Men's Resort Wear Brands
General FAQ
What is Michael B. Jordan's net worth?
Micheal B Jordans net worth is projected to be $25 million as of 2020.
Is Michael B. Jordan single?
Michael Jordan is dating 24 year old model Lori Harvey. The two went Instagram official in January.
---
Featured Video from Man of Many