Style Guide: How to Dress Like Kit Harington
Jon Snow may know nothing, but Kit Harington knows a few things about style. The English actor found widespread mainstream recognition in 2011 through his portrayal of Jon Snow on HBO's ever-popular (and always controversial) show Game of Thrones. Harington has been open about his struggles with fame, telling Variety magazine that "t wasn't a very good time in my life. I felt I had to feel that I was the most fortunate person in the world, when actually, I felt very vulnerable." Following the end of the series' eight-year run, Harington checked himself into a wellness retreat to work on 'personal issues'.
Harington seems to be a divisive force in regards to the style stakes – he was named British GQ's Worst Dressed Man in 2017, however, made GLAMOUR magazine's Best Dressed Men list the same year and American GQ have dedicated many an article to his style. The Kit Harington style is fairly rakish and deconstructed, largely consisting of skinny jeans, neutral t-shirts, unstructured outerwear, and Harington's typical Chelsea boots in a shade of black or brown.
Here's how to cop Kit Harington's style.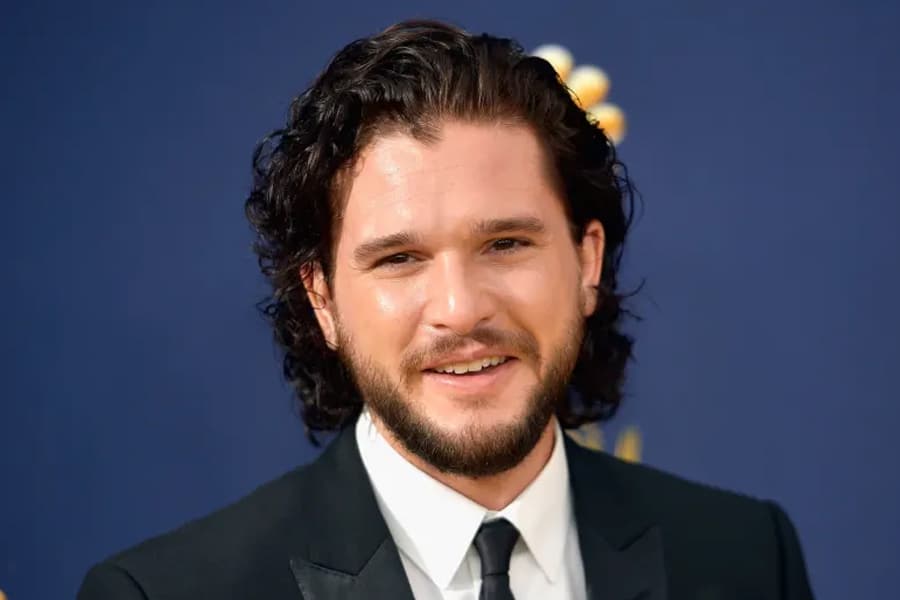 Get the Kit Harington Hair
Kit Harington is blessed with pretty great hair. The British actor's hair is naturally thick, luscious, and curly, however achieving his look does require some grooming prowess. His Game of Thrones costar Sophie Turner told InStyle that Harington was "obsessed" with his hair, and "probably takes the most care of his hair out of like everyone on the show I know." Harington's soft, natural looking curls can be achieved by applying a small amount of pomade to slightly damp hair and scrunching the ends of your curls using your fingers.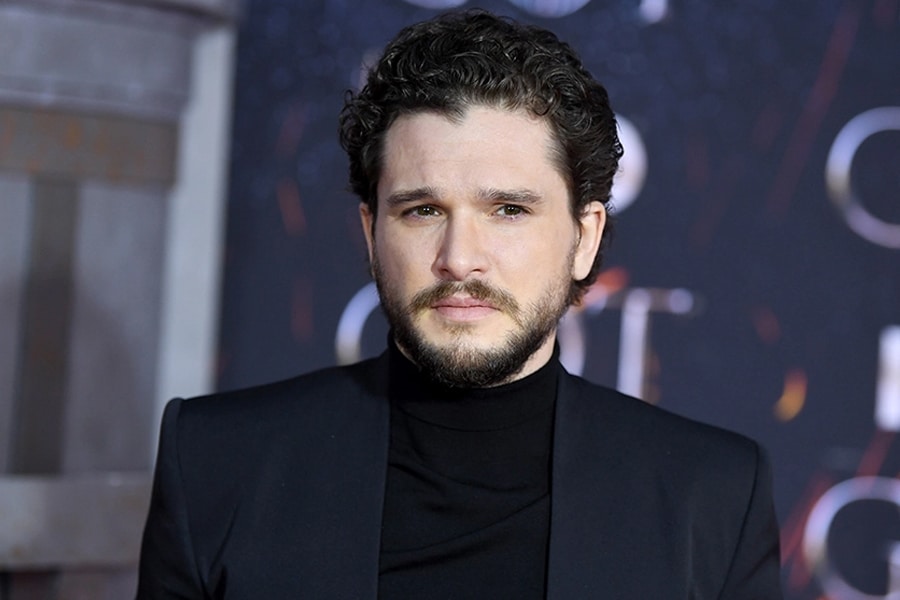 Try the Kit Harington Short Hair
Following the end of Game of Thrones season 8 filming, Kit Harington debuted a sharp new haircut. Harington shed Jon Snow's classic curls in favour of a shorter wavy haircut which works to accentuate his sharp jawline. To achieve the Kit Harington short hair, opt for a haircut which is longer on top, and shorter and layered on the sides. For 50+ Curly Haircuts & Hairstyle Tips for Men, spray saltwater hair spray on damp hair, let it dry naturally and style using a hair paste for textured yet touchable curls.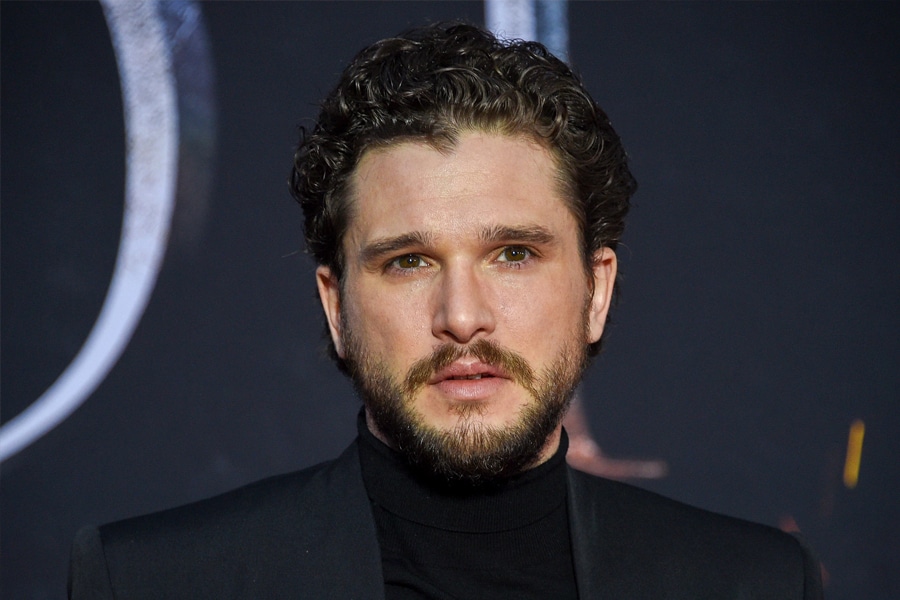 Grow the Kit Harington Beard
Jon Snow is well known for his trademark facial hair, with Harington consistently sporting a scruffy look. The Kit Harington beard can be emulated by growing your beard out for two to three weeks and opting for a boxed beard shape trim.
Proving facial hair can make or break your look; Kit Harington's recent decision to shave his beard earlier this year prompted a minor meltdown from fans, with Harington copping a lot of flack on twitter for his fresh-faced appearance on SNL. Indeed, the Kit Harington no beard look does give the actor a mildly pubescent appearance, so perhaps this grooming move is best avoided.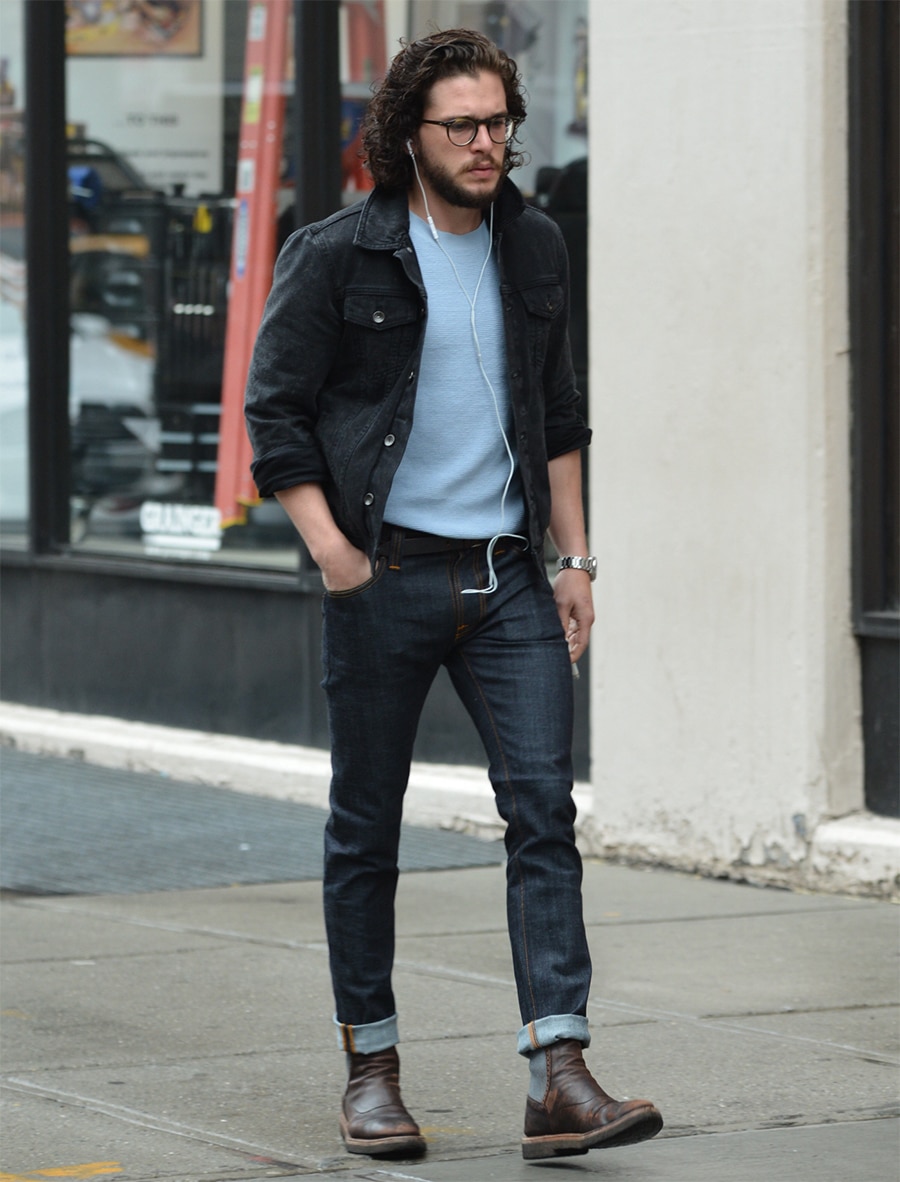 Stick to a Signature Style
Kit Harington's casual fits are formulaic in nature, generally adhering to a seemingly self-imposed uniform of raw or selvedge denim skinny jeans, form-fitting t-shirt, slightly battered shirt jacket or bomber jacket, and Chelsea boots. Classic Kit Harington combos include indigo denim jeans + baby blue t-shirt or sweater + faded charcoal denim shirt jacket + dark brown leather Chelsea boots; dark acid wash skinny jeans + grey t-shirt + beige shirt jacket + black leather Chelsea boots; and Jon Snow-approved all black.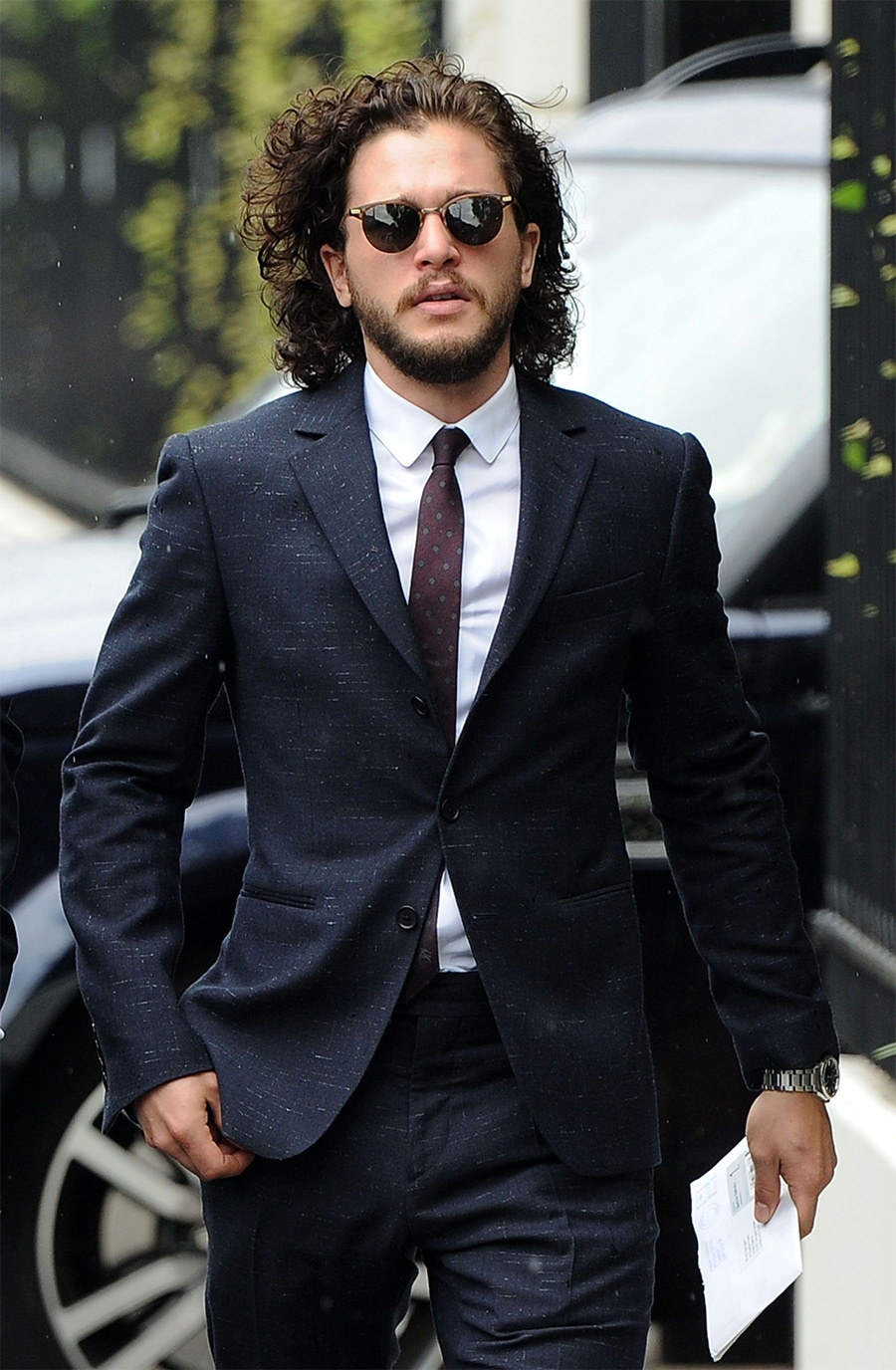 Seasonal Suiting
Suits are always a savvy sartorial choice, and summer is no exception. While attending Wimbledon during the (albeit cooler) British summer, Harington switched out his usual casual fare for a navy linen suit with white flecked accents. Harington teamed the linen suit with a classic white button-up shirt, a patterned burgundy tie, and tortoiseshell aviators for a pared-back semi-formal day look.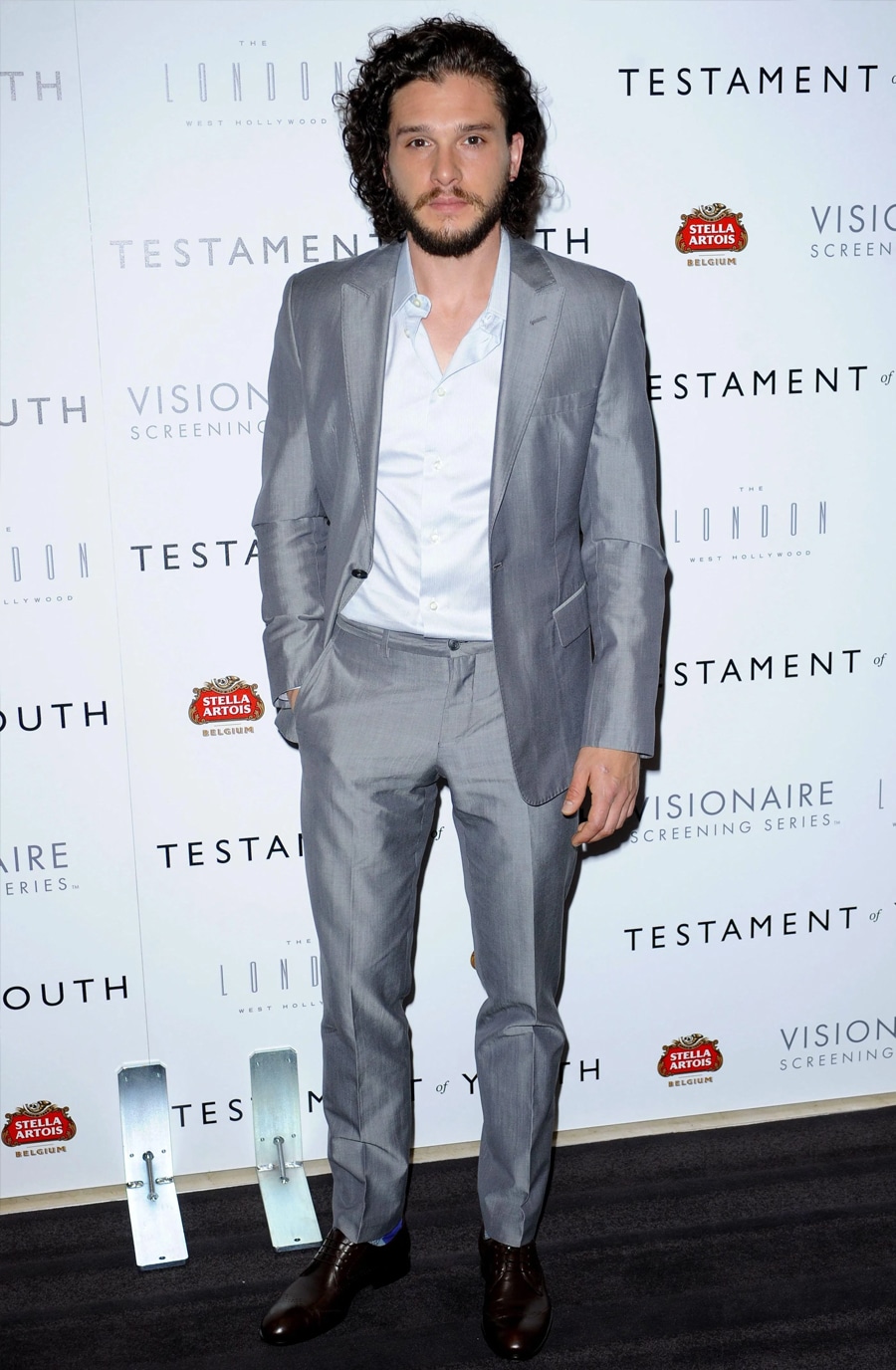 Ditch the Tie
Most of Kit Harington's outfits are casual yet safe, with the Game of Thrones alumni sticking to a neutral colour palette. Whilst attending an event for his 2015 spy film Spooks: The Greater Good, Harington opted for a three piece suit worn with leather brogues and an unbuttoned white shirt, lending a relaxed vibe to the traditionally formal suiting style.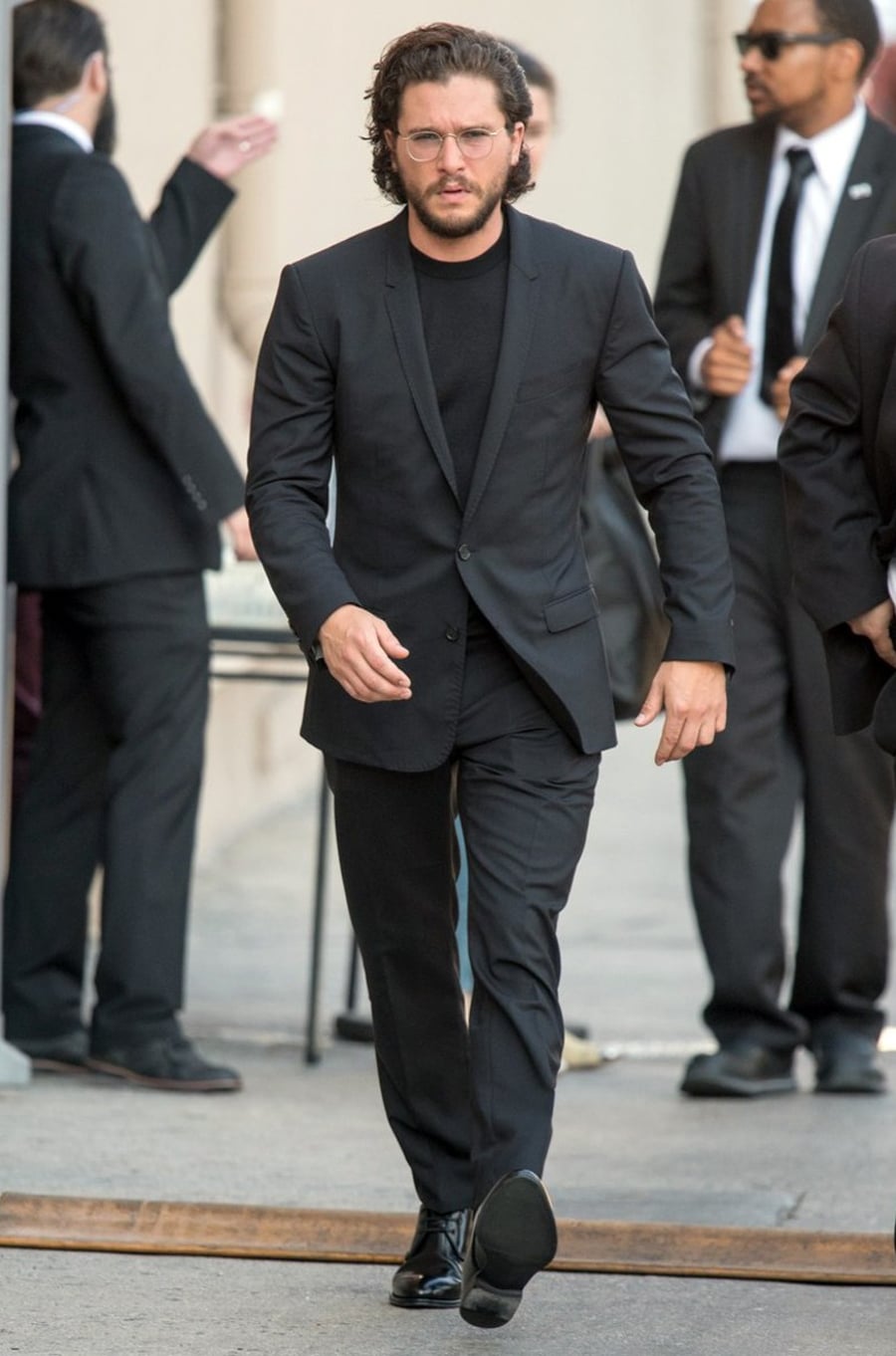 All Black Everything
Kit Harington cuts a slick silhouette in a definitively Jon Snow-approved colour palette: all black. Harington paired a black suit with a black t-shirt, adding interest to his outfit through accessorising with patent leather oxford lace-ups and metal-rimmed specs.
Classy Casual
Polo shirts provide an easy way to elevate a casual summer outfit. Harington swapped out his usual t-shirt for a slim-fitting dark charcoal Ralph Lauren polo shirt, paired with his usual skinny jeans in grey, suede Chelsea boots, and a tan leather holdall bag.
You'll also like:
Style Guide: How to Dress Like John Mayer
Style Guide: How to Dress Like Michael B Jordan
Style Guide: How to Dress like Jason Statham
General FAQ
What type of hair does Kit Harington have?
Kit Harington has naturally thick and curly hair. For the most part of the Game of Thrones filming he wore his long curls, but shortly after he chanegd to a short wavy cut.
What is Kit Harington's net worth?
English actor, Kit Harington, has a net worth of $14 million. He is best know for his role as Jon Snow on Game of Thrones.