Frank Ocean Launches Luxury Brand 'Homer' with $2.5 Million Diamond Necklace
It might not be the new album they have been waiting for, but Frank Ocean fans finally have something to celebrate. On Friday, the Grammy award-winning musician has launched a new luxury company called Homer, revealing the first collection will focus on jewellery and silk scarves. While Ocean's new foray lands in the midst of a global retail revolution, he isn't shying away from old haunts. The flagship physical store opening kicks off in New York on Monday.
You'll also like:
31 Best Luxury Watch Brands
Drake Flexes Grand Slam $1 Million Richard Mille Watch
Barack Obama's Rolex Flex is a Lesson in Subtle Style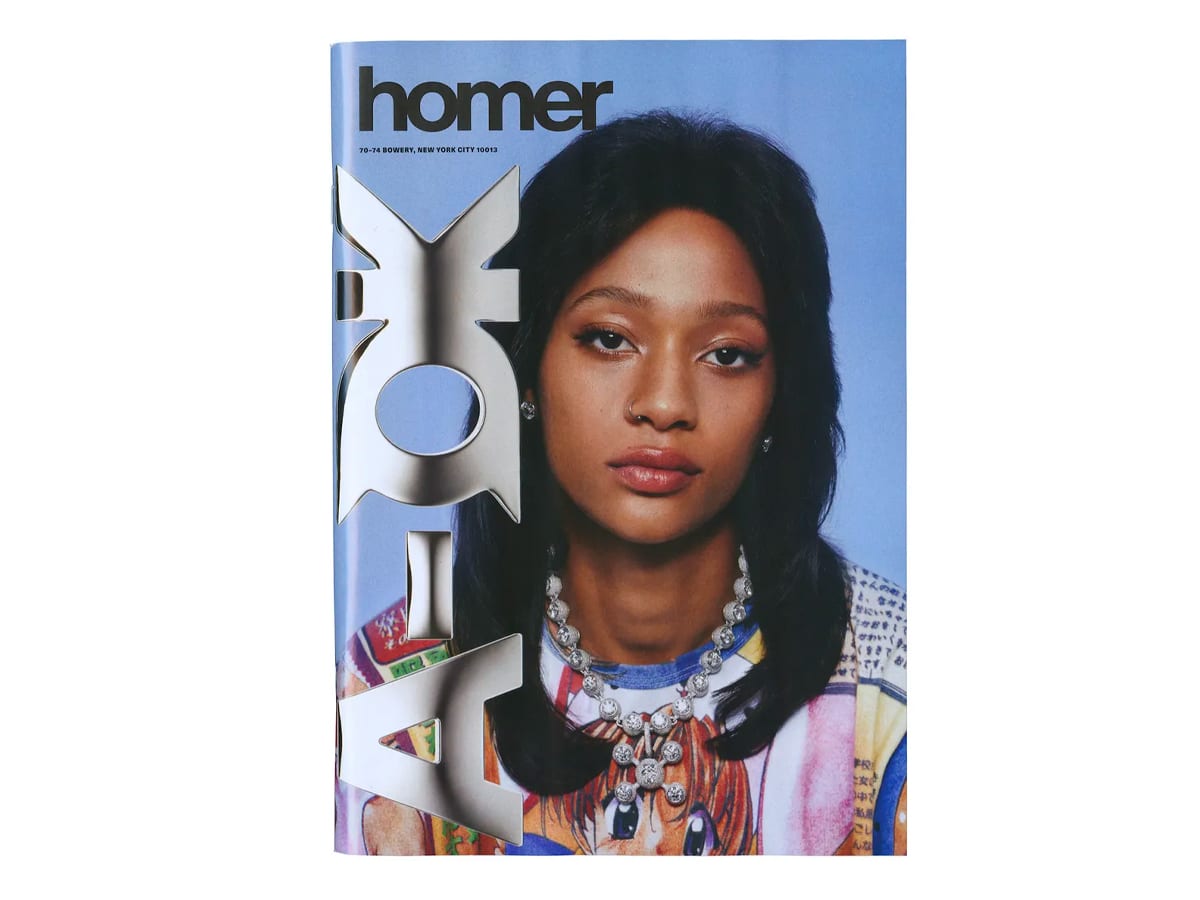 According to the musician, Homer's name "represents carving history into stone", and it's a theme that flows throughout the first collection. "Homer is considered the father of history and history is meant to endure – the same as diamonds and gold – and I know Homer used papyrus, but I've always liked the idea of carving history into stone," Ocean told the Financial Times. As a result, the products are all handmade in Italy and use 18-karat gold, recycled sterling silver, hand-painted enamel and lab-grown diamonds.
The designs, which are said to be inspired by "childhood obsessions" and "heritage as a fantasy," offer a new take on luxury accessories. Some pieces opt for colourful reimaginings of child-like toys, while others play off traditional luxury aesthetics with bands of gold and silver. On the scarf side of things, the silk pieces make use of a full spectrum of colour, mixing contrasting hues over a signature, graphic pattern.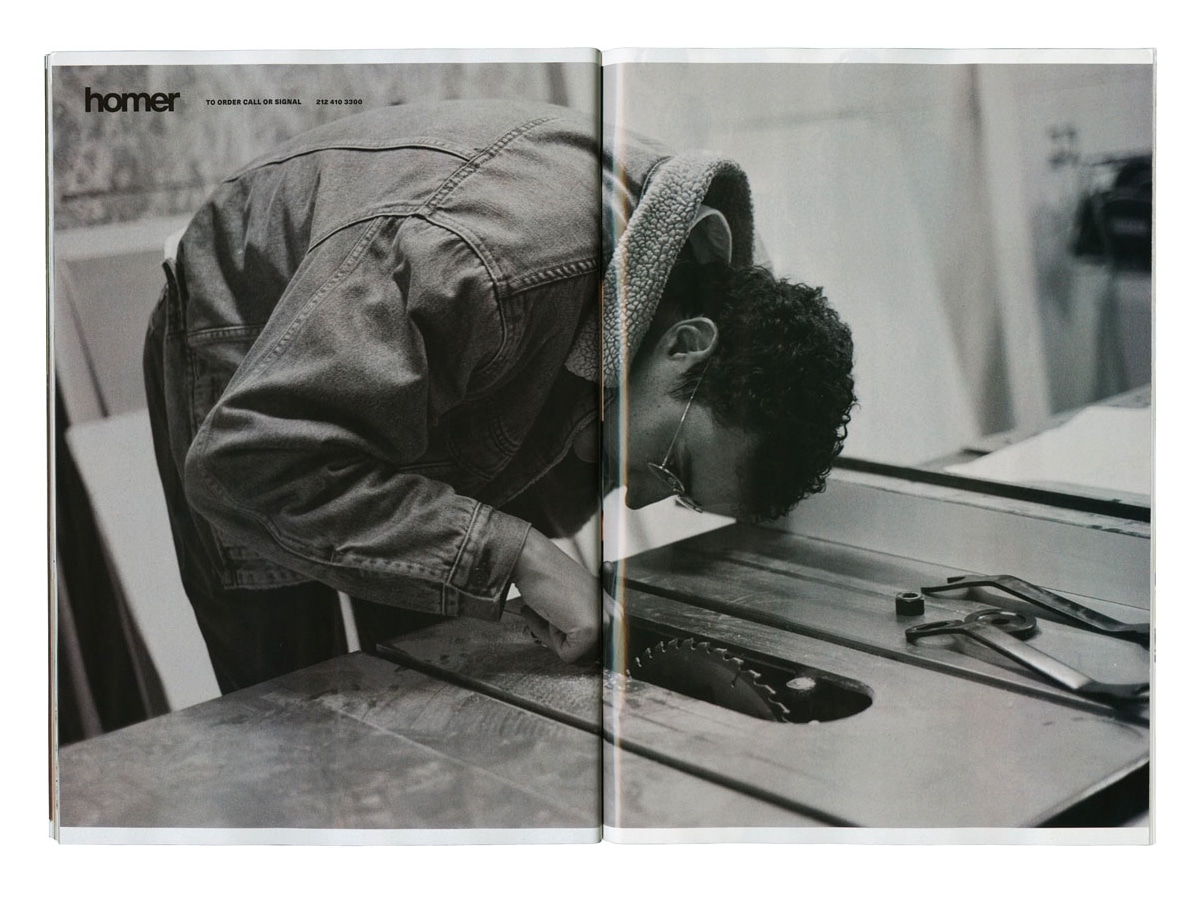 "Hand on my heart, this project has kept my mind moving and my imagination turning throughout it all," Ocean wrote in an Instagram Story. "This is three years in the making and there is so so much I'm excited to share with you all strangers."
Perhaps the most interesting element of Frank Ocean's Homer is the price point. In an interview with the Financial Times, Ocean revealed, he "didn't want our work to be any less expensive than Cartier." For those left wondering, many of the new Homer pieces are priced under USD$1,000, save for the outrageous Sphere Legs High Jewelry Necklace. The opulent smattering brilliant pavé-set diamonds is a true piece of jewellery couture and has a fitting USD$1.89 million (AUD$2.58 million) price tag to match.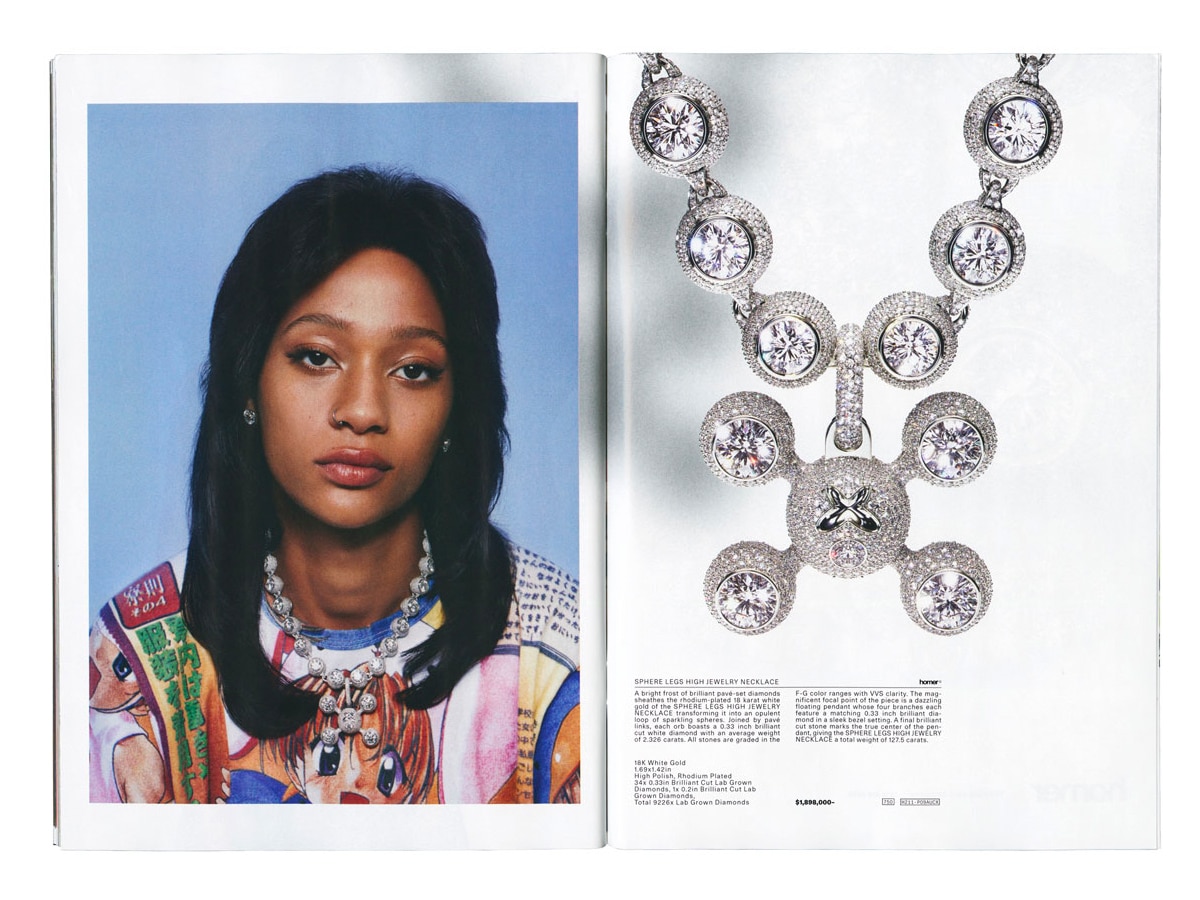 "A bright frost of brilliant pave-set diamonds sheathes the rhodium-plated 18-karat white gold of the SPHERE LEGS HIGH JEWELRY NECKLACE, transforming it into an opulent loop of sparkling spheres," the description reads. Joined by pave links, each orb boasts a 0.33-inch brilliant-cut white diamond with an average weight of 2.326 carats. All stones are graded in the F-G colour ranges with VVS clarity with the necklace copping 9,226 lab-grown diamonds for a total carat weight of 127.5 carats.
In addition to the first collection, Homer also teases a series of collaborations with Prada, however, not much is known about the venture as yet. The full collection can be viewed in a 160-page catalogue, which was designed and shot by Ocean, himself. You can request a copy via the Homer website.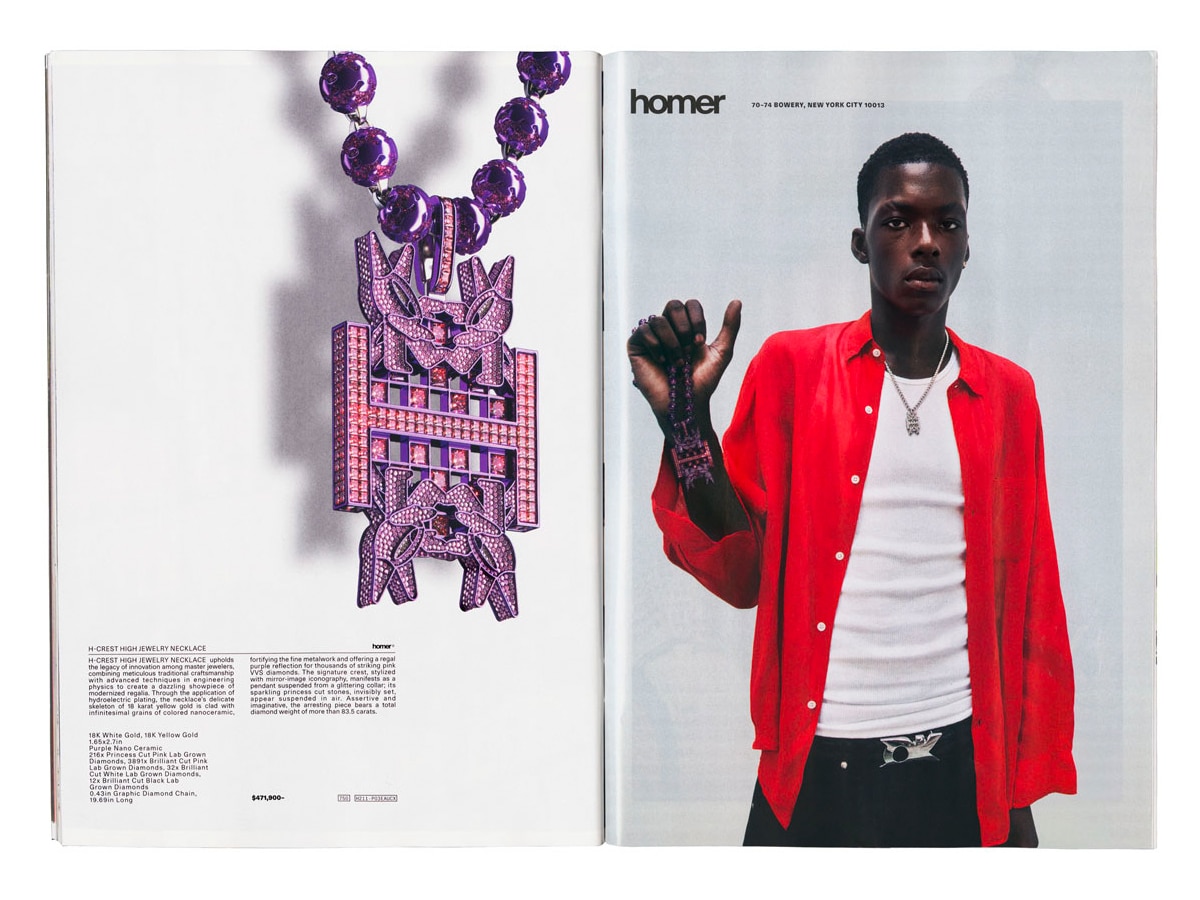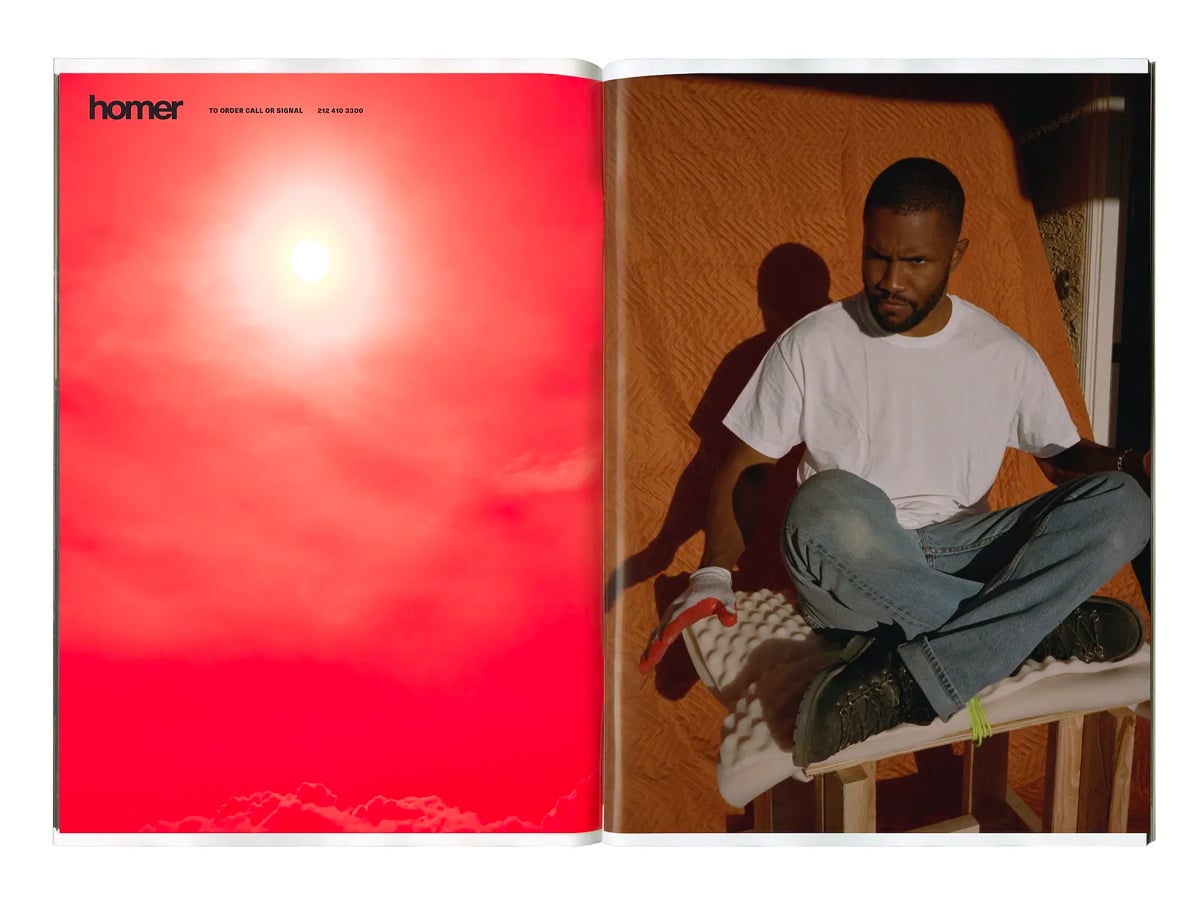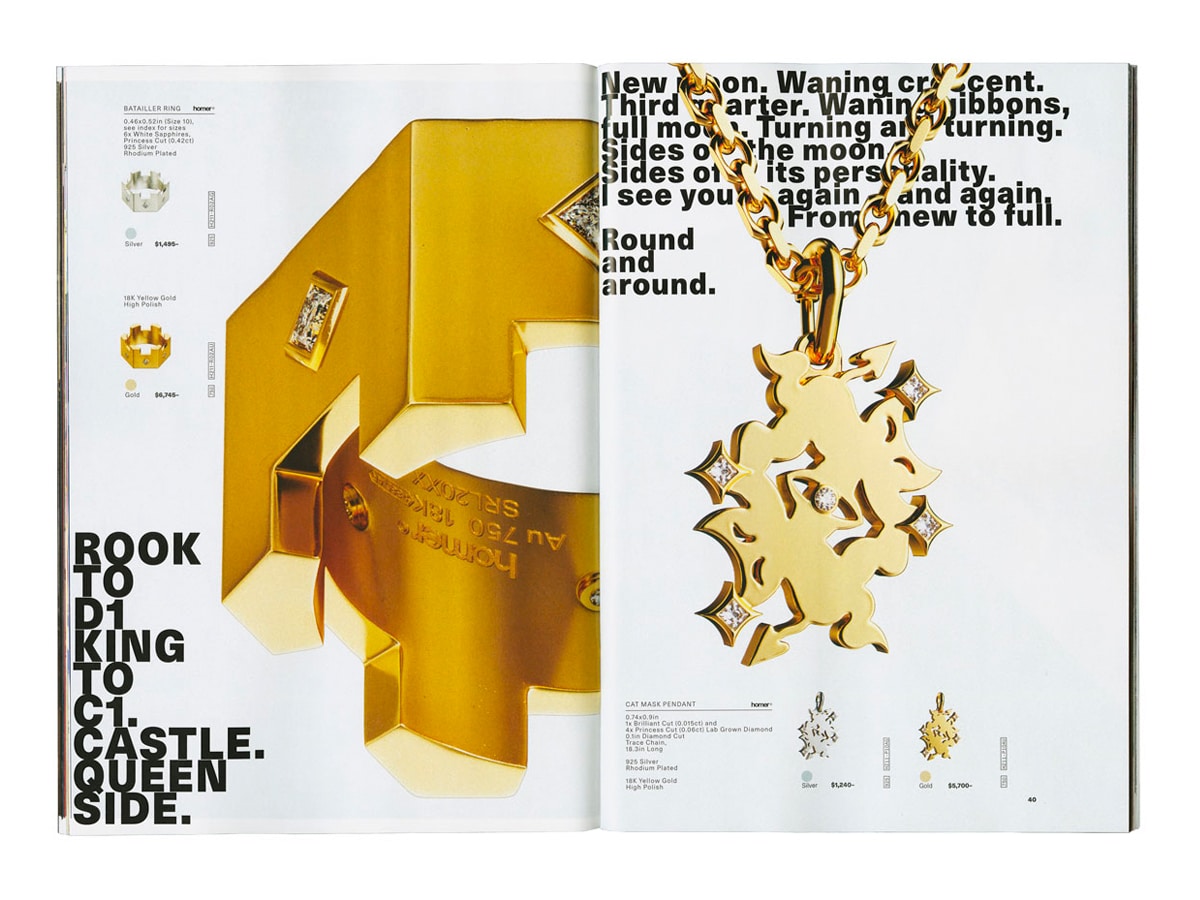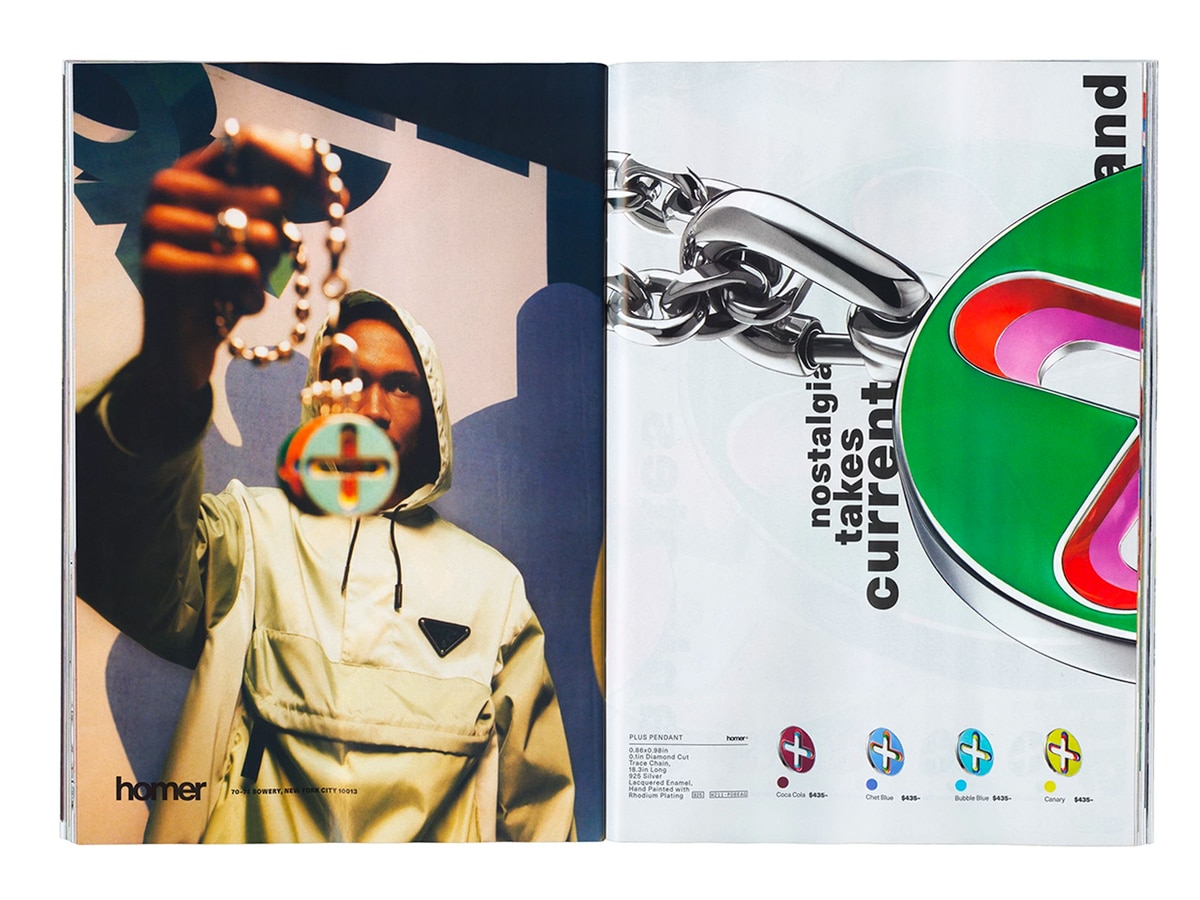 You'll also like:
31 Best Luxury Watch Brands
Drake Flexes Grand Slam $1 Million Richard Mille Watch
Barack Obama's Rolex Flex is a Lesson in Subtle Style