Style Guide: How to Dress Like Tom Hardy
Tom Hardy is best known for his roles in films like Inception, Venom, The Dark Knight Rises, Mad Max: Fury Road, and The Revenant. However, the English actor's first foray into the spotlight was as the winner of The Big Breakfast's Find Me A Supermodel competition at age 21 in 1998. Though his modelling career was short-lived, it did translate into his suave sartorial style.
Tom Hardy always dresses for the occasion, drawing a clear line between formal and casual. Though he'll turn up to a red carpet event in a three-piece suit complete with a pocket watch, he does away with the notion of smart casual, opting for cargo pants, flannels, and band t-shirts as his off-duty staples.
Here's how to nail the Tom Hardy style.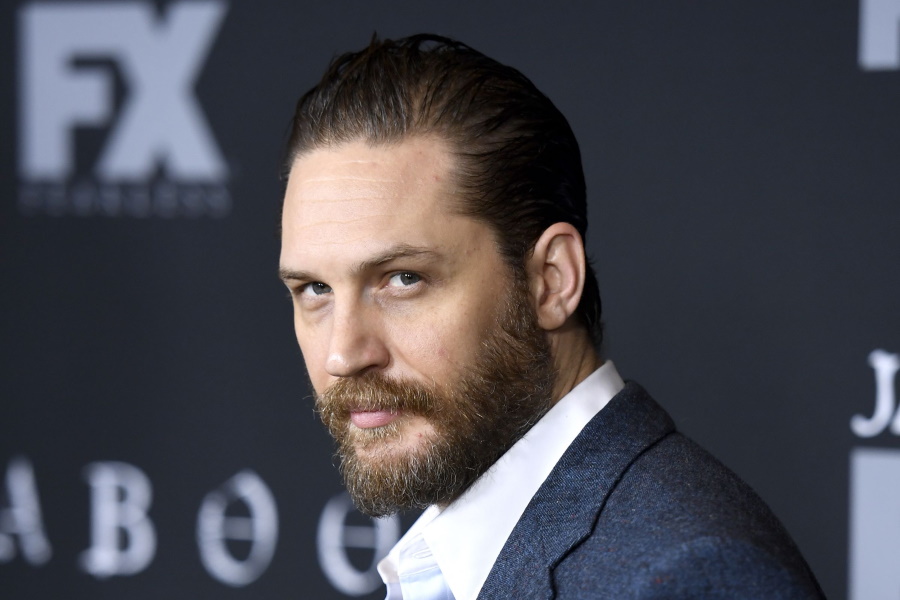 Get The Tom Hardy Beard Style
Whilst Tom Hardy's style often wavers between 20th-century British gent and rugged ex-marine, his grooming remains immaculate. The length of Tom Hardy's beard varies, with the Mad Max: Fury Road actor wearing his beard close-cropped to bushy. When sporting a longer beard, Hardy generally keeps his hair neat and wears it slicked back to offset his more rugged facial hair. To emulate the Tom Hardy beard, simply grow your beard out to your desired length and trim it with scissors to ensure it's even. Apply beard oil daily to keep it healthy.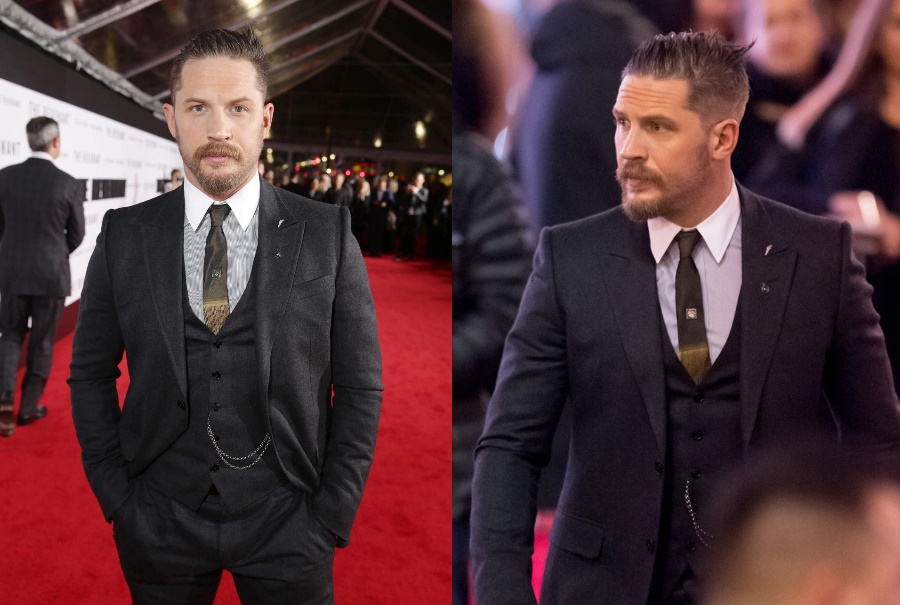 Three-Piece Perfection
Despite the decade, Tom Hardy has maintained a steadfast sartorial dedication to three-piece suits; a look which lends him the British elegance of yesteryear. Hardy often accentuates his three-piece suits with accoutrements like tie clips, pocket square, and the old-school pocket watch.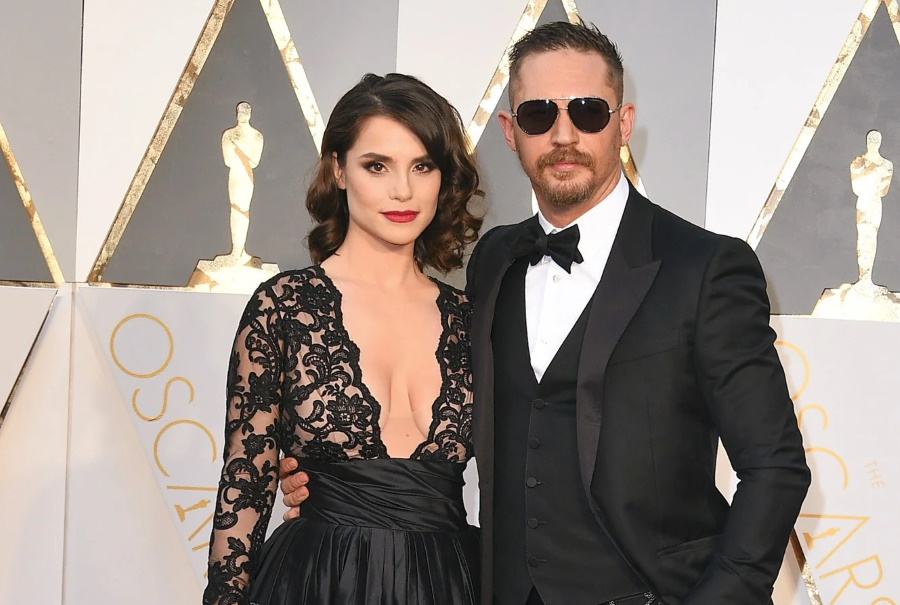 Classic With A Twist
While attending the Oscars with his wife Charlotte Riley, Tom Hardy opted for a three-piece suit, complete with dress shoes and bow tie. However, his choice to round off the look with a pair of aviators exemplifies the type of prowess that has cemented him as one to watch in the style stakes.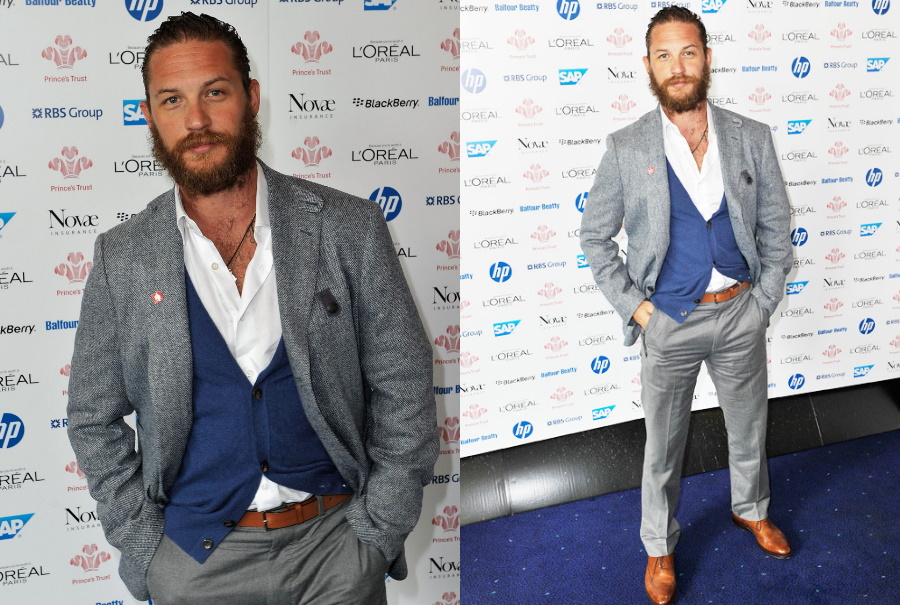 Off Duty Playboy Chic
Tom Hardy fashion doesn't just rely on saurve three-pieces. When the occasion calls for something a tad less formal, Hardy ditches the waistcoat and accessories in favour of classic dressing. Hardy exercises sartorial restraint by utilising a muted colour palette; teaming a grey tweed suit with an Egyptian blue cardigan and a crisp white shirt. The resultant look makes a statement without being over the top.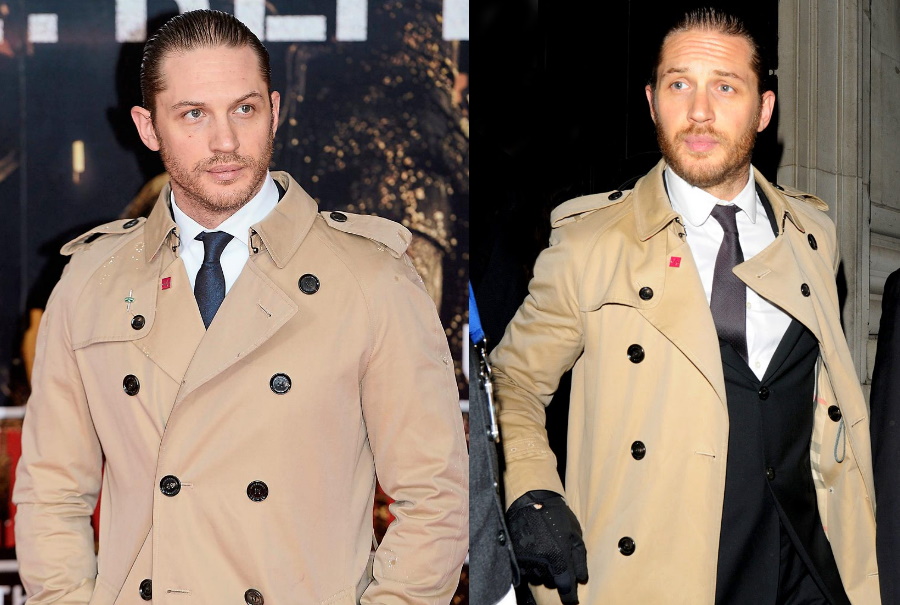 Upscale Outerwear
During an after-party for Dark Knight Rises in London, Tom Hardy sported a Burberry trench coat. Sometimes the right outerwear can make an outfit; Hardy demonstrated this by keeping his trench on for the duration of the event. When you're wearing a coat that good, it almost doesn't matter what's underneath.
---
Featured Video from Man of Many
---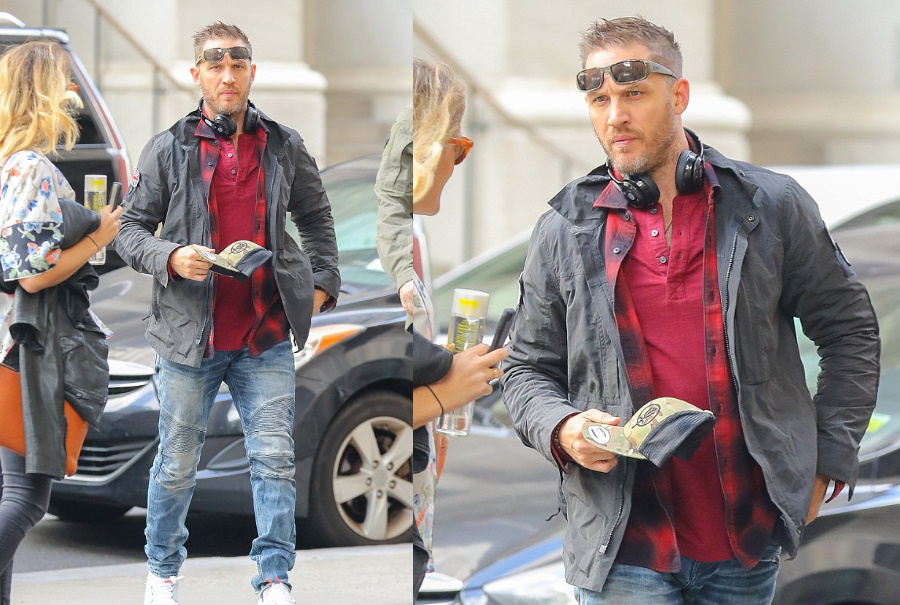 Casually Rugged
The Tom Hardy street style proves the Venom actor has perfected the art of delineating casual attire, keeping it wholly separate from his red carpet looks. Key items in Hardy's casual style arsenal are jeans, branded or graphic t-shirts, flannels, sneakers, and army-inspired gear. Case in point; this street style outfit Hardy wore in NYC, consisting of faded light-rinse slim-fitting jeans, clean white sneakers, a flannel over a shirt, and a military-style jacket.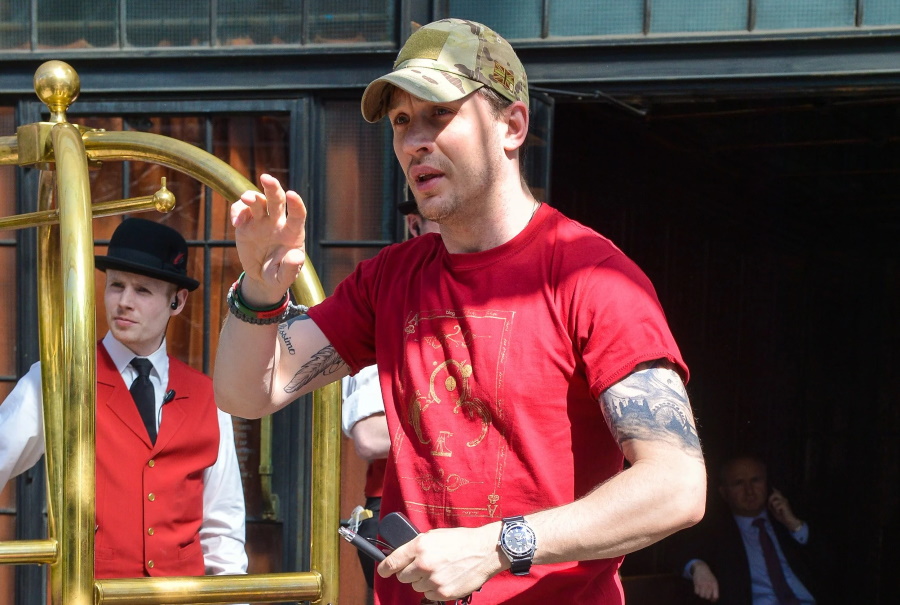 Party Like It's 2004
Ah, even the best of us have our bad moments. For Hardy, it's penchant to wear baggy cargo pants like we're stuck in the mid-2000s. The Inception actor wore this baggy khaki cargo and red t-shirt duo in 2014, a good ten years after all evidence of the existence of cargo pants should have been destroyed. We wish this was a one off, but Hardy has been spotted in various iterations of the sartorial monstrosities several times since. Since the rest of his style is pretty on point, we'll turn a blind eye.
You'll Also Like
Style Guide: How to Dress Like Chris Hemsworth
Style Guide: How to Dress Like Bradley Cooper
Style Guide: How to Dress Like Kit HaringtonStyle Guide: How to Dress Like Idris Elba
General FAQ
Does Tom Hardy have a clothing line?
Tom Hardy launched his own clothing brand called Tilted Blag Gold Label which includes hoodies, joggers, tshirts and cut off sweatshirts.
What shirts Does Tom Hardy wear?
When in his casual, everyday clothes, Tom Hardy is often spotted in a 'casually rugged' style wearing graphic t-shirts and flannels.
---
Featured Video from Man of Many