Style Guide: How to Dress Like Idris Elba
He may not be the next James Bond, but the Idris Elba style is nothing short of suave. The English actor has had a career that has spanned over twenty-five years, however, it's only in the past decade that he's achieved widespread notoriety through his roles in Luther, Star Trek, and alongside Matthew McConaughey in the Stephen King film adaptation The Dark Tower. Idris Elba hasn't always felt famous, telling Vulture in 2012 that he doesn't "see myself as famous. I'm more, 'What's his name again?' And I love that." Idris Elba also moonlights as a DJ under the alias 'DJ Big Driis the Londoner' and was responsible for co-producing Jay-Z's 2007 album American Gangster.
Idris Elba's sartorial prowess lies in his ability to bypass fleeting trends, instead sticking to tried and tested formulas for both formal and casual dressing. The 2018 People magazine's Sexiest Man Alive knows the importance of good tailoring, sticks to neutral tones, and puts a unique spin on classic men's fashion by experimenting with textures and occasionally colour palettes.
Here's how to replicate the Idris Elba style.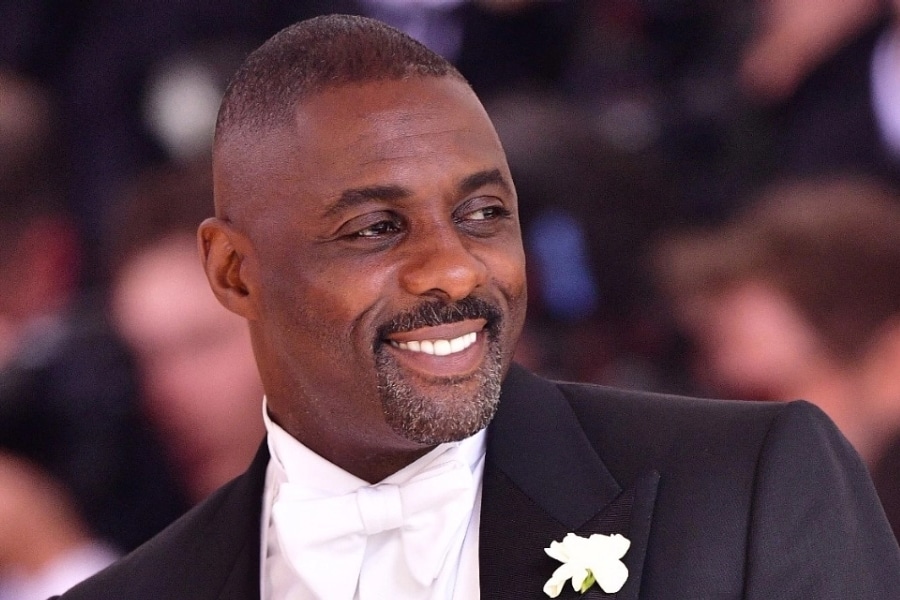 Get the Idris Elba Hair
Much like the actor's style, Idris Elba's haircut is lowkey yet classic. Elba tends to opt for either a crew cut or skinhead haircut with a subtle fade along the temples. Both haircuts require very little maintenance; the skinhead with fade haircut typically requires a light pomade to keep the fade looking sharp, whilst the crew cut does not require any styling. In regards to grooming, Elba generally sports a close cropped beard.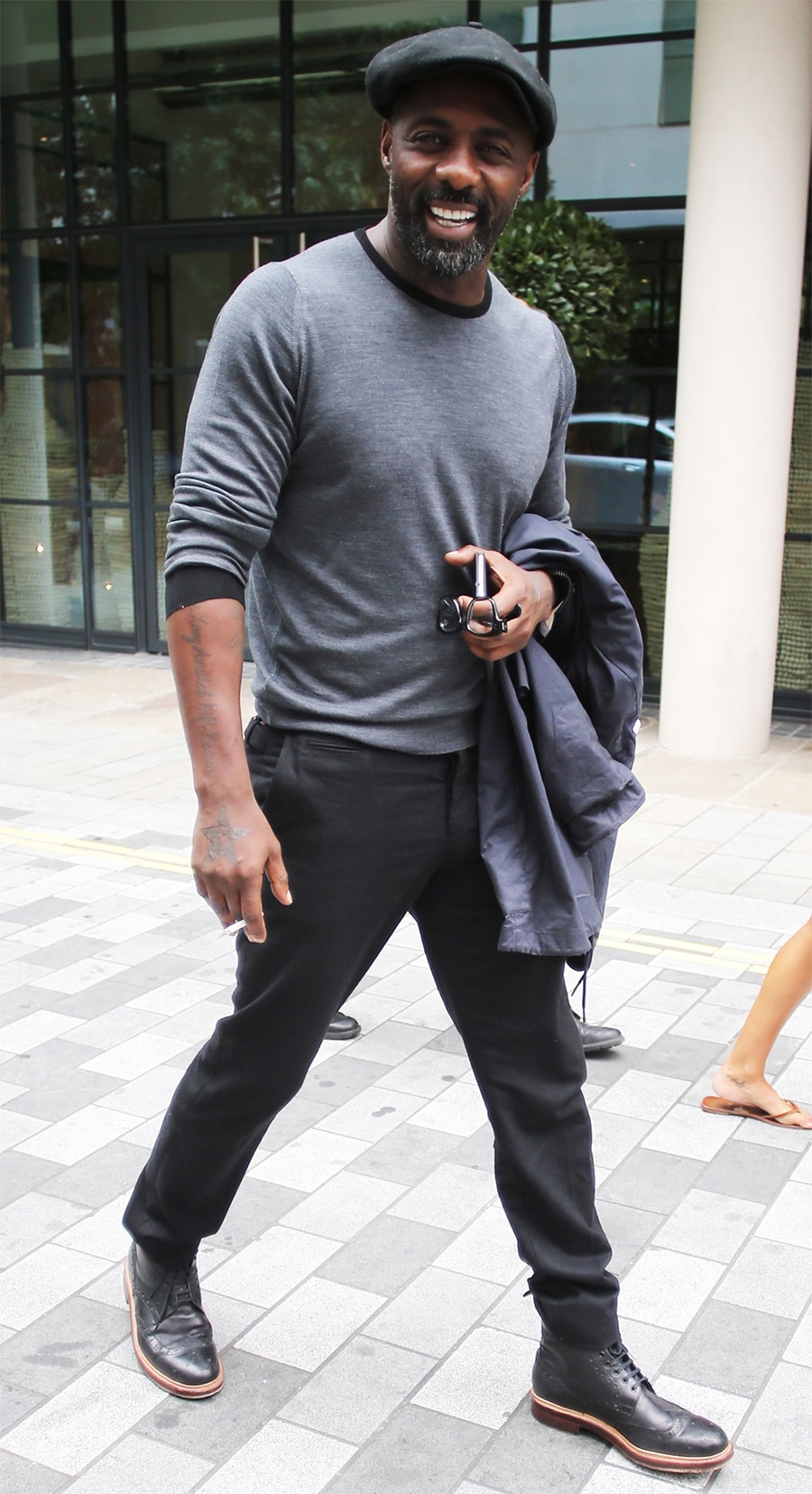 Stick to a Formula which Works for You
To emulate Idris Elba's slick street style, it isn't necessary to do too much. Elba's casual outfits are based around a neutral colour palette of black, grey, white, and navy, and are composed of fitted t-shirts and Henleys, structured outerwear, and slim-fitting trousers or jeans. The English actor and sometimes DJ incorporates details like flat caps and patterned brogue boots to keep things interesting.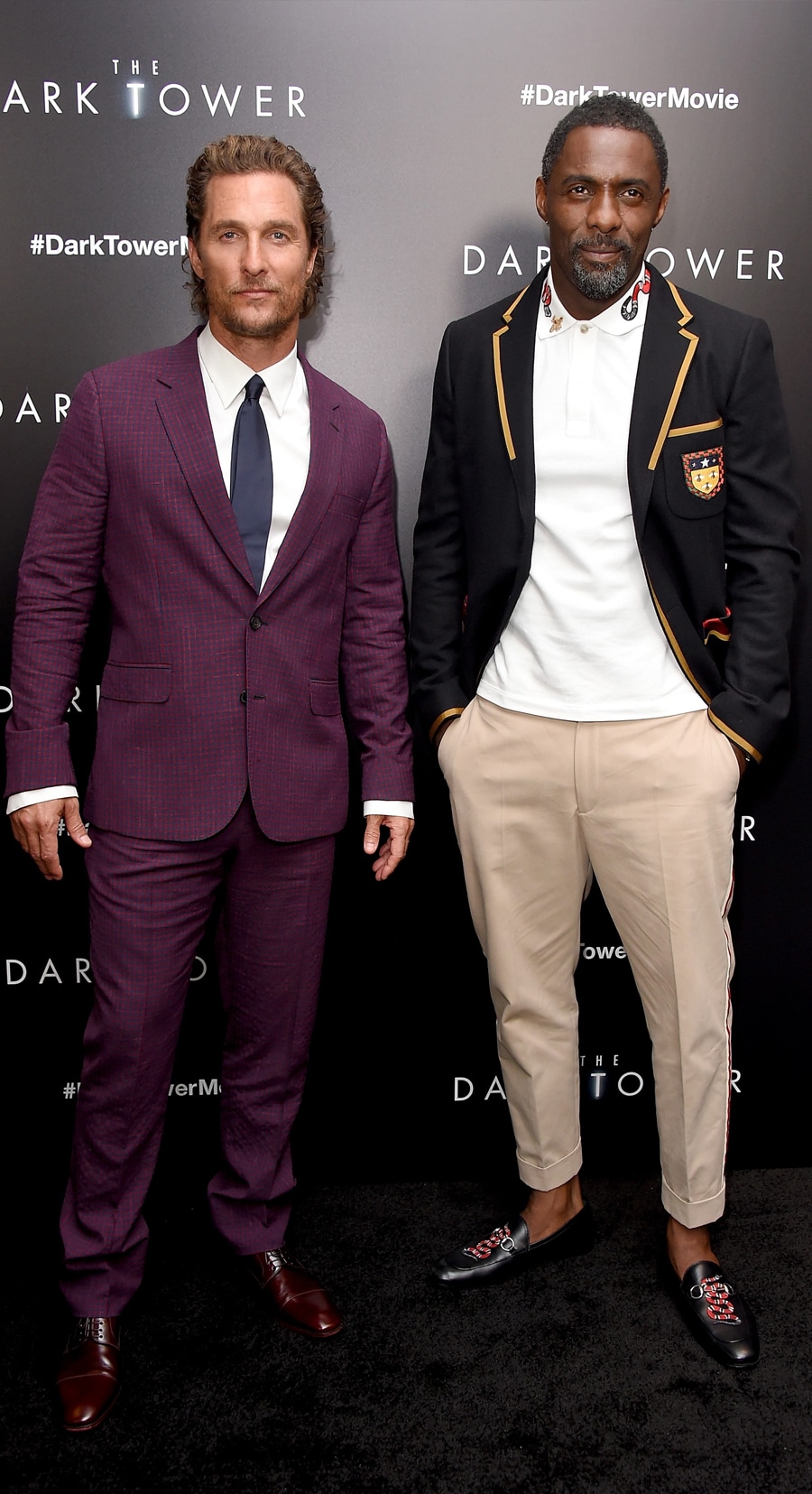 Bring back the Polo Shirt
Idris Elba understands the versatility of the humble polo shirt. Once relegated to tennis and well, polo, the polo shirt has found its place in the modern man's wardrobe as a classy-casual piece, falling somewhere between a t-shirt and a button-down shirt.
Whilst promoting his 2017 movie The Dark Tower, Idris Elba wore a string of polo-shirt-centric outfits, from a white Gucci polo with snake detailing on the collar paired with a Gucci crest blazer, beige chinos, and Gucci snake loafers, to a more casual (and easier to pull off) black and white striped polo worn with skinny jeans and white sneakers.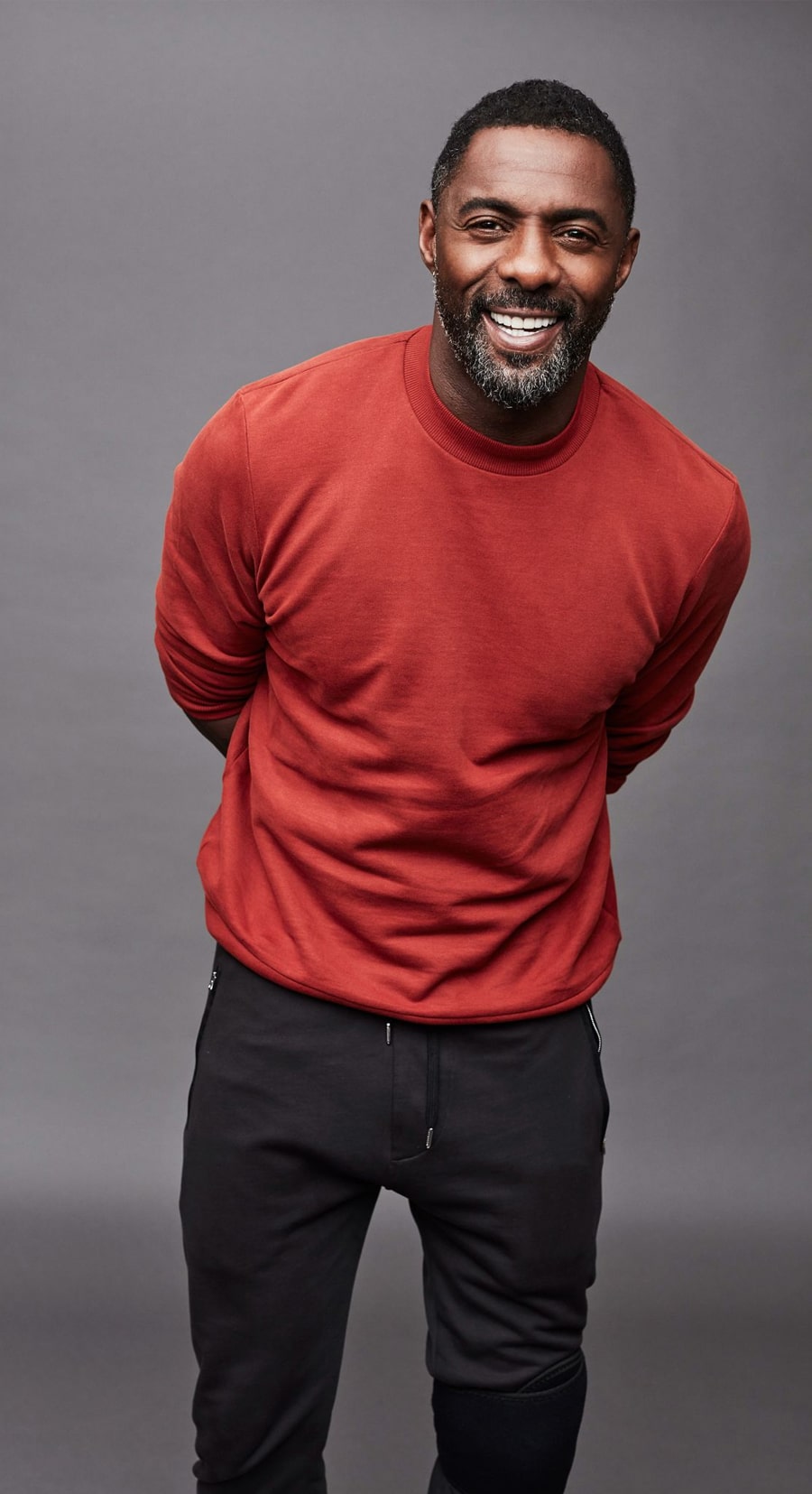 Try On-Trend Colours
Though the Luther actor keeps the technical components of his outfits fairly standard, Idris Elba isn't afraid to wear bright colours and experiment with textures. Elba opted for suiting separates to a GQ event, teaming statement red trousers with a white oxford shirt, matching red tie, grey-and-red checked blazer, and rounded the look off with three-toned brogues.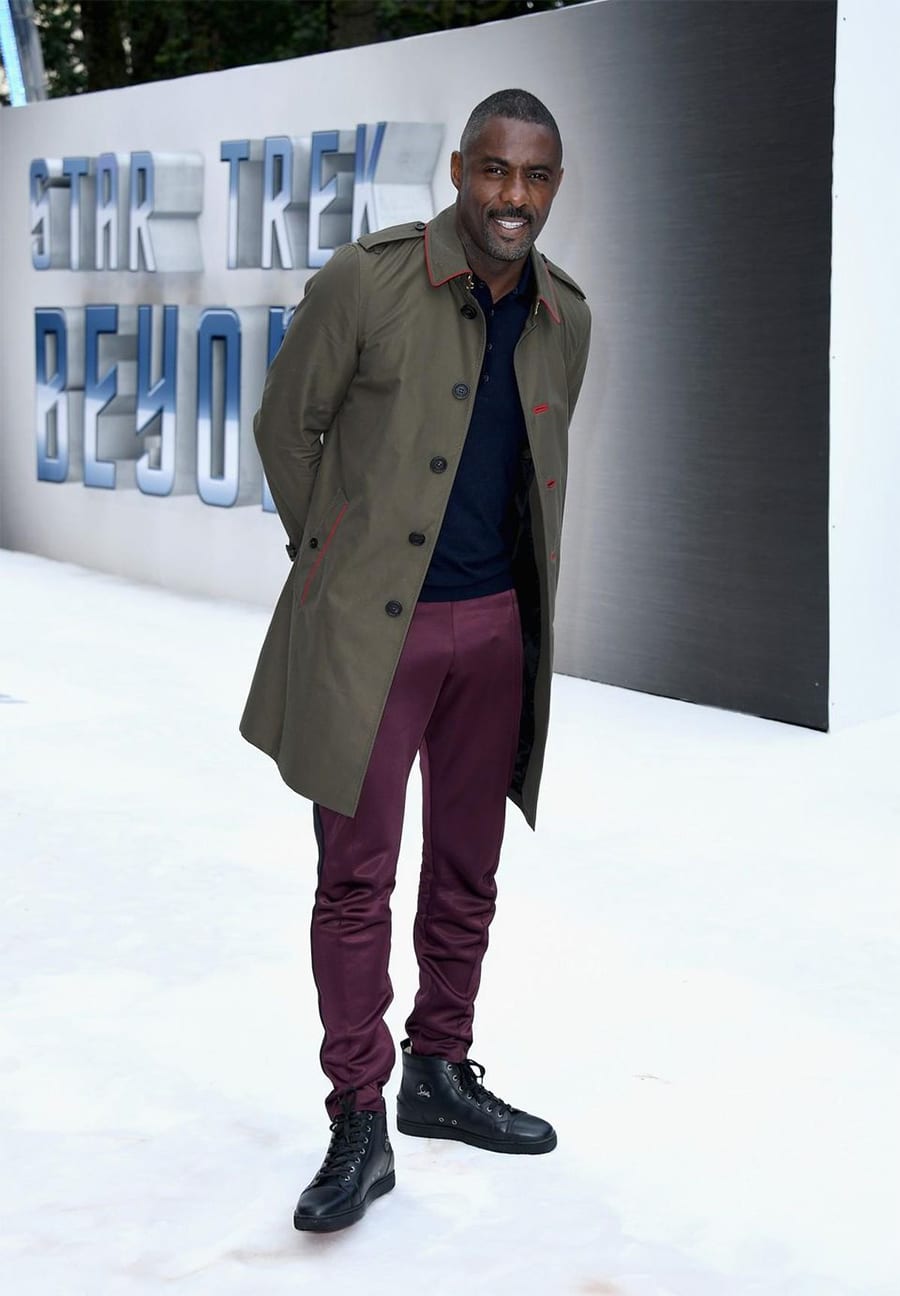 When in Doubt, Experiment with Outerwear
Idris Elba knows that if you have a really great coat, that's pretty much all anyone's looking at. Case in point; Elba's outfit to the Harper's Bazaar Women Of The Year awards which consisted of a Gucci double-breasted blue wool equestrian coat with a contrasting grey velvet collar, worn over a black polo shirt, slim-fitting trousers, and Gucci's signature horsebit loafers.
Idris Elba also uses statement outerwear to elevate otherwise mundane outfits, like this airport outfit consisting of a flannel shearling coat worn over a dark grey t-shirt, charcoal trousers, and black converse.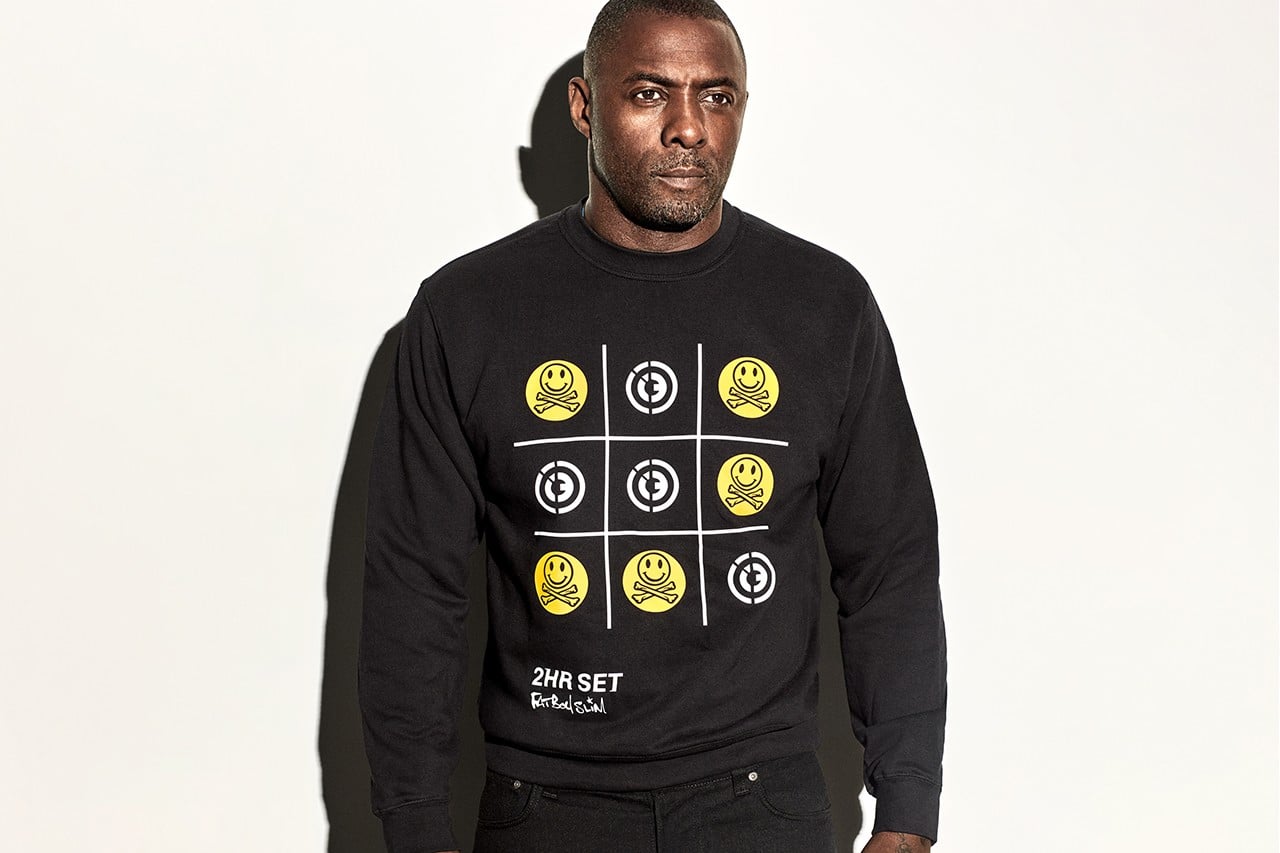 Sus out Idris Elba's fashion line
The actor and DJ added another title to his resume last year, with the launch of his street style brand 2HR Set. The Idris Elba fashion line was inspired by his passion for music, with the name referencing the actor's personal philosophy, "whether I'm behind the decks on stage, in the gym, or studying a new script, I'll give myself two hours and really get stuff done. It's my window to go for it, get it done, and get it done well." 2HR Set features gear like hoodies, tees, sweatpants, caps, and slides, and can be found at 2HRSet.com.
---
You'll also like:
Style Guide: How to Dress Like John Mayer
Style Guide: How to Dress Like Michael B Jordan
Style Guide: How to Dress like Jason Statham
---