Style Guide: How to Dress Like Chris Hemsworth
As one of Australia's most famous exports, the Chris Hemsworth How to Stop Being So Self-Conscious has both domestic and international appeal. The Melbourne born actor rose to fame with his first major gig as Kim Hyde in Home and Away in 2004, before carving out a name for himself in Hollywood with roles in Star Trek and A Perfect Getaway. However, it was his role as Marvel's Thor which catapulted him to mainstream success and made him one of the highest-paid actors in the business.
Chris Hemsworth's style has evolved over the span of his career. The Thor actor originally sported a more classic everyday style, opting for pieces like slim-fitting dark denim paired with a plain fitted t-shirt and a leather jacket. Of late, Hemsworth's style has reflected his LA lifestyle, with the actor introducing earthy-toned linen shirts, jewellery, and more relaxed silhouettes into his repertoire.
Here's how to cop Chris Hemsworth's enviable style.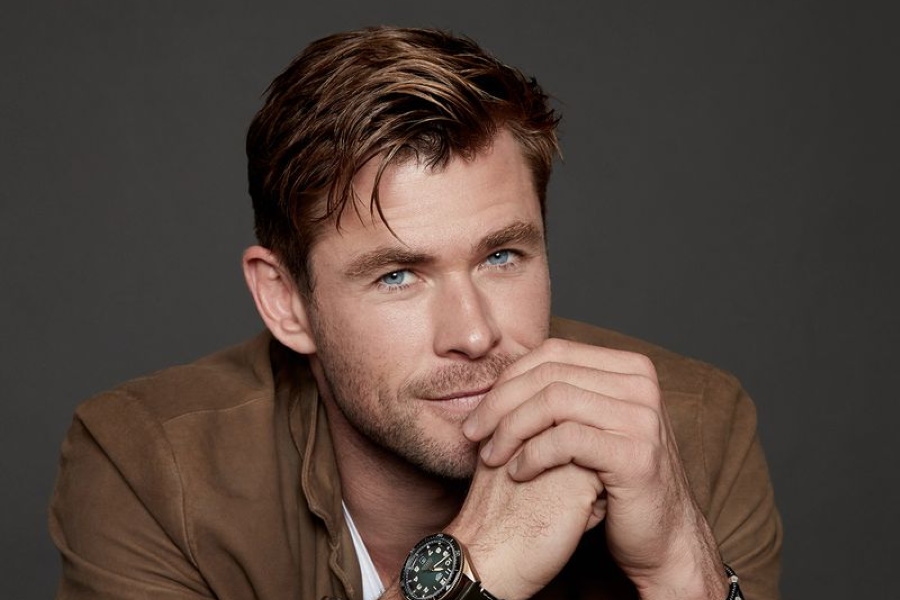 Nail the Chris Hemsworth Hairstyle
Chris Hemsworth has rocked many a hairstyle over the last decade, flitting between the long locks of the first Thor film to a closer cropped messy short hairstyle and everything in between. One of the most popular Chris Hemsworth hairstyles is the medium-length locks he sported after the first Thor film.
This medium-length cut frames Hemsworth's face nicely and works to reduce the size of his forehead. To achieve the look, ask for a layered haircut with around 25cm in the back. Don't overwash this hairstyle or you'll end up with dry hair; limit washing to a couple of times a week. Use a little pomade when styling, and some sea salt spray for texture (or just go for a surf!).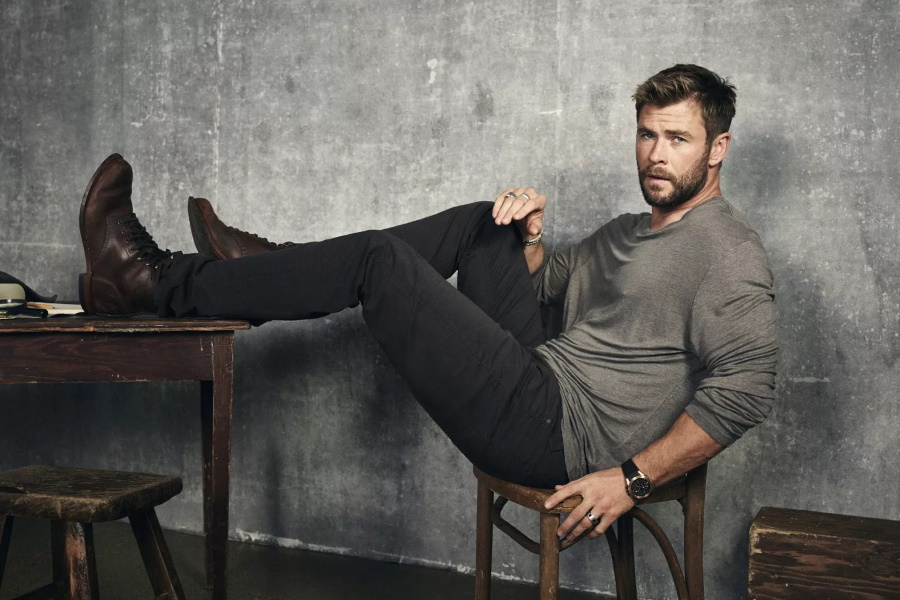 Grow the Chris Hemsworth Beard
Hemsworth is typically seen sporting a beard, with the Thor actor's facial hair becoming one of the most popular beard styles of the past couple of years. Fortunately, the Chris Hemsworth beard is one of the easiest facial hair styles to emulate. To attain the look, grow your beard out for a week, then – using a beard trimmer – trim downwards starting from the sideburns. Lightly trim the chin and along the jaw, keeping the hair more full here.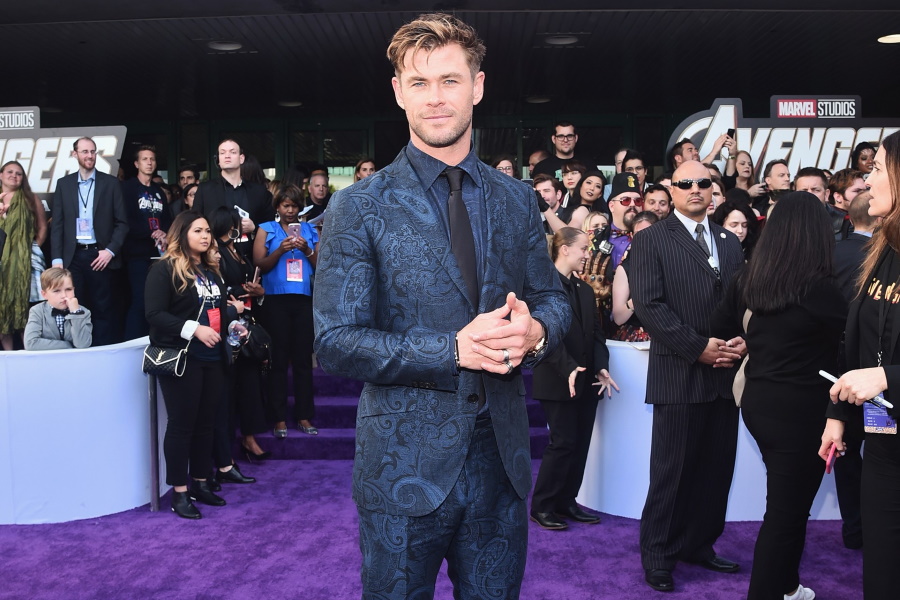 Paisley Perfection
The former Home and Away actor is a big advocate of the paisley suit, with many Chris Hemsworth suits sporting the droplet style pattern. Hemsworth styles his paisley suits fairly simply, like this Persian blue paisley suit teamed with an identically patterned shirt, plain navy tie, and black patent leather Oxfords.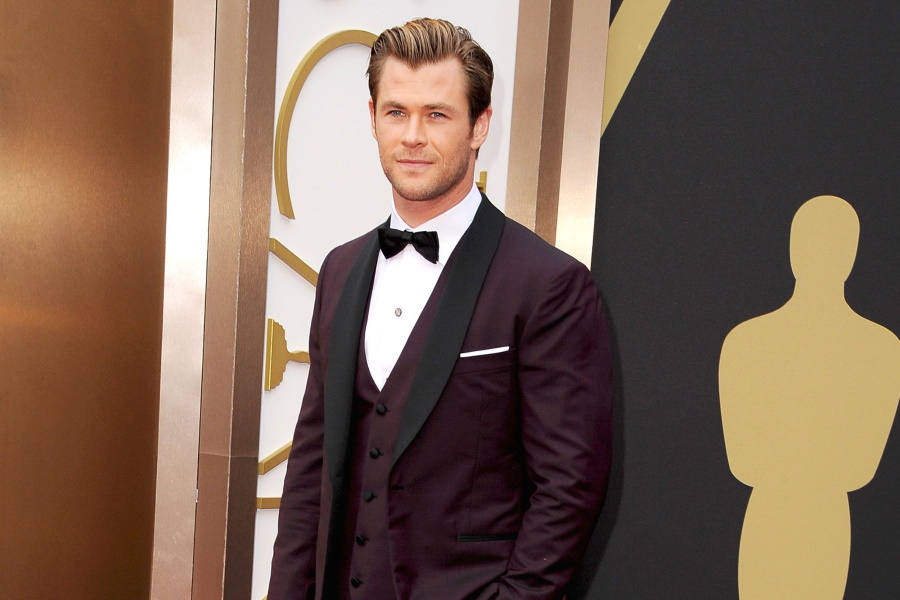 Contemporary Classic
The Avengers actor isn't afraid to mix modern and timeless pieces, putting his own spin on the Golden Globes' white-tie dress code. Hemsworth retained classic appeal by wearing a three-piece suit with a bow-tie, however, made the look his own by switching in a midnight blue velvet jacket with wide peak lapels and adding a pocket watch for a retro twist.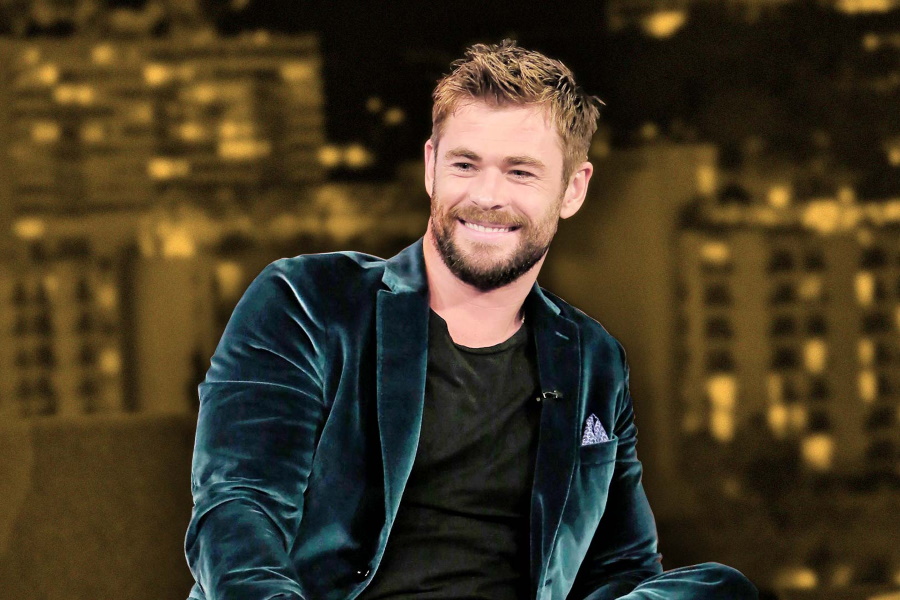 Experiment with Suiting Materials
Suits are no longer relegated to formal occasions; with a few simple sartorial swaps, they can be worn for casual events. Chris Hemsworth makes suiting work for any dress code, toning down a green velvet suit by teaming it with a black t-shirt, black leather penny loafers, and a couple of very LA-esque leather bracelets. To make a suit appropriate for casual occasions, opt for a t-shirt over an Oxford shirt, and try loafers or double monk straps shoes instead of Oxfords or derbys.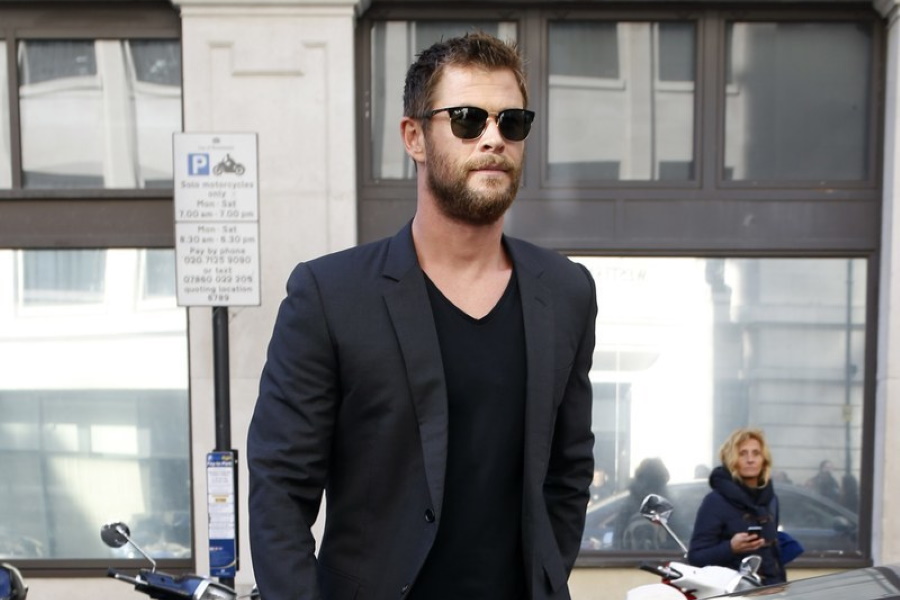 50 Shades of Black
Before overdosing on egg white omelettes and positive vibes in LA, Chris Hemsworth's casual style was all about dark tones and slim-fitting pieces. Hemsworth's daily style primarily consisted of formulaic outfits such as this combo of dark denim slim-cut jeans, a back v-neck -shirt, a charcoal blazer, and chocolate brown suede boots. Other key sartorial substitutes include indigo jeans, a black or brown leather motorcycle jacket, and grey suede boots.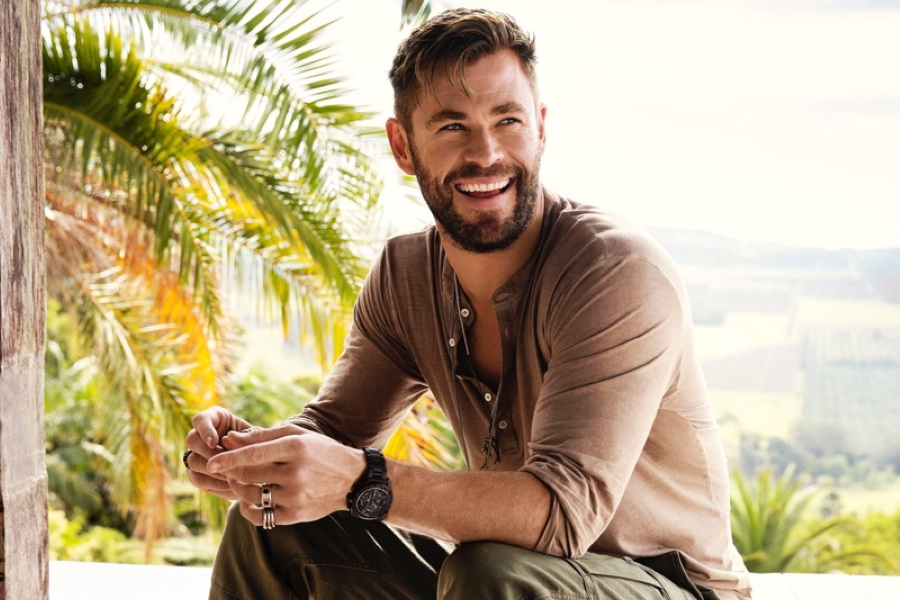 Try Something Different
Since assimilating to the organic LA way of life, new pieces have started to appear in the actor's wardrobe. Relaxed fit cotton and linen shirts, unstructured outerwear, bracelets, and necklaces have become mainstays in the Chris Hemsworth style.
You'll Also Like
Style Guide: How to Dress Like Bradley Cooper
Style Guide: How to Dress Like Kit HaringtonStyle Guide: How to Dress Like Idris Elba
What type of hairstyle does Chris Hemsworth have?
Chris Hemsworth's most popular hairstyle is the medium-length locks he sported after the first Thor film.
How do I dress like Chris Hemsworth?
Chris Hemsworth's style has evolved throughout his career. He originally had a classic everyday style, with dark denim and leather jackets, but his new LA lifestyle has introduced more earthy tones and jewellery to his looks.