Moncler Releases First-Ever Fragrance Line
High-fashion marque turned streetwear icon, Moncler has announced its first foray into the world of fragrances, and like everything the brand does, it's stuitably indulgent. Two new releases, Moncler Pour Homme and Moncler Pour Femme landed on October 5, marking a new era for the Italian brand obsessed with the mountain. With roots deeply cemented in skiwear, Moncler may be dabbling in a new medium, but the heritage is there.
You'll also like:
MONCLER MONDOGENIUS Closes the Gap Between Physical and Digital
7 – MONCLER FRGMT Channels the Godfather of Streetwear's 'Sixth Sense'
Moncler's 1952 Collection is Actually '70s LA Style Redefined
According to the brand, both creations reflect a "bold synergy of nature", highlighted by a crisp, cool scent. Specifically, Moncler Pour Homme is a woody aromatic fragrance created by perfumers Antoine Maisondieu and Christophe Raynaud. Starting with the exclusive Alpine Green accord, wearers immediately note the freshness of Clary Sage, elevating the experience.
"Moncler Pour Homme is a deep-dive of woody notes – much more than any classic men's fragrance. The Mountain Woods accord present in both fragrances is accentuated a lot more in Moncler Pour Homme," Antoine Maisondieu said. "For Christophe Raynaud and I, the idea was to play that against the fresh, green element of the Alpine Green accord with aromatic touches of pine resin, sage and cypress. To that effect, Moncler Pour Homme is very modern in the way that it has a long dry down – it doesn't really follow the formal construction of a traditional perfume."
Moncler Pour Femme, on the other hand, is a floral woody musky fragrance, the work of perfumers Nisrine Grillié and Quentin Bisch. Containing a pair of custom accords designed exclusively for Moncler, the fragrance opens with the crisp, bright sensation of the Powdery Snow accord – reminiscent of the evanescent beauty of freshly fallen snow.
But perhaps best of all, and indeed what Moncler is renowned for, is the design. Both Moncler Pour Homme and Moncler Pour Femme are showcased in a unique 'borraccia' flask-shaped bottle complete with a ribbed silver case and cap. From here, all eyes turn to the LED screen with adorns the bottle.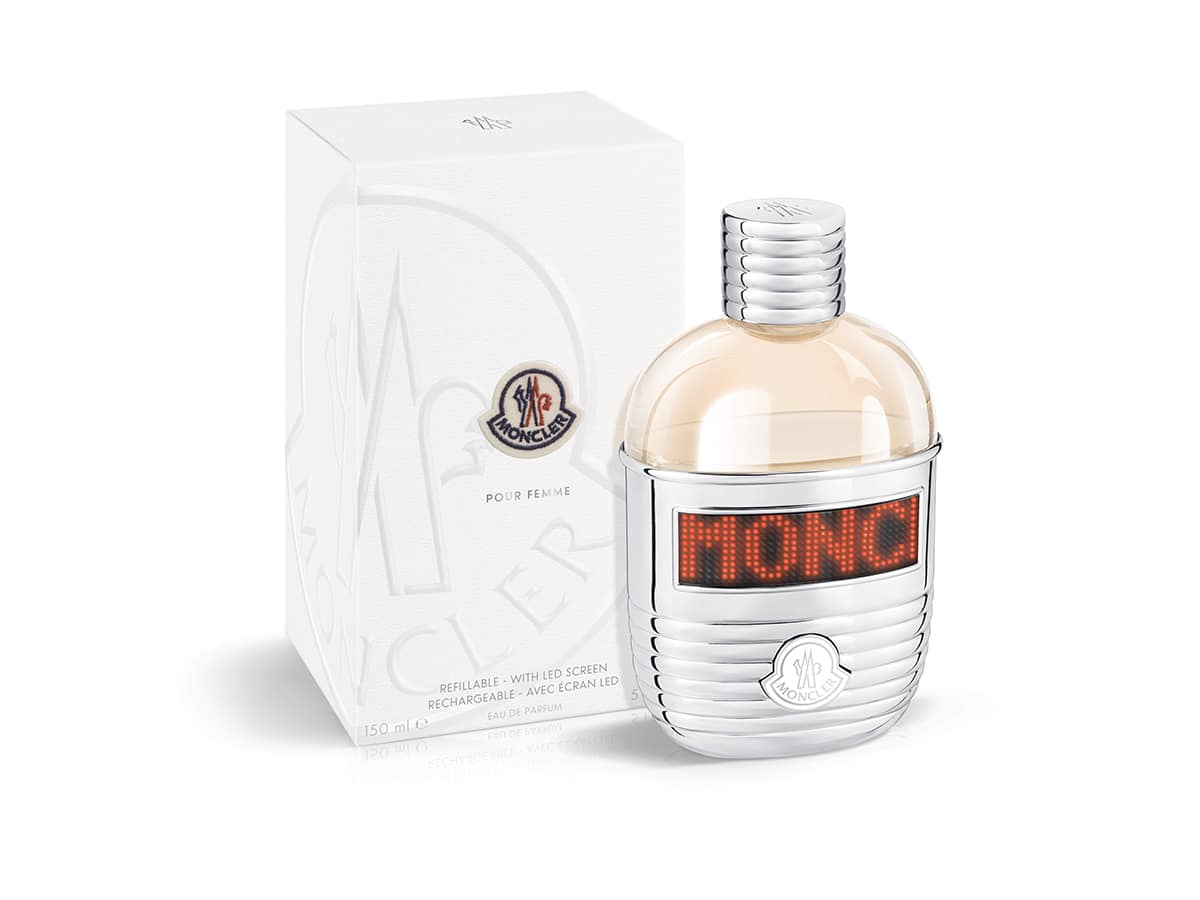 An illuminated message panel that is customisable via a Bluetooth-powered smartphone app takes centre stage. With this handy little innovation, you can write a personal note that appears in scrolling red letters across the bottle's mirrored façade when activated by the Moncler logo- shaped push button in contrasting white (Moncler Pour Femme) or black (Moncler Pour Homme).
"After several years of discussion, research and development, these two fragrances have come to life in a way that truly captures the essence of Moncler," Philippe Bénacin, Interparfums CEO said. "Moncler as a brand has such a covetable status – it's a brand that really embodies innovation, which is why these perfumes feel like the perfect continuation of its story. With these two fragrances, even the bottle itself is a new adventure, a new spirit, and a new way of communicating – whether it is to write your name, a special message or anything you like."
Both Moncler Pour Homme and Moncler Pour Femme are available to purchase in Australia through Myer and Moncler boutiques. The new fragrances start from AUD$130 for 60ml, with the larger 150ml bottles going for AUD$300.
You'll also like:
MONCLER MONDOGENIUS Closes the Gap Between Physical and Digital
7 – MONCLER FRGMT Channels the Godfather of Streetwear's 'Sixth Sense'
Moncler's 1952 Collection is Actually '70s LA Style Redefined