When you think of celebrated whisky maker The Balvenie, you might not exactly picture premium footwear for men and women. Thanks to a recent collaboration, however, that's all about to change. Crafted by Stefanie Schöninger—the driving force behind bespoke bootmaker Atelier Stefani—The Balvenie Boot is quite simply a masterpiece of material and design. It's currently available for pre-order and will arrive starting in March 2022. We'd tell you it makes for the perfect gift, but you knew as much as soon as you laid eyes on it.
The Balvenie Boot comes to us as part of The Makers Project, whereby 5 Australian creators created a product inspired by the iconic distillery. Working directly alongside Ross Blainey, The Balvenie brand ambassador, Atelier Stefani drew inspiration from both the wearer's personal journey and the whisky maker's enduring culture. What ultimately unifies these respective entities is the tireless pursuit of perfection and the palpable human element, which informs literally everything they do.
Atelier Stefani knocked this one out of the park and managed to tell a story in the process. It's a tale of pure mastery through the tradition of time plus experience, so that the owner may enjoy life to the fullest extent. But you don't need a backstory to appreciate the signature quality and artisanal allure of this luxurious footwear. Those who love their leather, in particular, might find themselves unconsciously drooling a little. Don't worry—we did the very same thing!
Whether you know someone with a passion for premium whisky or a spectacular sense of style (or both), The Balvenie Boot will bolster their spirit and their wardrobe alike. Available in limited quantities, it can be shipped internationally with an estimated production time of 12 weeks. Pre-order your pair now and you'll receive the complimentary gift of an exclusive handmade Atelier Stefani cardholder, created using the same leather that constructed these very boots.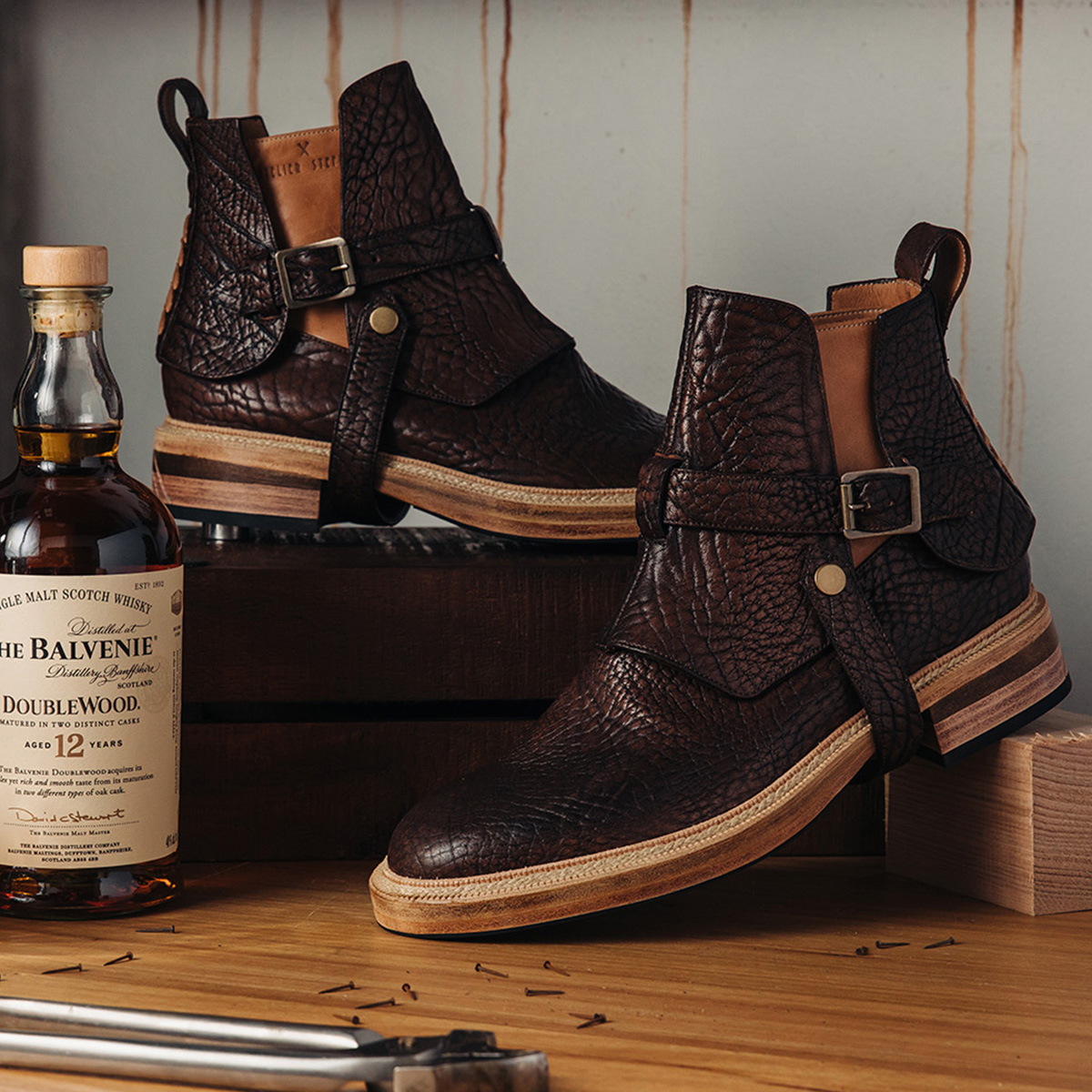 The Balvenie Boot – Men
A work of art in footwear form, The Balvenie Boot for Men is forged inside and out from the finest Italian leathers. The upper consists of Italian bison leather with a natural deep grain, which will only take on more character and a richer patina over time. Call it a subtle nod to The Balvenie's legendary single malts, each one of which similarly imparts dynamic character on its way to the bottle and beyond.
In addition to the special hides of the leather uppers—which were vegetable-tanned using the most sustainable production techniques—the boot features a vegetable-tanned leather insole, Italian calf leather lining, and raw leather sole. Stacked leather meets a rubber top at the 2.5 cm heel with hand-engraved details, rounding out the boot's exquisite combination of signature aesthetic and lasting durability.
---
Featured Video from Man of Many
---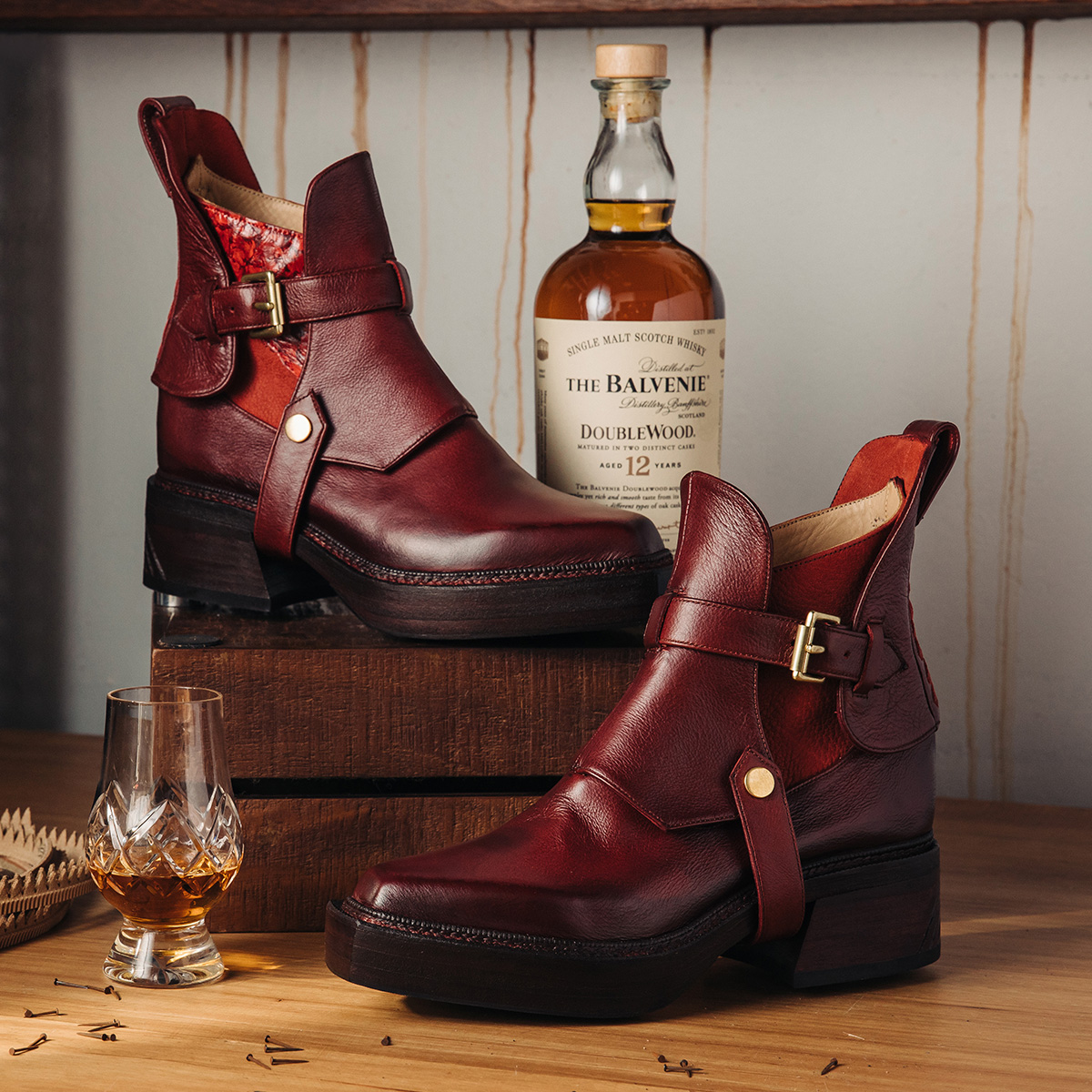 The Balvenie Boot – Women
Another symphony of leather perhaps, but The Balvenie Boot for Women definitely strikes its own unique chord. It enraptures the eye and foot alike by way of its ultra-stylish upper, crafted from fine-grained soft burgundy bison leather, with fish leather accents on one side. Famously rare, the fish leather was sourced specially from Canada and it represents The Balvenie's ongoing love for adventure.
Move beyond the luxurious upper to discover a plush insole, sole, heel counter, and toe puff of vegetable-tanned leather. The lining is Italian calf leather whilst the heel combines stacked leather with a rubber top. Put it all together and you have an instant classic, the kind of which is ready for experiences of every variety. We cannot overstate the amount of care and craftsmanship that Atelier Stefani put into their creation.
It takes over 80 hours to bring The Balvenie Boot to life and it shows. Dressed in luxurious leather, each pair practically bursts through the screen. Just imagine how it will look and feel in person. Pre-order now and you'll receive an exclusive handmade Atelier Stefani cardholder, which was crafted from the same leather used to make these very boots and comes joined by a letter of authenticity. International shipping is available and orders are expected to arrive starting in March 2022. Here's to great whisky and great footwear and the tradition of mastery itself. Here's to The Balvenie Boot.
---
Featured Video from Man of Many