You'd be a fool to think that the humble blue suit is an extinct species in the style stakes of 2015. Gents, it's timeless. That means it's not going anywhere anytime soon, so there are no excuses for not having one in your wardrobe. Standing just as versatile as the black suit when it comes to shirt, tie and pocket square combinations, the blue suit is a sure-fire resident in the seasonal collections of every clothing label: from Zara to Boglioli, Thom Browne to Topman. Here's ten to have on your radar if you're looking to join the club, all of which looking a hell of a lot better than the average, grey suit-wearing sucker.
You'll also like: 
Australian Men's Suit, Shirt and Pants Size Conversion Guide
How To Accessorize a Blue Linen Suit
Basic Guide to Men's Suits Styles, Types, Fits and Details
1. Boglioli
There's an old saying in the fashion world: "In menswear, do as the Italians do". For over 110 years, Milan-based Boglioli has been making some of the finest suits in the world, with actors like Christoph Waltz and Ewan McGregor among its many fans. For the man on his way to Pitti Uomo this year, the pick has to be the two-button wool-blend travel suit designed exclusively for MR PORTER. The shade of Indigo and its supreme tailoring will ensure you stand above the crowd without breaking the bank.
Material: wool; flannel
Price:from $690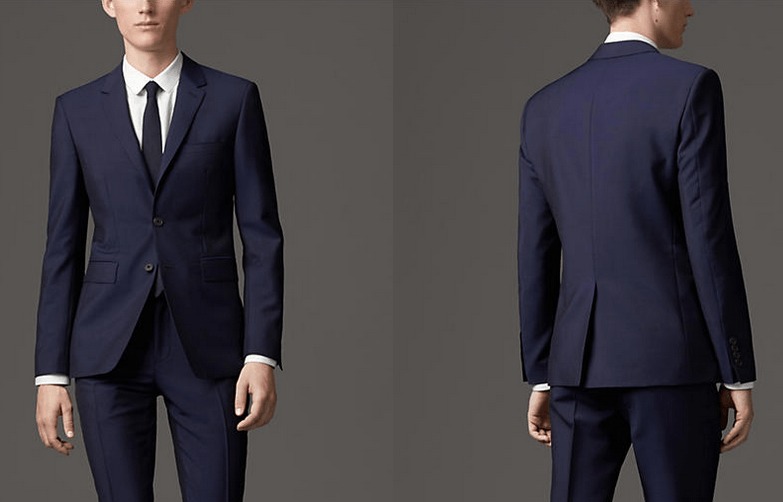 2. Burberry London
Karl Stefanovic jokes aside, the second-in-line range (Prorsum being first) under the Burberry label is where the brand's iconic suits live. Delivering a combination of wool, silk, and cashmere suits season after season, you need not look further than the revered brand's slim fit wool mohair suit in navy. The Italian-made suit features sublime pick-stitch detailing down the lapel and unfinished hems on the pants for custom tailoring. Take note all: the custom tailoring feature is not just a friendly suggestion by the luxury British brand, it's a must. Remember: pants should carefully hit the opening of your shoe and not bunch up at the ankle. No excuses.
Material: wool; silk; cashemere
Price: from $890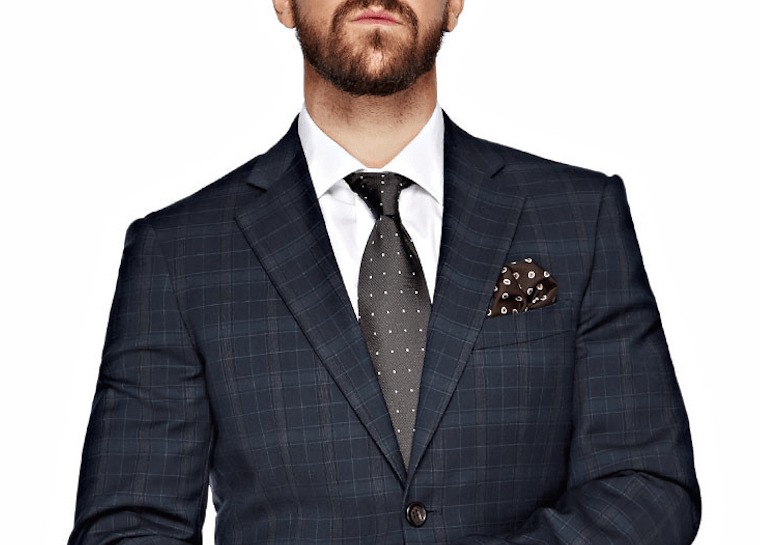 3. Brent Wilson
Launched in 2006, eponymous Australian designer Brent Wilson's dedicated work in producing expertly crafted menswear eventually landed him the coveted GQ Designer of the Year award in 2012. Since launch, Mr Wilson has been producing ready-to-wear collections that are constantly at the forefront of the menswear industry in Australia, by observing and adapting the sartorial trends of the globe for the down-under audience. It's hard not to go past the label's dark navy check suit, which just might make the groomsmen feel slightly challenged in the style stakes at the next wedding you're invited to.
Price: from $450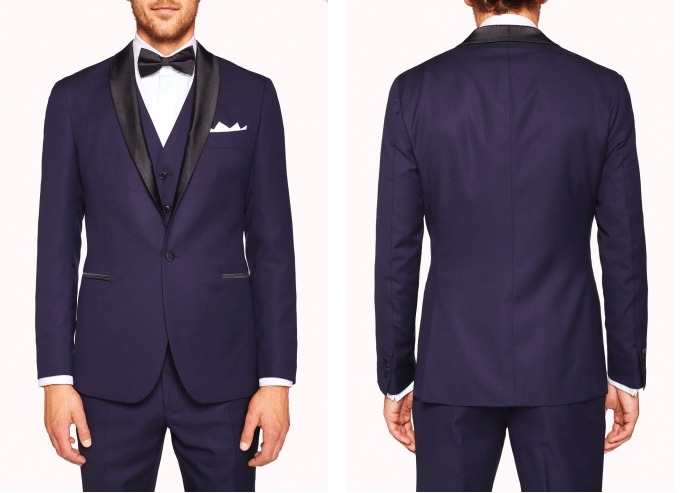 4. M.J. Bale
For the man with multiple black-tie events on his calendar, look to Australian tailor M.J. Bale and their Defoe tuxedo in midnight navy, featuring a contrasting black silk satin shawl lapel. Promoting superfine Australian Merino Woolmark wool, the brand curates a collection of clothing for that league of men rarely seen without a blazer and buttoned shirt. Bend the black-tie rules at your next event with this tuxedo, a knitted bow tie and some matching loafers. You can thank us later.
Material: Australian Merino wool
Price: from $699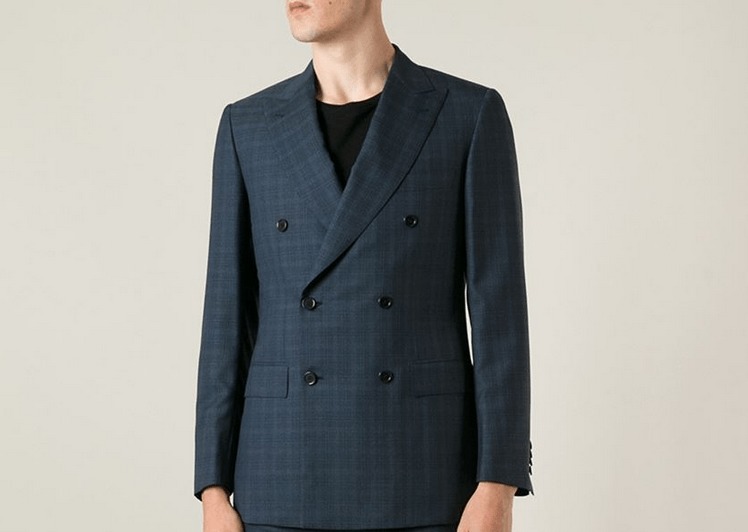 5. Brioni
"Brioni is the most prestigious luxury couture house in the men's fashion world" reads the Roman brand's Instagram bio. With a brand known for utilising the finest and rarest materials to produce some of the most expensive couture suits known to man, it is a statement that hardly needs backing up. Perhaps the most famous wearer of Nazareno Fonticoli and Gaetano Savini's (the brand's founders) suits is none other than Daniel Craig as James Bond in the final scene of Casino Royale. Every man needs a double-breasted blazer in his wardrobe, so look no further than the Brioni check pattern suit, composed of silk and wool and featuring super-fine check detailing.
Price: from $2,995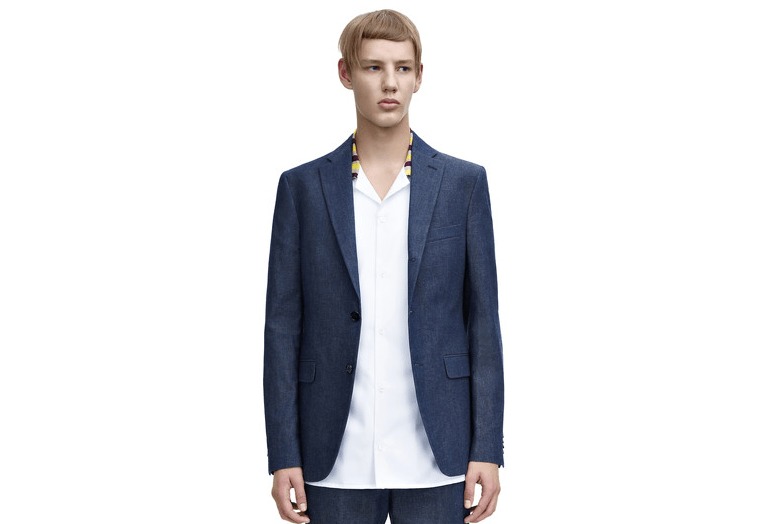 6. Acne Studios
For the sneaker-freaker with that pair of all-white sneakers, he is never seen without, the navy suit is possibly a match made in heaven. However, one cannot just slap on any suit and pray for the best. Luckily, Stockholm collective Acne produces suits practically made for wearing with those clean, white kicks. This season's pick has to be the Drifter denim suit, which is the perfect level of casual for this kind of look. For best results, wear it over a plain white Breton stripe sweater or white crew-neck t-shirt.
7. Farage
Launched in 1998 by husband and wife duo, Joe and Katy Farage, the Australian luxury brand was built on a dedication to fine tailoring and delivering an authentic bespoke experience for the customer. The Aston A Check suit in a smooth navy colour is the embodiment of this ideal. The subtle check detailing in this wool suit will reveal itself in natural light, making it just as suited for day-time wear as night.
Price: from AU$725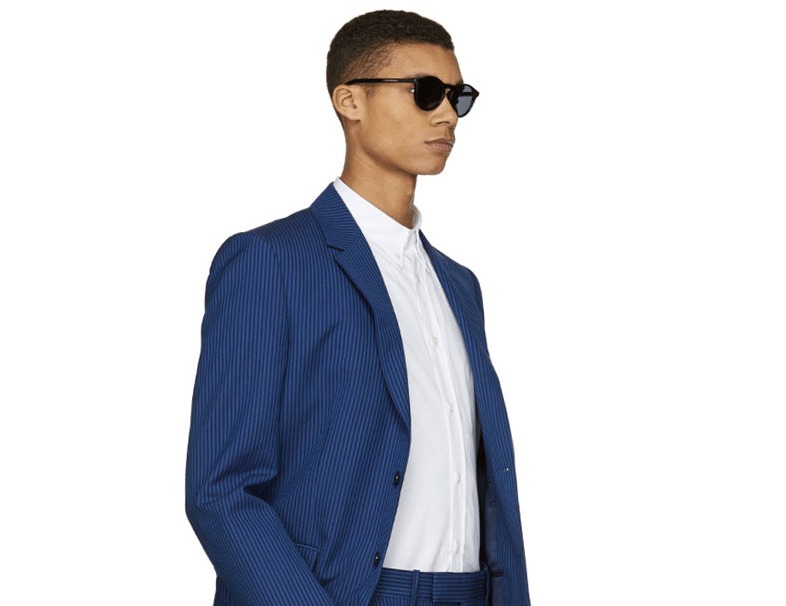 8. Alexander McQueen
Pin-striping in suiting might seem like an antiquated tradition, but in true Alexander McQueen style, the brand's wool candy stripe suit is a laugh in the face of those that cry 'archaic'. The Alexander McQueen ethos has always been on sharp British tailoring and daring designs, none more evident than in this suit's light blue wool construction. Take the 'aged banker' look out of this number by rocking the no-tie, Ryan Gosling look with a crisp white shirt buttoned to the top. It's what McQueen would've wanted.
Material: wool
Price: from $1,773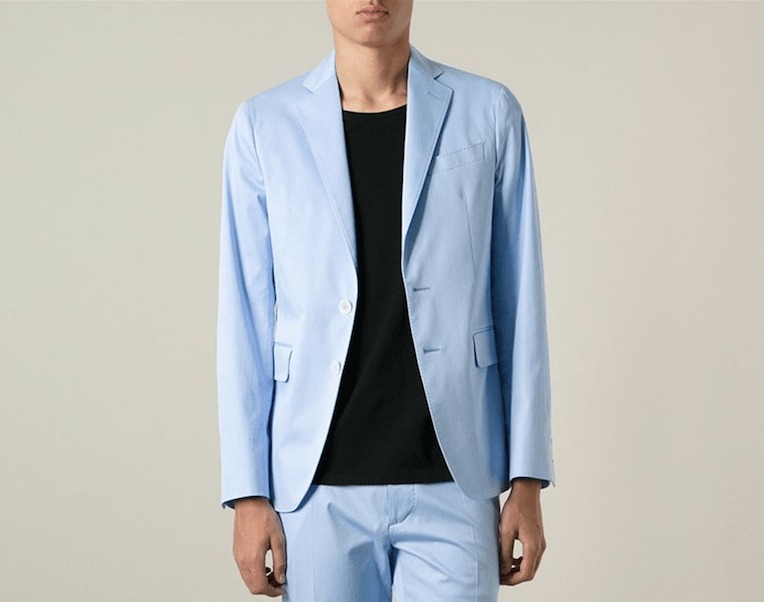 9. DSQUARED2
While the chill has well and truly hit down under, there are no hard and fast rules about showing a bit of colour in the winter months, especially on those odd balmy days where the sun is out in full force. For said weather, there's the pastel blue suit by twin brother duo Dean and Dan Caten, constructed in stretch cotton. For the less colourfully-inclined, tone down the look with a pair of slim cut beige chinos, navy knitted tie and matching suede brogues.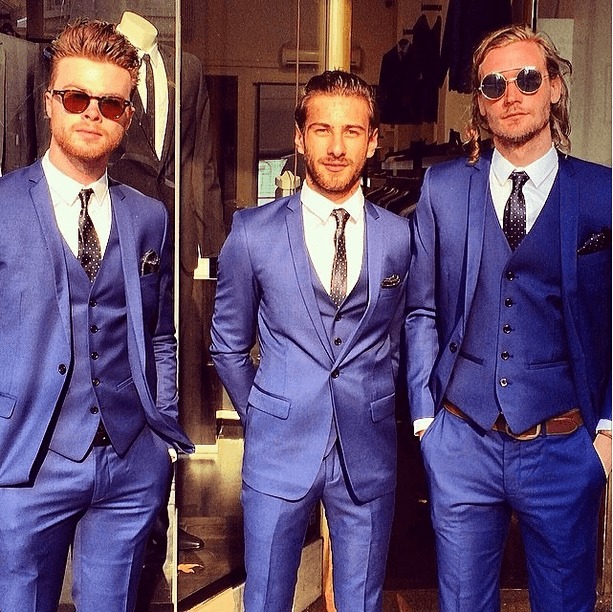 10. Jack London
Championing the Brit mod look of the 60s, Australian label Jack London was born in 2008 from the talented mind of Karl Bartl, a man with zero fashion credentials but a keen eye for how a man should be dressed. Don't let that neo-British style fool you though: it's just as suited for the boardroom, as it is for play. The pick of their slim cut and an expertly tailored range is the Dover suit, with its lighter navy hue. The single-button wool blend jacket with a super fine lapel is a great choice for those with a skinnier frame who prefer suits that contour snugly.
Price: from $269
You'll also like: 
Australian Men's Suit, Shirt and Pants Size Conversion Guide
How To Accessorize a Blue Linen Suit
Basic Guide to Men's Suits Styles, Types, Fits and Details