Audemars Piguet Creates a Winter Wonderland with Snow-Set Diamond Royal Oaks
Something special happens when one of the biggest names in watchmaking blends the mechanical excellence of Haute Horlogerie with the masterful gem-setting of Haute Joaillerie. That's certainly the case with the latest Royal Oak models from Audemars Piguet. The Swiss manufacturer is no stranger to incorporating jewels into its watch designs and has past collaborations with Tiffany, Cartier, Oscar Heyman and Bvlgari. But even with that illustrious history, the latest quartet of Royal Oak models are sure to catch the watch world's attention.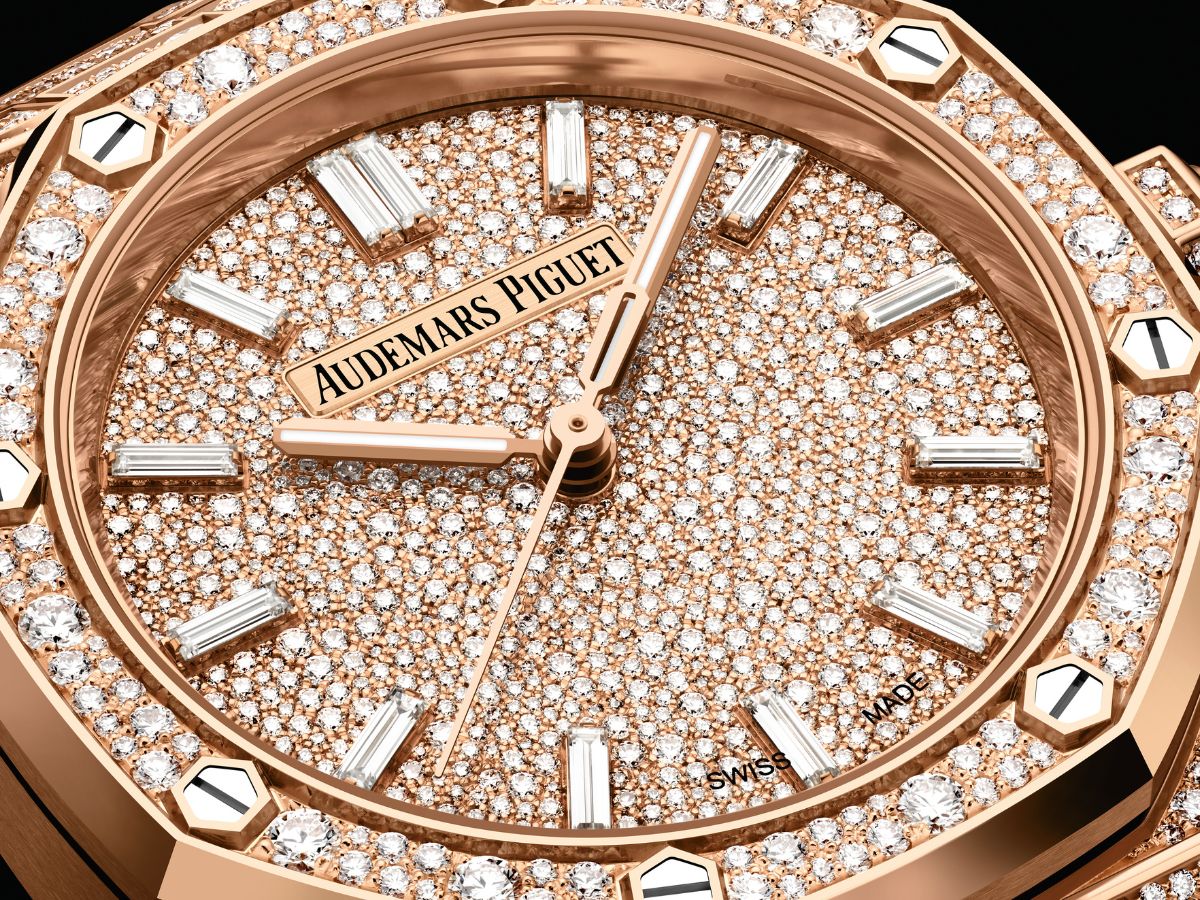 Decorated with stunning snow-set diamonds and with no compromise made on either the watch's aesthetics or specifications, AP proves again that it can rework its most iconic watch without losing any authenticity. And in a nod to the current trend for smaller, more comfortable watches, AP has chosen to debut snow-set diamonds on its 34mm and 37mm models. Interestingly, this is also the first time the manufacturer has created a fully gem-set watch in the smaller case size.
Of course, the Royal Oak needs no introduction, suffice it to say that it has a distinctive styling that includes an octagonal bezel and an integrated bracelet and is considered to be the world's first luxury sports watch. There's no change to the styling and the designers have actually tweaked the case so that the diamonds don't upset the geometry or functionality of the watches.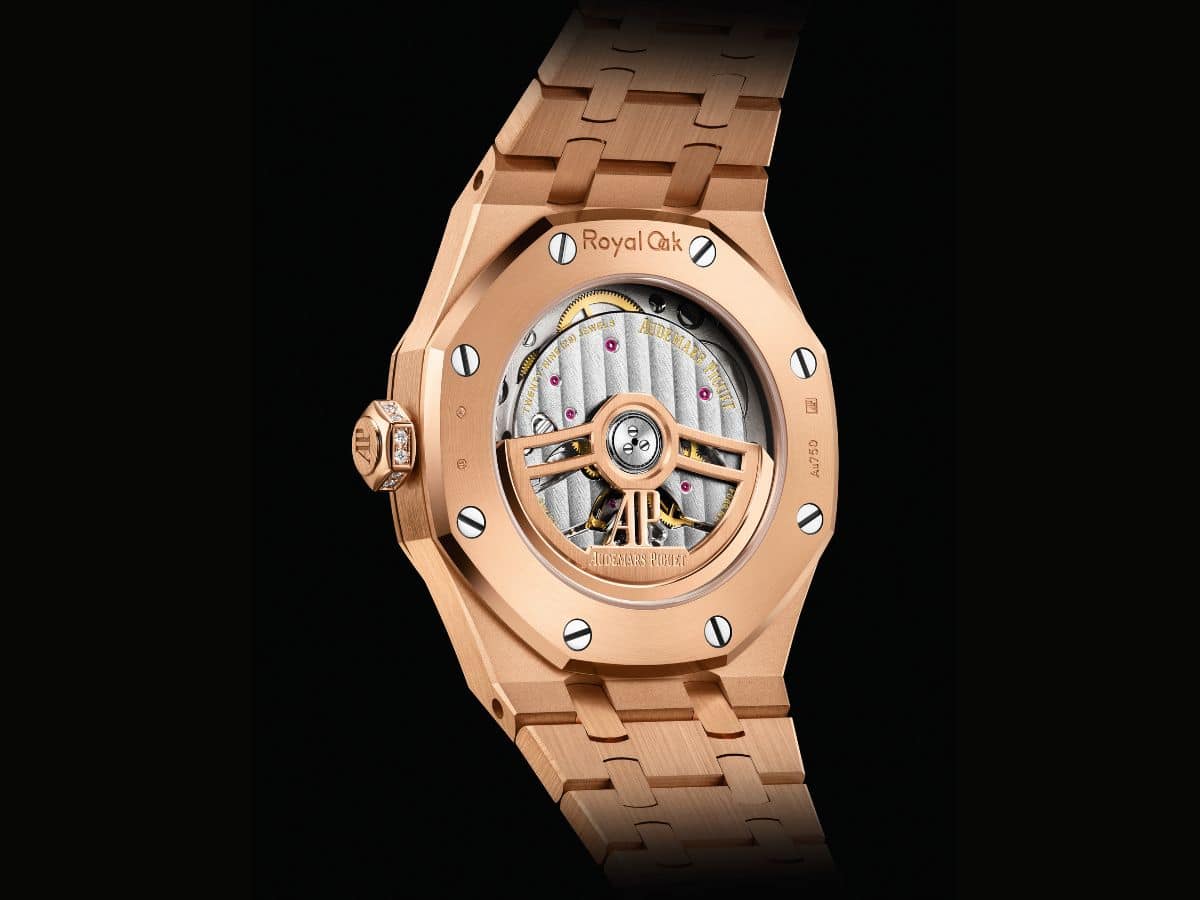 As one of the holy trinity of ultra-luxury watchmakers, AP's watchmaking credentials are unparalleled and the new quartet of watches continue that legacy. These latest additions to the Royal Oak family are faithful to the model's ethos and are equipped with Swiss-made in-house automatic movements. There are four watches to choose from with 18 Carat pink-gold and 18 Carat white-gold models, both available in either a 34mm or 37mm case.
It's not often we'd say this about a watchmaker of AP's calibre, but these watches are all about the jewels, the brilliant-cut diamonds to be specific. The techniques used to set the stones, and the quality of the gems used are mindblowing. Designed to mimic freshly fallen snow, the snow-set diamonds have been individually picked from stones of various sizes and meticulously set into the case, bezel, dial and even the links of the bracelet. The process is incredibly complex and the finished watch boasts a mosaic of interlocking diamonds that reflect the light beautifully.
The numbers are mindblowing too. The smaller 34mm watch has 2,255 brilliant-cut diamonds and the 37mm model has 2,123. To see these handsome watches in the flesh you'll need to head down to an authorised Audemars Piguet retailer.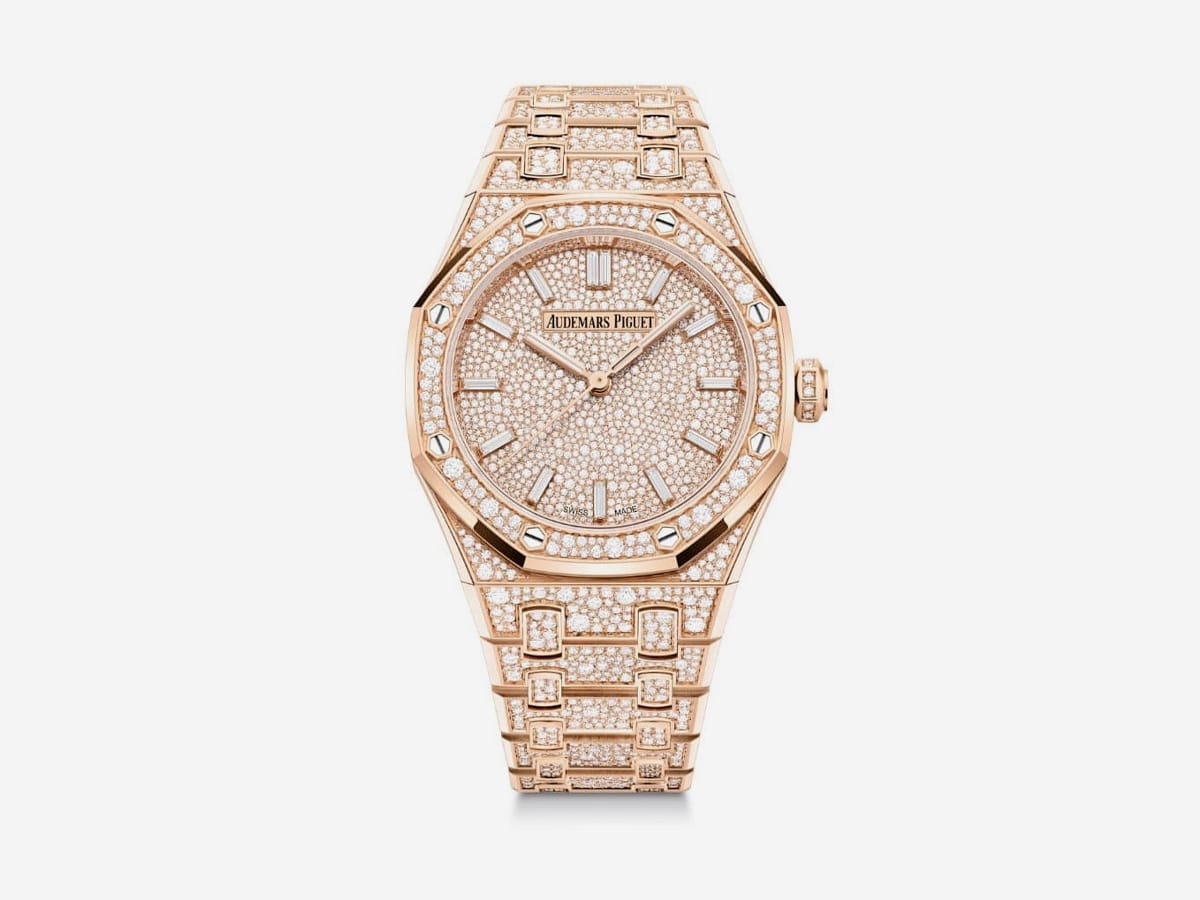 Audemars Piguet Royal Oak Selfwinding 34mm
Reference: 77452OR.ZZ.1365OR.01
Diameter: 34mm
Height: 9.2mm
Case: 18 Carat Pink Gold with 276 Brilliant-Cut Diamonds
Movement: Calibre 5809
Strap: 18 Carat Pink Gold with 1100 Brilliant-Cut Diamonds
Water Resistance: 20M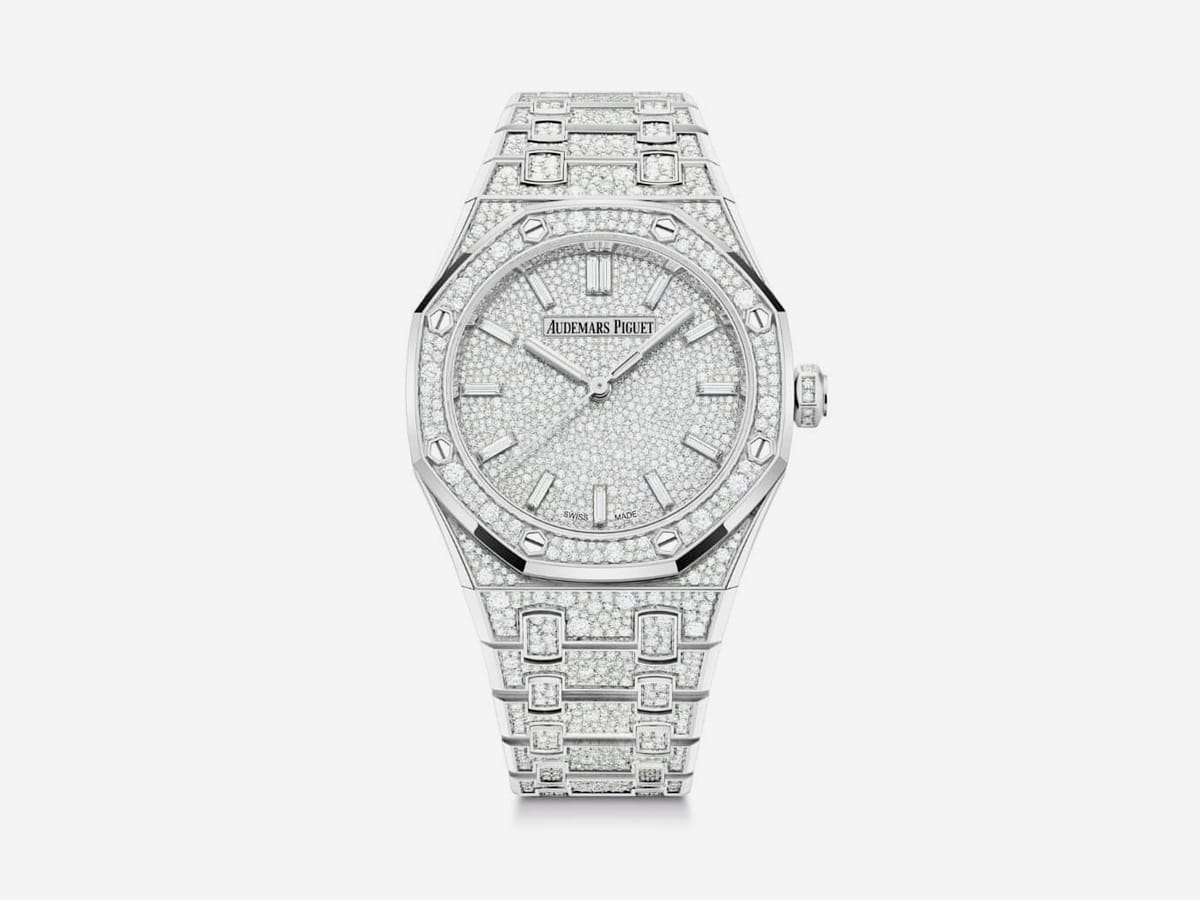 Audemars Piguet Royal Oak Selfwinding 34mm
Reference: 77452BC.ZZ.1365BC.01
Diameter: 34mm
Height: 9.2mm
Case: 18 Carat White Gold with 276 Brilliant-Cut Diamonds
Movement: Calibre 5809
Strap: 18 Carat White Gold with 1100 Brilliant-Cut Diamonds
Water Resistance: 20M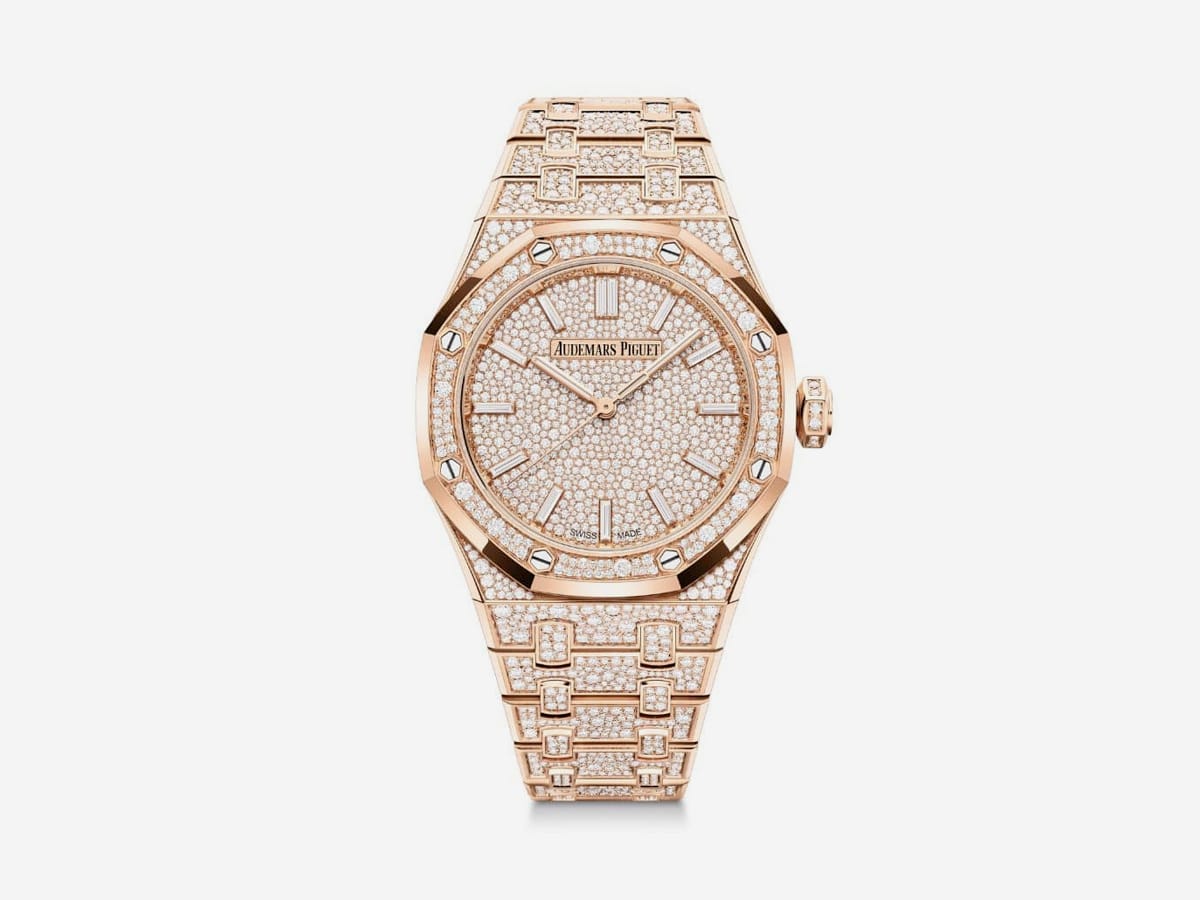 Audemars Piguet Royal Oak Selfwinding 37mm
Reference: 15552OR.ZZ.1358OR.01
Diameter: 37mm
Height: 9.3mm
Case: 18 Carat Pink Gold with 318 Brilliant-Cut Diamonds
Movement: Calibre 5909
Strap: 18 Carat Pink Gold with 1106 Brilliant- Cut Diamonds
Water Resistance: 20M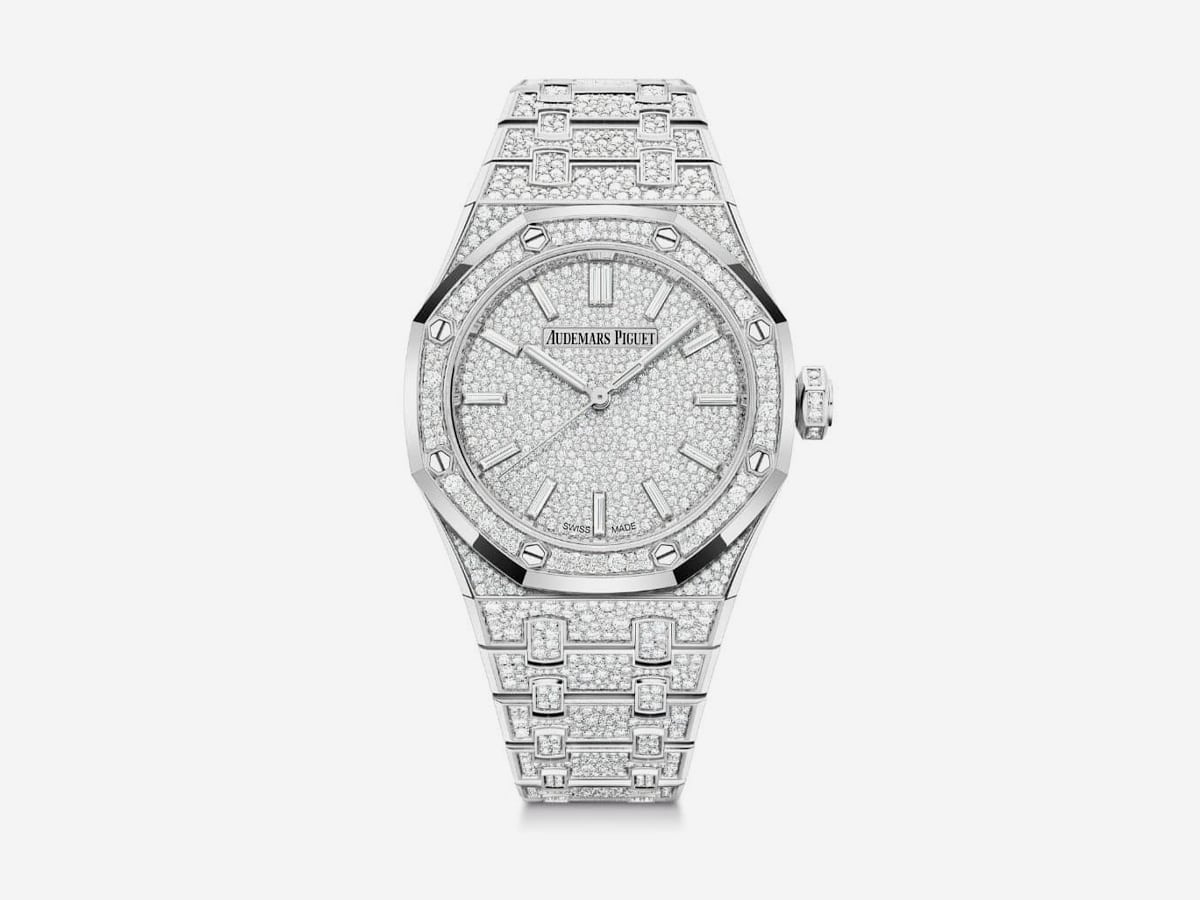 Audemars Piguet Royal Oak Selfwinding 37mm
Reference: 15552BC.ZZ.1358BC.01
Diameter: 37mm
Height: 9.3mm
Case: 18 Carat White Gold with 318 Brilliant-Cut Diamonds
Movement: Calibre 5909
Strap: 18 Carat White Gold with 1106 Brilliant-Cut Diamonds
Water Resistance: 20M