From Jared Leto's cat costume to Doja Cat's cat costume, fashion's most ridiculous night didn't disappoint. The 2023 Met Gala paid honour to revered designer Karl Lagerfeld, two years on from his untimely passing in a manner that the German fashion lord would have loved. Over-the-top costumes, an assortment of props and a proverbial buffet of A, B and occasionally C-grade celebrities were the name of the game, but amid the chaos, there were some inspired accessories. This year's Met Gala played host to some of the most incredible watches ever seen, many of which debuted only weeks ago at Watches & Wonders, and there was no shortage of sparkle. With releases from Rolex, Audemars Piguet, Bulgari and many more, Met Gala watch hunting was well worth the price of admission in 2023.
Best Watches from Met Gala 2023
While Anitta's piece may have set the record books ablaze with its bottom line, the unique wrist candy wasn't exactly to our taste. Instead, we turned to some old favourites and perennial class leaders for that. Without further ado, here are the best Met Gal watches from 2023, according to our team of experts.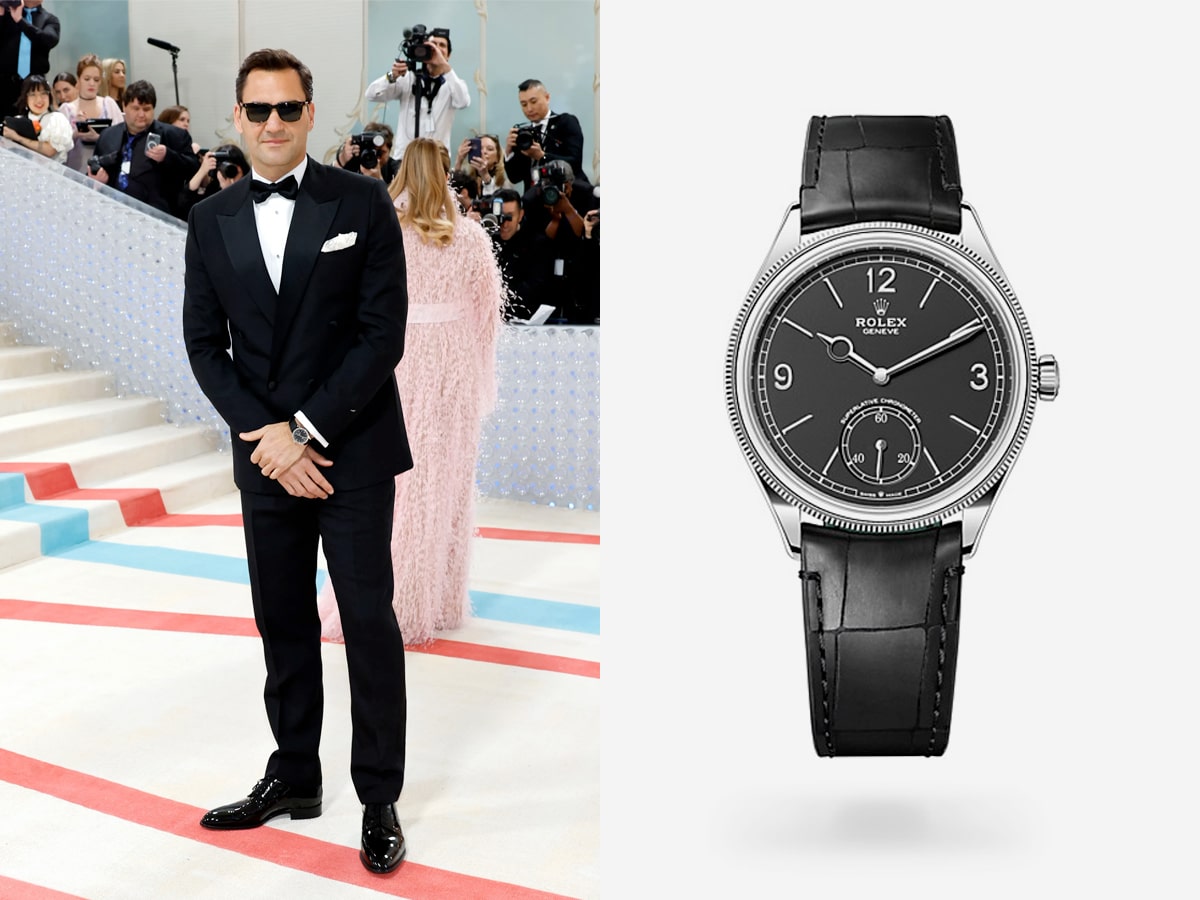 1. Roger Federer – Rolex 1908
Brand: Rolex
Model: 1908
Reference: ref.52509
Movement: Perpetual, mechanical, self-winding
Calibre: 7140, manufacture Rolex
Diameter: 39mm
Case: 18k white gold, polished finish
Price: AUD$32,850
The Fed Express has slowly turned into a style icon since retiring and his ambassadorship with Rolex doesn't hurt. The 20-time major winner was seen sporting the new Rolex 1908, a stunning and slightly unexpected release that made headlines earlier this year. Named for the year Hans Wilsdorf devised the moniker 'Rolex' to sign his creations, the 1908 marks the first in a line of watches set to join the new 'Perpetual collection'.
For the 2023 Met Gala, Federer donned the 18-karat white gold edition, which arrives complete with a transparent case back and a stunning black dial. The time is displayed with Arabic numerals 3, 9 and 12, and faceted index hour markers. Meanwhile, the timepiece is powered by the calibre 7140 movement, which offers small seconds, as well as hours and minutes. Seriously stunning from Rolex.
View at Rolex.com Read more about the 1908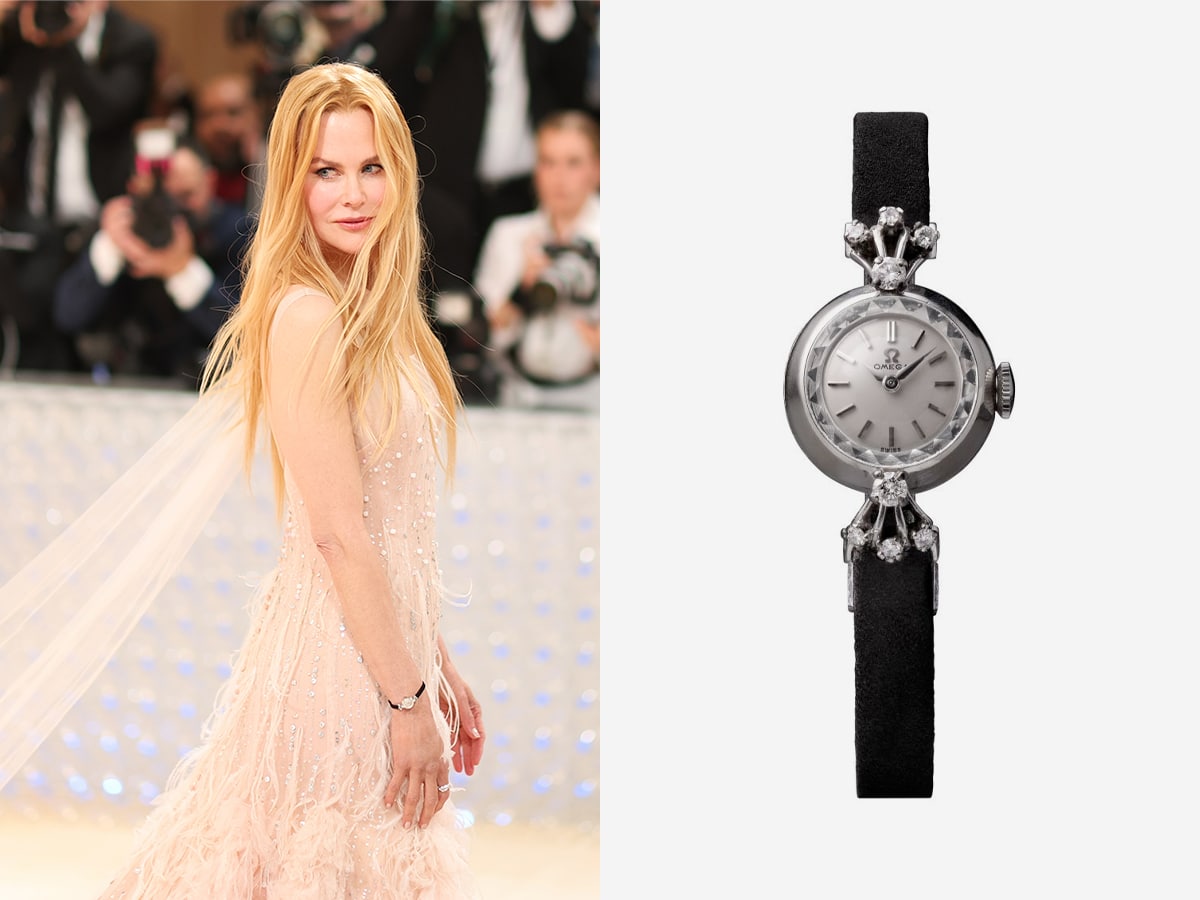 2. Nicole Kidman – 1955 OMEGA Saphette Jewellery Watch
Brand: OMEGA
Model: 1955 Omega Saphette Jewellery Watch
Reference: OT 16179
Movement: Manual winding 480 / 481 calibre
Diameter: 17.5mm
Case: 18K solid gold
Price: N/A
Australia's own Nicole Kidman also showed why she has managed to stay in style for over two decades. The Oscar-winner arrived at the Met Gala red carpet sporting an OMEGA 1955 Sapphette Jewellery Watch in white gold on a black suede bracelet. The historic timepiece is a dainty and delicate piece of fine art jewellery that perfectly typifies OMEGA's work during the mid-20th century. The 17.5mm watch has a stunning woven bracelet that lent itself perfectly to the occasion. While it is certainly one of the most interesting watches we saw on the night, it's unlikely we'll be able to get our hands on the 1955 release. This one came directly from the OMEGA archives.
View at OMEGA Read more about OMEGA
---
Featured Video from Man of Many
---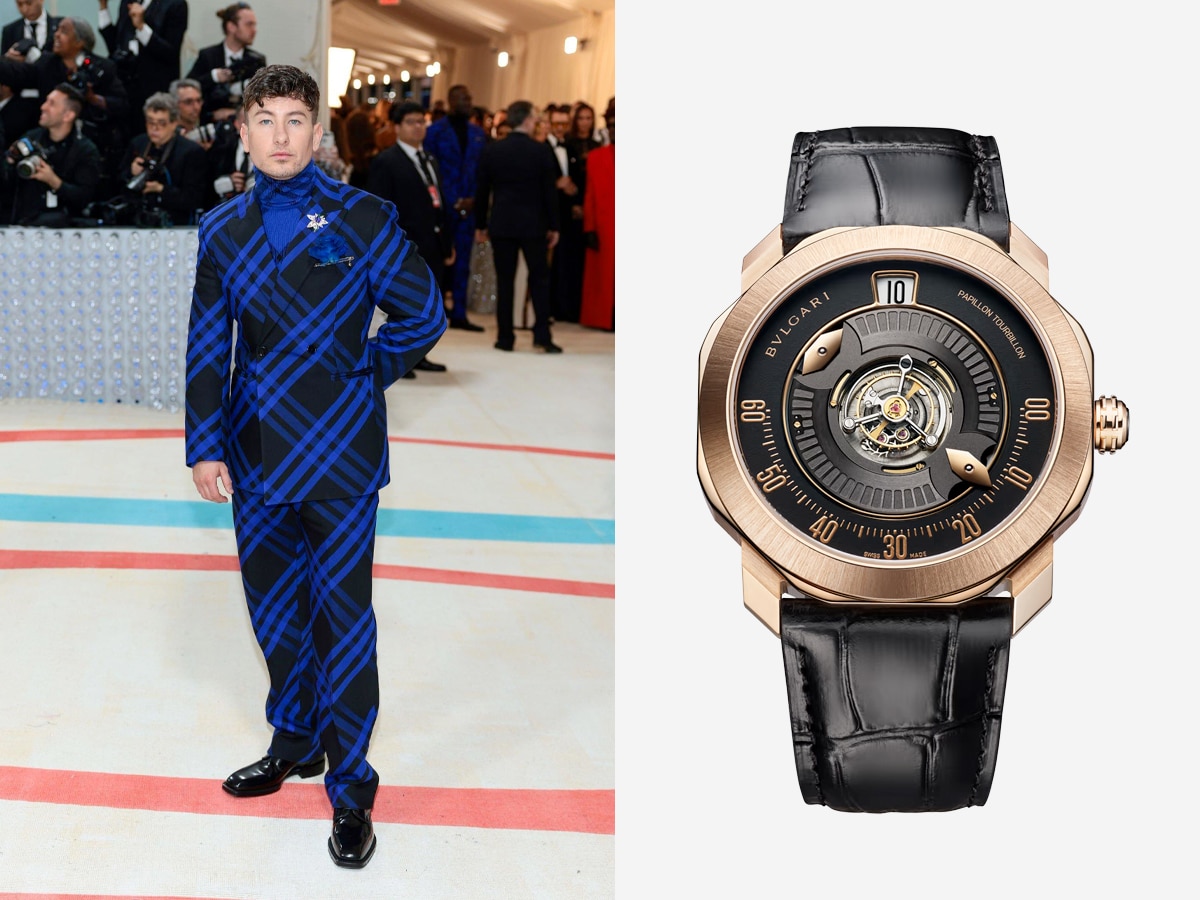 3. Barry Keoghan – Bulgari Octo Roma Papillon Central Tourbillon
Brand: Bulgari
Model: Octo Roma Papillon Central Tourbillon
Reference: Ref.: 103475
Movement: Mechanical manufacture movement, manual winding, central flying tourbillon
Diameter: 41mm
Case: 18k rose gold
Price: USD$129,000
Fresh off an Oscar nomination for his work in The Banshees of Inisherin, young gun Barry Keoghan hit the 2023 Met Gala red carpet with a head full of steam and wrist sporting a piece of horological genius. The actor arrived at the event wearing the much-loved Bulgari Octo Roma Papillon Central Tourbillon, which is among the maison's most intricate designs. It is powered by a mechanical manufacture movement, manual winding, central flying tourbillon and is housed within a stunning 18-carat rose gold case. While aesthetically it might not be everyone's cup of tea, the Octo Roma Papillon Central Tourbillon is a watch lover's dream piece.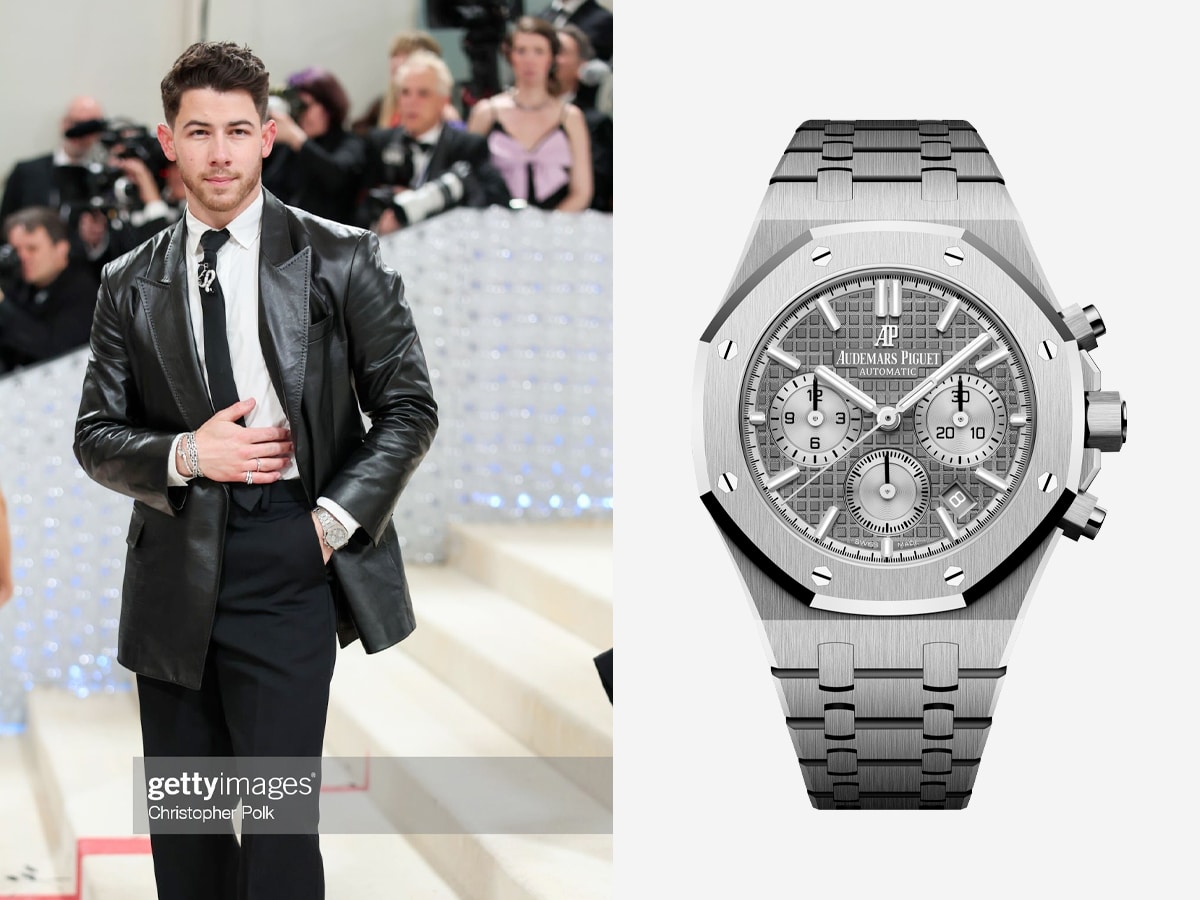 4. Nick Jonas – Audemars Piguet Royal Oak Chronograph
Brand: Audemars Piguet
Model: Royal Oak Chronograph
Reference: Ref.26315ST.00.1256ST.02
Movement: Calibre 2385 self-winding
Diameter: 38mm
Case: Stainless Steel
Price: USD$31,000
Apparently being a Jonas Brother pays off. The youngest of the trio was spotted on the Met Gala red carpet wearing the much-loved Audemars Piguet Royal Oak Chronograph. A timepiece we've covered extensively, the Royal Oak Chronograph displays a certain sophistication and class that you rarely see with a sports watch, which is perhaps why it's remained a strong seller over more than 50 years.
This specific model is powered by the iconic calibre 2385 self-winding movement, which pumps out 40 hours power reserve, all while displaying chronograph, hours, minutes, small seconds and date functions. Aesthetically, Jonas' version is among the very best, courtesy of the streamlined 38mm stainless steel case and the very spiffy ruthenium-toned "Grande Tapisserie" dial. According to AP, this was developed to improve legibility with unisex appeal, which is something pretty much the entire Man of Many office can attest to.
View at Audemars Piguet Read more about the Royal Oak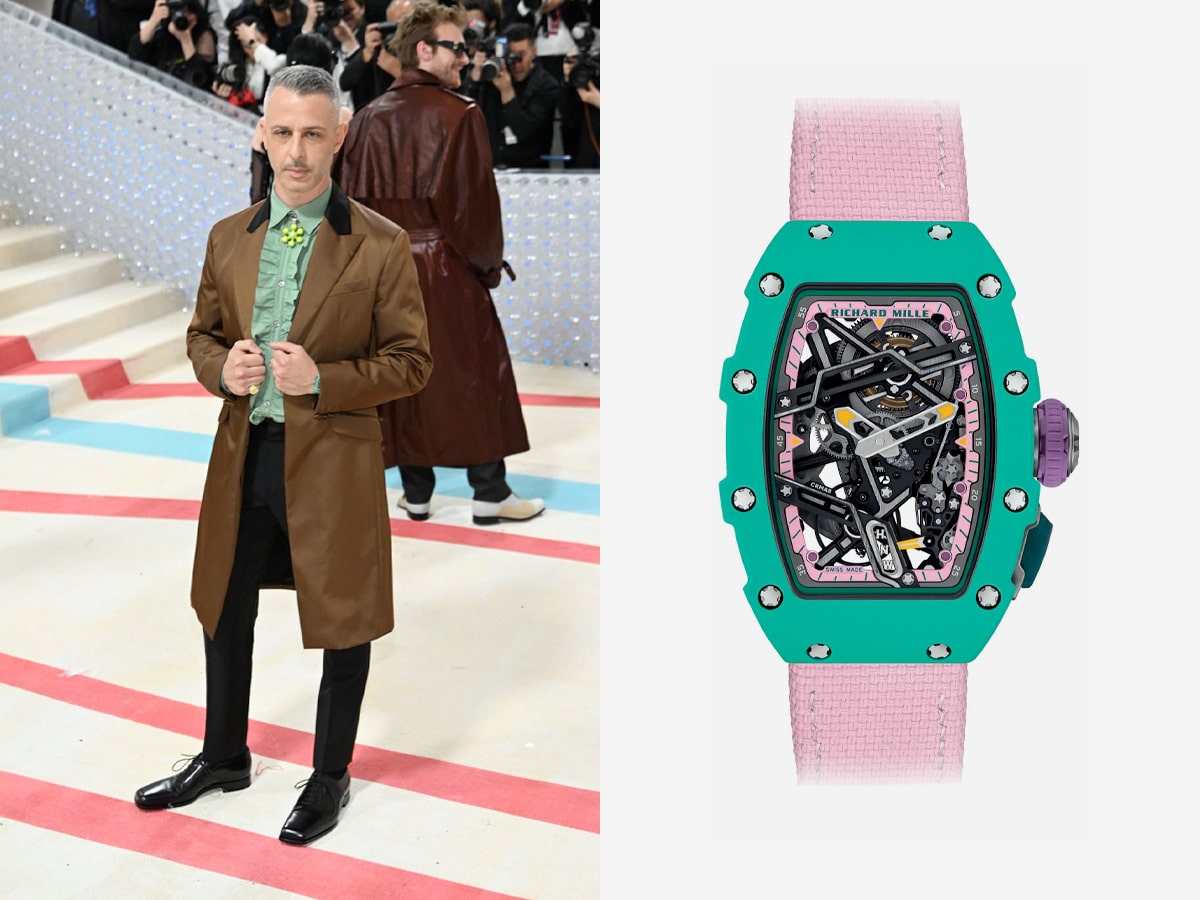 5. Jeremy Strong – Richard Mille RM 07-04
Brand: Richard Mille
Model: RM 07-04 Automatic Sport
Movement: Calibre CRMA8 automatic movement
Diameter: 30.5mm
Case: Quartz TPT
Price: USD$184,999
With Succession absolutely dominating the ratings, Jeremy Strong is fast becoming a titan of television, however, his fashion sense is not to be ignored. Opting for a rather flamboyant fit, the actor donned a Richard Mille RM 07-04 in a two-tone candy-coloured finish. The watch is powered by the calibre CRMA8 automatic movement, making it one of the most advanced sports watches on the planet, and is crafted from Richard Mille's patented Quartz TPT material. The RM 07-04's interesting shade of green paired well with his undershirt, helping to tie the ensemble together, but when you've got a USD$185,000 watch on your wrist, who cares about matching?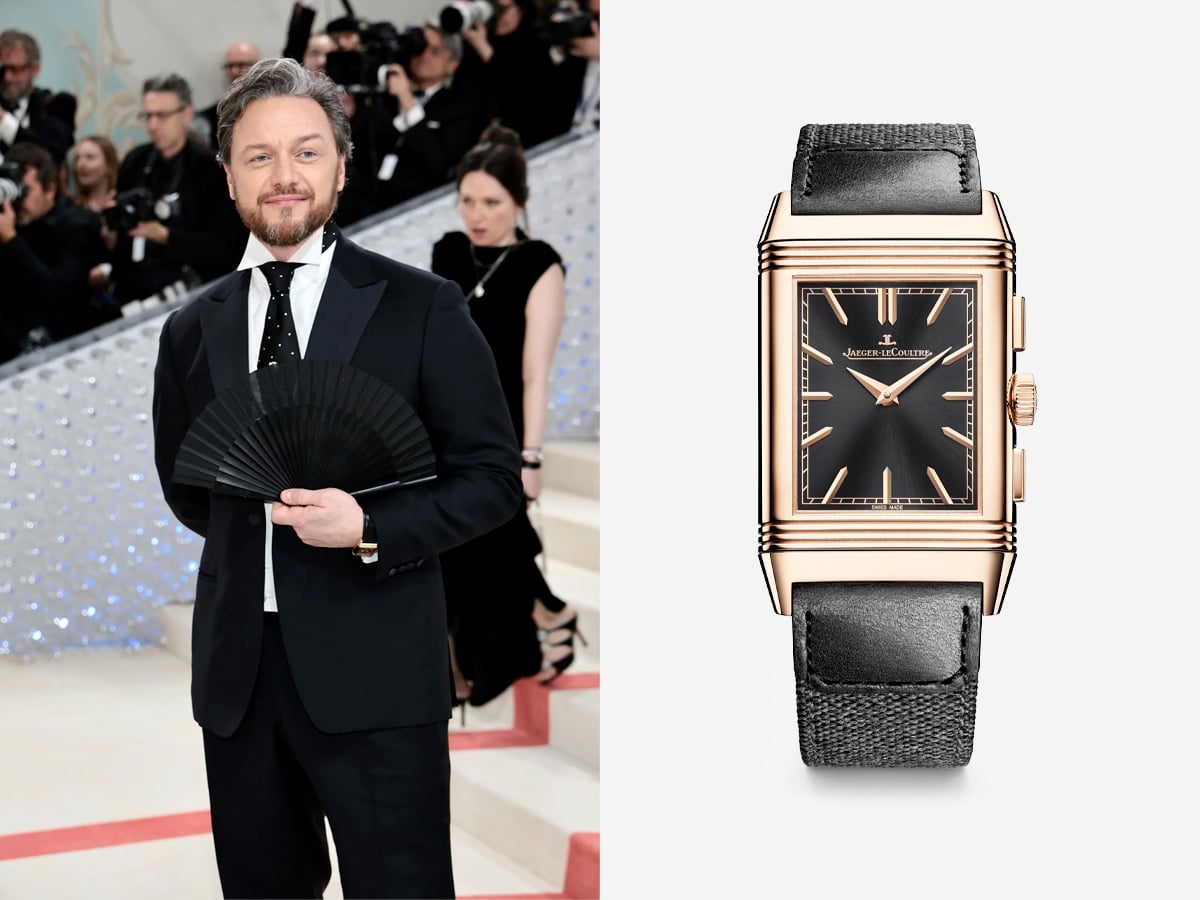 6. James McAvoy – Jaeger-LeCoultre Reverso Tribute Chronograph
Brand: Jaeger-LeCoultre
Model: Reverso Tribute Chronograph Pink Gold
Reference: Ref.Q389257J
Movement: Jaeger-LeCoultre calibre 860 manual winding
Diameter: 29.9mm
Case: 18k Pink Gold
Price: AUD$61,000
James McAvoy is a beacon of classic style, so it's little wonder the Scotsman turn to Jaeger-LeCoultre for his 2023 Met Gala watch. The actor's Reverso Tribute Chronograph is the latest edition to hit the scene, released at the height of the 2023 Watches & Wonders craze. This edition, Ref.Q389257J, features an 18-karat Pink Gold case and is powered by the calibre 860 manual winding movement. Of course, the format of this piece means we only got to see 50 per cent of what it offers, but when you spend AUD$61,000 on a watch, it's worth keeping a little something for yourself.
View at Jaeger LeCoultre Read more about Jaeger-LeCoultre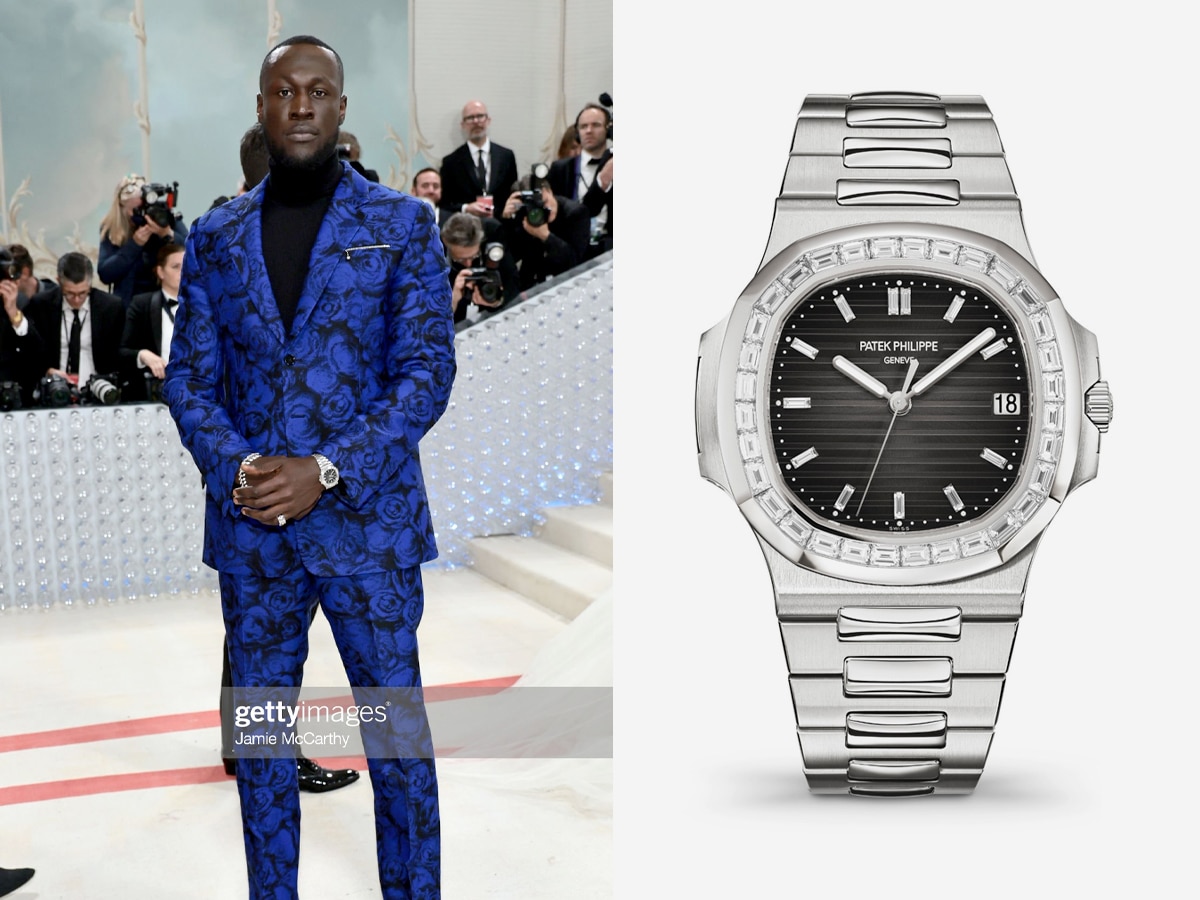 7. Stormzy – Patek Philippe Nautilus Ref. 5711/110P-001
Brand: Patek Philippe
Model: Nautilus
Reference: Ref. 5711/110P-001
Movement: Patek Philippe calibre 324 S C
Diameter: 40mm
Case: Stainless Steel
Price: USD$665,132
British rapper Stormzy has emerged as one of menswear's leading figures and his Met Gala watch choice was further proof. The 'Vossi Bop' performer dipped into his collection of timepieces, which apparently includes a bunch of Rolex and AP favourites, to appear with the Patek Philippe Nautilus Ref. 5711/110P-001. Seen by many as a 'grail watch', the Patek Philippe special was first introduced back in 2019 to much fanfare in the watch world. The release features a stainless steel case, complete with a dazzling display of baguette-set diamonds on the bezel, paired with a grey dial with a gradient finish. If he keeps wearing pieces like this, Stormzy could find himself in serious danger of becoming too big for his boots.
View at Patek Philippe Read more about Patek Philippe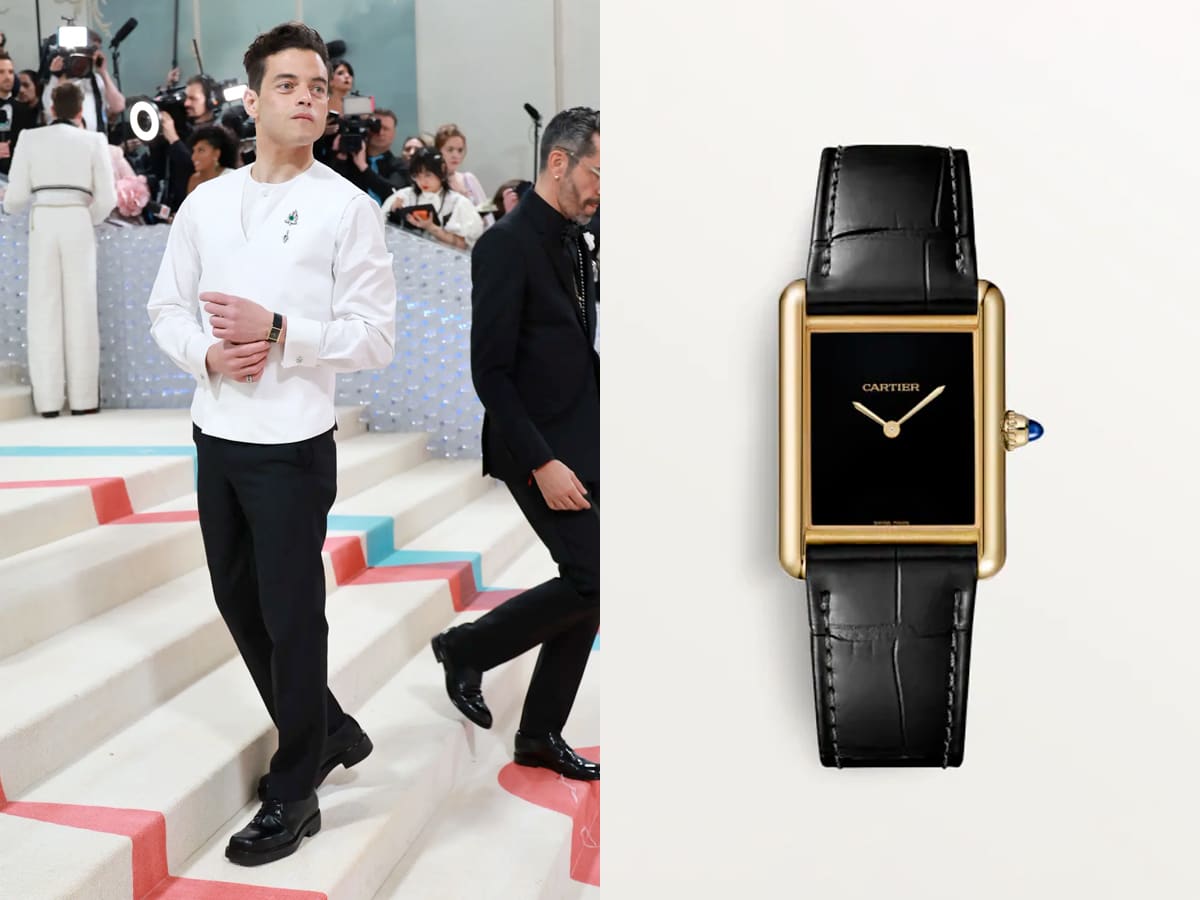 8. Rami Malek – Cartier Tank Louis Cartier
Brand: Cartier
Model: Tank Louis Cartier
Reference: ref.WGTA0091
Movement: Manufacture mechanical movement with manual winding
Diameter: 33.7mm
Case: Yellow gold 750/1000
Price: AUD$20,500
Cartier ambassador Rami Malek is on a bit of a Tank crusade recently. After helping to launch the new Tank Française early this year, the Bohemian Rhapsody star hit the 2023 Met Gala red carpet wearing the new Tank Louis Cartier ref.WGTA0091. A relatively low-key release, this iteration of the classic square-body timepiece is crafted from yellow gold and features a paired-back dial layout without numerals. Priced at AUD$20,500, the Tank Louis Cartier isn't exactly cheap but perfectly embodies the concept of 'quiet luxury'. Very classy.
View at Cartier.com Read more about Cartier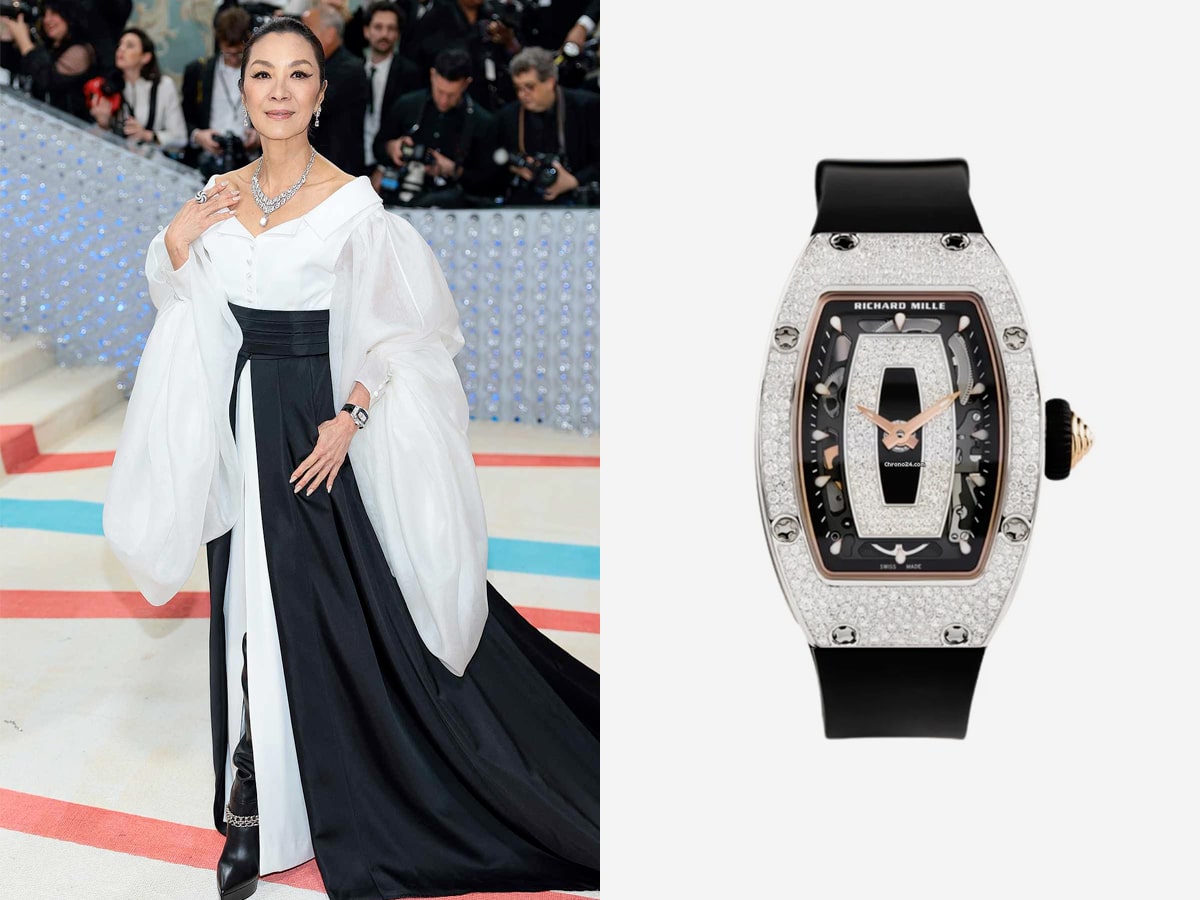 9. Michelle Yeoh – RM 07-01 Richard Mille Platinum with Diamonds
Brand: Richard Mille
Model: RM 07-01 Richard Mille Platinum with Diamonds
Movement: CRMA2 calibre skeletonised automatic movement.
Diameter: 31.4mm
Case: Carbon TPT
Price: USD$223,217
It's really Michelle Yeoh's world, we're just living it. The Everything, Everywhere All at Once star has been smashing her way through Richard Mille's stunning collection of watches, but for Met Gala 2023, she brought out something special. Paired with a matching white, chiffon and black outfit, Yeoh debuted the RM 07-01 Platinum with Diamonds, the pinnacle of Richard Mille's sports watch lineup. Priced at around USD$220,000, the 31mm timepiece is crafted from the maison's trademark Carbon TPT material, which is responsible for its extremely light and robust construction. In a fun contrast, Yeoh wore the platinum and diamond watch on a rubber strap, highlighting the unique sporty appeal of the Richard Mille novelty.
View at Richard Mille Read more about Richard Mille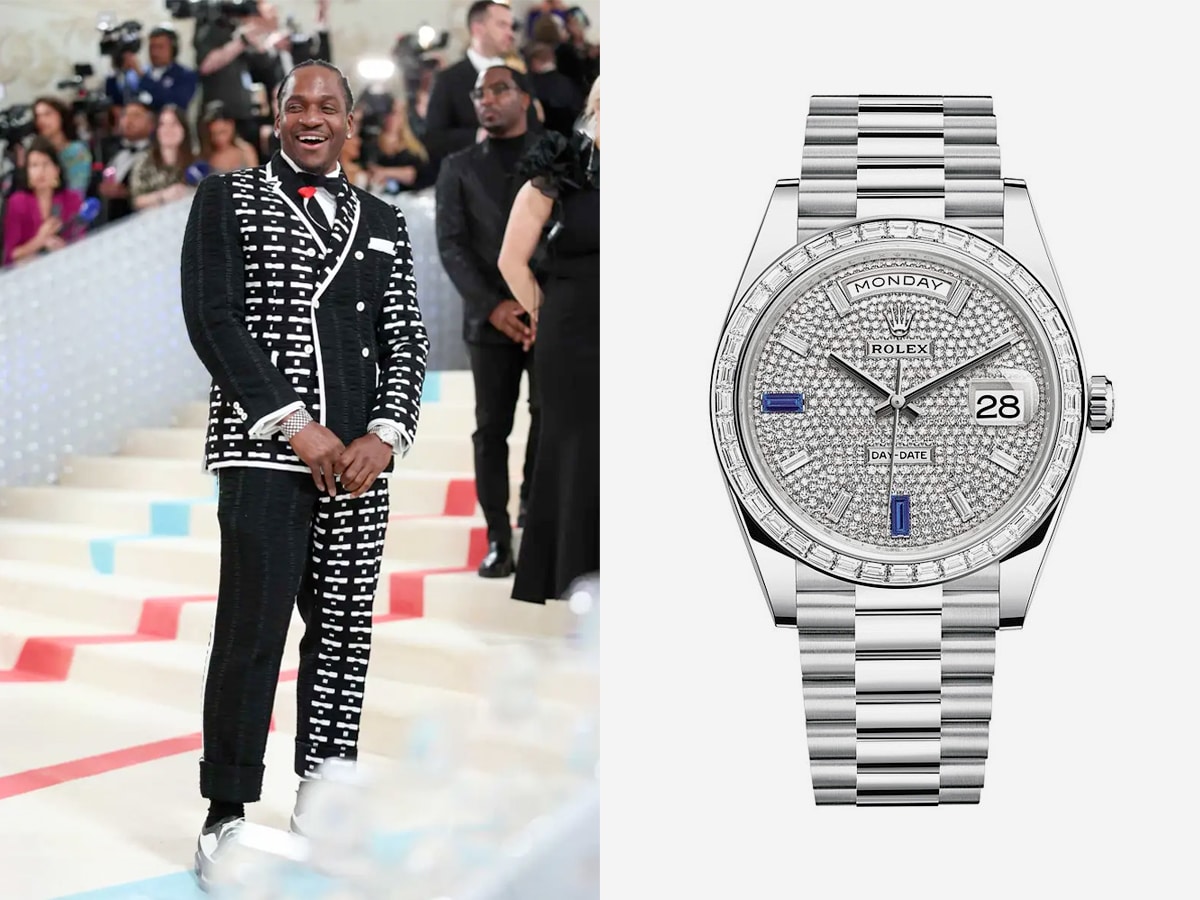 10. Pusha T – Rolex Day-Date 40mm
Brand: Rolex
Model: Day-Date
Movement: Rolex in-house calibre 3255
Diameter: 40mm
Case: Platinum
It wouldn't be a watch round-up without a Rolex Day-Date 40mm. A staple amongst the world's most stylish, the timepiece has managed to transcend watch circles entirely, breaking into pop culture and high fashion. No one typifies the new-age approach to Rolex more than rapper Pusha T, who hit the 2023 Met Gala red carpet sporting a glistening Day-Date 40mm. The release features a polished platinum case and twinlock crown, alongside 40 trapeze-cut baguette diamonds weighing a total of +/- 3.48 carats. Importantly, this eye-catching Rolex doesn't skimp on the dial candy either. On the face, you'll find an assortment of pave-set diamonds and with eight baguette diamonds and two baguette sapphire hour markers completing the look.
View at Rolex.com Read more about Rolex 2023 release
Met Gala Watch Trends 2023
Over the course of the night, watch fans eagerly spied a number of incredible timepieces on the wrists of the world's rich and powerful, with many fetching exorbitant price tags. Take musician Anitta's USD$1.5 million Roger Dubuis Velvet Platinum 38mm, for example. According to Nicholas Hickey, managing director at luxury watch specialist, Luxe Watches, the unique piece was the most expensive on the night, but it wasn'y the only eye-catching watch to hit the red carpet.
"The Met Gala is the epitome of all things luxury, so it's no surprise that an array of prestigious watches were on display," Hickey said. "Those who make it onto the exclusive guest list are regarded as the most relevant stars, and what they wear matters. It's always intriguing to look out for which accessories the guests choose to complement their overall ensemble or make a statement. The celebrities of the moment wore a variety of extravagant luxury watches — from the classic to the unique!
"There's no denying that A-listers hugely influence trends as everyone tries to get a taste of their lavish lifestyle," Hickey continued. "Several styles featured at last year's Met Gala stayed through 2022 and made their mark — including green, blue, and diamond-encrusted watches. I'm sure many of the watch designs spotted at this year's Met Gala will make several appearances throughout the year."
You'll also like:
This Space-Saving Storage Unit Presents Your Watch Collection as a Work of Art
Alinghi Speedmaster Dark Side of the Moon Edition is Accompanied by a Matching Display Case
The World's Most Expensive Apple Watch Case

General FAQs
What watch did Roger Federer wear at the Met Gala 2023?
Roger Federer wore the new Rolex 1908 to the Met Gala 2023. The tennis dynamo is a Rolex ambassador, so it was fair game for him to wear the unique piece.
What was the most expensive watch worn at the 2023 Met Gala?
According to reports, Anitta's Roger Dubuis Velvet Platinum 38MM was the most expensive watch to grace the red carpet of the 2023 Met Gala. The unique timepiece is priced at a whopping - £1,205,000 (USD$1,498,544).
---
Featured Video from Man of Many