WIN! More Than $100K Worth of Outdoor Toys with G-SHOCK!
The uncertainty of when travel restrictions will be lifted in Australia is putting a serious crimp in our vacation plans. Luckily, G-SHOCK wants us to make the most of our natural surroundings. And what surroundings they are. From our glorious coastlines to the expansive outback to everywhere in between, Australia offers no shortage of thrilling outdoor activity. To re-connect you with the world right outside your door, the rugged watchmaker is hosting one seriously massive giveaway.
G-SHOCK Australia always goes big and this giveaway is definitely no exception. Dubbed the 2020 Tough Toys Giveaway Promotion, it finds them partnering with a range of iconic Aussie outdoor and adventure sports brands. To enter the competition, purchase a G-SHOCK or BABY-G watch from an authorised retailer between 2/11/20 and 11/01/21 and then enter your details in the competition website. Should you purchase the watch directly through G-SHOCK, you'll be automatically entered into the competition.
Once enrolled, you're eligible for some truly awesome rewards. G-SHOCK and their partners pulled out all the stops on this one, leading to 240+ prizes and an overall prize pack worth more than $100,000. Included on the list are electric bikes, jet skis, fishing gear, bbq's, and more. Not bad for the price of a G-SHOCK watch.
Even if you don't win the competition, you've chosen wisely in picking up a new G-SHOCK. Bursting with functionality, these watches encapsulate the spirit of exploration and adventure. Not just smarter than ever before, but each model is also water-resistant, basically indestructible, and visually striking. Should you take to the outdoors on a frequent basis, we can think of no better wristwear for the occasion.
Purchase either a G-SHOCK or a BABY G watch from an authorised retailer between 2/11/20 and 11/01/21 and you'll be automatically entered into the 2020 Tough Toys Giveaway Promotion. Jam-packed with choice adventure gear from Australia's most iconic brands, the competition hands out over $100,000 worth of prizes. The winners will be drawn on 12/01/2021 so hang in there, mate!
Here's the full prize list: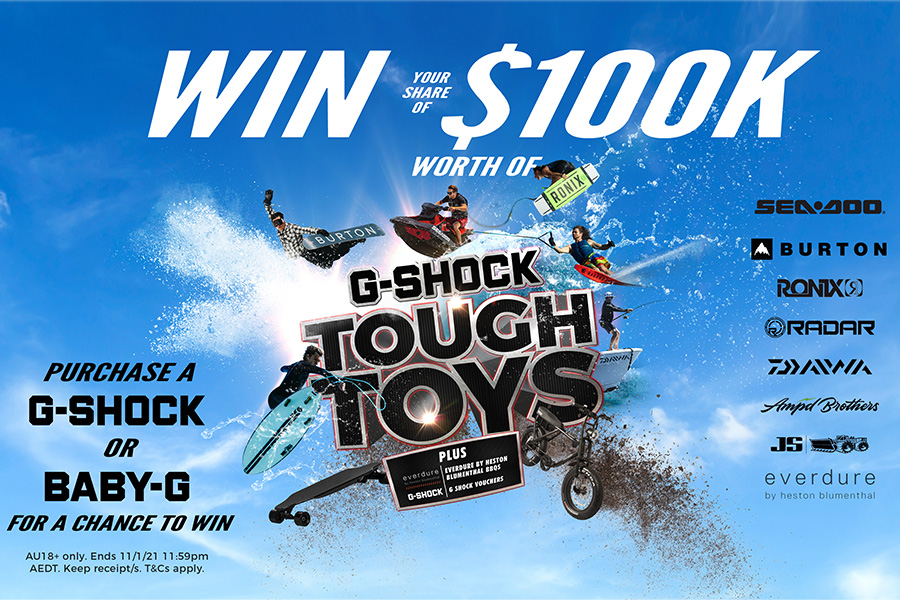 1x Seadoo Jetski (registered + including trailer)
2x Ronix Wakeboards & boots
2x Radar Waterskis & boots
4x Burton Snowboards
5x Ampd Brothers Electric bikes
5x Daiwa $2000 Fishing packs
5x JS Industries Surfboards
5x Electric Skateboards
10x Everdure by Heston BBQs
54x $250 Prezee experience vouchers
150x $100 G-Shock Gift cards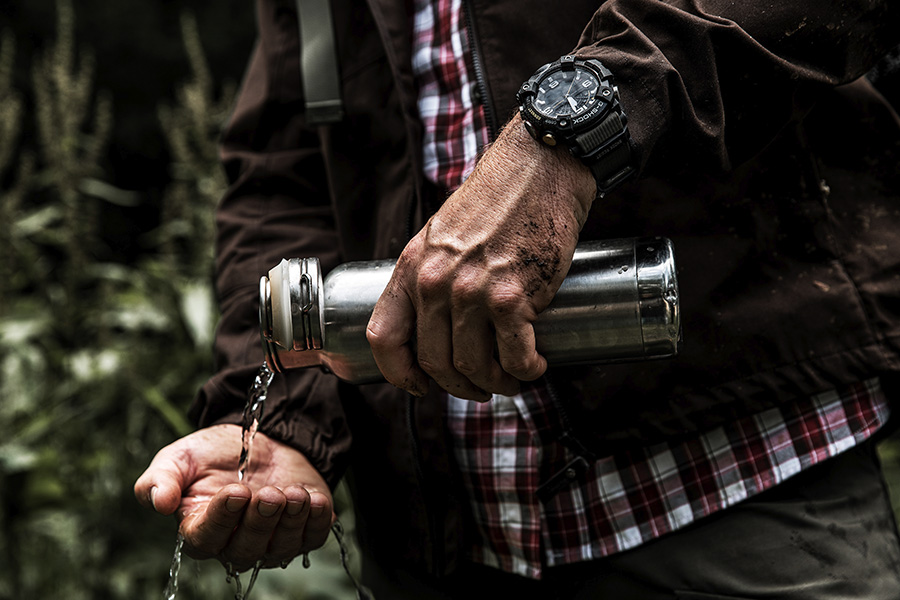 One last reminder: if you purchase (or purchased) any G-SHOCK or BABY-G from an authorised retailer between 2/11/20 and 11/01/21, you must visit the competition website and enter your details to be eligible. All purchases made on G-SHOCKS' own website within these dates will automatically be entered into the draw. Good luck!