The Wind Up – Watch News #26
It seems as though one day we can feel the warmth of Spring, while the next we're reminded of the sharp cold of Winter. And if this year's colder months were anything to go by, then rest assured our warmer seasons will be nothing short of inconsistent and unpredictable. But the show must go on, or so they say. Featured in this instalment of The Wind Up, we have some fantastic pieces to show you at both ends of the pricing spectrum. So as always, sit back, take a breather, and enjoy!
You'll also like:
The Wind Up – Watch News #25

Breitling Chronoliner Blacksteel
Want something badass that you can wear literally anywhere? Get this. That should be Breitling's marketing directive for the Chronoliner Blacksteel. Okay, maybe my prowess in the realm of consumer marketing is a little, shall we say rugged, but you can see my point. Black, as you all know, is one of the most versatile colours from a fashion sense. You can wear it anywhere, with anything and it more often than not suits any occasion. The Chronoliner Blacksteel is no different. It combines the versatility of Blacksteel with the reliability of Breitling to great applause. You truly have a do-it-all piece with this watch. Wear it to work, on your family vacation or to your local supermarket while grocery shopping and mark my words it won't look at all out of place. Impressive, imposing and impossible to resist, the Chronoliner Blacksteel ticks all of my boxes.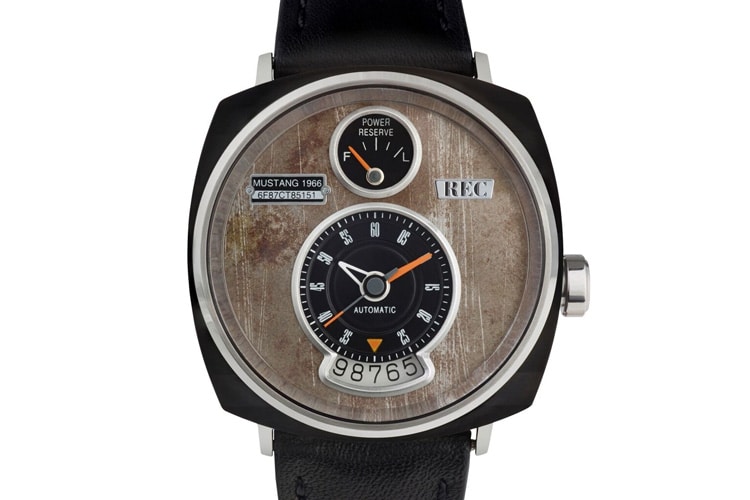 REC P-51
With a dial made of the recycled parts of a 1960s Ford Mustang, the REC P-51 is a time capsule inside a time capsule. It's the antithesis of classic watch ageing, where the unique characteristics of a worn piece have already been somewhat integrated into the watch prior to the wearer even putting it on. The dial, as I mentioned, is primarily made up of old parts from a classic Ford Mustang from the 1960s, with the distinct sub-dials mimicking the dash-board of sports cars of the era. At 12 o'clock you have a clever indicator showing the remaining power reserve similar to that of a fuel gauge, and just off-center inferiorly you have the main dial looking like that of the speedometer. At 6 o'clock you've got the date indicator, and up at 11 o'clock you actually have the VIN number of the exact car REC used to make the piece. At about 47mm in diameter and 14mm in height, it's a behemoth of a piece. But I don't really think a guy with petite wrists will look to get this piece, just to be frank. Powered by the reliable Miyota 9130 and costing about AUD2,350 its not going to be the finest watch appreciated by the snobbiest of connoisseurs, but it will definitely appeal to the rev-heads turned watch lovers.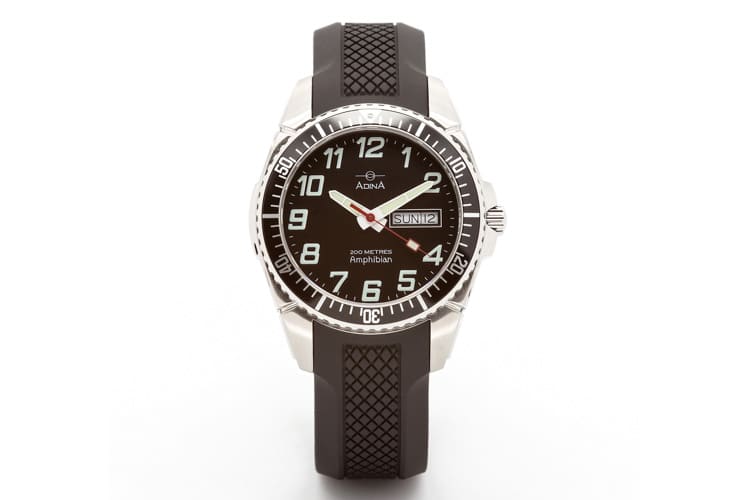 Adina Amphibian
Robust, discreet and affordable, just what a budding enthusiast needs. Its simplistic design with oversized hour numerals emphasize legibility and charisma, and in time its superluminova lume will age uniquely. The added red seconds hand with a black of superluminova near its tip really accentuates the easy-to-read characteristics of the watch. The stainless steel case with integrated lugs and crown-guards create a sense of robustness and security while sitting on your wrist without really impeding on your hand movements and becoming an uncomfortable afterthought. The undersized crown is a bit odd though, and given the size of the piece as a whole, Adina would have done well to enlarge the crown a millimeter or two just to keep the aesthetic flowing. The bezel's numerals are also a tad undersized, especially in direct comparison with the enlarged hour numerals and minute/hour hands. The added day-date window however, redeems this piece's functionality and really ensures that you can actually wear this as your daily. Priced at $399, I think the Amphibian's greatest appeal is its affordability relative to its wearability.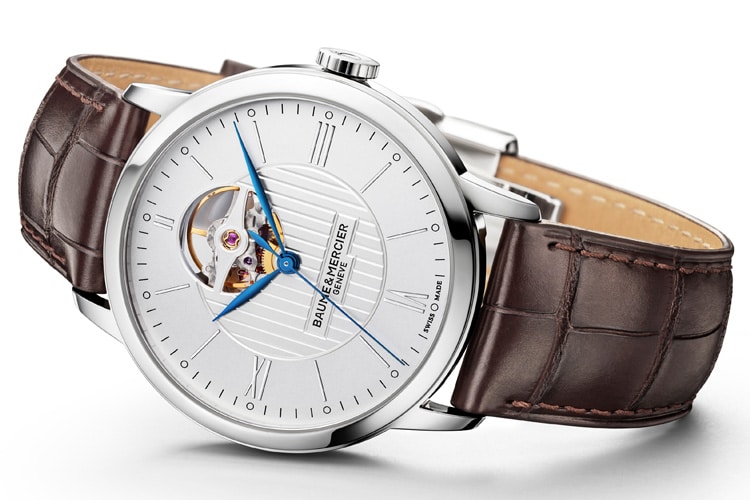 Baume et Mercier Classima
Designed for the typical student starting their long journey through university, the Baume et Mercier Classima is a stylish way for a young budding enthusiast to get under way with their collection without having to break bank. The dial has an opening at 12 o'clock which lets the wearer see the balance wheel doing its thing. To some, it may seem pointless (if it ain't a tourbillon, I ain't interested – just kidding, I'm not that bad), but to the wearer it adds another dimension to their watch that you just don't see every day. The dial itself is intricate yet simple, with Roman numerals indicating the passing hours and blued steel hands breaking up the monochromatic opaline silver dial. At 40mm, its in that "goldilocks" zone where it isn't too big or too small to be restricted to a certain type of outfit, which is great. For seasoned collectors I can almost guarantee that this won't be their cup of tea, but if you look past your initial thoughts of the piece and try to understand its purpose, then you'll come to the same conclusion I have: it's a thoughtful and understated watch that's definitive in its purpose and its execution. Present it to your son on a special occasion, and he'll appreciate the act more than the gift.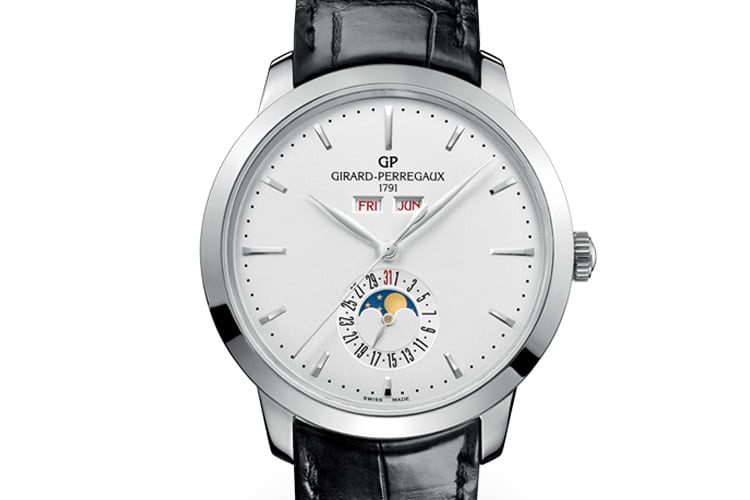 Girard-Perregaux 1966 Full Calendar
New from Girard-Perregaux, the 1966 Full Calendar is a beautifully designed piece that utilises a simplistic aesthetic with a functional complication. The dial, while slightly plain looking, packs a whole heap of information. The centre-stack shows the obvious: hours, minutes and passing seconds. While the hour and minute hands are leaf-shaped, the sweeping-seconds hand is long and slender; however, all three visually work well and are very beautiful. At 6 o'clock you have a gorgeous moonphase indicator within the date sub-dial. Just below 12 o'clock you have the date and month indicators showing up in red in their respective windows, while just superior to that you have the Girard-Perregaux namesake. The 40mm stainless steel case is wonderfully polished with a slim-line bezel and contrasting stainless steel hour markers and hands. The crown is like the cherry on top for me, with typical rivets along its edges but with a slightly pronounced mound protruding laterally from the case. Powered by the robust GP03300-0118 automatic movement boasting a decent 46 hours of power reserve and produced in-house, it's a reliable movement but one that lacks any "pizazz". Priced a little high considering its lack of precious-metal use for the case, but still affordable for what it is in the realm of relativity, the 1966 Full Calendar is elegant and refined.

Parmigiani Fleurier Tonda 1950 Abyss Blue
Unbeknown to most, Parmigiani Fleurier are a watch brand that produce some of the most intricately put together watches in the world. Their pieces are heralded as some of the best we've seen in the last decade, and they continue to impress. The Tonda 1950 Abyss Blue, with its radiant blue dial made from the crystal of a meteorite, is no different. It combines ingenuity with refinement; forward thinking with traditionalism, and they do it oh so well. The 39mm 18k rose gold case and accentuated lugs contrast against the blue dial beautifully, and while the crown seems to be lacking any sort of attention, its small size is unimposing and doesn't draw attention away from the incredible dial. Flip the piece over and you'll be even more impressed (if you're anything like me, that is). The PF701 micro-rotor powered automatic movement is just about as gorgeous as anything you'll ever see. The split bridges have been brushed accordingly, as has the deeper main-plate. The micro-rotor is engraved with a stunning pattern, while its running track has been attended to as well. Priced high, of course, but it should be a serious contender if you're in the market for that unique piece.
You'll also like:
The Wind Up – Watch News #25
The Wind Up – Watch News #23
The Wind Up – Watch News #22