An event that's not to be missed, Whisk(e)y On The Rocks runs from 28 April to 1 May 2022 and features a number of different activations. Whisky itself is the prevailing theme and a worthy one at that, as there are no limits to this particular spirit's glorious potential. Some of the industry's most pre-eminent brands, craftspeople, storytellers, and producers will serve as your guide to the roaming festival and its vast supply of epic indulgences. Benriach is amongst them and they're hosting a variety of immersive experiences. To celebrate, the distillery is offering 5 double passes to the 5-7:30 pm session of the event on Friday 29 April. Enter below for a chance to win.
Benriach's activation for the festival is located on George Street right in the heart of The Rocks. In partnership with The Push Bar and The Fortune of War, they'll feature an indoor cocktail bar, portfolio tastings, short masterclasses, and an outdoor whisky garden that spills onto the street. Benriach is also teaming up with well-known mixer brand Fever Tree to put some unique twists on the classic highball cocktail. This will be an illuminating and flavour-driven experience that brings George St to life during the Whisk(e)y On The Rocks festival. Excitingly, the Benriach activation is a non-ticketed event, so you can pop down to experience the event whenever you like across the four days.
If you have a passion for high-quality whisky, you should be getting very excited right about now. That's especially true for all the treasure-seekers out there, who are in constant pursuit of the next delicious dram. Benriach consistently delivers on this front by way of their core range, which includes some of the following single malts: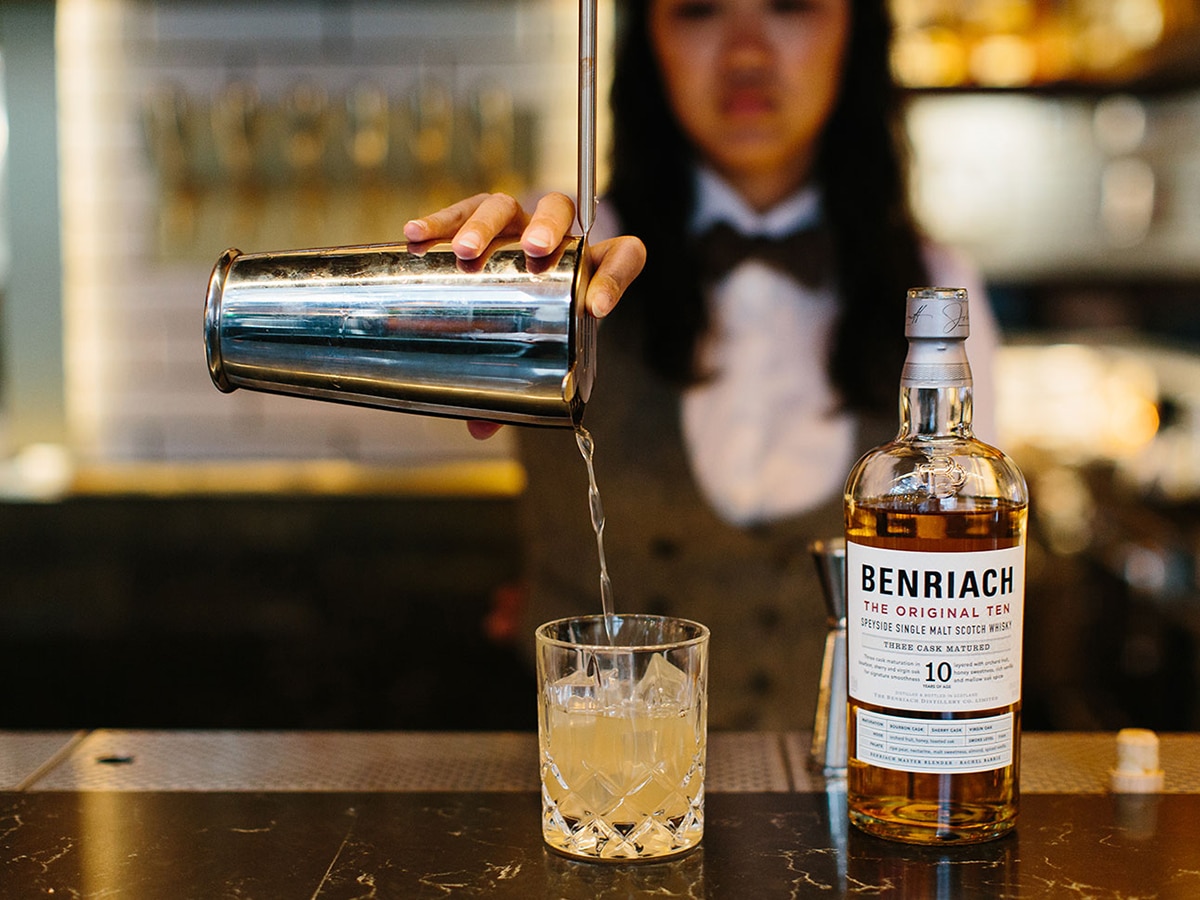 The Original Ten
Benriach's flagship expression is matured for a minimum of 10 years inside a combination of bourbon barrels, sherry casks, and virgin oak. From the expert marriage between these whiskies comes a smooth and multi-layered profile of orchard fruit, honeyed malt, toasted oak, and traces of smoke. Those who can't attend the festival can score a bottle through Dan Murphy's to experience this classic for themselves.
The Smoky Ten
This acclaimed whisky is crafted from a mix of unpeated and peated spirit and matured for at least 10 years in a combination of bourbon barrels, Jamaican rum casks, and toasted virgin oak. The resulting single malt rides in on balanced waves of sunripe fruit, aromatic smoke, and oak spice before closing out on a sweet and smoky finish.
The Twelve
This unpeated spirit spends a minimum of 12 years inside sherry casks, bourbon barrels, and port casks. The whiskies are then married to perfection, resulting in a sherry-rich single malt of impeccable nuance and character. Notes of baked fruit, maple honey, and cocoa give way to lingering raisin and a spiced mocha finish.
Benriach 21yo
Expertly aged for a minimum of 21 years, this iconic single malt blends whisky from a combination of bourbon barrels, virgin oak, Pedro Ximenez sherry casks, and red wine casks. The taste balances creamy layers of chocolate and vanilla with the distillery's traditional fruit orchard style to create a symphony of toe-curling flavour.
Whisk(e)y On The Rocks Giveaway
Do you like the sound (and taste) of whisky cocktails, portfolio tastings, masterclasses, and Fever Tree mixer sessions? Benriach is offering these experiences and more during the Whisk(e)y On The Rocks roaming festival from 28 April to 1 May 2022. To whet your proverbial palate, the distillery is giving away 5 double passes to the 5-7:30 pm session on Friday 29 April. Enter below and brace yourself for awesomeness!
Win 1 of 5 Double Passes to Whisk(e)y On The Rocks with Benriach