11 Best Rooftop Bars in Brisbane
There's something so carefree about standing around with friends on a rooftop Monday Munchies: August 8 – Luxurious Long Lunches. Maybe it's the open air, the warm summer nights, or the ability to escape from the packed crowds inside. And furthermore, rooftop bars can have some of the best amenities – pools, outdoor fireplaces, comfy lounge seats, and live music. Check out the best rooftop bars in Brisbane the next time you're in town.
You'll also like:
The World's Best Rooftop Bars
40+ Best Rooftop Bars in Sydney
34 Best Rooftop Bars in Melbourne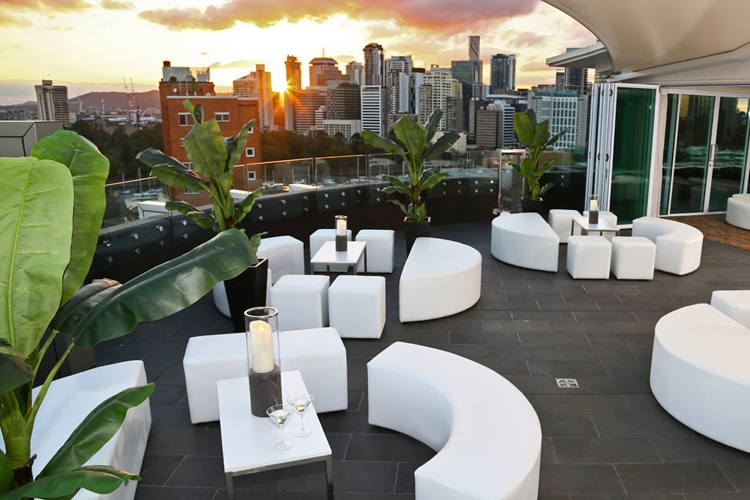 1. Eagles Nest
The Eagles Nest name speaks for itself. Gaze upon the city and enjoy picturesque views of the Brisbane River from the 12th floor of The Point hotel. The bar has a partnership with Moet & Chandon and carries the exclusive Moet Ice Imperial champagne for those who prefer the finer things in life. The minimalist, modern décor, candlelit ambience, and live music makes it a prime location for the hip, young crowds of Brisbane.
Address: 21 Lambert St, Kangaroo Point QLD 4169
Phone: +61 1800 088 388
Trading hours: Fri 5pm-9pm, Sun 3pm-7pm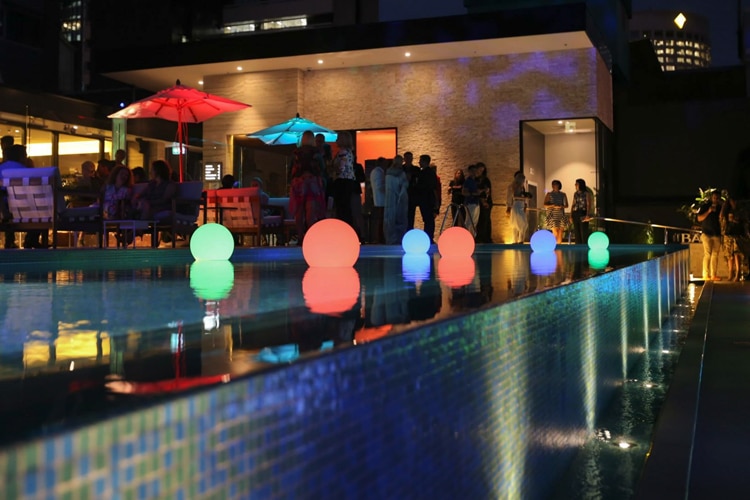 2. Lennon's Pool Bar
Mimosas by day, tequila by night. Lennon's Pool Bar is open for brunch, so you can relax under the sun (or the sun umbrellas) and munch on Mt. Zero olives, spiced nuts, or shucked oysters. If you're not a day drinker, Lennon's is alive at night with plenty of seating by the pool, which is lit up by several floating orbs in the water. Sit down on the lounge chairs by the pool, or mingle by the bar to meet that enticing stranger from across rooftop.
Address: 2/72 Queen St, Brisbane City QLD 4000
Phone: +61 7 3222 3232
Trading hours: Mon-Sun 7am-10am (breakfast)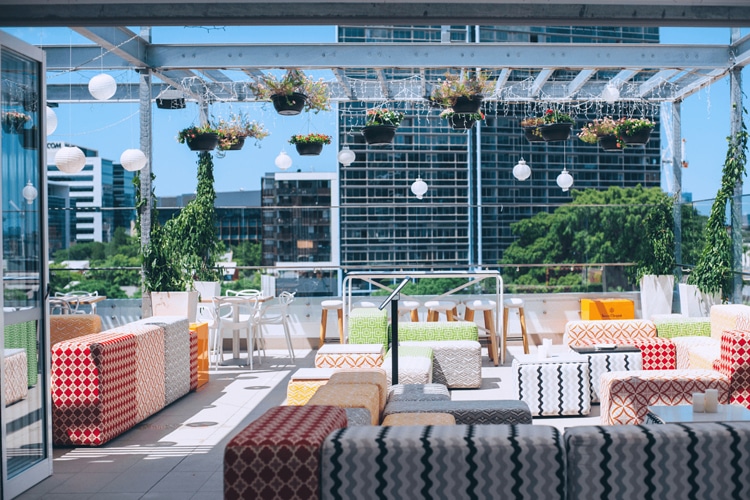 3. Up On Constance
Imagine a rooftop Kate Spade store. Now imagine if it was a bar. Up On Constance has a preppy, lighthearted feel with its colourful, patterned décor, hanging potted plants, and scattered Chinese lanterns. The drink menu is fresh and flavorful with sparkling wines, exotic cocktails, and a selection of pale ales and light lagers on the beer list. You can even order "shared" cocktails, served in a carafe with multiple straws, which is a great way to get cosy with some friends…or a date, of course. The food is equally as exciting and nothing like your average bar food. Snack on Thai Fish Cakes, Steak Tartare, and Crispy Pork Belly Pancake if you're craving something salty.
Address: 646 Ann St, Fortitude Valley QLD 4006
Phone: +61 7 3363 5599
Trading hours: Thu 4pm-8:30pm, Fri-Sat 4pm-1am
---
Featured Video from Man of Many
---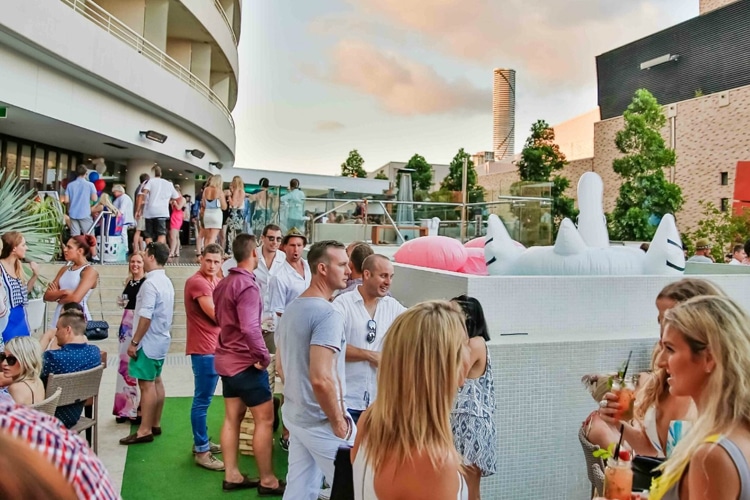 4. Soleil Pool Bar
Say hello to your new favourite pool party venue. Soleil Pool Bar features an inviting wooden deck, a pool full of floaties, tiki torches, and a rotation of DJs who create an upbeat, club-like atmosphere. Bring a large group of friends, because there's plenty of room for mingling and meeting new people. Their popular Capri Sundays feature brunch, punch bowls, live music, and hopefully, lots of Sun so you can BYOT (bring your own towel) and sit by the pool.
Address: 9 Glenelg St, South Brisbane QLD 4101
Phone: +61 7 3364 0838
Trading hours: Mon-Sun 12pm-11pm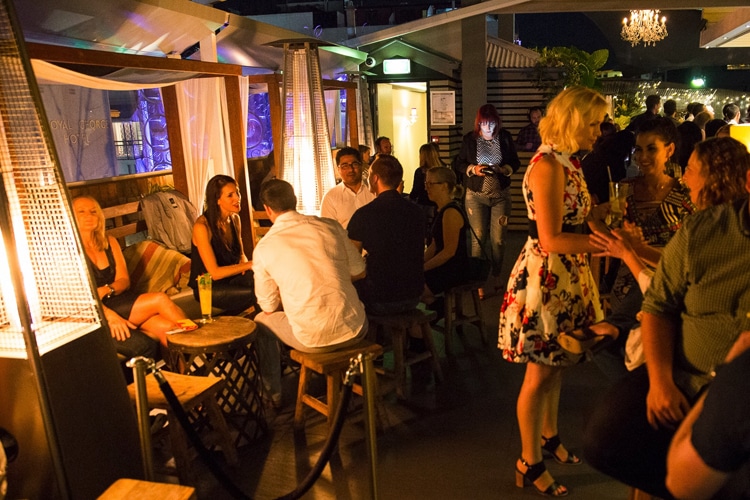 5. Elixir Rooftop Bar
A hidden Fortitude Valley gem, Elixir has a unique backstory that draws from ancient Chinese folklore. Their logo, which features the silhouette of a rabbit in the crescent of a moon, is derived from the mythological story of the "Moon Rabbit". The Moon Rabbit uses a mortar and pestle to pound ingredients up in the sky, thus creating the Elixir of Life for the world below. Elixir honours these stories with its expert "alchemist" bartenders and its tranquil environment. You can escape the hustle and bustle up on the rooftop and enjoy the sweeping views below. Consider it your sophisticated, zen sanctuary with a gourmet list of cocktails.
Address: 646 Ann St, Fortitude Valley QLD 4006
Phone: +61 7 3363 5599
Trading hours: Thu 4pm-8:30pm, Fri-Sat 4pm-1am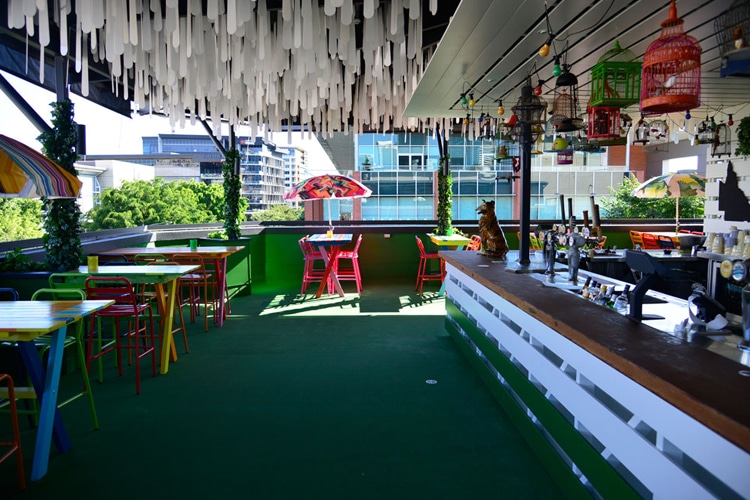 6. Dandy's Rooftop
If you like bright colours, picnic tables, and Hawaiian island appeal, Dandy's Rooftop bar should definitely be on your list of go-to spots. Known for their "super chill vibes," according to one online reviewer, Dandy's has a range of drinks from fruity sangria, wine, cocktail jugs, and beer to please everyone. You might even feel like you're at a mini-golf course thanks to their quirky Astroturf floor.
Address: 71/73 Melbourne St, South Brisbane QLD 4101
Phone: +61 7 3844 2883
Trading hours: Thu 5pm-2am, Fri 4pm-2am, Sat 2pm-2am, Sun 2pm-12am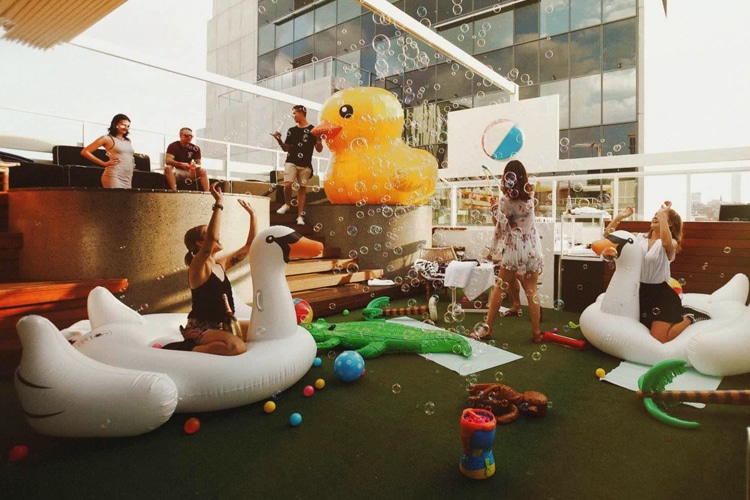 7. Limes Hotel Rooftop Bar
A rooftop cinema, hot tubs, and drinks galore – what more could you ask for! Limes Hotel Rooftop Bar has a cheeky attitude with drinks called The Brizzie Blue Screw and The French Tickler. Here, you can get a little frisky without any shame. Every Wednesday the bar hosts its "Rooftop Cinema Under The Stars" where they feature classic and brand new films for the night. The movie starts at 7 pm, so get there early enough to settle in with some dinner and drinks and grab a good seat. And if you're night goes a little later than you anticipated, you can head to Alfredo's authentic Brooklyn pizzeria which is open late every night for some midnight munchies.
Address: 142 Constance St, Fortitude Valley QLD 4006
Phone: +61 7 3852 9000
8. The Stock Exchange Rooftop
Don't let the name fool you – The Stock Exchange is far from being a stuffy stock trading room. The historic restaurant and bar draws inspiration from international culinary trends and architectural design and underwent a major revival in 2014 to reflect a modern, trendy feel. The Rooftop Garden, as it's called, has hanging flowers and potted cacti plants that create an earthy, fresh atmosphere. This bar has something going on practically every night, so you're bound to have a good time whether you go on a weeknight or the weekend. Enjoy trivia nights, watch your favourite sports team on their flat screen TVs, or get down to old-school hip-hop and rap on Fridays. The Stock Exchange, founded in 1863, has a totally new philosophy and remains one of the best bars in Brisbane.
Address: 131 Edward St, Brisbane City QLD 4000
Phone: +61 7 3229 3522
Trading hours: Mon-Wed 11am-10pm, Thu 11am-10pm, Fri-Sat 11am-12am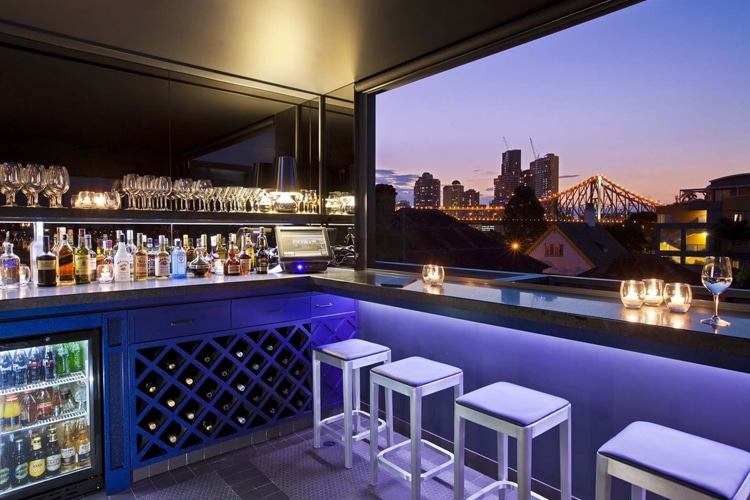 9. Spicers Balfour
One of Brisbane's more upscale venues, Spicers Balfour is ideal for a romantic getaway for the night. The bar has sensational views of Brisbane's Story Bridge, and a dimly-lit ambience for an easygoing, sophisticated night. Don't forget to check out their gourmet selection of appetizers and entrées – arrive early to have dinner, and stay for a few drinks to enjoy a classy evening.
Address: 37 Balfour St, New Farm QLD 4005
Phone: +61 1300 597 540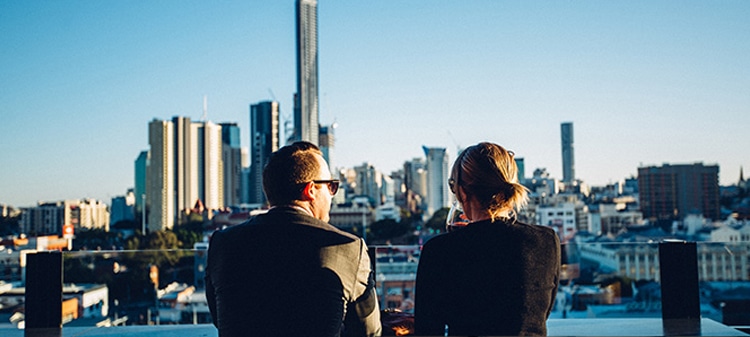 10. Eleven Rooftop Bar (now MAYA – Rooftop Mexican Restaurant & Bar)
Sophisticated, elegant, and exclusive. Eleven Rooftop Bar is situated eleven stories high above Brisbane and offers a majestic 270-degree view of Fortitude Valley. Drawing design and architectural inspiration from the Middle East, Istanbul, and Ibiza, Eleven has an exotic, luxurious feel. Enjoy a glass of wine on their Cristalo Quartzite marble top bar, or have a seat by the edge of the rooftop to enjoy the sweeping views of the city. Perfect for a relaxing, romantic date night.
Address: 757 Ann St, Fortitude Valley QLD 4006
Phone: +61 7 3067 7447
Trading hours: Wed-Thu 5pm-11pm, Fri-Sat 12pm-1am, Sun 12pm-11pm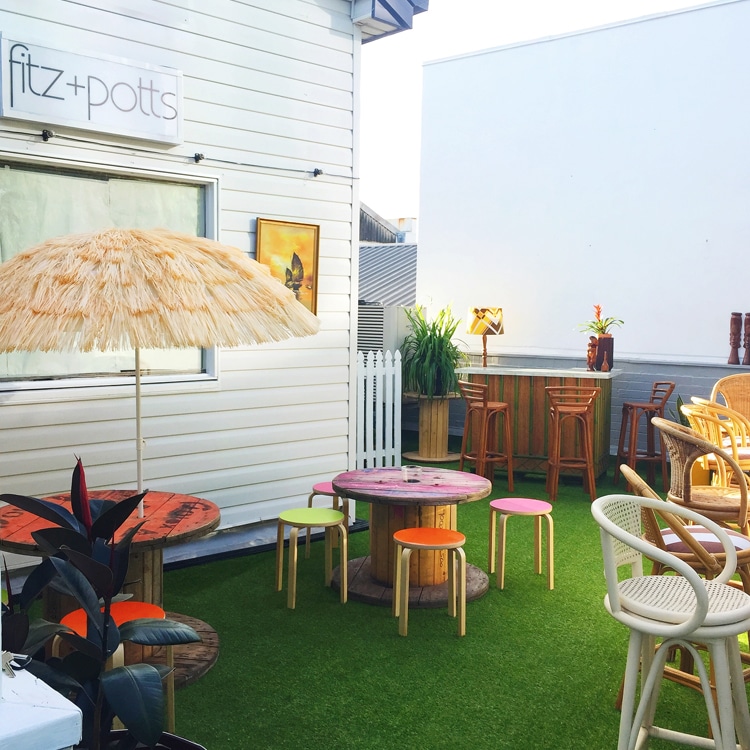 11. Fitz & Potts
Looking for a cool, casual spot with an awesome craft beer selection? Fitz & Potts is known for their low-key, dive bar feel and retro-inspired interior. If you're not ready to suit up and get fancy for the night but want to have a blast, Fitz & Potts is your go-to spot. You might as well be at a local modern art installation thanks to the astroturf floor, umbrella decorations, velvet drapes, and paisley wallpaper. Go back to the 70s and disco for the night.
Address: 1180 Upstairs, Sandgate Rd, Nundah QLD 4012
Trading hours: Fri-Sat 12pm-12am, Sun 12pm-9pm
You'll also like:
The World's Best Rooftop Bars
40+ Best Rooftop Bars in Sydney
34 Best Rooftop Bars in Melbourne
---
Featured Video from Man of Many