34 Best Rooftop Bars in Melbourne
While it's known for laneways and street art, the Melbourne rooftop bar scene is probably the best in the country. With stunning food, great live music and four seasons in one day, making the trek upstairs offers a little bit for everyone, regardless of what you are into. Much like the city itself, the best rooftop bars in Melbourne are a winding journey through the cultural zeitgeist, bringing a multi-faceted approach to drinking and dining. From rooftop restaurants to beer gardens in the sky, the city has them all, so sit back and relax. Here is a list of the best rooftop bars in Melbourne to make life that little bit easier.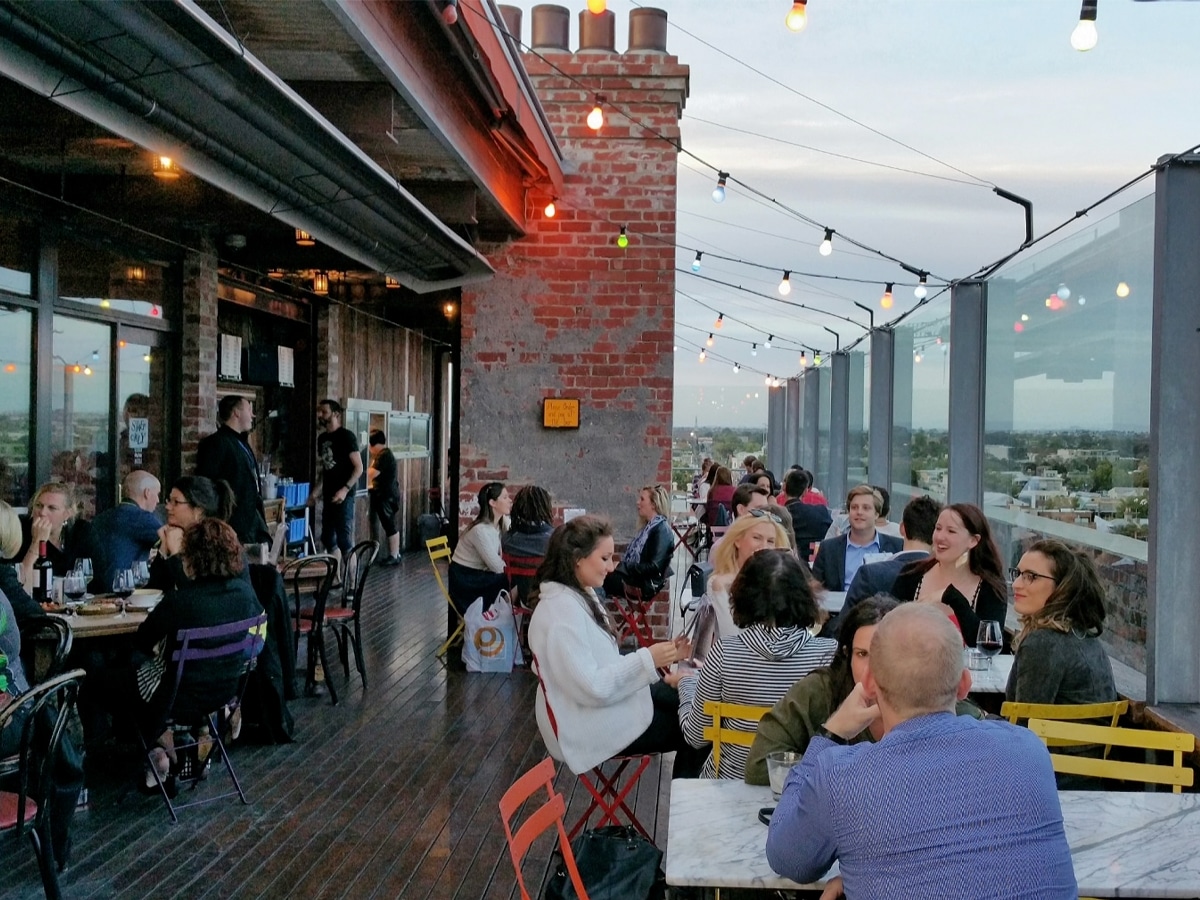 1. Naked In The Sky
Naked in the Sky is Fitzroy's favourite bar and one of the best rooftop restaurants in Melbourne CBD. Sit out in the open with a naked infused vodka in hand, whilst taking a picture of the perfect panorama. Resist the urge of using Mayfair or Valencia and post this 'naked' photo onto your Instagram. Let your audience appreciate the natural and #nofilter feeling.
Address: 285 Brunswick St, Fitzroy VIC 3065
Phone: (03) 9416 2238
Hours: Sun-Thurs 12pm-12am, Fri-Sat 12pm-1am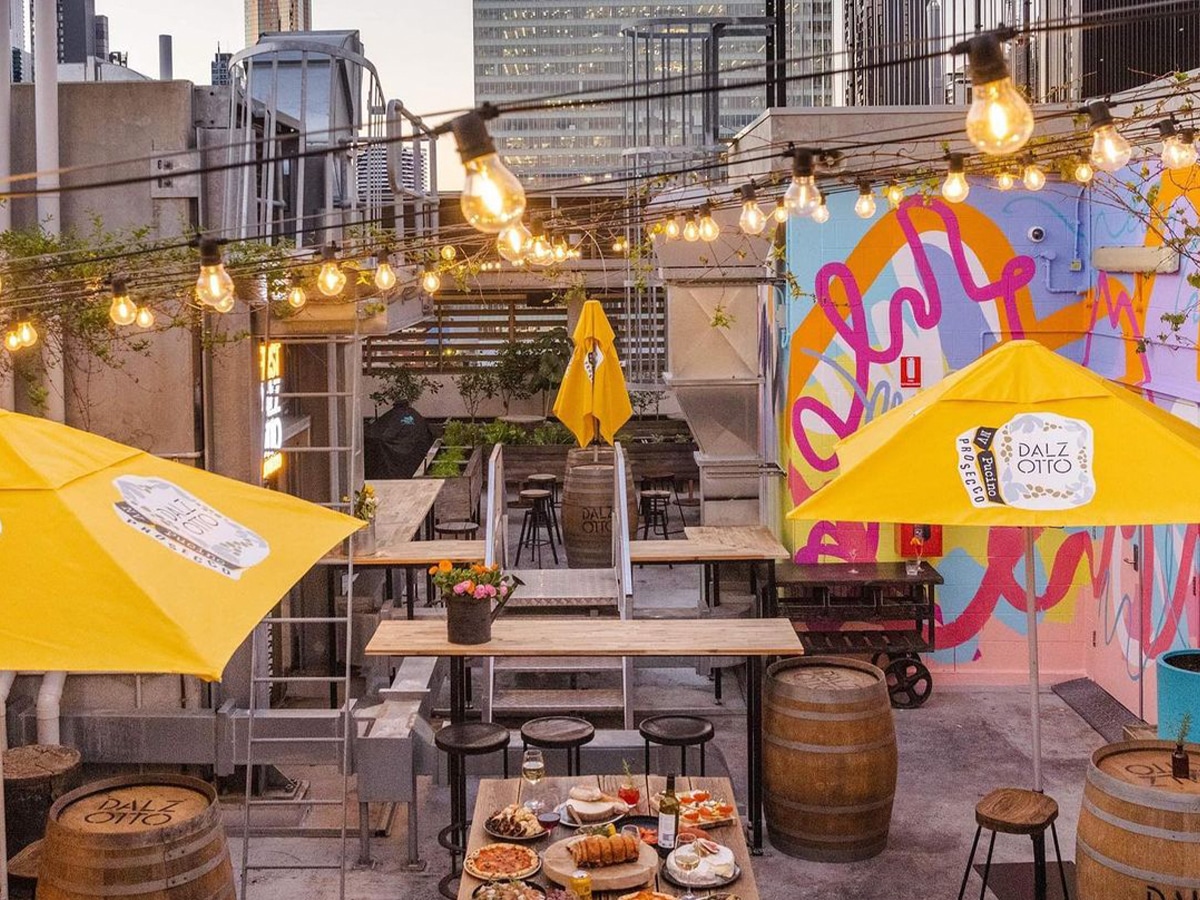 2. Rooftop at QT
We might be biased, but the recently opened QT Hotel Melbourne is home to one of the best rooftop bars Melbourne has ever seen. Following the form of its namesake brethren, the hotspot is smack bang in the middle of Melbourne. Fun and youthful, the spaces are vibrant, with the bar accommodating both hotel patrons and walk-in guests alike. Late-90's themed cocktails are reminiscent of a contentedly frivolous era of drinking, and the overall offering feels like a fully-immersive Melbourne experience.
Address: 11/133 Russell St, Melbourne VIC 3000
Phone: (03) 8636 8800
Hours: Sun-Thurs 2-9pm, Fri-Sat 2-10pm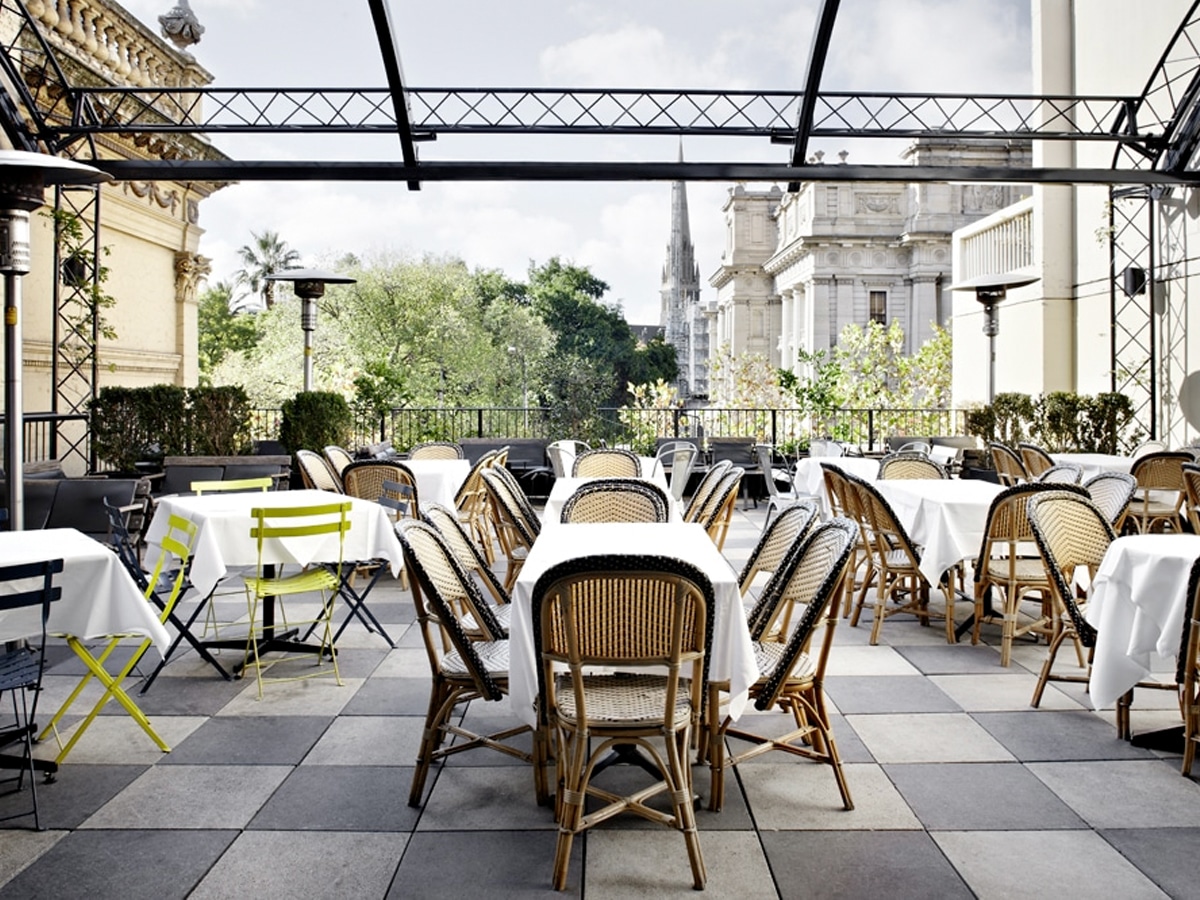 3. Siglo
Situated on Spring Street, Siglo is the pinnacle of sophistication. The glorious nursery of greens surrounds the wooden booths and outdoor seating areas. The uninterrupted view of St Patrick's Cathedral and Parliament House is serene and soothing and is accompanied by an invigorating atmosphere. This is one of the fanciest rooftop restaurants in Melbourne.
Address: 2/161 Spring St, Melbourne VIC 3000
Phone: (03) 9654 663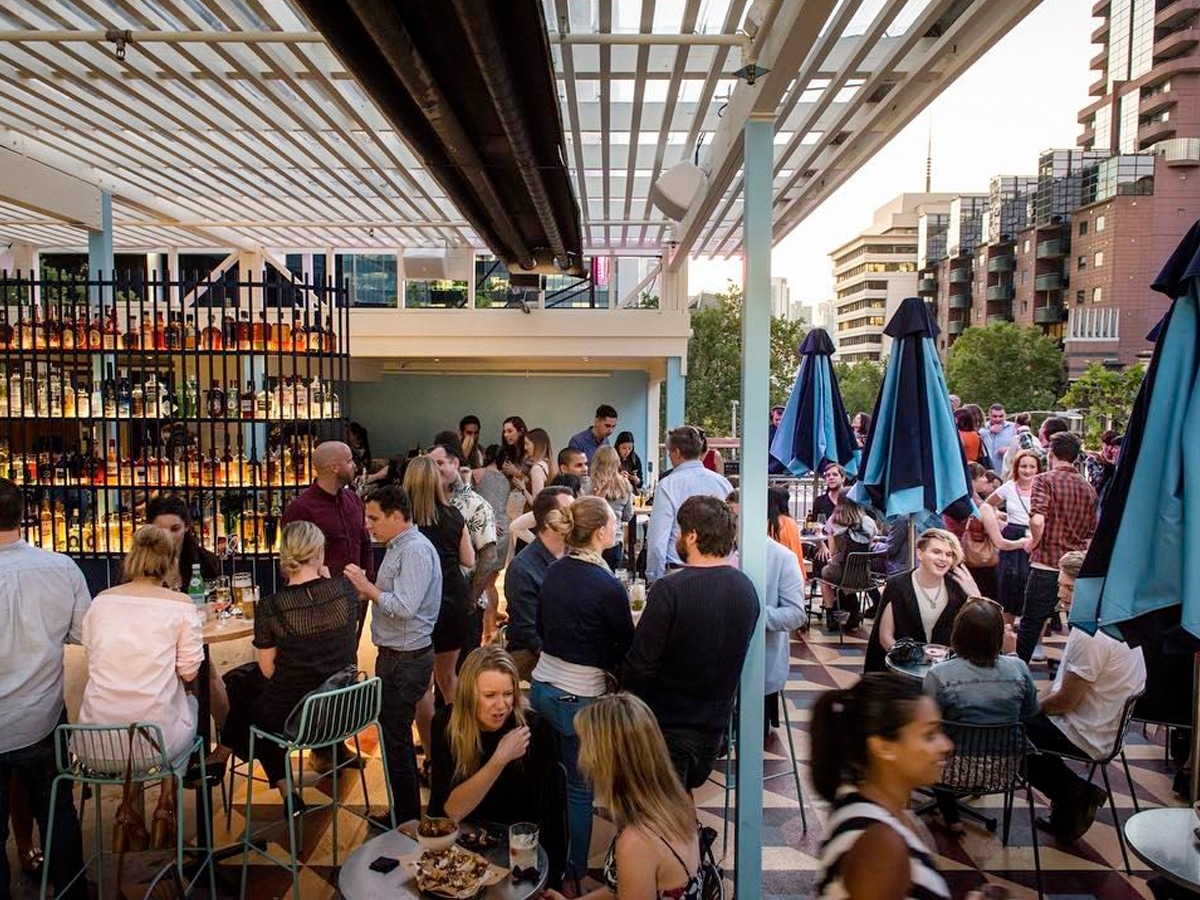 4. Good Heavens Rooftop Bar
Perched above Fancy Hank's on Bourke St in the middle of the Melbourne CBD, Good Heavens is a melting pot of ideas that all amount to a good time. Hints of Miami waft through with floral-print-shirt clad staff shaking 80's themed cocktails and pastel colours featuring heavily in the decor, while the happy denizens dive into Tex-Mex-esque (say that after a few daiquiris) fare. With all the charms of a chilled outdoor beach shack and all the class of a five-star hotel lobby, Good Heavens is a must this summer (and each one coming).
Address: Level 2/79 Bourke St, Melbourne VIC 3000
Phone: (03) 9453 2882
Hours: Mon-Thurs 5-11pm, Fri 5-1am, Sat 12pm-1am, Sun 12-11pm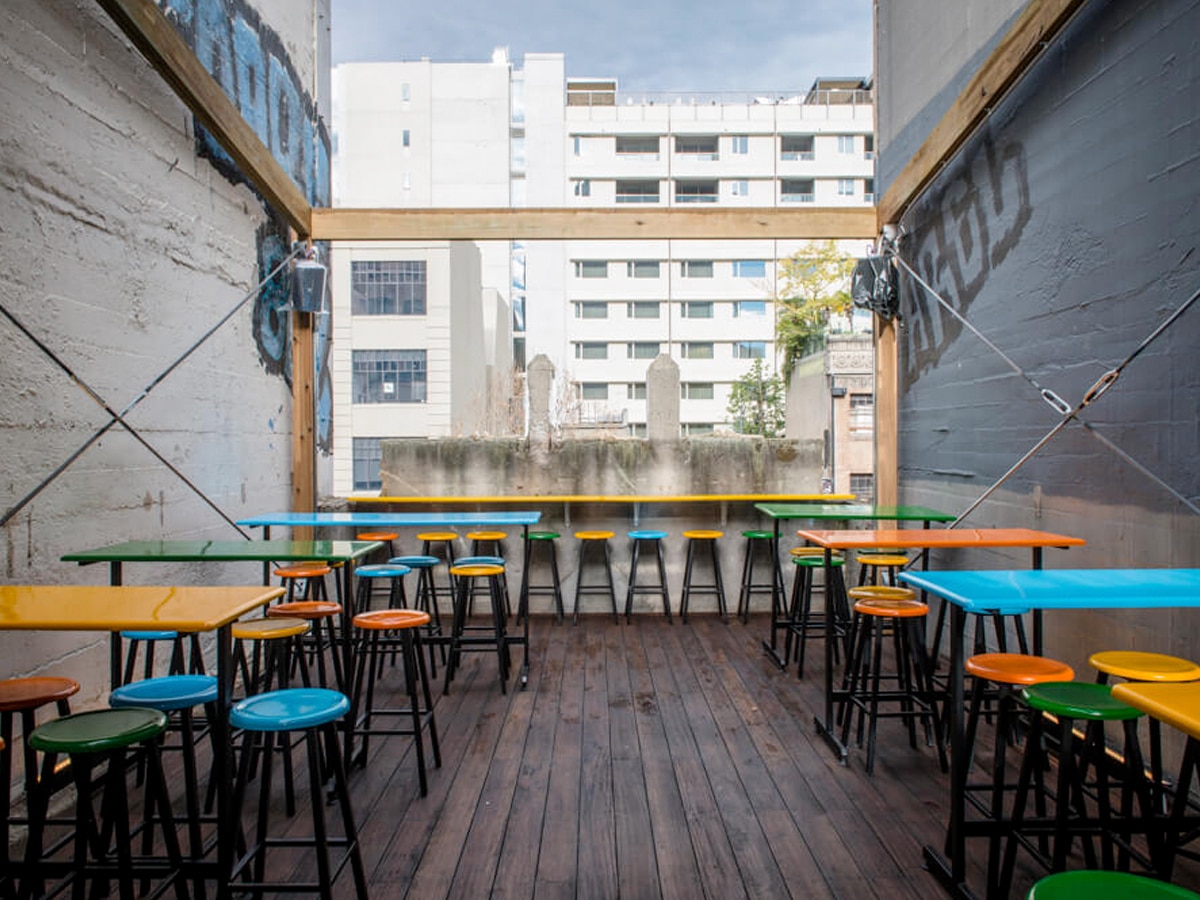 5. Heroes Karaoke & Rooftop Bar
In the heart of the city is Heroes, a three-level funhouse of splendorous colours and tasty treats. Head up to the top level to enjoy a drink or 10, or stick to the lower floor for some quality karaoke. No matter what, you're having a great time.
Address: 188 Bourke St, Melbourne VIC 3000
Phone: (03) 8639 0630
Hours: Fri-Sat 4pm-1am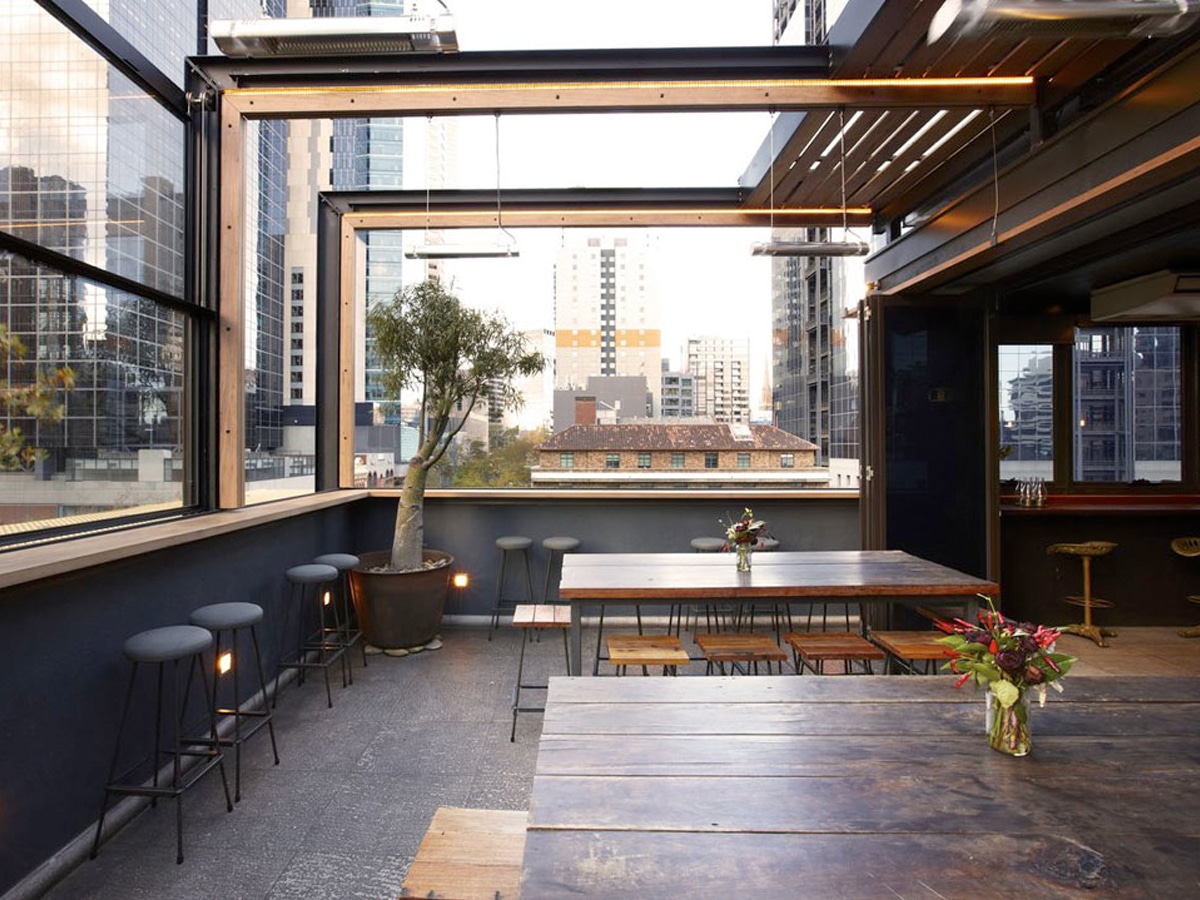 6. Bomba Tapas Bar and Rooftop
Grab some friends and let's rumba at Bomba! Enjoy some truly finger-licking flavours from the Spanish tapas. After satisfying your taste buds and cleaning those fingers, quench that thirst with a tremendous picking of drinks – ranging from beer, cider, gin, rum, whiskey and vermouth. If you and your friends would like to indulge a little further, a fancy cocktail may fulfil that indulgence. Everyone needs to enjoy this view with their friends, so why not pair up your drinks with some delicious bar snacks. The cheesy croquettes, chorizo sliders and eggplant chips are the picks from the bunch. A retractable roof is waiting in the wings if the spontaneous Melbournian weather decides to change its colours.
Address: 103 Lonsdale St, Melbourne VIC 3000
Phone: (03) 9650 5778
Hours: Mon-Thurs 12pm-12am, Sat-Sun 3pm-12am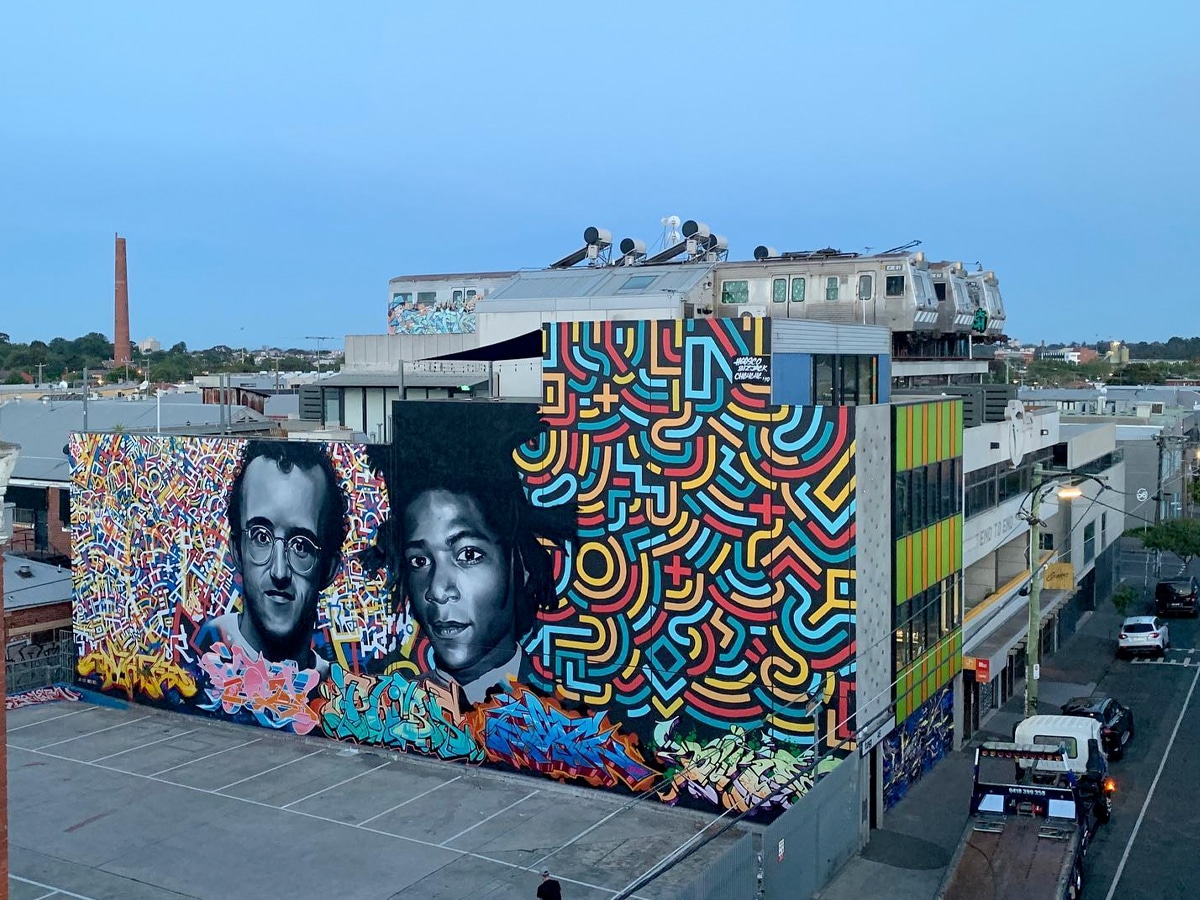 7. Easey's
Jimmy Hurlston spent three years eating 3000 burgers, he then created a burger kingdom. On top of a roof. There is no place hipper than this burger joint. Sitting five stories high, fixed to the roof, is a train carriage. However, this is not your regular carriage. This is where graffiti on a train is thrown into the spotlight. Think Hosier Lane in a train carriage. Foodwise, you'll only find burgers here – so if you're thinking about a cheat day, it's easy with Easey's. The one thing that isn't easy is getting a seat in the Hitachi train carriage, so make sure you book your seat! The burger menu, created by the burger enthusiast himself, is simple, yet exceptionally scrumptious as the burger melts in your mouth. The Too Ease or Easey Cheesy burgers are a must try.
Address: 3/48 Easey St, Collingwood VIC 3066
Phone: (03) 9417 2250
Hours: Sun-Thurs 11am-9pm, Fri-Sat 11am-10pm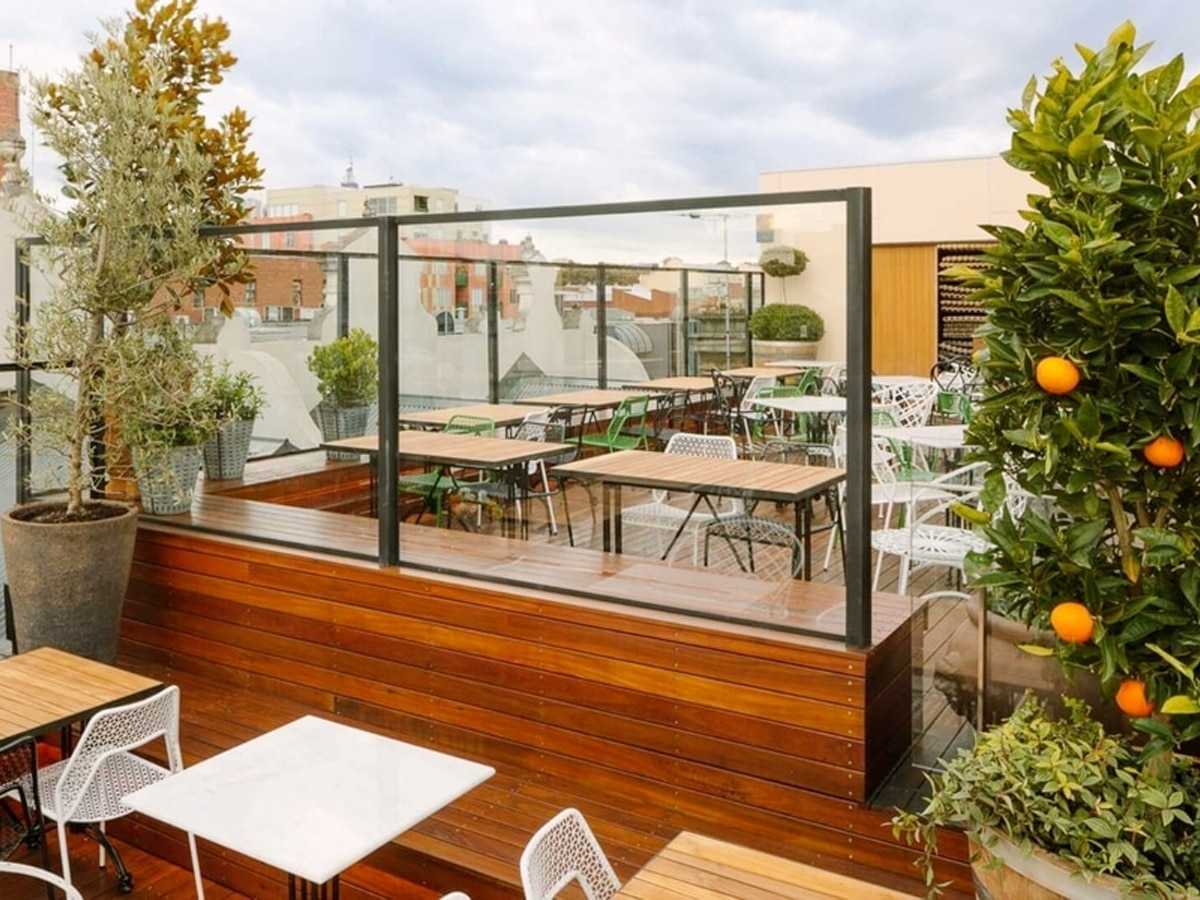 8. The Provincial Hotel
Perched in the heart of Fitzroy is The Provincial Hotel, which flaunts one of the best rooftop bars Melbourne has on show. Here, you'll find everything you could ask for, namely booze, views, crowds, ambience, and food. It's also a fantastic locale for larger events, should you be looking to host something of that nature.
Address: 299 Brunswick St, Fitzroy VIC 3065
Phone: (03) 9810 0042
Hours: Mon- Thurs 4-10pm, Fri-Sat 12pm-12am, Sun 12-10pm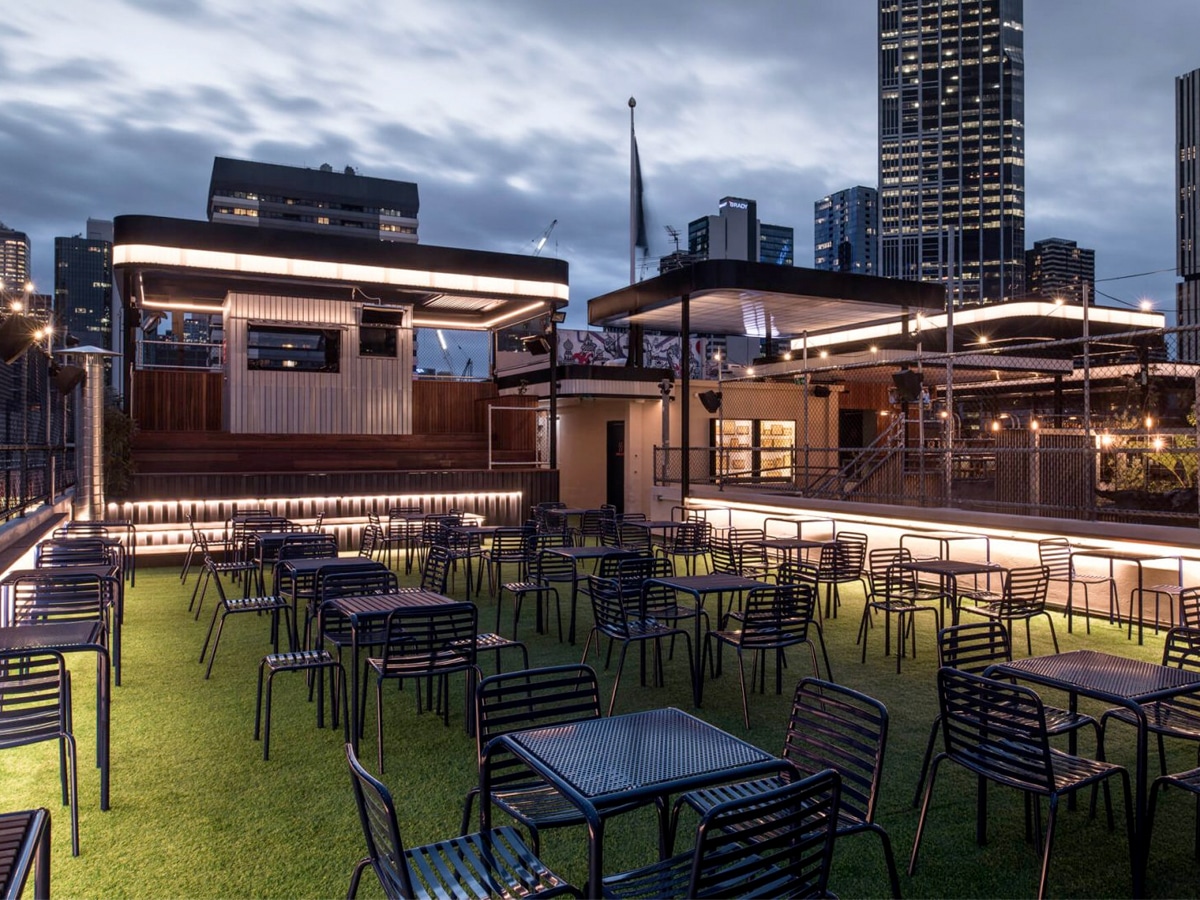 9. Rooftop Bar
Despite the seven sets of stairs that welcome you as you enter, this hotspot in the CBD is arguably Melbourne's most popular rooftop bar. If you're here for the Rooftop Cinema, don't forget to book, or you'll be left disappointed after conquering the stair challenge. Being the best means you're going to be packed to the brim, so if you don't mind the crowds, enjoy the sunset with a spectacular view of Melbourne CBD with a cold serving of beer and burger.
Address: Curtin House, 7, 252 Swanston St, Melbourne VIC 3000
Phone: (03) 9654 5394
Hours: Tues-Sat 12pm-1am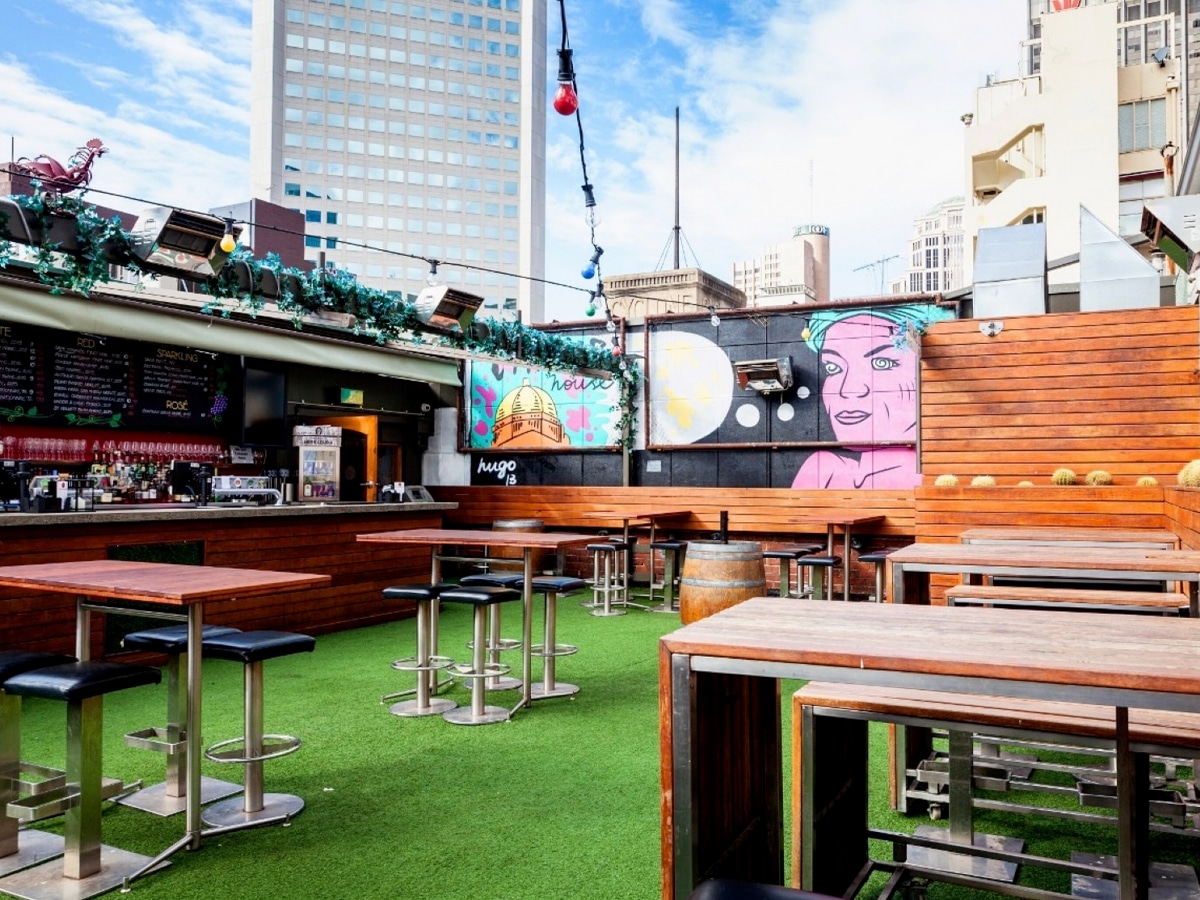 10. Campari House
Campari House is perfect for those casual and spontaneous get-togethers, making it one of the best rooftop bars in the Melbourne CBD. Its easy-to-eat (and share) signature pizzas leave customers wanting more; in particular, the Italian sausage smoked mozzarella being a personal favourite. So grab a slice and a seat, and soak up the serene setting and stunning sights.
Address: 23-25 Hardware Ln, Melbourne VIC 3000
Phone: (03) 9600 1591
Hours: Tues-Thurs 4pm-1am, Fri 12pm-1am, Sat 3pm-12am
11. Union Electric Bar & Rooftop Gin Garden
Another one of the Melbourne CBD's best rooftop bars, Union Electric Bar is a haven of seemingly endless quality and creativity alike. Between the decor, the food, the drinks, and the crowd, you'll enter its domain and never want to leave. Fair warning: you also might fall in love with your bartender, even after he or she ignores you. In other words: classic Melbourne.
Address: 13 Heffernan Ln, Melbourne VIC 3000
Phone: (03) 8609 3161
Hours: Mon-Fri 5-11pm, Sat-Sun 12-11pm
Union Electric Bar & Gin Garden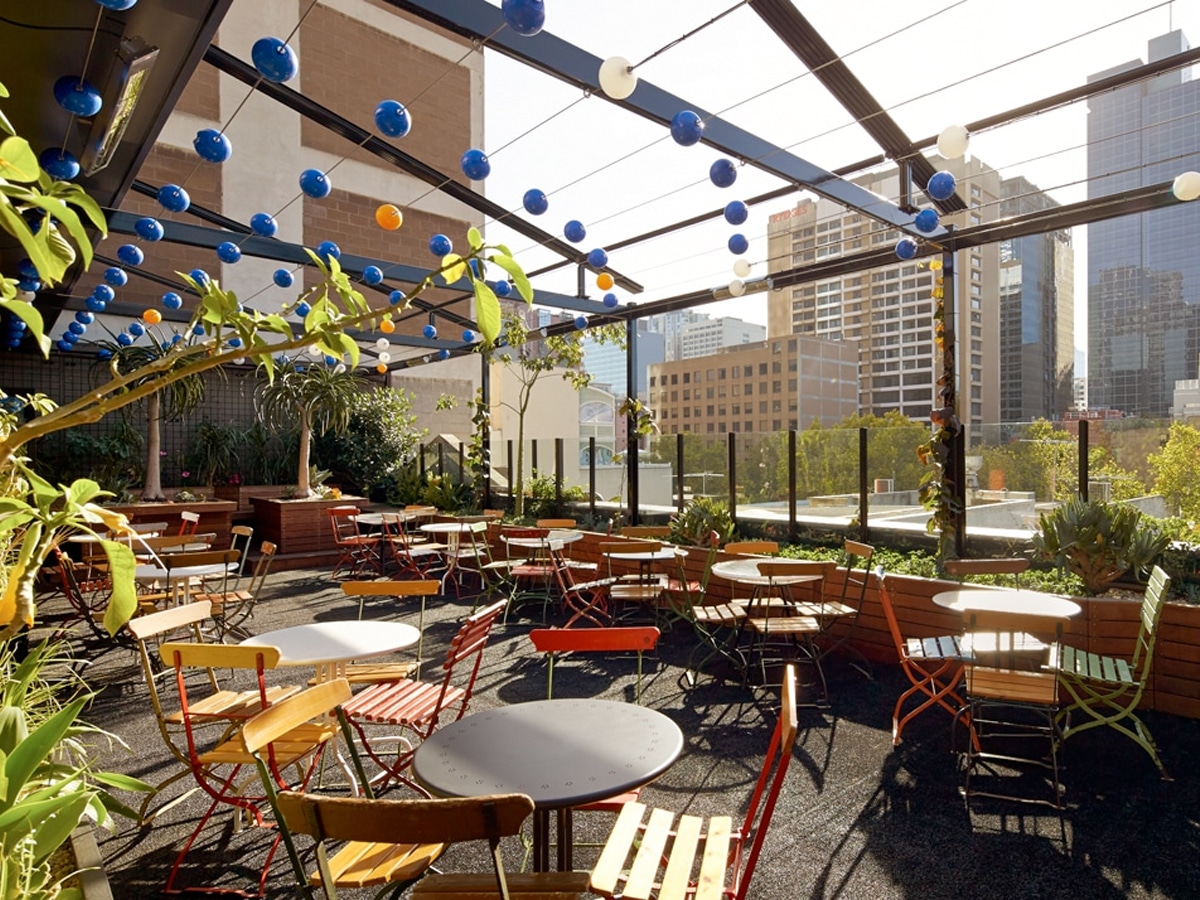 12. Loop Roof & Loop Top
First in, best dressed for Loop Roof & Loop Top. This bar is built like a bomb shelter, with a four-section awning retractable system in preparation for any of Melbourne's four changing seasons in one day. Gas heaters are ready for winter and a misting system for summer. Once you are able to hold down a spot, share a Sloe Lorris jug with your friends and be sure to stuff your stomachs with the pulled pork sliders and chilli squid.
Address: 3/23 Meyers Pl, Melbourne VIC 3000
Phone: Fri-Sat 1-10:30pm, Thurs 3:30-10:30pm
Hours: 0488 087 301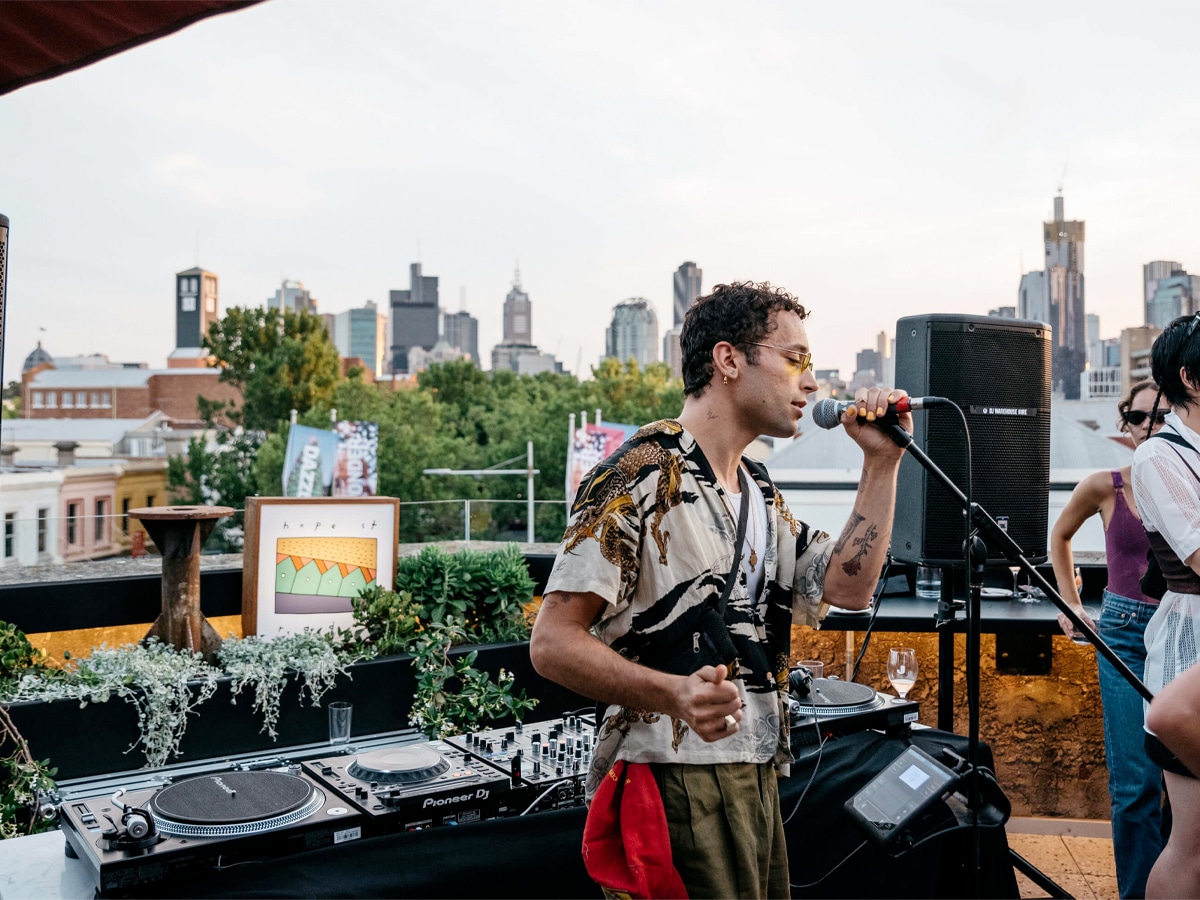 13. Johnny's Green Room
Perched a few floors above King & Godfree, this hidden gem in Carlton is well worth the find. With unparalleled views over Melbourne, the rooftop bar is the perfect place to take in the sights with a few Johnny's own cocktails in hand.
Located in: King & Godfree
Address: Level 2/293-297 Lygon St, Carlton VIC 3053
Hours: Mon-Sun: 12–11pm
Phone: (03) 9347 1619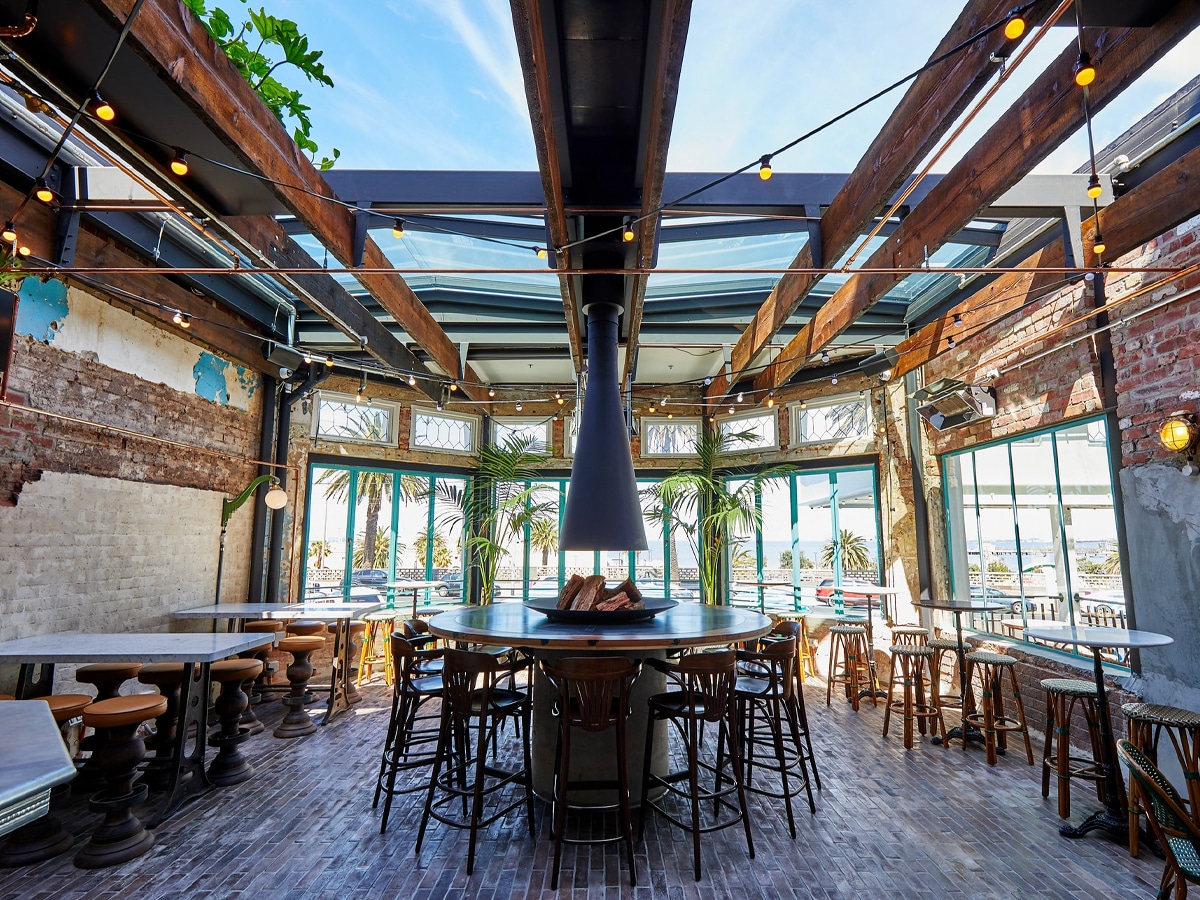 14. The Espy
One of the most iconic pubs in Melbourne has undergone a massive redevelopment in recent years and the new outdoor bar area is its biggest addition. The legendary seaside pub is home to great music, food, and thanks to the new instalment, views.
Address: 11 The Esplanade, St Kilda VIC 3182
Hours: Sun-Thurs: 12pm-11pm, Fri-Sat: 12pm-2am
Phone: (03) 9534 0211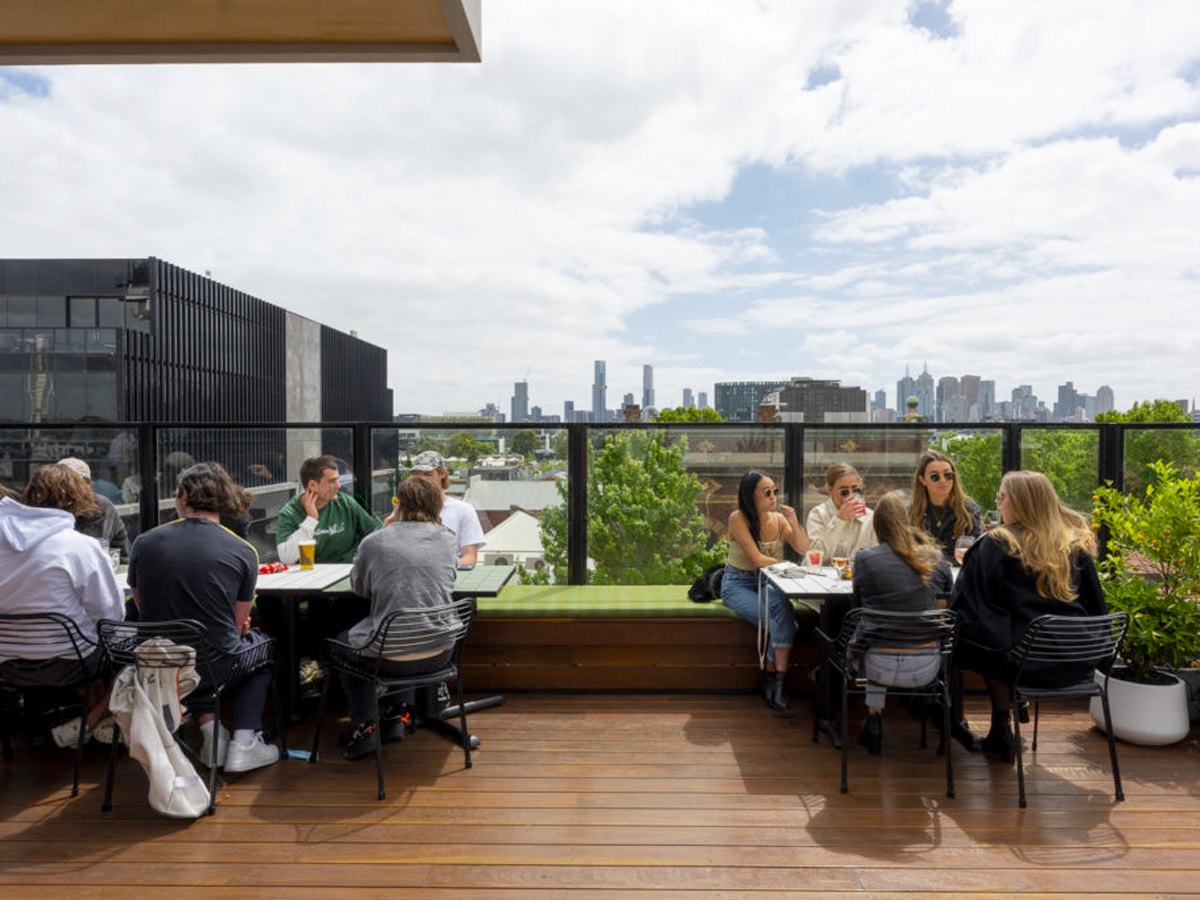 15. Harlow
What was once the Great Britain Hotel has now been transformed into the most enormous rooftop bar Melbourne has ever seen. The courtyard section houses a whopping 250 people with killer food options including cheeseburger empanadas, crab doughnuts, and duck sausage rolls on the menu year-round.
Address: 447 Church St, Richmond VIC 3121
Hours: Mon-Thurs: 12p,-10pm, Fri-Sat: 12pm-12am, Sun: 12pm-10pm
Phone: (03) 9810 0082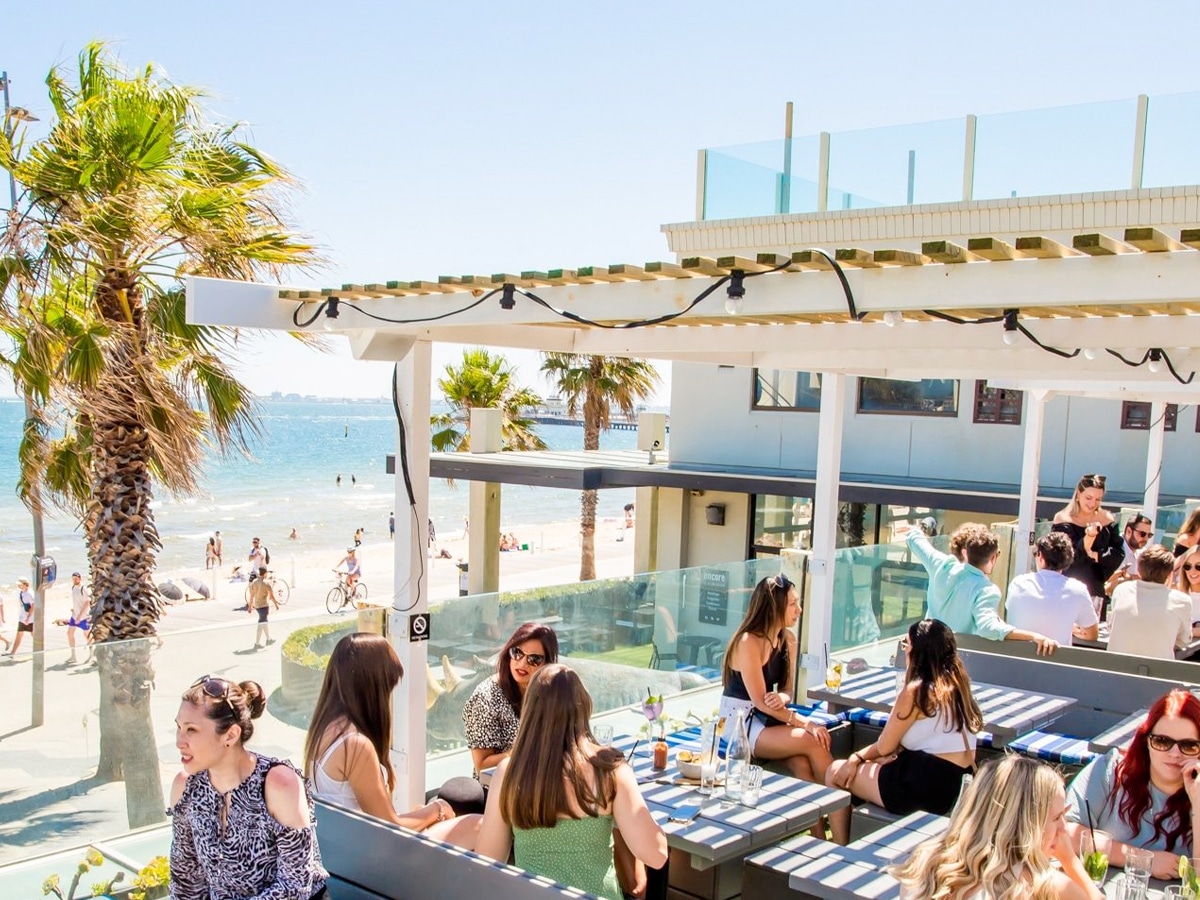 16. Captain Baxter St Kilda Beach Restaurant & Bar
Aye Aye Captain Baxter! All aboard this delightful spot that is nestled next to the St Kilda sea baths. Baxter epitomises the phrase 'the bigger, the better' with its large setting and extensive menus. Drink a jug of the South Beach Cooler with your mates as you gaze into Port Phillip Bay. If you fancy yourself something special or maybe just want an additional contributor to tomorrow's hangover headache, try the Mango Melba and Pornstar Martini. A different type of headache awaits as you open their comprehensive food menu. Indecisiveness is inevitable (even for the strong-minded). The crumbed pork tonkatsu, Japanese pancake and pork buns are must-haves on your order list, leaving your stomach in a satisfying food coma.
Address: 10/10-18 Jacka Blvd, St Kilda VIC 3182
Phone: (03) 8534 8999
Hours: Mon-Thurs 5-10pm, Fri-Sat 12pm-12am, Sun 12-10pm
Captain Baxter St Kilda Beach Restaurant & Bar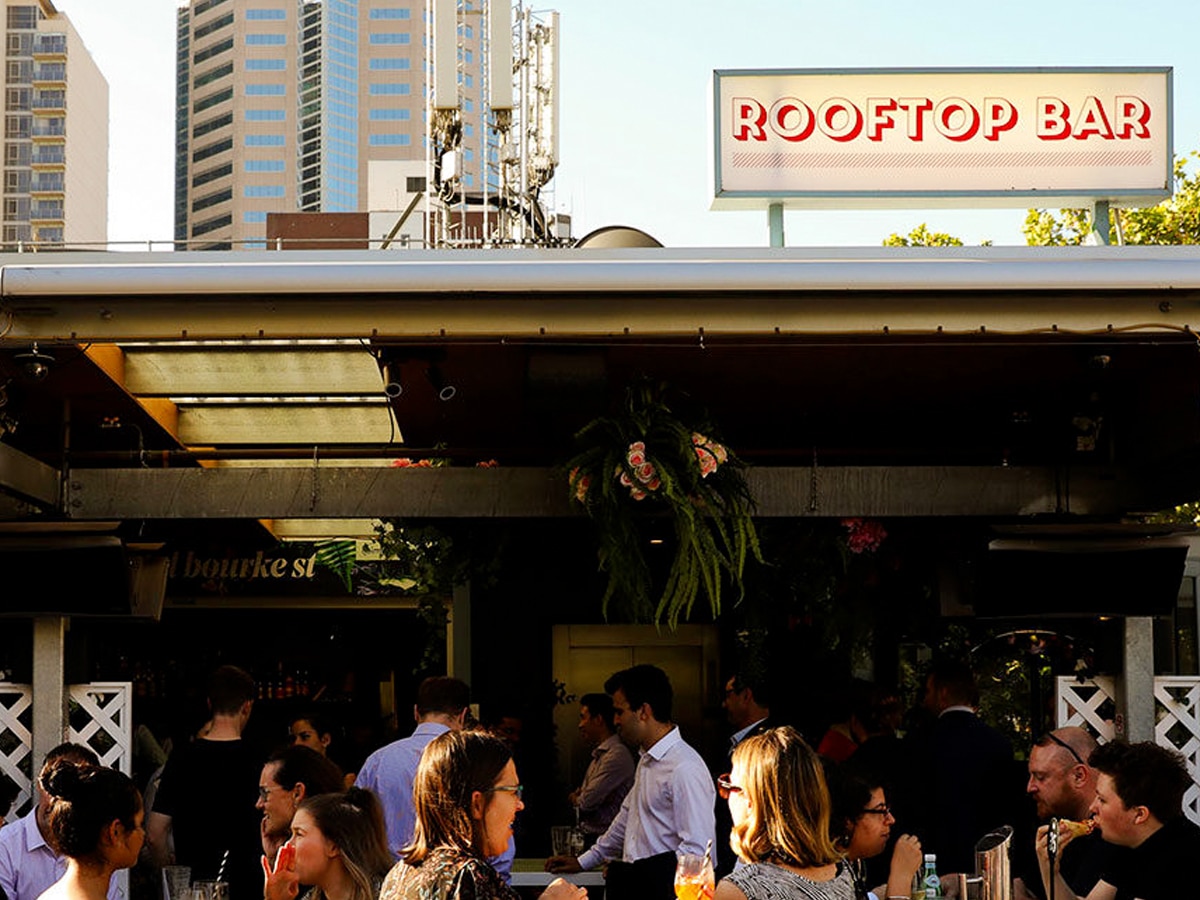 17. Imperial Hotel – Rooftop & Sports Bar
Do you like the idea of sipping a cold beer while being surrounded by a 360-degree view of the local skyline? If so, then the beer garden at the Imperial Hotel is calling your name. In addition to being one of the best rooftop bars Melbourne has to offer, it's also one of the city's best sports bars. So pick a team and head on over.
Address: 2-8 Bourke St, Melbourne VIC 3000
Phone: (03) 9810 0062
Hours: Sat-Thurs 12-10pm, Fri 12pm-12am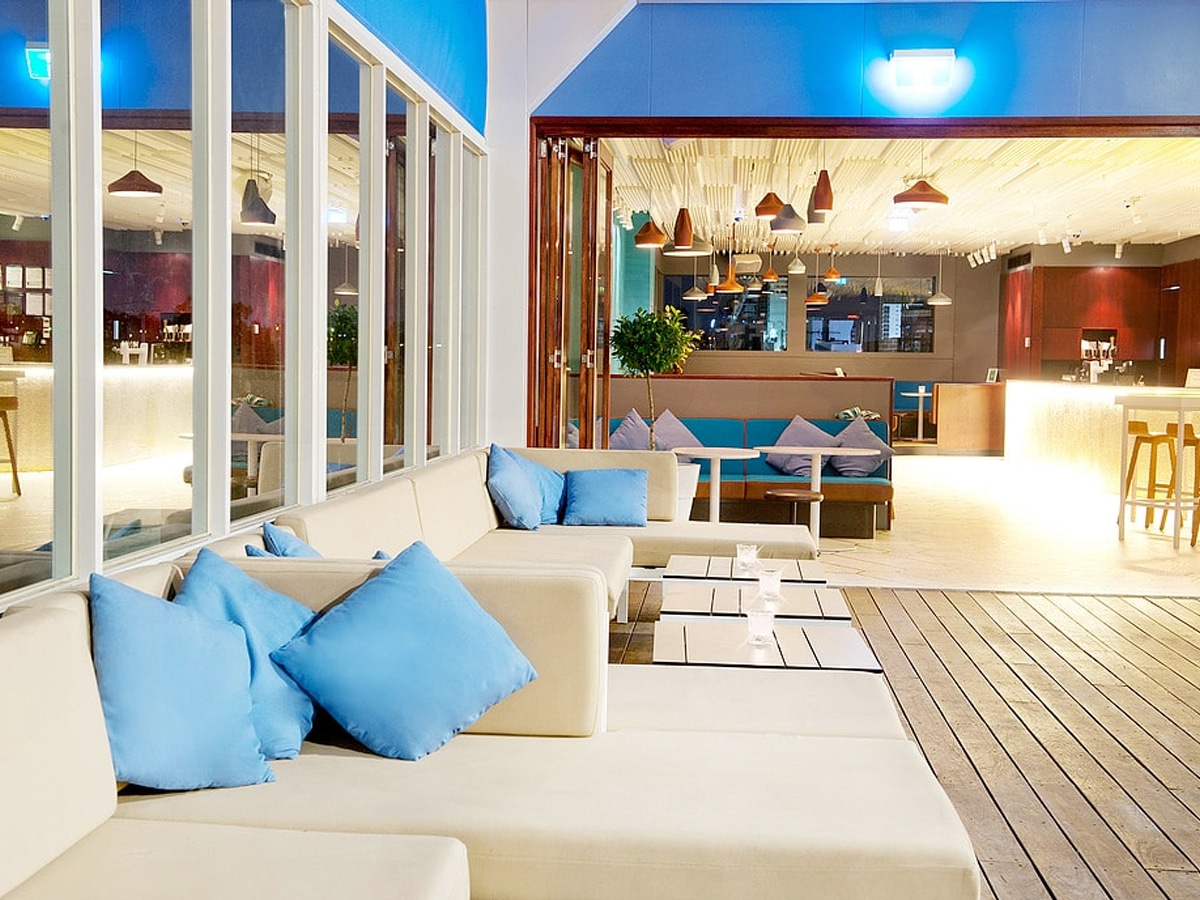 18. The Emerson Rooftop Bar and Club
Whether it's with your friends and having 99-pomegranate problems, or you're having a romantic rendezvous on the rooftop, immerse yourself in the elegant ambience of The Emerson with a grand view of the South Yarra. Don't forget to snack on the four P's – poached prawn roll, pork and cape sausage roll, prawns, avocado and fennel salsa and the pulled pork bao. Your belly will definitely be filled with pleasure.
Address: 141-145 Commercial Rd, South Yarra VIC 3141
Phone: (03) 9825 0900
Hours: Fri-Sun 12pm-12am, Thurs 5-11pm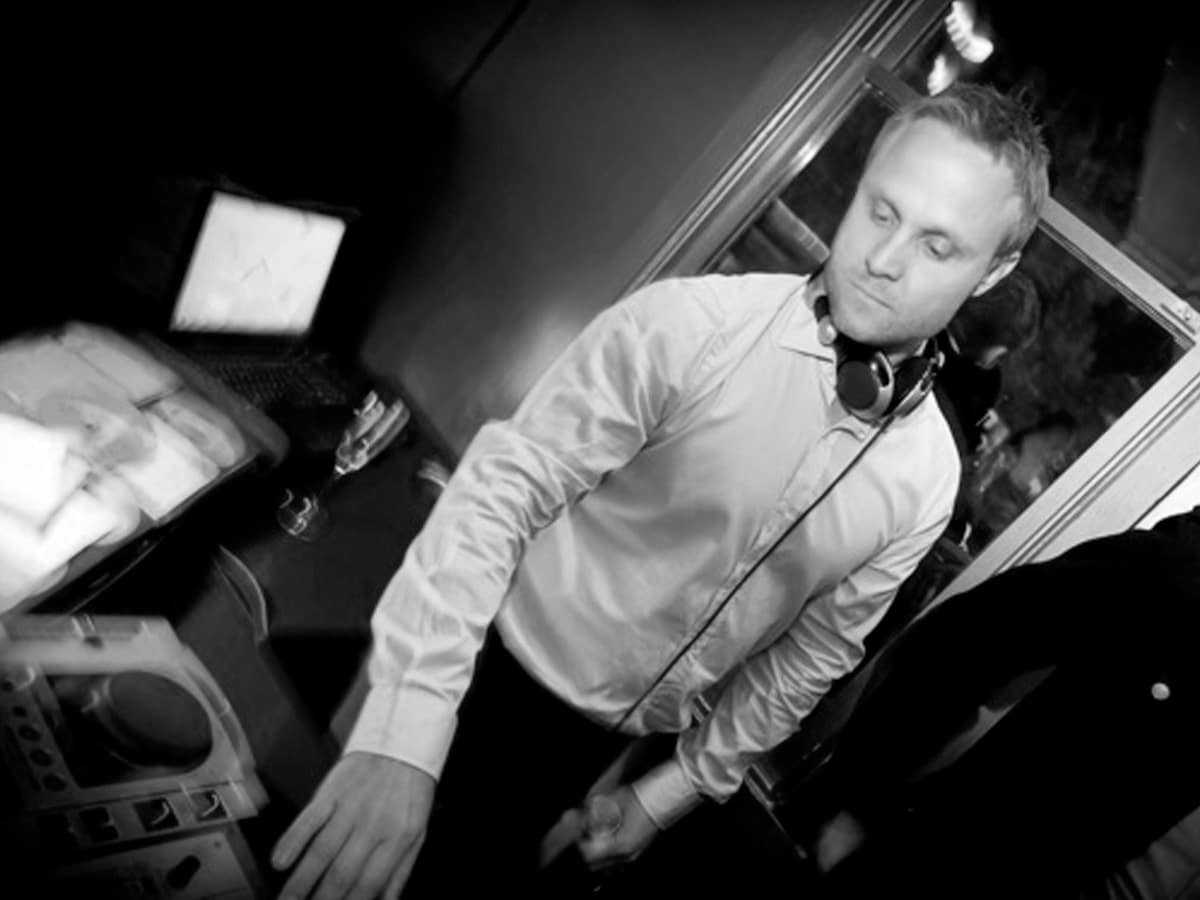 19. Cabinet Bar & Balcony
One of the best spots in Melbourne CBD, Cabinet delivers top-shelf tapas in a cosy, elegant setting. Find it tucked away off Swanston Street, and leave the work world behind.
Address: 11 Rainbow Alley, Melbourne VIC 3000
Phone: (03) 9654 0915
Hours: Tues-Thurs 4-11pm, Fri 12pm-1am, Sat 2pm-1am, Sun 2-11pm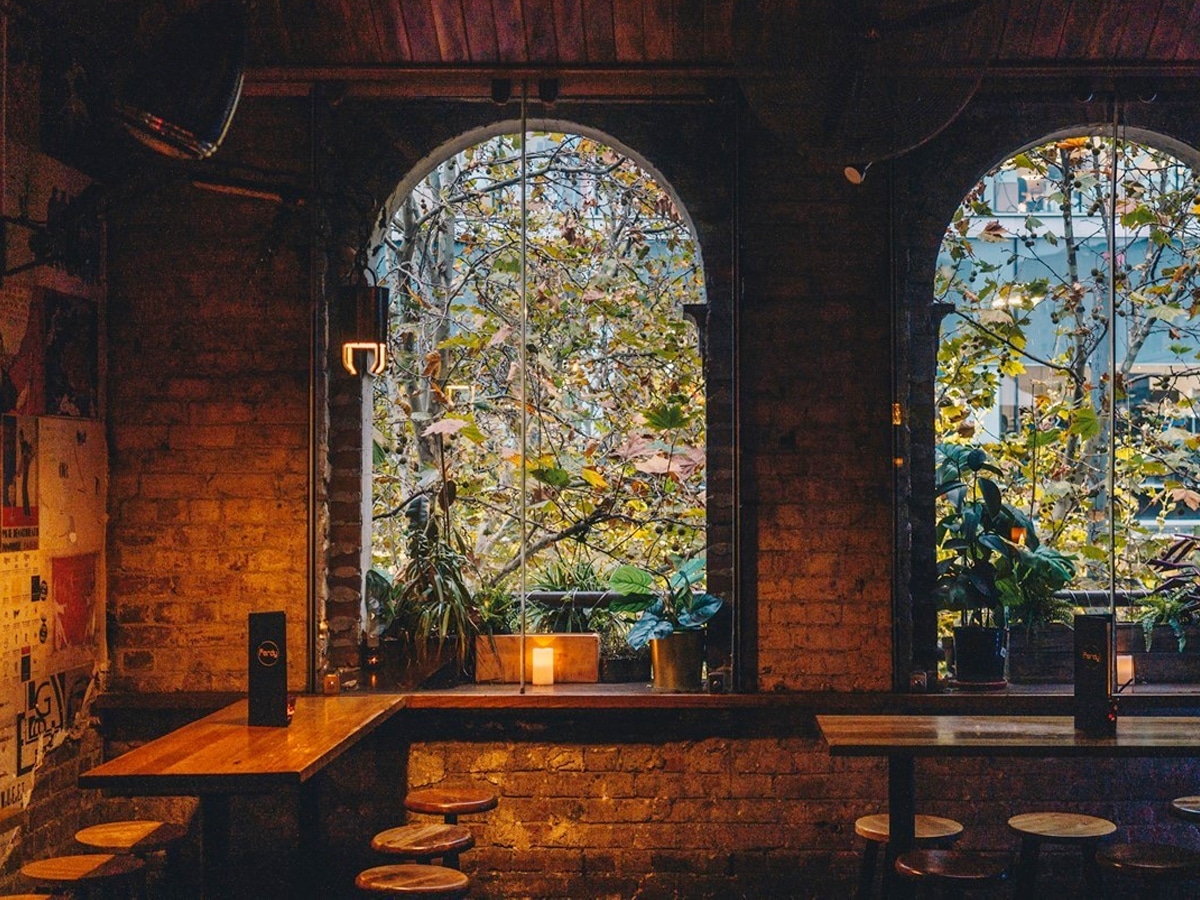 20. Ferdydurke
Let's be frank, it is hotdog heaven here at Ferdydurke. The Polish Royale is a personal preference. The comprehensive cocktail list will give you some complicated choices, but it is advised you come thirsty and have a cocktail tasting experiment. A hot dog and cocktail combo may seem a bit unconventional, but be open to it, because this place has a knack of pulling off the uncanny.
Address: 31 Tattersalls Ln, Melbourne VIC 3000
Phone: (03) 9639 3750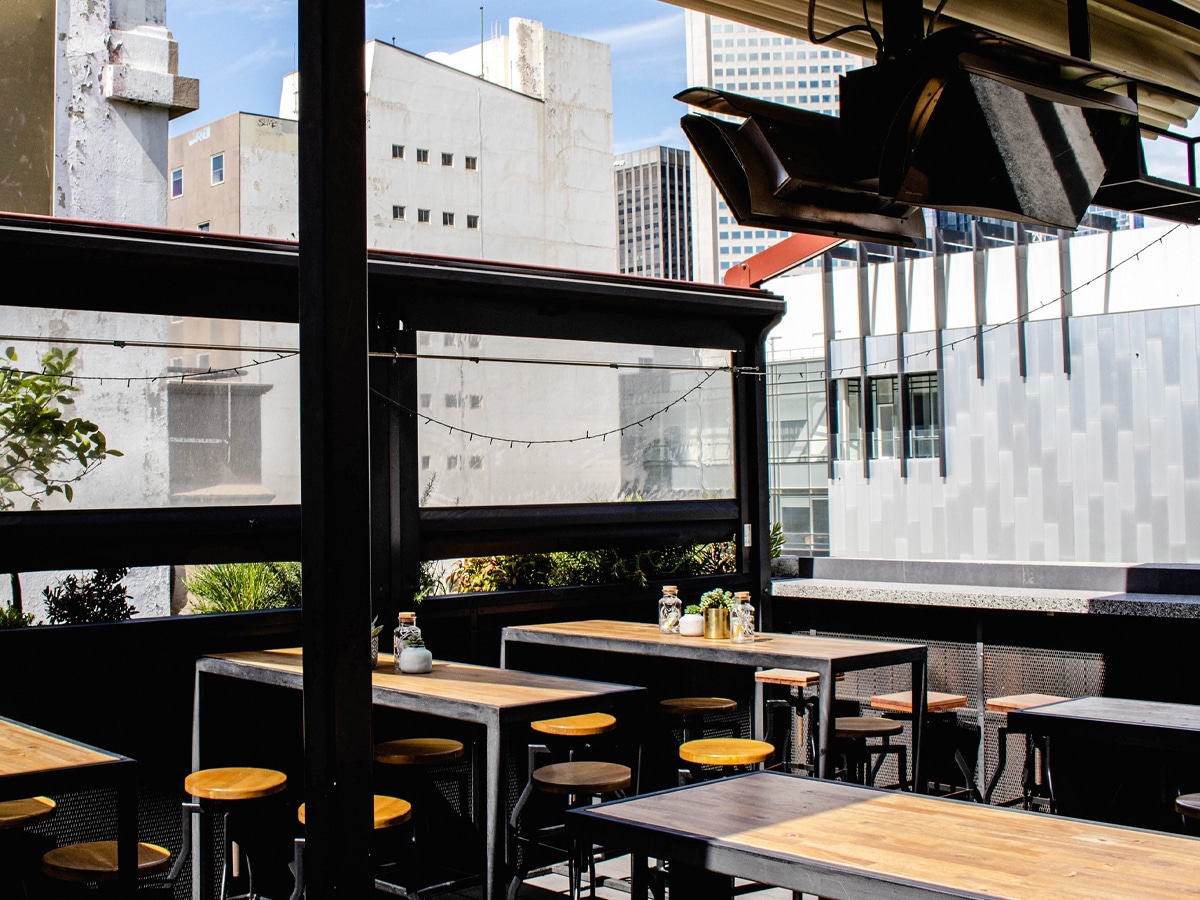 21. Goldilocks Bar
Hiding upstairs from the Noodle Kingdom lays Goldilocks. But not in one of the bears' beds. Goldilocks replaces her porridge with the best cheese platter Melbourne has on offer, accompanied by a stellar cocktail menu. Eat and drink the night away whilst enjoying the garden-esque ambience on the rooftop concealed away from the crowds. I've got a feeling that this place will be 'just right' for everyone.
Address: 4/264 Swanston St, Melbourne VIC 3000
Hours: Mon-Wed 4pm-12am, Thurs-Sat 4pm-1am, Sun 2-10pm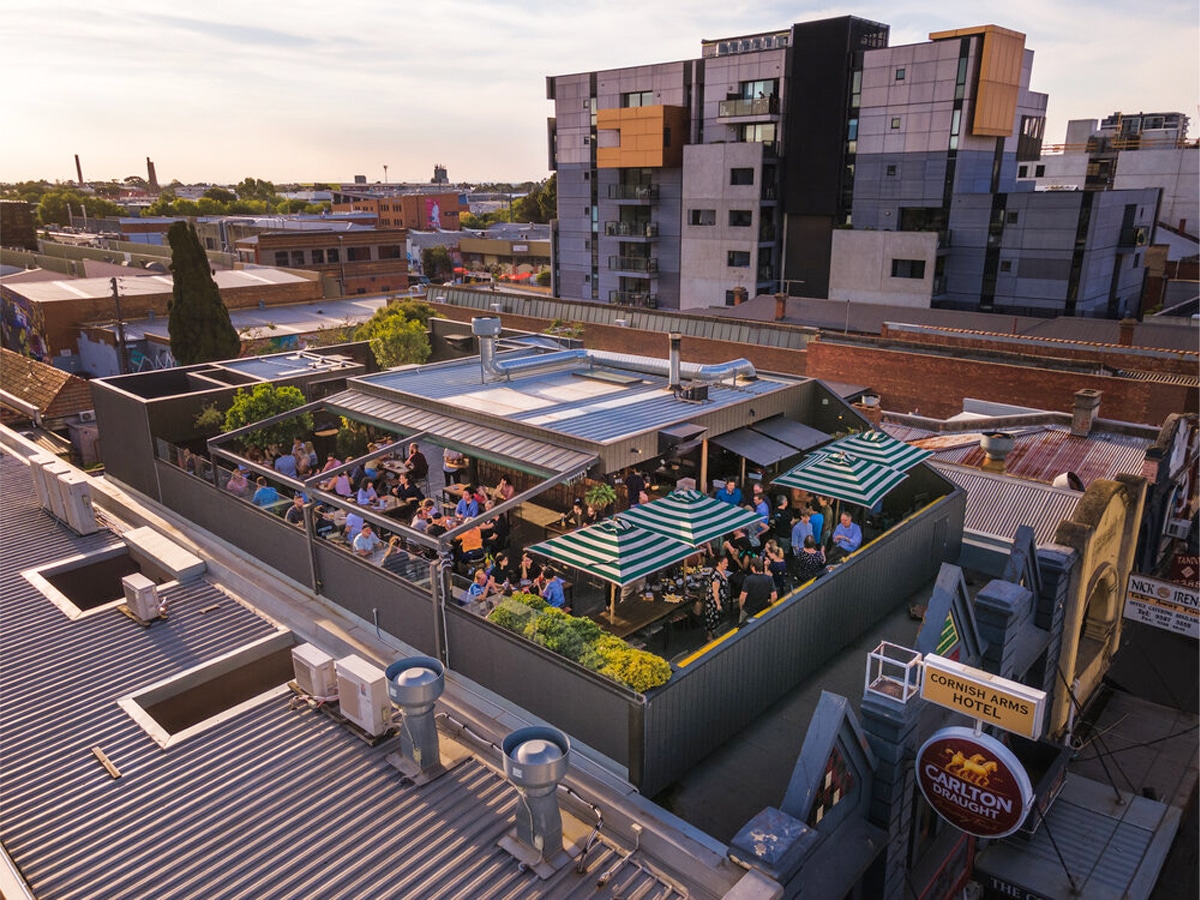 22. The Cornish Arms Hotel
Let's be honest: it's hard out there for a vegan. Or at least it used to be. Satiate your meat-free cravings at The Cornish Arms, which hosts one of best rooftop bar Melbourne has to offer. Here, you'll find great views, friendly people, quality drinks, and delicious, guilt-free food.
Address: 163A Sydney Rd, Brunswick VIC 3056
Phone: (03) 9380 8383
Hours: Mon-Fri 12-11pm, Sat-Sun 12pm-12am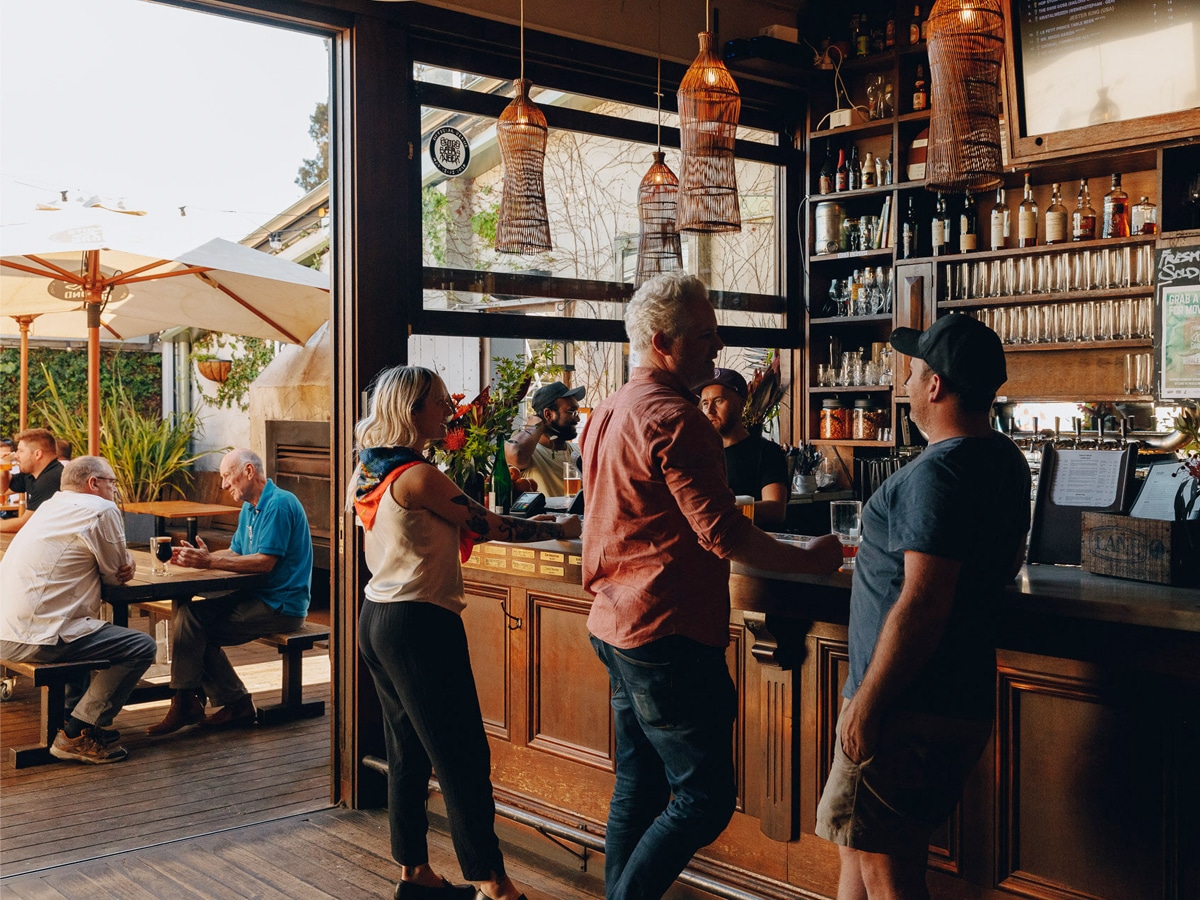 23. The Local Taphouse
If Sydney has a place for beer enthusiasts, Melbourne most definitely must have one. Similar to Sydney's Local Taphouse, the brother in Melbourne CBD has the same ideals. Like Sydney, all the dishes at this rooftop bar are designed to match specific brews. They are clearly the beer belly brothers. Hands down the best beer in town.
Address: 184 Carlisle St, St Kilda East VIC 3183
Phone: (03) 9537 2633
Hours: Mon-Thurs 4pm-12am, Fri-Sat 12pm-1am, Sun 12-11pm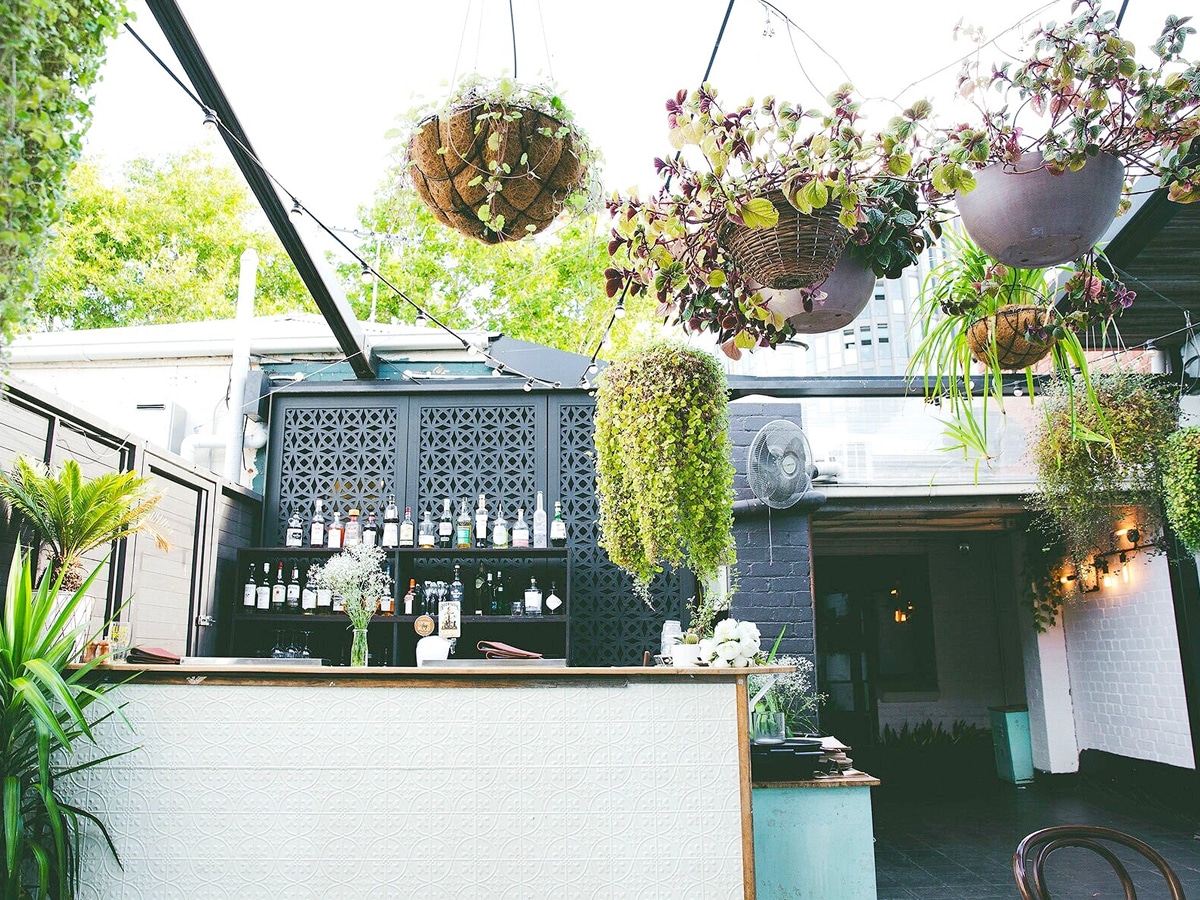 24. Feast of Merit
At the top of this acclaimed restaurant – which makes expert use of its heritage foundations – is one of the most intimate rooftop restaurants Melbourne has seen. In other words: the perfect place to bring a date.
Address: 117 Swan St, Richmond VIC 3121
Phone: (03) 9428 8480
Hours: Wed-Fri 5-10pm, Sat 9am-11pm, Sun 9am-10pm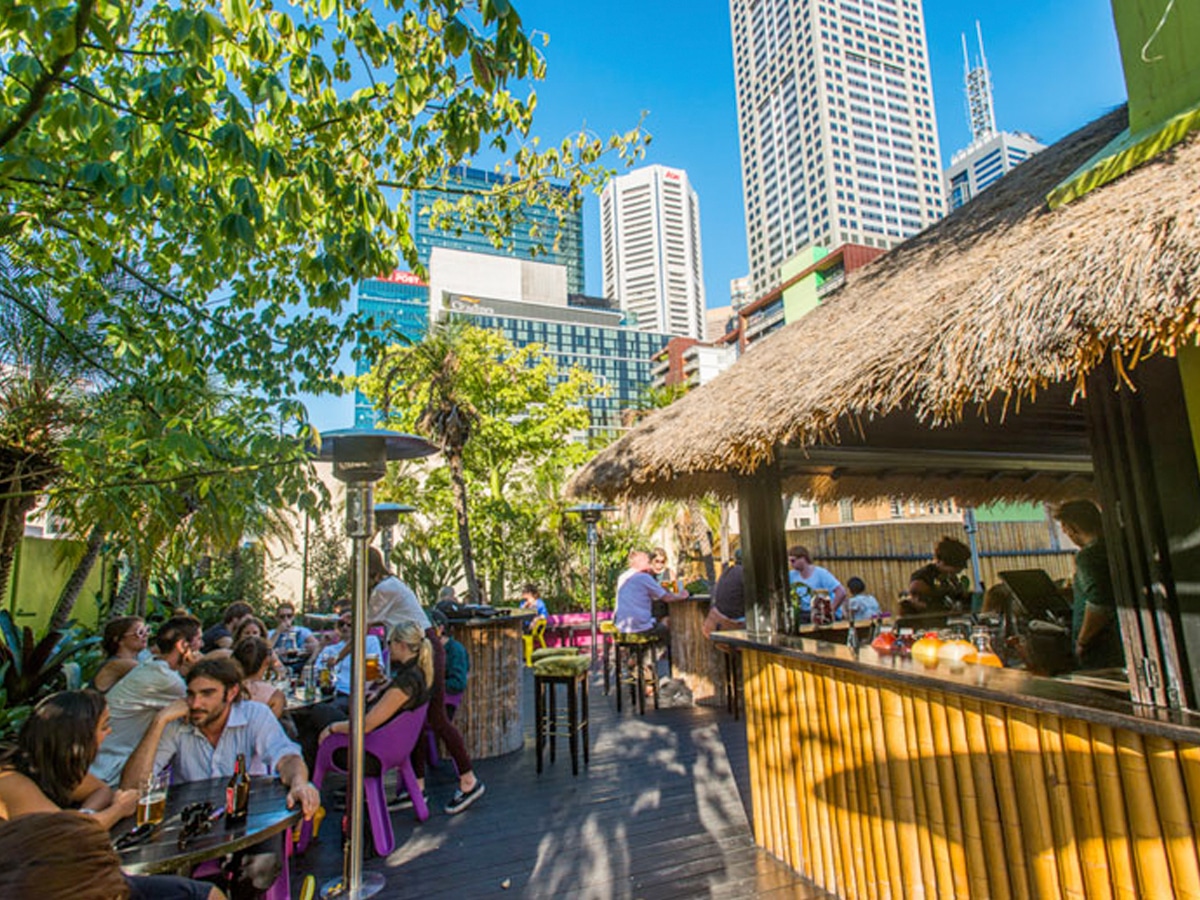 25. The Palmz, The Carlton Club
The name pretty much sums up what you'll be greeted with as you enter The Palmz deck. This secluded spot is surrounded by tropical flora with the bar positioned under a thatched roof. With its funky yet uber-relaxing atmosphere, it almost feels like you're on a deserted island but with a beautiful sight of the city. This fantasy 'island' also comes with its own retractable roof to combat the well-known temperamental Melbournian weather so rest assured, it will always be evergreen here.
Address: 193 Bourke St, Melbourne VIC 3000
Phone: (03) 9663 3246
Hours: Mon 3pm–12am, Tue 3pm–1am, Wed 3pm–3am, Thurs 12pm–6am, Fri 12pm–6am Sat 12pm–7am, Sun 12pm–3am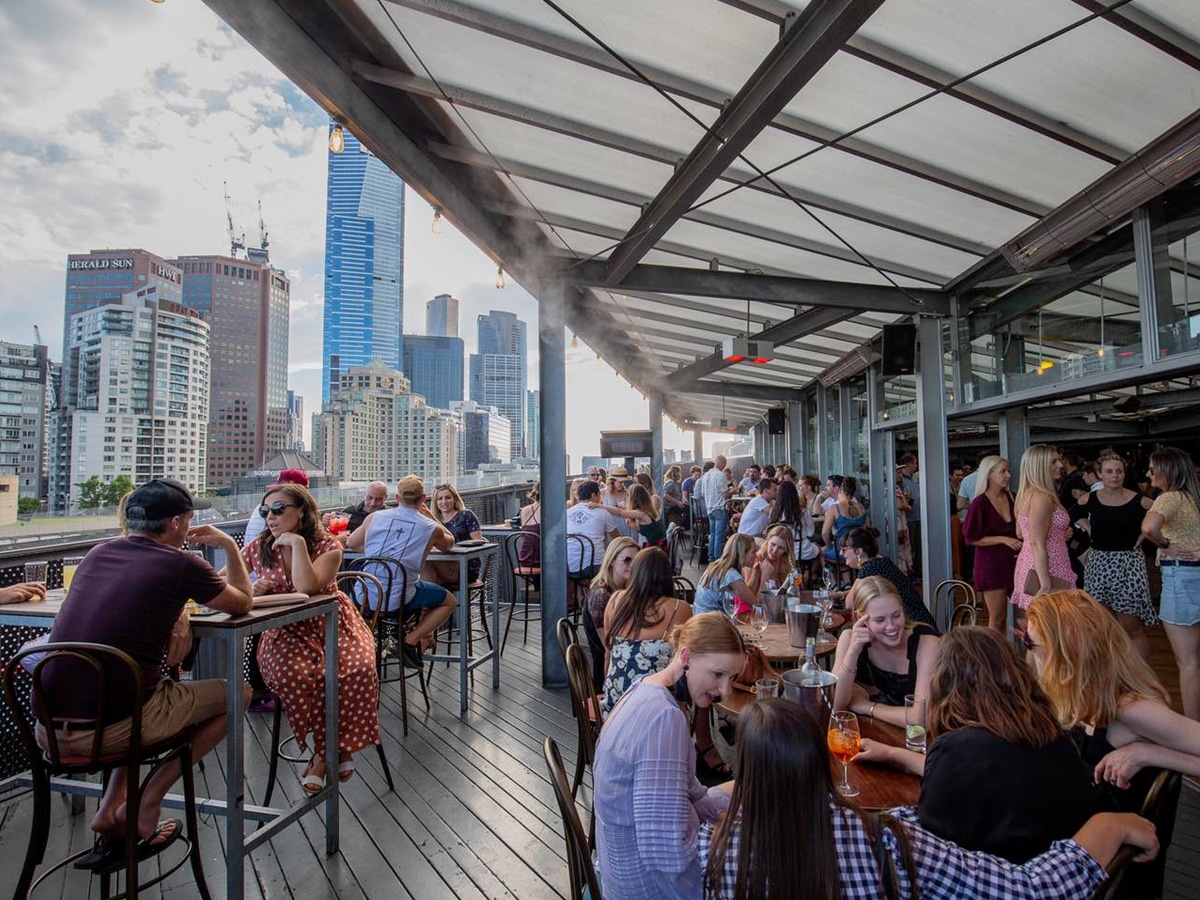 26. Transit Rooftop Bar
Sitting on top of the Transport Hotel in Melbourne, Transit Rooftop Bar will accordingly transport you from reality to fantasy with its expansive, eye-catching views of the MCG, Southbank, Botanical Gardens, Yarra River and the Melbourne Art Centre Precinct. Relax above the crowds and under the stars overlooking Melbourne's amazing landscape with a cocktail in hand.
Address: Level 2, Transport Hotel Federation Square, Melbourne VIC 3000
Phone: (03) 9654 8808
Hours: Wed-Fri 3pm-12am, Sat-Sun 12pm-12am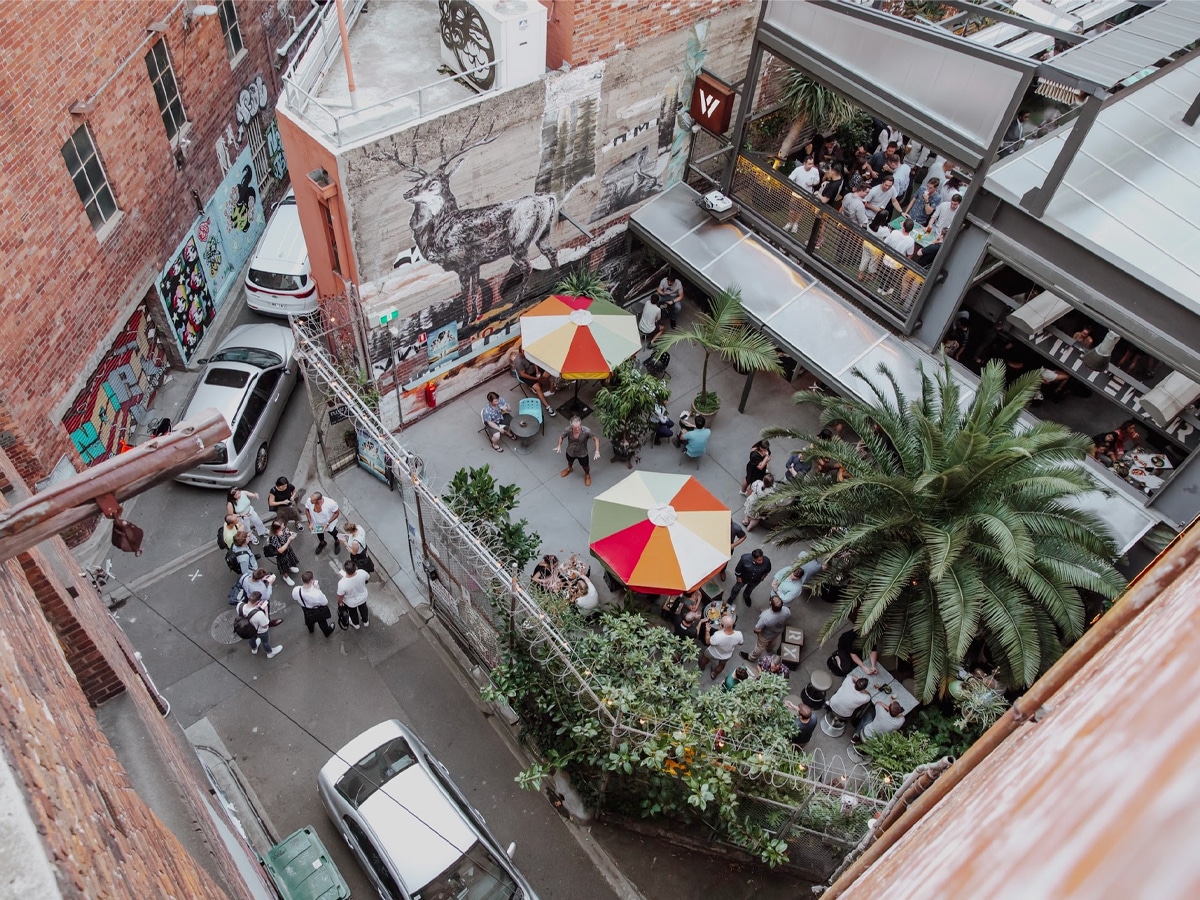 27. Whitehart Bar
Spread across two stories beneath the open sky, Whitehart is the stuff that bar-going dreams are made of. It's built of steel beams and shipping containers, and that's just one among numerous things going for it. Come for the pizza, stay for the crowd.
Address: 22 Whitehart Ln, Melbourne VIC 3000
Phone: (03) 9602 2260
Hours: Tues-Wed 5-11pm, Thurs 5pm-12am, Fri-Sat 12pm-1am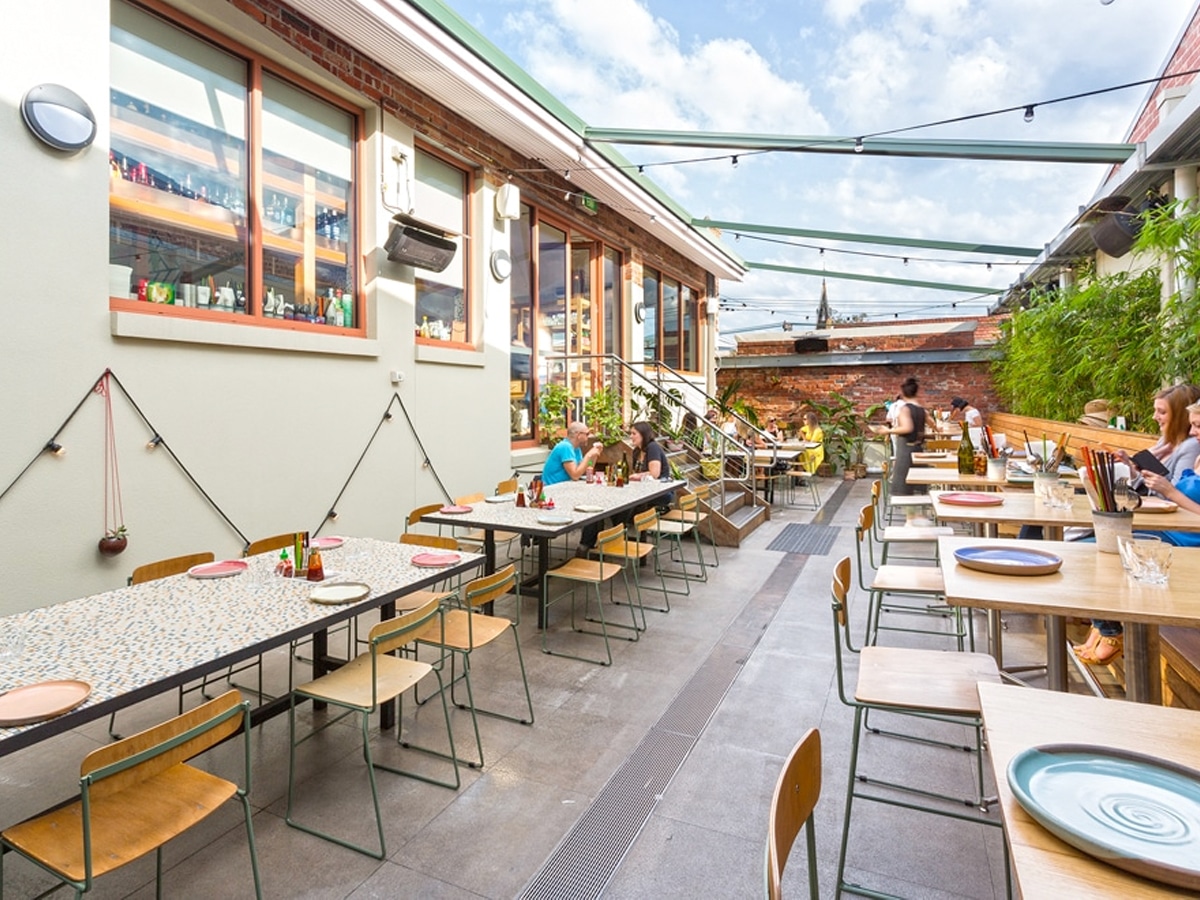 28. Uncle Collins Street
When I'm away from home and my mum's cooking, the Uncle steps in. The colourful Vietnamese conical hat-inspired lighting above the bar is a unique homage to my cultural roots and is the focal point in this already quirky interior. Growing up eating traditional Vietnamese cuisine has turned me into a tough critic and I've found Uncle to be the perfect super-sub to my mum's cooking. Pho is a big deal when it comes to Vietnamese cuisine so it is an undisputed must-have. Add the chicken tenderloin steamed bao and condensed milk fried ice cream to the list too. After satisfying your stomach, sit back and unwind on the rooftop with a Ho Chi Mama cocktail.
Address: Level 1/15 Collins St, Melbourne VIC 3000
Phone: (03) 9654 0829
Hours: Thurs-Fri 12-10pm, Sat 5-10pm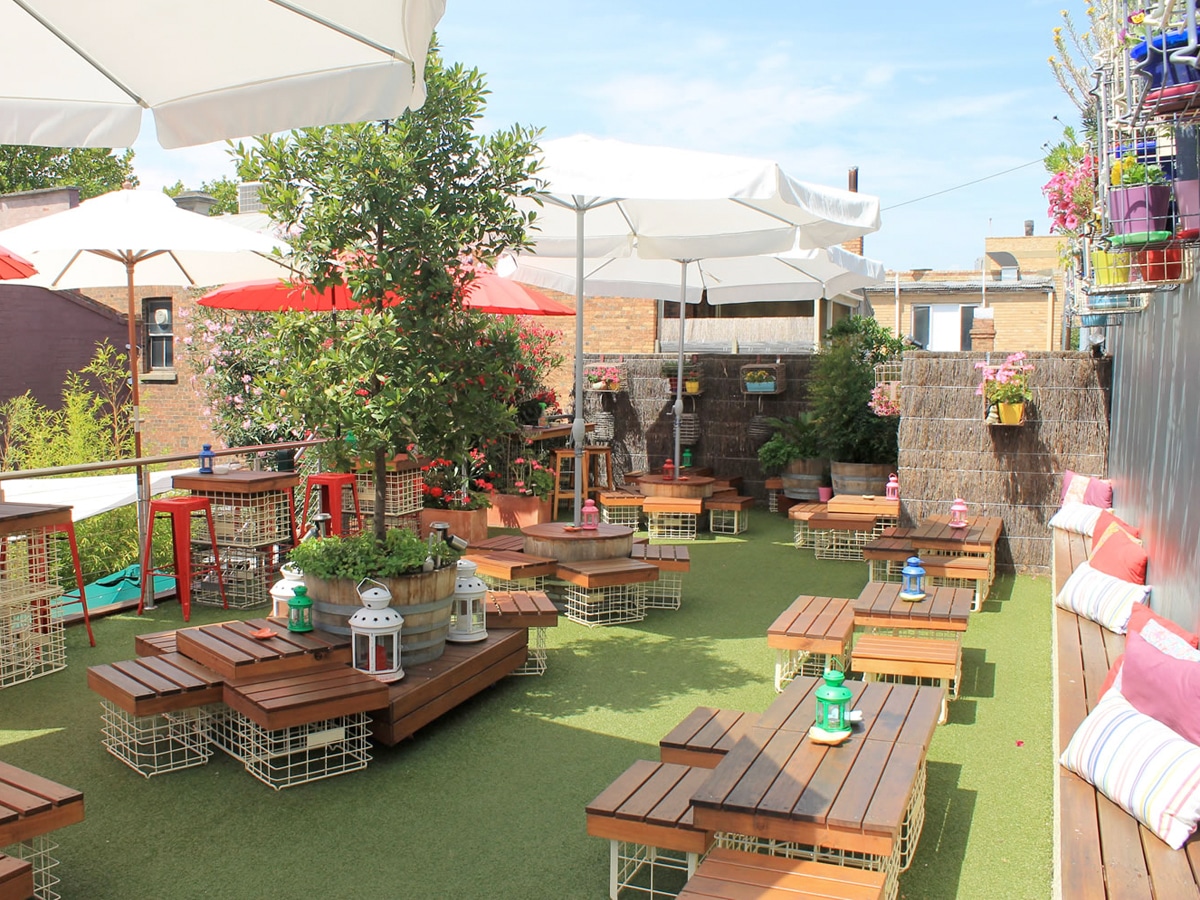 29. Wolf's Lair
Huddled in behind Elgin and Lygon Streets is a hideaway. Bring a small group of tight-lipped friends to the top-secret Wolf's Lair. Concealed and cosy, this bar is where you and your close friends can enjoy each other's company whilst sharing a Tiger or Watson pizza and a Blue Bison cocktail jug. The Wolf's Lair thrives on confidentiality and intimacy so maybe a few secrets of your own can be let out here with confidence. Just remember, what happens in Wolf's Lair, stays in Wolf's Lair.
Address: Jimmy Watson Ln, Carlton VIC 3053
Phone: (03) 9348 0385
Hours: Mon-Sat 3pm-late, Sun 1pm-late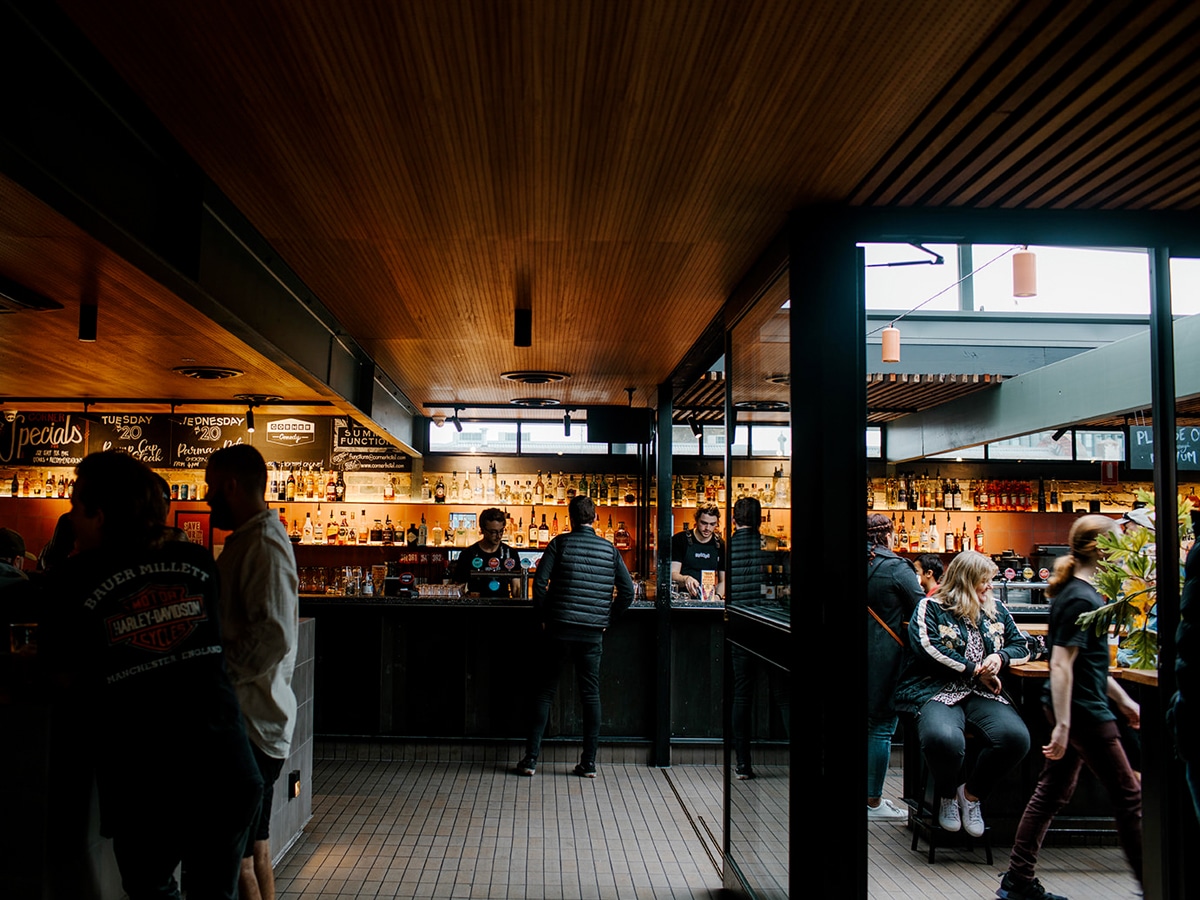 30. Corner Hotel
Richmond's favourite live music venue is joined by one of the best rooftop bars in Melbourne. Indeed, Corner Hotel has been a staple for Melburnians who love a gig (so, all Melburnians) for the last 20 years, and it now boasts a top-quality outdoor drinking and dining area up top, for after-work beers, pre-gig vino, sunset cocktails, and weekend BBQs. The food offering involves simple, on-point pub classics that don't disappoint, and we reckon this new, refreshed rooftop is a grouse improvement on the area it used to be.
Address: 57 Swan St, Richmond VIC 3121
Phone: (03) 9427 7300
Hours: Wed-Thurs 5pm-1am, Fri-Sat 12pm-3am, Sun 12pm-1am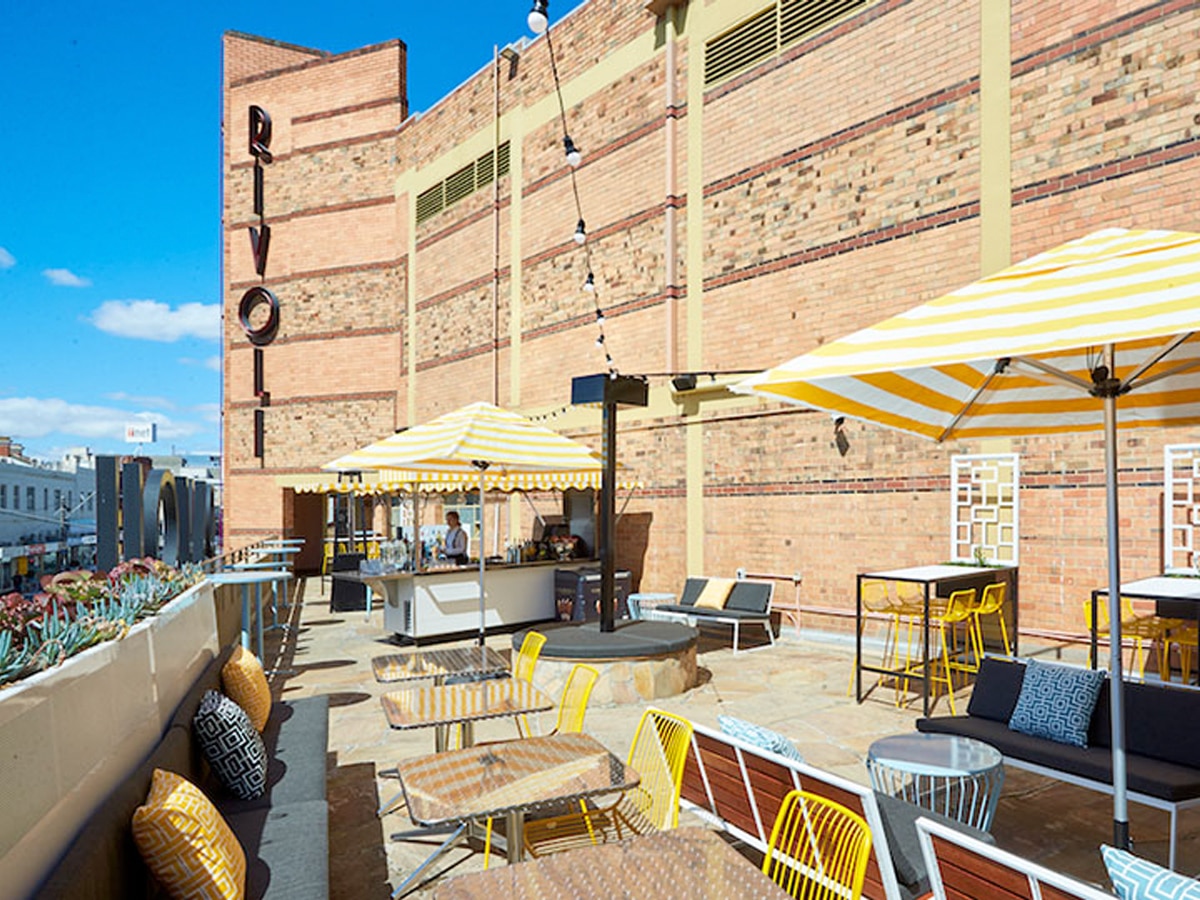 31. Nineteenforty Rooftop Bar
Named after a year when cinema was factually better (it just was), and coincidentally the year the Rivoli cinema its sits above was erected, Nineteenforty is the most picturesque place in Melbourne to enjoy pre-film drinks and super tasty popcorn (with some interesting flavours on offer). The house specialty is the G&T menu, making this rooftop one of the best views Hawthorn has to offer.
Address: 200 Camberwell Rd, Hawthorn East VIC 3123
Phone: 1300 555 400
Hours: Thurs-Sun 5:30-11pm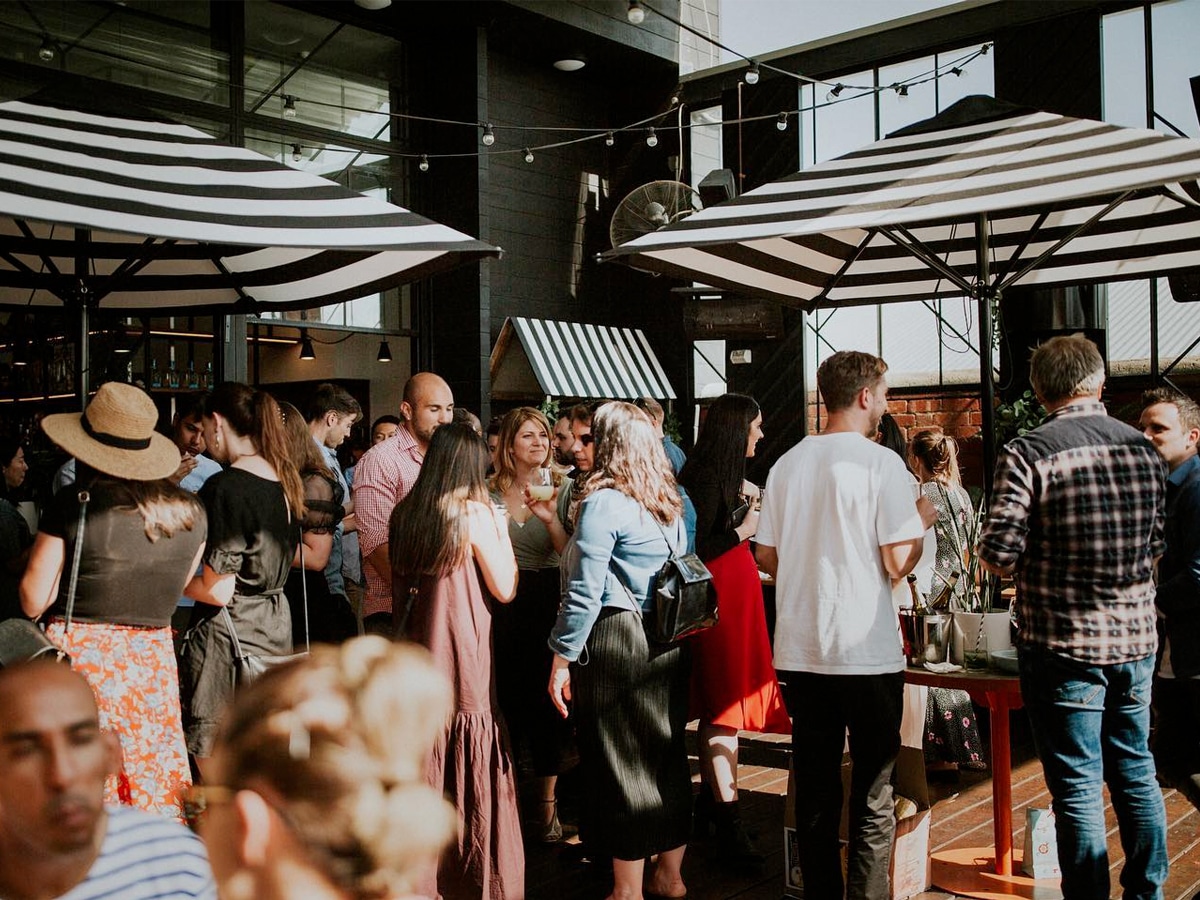 32. Fonda Mexican
Fonda is Windsor's favourite Mexican eatery. The restaurant has recently opened up its doors to a kickass rooftop. Now you and all your amigos can enjoy the best Kangaroo tacos this side of Cancun with some delicious cocktails (or a non-alcoholic agua fresca to stave off the sting of the hot sauce you'll definitely hit too hard) in the sun. We think it's muy bien.
Address: 144 Chapel St, Windsor VIC 3181
Phone: (03) 9521 2660
Hours: Sun-Wed 11:30am-10:30pm, Thurs-Sat 11:30am-11:30pm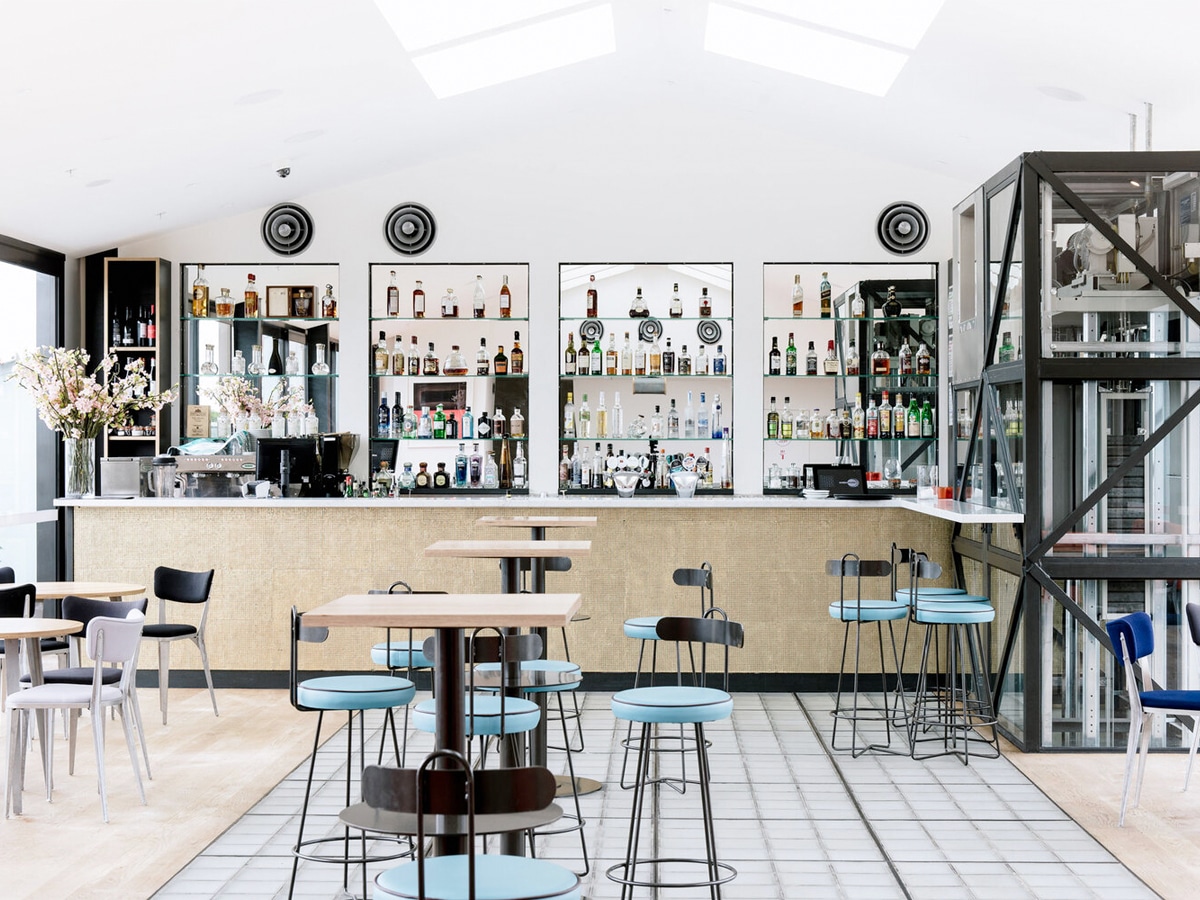 33. Pop-up Bar at Sagra
Italian food doesn't get much better than the dishes served up at Sagra, unless they're enjoyed on their classy AF terrace, that is. Located in the suburb of Malvern, this favourite of savvy locals and well-informed travellers alike recently opened a top-quality cocktail bar upstairs, with a fully enclosed area catering to revellers all year round, and floor-to-ceiling glass panels which open up to a terrace for use when it's sunny. That's amoré.
Address: 256-258 Glenferrie Rd, Malvern VIC 3144
Phone: (03) 9079 5600
Hours: Wed-Thurs 3-10pm, Fri 3pm-12am, Sat 12pm-12am, Sun 11am-6pm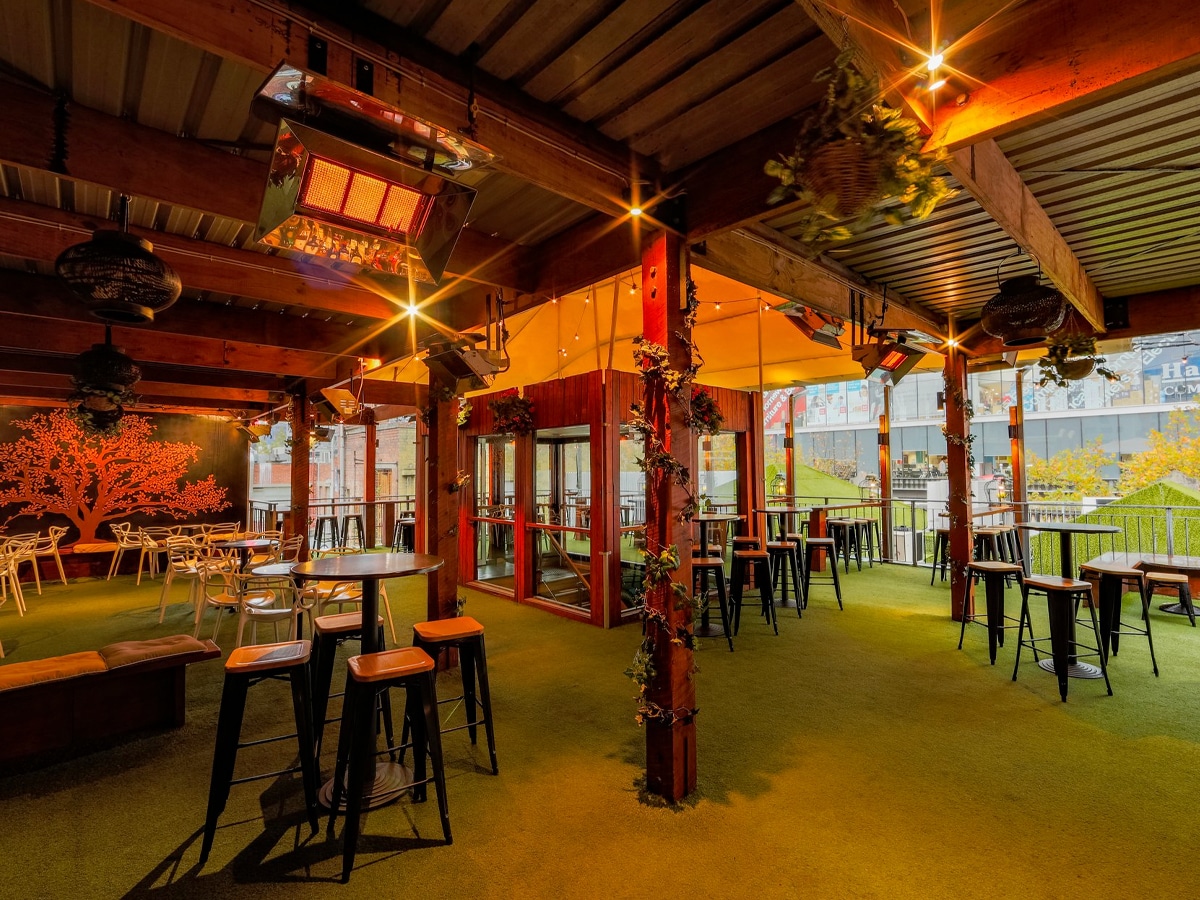 34. The Emerald Peacock
If delicious cocktails, quality food, and plush vibes are your things, then The Emerald Peacock is your new spot. That it's also one of Melbourne's best rooftop bars is mere icing on the cake. Come here to escape the world, and stay until they kick you out.
Address: 233 Lonsdale St, Melbourne VIC 3000
Phone: (03) 9654 8680
Hours: Mon 4pm-12am, Tues 12pm-1am, Wed 4-10pm, Thurs 12pm-12am, Fri-Sat 4pm-1am, Sun 1pm-12am
General FAQs
What are the best rooftop bars in Melbourne CBD?
Melbourne CBD has many great rooftop bars to choose from. Rooftop at QT Hotel Melbourne is one of the newest additions to Melbournes rooftop bar scene and is a great spot to grab after-work drinks as the sun goes down. Some other great rooftop bars include Heroes Karaoke & Rooftop Bar, and Bomba Tapas Bar and Rooftop.
What do you wear to a rooftop bar?
Smart casual is the best dress code to stand by for rooftop bars. If the bar is outside, make sure you bring plenty of sunscreen and don't forget your sunglasses!
What Melbourne rooftop bar has the best food?
Union Electric Bar & Rooftop Gin Garden has some of the best food at a rooftop bar in Melbourne. Depending on your choice of cuisine you might prefer Mexican at Fonda Mexican or the Italian at the Pop-up Bar at Sagra.