11 Best Tattoo Artists & Shops in Sydney
The streets of Sydney are filled with the best tattoo artists, which makes choosing a tattoo studio just as important as nailing the design. The art of tattooing transcends age, cultural and gender gaps – according to the latest numbers, almost 19% of all Australians sport ink of some kind. It is fastidious, unforgiving, and painfully permanent (if you needed reminding) so investing time researching who and where you want to get inked will be well worth your time.
Sure, you could try all the dozens of licensed tattoo parlours in Sydney, or you could read this list and let us point you in the direction of some of Sydney's best parlours, staffed by the best tattoo artists in the business. When it comes to getting a tattoo Sydney has got you covered. Whether you're after traditional Japanese designs, some funky dotwork or a black-and-grey portrait that would rival any painting, we'll show you the best tattoo Sydney has to offer. Here are the 11 best tattoo artists in Sydney (in no particular order).
You'll also like:
Get 20% Off Your Favourite Sex Toy at MysteryVibe's Early Black Friday Sale
6 Best Custom Motorcycle Shops in Sydney
50+ Minimalist Tattoo Ideas That Prove Less is More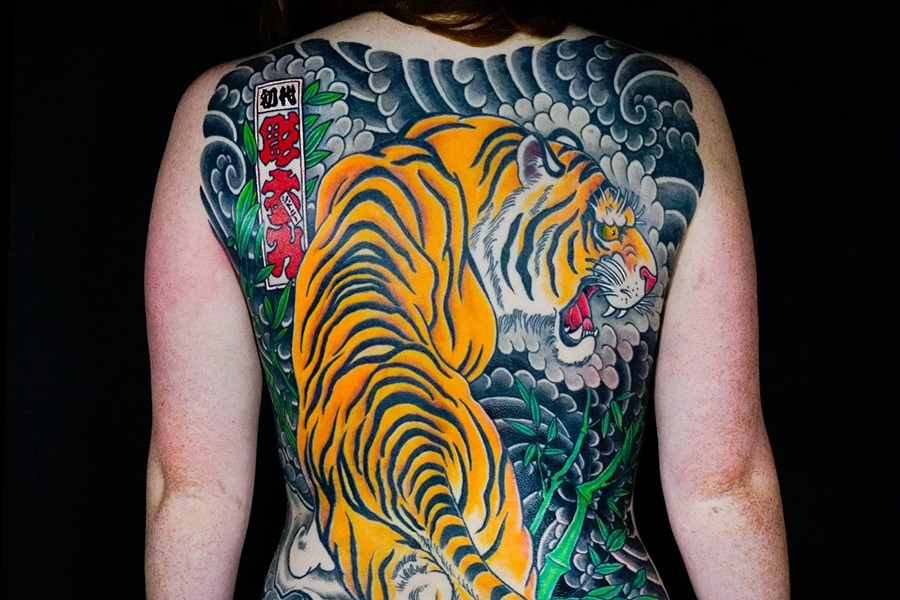 1. Authentink
This Surry Hills tattoo studio is the culmination of 25 years of world travel and dedication on the part of founder and Japanese Irezumi master Kian "Horisumi" Forreal. The folks at Authentink are undeniably masters of traditionalist Japanese style tattoo, but they are far from one trick ponies. Their diverse and accomplished line-up of resident and guest artists can create nearly any style of authentic tattooing from black and grey realism to dotwork and geometric, neo-traditional and ethnographic tattoos. The walls are bright and filled with art to inspire your next piece.
Address: Suite 306 4-14 Buckingham St Surry Hills, Sydney NSW 2010
Phone: +61 2 8399 1973
Hours: Mon-Sun 11am-7pm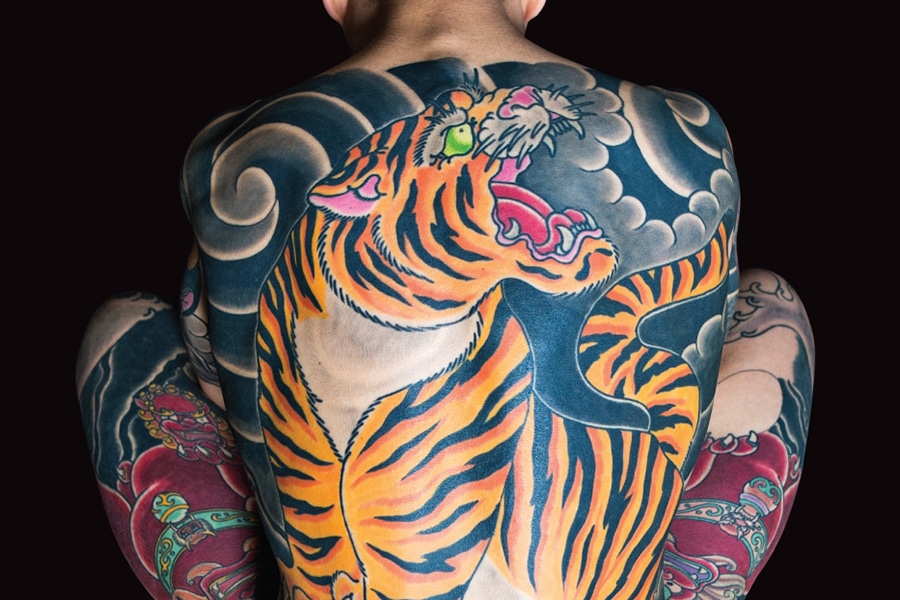 2. Little Tokyo
This hidden tattoo parlour overlooking Central Station is a veritable treasure-trove of art, memorabilia and tattoo relics from the world over jammed into shelves and corners throughout the bright and eclectic studio. As the name suggests, this Sydney tattoo studio has an affinity for Japanese style tattooing, yet they boast a talented staff capable of handling all tattoo styles. An appointment is your best bet at this temple of art, but with up to 5 artists working simultaneously Little Tokyo do their best to accommodate walk-ins if you just can't wait to get inked.
Address: Suite 505, 342 Elizabeth St, Surry Hills, Sydney NSW 2010
Phone: +61 2 8068 4912
Hours: Mon-Sun 10am-7pm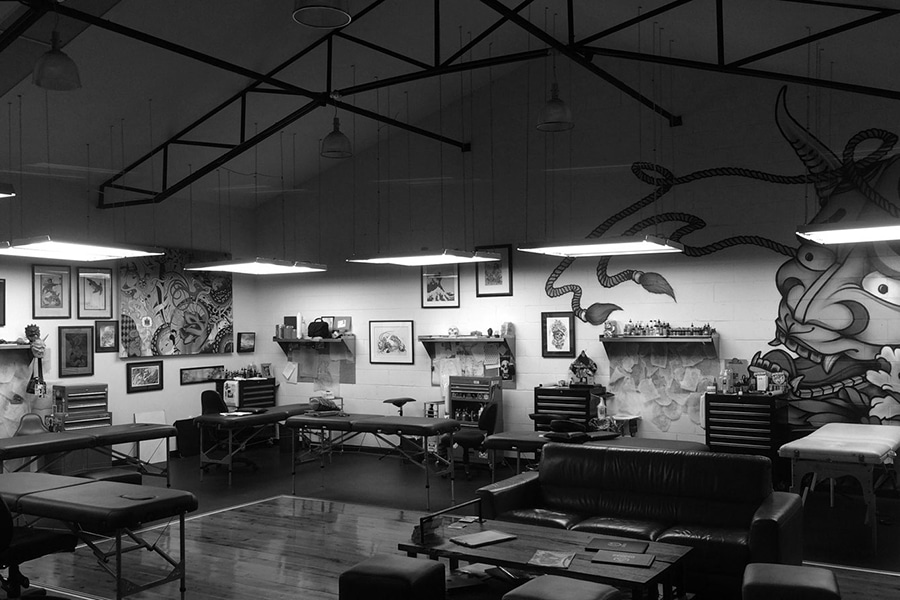 3. Lighthouse Tattoo
Twelve artists, each a master of their chosen specialty of tattoo style, make up the team of Lighthouse Tattoo in Botany in South-Eastern Sydney. This tattoo artists sticks almost exclusively to custom pieces, taking your ideas and lining you up with the most suitable tattoo artist to transform that idea into a permanent piece of art. Whether it's traditional Japanese, realistic portraiture, illustrative, traditional or script the folks at Lighthouse Tattoo will have you walking out with a piece that's distinctive and unique.
Address: 1 Pemberton Street, Botany, Sydney NSW 2019
Phone: +61 2 9316 4565
Hours: Mon-Sat 9am-5pm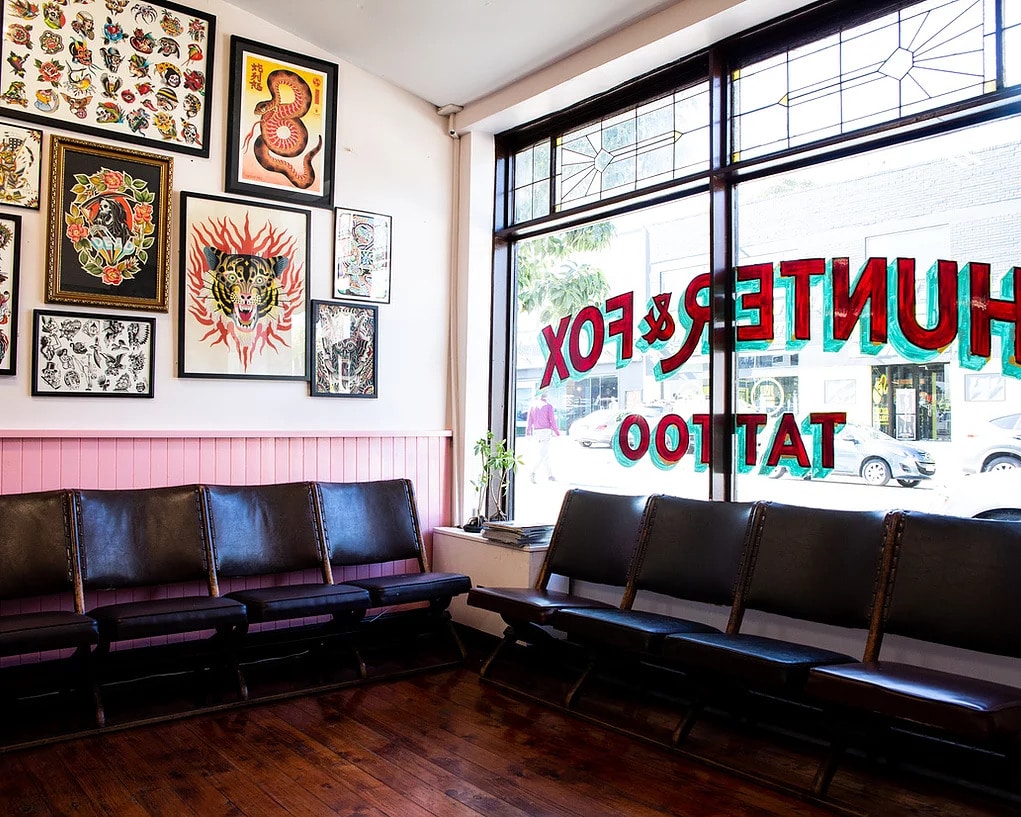 4. Hunter & Fox
An affinity for traditional styles, bold colours and old-school charm, have earned the crew at Hunter & Fox a dedicated following of ink-enthusiasts. If you've got the urge but still unsure of a design, lean on the inspiration provided by the extensive artwork on the wall and the decades of cumulative experience of the resident tattoo artists to help you settle on a piece that's perfect for you. Walk-ins are encouraged, and there's on-site laser removal if you need to make some room for your next tattoo.
Address: 422 Botany Rd, Beaconsfield, Sydney NSW 2015
Phone: +61 2 9341 2527
Hours: Tue-Sat 11am-7pm

5. LDF Tattoo
Whether it's painting or tattooing, LDF owner Les Rice is an artist in every sense of the word. Drawing inspiration from an artistic lineage that stretches back to the 50's when Les' father began tattooing in Brisbane, LDF has attracted a stellar line-up of world-class artists versed in all tattoo styles to the studio on Newtown's King Street. This Sydney street tattoo shop handles anything from a simple, walk-in request to the most exacting and complex custom request.
Address: 26 King Street, Newtown, Sydney NSW 2042
Phone: +61 2 9550 6759
Hours: Mon-Sat 10am-6pm, Sun 12pm-5pm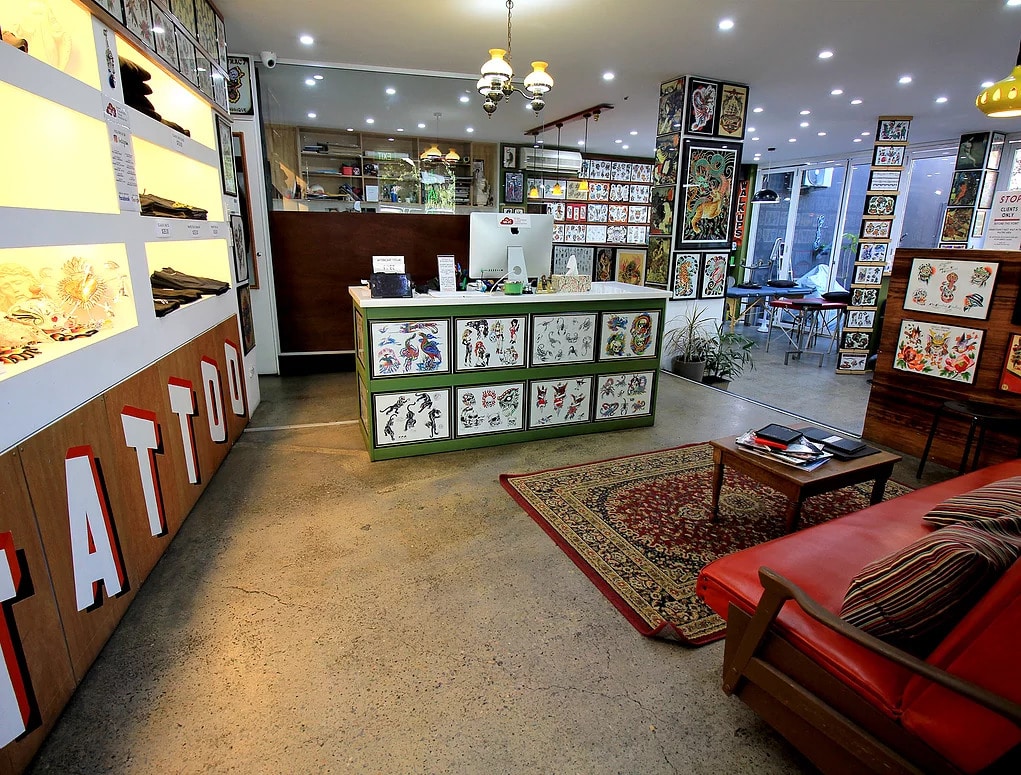 6. The Darling Parlour
One of Sydney's most aesthetically pleasing tattoo studios, The Darling Parlour is split over two levels, flooded with natural light and stacked with artwork and artefacts to inspire your next design. A top-notch team of resident artists, as well as a revolving roster of visiting international talent, excel in most styles of tattooing including traditional Americana, fine line, dotwork and Oriental. Neighbours Fade Laser are also on site offering industry-leading tattoo removal for those who've had a change of heart.
Address: 4/13 Beattie Street, Balmain, Sydney NSW 2041
Phone: +61 2 9555 6316
Hours: Tue-Sat 11am-6pm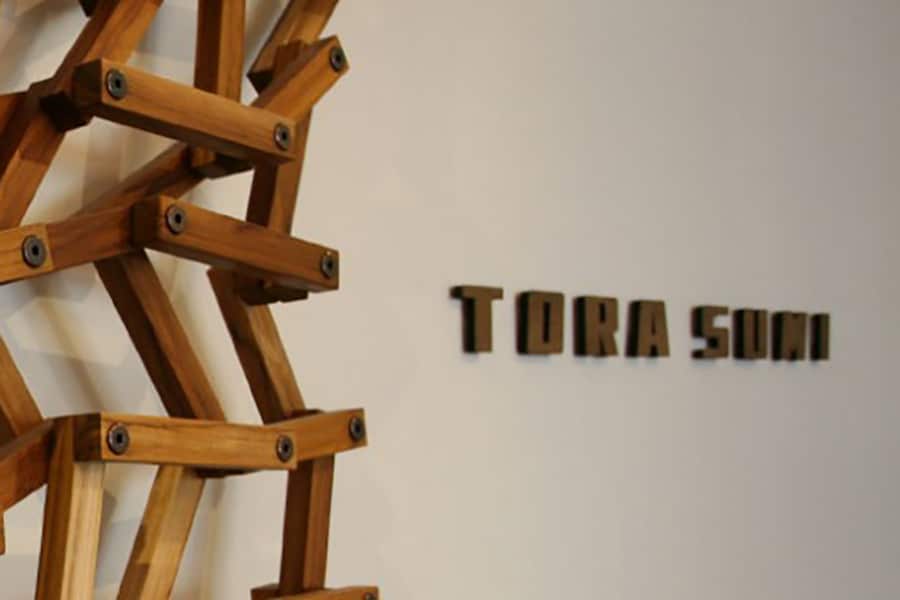 7. Tora Sumi
Light, bright and sharp, Tora Sumi is a contemporary tattoo space with a carefully appointed layout that would rival any art gallery. A dozen of Sydney's top tattoo artists are on hand to discuss your next design, whether it's something unique & customised you've been dreaming up for months, or a spur of the moment piece you can't live without. Smaller tattoos are done in the main room, while larger pieces (or ink that requires a little more privacy) go down in the private VIP room.
Address: 381 Darling Street, Balmain, Sydney NSW 2041
Phone: +61 2 9818 5045
Hours: Mon 10am-5pm, Tue-Sat 10am-6pm, Sun 10am-4pm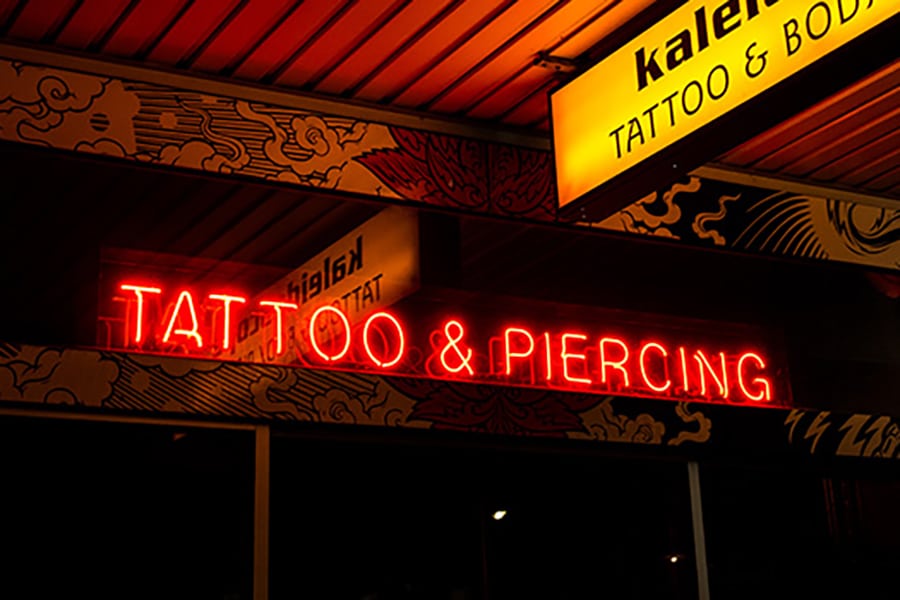 8. Kaleidoscope
Some seriously talented artists grace the chairs at Bondi Beach's Kaleidoscope. Whether it's a member of their impressive, award-winning team of resident artists or an iconic and accomplished international artist filling a guest spot, these guys have you covered for any kind of tattoo or piercing you can dream up. Each of their tattoo artists boasts no less than 10 years' experience under their belt, adhere to stringent hygiene standards, and are dedicated to providing a friendly, respectful and relaxed experience for everyone who walks through their door.
Address: 255 Bondi Rd, Bondi, Sydney NSW 2026
Phone: +61 2 9365 0167
Hours: Sun-Fri 12pm-8pm, Sat 10am-8pm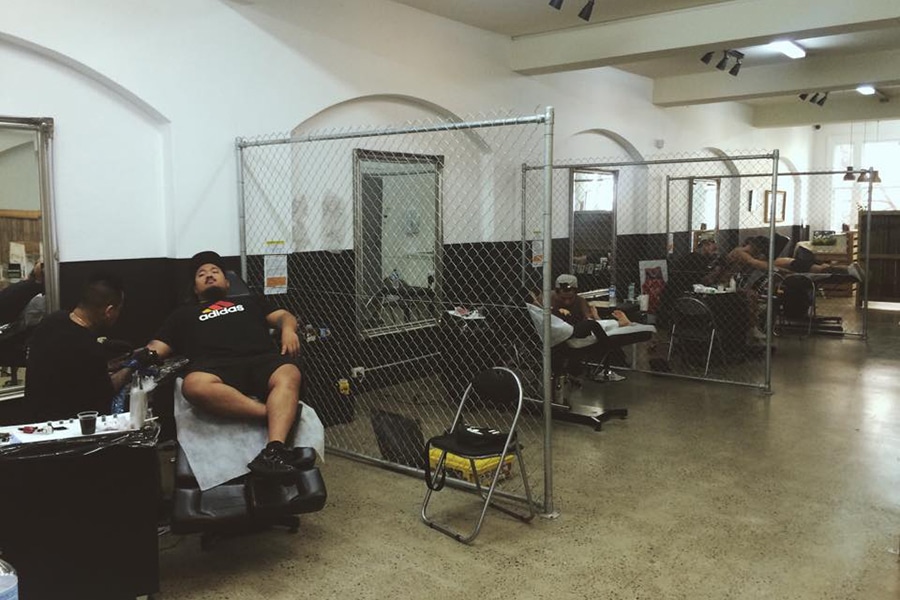 9. Monarch Tattoo
With one studio in Liverpool and another smack-bang in the middle of the city, Monarch Tattoo (formerly Royal Tattoo) offer tattooing services as well as laser removal and supplies. Monarch houses a laid-back, professional vibe and their artists ink some of the most compelling and technically complex black and grey realism tattoos in Sydney. If you've ever been interested in this style, born out of Californian prisons and mastered in high-end tattoo parlours around the world, it's well worth paying these guys a visit.
Address: 207 Clarence Street, Sydney NSW 2000
Phone: +61 2 9279 0085
Hours: Tue-Sat 10am-6pm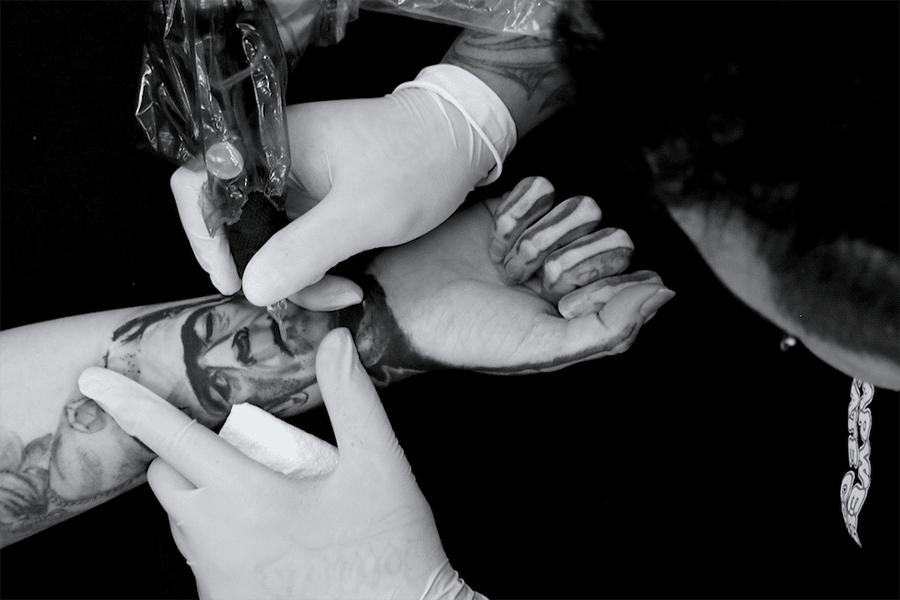 10. Bondi Ink
What list of the best tattoo shops in Sydney would be complete without Bondi Ink? It's not just the hit reality TV show that makes Bondi Ink one of Sydney's most sought-after studios, the crew behind the iconic shop are some of the best tattoo artists in the business. Be sure to book a consultation well in advance – the demand to get inked here, as you can imagine, is high.
Address: 2/72-76 Campbell Parade, Bondi Beach, Sydney NSW 2026
Phone: +61 2 9365 5101
Hours: Mon-Sun 9am-8pm

11. Stone Heart
With five resident tattoo artists, as well as a rotating roster of international guest talent, Darlinghurst tattoo studio Stone Heart cover any style of tattoo you desire, whether it's your first or your fiftieth. Just down the road from Town Hall, these guys are strictly committed to going above and beyond when it comes to your tattoo experience. They walk you through everything from initial design consultations right through to aftercare, all while adhering to strict hygiene and stellar customer service standards.
Address: 1/77 William St Darlinghurst, Sydney, NSW, 2010
Phone: +61 2 8095 0100
Hours: Mon-Thu 11am-7pm, Fri-Sat 11am-8pm, Sun 2pm-7pm

You'll also like:
10+ Pro Skincare Tips for Long-Haul Flights
6 Best Custom Motorcycle Shops in Sydney
20 Best Beer Gardens in Sydney
General FAQ
How much does a tattoo cost in Sydney?
The price of a tattoo can range wildly depending on factors like size, colour, style, location, and details. Expect to spend anywhere from $125 to $1500 or more plus tip.
Who is the best tattoo artist in all of Australia?
Some of the best tattoo artists in Australia are as follows: Joe Metrix and Beau Parkman of Victims of Ink, Kian Forreal of Authentink, Nat G. of Good Luck Tattoo, and pretty much anyone who works at Dynamic Tattoo in Melbourne.
How much do you tip on a $1000 tattoo?
The general rule of thumb is that you tip 20% on your tattoo, regardless of size and cost. Hence, you should tip at least $200 on a $1000 tattoo.