Archie Rose Single Malt Whisky is Well Worth the Wait
With the unwavering belief that malt provides a potent and vital contribution to the final flavour profile, Archie Rose is again delivering a distinctly crafted single malt whisky. With work-in-progress samples already amassing critical acclaim and a whole bunch of awards like Australia's Best Single Malt Whisky from the San Francisco World Spirits Competition (USA), World Whisky Masters (London), and SIP Awards (USA) as well as the World's Best Unaged Whisky – this new Archie Rose Single Malt Whisky is something the team are extremely proud of.
You'll Also Like:
Bushmills Unveils Never-Before-Sipped 'The Causeway Collection' Single-Malts
How To Start Your Own Tasmanian Whisky Label on a Budget
Wild Turkey Releases a 17-Year-Old Bourbon Whiskey Bottled-in-Bond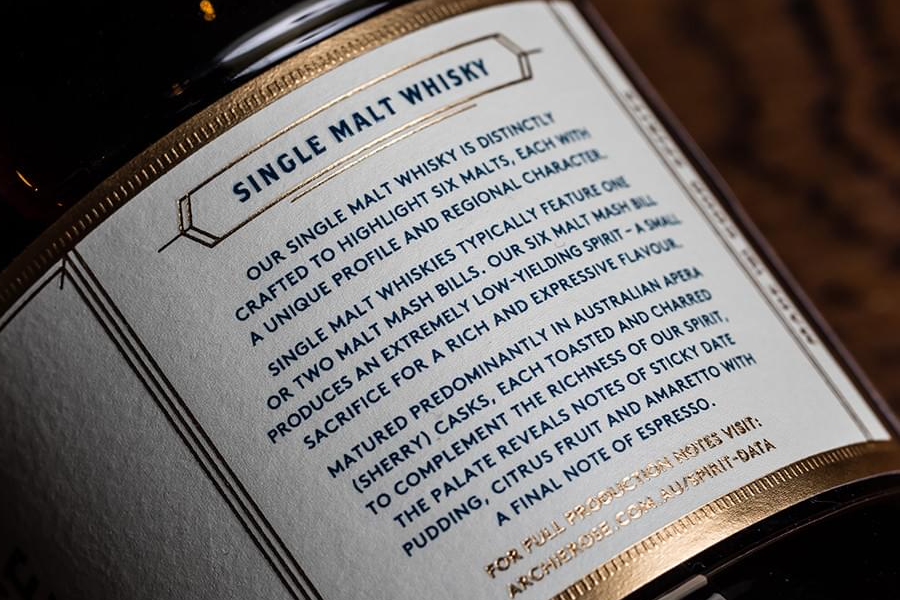 Highlighting six individual malts, rather than the usual one or two, Archie Rose goes beyond the call of duty to produce a unique profile and character inside each 700ml bottle. Although the six-malt mash bill is "incredibly low yielding," the entire process provides significantly richer and more expressive flavour, full of distinct regional character for every barrel made.
Matured predominantly in 100, 200 and 300-litre Australian apera (sherry) casks, coupled with a couple of ex-bourbon and Archie Rose's own 36-month air-dried ex-rye casks, Archie Rose ensures each is coopered with a specific balance of both char and toast. Archie Rose say they use toasting for its lower heat to penetrate deeper into the oak casks. A typically unusual process in the realm of distilling, the longer duration toasting process "offers an entirely different level of complexity than casks that only feature a more traditional char."
Producing a natural sweetness, these casks provide a fantastic accompaniment to the "savoury charisma," revealing the fresh herbs and shortbread biscuit notes to your nose. Sprinkled throughout are wafts of raisins, toffee and even dark chocolate. All while your palate experiences the lusciously well-integrated flavours of sticky date pudding and amaretto, finishing with a climactic note of espresso.
A bottle of 46% ABV Archie Rose Single Malt Whisky will set you back AUD$119.99, but you may struggle to get your hands on the acclaimed spirit. The first batch was released via a ballot allocation which saw the entire run sold out, however, thqa doesn't mean you've missed out on tasting the flavours of Archie Rose Distilling Co. Due to launch early November 2020, the Single Malt Whisky 2nd Batch is coming to wow your taste buds and turn your liquor cabinet into one of sophistication, class and flavour.
If you'd like to know more about this incredible single malt whisky from Archie Rose Distilling Co., then head to their website and check out their spirit data for the complete rundown of the brewing process, including malt types and barley varieties.
You'll Also Like:
Bushmills Unveils Never-Before-Sipped 'The Causeway Collection' Single-Malts
How To Start Your Own Tasmanian Whisky Label on a Budget
Wild Turkey Releases a 17-Year-Old Bourbon Whiskey Bottled-in-Bond