16 Best Australian Gins for the Tonic of Your Dreams
This article includes advice and insights from spirits expert and masterclass host for Cocktail Porter & The Whiskey Mill, Malcolm Gandar.
Trying to decipher the difference between orris and angelica root? Don't know if you prefer tonic or soda? Given the sheer number now on the market, finding the best Australian gin is no easy feat, particularly with distilleries popping up all over the place. Call it 'mothers' ruin' or 'depressing' all you like, gin is seriously delicious, and we're currently going nuts for Australian gin.
You'll also like:
13 Best Gin Bars in Sydney
17 Best Gin Bars in Melbourne
Never Never Distilling Co's Sean Baxter on New Aussie Gin
With just about every distillery and their cat (it's a thing) making at least one expression, with many offering seasonal limited releases and barrel-aged examples, if you're not already drinking the stuff then now's the time to start. And 'I got really drunk on it once when I was a teenager and now I can't touch the stuff' is not a valid excuse.
"As with any other spirit, Australian Gin punch well above their weight on the global stage. All you need to do is keep an eye on any of the global spirits competitions and you are bound to see Aussie Gins, Vodka and countless other spirits taking home medals," Malcolm Gandar, masterclass host and brand ambassador for Cocktail Porter & The Whiskey Mill tells Man of Many. "Australian spirits are always making sure to refine their process and make sure we are producing some of the best quality spirits with some of the best quality ingredients and techniques – it's exciting to see our success over the last few years."
Separating Australian gin from the rest of the world, the spirits expert confirmed that there are few common traits that are unique to the domestic market.
"When it comes to Gin, Australian botanicals are commonly used. In order to create gin, you need to infuse juniper into your base spirit, however, many other botanicals are usually used. Australia has such amazing natural flora and incorporating these in our gins has created a quite unique flavour," Gandar said. "Some of these include Aniseed Myrtle, Bush Tomato, Lemon Myrtle, Finger limes, Pepperberry and Finger Lime. These all are quite unique flavours but overall it allows our gins to really stand out compared to the international competition with a uniquely Australian flavour."
16 Best Australian Gins
From small-time startups in Tassie to huge, award-winning distilleries in WA, these are the best Australian gins right now, ready for your next G & T, Martini or Southside. Here is a list of the best gin from Australia for you to try now.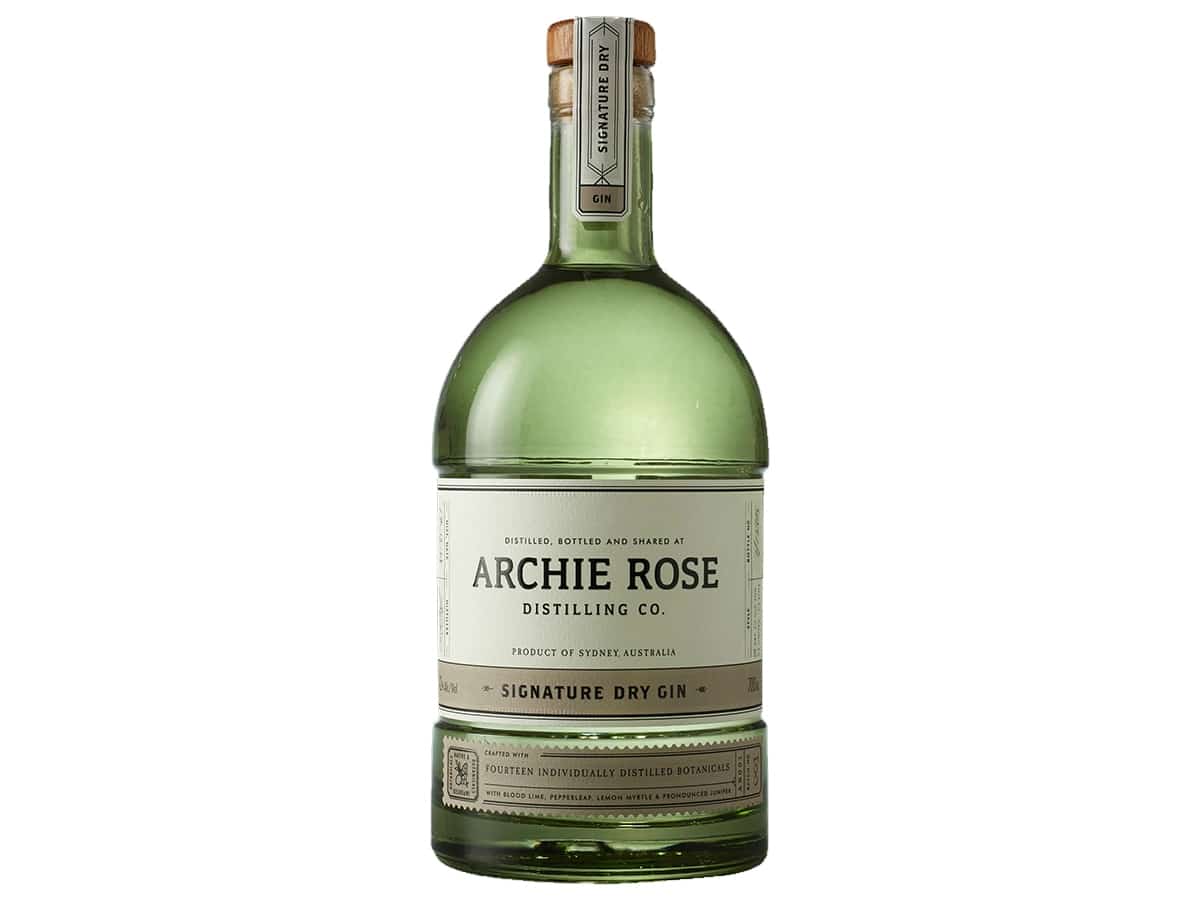 1. Archie Rose Distilling Co. Signature Dry Gin
From the Archie Rose team in Sydney's Rosebery and one of NSW's youngest distilleries, this Australian gin is bright, fresh and zesty, featuring Aussie botanicals including blood lime, Dorrigo pepper leaf, lemon myrtle and liver mint, all of which complement the base flavour of juniper. We like it served on the rocks, or in something with lashings of citrus, like a Gimlet.
Brand: Archie Rose Distilling Co.
State: New South Wales
Alcohol content: 42%
Price: $74.90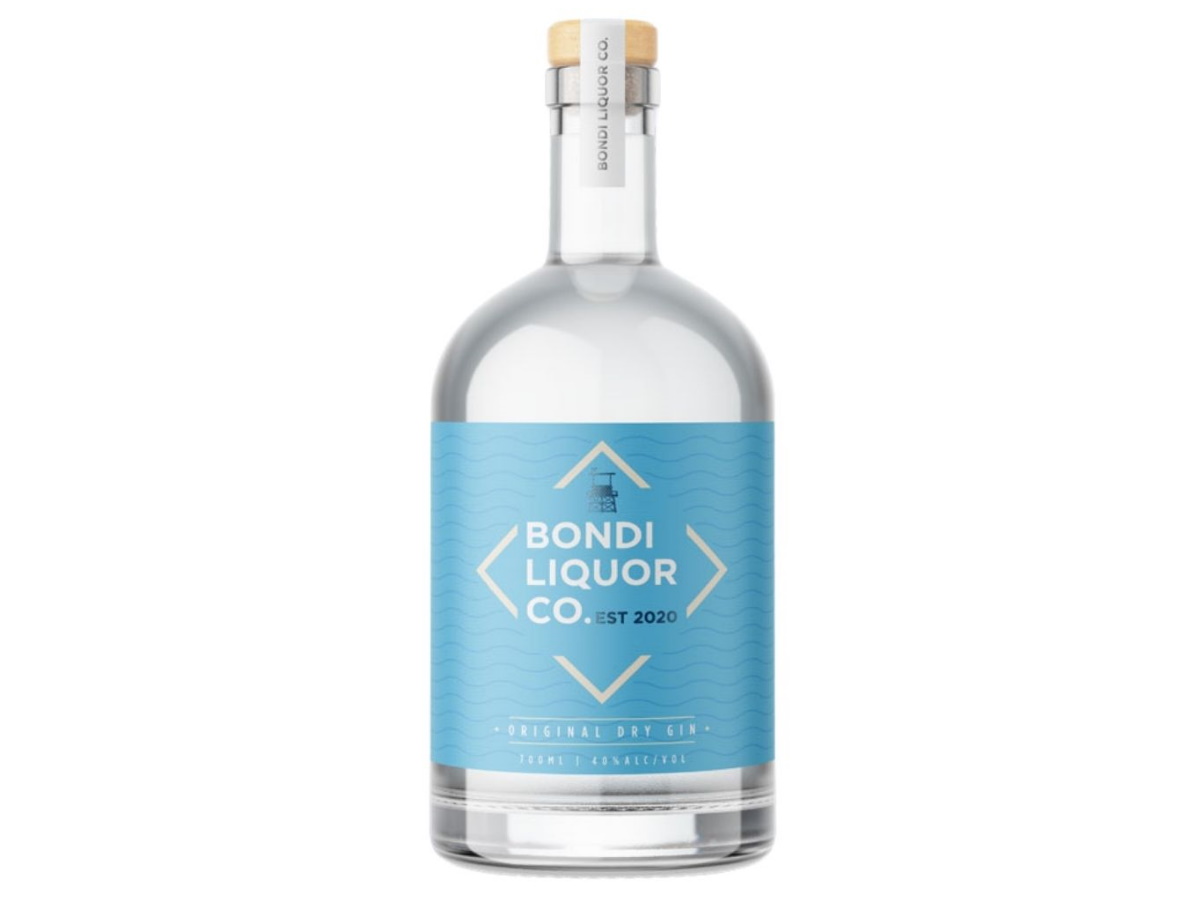 2. Bondi Liquor Co Original Dry Gin
Coming from Bondi's first operating distillery is Bondi Liquor Co's signature Original Dry Gin or what they call the "Bondi Original. In terms of the botanicals, you'll find strong notes of juniper, coriander seed, angelica root, lemon peel, wattleseed and cassia. They suggest pairing it with CAPI Dry Tonic, a slice of pink grapefruit & sprig of rosemary.
Brand: Bondi Liquor Co
State: New South Wales
Alcohol content: 40%
Price: $85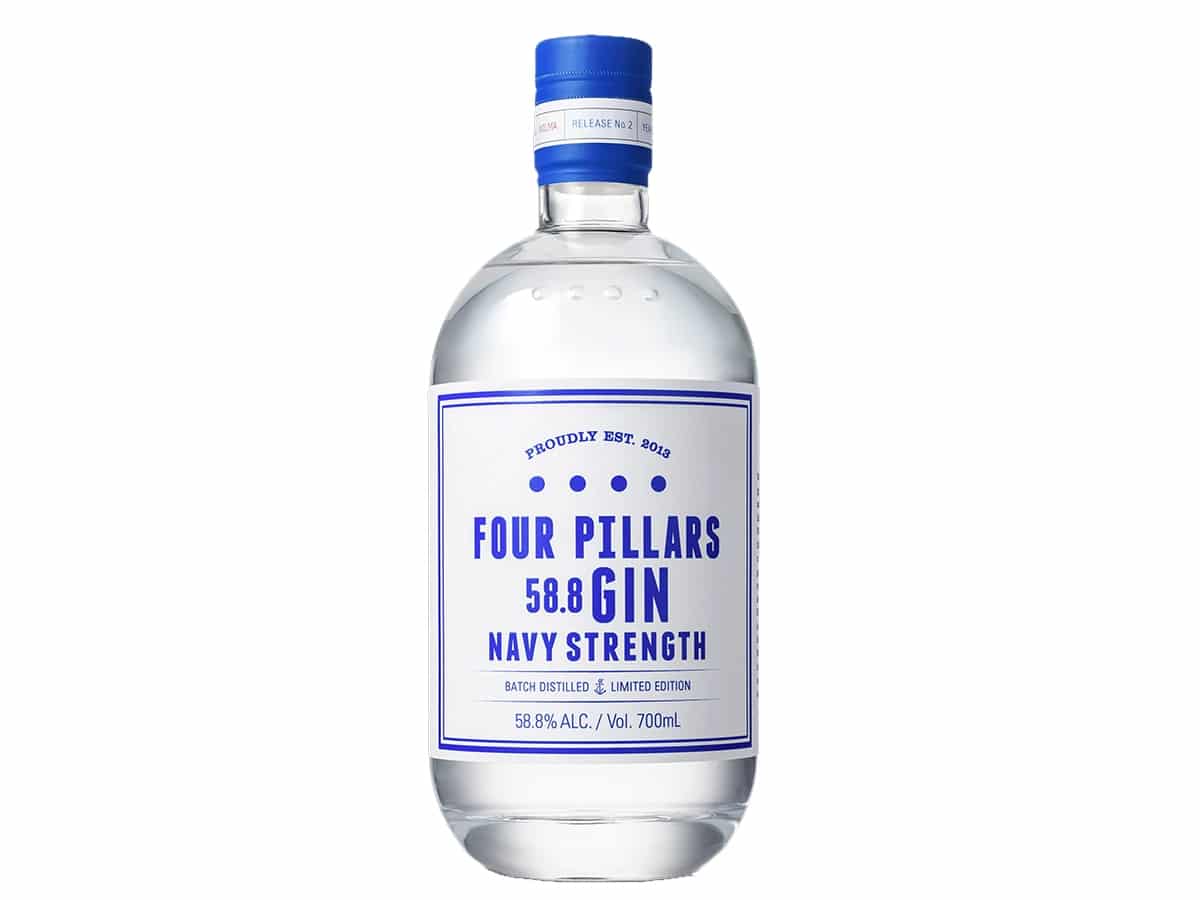 3. Four Pillars Navy Strength Australian Gin
Fresh finger limes, organic oranges and ginger are all thrown into the mix here to make this spicy Navy Strength Australian gin. This is a spirit with huge balls but is delicate enough to work in just about any drink. It makes a G&T that'll get your night started, or a big man's Martini if you're game.
Brand: Four Pillars
State: Victoria
Alcohol content: 58.80%
Price: $99.99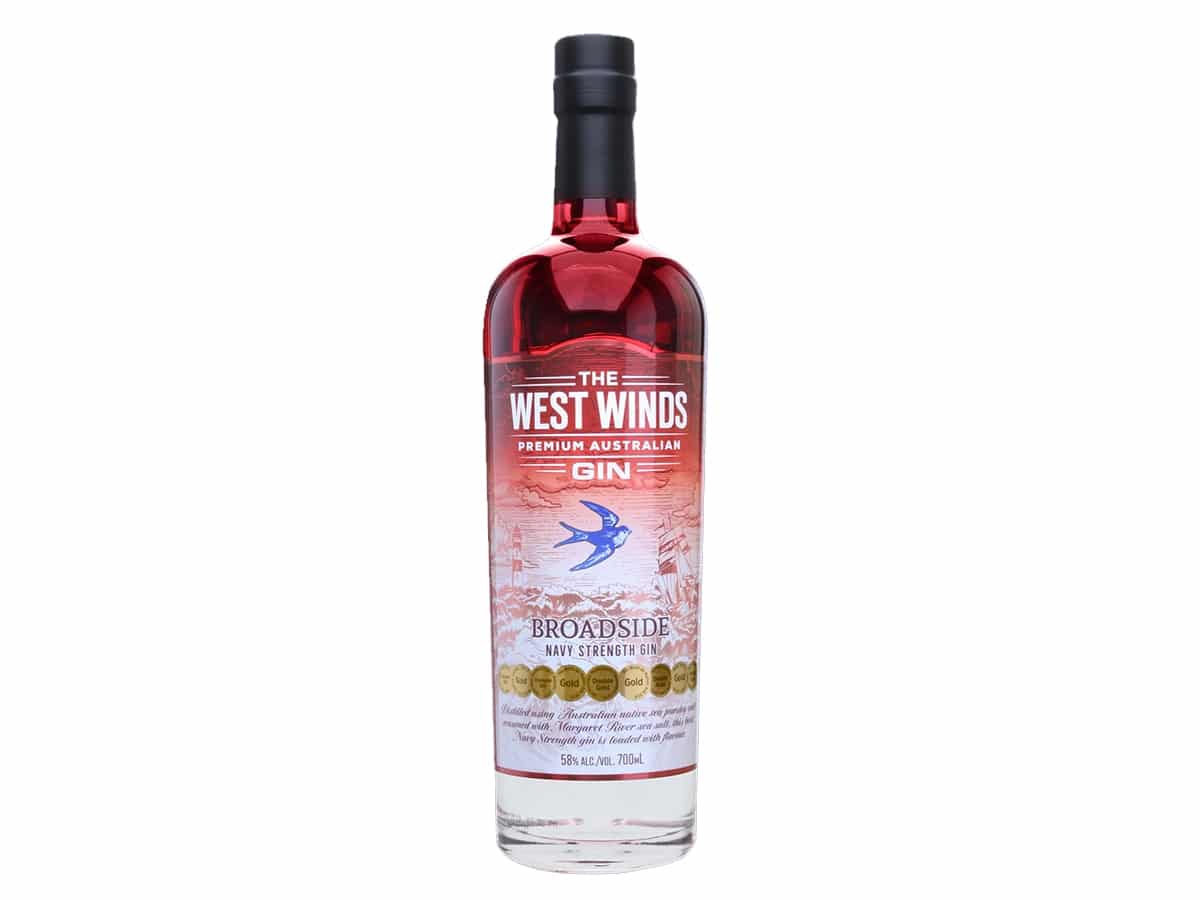 4. West Winds 'The Broadside' Navy Strength
Hailing from Western Australia, the guys at West Winds are no stranger to winning awards (and running out of stock). Their stalwarts The Sabre and The Cutlass are great go-to's, depending on your needs, but their Navy Strength is killer. Made with Margaret River sea salt and native Australian sea parsley, this big-flavoured navy strength gin reflects the terroir of the maritime distillery. Mix it with sweet citrus flavours like blood orange or pink grapefruit for best results.
Brand: The West Winds Gin
State: Western Australia
Alcohol content: 58%
Price: $102.99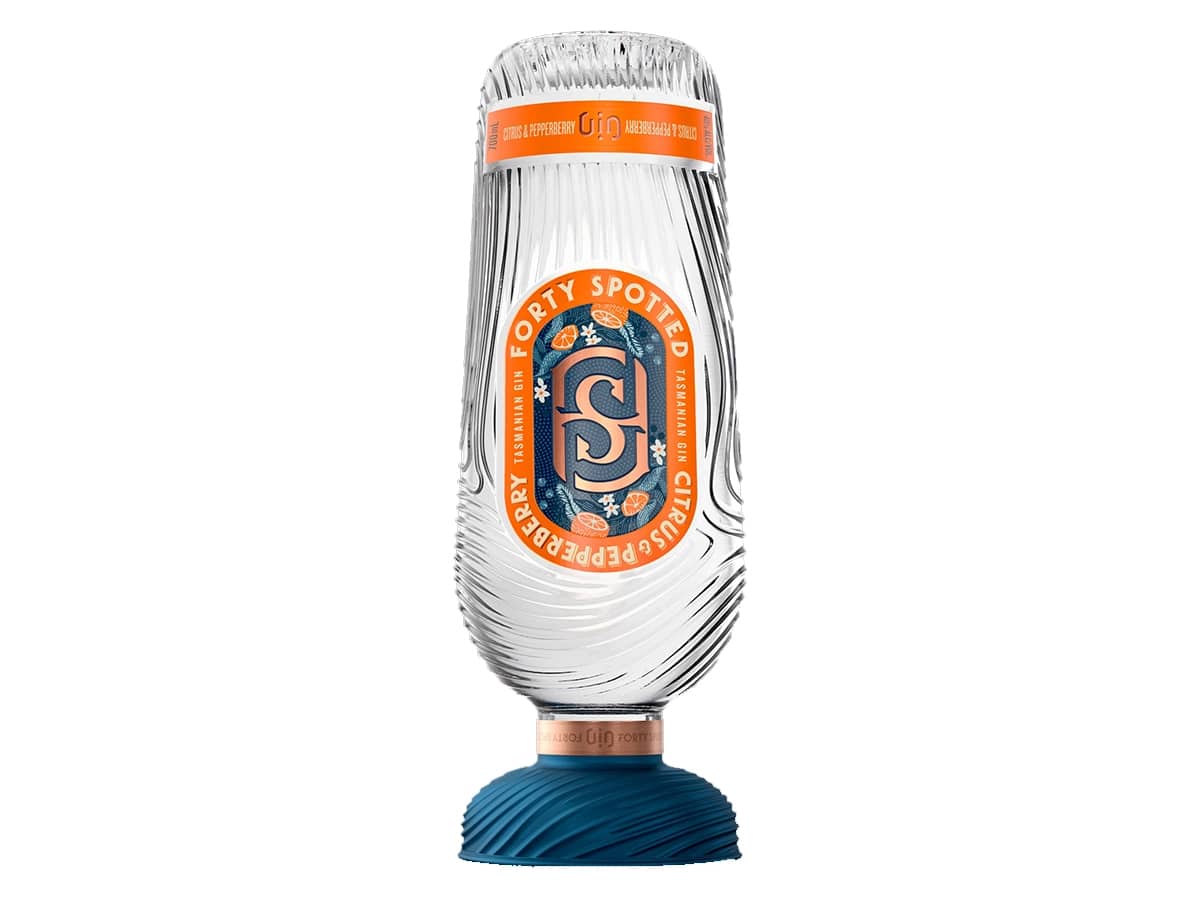 5. Forty Spotted Australian Gin
Made at Lark Distillery in Hobart Tasmania, Forty Spotted is named after the Pardalotus quadragintus, Tassie's rarest bird. It utilises Tasmanian pepper-berry as its secret weapon, to give it a refreshingly spicy edge. Perfect with tonic in warm weather, or in a classic Martini.
Brand: Forty Spotted (Lark)
State: Tasmania
Alcohol content: 40%
Price: $69.90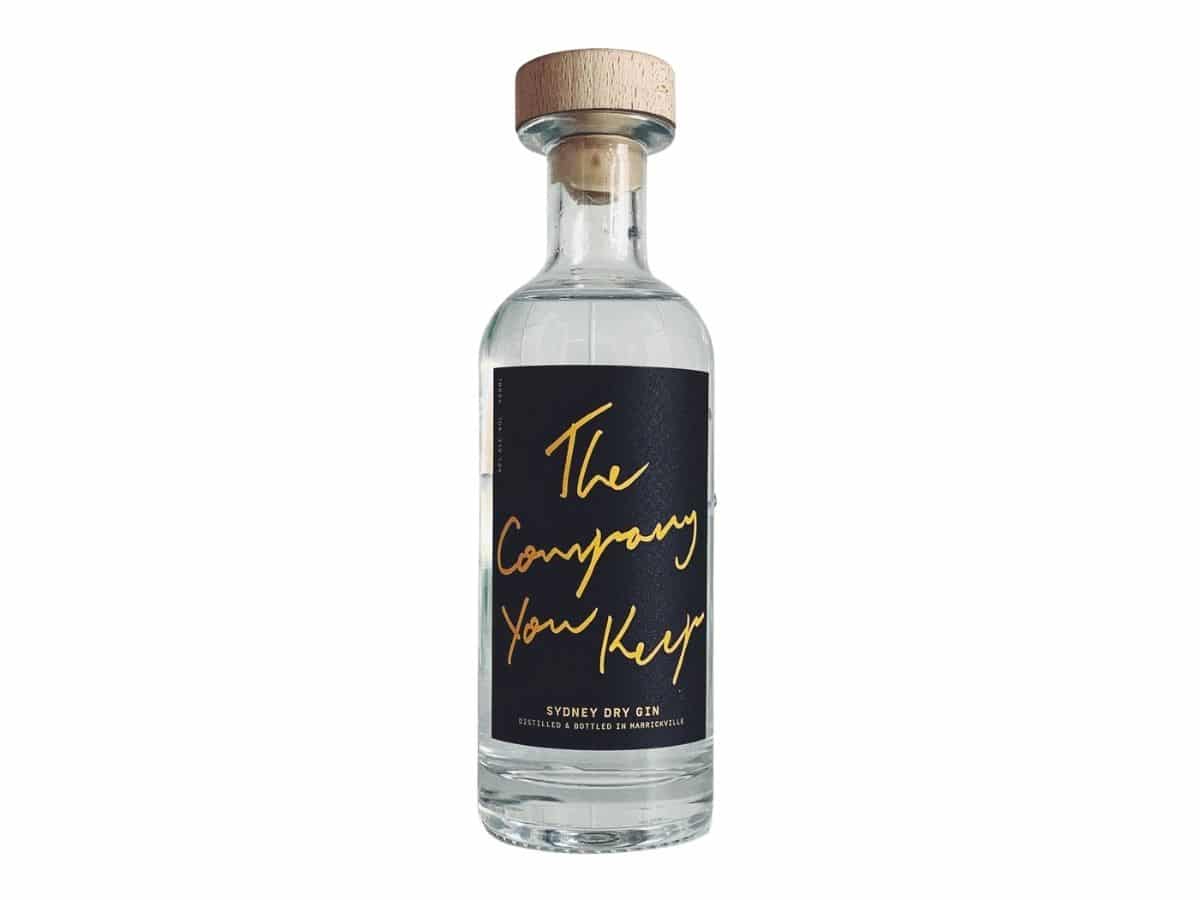 6. TCYK Sydney Dry Gin
The Company You Keep (TCYK) is a purists' gin and a conversation in itself. With double the average amount of juniper, approx. 20g per litre (average is about 12g) – in your face juniper, as it should be. They've kept the botanicals simple to ensure that the focus remains on the juniper (with a slight citrus finish). Perfect straight up, in a martini, or with sparkling water and squeeze of lime (because you should taste the gin, not the mixer).
Brand: The Company You Keep
State: New South Wales
Alcohol content: 40%
Price: $65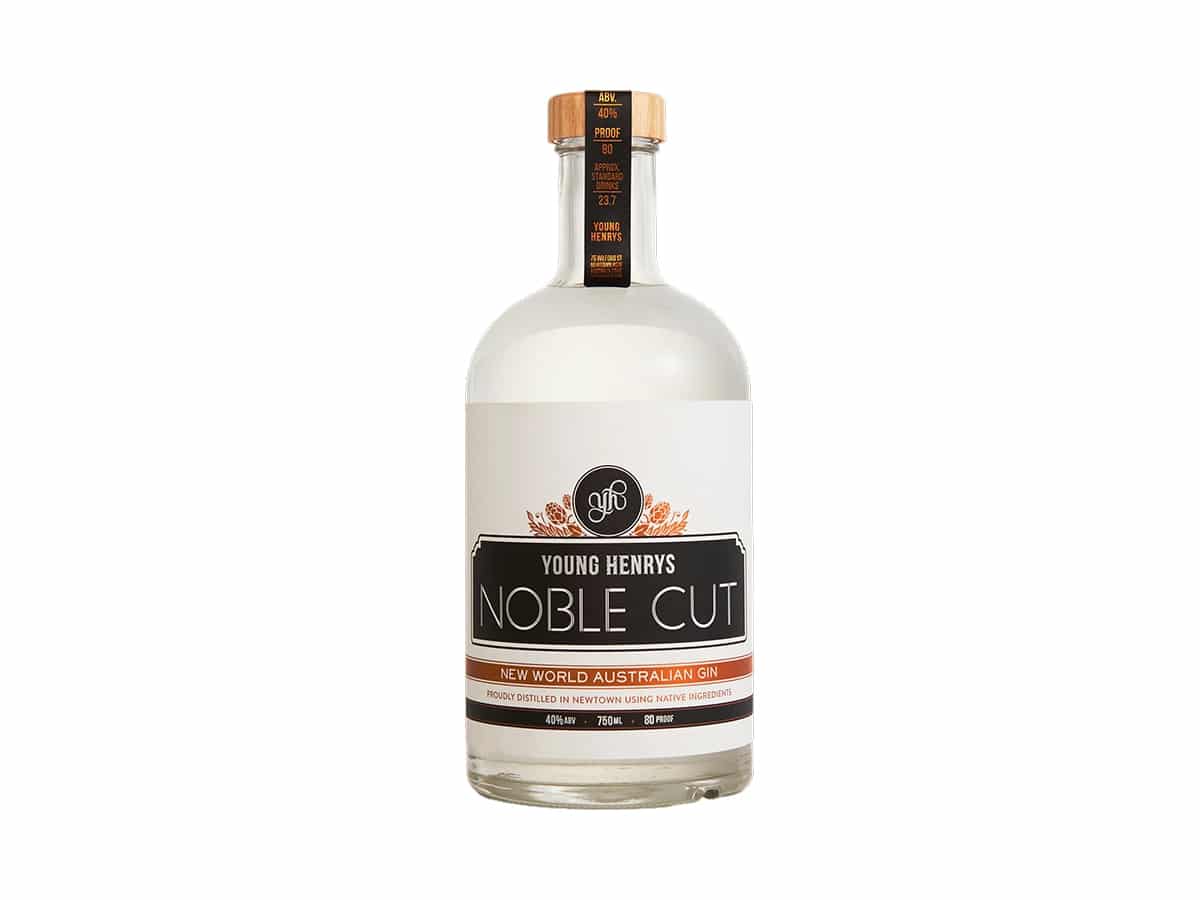 7. Young Henrys Noble Cut
Made in a brewery, this is a distinctively 'brewers gin', with whole hop flowers added to the final distillate to complement the botanicals and round out the flavours. Big, viscous and full of vibrancy, smash some tonic water and a big slice of orange in or turn it into a Corpse Reviver #2 with some cracked pepper over the top.
Brand: Young Henrys
State: New South Wales
Alcohol content: 40%
Price: $72.99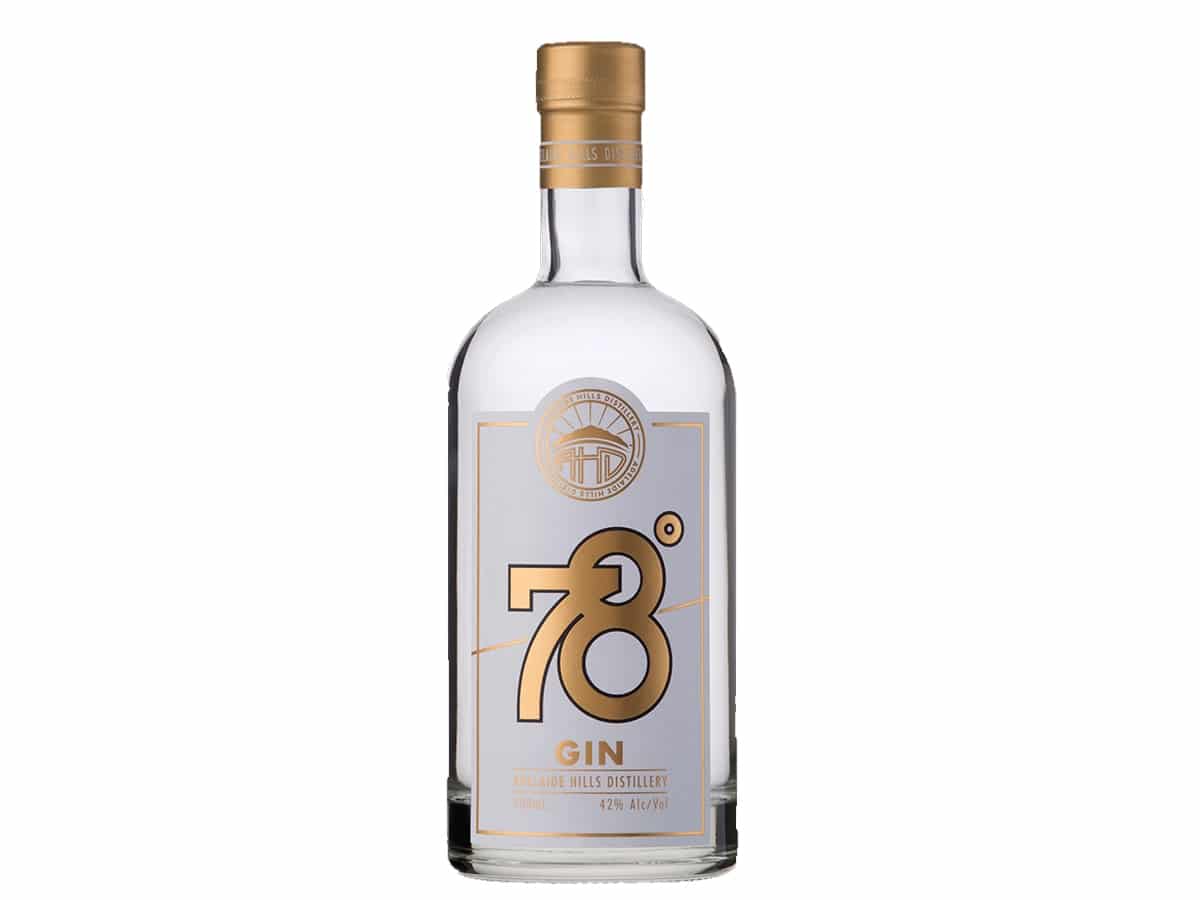 8. Adelaide Hills Distillery 78 Degrees Small Batch
Distilled in the highlands of South Australia, this spirit isn't just one of the best Australian gins on offer, it's practically an ode to the nation. The 78 Degrees Small Batch is the premiere release from the Adelaide Hills Distillery, having won the silver medal at the San Francisco World Spirits Competition in 2020.
Brand: Adelaide Hills Distillery
State: South Australia
Alcohol content: 42%
Price: $74.99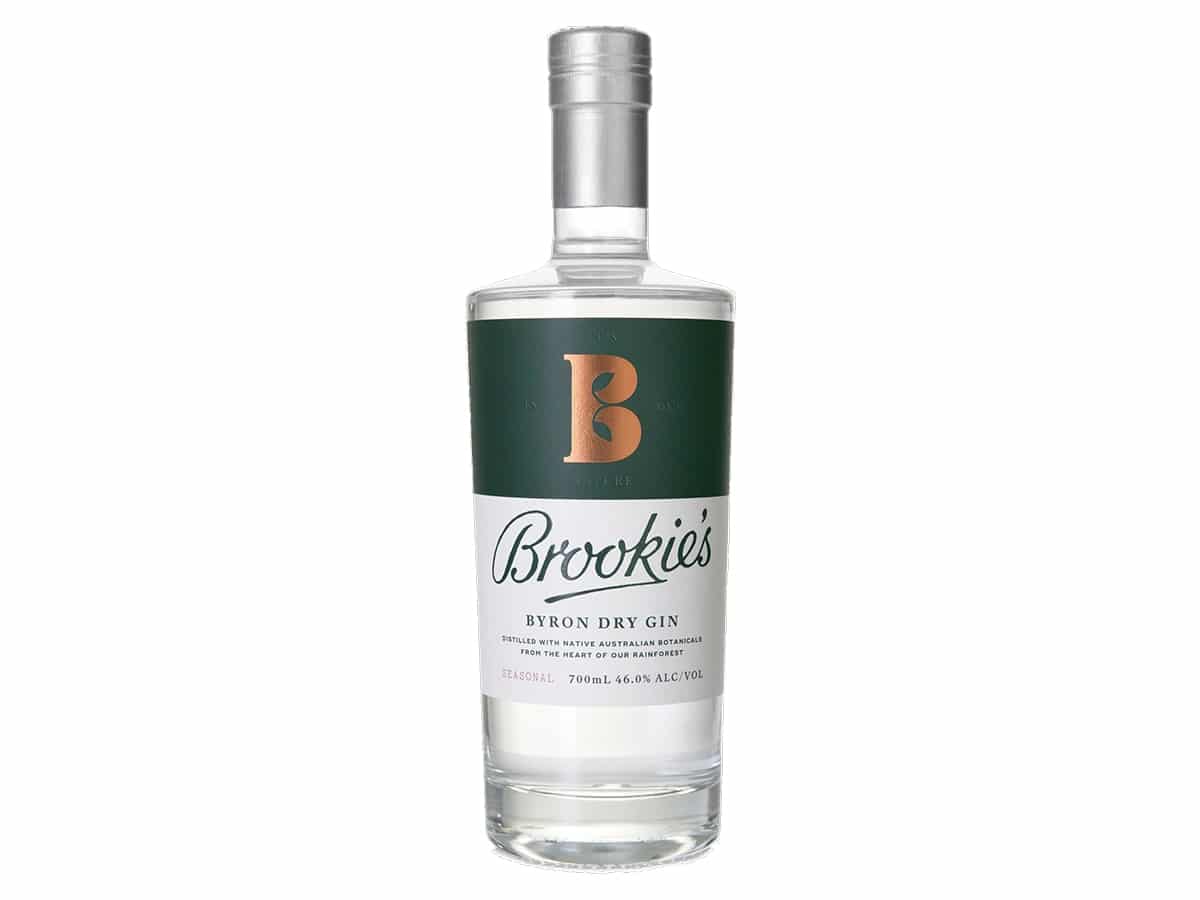 9. Brookie's Byron Dry Australian Gin
Made at Cape Byron Distillery, Brookie's is uniquely Australian in every way. Sitting at 46%, it's a higher-ABV product, with the unusual addition of scavenged botanicals from the neighbouring Daintree rainforest. This makes it a wholly seasonal product – a great reason to keep coming back to try again. Enjoy on its own to appreciate the subtleties, or in a Southside cocktail.
Brand: Brookie's
State: New South Wales
Alcohol content: 46%
Price: $75.99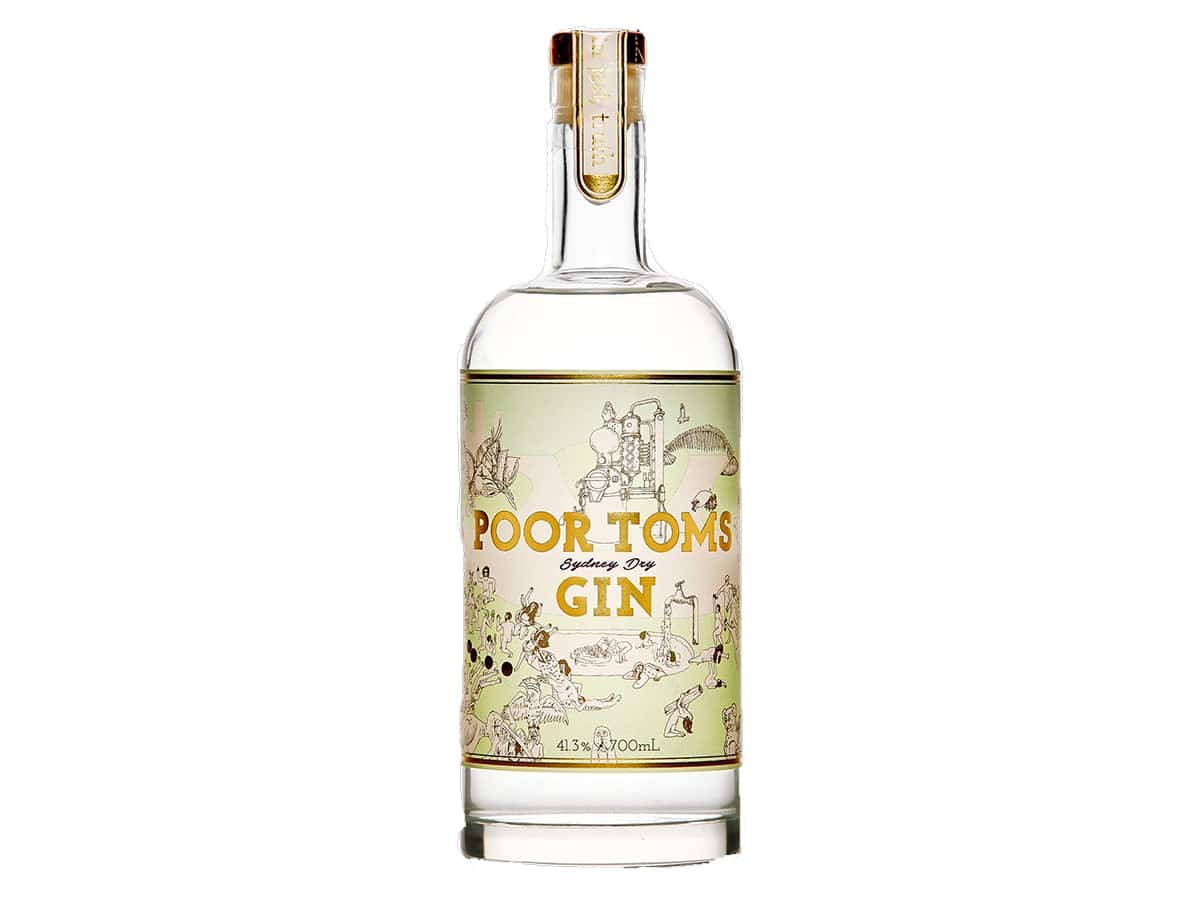 10. Poor Toms Sydney
Also doubles as perfume if you need a dab, this Australian gin is floral, floral, floral. With fresh fruits bouncing off the nose, this is the perfect place to start for anybody who says they don't drink it. The slightly sweeter front palate and heavy influence from the strawberries make it perfect for just about any drink, but we like it with just a touch of soda and fresh fruit.
Brand: Poor Toms
State: New South Wales
Alcohol content: 41.3%
Price: $70.99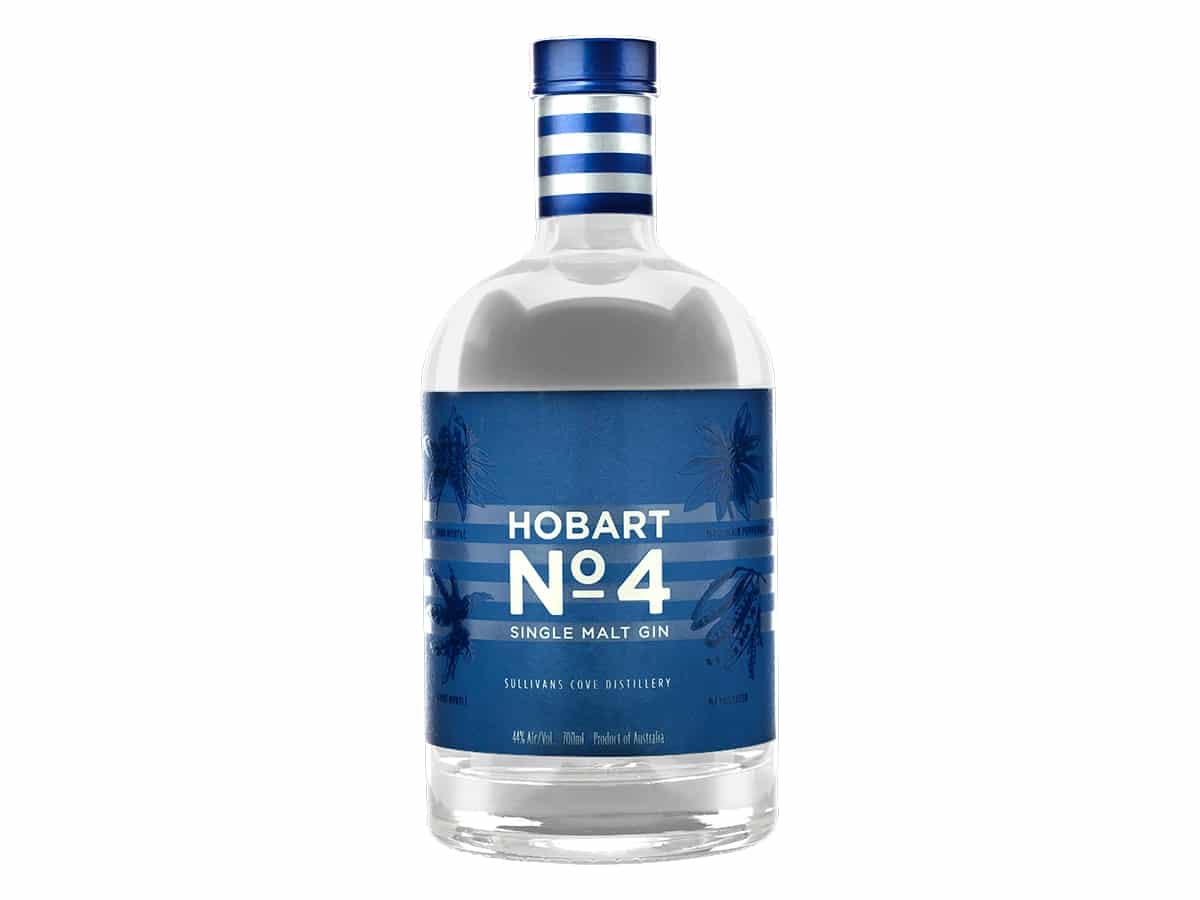 11. Hobart No. 4 Single Malt
Sullivan's Cove's attempt at proving they're no one-trick pony, and prove it they do. Made in their copper pot still, this Australian gin is made in batches and features four Australian botanicals: lemon myrtle, anise myrtle, lanceolate & wattleseed. This is a great gin to drink neat or mix into something with heaps of character and depth, like a Martinez.
Brand: Hobart No. 4
State: Tasmania
Alcohol content: 44%
Price: $94.99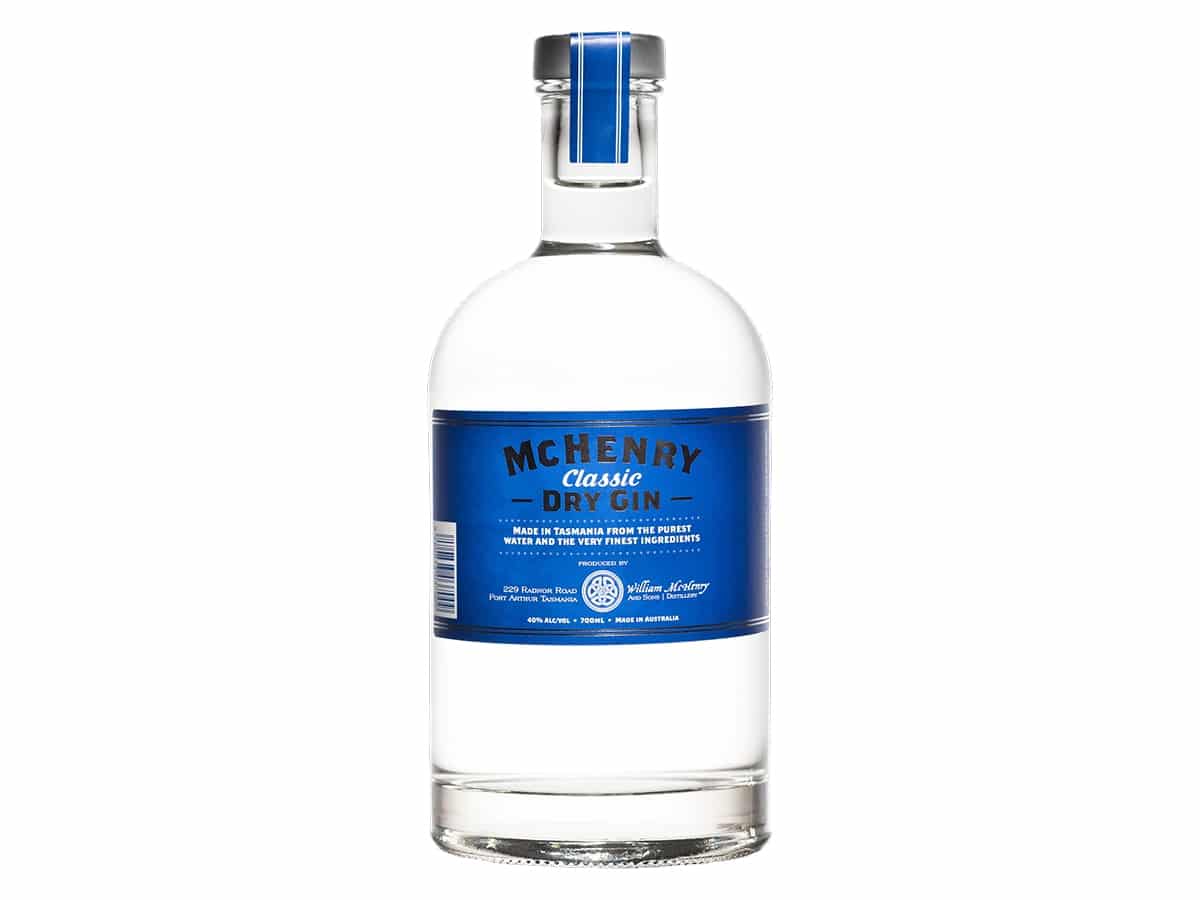 12. McHenry Classic Dry Australian Gin
Based on a traditional London dry, the McHenry's Classic is about as simple and iconic as Australian gin goes. Distilled in Tasmania, this spirit has all the elements that make for a great London Dry, with a subtle Aussie twinge.
Brand: McHenry
State: Tasmania
Alcohol content: 40%
Price: $81.99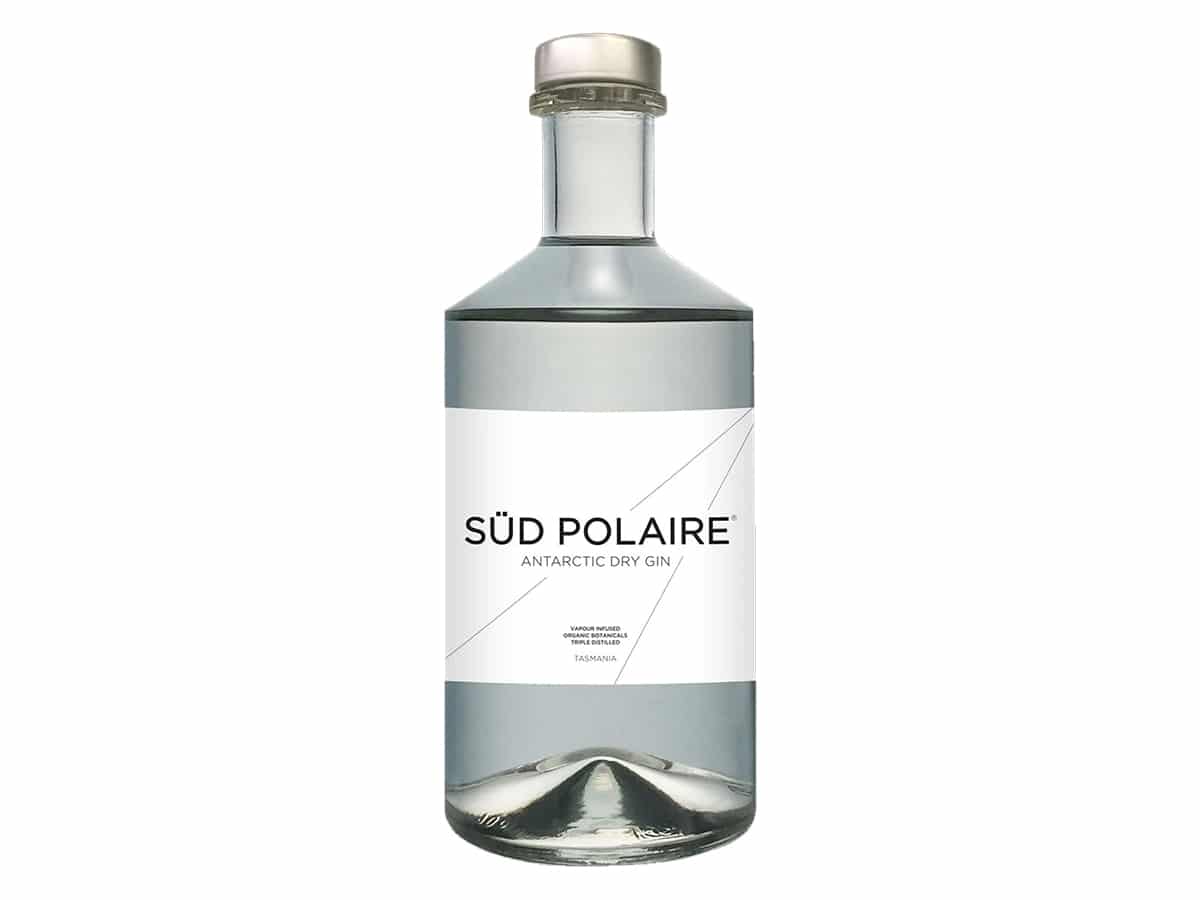 13. Süd Polaire Antarctic
Made from triple-distilled wine spirit, which is then vapour infused with ten organic botanicals, spice and Tasmanian rainwater, this is about as clean as a Tasmanian gin comes. Don't let that steer you toward something heavier though, this sucker clocks in at 57% ABV, a seriously boozy gin that benefits from a little dilution. Shake it into the coldest Martini you possibly can, or try it in a Vesper.
Brand: Süd Polaire
State: Tasmania
Alcohol content: 42%
Price: $98.99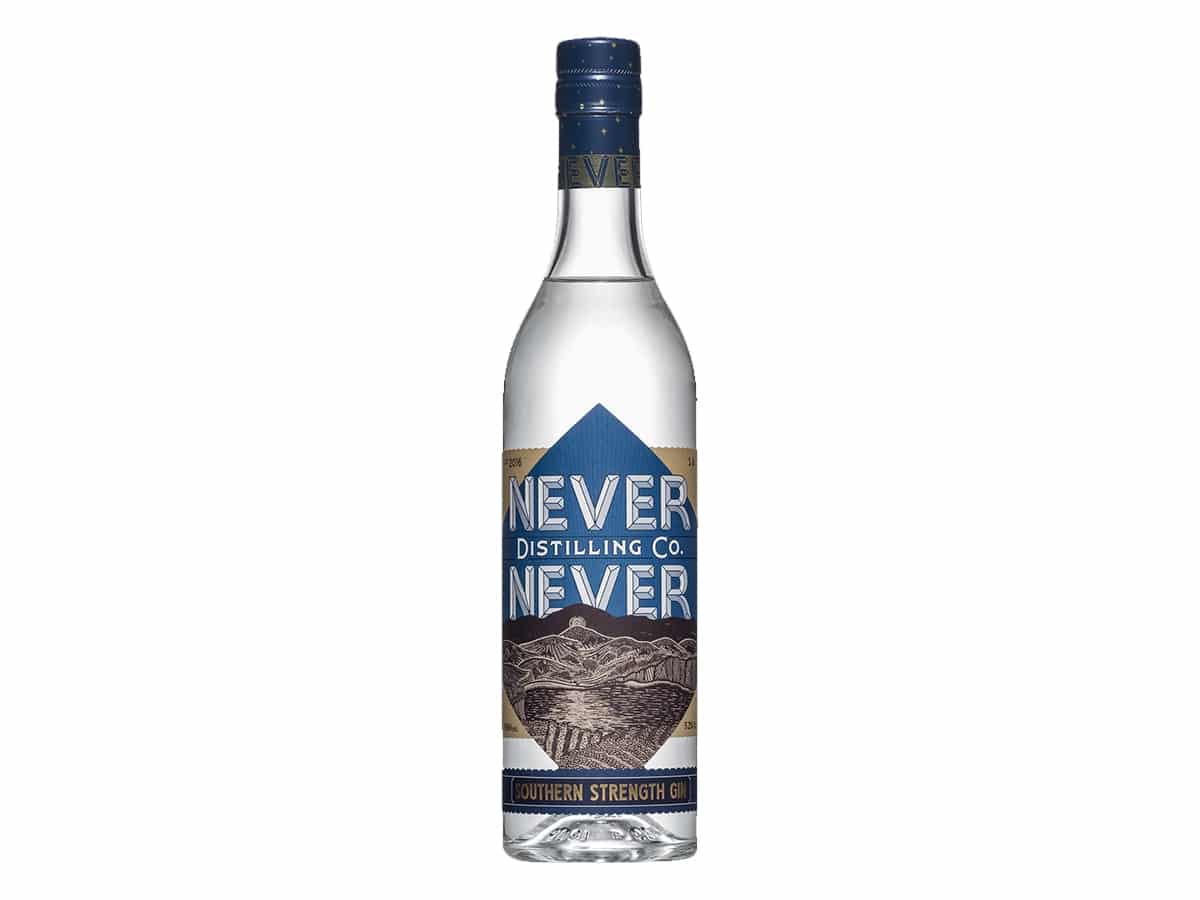 14. Never Never Distilling Co Southern Strength
Made in South Australia, this fledgling distillery is the baby of three liquor industry legends who decided it was time to bring a classic back into vogue, featuring less fancy botanicals and a huge whack of juniper to smack you on the palate. This is a viscous gin and goes cloudy when mixed, perfect for a Gibson martini with some quality cocktail onions.
Brand: Never Never Distilling Co
State: South Australia
Alcohol content: 52%
Price: $71.90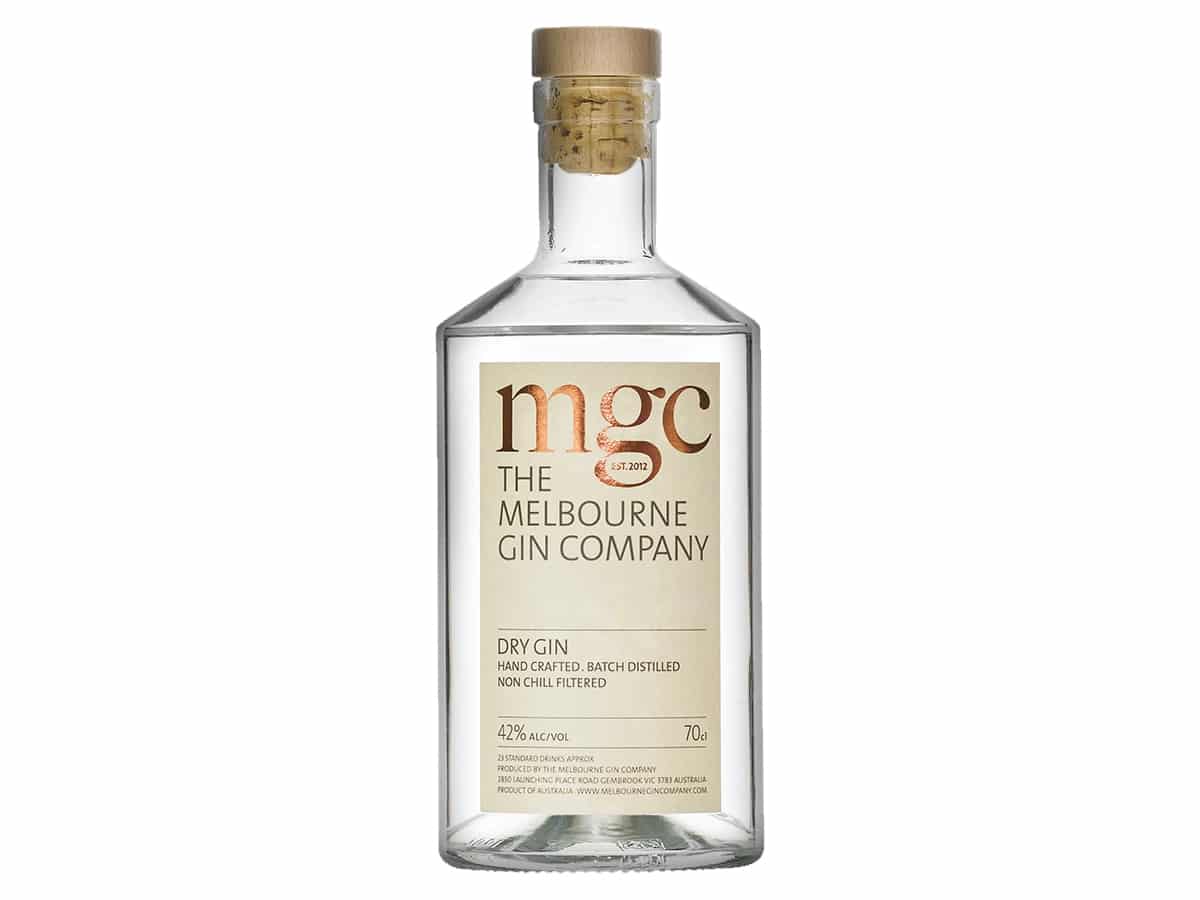 15. The Melbourne Gin Company
A tasty dry from Victoria that's held its own in the increasingly competitive marketplace for a few years now, Melbourne Gin Company is made with a mix of local and imported botanicals, focussing on balance and poise on the palate. It makes a stellar Negroni or Martinez.
Brand: The Melbourne Gin Company
State: Victoria
Alcohol content: 42%
Price: $68.99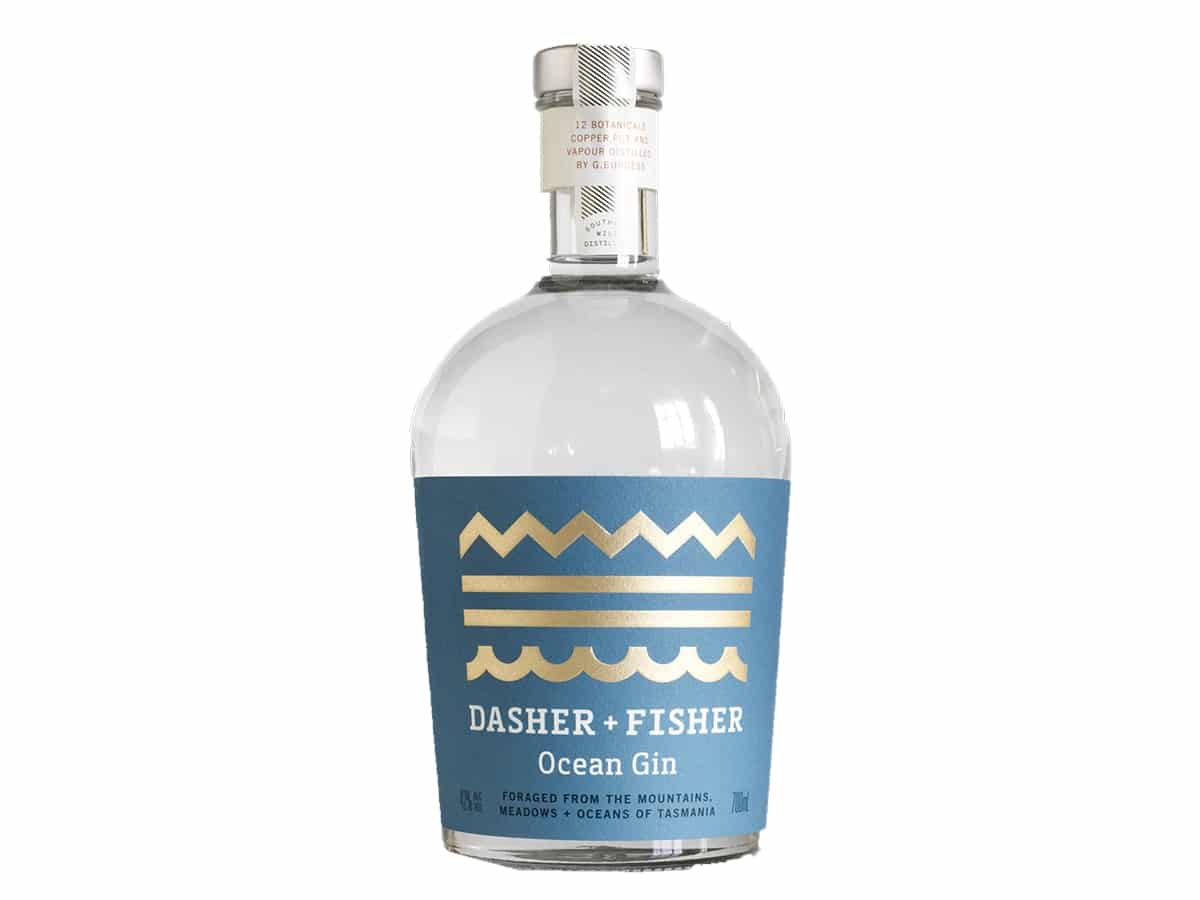 16. Dasher & Fisher Ocean Australian Gin
This Tasmanian Coastal brings 12 botanicals to the fore-front in an experimental manner. With each sip of this Australian gin, you'll cop an abundance of wakame seaweed from the chilly Tasman sea. Complex and layered, it has aromas of fresh rose petals with saline notes, nori and jasmine.
Brand: Dasher & Fisher
State: Tasmania
Alcohol content: 42%
Price: $99.99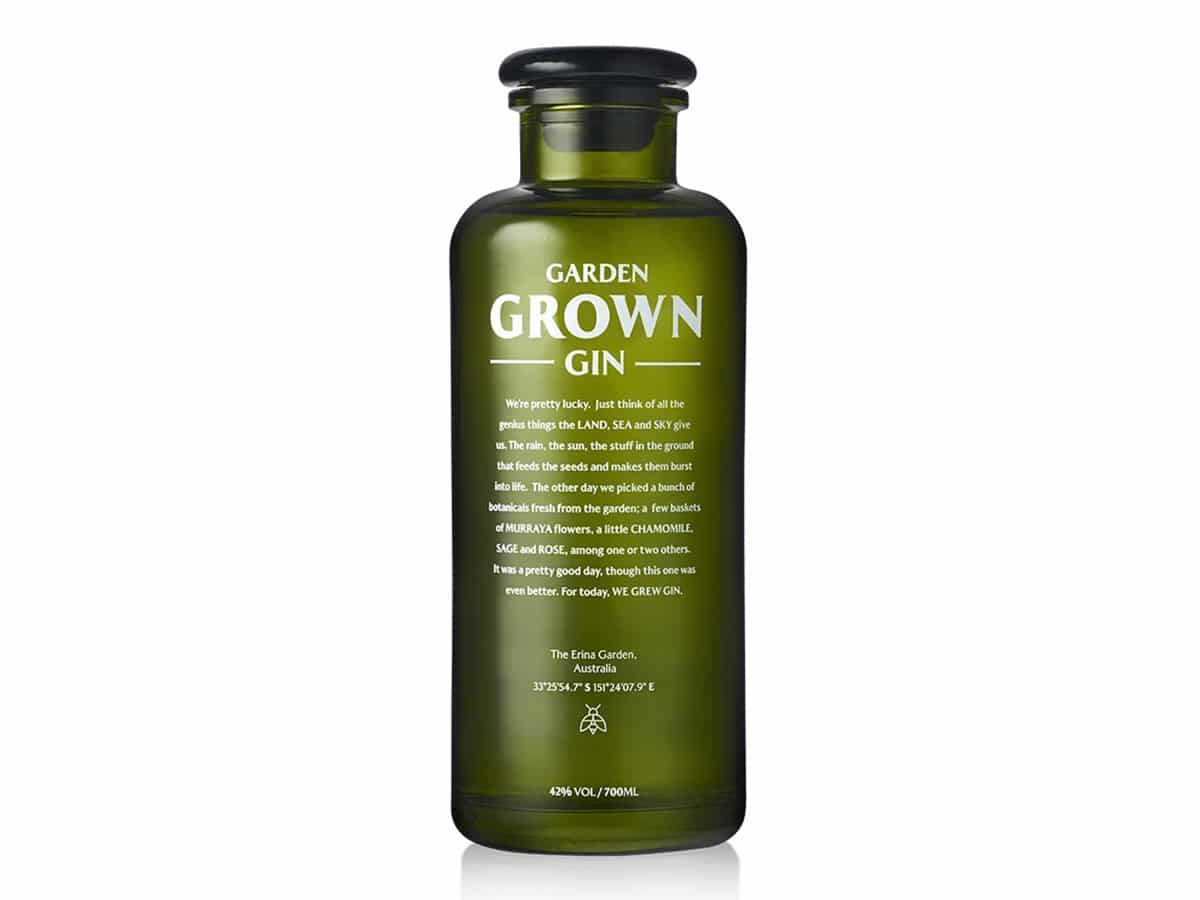 17. Garden Grown Gin
One of the best we've ever had, Garden Grown is the culmination of years spent in the garden, paired with more years learning to distil for master distiller Philip Moore. This is a special edition, made with rose, mandarin leaf, chamomile, lemon verbena, horehound, curry leaf, orris and our signature murraya. All of these were picked from the Royal Botanic Garden Sydney, and money raised from the sales goes towards conservation programs for the gardens. A true blue Australian gin.
Brand: Garden Grown
State: New South Wales
Alcohol content: 42%
Price: $82.99
General FAQs
What is the best Australian gin?
Archie Rose's Signature Dry Gin is perhaps the country's most awarded gin, however, competitors like Four Pillars have produced a wealth of incredible gins in recent years.
What is the difference between 'dry gin' and 'gin'?
'Dry gin' refers to the lack of added (artificial) flavouring. This means all the flavours are natural from the botanicals. If the gin has sweetness, it's may contain a botanical such as liquorice.
Is gin a healthy alcohol?
As far as alcohol goes, gin is one of the lowest-calorie spirits. That being said, drinking large quantities of any alcohol will never be a positive move for your health.
You'll also like:
13 Best Gin Bars in Sydney
17 Best Gin Bars in Melbourne
Never Never Distilling Co's Sean Baxter on New Aussie Gin