13 Best Home Brew Kits for the Craft Beer Lover
Why visit the liquor store or pub when you can pick up a home brew kit instead? Consisting of the necessary tools and ingredients, beer brewing kits take less time to master than you might expect. With a little patience and effort, you'll be whipping up something delicious in no time. A citrusy IPA perhaps? Or maybe a traditional pint glass full of tasty lager? The choice is yours. Truly.
Ultimately, you might ask yourself, "How much do I really love beer?" If the answer is "a lot," then home beer brewing kits make for a sound and awarding pastime. Not only do they yield a delicious product, but they bring out your inner brewmaster in the process. Here to get you started on the right track are the best brewing starter kits and home brew kits.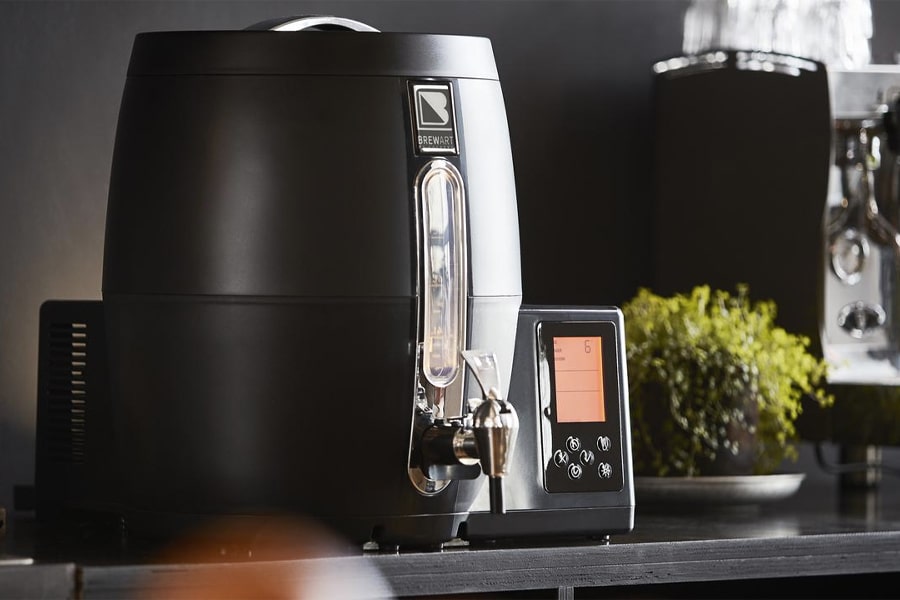 What to Consider When Buying a Home Brew Kit
If you know anything about beer, you know that it comes in a variety of styles. It's then no surprise that the world of home brewing is similarly diverse. Before you buy a home brew kit, consider the following:
Best Home Brew Kits
There's nothing like the taste of something you made yourself. If you're ready to turn your home into its own micro-micro-micro brewery, start with one of the following kits.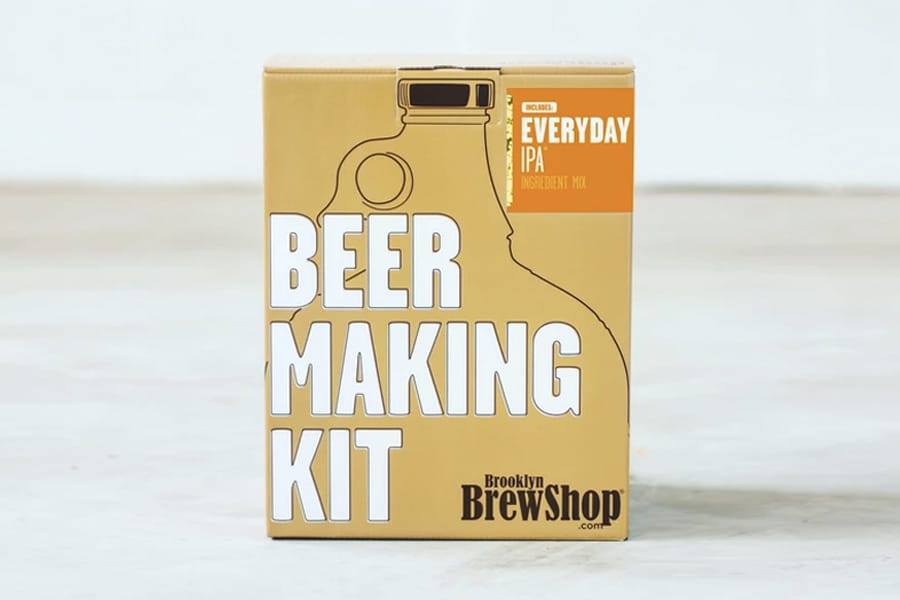 1. Everyday IPA Beer Making Kit
Few modern beer lovers argue with a crisp IPA and this one comes in at 6.8% ABV. Between the all-grain mix and blend of quality hops, it delivers a perfect balance of bitterness and hoppiness. That's not to mention the robust and citrusy aromatics. All the equipment is reusable so clean after use, buy more mix and no-rinse sanitizer, and get to work on your next batch.
Size: 1 gallon
Price: US$48.00
Type: IPA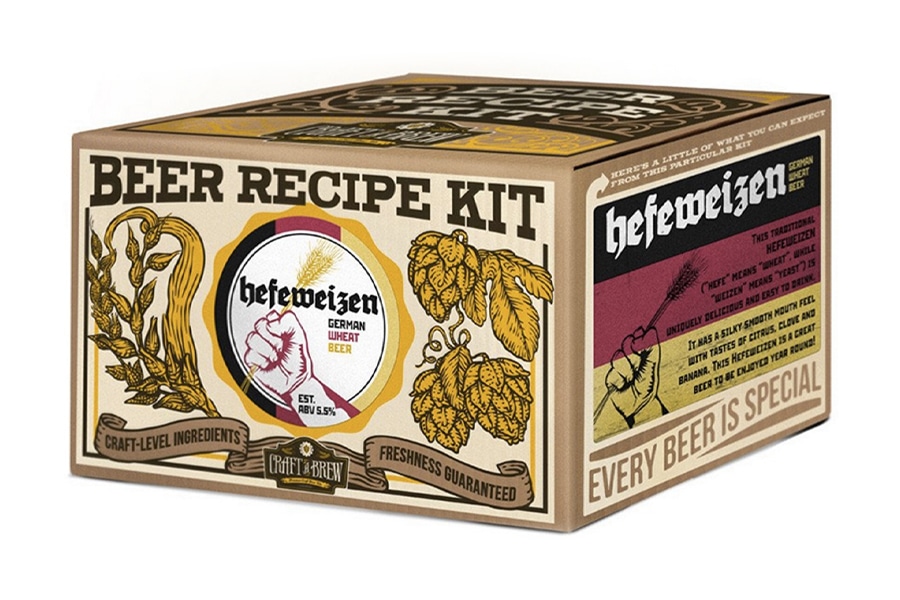 2. Craft a Brew Hefeweizen
Ideal for beginners, Craft a Brew's beer brewing kit allows you to whip up your very own Hefeweizen. A Bavarian wheat beer, Hefeweizen is known for its super-refreshing taste and silky texture. Like other beer brewing starter kits on the list, this one is reusable. It's also highly affordable.
---
Featured Video from Man of Many
---
Size: 1 gallon
Price: US$20
Type: Hefeweizen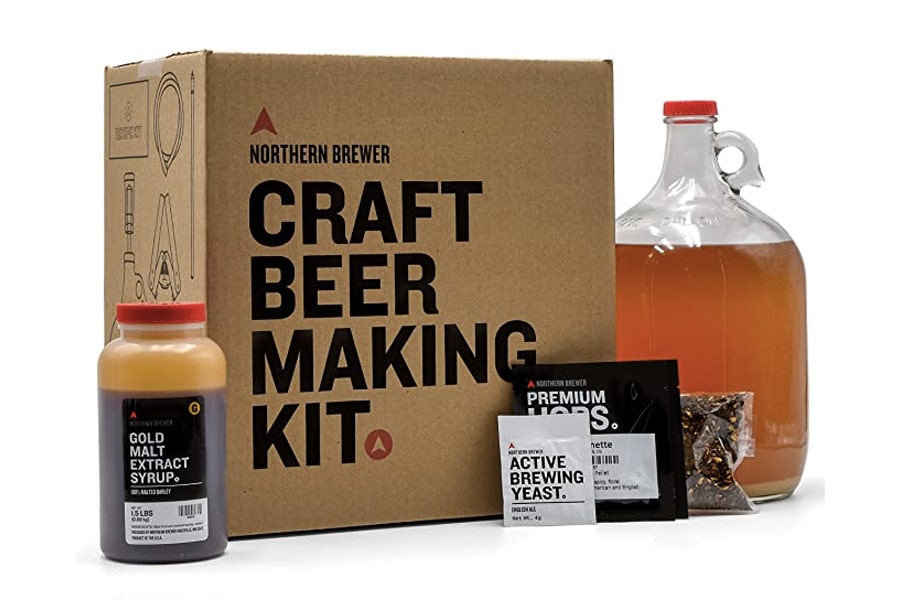 3. Northern Brewer Caribou Slobber Brown Ale
Between its easy-to-follow instructions, fresh ingredients, and premium equipment, this home brew kit will have you crafting something special in no time. Unlike certain counterparts, it doesn't use pre-hopped malt extract in a can. Any lingering questions? If so, be sure to take advantage of the brand's exceptional customer service.
Size: 1 gallon
Price: US$50
Type: Brown Ale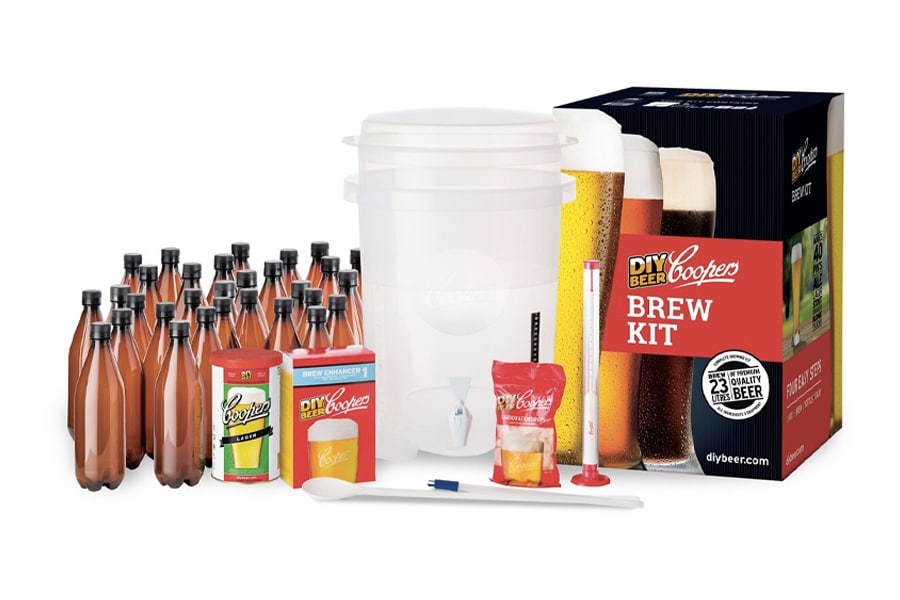 4. Coopers DIY Home Brewing Kit
Here in Australia, Coopers beer is as beloved as it is ubiquitous. The brand's signature beer brewing kit puts a patented fermenter and other choice equipment at your fingertips, allowing you to make up to 23 litres of quality suds.
Size: 23 litres
Price: AU$120
Type: Lager
5. Mr. Beer Craft Beer Kit
Designed for first-time brewers, the Mr. Beer Craft Beer Kit allows you to create a batch in a mere 30 minutes. That said, you'll still need to wait 3-4 weeks before you drink it. The home beer brewing kit includes step-by-step instructions, easy-to-use equipment, and straightforward ingredients. Everything you need is right here.
Size: 2 gallons
Price: AU$88 or US$47
Type: Golden Ale
Buy it here (AUS) Buy it here (US)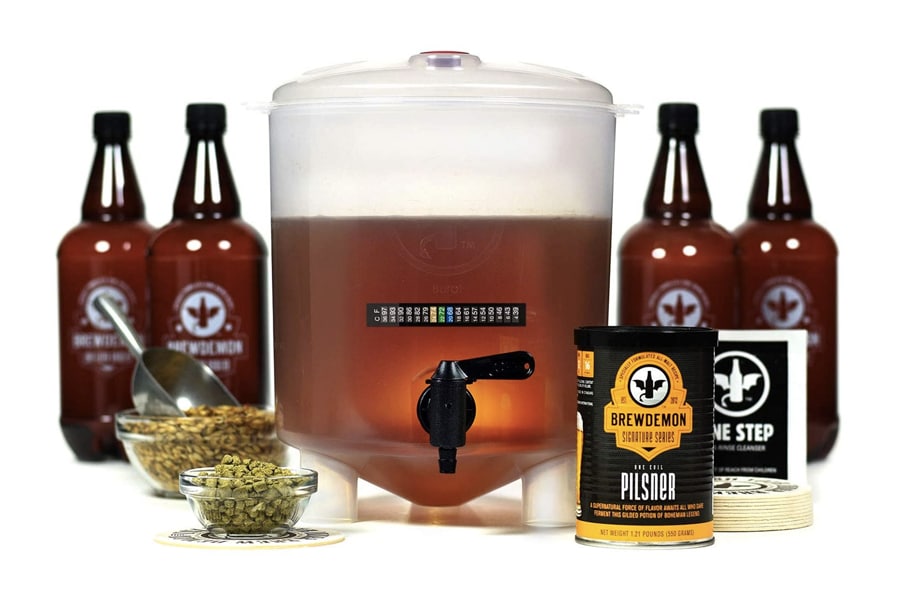 6. BrewDemon Craft Beer Brewing Kit Pro
With a name like BrewDemon, you know you're in good hands. It's the only home brew kit that lets the sediment settle below the bottle fitting valve, thereby eliminating a nasty byproduct. Each recipe is handcrafted in New Zealand and ready-to-fill bottles are included in the kit.
Size: 1 gallon
Price: AU$125 or US$109
Type: Pilsner, American Ale, etc
Buy it here (AUS) Buy it here (US)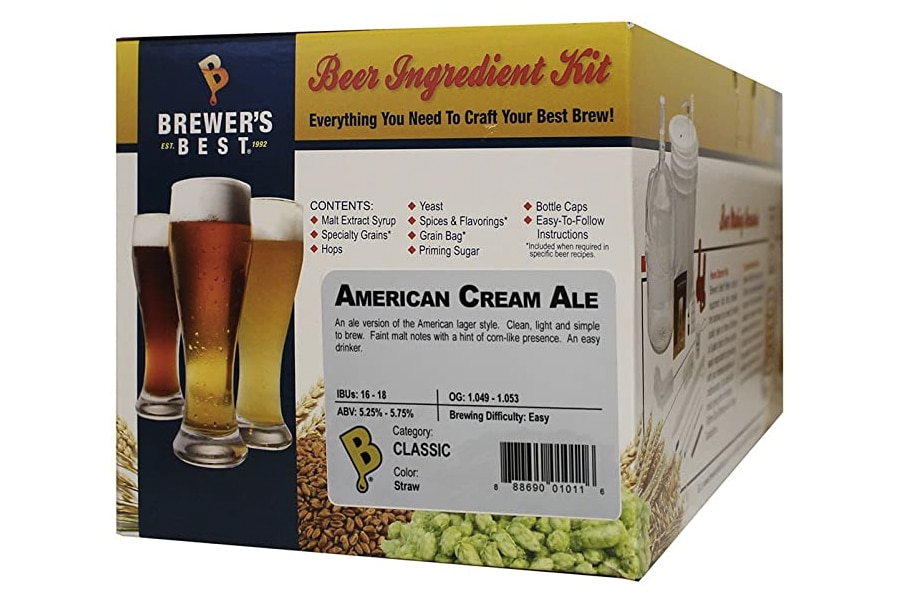 7. Brewer's Best American Cream Ale
Unfettered and acclaimed, Brewer's Best is one of the best indeed. Not only is it brilliantly affordable, but it brews up to 5 gallons of beer at a time. Easy, breezy, tasty.
Size: 5 gallons
Price: US$32
Type: American Cream Ale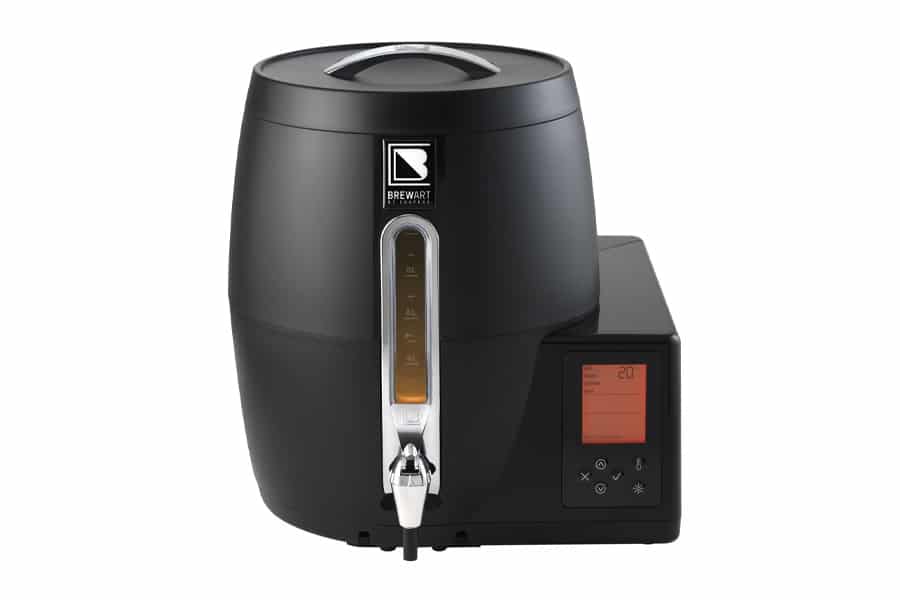 8. BrewArt BeerDroid Fully Automated Beer Brewing System
As the world's first fully automated personal brewer, BeerDroid brings forth a bevy of modern features. Temperature controlled, WiFi-enabled, and quiet, it hosts a legible backlit LCD and pre-set brewing programs. Thanks to its patented end-of-fermentation technology, the advanced home beer brewing kit automatically detects when the batch is ready for kegging.
Size: 2.6 gallons
Price: US$323 or AUD$799
Type: American Pale Ale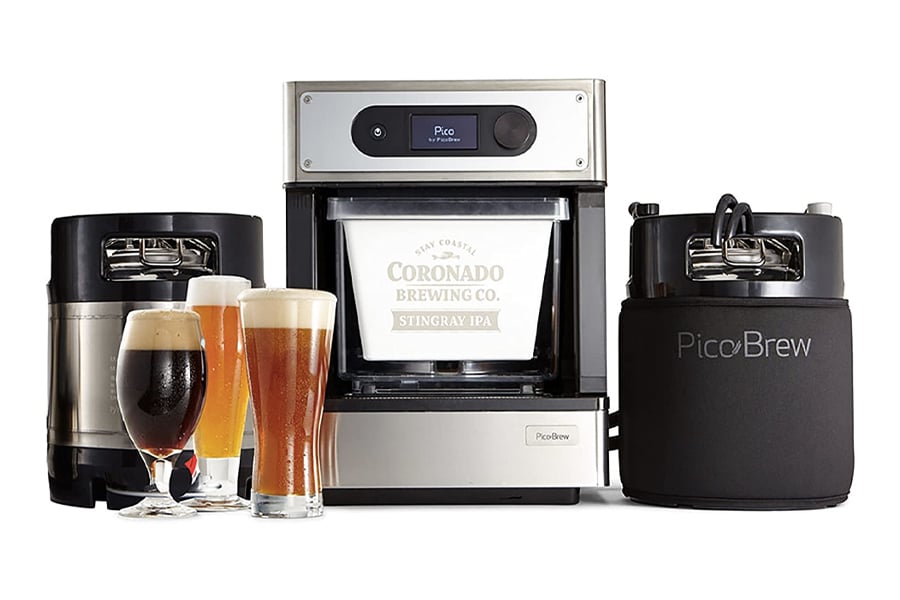 9. Pico Pro Craft Beer Brewing Appliance
One look and you can already tell that this home brew kit is a cut above its peers. It allows you to customise the ABV and IBU of any PicoPak or even create your own. A professional CO2 force-carbonation system means you can enjoy better beer faster. Two 6.6 litre ball-lock kegs are included with purchase.
Size: Brews 5 litres at a time (and includes two 6.6 litre kegs)
Price: AU$901 or US$578
Type: Multiple styles
Buy it here (AUS) Buy it here (US)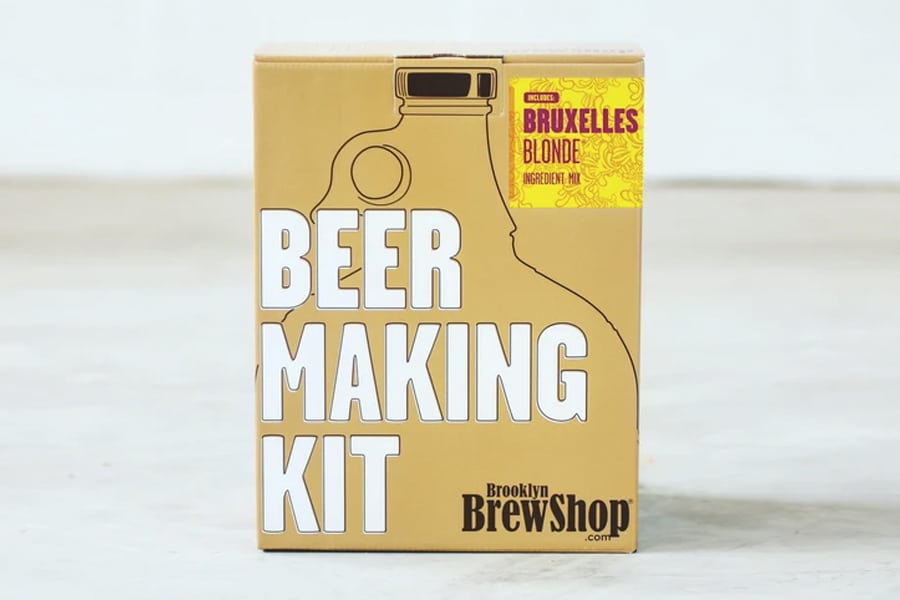 10. Bruxelles Blonde Beer Making Kit
Who's ready for the delicate sweetness and spicy aromas of a light-bodied Belgian ale? If your hand is in the air, we have just the home brew kit for you. It hails from Brooklyn Brewshop and serves up a gallon at a time.
Size: 1 gallon
Price: US$45
Type: Blonde Belgian Ale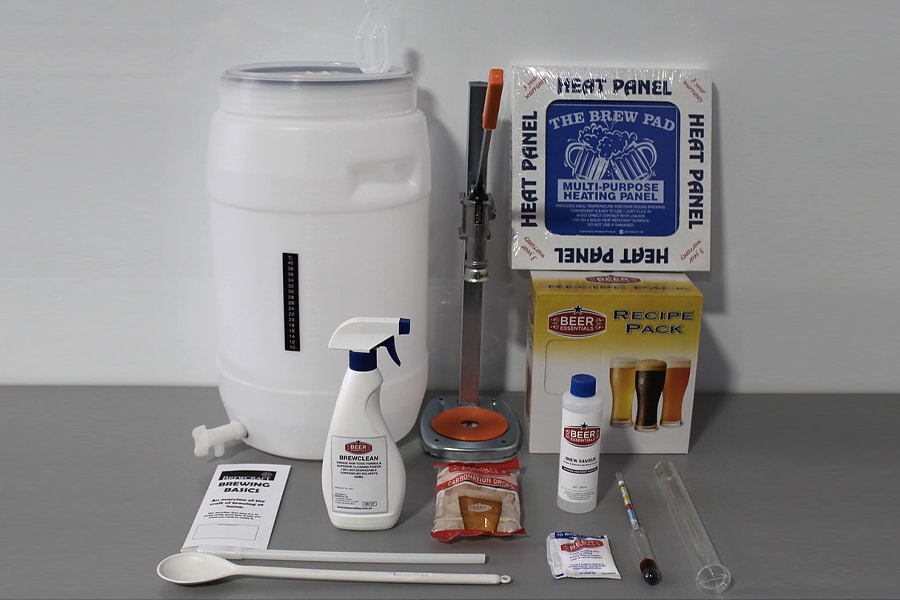 11. Beer Essentials Super Deluxe Brewery Kit
Nothing says "home beer brewing kit" quite like this one from Beer Essentials, which covers the basics with scientific panache. Pop open the recipe pack and get to work.
Size: 30 litres
Price: AU$263
Type: Multiple styles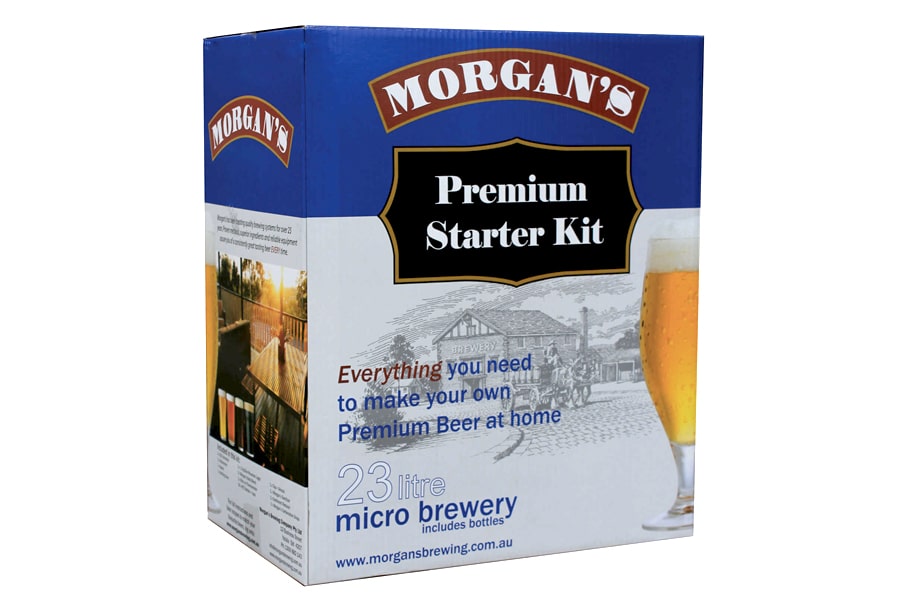 12. Morgan's Premium Starter Kit
Everything you need to make and bottle your next batch is right here in this beer brewing starter kit. Equipment includes a 30-litre fermenter, hydrometer, stirring spoon, bottling valve, carbonation drop, sediment reducer, and more.
Size: 30 litres
Price: AU$101
Type: Lager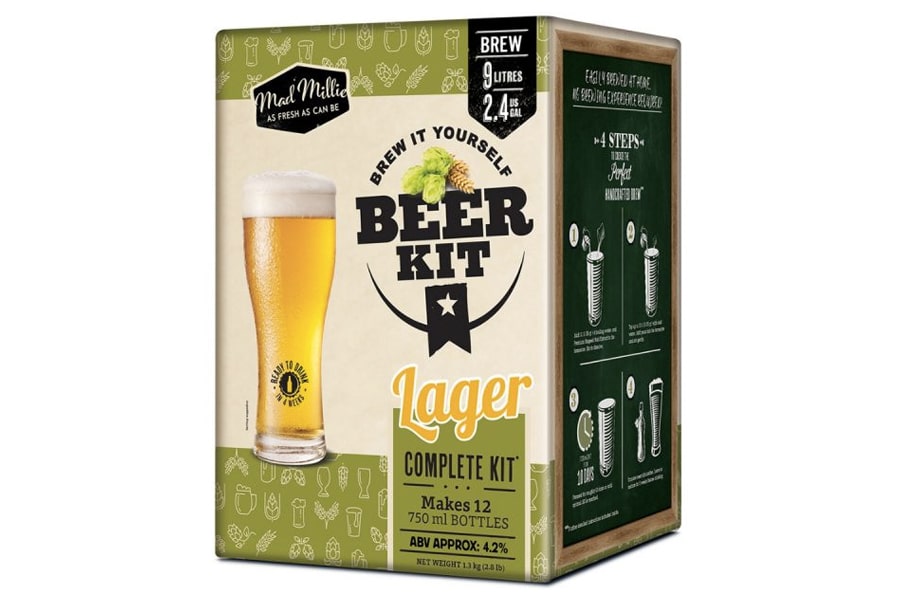 13. Mad Millie Brew It Yourself Lager Kit
Do it yourself and brew it yourself with Mad Millie's classic kit. Soon enough, you'll be sipping on Mangrove Jack's California Lager, which delivers golden colour, supreme balance, and crisp flavour.
Size: 12 litres
Price: AU$105
Type: California Lager
Interested in more Beer Related Stories? Here are a few to get you started:
Alternatives to the Best Home Brew Kits For Craft Lovers
Best Craft Beers to Try Right Now
Best Craft Breweries
Quick Guides to Beer Glasses
Explore the World of Beer
You may also like:
General FAQ
What do you need to brew beer at home?
To make beer at home, you should purchase a quality home brew kit. Expect to find the following equipment: fermenter, hydrometer, stirring spoon, bottling valve, ingredient can, body blend, stick-on thermometer, bottles and caps, tap and airlock, sanitiser, carbonation drops, and ingredients such as hops, yeast, and mixes.
What is the easiest beer to brew at home?
The easiest way to make beer at home is to pick up a beer brewing starter kit. If only the most convenient option will suffice, check out the BrewArt BeerDroid, which does nearly all the work on your behalf.
Is home-brew beer dangerous?
Presuming you follow the instructions, use trusted ingredients, and drink in moderation, consuming home-brewed beer isn't dangerous.
---
Featured Video from Man of Many