Feel-Good Friday: 19 November 2021: Summer Bashes and Suits Made of Moustaches
Man, where did that week go? After a whirlwind seven days, we're still spinning from the news that Shawn Mendes and Camila Cabello have broken up (SHOCK!). Nah, but seriously, it's nearly the weekend and the pubs are open, life is good and so is this week's Feel-Good Friday. Commence vibes.
You'll also like:
Feel-Good Friday: November 12 – Single Malt Disney
Feel-Good Friday: November 5 – Young Guns and Beer Runs
Feel-Good Friday: October 29 – Fried Chicken and Free Menulog for a Year
Rodd & Gunn Bring a Taste of NZ to Australia with 'The Lodge Bar'
Look, trips to New Zealand may be off the card right now (or maybe not, we can't keep up), but that isn't stopping Kiwi label Rodd & Gunn from bringing a taste of NZ to Australia. In conjunction with Myer, the brand has launched the Lodge Bar Myer Chadstone, an innovative concession that melds fashion, food and wine. According to the brand, shoppers will have the opportunity to browse the latest Rodd & Gunn collection, and recharge with a curated selection of beverages, showcasing the best of New Zealand and supplemented by a locally sourced food menu. Helmed by executive chef Matt Lambert and master sommelier Cameron Douglas, the new space features a bespoke terrazzo bar with lavish seating zones. The Lodge Bar kicked off in Myer Chadstone from 10 November and is available to dine in now.
Solotel Launches 'Back Together, Let's Dance' Campaign
To make the most of the return back to bars and clubs, Solotel is giving Sydneysiders the chance to get out and about. The organisation is launching a bunch of new events across its portfolio, complete with DJs, dancing and just a little bit of debauchery. Here's what's coming up:
House of Spritz, Barangaroo House: "Get Spritzy" this spring across all three levels of Barangaroo House with special Chandon and Fever Tree spritz menus and DJS on Friday, Saturday and Sunday.
Grey Goose French Spritz Disco at The Clock, Surry Hills – UNDR CTRL are curating a roster of Sydney DJs to bring house and disco to leafy courtyard live acoustic disco set from Studio Faux
Enerugi Thursdays at GOROS – GOROS are throwing  Thursday night parties to kick-start the weekend early.
Blueprint Saturdays 12hr party at KX Hotel  – 12-hour mammoth party across three rooms with a stacked DJ line-up.
Shwednesdays at The Sheaf: Wednesday nights at The Sheaf are back and better than ever this November and December.
PICNIC EVENTS @ TOKYO SING SONG at The Marly, Newtown: Newtown's favourite underground rave cave is back with parties every Friday and Saturday night curated by Picnic.
Spotify Rolls Out Lyrics Globally
There's nothing worse than not knowing the lines to your favourite song, but thankfully Spotify is gearing us up for karaoke season. The music streaming icon has just launched Lyrics: a "simple, interactive and shareable experience that's now available to Free and Premium users globally". According to the brand, the new feature can be accessed three simple ways.
On the Spotify mobile app
Tap on the "Now Playing View" on a song
While listening, swipe up from the bottom of the screen
You'll see track lyrics that scroll in real time as the song is playing!
To share, simply tap the "Share" button at the bottom of the lyrics screen and then select the lyrics you want to share—and where you want to share it to via third party platforms
On the Spotify desktop app
From the "Now Playing" bar, click on the microphone icon whilte a song is playing
Voila! You'll see track lyrics that scroll in real time while the song plays
On the SpotifyTV app
Open the "Now Playing View" on a song
Navigate to the right button corner to the "lyrics button" and select if you want to enable the lyric experience
Once enabled, you'll see the lyrics on screen
Van Cleef & Arpels Supports The Australian Ballet
French High Jewelry Maison Van Cleef & Arpels has once again showed its commitment to the arts, announcing an extended partnership with The Australian Ballet as Official Jewelry Partner. As part of the partnership, Van Cleef & Arpels sponsors Bodytorque, a contemporary choreographic program conceived to uncover and develop emerging and established choreographic artistry for dancers, choreographers and musicians. Best of all, the development programme has uncovered The Australian Ballet's brightest talents, paving the way for future stars.
"Dance and ballet have always inspired the Maison, Van Cleef & Arpels, for so many years," Nicolas Luchsinger, President of Van Cleef & Arpels, Asia Pacific said. "Having been so close to the heart of the founders of the Maison, I am really happy to see the strong relationship with The Australian Ballet, reaching a new level with the sponsoring of Bodytorque as a new milestone in the history of contemporary ballet."
POLITIX x Movember Launch a Legit Mo-Hair Suit
A suit made of moustaches? Colour us intrigued. For Movember this year, men's sutiing brand POLITIX have collaborated with artist Pam Kleemann-Passi, via Bullfrog, to create the world's first Mo-Hair Suit – made from real moustache hair. Designed to start the conversation around men's mental health, the Mo-Hair Suit is part of POLITIX x Movember's 'Worn to be Heard' campaign. A poignant message, the campaign addresses the disproportionate rates of male suicide, which suggest that the number of men who take their own lives in Australia every year is nearly double the national road toll.
"Covid-19 still dominates global health headlines, meaning Movember's life-saving programs and messages of hope are in danger of going unheard this year. So we wanted to give men and the media something to talk about," Dan Sparkes, Creative Director at Bullfrog said. "The Mo-Hair Suit takes what POLITIX and Movember are known for – Menswear and Mo's – and turns them into a convo-starter: is it a glorious example of bespoke tailoring, or is it a bit gross?"
In addition to the MO-HAIR suit, The Worn to be Heard campaign also features a limited collection of POLITIX blazers, designed by artist-duo WBYK, screen printed with provocative statements such as 'Grab Cancer by the Balls' and 'I Cry Like a Boss'. For Paul Burden, Head of Design and Creative at POLITIX, the message was more than just a good thing to do.
"My father passed away on November 1st two years ago, from cancer. Typical man, he didn't go to the doctor when he should have – when it was treatable. I hope this campaign gets people talking, and gives more men the courage to speak up, before it's too late."
You can check out more on the MO-HAIR suit and the entire Worn to be Heard campaign via the link below!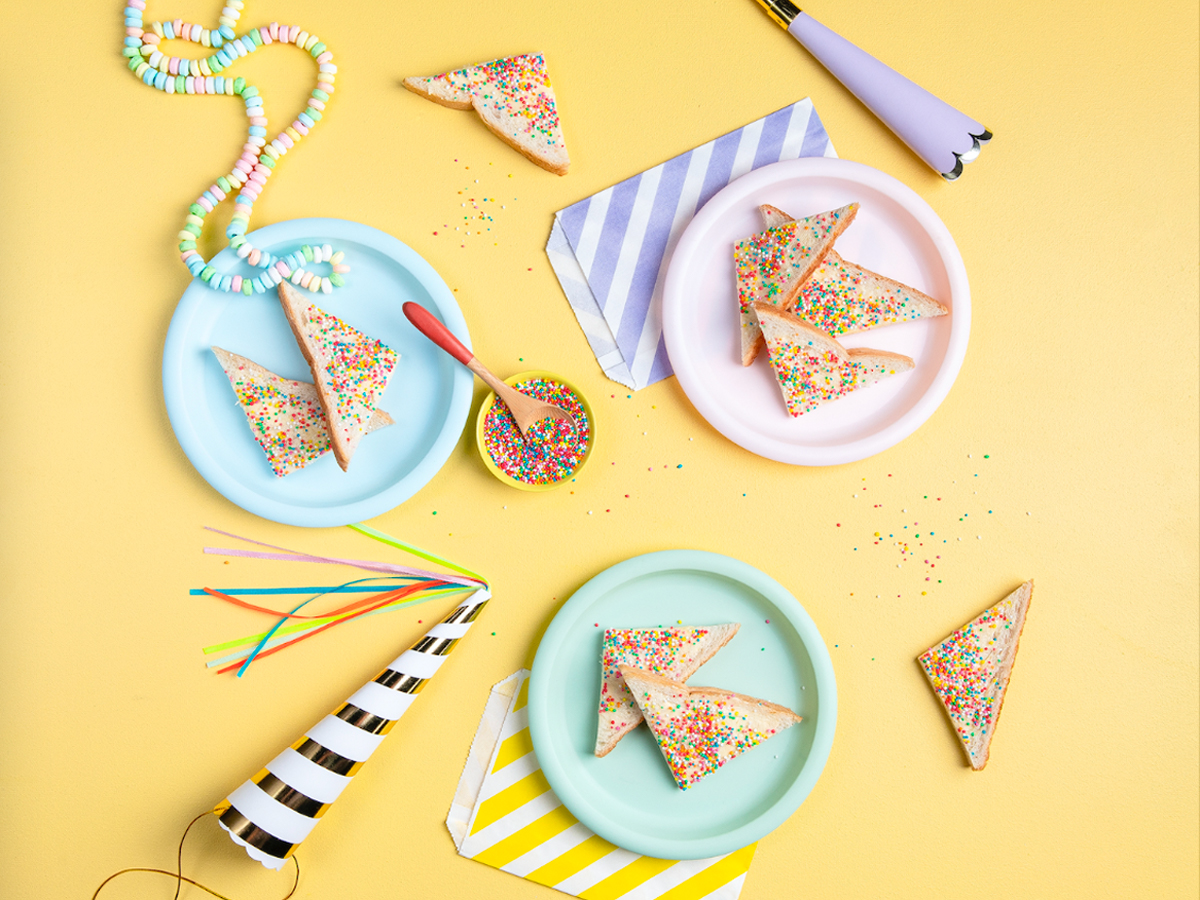 ReachOut's Fairybread Day is Back for November
Starting on Monday the 24th and sprinkled over 7 days of sweetness, ReachOut's Fairy Bread Day is back for 2021.
ReachOut is one of Australia's leading youth mental health organisations. Since its inception way back in 2014, Fairy Bread Day has served as their annual fundraiser allowing everyone from teachers to tradies, young and old, to come together and look out for those in need this year.
Last year saw ReachOut team up with Dollar Sweets raising a celebratory total of AUD $30,900. With $11,000 donated from public gratuity and $19,900 from Dollar Sweet's sales, all the funds went to support our youth in need through ReachOut's essential mental health services.
To sprinkle a little kindness in 2021, gather your friends, family, classmates or colleagues together and buy some 100s & 1000s from Dollar Sweets.