Odell Beckham Jr.'s NFL Diet & Workout Plan
Odell Beckham Jr., popularly known as OBJ, is not only one of the NFL's premier players due to his exceptional talent but also because of his rigorous diet and workout regimen. Rumour has it that the standout Cleveland Browns wide receiver invests over $300,000 annually in his body's wellness during the off-season—a testament to his dedication. This commitment includes engaging in intensive footwork exercises, weight training, and indulging in gourmet meals designed by personal chefs. Surprisingly, this regimen has even encouraged him to consume foods and drinks he once disregarded, like water. Dive deep into the details of OBJ's diet and workout plan, and discover the discipline that complements his legendary on-field feats and equally captivating off-field narratives.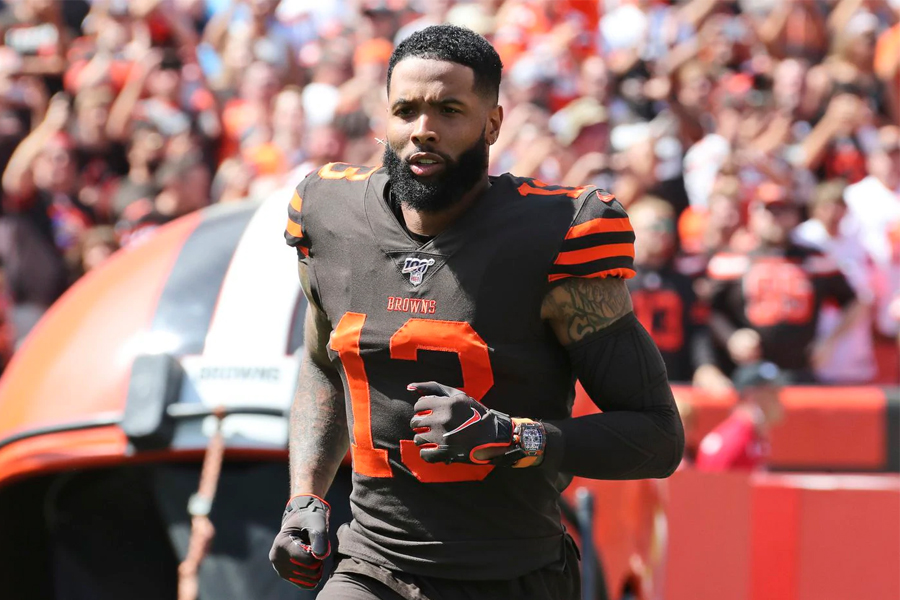 Odell Beckham Jr.'s Diet Plan
One look at OBJ and you'd never think he's the type of guy who hates vegetables and fish and refuses to drink water. Yet all those things are reportedly true, or at least they were at one point in his life. It's even been said that he sometimes needs to take his fluids via intravenous injection, representing one serious aversion to H2O!
Enter personal at-home chef Renee Blackman, who's made decent headway in terms of getting the NFL receiver to drink his fluids and eat healthier meals. Over the past year, she's changed his eating habits to positive effect, albeit in subtle ways. For example, she's keeping him hydrated by way of coconut water, which she stocks in his fridge and uses in his daily smoothies. She's also sneaking veggies into pasta sauces and transforming his perspective on fish like salmon and tuna.
When all else fails, Chef Renee adds her homemade hot sauce to heighten the dish. Blending peppers, seeds, and garlic to perfection, it's "the best way to get him to eat almost anything," according to the chef. As a result, OBJ is going lighter on the junk food than ever before, even if he does still take in a steady amount of Snickers bars and Sour Patch Kidz. We even saw a recent Instagram post of him drinking water straight out of the bottle—good for you, OBJ!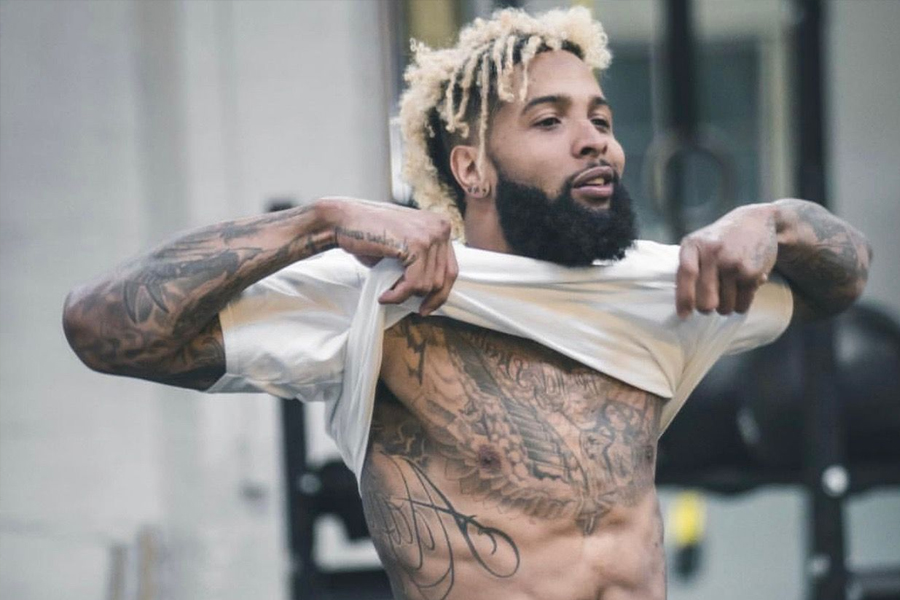 The record-breaking NFL player is also a major advocate for EXOS, whos methodology is centered on our four pillars of performance, Mindset, Nutrition, Movement and Recovery and they focus on all of these aspects when working with their clients. Upon partnering with the sports performance and nutrition company, Beckham began consuming everything from multi-vitamins to protein powders on a regular basis. Whereas he was once wary of supplements and powders, EXOS prompted a total change of heart. To quote OBJ directly: "they've been critical in helping me take my nutrition to the next level."
Normally, we include a celebrity meal plan of sorts, consisting of breakfast, lunch, dinner, and snacks. However, it's much harder to put OBJ in any sort of box as he still tends to eat like a teenager. Rather than break down his meal plan, we'll share some foods that he's currently known to enjoy. For good measure, we'll include the recipe to Chef Renee's famous homemade hot sauce.
Also, remember that this isn't exactly a recommended diet plan since we can't suggest that you eat Snickers bars and Sour Patch Kidz. Instead, it's a snapshot of OBJ's eating habits, which you can personally imitate or tweak as you see fit. Here we go:
Creamy fettuccine Alfredo pasta dish topped with sausage, chicken, shrimp, and lobster – Again, we're not suggesting you eat like OBJ—we're just telling you what he eats. Thankfully, Chef Renee sneaks minced veggies like onions and mushrooms into the sauce.
Kale salad with salmon – Thanks to Chef Renee, OBJ has overcome an aversion to both kale salad and salmon. She leaves the skin on for health benefits.
Chicken – Chef Renee marinates the chicken in olive oil and then adds her famous hot sauce before serving.
Junk food – Apparently, OBJ loves to gorge on junk food like Snickers bars, Sour Patch Kidz, and Cheez-Its. It seems to work for him. Plus, do you want to be the one to take away his snacks?
Coconut Water – OBJ has a rather peculiar distaste for water, which is why Chef Renee plies him with coconut water instead.
Smoothies – Chef Renee also uses coconut water as a base in Beckham's daily smoothies, which additionally contain frozen fruit and protein powder.
EXOS supplements – For a proper boost of energy and sharpness, OBJ takes EXOS fish oil as well as the AM and PM multi-vitamin supplements.
Chef Renee's Homemade Hot Sauce Recipe
1 diced yellow onion
5 garlic cloves
2 Fresno peppers
1/2 cup chopped habanero peppers
1 cup chopped scotch bonnet peppers
1 tablespoon of kosher salt
1/4 cup vinegar
2 1/2 ounces of olive oil
1/2 cup of water
Instructions: Combine ingredients in a blender or food processor, and whir until fully pulverised. Pour into a pot and cook on low heat for 20 minutes. Let cool and serve.
---
Featured Video from Man of Many
---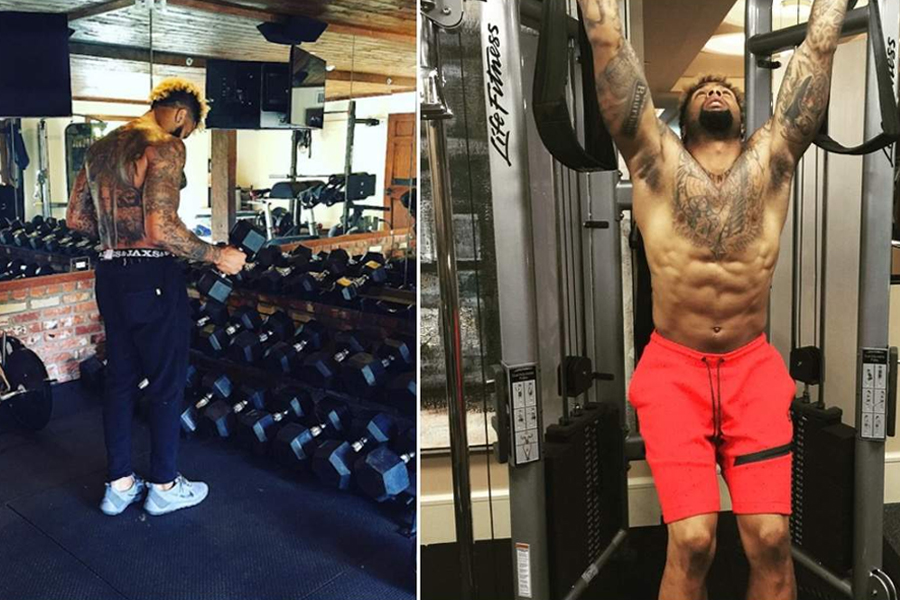 Odell Beckham Jr.'s Workout Plan
An athlete's fitness regimen is usually as good as the person overseeing it. That responsibility falls to Jamal Liggin, i.e. Odell Beckham's personal trainer. In Liggin's own words: "Our foundation is speed, but the program isn't just speed and strength. It's also vision and awareness. Footwork and quickness. All of it works together."
As such, the Odell Beckham Jr. workout regimen consists of various exercises. Each session can run anywhere from 30 minutes to 3 hours, depending on the type of workout. The most intense of sessions involve non-stop movement with little to no breaks between each set. The longer workouts incorporate breathing exercises and more downtime.
It's also worth noting that OBJ is "not really weight room strong," to quote him directly. While no stranger to the benchpress and barbells, he admits to being "pretty average" in the weight room. By the way, did you Google "Odell Beckham Jr. cousin workout" yet? Seriously, the dude is jacked!
But enough about the mighty Terron, who was once in talks to play in the NFL. It's OBJ who remains the centre of attention, and his workouts are likewise the stuff of legend. Of course, when you have over 13.5 million Instagram followers, pretty much everything you do is bound to go viral in one way or the other. That applies to Odell Beckham Jr.'s workout videos as much as it does anything else.
Rather than scroll through his feed in search of a quality workout, you can scope the list of OBJ training exercises below. On it, you'll find everything from fancy footwork drills to tennis ball throws to strength training. Put it all together and you have the makings of an NFL superstar. Let's break it down.
Resistance Speedwork
During both the on and off-seasons, OBJ's training consists of resistance speedwork. That speedwork gets extra brutal during the off-season, in particular, when OBJ and Liggin take the action onto the sand. It's there that he performs footwork exercises, tennis ball drills, and sprints. Inside the gym, he gets busy with the resistance bands or performs pool exercises.
The Tennis Ball Drill
If OBJ is famous for one thing on the field, it's his nifty one-handed catching skills. That might be why Liggin's tennis ball drill—which features OBJ catching various tennis balls with one hand—went viral in 2016.
Footwork Drills
Bringing new meaning to the concept of footwork drills, OBJ is known to execute his wearing no shoes. Taking verbal cues from Liggin, the football star performs ladders or sprints. All the while, OBJ must keep an eye out for flying tennis balls, tossed by Liggin at various speeds.
Yoga and Pilates
OBJ is supremely dedicated when it comes to his yoga and Pilates. Thanks to their emphasis on stretching and flexibility, these methods keep the wide receiver light on his feet and perpetually ready for action. Don't knock it until you try it.
Strength Training
By his own admission, Beckham isn't some sort of iron man, but don't take that to mean he doesn't perform massive amounts of strength training. On the contrary, his upper body workouts are as intense as they are effective.
In addition to traditional weightlifting routines, Liggin and OBJ employ full-body exercises, medicine ball throws, split-jumps, and more. As seen on his workout videos, here are a number of Odell Beckham Jr. weight training and strength-building exercises:
Single-Leg RDL to Row
Dumbbell Bench Press
Dumbbell Hammer Curl
Dumbbell Lateral Raises
Seated Medicine Ball Rotational Throw
Reverse Lunge Split-Jumps
Partner Seated Medicine Ball Rotational Toss
Single-Arm Dumbbell Bench Press
Single-Arm Medicine Ball Push-Up
Dumbbell Reverse Fly
Pull-Ups
Medicine Ball Slams
You'll also like:
Cristiano Ronaldo's Football Diet & Workout Plan
Brad Pitt's 'Fight Club' Diet & Workout Plan
Chris Hemsworth's Thor Diet & Workout Plan
If you've seen any Odell Beckham Jr. workout videos, you already know the man gets seriously busy in the gym. Say what you will about his alleged hard-partying ways, but OBJ demonstrates nothing but determination and perseverance when it comes to strength training, yoga, and footwork exercises. Speaking of strength training, Google "Odell Beckham Jr. cousin workout" and see what pops up. As you'll soon discover, his cousin Terron is an absolute beast. But we digress…
Adopt the Odell Beckham Jr. workout and adjoining diet plan for yourself, and you'll have everything he does, minus the athletic skills and millions of dollars. For that, you'll need to practice one-handed catches until your palms are sore, and even then, you'll probably never get close to his level of talent. Prove us wrong, mate!
At the end of the day, an OBJ training routine is all about improving reflexes and building strength. Pair that with a proper diet regimen and some EXOS nutritional advice you'll be fit in no time. Oh, and you'll also need both a personal trainer and a personal chef. We're sure you'll figure something out.
You'll also like:
Steve Smith's Cricket Diet & Workout Plan
General FAQ
What is OBJ's diet?
Odell Beckham Jr reportedly is not a fan of eating fish and vegetables or drinking water. His private chef works to keep him hydrated with coconut water and sneaking veggies into his pasta.
Who trains Odell Beckham Jr?
Jamal Liggin is OBJ's personal trainer. His training sessions can last anywhere from 30 minutes to 3 hours, depending on the type of workout.
---
Featured Video from Man of Many