A big industry that's only getting bigger, connected fitness is set to be worth billions by 2023. Peloton might be the figurative OG of this particular sector, but Australia's own Vitruvian is the one to watch. Powered by all kinds of glorious innovation, the brand has created an entirely new home gym using magnetic resistance in a flat, step-like device. With the second generation of the Trainer+ shipping in January, Man of Many was given a sneak peek of their newest design, and we're feeling more shredded already.
Dubbed the Vitruvian Trainer+, the app-compatible platform is effortless to store but sleek enough to put on permanent display. It looks like a step with two cords coming out of each side, with various attachments allowing you to complete thousands of moves. We put one to the test and pounded out a swath of effective workouts. Here are its best features:
It Offers an Incredible Range of Weight
The whole point of resistance training is to improve and increase as you go and you need a machine that can keep pace. On that note, we were delighted to discover that the Trainer+ delivers an impressive weight range, going from 0kg all the way up to 200kg. Because the weights are concealed beneath the machine's exterior, they seem to come out of thin air.
It's Modular
Compatible with a variety of accessories, the Trainer + puts a host of different exercises at your disposal. Choose between premium handles, tricep rope, ankle bands, a sturdy bar, and more. You can also bring in a bench to make chest presses that much easier. Handles and ankle straps are included with your initial purchase whilst the other accessories are available in separate kits.
It's Wildly Connective
Fitness equipment has officially evolved and Vitruvian is here to prove it. Sync the machine with an app to unlock a bounty of modern benefits, including coached sessions, performance metrics, goal-oriented programs, and more. The app features over 200 exercises in total and even allows you to connect with your personal trainer or compete with friends. You can also connect the Trainer+ to your TV and then perform different workouts with an instructor.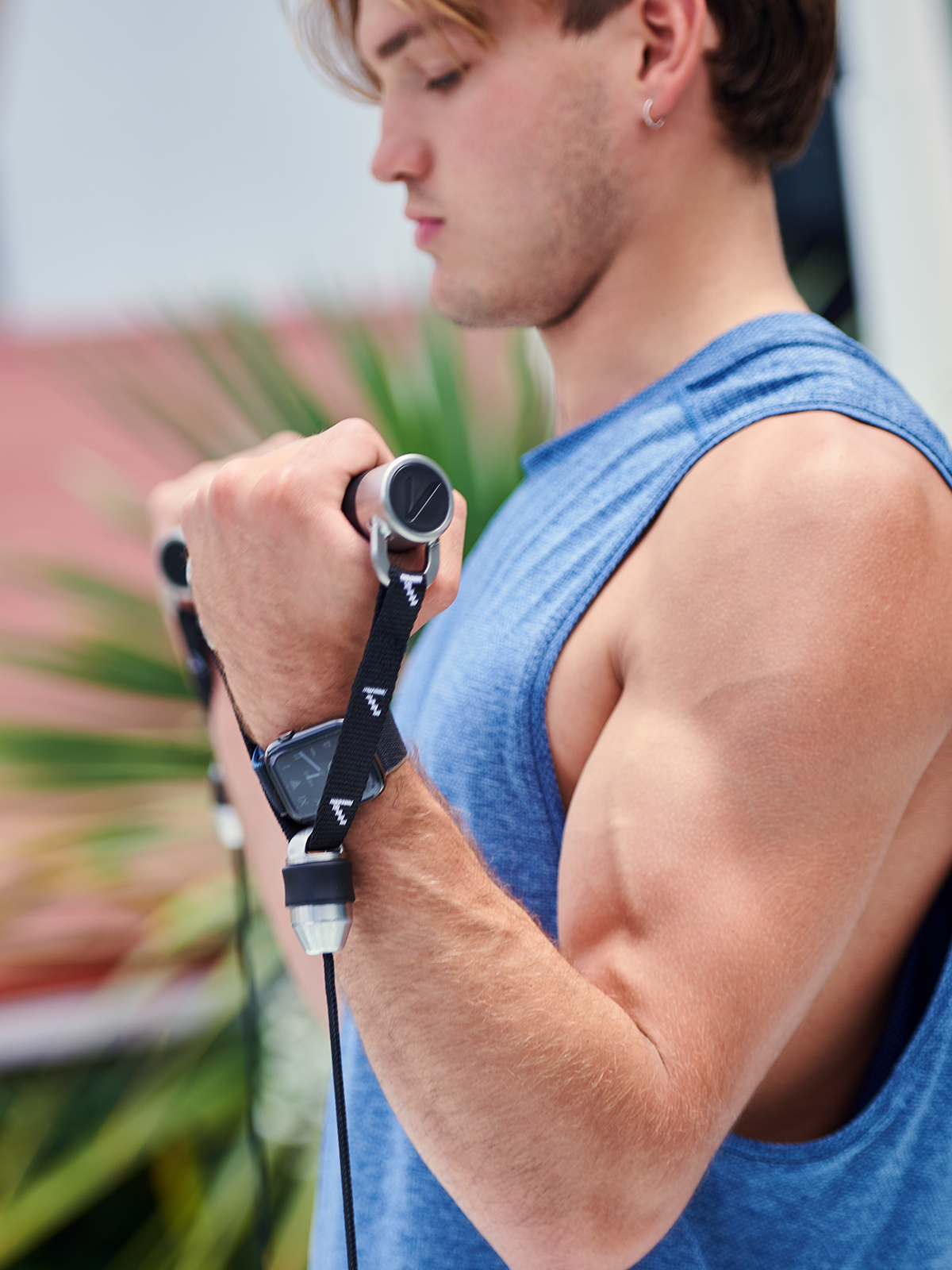 It's Really Smart
Vitruvian founder Jon Gregory is an algorithm expert and he's pored copious intelligence into the development of the machine. It tracks your progress, learns your habits, and adapts accordingly, helping you improve with greater efficiency. For example, it will literally start your next workout at the right weight depending on how much you lifted in previous sessions. Your fitness regimen is all about results and so is the Trainer+.
It's Virtually Indestructible
Thanks to a carbon fibre shell and robust hardware, the Trainer+ is equal parts sturdy and steady. The machine is also slim by design and equipped with recessed wheels for easy storage.
Technology like Vitruvian changes the game and changes you.
It's Just Getting Started
Vitruvian are blowing up resistance training as we know it and they're just getting warmed up. The brand raised US$2.5 Million during a global pandemic and made US$1.2 million in their first six months. This year they have raised another US$8 million in capital, which came from a bunch of Australian and US VC's as well as some well known Australians in Collingwood AFL player Josh Thomas and Simon Griffiths, the CEO of Who Gives a Crap.
Like their very customer base, Vitruvian take personal improvement as a perennial mission statement. The Vitrivian Trainer+ gets things off to a brilliant start. It represents the evolution of resistance training, complete with app compatibility, intelligent features, and an utterly sleek design. We can't wait to see what this Aussie brand does next. Thanks for the workouts!