14 Best Lygon Street Restaurants
Looking for fine restaurants in Melbourne but not sure where to start? No worries. Because Lygon Street is the answer to all your cravings. This leafy lane runs from Melbourne's inner northern suburbs to the CBD and is jam-packed with restaurants, dessert shops, cafes and bars.
And FYI, it's been dubbed 'Little Italy' because it's home to many fine Italian eateries. But it does stop there; the street boasts a repertoire of Greek, Mediterranean, Japanese and sub-continental restaurants that have an alfresco setting; meaning you can enjoy your meal while admiring the liveness of this foodie hotspot! Here are the best restaurants in Lygon Street.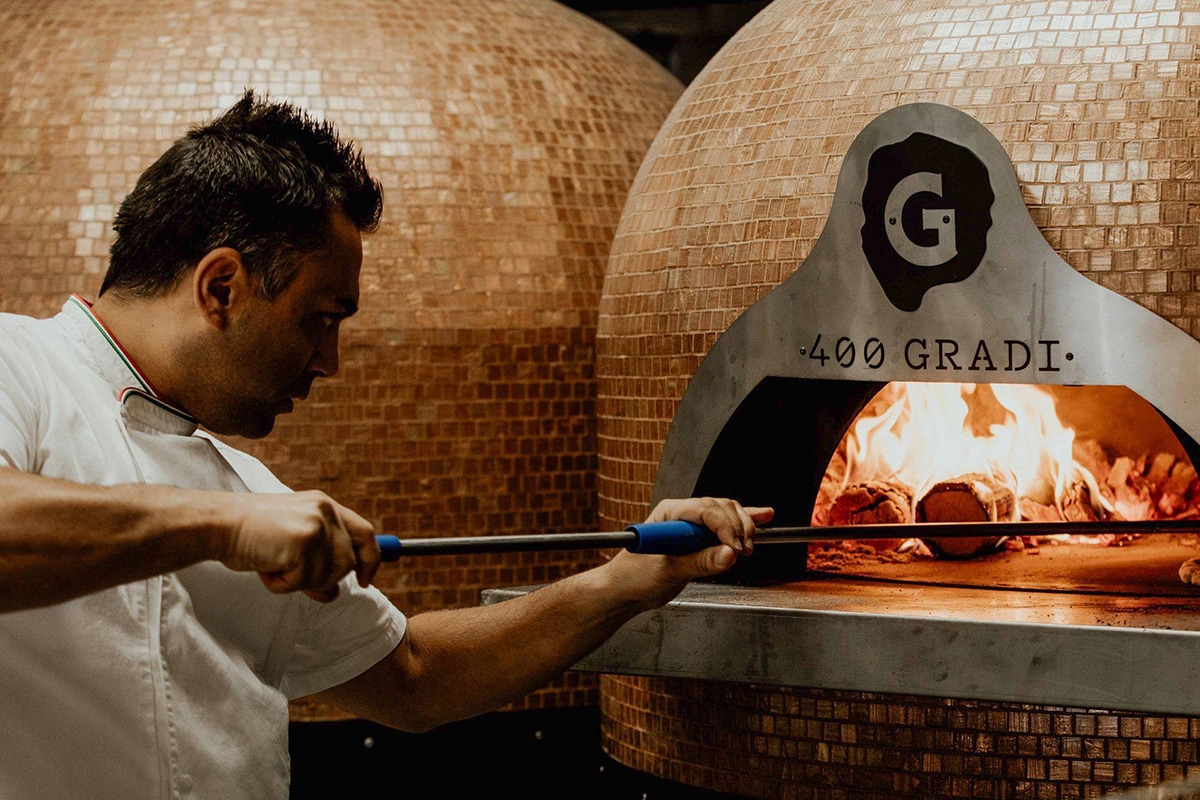 1. 400 Gradi
400 Gradi is not just any top-notch restaurant on Lygon Street. It's taken home a major prize: the Best Pizzeria in Oceania, as judged by the 50 Top Pizza awards in Naples, Italy. Expect traditional woodfired pizza including the famed Margherita. Their Diavola comes with spicy salami and peppery rocket, and the Quattro formaggi is cheesy goodness. There's also the salumi; a slow-cooked lamb ragu with pappardelle; clam linguine; and croutons topped with anchovy, tomato and whipped ricotta. And for dessert, try the Nutella calzone.
Address: 99 Lygon St, Brunswick East VIC 3057
Phone: (03) 9380 2320
Trading Hours: Mon-Sun 12-11 pm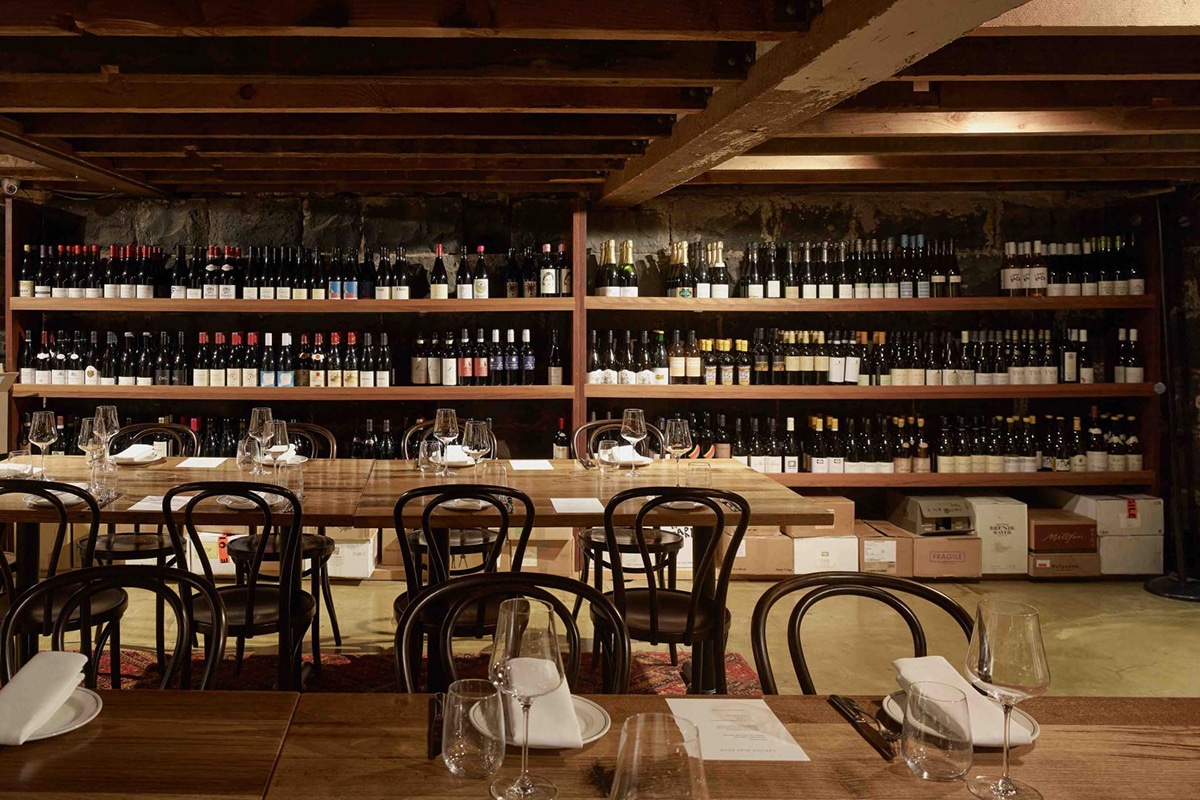 2. Carlton Wine Room
At Carlton Wine Room, an eclectic experience awaits you. This wine temple occupies a treasured corner in old Carlton and offers distinct dining spaces over three levels that are linked by a common offering: solid service and good times. Walk-in for generous dishes, perfect for sharing or keeping all to yourself. With a classic bistro influence, that changes with the seasons and quality produce, relish the likes of raw kingfish, crème fraîche, horseradish and pickled wombok; Western Plain's pork chop, zucchini salad & green goddess; and chocolate truffle is what it's about.
Address: 172-174 Faraday St, Carlton VIC 3053
Phone: (03) 9347 2626
Trading Hours: Mon 12-11 pm, Tue-Wed 4-11 pm, Thu-Sun 12-11 pm
---
Featured Video from Man of Many
---
You'll also like:
13 Best Ribs in Melbourne
17 Cool Restaurants in Melbourne
16 Spots For The Best Yum Cha in Melbourne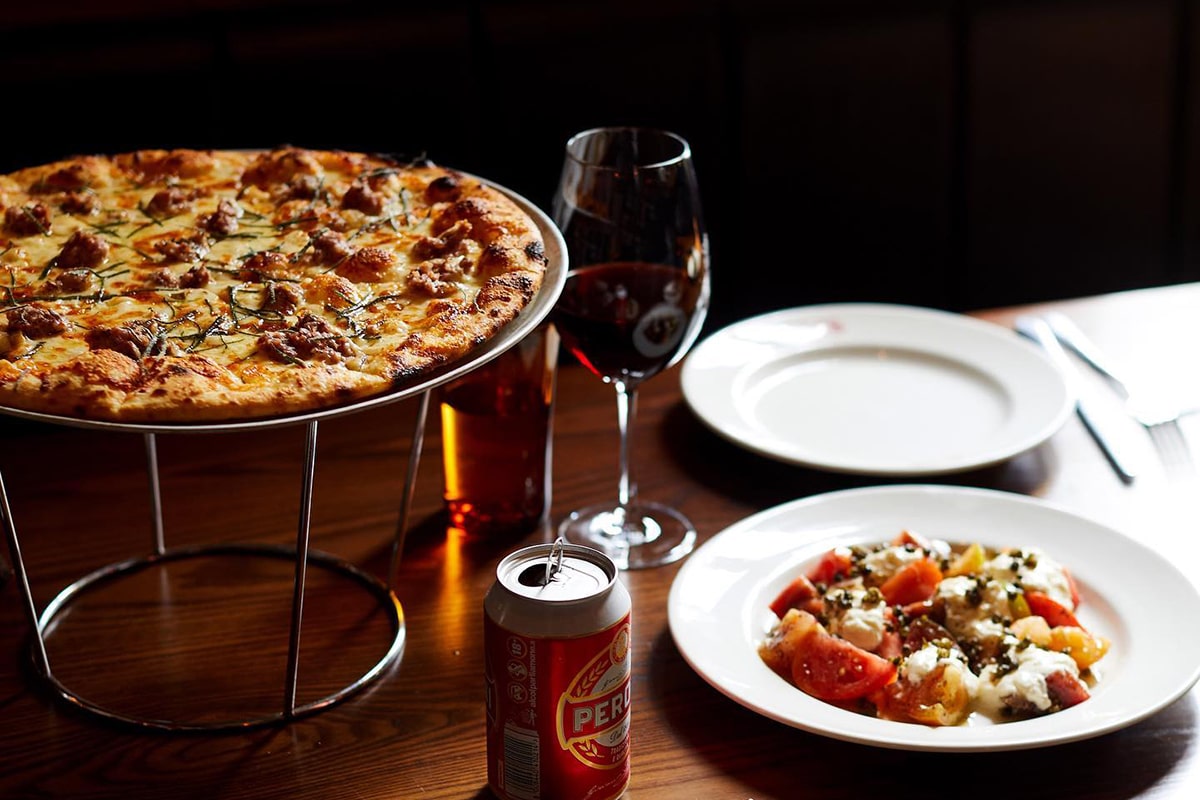 3. Leonardo's Pizza Palace
When stepping into Leonardo's Pizza Palace, you'll immediately be transported to the world of the Sopranos and '70s Italian-American pizzerias. Wooden walls, soft lighting and cutesy tables in a demure restaurant space. But this Lygon Street restaurant staple is most celebrated for its pizzas; with a menu that features over 10 tantalising palates of pizzas. Help yourself to the Ramblr Chinese Bolognese; white sauce, fior di latte, Chinese bolognese and scallions or Classic Cheese; tomato, cheese blend, fior di latte, basil; consider the smashed stracciatella too.
Address: 29 Grattan St, Carlton VIC 3053
Phone: (03) 9242 0666
Trading Hours: Wed-Thu 5-11:30 pm, Fri-Sat 12-11:30 pm, Sun 12-9 pm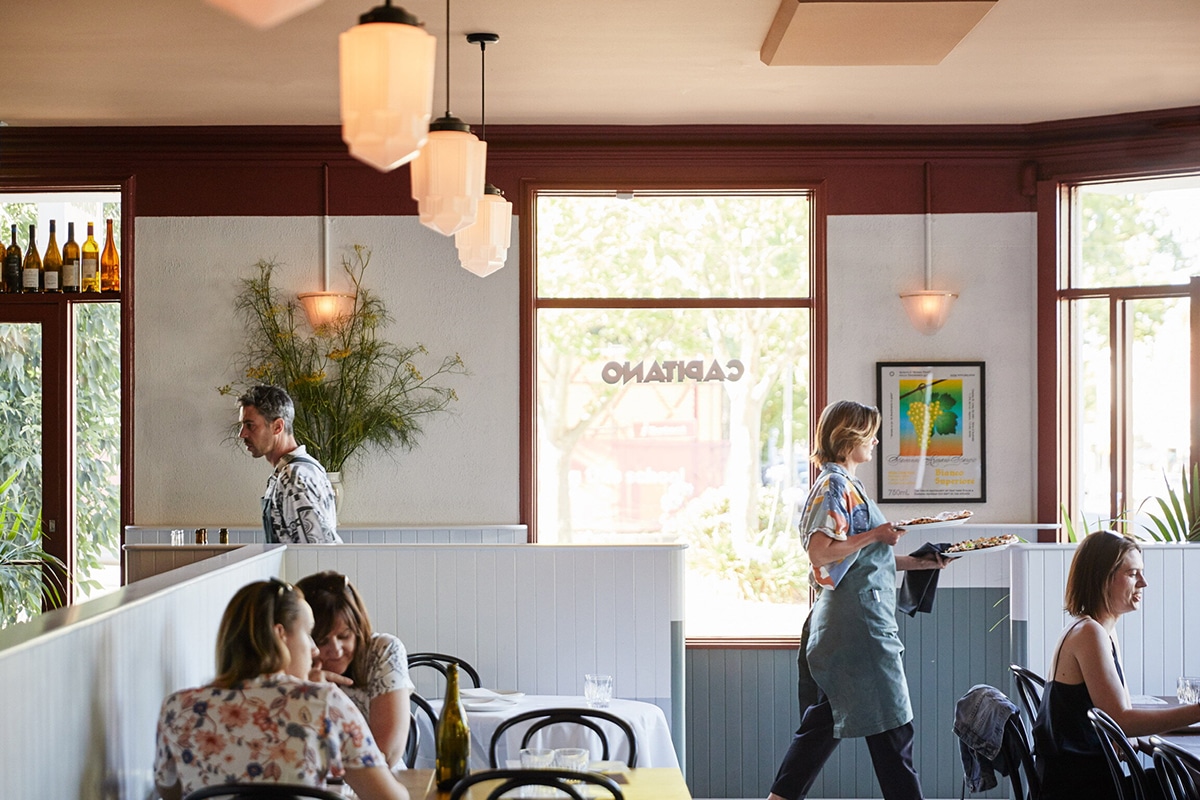 4. Capitano
Capitano is inspired by the Sicilian heritage of co-owner Michael Bascetta and the Italian-American dishes of chef Casey Wall. On the menu, you'll find a gamut of pizzas cooked in an electric oven which yields a taste that's slightly chewier than the traditional Neapolitan. A meal there can start with the classic cheese and go DIY with their toppings – choose from mortadella, pepperoni, cheeses and more – or opt for one of the four ready-made creations on the menu. Be sure to also try their lasagne, veal parmigiana or dry-aged steaks.
Address: 421 Rathdowne St, Carlton VIC 3053
Phone: (03) 9134 8555
Trading Hours: Mon-Thu 5:30-10 pm, Fri 5:30-11, Sat-Sun 12-11 pm, Sun 12-9 pm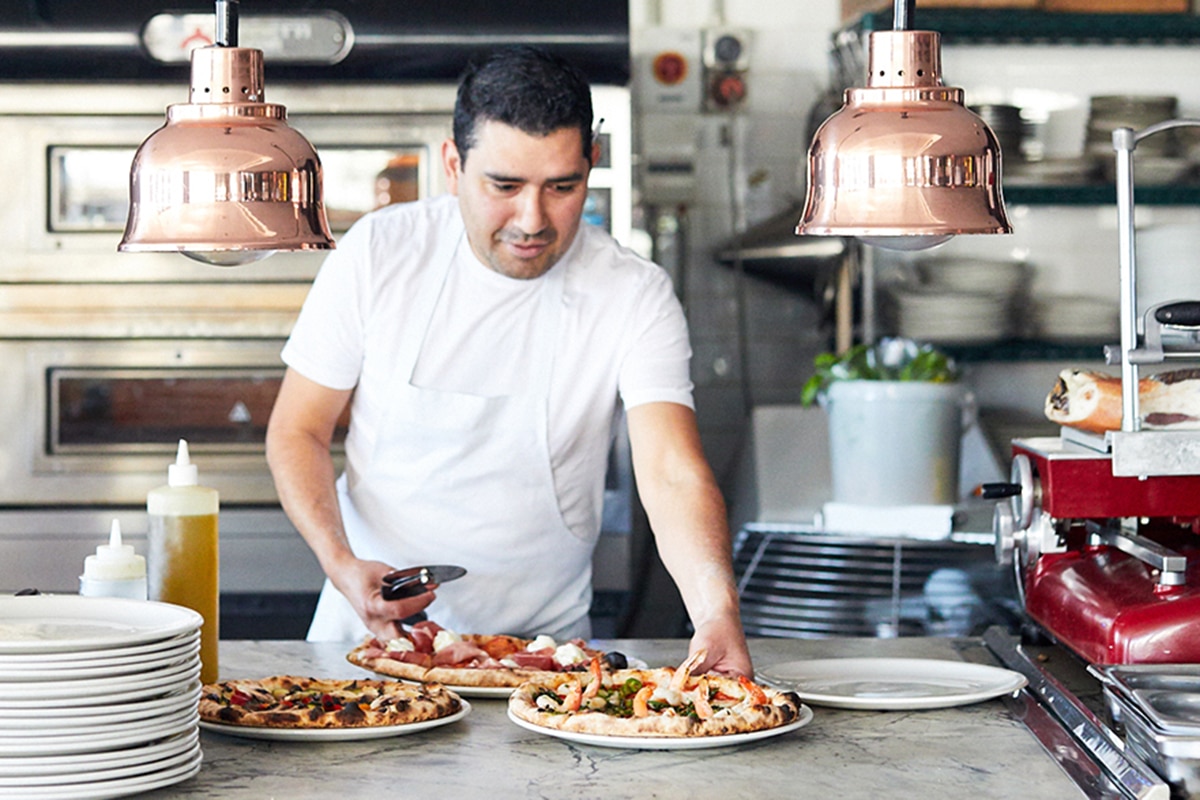 5. DOC Espresso
Here's the thing, DOC Espresso is an Italian restaurant that has solidified its presence on Lygon Street and Melbourne, but it doesn't do pizzas…When perusing their menu, you'll find a range of pasta, focaccias, colazione (breakfast) items and salads. And with three sister shops; DOC Delicatessen and DOC Pizza and Mozzarella Bar that are all named after the Italian word for quality, it's difficult not to envision savouring a meal there. So whether you're just swinging by for a coffee, quick meal or a more sizable dish, you'll always find something delicious there.
Address: 326 Lygon St, Carlton VIC 3053
Phone: (03) 9347 8482
Trading Hours: Mon-Fri 7 am-10 pm, Sat-Sun 8 am-10 pm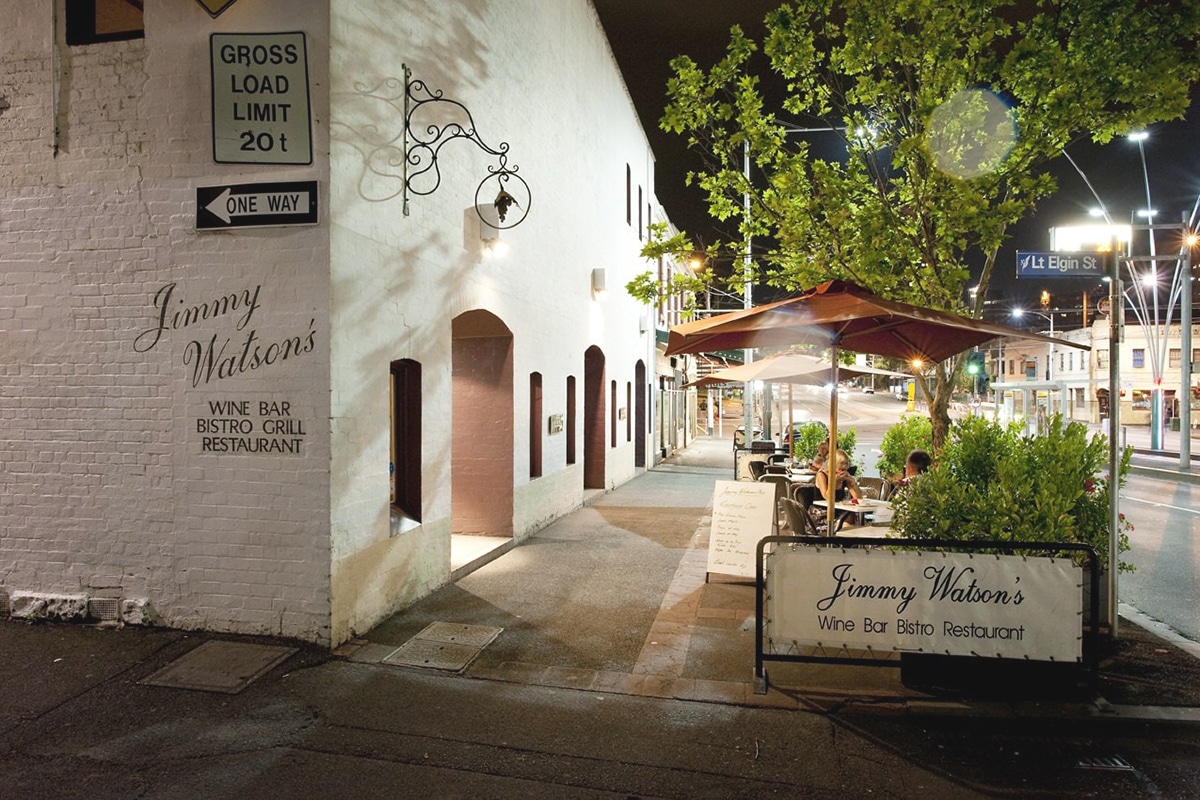 6. Jimmy Watson's
Jimmy Watson's is one of the ritzy restaurants on Lygon Street with a menu that doesn't adhere to a theme. A courtyard, wine bar, a Thin Red Line room that's tucked away upstairs and a Wolf's Lair & Treetops atop of the restaurant — it's all luxe there. And here's a guide to what to order; For the entree: charred octopus with roasted aubergine, confit heirloom with cress salad and Apple Sherry Vinaigrette. And for the mains, select the semi-dried tomato & zucchini agnolotti with creamed spinach and tapenade. Truly Lygon Street's pride and glory.
Address: 333 Lygon St, Carlton VIC 3053
Phone: (03) 9347 3985
Trading Hours: Mon-Tue 11 am-9 pm, Wed-Sat 11 am-10:30 pm, Sun 11 am-10:30 pm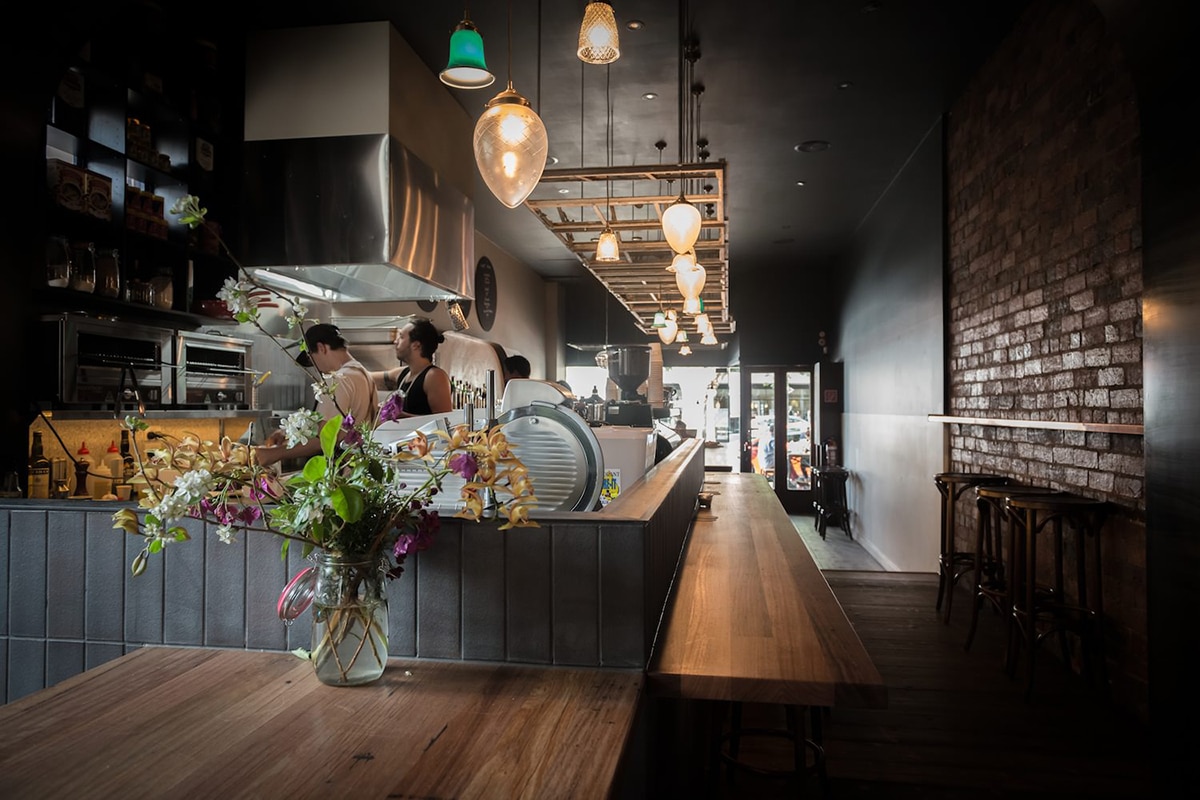 7. Heartattack and Vine
Heartattack and Vine is a novel institution that brings heartwarming Italian folk-style service with a sandwich menu that has everything to satiate your appetite. The restaurant plates-up Cicchetti cuisine (a Venetian style of bar food) and is perfect for feasting on; from falafel to prosciutto, porchetta to the spicy meatball. Dinner dishes such as the pickled artichoke, crumbled olives stuffed with anchovies, mussels, broccolini salad, baba ganoush and crumbed cauliflower are not to be missed! The eatery is also open daily for a breakfast of Noisette pastries and coffee.
Address: 329 Lygon St, Carlton VIC 3053
Phone: (03) 9005 8624
Trading Hours: Mon 8 am-3 pm, Tue-Wed 8 am-10 pm, Thu-Sat 8 am-11 pm, Sun 8 am-6 pm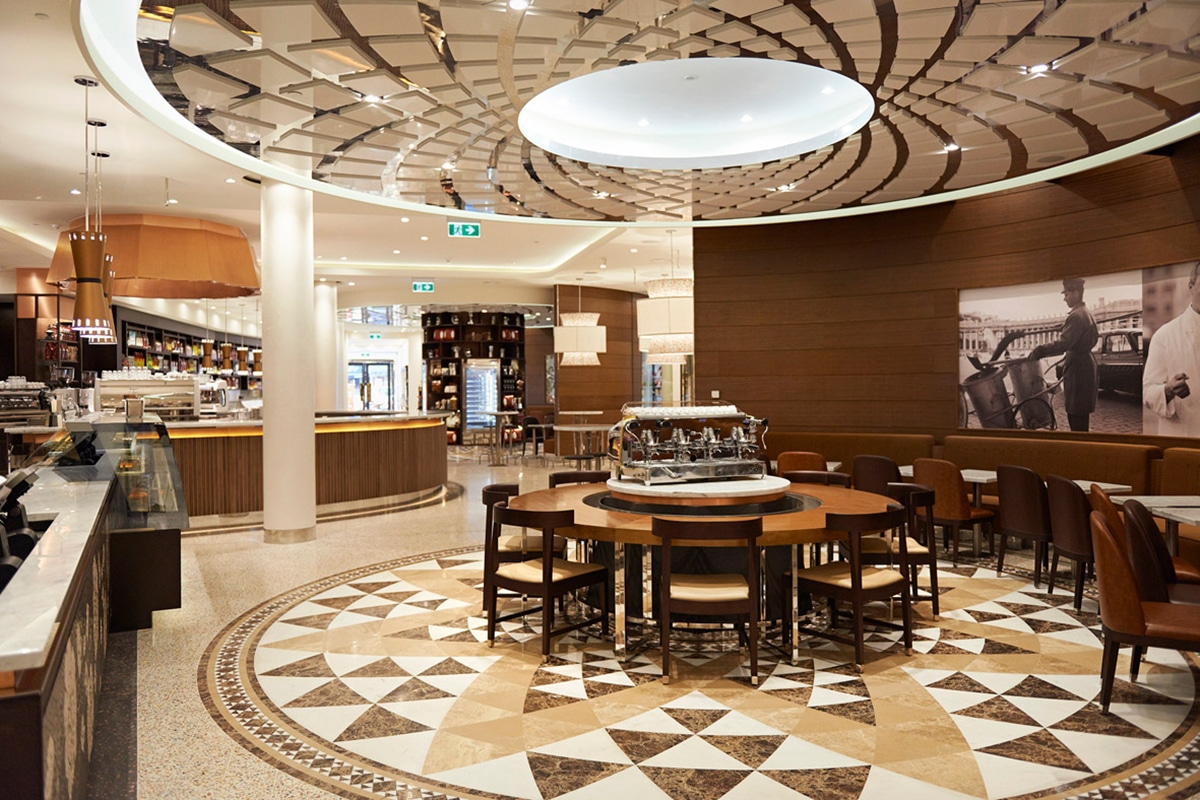 8. Brunetti
Brunetti is quite something: pasta, wood-fired pizza and desserts all in a lengthy, light-filled Italian café with mosaic floors. The Brunetti space carries the identity of Italian heritage and features a retail wine wall, gelato bar and many cured portions of meat on display. As well as the traditional desserts and cakes, the eatery dishes up a fine selection of pasta: spaghetti, tagliatelle, gnocchi and ossobuco ravioli. They also purvey frozen meals: woodfired pizza, lasagna, cannelloni, ravioli ossobuco, pumpkin soup, potato leek and pancetta soup.
Address: 380 Lygon St, Carlton VIC 3053
Phone: (03) 9347 2801
Trading Hours: Mon-Thu 6 am-10 pm, Fri-Sat 6 am-12 am, Sun 6 am-10 pm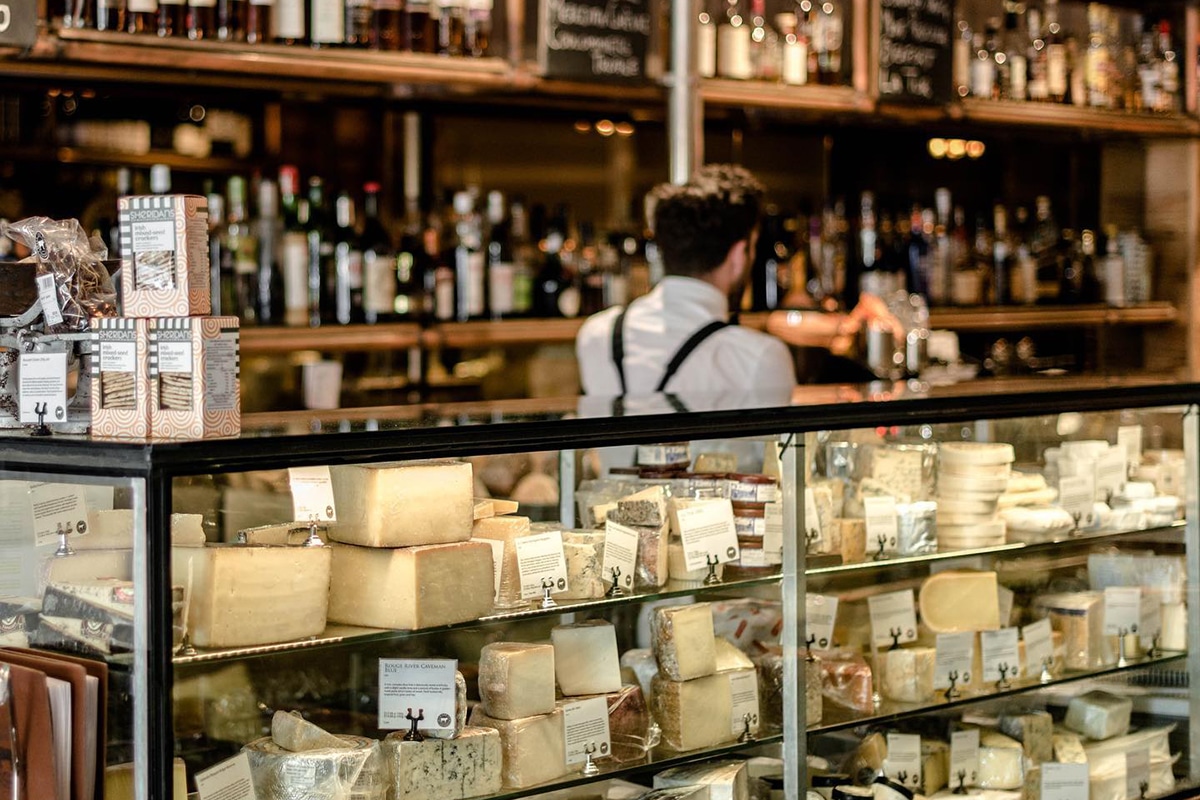 9. Milk the Cow
Milk the Cow is all about the cheese. With over 180 different kinds of cheese from all around the world, expertly curated and cared for by their team of cheesemongers, you'd be bonkers for savouring cheese form anywhere else. This cheese institution loves nothing more than perfectly pairing you with boutique beverages to make magnificent matches. From locally sourced, to international, to the motherland of French Fromage, there's a cheese for every discernable taste in their cabinet. Customers' favourite marmites and fondues include the Baked Brie and Raclette.
Address: 323 Lygon St, Carlton VIC 3053
Phone: (03) 9348 4771
Trading Hours: Tue-Thu 12-11:45 pm, Fri-Sat 12-1 am, Sun 12-12 am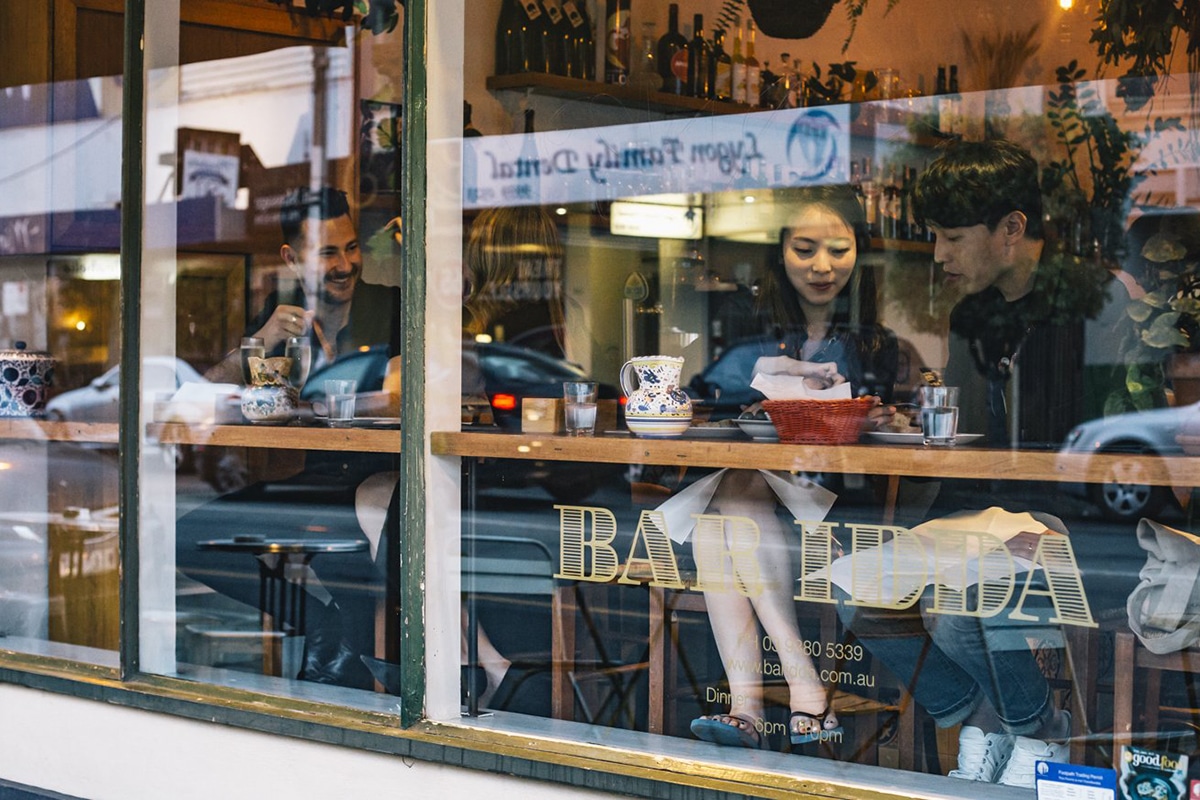 10. Bar Idda
Bar Idda specialising in traditional Sicilian cuisine that's out-of-this-world. With a purposely outdated and provincial aesthetic, this eatery spot is all about comforting cuisine. When getting starting there, indulge in the simple antipasto, bread, with green olives and salami; Bar Idda's menu features a mouthwatering selection of regional dishes. Notable mentions include their famous mulinciani – a lush eggplant lasagne baked with buffalo mozzarella and pecorino. The barramundi, ragout, chargrilled corn and lamb rump are also always ordered.
Address: 132 Lygon St, Brunswick East VIC 3057
Phone: (03) 9380 5339
Trading Hours: Tue-Fri 11 am-3 pm, 5-10 pm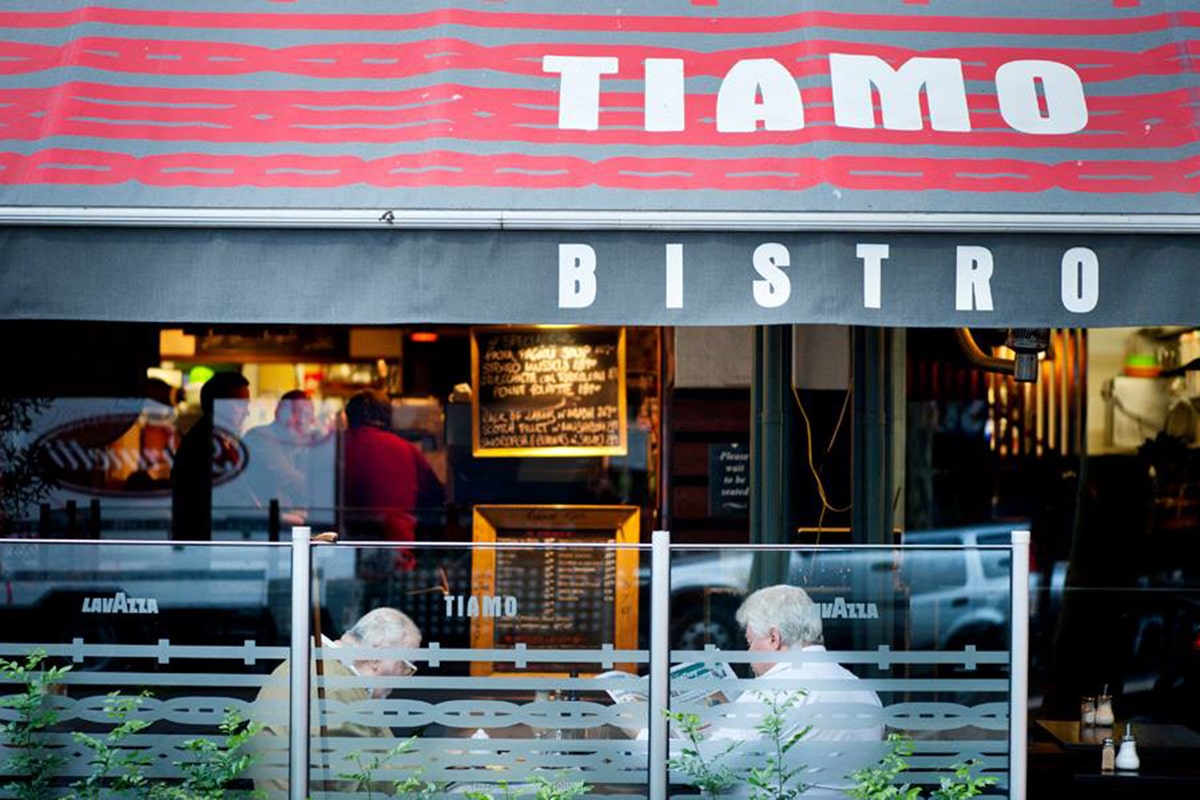 11. Tiamo
Pizza, pasta and all sorts of Italian goodness served in a homey setting in a canopied alfresco setting; that's what it's about at Tiamo. For over 40 years, this Italian restaurant in Lygon Street has managed to consistently serve delectable staples of pasta and pizza. The menu is classic and modern Italian and Mediterranean, available in large servings and surprisingly, reasonably-priced. When there, you'll see many customers order the Chick Parmigiana, Penne al ram, Mariana pizza and Cannoli Siciliani dessert.
Address: 303 Lygon St, Carlton VIC 3053
Phone: (03) 9347 5759
Trading Hours: Mon-Thu 11-9:30 pm, Fri-Sun 7 am-9 pm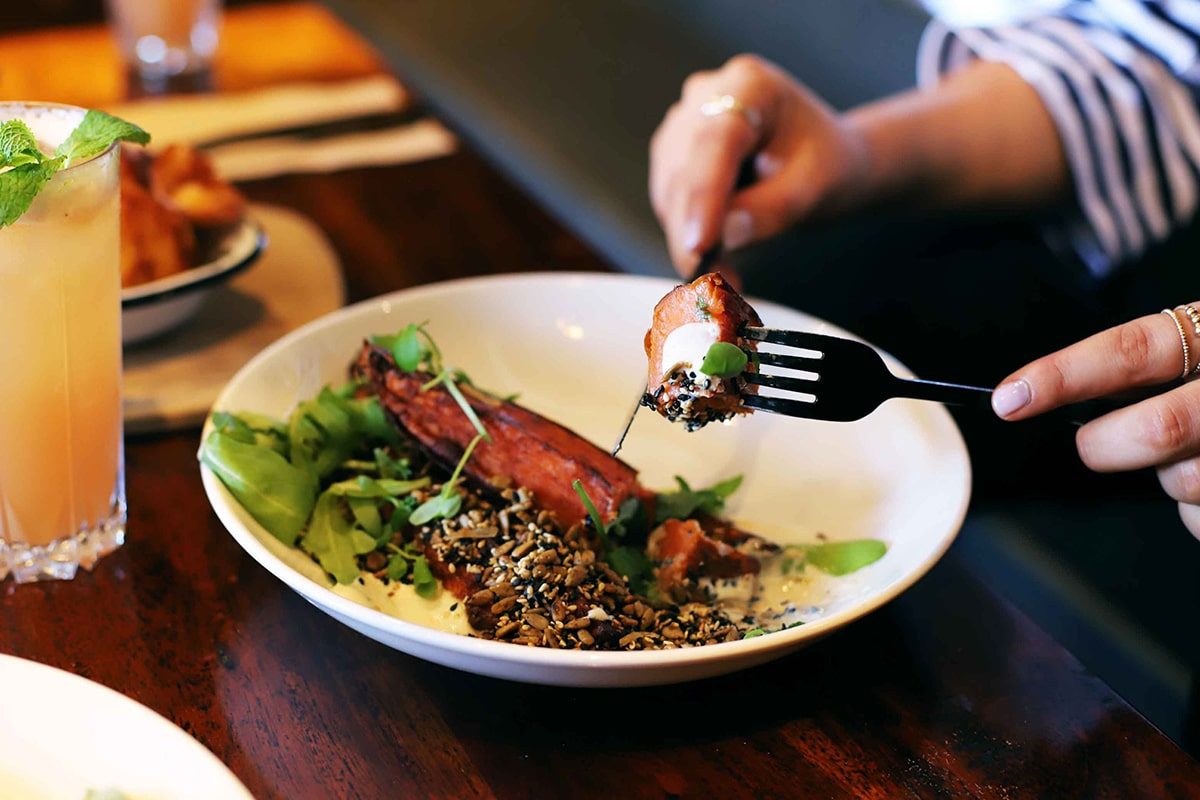 12. Green Man's Arms
Green Man's Arms is a neighbourhood plant-based restaurant for those looking for something a little special. It's a vegetarian pub with a passion for bringing incredible food and drinks and is committed to those who opt for healthier and ethical food. You can get pub classics like burgers, schnitzel, and pies. A favourite is the Green Mans Cheeseburger, made from a black bean and shitake mushroom base. It's hearty and comforting served with crispy potatoes and house-made tomato sauce.
Address: 418 Lygon St, Carlton VIC 3053
Phone: (03) 9347 7419
Trading Hours: Mon-Thu 4-12 am, Fri-Sat 12-12 am, Sun 12-11 pm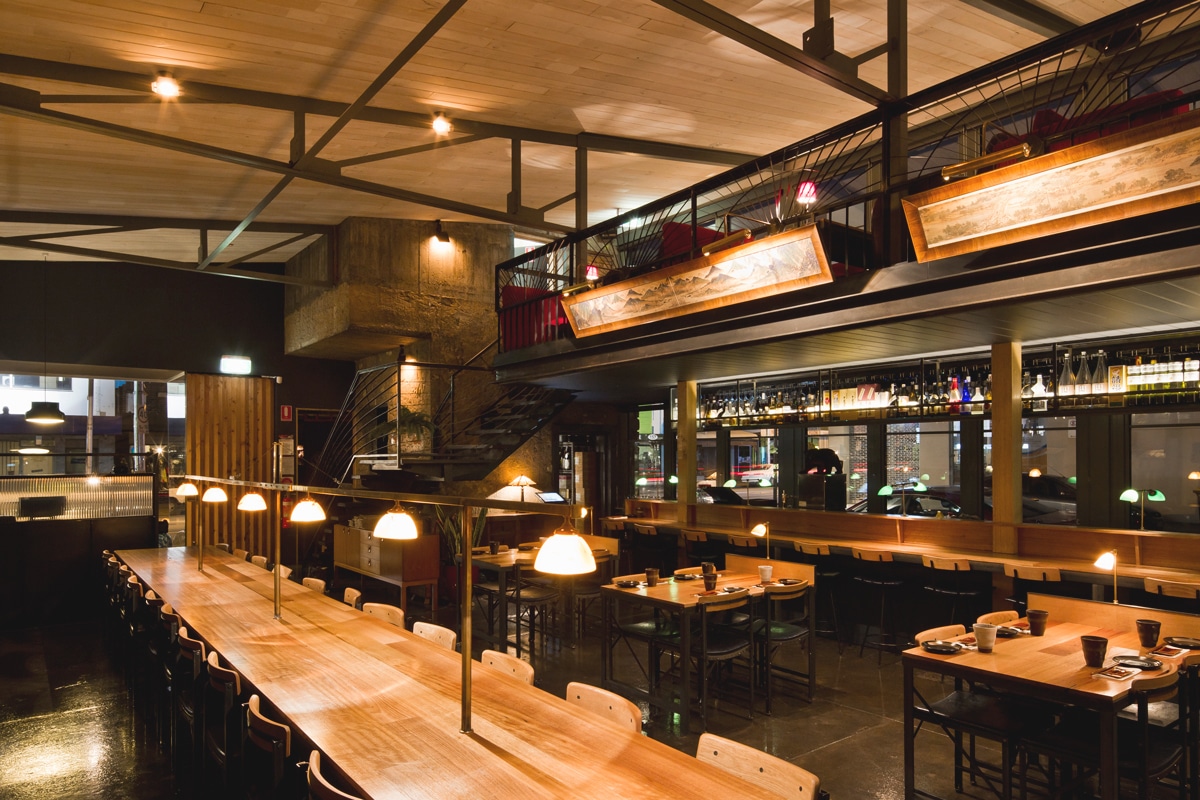 13. Kumo Izakaya & Sake Bar
Kumo Izakaya is one of Melbourne's foremost location for Japanese saké, food and culture. This institution brings contemporary Japanese pub-style drinking and casual dining and has a stately 80 sakes list. The menu includes yakitori and sashimi and dishes such as stuffed prunes with sesame butter, parmesan rice crackers with miso dip, duck fillet with cumquat sauce and black sugar-cured salmon. The eatery additionally serves "Izakaya" style Japanese food; that's similar to Spanish tapas.
Address: 152 Lygon St, Brunswick East VIC 3057
Phone: (03) 9388 1505
Trading Hours: Wed-Sat 6-10:30 pm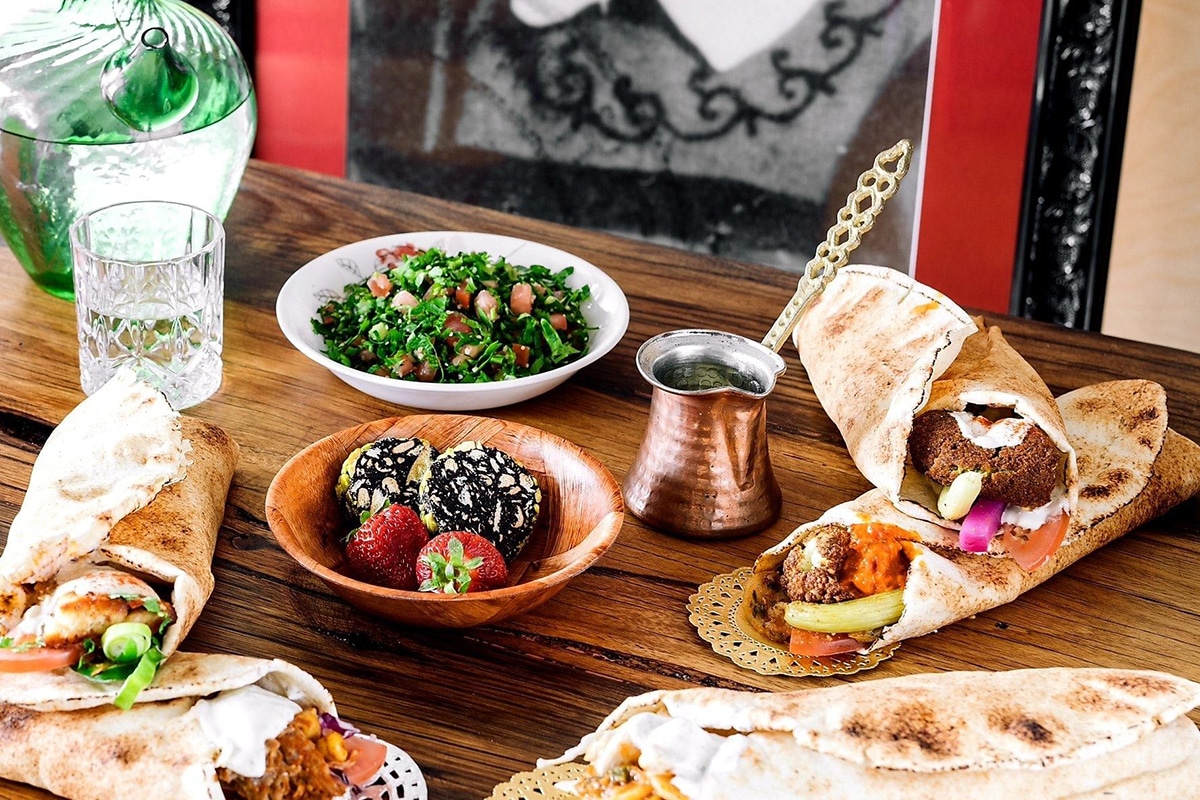 14. Téta Mona
Mona is the namesake of the grandmother of its founder Antoine and Bechara Taouk. The atmosphere is as warm and comforting as Téta, which is "grandma", and is inspired by Mona's traditional village recipes. Téta Mona's menu is wall-to-wall with Lebanese dishes, from falafel served with pita, tart pickles and dribbly tahini. Other exotic oriental tastes like Cigari bi lahem (lamb pastry cigars), manoush, pastries, and seafood await to be devoured. And when done feasting, don't forget to top-off you're meal with a bowl of muhallabieh – a cinnamon and orange blossom brown rice pudding, crowned with walnuts.
Address: 100A Lygon St, Brunswick East VIC 3057
Phone: (03) 9380 6680
Trading Hours: Mon-Thu 5-10 pm, Fri-Sat 5-10:30 pm
You'll also like:
13 Best Ribs in Melbourne
17 Cool Restaurants in Melbourne
16 Spots For The Best Yum Cha in Melbourne
General FAQs
What is Lygon Street famous for?
Lygon St is famous for its restaurants, cafes, bars and liveliness. It's part of Melbourne's CBD and runs all the way up through the city's northern suburbs.
What is the best Italian restaurant on Lygon Street?
400 Gradi is the best Italian restaurant on Lygon Street. The restaurant specialises in wood-fired Neapolitan pizza and mains.
How far is Lygon Street from the Melbourne CBD?
Lygon Street runs from Melbourne's northern suburbs through the CBD. So, the street is part of the CBD and the suburbs.
---
Featured Video from Man of Many