13 Best Ribs in Melbourne
One of life's simple pleasures is hooking down on a big rack of BBQ ribs. We have searched high and low to bring you a list of the 13 best ribs in Melbourne. As comprehensive as this is we assure you that the utmost care and consideration was taken when compiling the following.
Ranging from traditional brick-and-mortar restaurants to upstart mobile vendors, when it comes to BBQ ribs, Melbourne has plenty of options. American, Australia, Argentinean, Brazilian and Chinese interpretations are displayed. Read on to learn about the best ribs near you in Melbourne
So here's our list for the 13 best ribs in Melbourne:
You'll also like:
21 Best Japanese Restaurants in Melbourne
22 Best Steakhouses in Melbourne for Your Next Big Feed
16 Spots For The Best Yum Cha in Melbourneants in Melbourne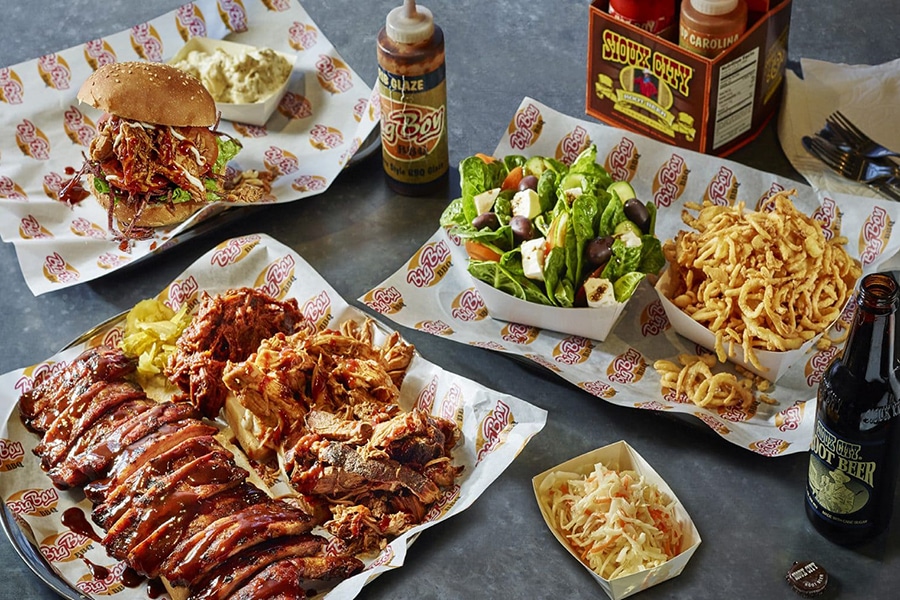 1. Big Boy BBQ
Viewed by many as the restaurant that started the smoked barbecue trend and thus created a craze around grilled meat, Big Boy BBQ is far from having infant status. Unlike many rib joints, their ribs are not boiled, but rather smoked over Hickory wood. 'Slow Food… Fast' is a passion to preserve traditional cooking methods and provide an alternative to unhealthy fast food.
Address: Shop 2, 27-31 Hardware Lane, Melbourne VIC 3000
Phone: +61 3 9523 7410
Hours: Sun 12pm-8pm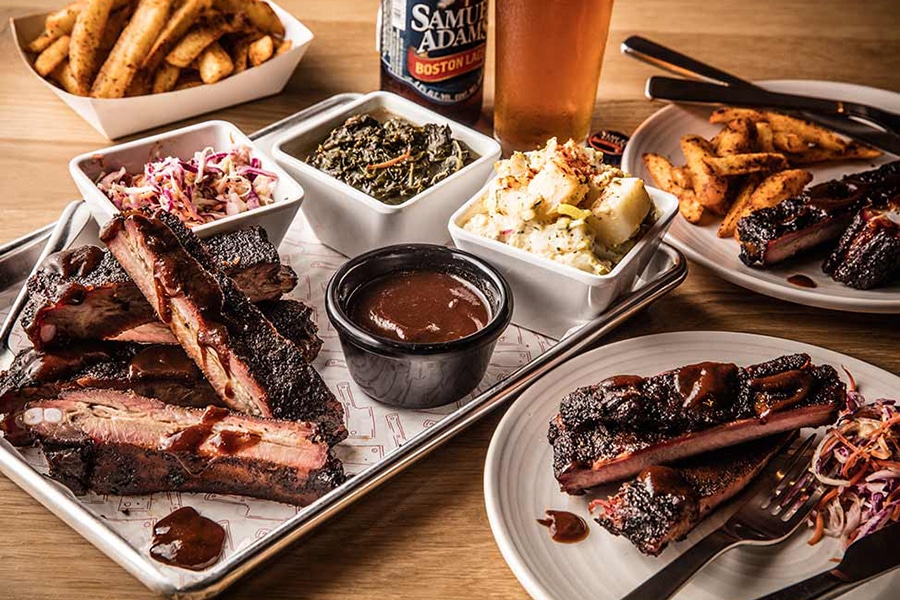 2. San Antone
Kevin Bludso, a third-generation pitmaster, who is also the owner of the iconic Los Angeles Bludso's BBQ, brings his unique smokehouse flavours to San Antone  – exclusive to Crown Melbourne. With smoked meats, tasty sides and signature cocktails, we are advised to tell you it ok to let the smoky aroma's guide you.
Address: Level 1 Casino, Crown Melbourne, 8 Whiteman Street, Southbank VIC 3006
Phone: +61 3 9292 5777
Hours: Wed-Thu 12pm-10pm, Fri-Sat 12pm-11pm, Sun 12pm-10pm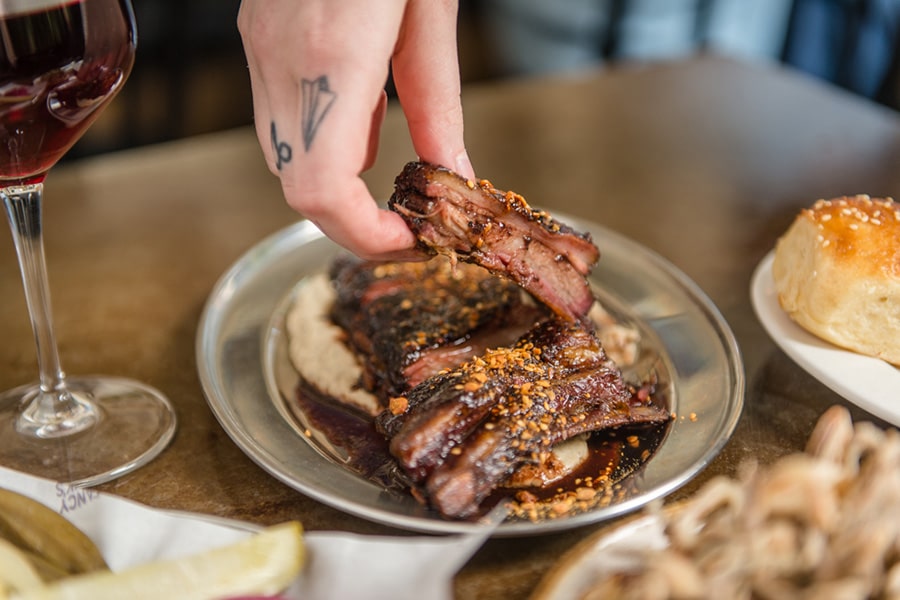 3. Fancy Hanks
One of the best places to get ribs in Melbourne, Fancy Hanks sources its Free-range meats from Gippsland. Then cooked in their two-tonne custom-built smoker, For up to 22 hours. A curated list of local wines, spirits and beers accompany the meals. There is plenty of room, plenty of light, plenty of good vibes. All smack bang in the middle of the CBD.
Address: Level 1, 79 Bourke Street, Melbourne VIC 3000
Phone: +61 3 9453 2882
Hours: Mon-Sun 12pm-11pm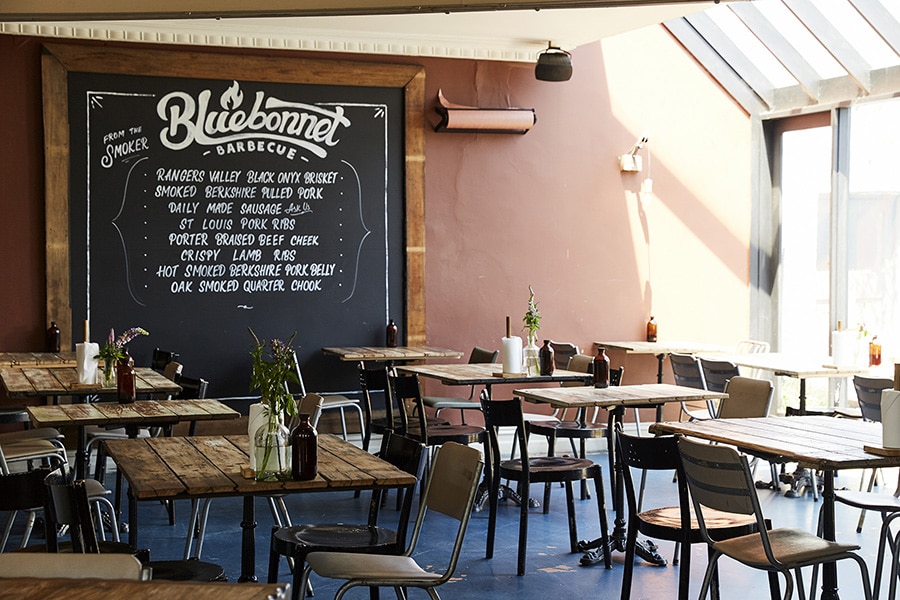 4. Bluebonnet BBQ
The Bluebonnet BBQ aims to bring some of the best slow-cooked smoked Texas-style barbeque to Melbourne. It aims, and oh boy does it deliver. The menu is bountiful with options that would make any meat-aficionados salivate. To compliment your meal, look no further than their list of sides and cold drinks.
Address: 187 Johnston Street, Collingwood VIC 3066
Phone: +61 3 9972 1815
Hours: Mon-Thu 5pm-12am, Fri-Sat 12pm-1am, Sun 12pm-11pm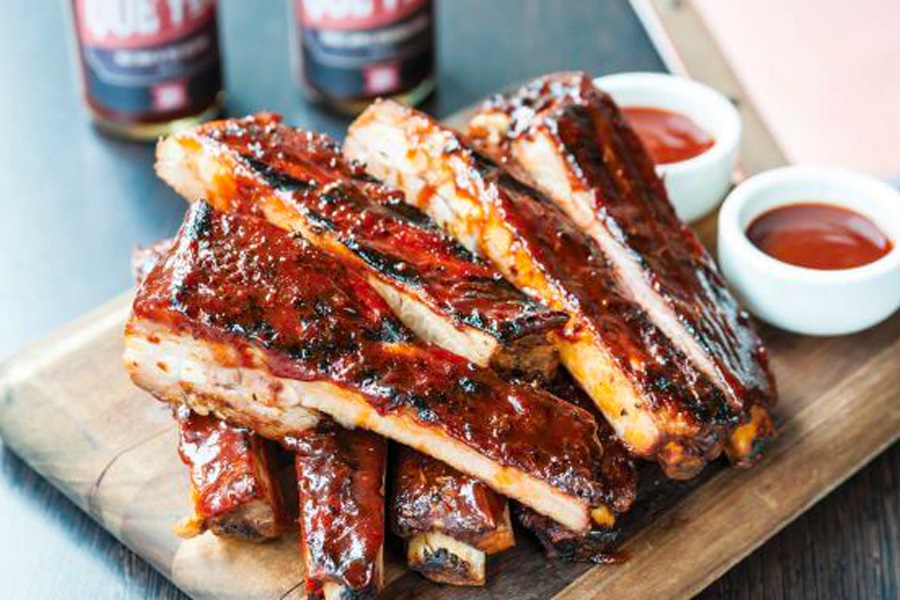 5. Third Wave Café
By day this establishment serves the ever demanding café and breakfast crowd. By night the carnivores come out. At least that's how the Third Wave Café sees it. Mastering the art of slow smoking is not easy yet the café has pulled it off. Providing some of the best ribs in the game by cooking them in a custom-built smoker by the name of Brutus, best accompanied alongside some of their in-house BBQ sauces.
Address: 189 Rouse Street, Port Melbourne VIC 3207
Phone: +61 3 9676 2399
Hours: Mon-Thu 7am-10pm, Fri 7am-11pm, Sat-Sun 8am-11pm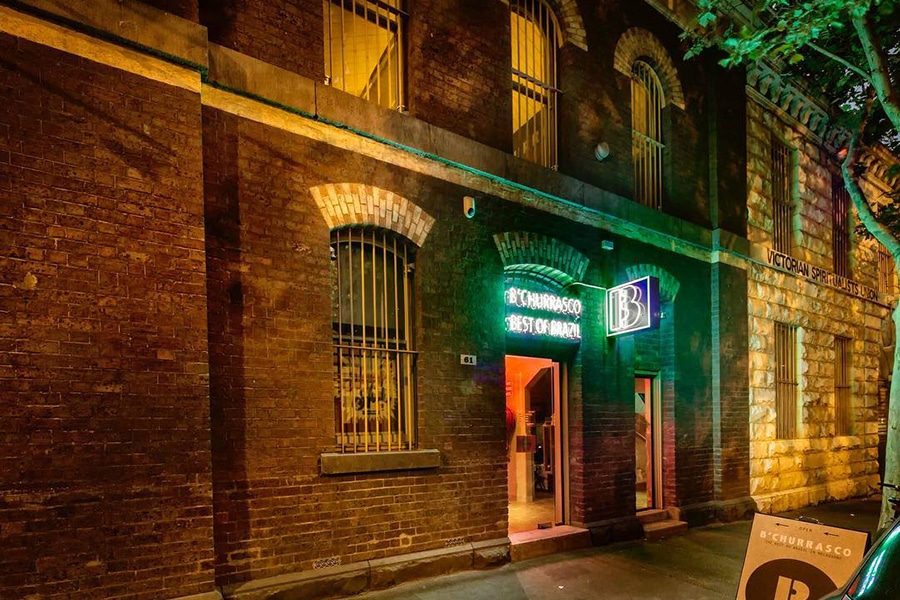 6. B'Churrasco
We have covered a few joints in our list that specialise in delivering American-style barbecued ribs. But what about Brazilian-style barbecued ribs? B'Churrasco is the answer to that question. With a veritable theatre of food cooked over an open fire as freshly barbecued sword-length skewers are carved straight on to your plate. With a kitchen that is staffed by Brazilian-trained chefs, you know you're getting the authentic treatment.
Address: 61 A'Beckett Street, Melbourne VIC 3004
Phone: +61 3 8060 4770
Hours: Mon-Thu 6pm-11pm, Fri-Sat 5:30pm-12am, Sun 5:30pm-11pm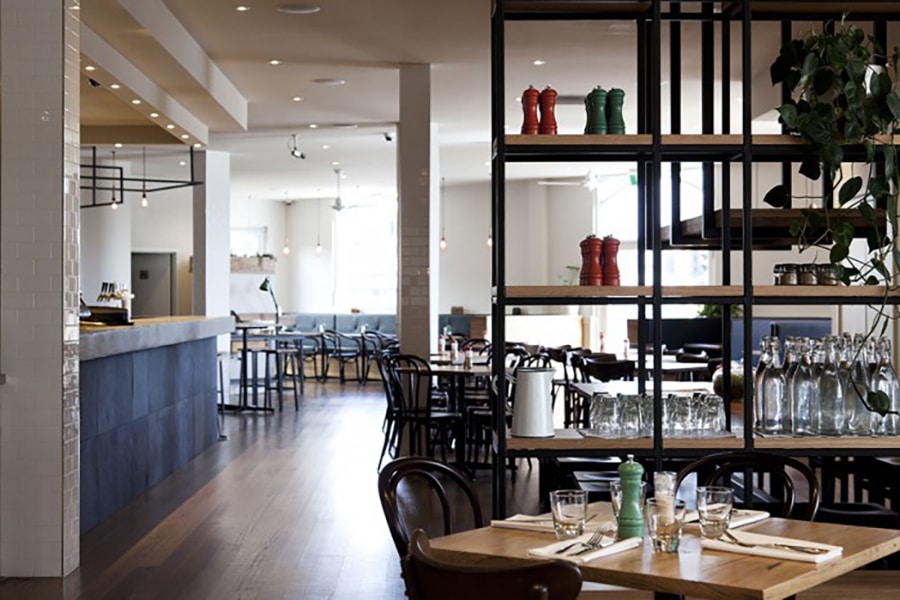 7. The Plough
The Plough and Melbourne for that matter have gone through a few changes since it first opened its doors way back in 1868. After a renovation back in 2013, the eatery rebranded itself as a much trendier place to visit. The menu focusses on many Australian pub favourites, with a Mediterranean twist, with its glazed pomegranate molasses sticky ribs being offered as proof.
Address: 333 Barkly Street, Footscray VIC 3011
Phone: (03) 9687 2878
Hours: Mon-Sun 11:30am-late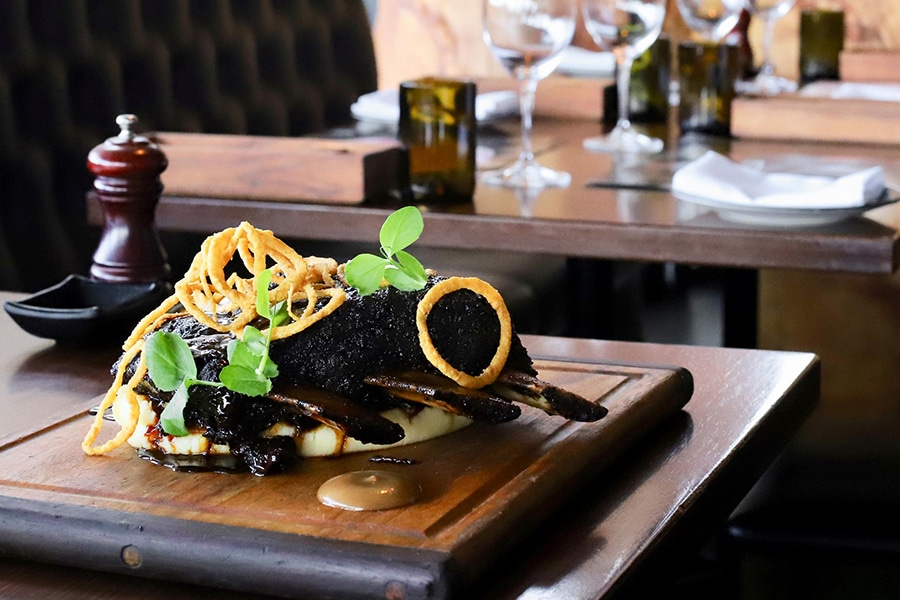 8. Steak Ministry Bar & Grill
With a name as official as this, the Steak Ministry Bar & Grill must have been the place that Ralph Wiggum wanted to study (Wait…That was Bovine University). Obscure Simpsons references aside, what you have here is a restaurant that provides some of the best Ribs in Melbourne. A traditional steakhouse, with traditional flavours and options, if you want to branch away from the slabs of meat try the old Kentucky style pork ribs, they are a delight.
Address: 39-51 Kingsway Parade, Glen Waverly VIC 3150
Phone: +61 3 9560 1818
Hours: Mon-Tue 5:30pm-9pm, Wed-Sat 12pm-2:30pm & 5:30pm-9:30pm, Sun 12pm-2:30pm & 5:30pm-9pm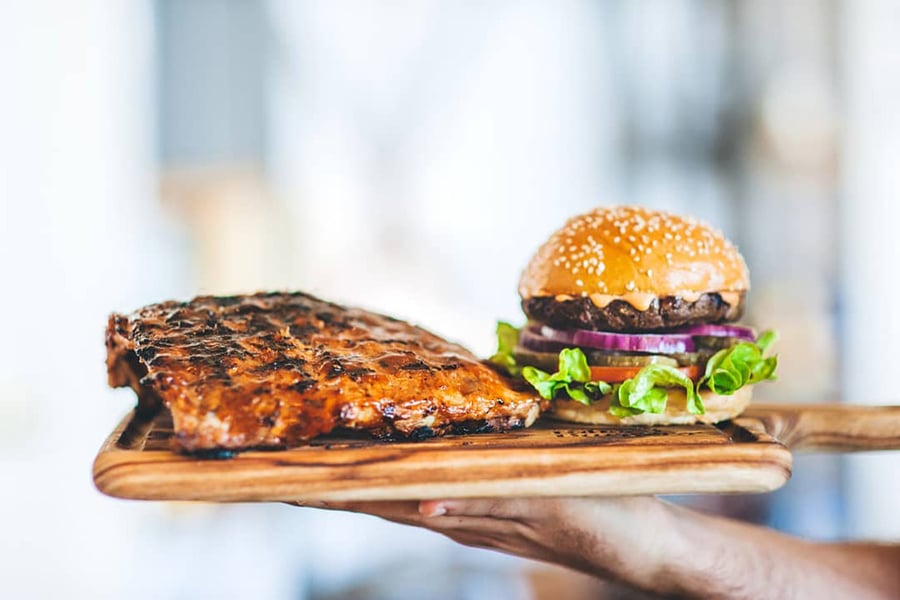 9. Ribs and Burgers
Bringing together what they do best and providing Melbourne with some sublime eats, Ribs and Burgers means business when it comes to, well, Ribs and Burgers. With all of their ribs spending no less than 8 hours in the slow cooker before arriving at your table, you can be rest assured that what you receive is produced with patience, expertise and the desire to strive for optimal barbecued goods in mind.
Address: Shop 1, 862 Glenferrie Road, Hawthorn VIC 3122
Phone: +61 3 9818 8142
Hours: Sun-Thu 11am-9:30pm, Fri-Sat 11am-10pm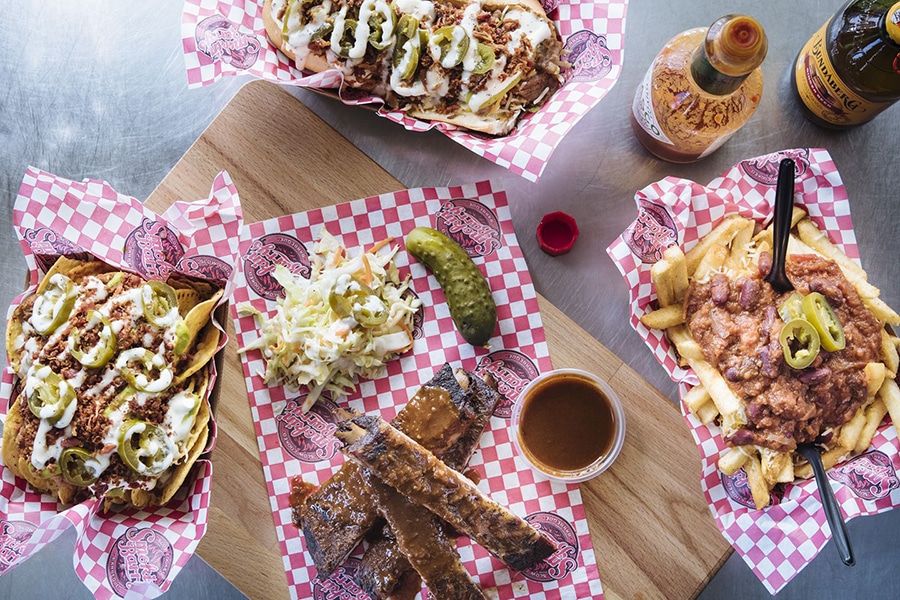 10. Smokin' Barry's Slow Cook BBQ
Who says you need to have a permanent establishment to make it in the ever demanding world of rib slinging. Well, it sure wasn't Smokin' Barry's Slow Cook BBQ. With a winning formula of providing smoky and delicious ribs from a state of the art food truck, this mobile eatery has been winning fans all over the city. Using a slow, lower temperature smoking technique ensures that all of Smokin' Barry's Slow Cook BBQ meat does not dry out and remain succulent. They can be hired for a multitude of events, so for your next big party why not get some ribs into you.
Address: 153 Dorcas St, South Melbourne VIC 3205
Phone: +61 3 9696 2883
Hours: Wed-Thu 11:30am-8:30pm, Fri 11:30am-9:30pm, Sat 12pm-9pm
Other enquiries: contact Jim at 0409601810 or [email protected]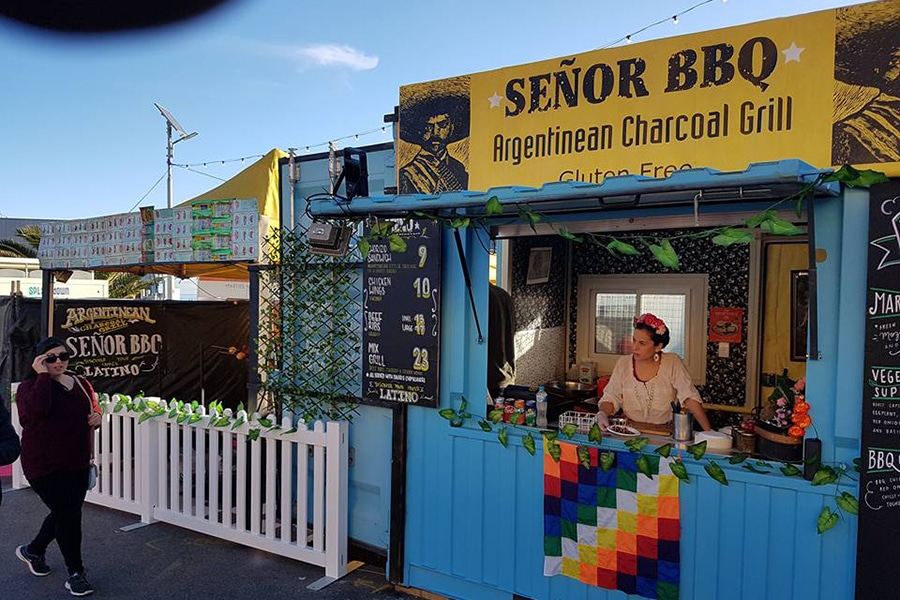 11. Senor BBQ
Continuing the trend of mobile barbecue meat providers, we now bring you Senor BBQ. What makes this different from the above-mentioned provider is that Senor BBQ brings South American flavours or more accurately Argentinean passion to the crowds. Using traditional Argentinean charcoal cooking techniques over an Asado, your next event or function will be enhanced by these guys.
Phone: 1300 274 227
Other enquiries: [email protected]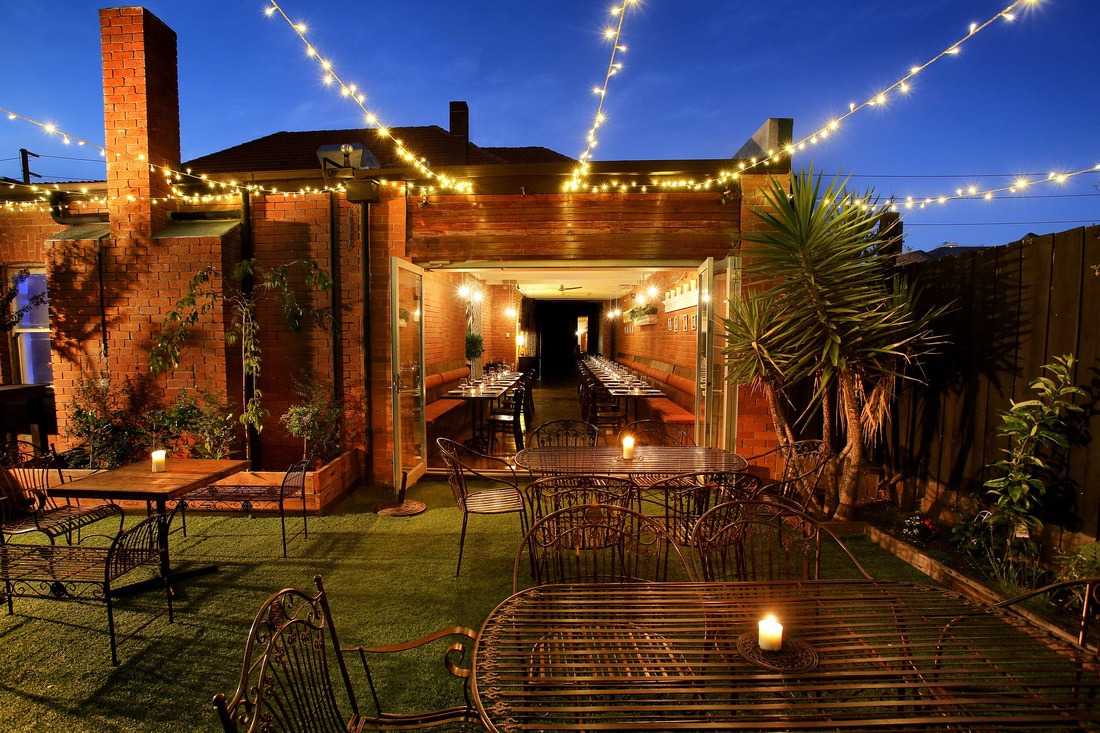 12. Le Bon Ton
Le Bon Ton's menu showcases dishes and cooking techniques drawn from multiple regions of the American South. In particular their slow-cooked mouth-watering crispy smoked lamb ribs. These are tenderly prepared by their skilled chefs using only the finest quality of lamb infused with a special, smoky coffee rub mixed together alongside a sweet and sour barbecue sauce.
Address: 51 Gipps Street, Collingwood VIC 3066
Phone: +61 3 9416 4341
Hours: Mon 4pm-11pm, Tue-Thu & Sun 12pm-11pm, Fri 12pm-3am, Sat 12pm-4am

13. Meatmaiden
Beneath the bustling Melbourne CBD, magic happens. The mind takes us to wonderful places as mystery envelopes you. Down a set of steps off of Little Collins Street visitors to Meatmaiden are welcomed with the scents and sights of true wonders. The custom-built, wood-burning smoker brought over from the States, now seasoned by a thousand briskets. The smoker is kept lit with ironbark from the Blue Mountains. Then there is the dry-ageing meat cabinet in which premium produce is hung for up to 40 days to pack in maximum tenderness and flavour.
Address: Basement, 195 Little Collins Street, Melbourne VIC 3000
Phone: +61 3 9078 7747
Hours: Mon-Thu 12pm-3pm & 5pm-10pm, Fri-Sat 12pm-3pm & 5pm-10:30pm
You'll also like:
21 Best Japanese Restaurants in Melbourne
22 Best Steakhouses in Melbourne for Your Next Big Feed
16 Spots For The Best Yum Cha in Melbourneants in Melbourne
General FAQ
Where are the best ribs in Melbourne?
Much like beauty, the deliciousness of a rack of ribs is subjective. Whether you're looking for American style ribs, Asian ribs, or perhaps even a Brazillian rack - if it's on this list then you'll enjoy every mouthful.
How do you make ribs?
While everyone makes ribs differently, you'll need BBQ sauce, garlic, Worchester sauce, olive oil, a boatload of salt and of course a big batch of babyback ribs. I'm drooling already.
Is it acceptable to take someone to a rib restaurant on a first date?
Of course! Taking a girl to a rib restaurant on a first date is a great idea. Getting your hands dirty is a great way to break through any awkwardness. Fair warning, not everyone likes meat let alone ribs.